What time is Pacquiao vs Ugas?
The Pacquiao vs. Ugas card takes place on Saturday, August 21. The main card begins at 9 p.m. ET in the United States and at 2 a.m. BST in the UK. Pacquiao and Ugas are expected to make their walks to the ring at around 11:30 p.m. ET and 4:30 a.m. BST, pending on the outcome of the earlier main card fights. google.comFight/Card!! Pacquiao vs Ugas fight date, start time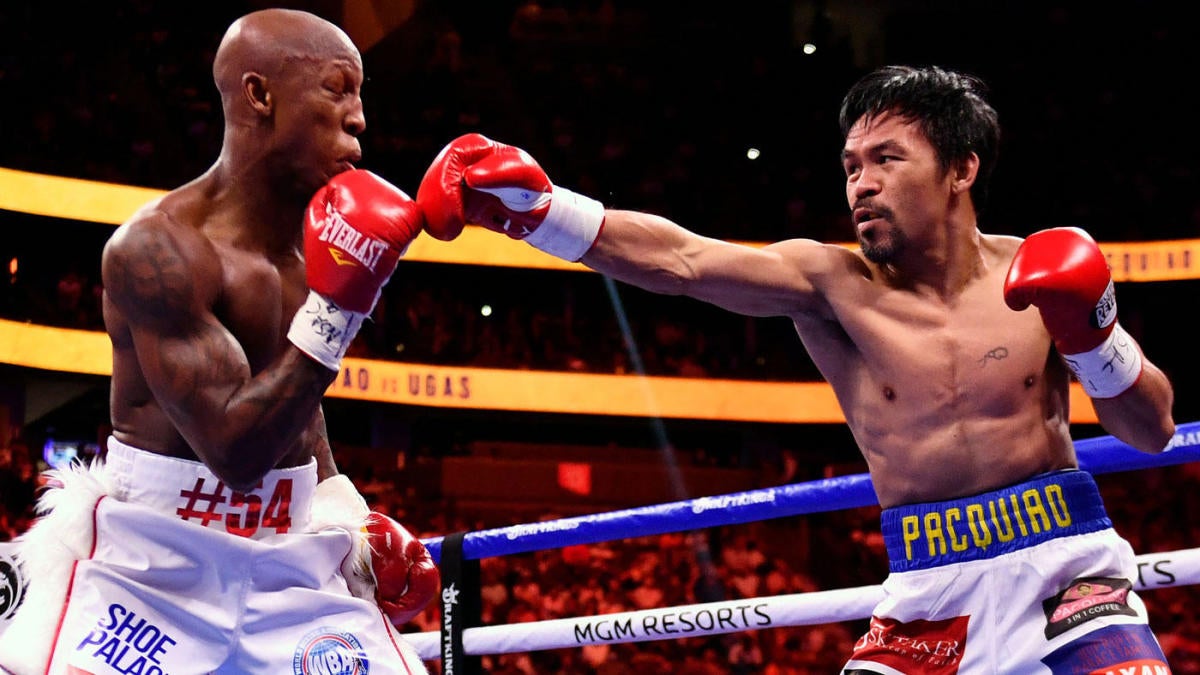 The sport of boxing's only eight-division champion returns from a two-year layoff on Saturday to headline yet another pay-per-view card.
Despite original foe, unified welterweight champion Errol Spence Jr., pulling out of the fight on less than two weeks' notice, Manny Pacquiao is still expected to face a difficult challenge when the 42-year-old Filipino icon challenges for Yordenis Ugas' WBA title inside T-Mobile Arena in Las Vegas.
Pacquiao will be fighting for the title he won in his last fight when he dropped and outpointed then-unbeaten Keith Thurman in 2019. Ugas, a native of Cuba, moved up from the undercard where he was originally scheduled to defend his title against Fabian Maidana.
CBS Sports will be with you throughout the entire way on Saturday, so. be sure to follow along with the live results and highlights below.
R12: They both raise their arms in celebration and Pacquiao gets picked up despite cuts around both eyes. Give Manny the final round for pressure and the final minute of landing shots, 10-9 (Overall: 116-112 Ugas)
Ugas' length, jab & accurate power punching (59% landed) the difference vs. Pacquiao, who landed just 16% of his total punches. Manny landed 19% in his loss to Mayweather. @PBConFOX pic.twitter.com/SfjqaJZ6Ql
Scorecards: 115-113, 116-112, 116-112 for Yordenis Ugas. It's unanimous and it's an upset.
I've got it 116-112 for Ugas.
R12: Another right from Manny. He's letting it all go now.
R12: Counter jabs from Pacquiao. Good pressure herein final minute. Left hand from Manny hits.
R12: Pacquiao blocks a big right hand but can't counter clean. A cut opens on the left eye of Manny. He tries to pump himself up by banging his gloves together but Ugas hits another right and a left uppercut.
R12: They trade jabs. A right hand from Ugas causes Manny to stumble. Another right hand from Ugas.
ROUND 12: Does Pacquiao need a KO here? On my card he does. You never know with the judges.
R11: 10-9 Ugas. Cleaner shots. Better defense (Overall: 107-102 Ugas)
Will this be the LAST TIME we see @MannyPacquiao in the ring? We head to the final round of #PacqiaoUgas
R11: Looping right from Ugas makes Manny take a hard step to the left. Ugas is fighting a better fight. Plain and simple.
R11: Cuffing right hand from Ugas. And a right to the body. Ugas can't miss with the right hand.
R11: Pacquiao keeps coming up short with his combination attempts. Ugas counters to the body. Nice jabs from Manny but one counter right from Ugas made him switch gears.
ROUND 11: Championship rounds and Pacquiao may need to get dramatic here. Counter jab from Ugas. Pacquiao just can't find an opening.
R10: Big right hand from Ugas late. He played better chess this round and landed the harder blows, 10-9 (Overall: 97-93)
R10: Pacquiao is flurrying but he's coming up short. Another right cross from Ugas.
R10: Two jabs and a right hand backs Manny up. Ugas is getting more and more confident.
R10: Ugas has to be weary of punching with Pacquiao and trading too brazenly. Hard right hand counter from Ugas.
R10: They flurry and Pacquiao lands a clean left hand that forced Ugas to clinch.
ROUND 10: Both fighters catching punches behind the high guard. Good defense.
R9: Beautiful counter shots to the body from Ugas. He's doing what he wants out here and showing enough responsibility on defense to not pay for it. Another Ugas round, 10-9 (Overall: 87-84)
R9: Pacquiao looks a bit too tentative. He can't find an opening. Ugas is countering his jab at will.
R9: Pacquiao is working the jab but he can't land clean. Counter jabs from Ugas hit. Great defense from Ugas as Pacquiao leaps in.
R9: The crowd chants for Manny but Pacquiao hits the canvas on a push. Mora warns Ugas yet again.
ROUND 9: The two fighters clash heads briefly and touch gloves out of respect.
© 2004-2021 CBS Interactive. All Rights Reserved.
CBS Sports is a registered trademark of CBS Broadcasting Inc. Commissioner.com is a registered trademark of CBS Interactive Inc.
Images by Getty Images and US Presswire
These cookies are essential for the proper functioning of our Services. Essential cookies cannot be switched off in our systems. You can set your device to block or alert you about these cookies, but some parts of the Service will not work.
These Cookies allow us to collect information about how visitors use our properties. Some examples include counting visits and traffic sources, so we can measure and improve the performance of our services. If you do not allow these Cookies we will not know when users have visited our properties and will not be able to monitor performance.
These Cookies enable the services to provide enhanced functionality and personalization. They may be set by us or by third party providers whose services we have added to our services. If you do not allow these Cookies then some or all of these services may not function properly.
These Cookies may be set by us or through our services by our advertising partners. They may be used by those companies to build a profile of your interests and show you relevant advertising on this and on other properties. If you do not allow these Cookies, you will still see ads, but you will experience less relevant advertising.
These Cookies are set by a range of social media services that we have added to the services to enable you to share our content with your friends and networks. They are capable of tracking your browser across other sites, building up a profile of your interests to show you relevant content and advertisements on the relevant social networks. If you do not allow these Cookies you may not be able to use or see these sharing tools.
Read full article at CBSSports.com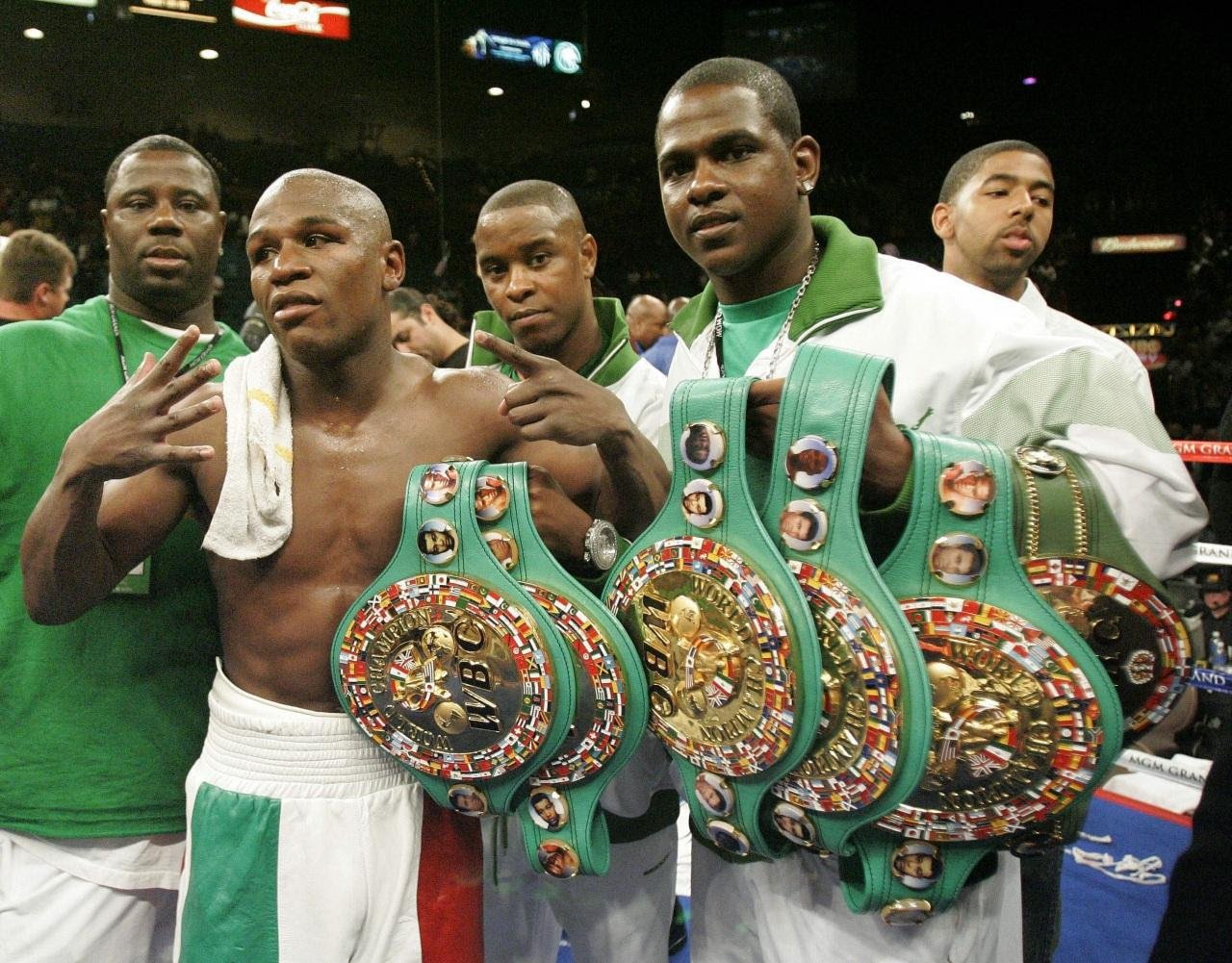 East Side Boxing 22 August, 2021 - 12:00am
Mayweather said that while his legacy is "engraved in stone," he would "rather have the currency than the legacy." Mayweather then stated that there will "never be a fighter better than me, never."
"I would [rather] have the currency than the legacy, my legacy is already engraved in stone," Mayweather said. "They say, 'Mayweather's doing exhibitions, it's bad for boxing.' At the end of the day, my mother's a millionaire, my dad's a millionaire, my children are millionaires. I've made a billion. I reached that four years ago. [Now I'm] over $1.2 billion. I knew from the beginning I was the best in boxing, from day one. I just knew I was better than every other fighter. There will never be a fighter better than me, never. Tell me another fighter that beat 16 world champions straight? Tell me another fighter that, in just two fights, made $650 million?"
There is no doubting Mayweather's success; in the ring and from a financial perspective. Yet Floyd has an odd way of merging the two. Yes, Floyd is the richest boxer ever, but does that make him the greatest fighter? Of course, that nice, shiny 50-0 record looks great on paper, but an unbeaten record does not necessarily indicate greatness. Sugar Ray Robinson died just about broke, he suffered 19 career defeats and he didn't beat as many world champions in consecutive fights (there were of course far less world champions back in Robinson's day; a perfect, it-never-should-have-changed 1 per division, in fact).
But is Mayweather a greater fighter than the original Sugar Ray? No way. Mayweather may be the best businessman boxer of all-time, but as far as the greatest fighter, he falls some way short.
Can you rank Mayweather above: Robinson, Muhammad Ali, Roberto Duran, Sugar Ray Leonard, Thomas Hearns, Willie Pep, Julio Cesar Chavez, Marvin Hagler, Henry Armstrong?
Sure, Mayweather might be richer than those guys ever were, but what, if anything, has that got to do with how great a fighter is?
Yahoo Philippines News 21 August, 2021 - 07:25am
No expert or enthusiast gives the former Olympic bronze medalist a chance. Ugas is 35 years old and barely won via split decision in Sept. 2020 against Abel Ramos. If you study the opponents of Ugas, none are big-names except Shawn Porter — whom he lost to in March 2019.
Pacquiao will win. But let's backtrack a little...
This wasn't the prediction just 12 days ago.
Errol Spence Jr., in a shocking announcement, withdrew from the bout because of an eye injury.
I asked top ophthalmologist Dr. Ronnie Medalle about Spence's injury, described as a "retina detachment/break," and the good doctor says it's serious and can be career-ending — especially for one whose nature of work involves the eye repeatedly getting hit.
Had it been Pacquiao-Spence, our man would have lost — that's my view and the opinion of pundits. The oddsmakers did, too, installing Spence the -210 favorite while Pacquiao was the +170 underdog.
Spence is in-his-prime 31 years young versus the 42 years-too-old Philippine legislator. The New Yorker sports a 27-0 record (21 by KO).
In comparison, today's fight has Ugas as the +275 underdog and Pacquiao as the -360 favorite.
Speaking of odds, what were the odds that Spence would back out just two weeks prior to the biggest fight of his career?
What a stroke of good luck for Pacman.
On "good luck," Pacquiao's first/biggest moment happened 20 years ago. He was then a skinny 22-year-old who trained as a walk-in at Freddie Roach's gym. The reigning champ Lehlo Ledwaba was set to face Enrique Sanchez before the Mexican withdrew because of an injury before their June 23, 2001 bout.
Note: Like Spence, he withdrew two weeks prior to the fight.
Pacquiao was called in as a last-minute replacement and — starting his good luck-charmed career — TKO'd the South African in the sixth round. (Sad news on Ledwaba: he died of Covid last month.)
Since that "good luck" moment in 2001, MP has earned billions of pesos and is the sport's only eight-division world champ.
Pacquiao fights Spence in a bloody skirmish, losing the bout via knockout or split decision. The 42-year-old senator, all-bruised, announces his retirement upon his arrival in Manila. This pitiful ending does not bode well for his chances in the 2022 elections.
The "good luck" scenario: Spence backs out two weeks before Aug. 22 and is replaced by a 35-year-old... whom Pacquiao handily beats in a unanimous decision. This heroic feat earns Pacquiao worldwide adulation... and he carries this momentum... with possibly a shot at becoming the 17th Philippine president?
Said the Dalai Lama: Remember that sometimes not getting what you want is a wonderful stroke of luck.
Josef Newgarden breathed new life into his IndyCar championship points bid on Saturday night, winning the Bommarito Automotive Group 500 for his first victory on an oval race track this season.
China's ruling Communist Party is investigating the top official in the eastern tech and tourism hub of Hangzhou for what it called serious violations of discipline and law, usually considered shorthand for corruption. A one-sentence notice on the website of the party's disciplinary watchdog Saturday gave no details of what Zhou Jiangyong is accused of, although as Hangzhou's party secretary, he had access to privileged information and leading figures, and major influence on budgets and appointments. A native of Zhejiang province, of which Hanzhou is the capital, Zhou had steadily risen through the ranks of local government since the mid-1980s.
In the U.S. departure from Afghanistan, China has seen the realization of long-held hopes for a reduction of the influence of a geopolitical rival in what it considers its backyard. The Taliban's takeover could certainly present political and economic opportunities for China, including developing Afghanistan's vast mineral riches, and Beijing has said it is ready to help rebuild the impoverished nation. "I think Beijing will play up the narrative of American fecklessness and decline of Empire, painting this as evidence of why Beijing will be a better steward for the Eurasian heartland," said Raffaello Pantucci, an expert on the region at the Royal United Services Institute in London.
Bitcoin is nearing the key US$50,000 level as it continues to rise out of a multi-month period of weakness.
Tens of thousands of Afghans were racing Sunday to flee their country as the United States warned of security threats at Kabul's chaotic airport and the European Union said it was "impossible" to evacuate everyone at risk from the Taliban.
The move, coach Mike McCarthy said after Saturday's preseason game with Houston, was done simply out of caution after the two men felt sick ahead of the contest.
Cheryl Simpson was supposed to be celebrating her 60th birthday over lunch with friends but instead found herself confined to her Auckland home. The discovery of a single local COVID-19 case in New Zealand was enough for the government to put the entire country into strict lockdown this past week. Elsewhere around the Pacific, though, Japan is resisting such measures in the face of a record-breaking surge, instead emphasizing its accelerating vaccine program.
Vice President Kamala Harris began a trip to Asia Sunday where she will offer reassurances of Washington's commitment to the region after the chaotic US pullout from Afghanistan and Taliban takeover.
Afghanistan's new Taliban rulers imposed some order around chaotic Kabul airport on Sunday, making sure people formed orderly queues outside the main gates and not allowing crowds to gather at the perimeter, witnesses said. There was no violence or confusion at the airport as dawn broke on Sunday, said the witnesses. Australia ran four flights into Kabul on Saturday night, evacuating more than 300 people, including Australians, Afghan visa holders, New Zealanders, U.S. and British citizens, Prime Minister Scott Morrison said https://www.reuters.com/world/asia-pacific/australia-evacuates-more-than-300-overnight-afghanistan-pm-2021-08-22.
New Zealand conceded its ambitious "Covid zero" elimination strategy may no longer be viable Sunday, as an outbreak of the virulent Delta variant continued to spread.
Stefanos Tsitsipas worked up a sweat in his two-and-three-quarter-hour loss to Alexander Zverev in Saturday's semi-final at the ATP and WTA Cincinnati Masters.
The Ravens have not lost a preseason game since 2015.
Bullet holes scar the minaret of the Sufi mosque in Libya's Zliten, but followers of the Muslim mystical tradition are working to renovate and preserve their heritage.
Veteran American civil rights activist Reverend Jesse Jackson was hospitalized after testing positive for Covid-19, despite having been vaccinated, representatives said Saturday.
The Taliban now hold the keys to an untouched trillion-dollar trove of minerals including some that could power the world's transition to renewable energies, but Afghanistan has long struggled to tap its vast deposits.
Alexander Zverev came from two breaks down in the third set to beat Stefanos Tsitsipas 6-4, 3-6, 7-6 (7/4) on Saturday and reach the final of the WTA and ATP Cincinnati Masters.
After finding a rusty gas canister near his midwest US home, Rick Karas checked online if it was worth anything. Incredibly, it turned out to be a coveted commodity in the battle against climate change.