Upside momentum is improving, which could keep crypto buyers active into the weekend. Some analysts expect a short-squeeze to push bitcoin above the 50-day moving average around $34,000 given oversold conditions on the charts.
"For the first time in many weeks we are seeing bullish signs here and expect Bitcoin to head towards the upper end of the $30,000-$40,000 range," wrote Pankaj Balani, CEO of Delta Exchange, in an email to CoinDesk.
Related: Is US Crypto Regulatory Bluster About to Become Action?
Bitcoin (BTC) $32324.8, -0.05%
Ether (ETH) $2026.5, -0.13%
10-year Treasury yield closed at 1.281%, compared with 1.263% on Thursday
"On the options front we have seen a good amount of covering between the $35,000-$40000 strikes for the weekly maturity," Balani wrote. "For the July expiry there is still decent open interest in the $35,000 strike, which should act as a ceiling for BTC for this month."
Overall, risk sentiment is improving in traditional and crypto markets as concerns about tighter monetary stimulus wane. On Thursday, the European Central Bank (ECB) pledged to keep interest rates lower for longer and adjusted its policy stance to allow for a slight overshoot of the 2% inflation target.
Related: Bitcoin's Big Institutional Week: JPMorgan Brings Crypto to All Wealth Management Clients & More
The ECB announcement along with a broad decline in global government bond yields contributed to higher stock prices over the past week. Aside from the reach for yield, improving sentiment and positive comments from Tesla CEO Elon Musk on Wednesday kept crypto bulls active.
Bitcoin options traders are pricing an 8% chance of the cryptocurrency rising to a new peak above $64,800 by Dec. 31, according to data source Skew.
Additionally, six-month implied volatility, or investors' expectations for price turbulence, has dropped to a more than two-month low of 80% at press time, having peaked at 122% on May 17.
That implies investors expect the price consolidation to continue for a while, wrote CoinDesk's Omkar Godbole.
"If BTC retains the lower range of 30K, shorts will begin to squeeze as BTC moves to the middle point of the range, likely accelerating in the coming days/weeks," wrote Sashimi Nakamoto on CryptoQuant.
The chart below shows the bitcoin leverage ratio, which is open interest divided by exchange reserves, reaching the highest level since April. The bitcoin funding rate is slightly negative, which indicates higher short interest than long interest, according to Nakamoto.
The funding rate measures the cost to fund long positions in the market for bitcoin perpetual swaps, a type of derivative in the cryptocurrency markets similar to futures contracts in traditional markets.
Since June, total assets under management across exchange-traded and over-the-counter-traded digital asset investment products decreased by 14% to $34.8 billion.
Compared with traditional asset classes, digital asset markets still have a "long way to go before more risk-averse investors are fully at ease," according to a report by CryptoCompare.
As NFTs gain popularity despite an overall bearish sentiment in the crypto market, some NFT critics inside the market took to Twitter blaming the non-crypto natives who cash out their ether immediately after NFT sales for the lackluster price movement of the second-largest cryptocurrency by market capitalization.
But according to multiple analysts and market participants, the impact of NFT sales, if any at all, remains a nonfactor on ether's prices. Instead, the complaint showcases many traders and investors' frustrations in a dull market.
The speculation "is more like a reflection of the current market sentiment," Daniel Lv, co-founder of China-based blockchain Nervos Network, told CoinDesk's Muyao Shen through a representative.
The blame, though, isn't completely irrational since growth in the NFT market has not quite slowed down partly because of the large number of endorsements it has received from non-crypto celebrities.
AXS price doubles in two days: The governance token of the Axie Infinity platform, AXS, has doubled in price since Wednesday. As of Friday the AXS token was trading at a new all-time high price of $30, implying a year-to-date gain of over 5,700%. Axie Infinity is a blockchain-based trading and battling game that allows players to collect, breed, raise, battle and trade token-based creatures known as "axies," which are digitized as their own NFTs.
RUNE tumbles: Thorchain's token, RUNE, tumbled in digital-asset markets after the blockchain suffered an exploit for the second time in two weeks, this one costing about $8 million. The RUNE price was $3.65 as of press time, down 22% over the past 24 hours, in the worst performance among digital assets tracked by Messari with a market capitalization of at least $500 million. The token has lost some 80% since hitting an all-time high price in May. Thorchain said late Thursday it was hit by an exploit, reported to have cost around $8 million. Last week, the protocol was drained of around 4,000 ether (ETH, -0.11%) ($8.2 million) in another incident.
Karura Swap opens for trading: The first decentralized exchange on the Polkadot and Kusama ecosystem has been launched by Karura, the DeFi network of the Acala Foundation.
Tron blockchain: Justin Sun, founder of the Tron blockchain network, said that the recent explosive growth on Tron is being overshadowed by better known rival Polygon. Though the total value locked in Polygon surpasses that in Tron, Tron is growing faster in other areas, gaining traction lately with impressive growth in stablecoin.
Most digital assets on CoinDesk 20 ended up lower on Friday.
WASHINGTON (Reuters) -General Motors Co said Friday it is issuing a new recall for nearly 69,000 Chevrolet Bolt electric vehicles (EVs) worldwide for fire risks after reports of two fires and will replace defective battery modules as needed. The Bolt EVs were recalled in November for fire risks and at least one of the two new fires was in a vehicle that had already had the software update released as part of that recall. The latest recall comes after GM and National Highway Traffic Safety Administration (NHTSA) regulators last week urged Bolt owners to park their vehicles outside and away from homes after charging.
Jesse Spiro, chief of government affairs at Chainalysis, is heading to PayPal's crypto wing to work on regulatory policy.
Following late support on Friday, a Bitcoin move through to $34,000 levels would signal another breakout…
Shareholders approved Friday EV startup Lucid Motors' merger with special purpose acquisition company Churchill Capital IV, after the companies extended the deadline by one day because not enough retail investors showed up to cast their vote. The hiccup occurred on Thursday, when shareholders voted to approve all but one of the proposals as part of the merger — proposal two, which would revise the company's charter so that Lucid could receive key financing. The lack of shareholders was blamed on retail investors' unfamiliarity with the SPAC process and, unbelievably, spam filters gone awry.
The S&P 500 and Nasdaq indexes hit record highs on Friday and were on track to end the week with gains, helped by megacap growth stocks and strong earnings from social media companies, while a weak forecast from Intel hit chipmakers. Twitter Inc gained 4.2% after it reported quarterly revenue growth, while Snapchat-owner Snap Inc surged 22.5% on beating estimates for user growth and revenue. Strong results from the social media firms set a positive precedent for Facebook Inc, which jumped 6.7%.
Cathie Wood's ARK Invest ETFs are some of the hottest ETFs after 2020's huge gains. Five ARK Invest stocks to buy and watch include Coinbase and Tesla.
(Bloomberg) -- In the stock market, the refusal of retail investors to back down from every macro threat has become the only story. When will it end? Judging by the size of all the pools of cash lying around, it could be a while.Among all the economic stories of the pandemic, the one about money piling up in people's accounts has been the most significant in the stock market, where the S&P 500 just notched its seventh gain in nine weeks. Money market accounts, viewed in some circles as a "dry po
(Bloomberg) -- On Monday at around 1 p.m. in New York, just as U.S. stocks were gripped by the worst trading session in months, Google searches for the "Dow Jones" spiked.By the closing bell, the Dow Jones Industrial Average had clawed back some of the biggest losses, and the next day posted its best performance in a month.This week is lesson to everyone on Wall Street who thought the day-trading army had beaten a retreat: They snapped up stocks at the fastest clip on record, pouring around $2.2
General Motors Co and its Cruise robo-taxi subsidiary said early Saturday they have asked a U.S. federal court to stop Ford Motor Co from using the name "BlueCruise" to market its hands-free driving technology. In a statement and documents released shortly after midnight Detroit time, GM said Ford's use of the BlueCruise name infringed on GM's Super Cruise and other GM trademarks for automated driving, such as Hyper Cruise, as well as Cruise's trademarks.
Angels minor league players gave a "deeply disturbing" description of life in the minors, which an advocacy group says needs to be addressed.
Yet again, retail investors swam downstream as institutional investors swam up it, buying the dip when the markets swooned.
Is crypto the (new) trade of our lifetime? Heretofore each downturn has been followed by the price of the coin recovering and then going on to greatly exceed its previous high. Doesn't that scream long term buy and hold?
Crypto kiosk company Bitcoin Depot plans to hit "thousands" of locations with 700 units already installed.
Although Europe isn't banning anonymous crypto wallets, proposed rule changes could hurt the crypto industry. It's time to fight back.
The shares of Uber declined today after it lost roughly 50% of its investment in Didi caused by the crackdown from the Chinese government.
In times of market trouble, investors look for ways to limit their exposure while not foregoing returns entirely. Far better than choosing cash in these situations may be exchange-traded funds (ETFs), which are designed to be stable providers of moderate returns. Selecting one or more of these funds allows investors to cut market exposure while still enjoying reasonable returns.
In the latest escalation of a growing rivalry, Stellar Lumens has opened negotiations to purchase MoneyGram – a popular global remittance app formerly partnered with Ripple.
'The Encouraging Americans to Save Act' would give eligible workers a credit to their retirement accounts
At the moment, none seems to be stirring more of a buzz than inflation. Earlier this month, the Bureau of Labor Statistics reported that 12-month inflation, as measured by the Consumer Price Index for All Urban Consumers (CPI-U) was 5.4% in June 2021.
Read full article at Yahoo Finance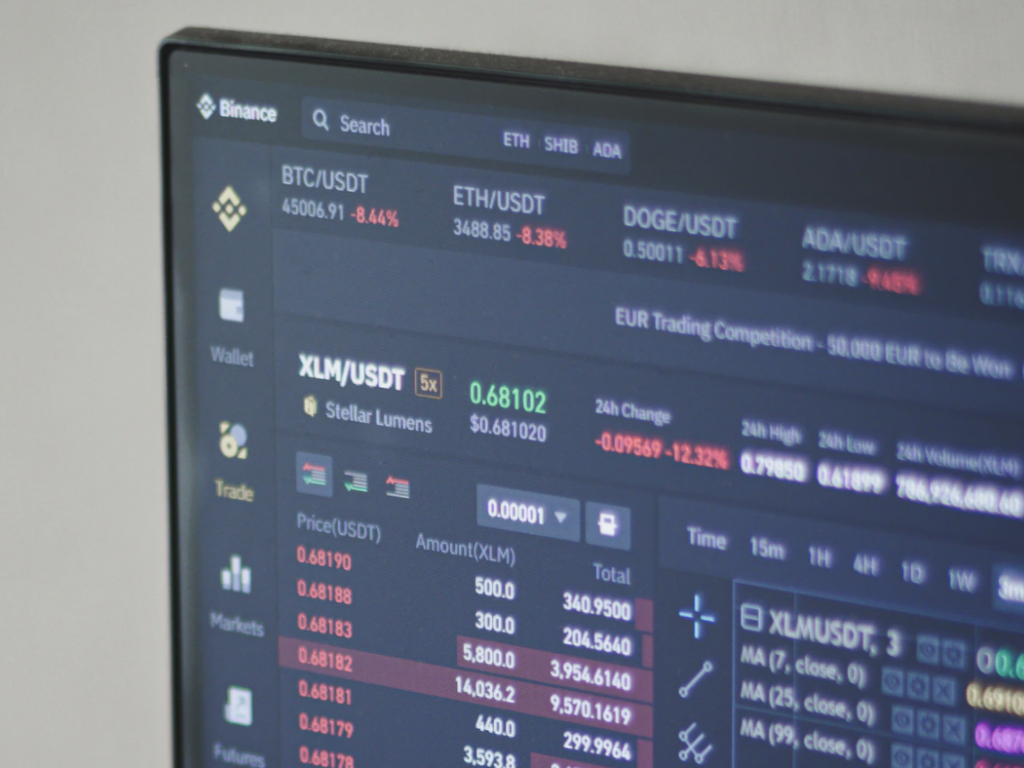 Markets Insider 24 July, 2021 - 03:10pm
© 2021 Insider Inc. and finanzen.net GmbH (Imprint). All rights reserved.
Registration on or use of this site constitutes acceptance of our Terms of Service and Privacy Policy.
Bitcoin (CRYPTO: BTC) is severely undervalued compared to the Bitcoin stock-to-flow (S2F) model, data shows.
What Happened: According to Glassnode, when BTC price dipped under $30,000 on Tuesday, it was only at about 0.27 of the value that it was estimated to have, according to the S2F model.
Such a strong undervaluation cannot be observed anywhere else on Glassnode's charts, and they go as far back as July 2010.
This might be as far as the coin's price has ever been from the estimates.
Widely produced commodities, such as copper, are not considered to be a good store of value because of the new supply, while hard-to-produce commodities such as gold are believed to be a better fit.
This model is simply trying to measure this difference in a more objective and precise way — going as far as to give fair price estimates.
S2F quantifies the scarcity that, according to many, makes Bitcoin valuable, dividing the total global supply by the annual production. Bitcoin was programmed to be artificially scarce, limiting the number of coins to be ever be mined — 21 million — and decreasing their rate of production during events called "halvings."
During those events, Bitcoin production is cut in half, and S2F's Bitcoin value estimates jump sharply upwards as a consequence.
In the chart above, every halving event is symbolized by the Bitcoin's price indicator becoming blue.
Lastly, the correction phase causes the coin's price to fall under those very same price expectations.
Furthermore, PlanB himself admitted that his model might become invalidated if any of the fundamentals that seemingly made it true so far change or a bearish scenario realizes — for instance, a widespread ban drastically decreasing demand.
FXStreet 23 July, 2021 - 12:17pm
Bitcoin price captured the upper line of a falling wedge pattern this week, signaling that the flagship cryptocurrency may be on to bullish outcomes. Ethereum price confronts the 2020 ascending trendline, reinforcing the 200-day SMA. XRP price has credible support at $0.51 to counter any renewal in selling pressure.
Bitcoin price has registered a close above the falling wedge's upper resistance line, possibly initiating a new trend for BTC. It is the first signal that the pioneer cryptocurrency is finished testing the price range around the psychologically important $30,000 and the neckline of a head-and-shoulders pattern. To confirm the breakout, Bitcoin price needs to close the week above the resistance line and the 50-week SMA at $32,290, setting the stage for a legitimate trend change.
Aspirations for an immediate continuation of the BTC rebound are tempered by a range of resistance outlined by the 50-day SMA at $34,361 and the 10-week SMA at $34,934. In particular, the 10-week SMA invites a big challenge as Bitcoin price has not closed above the moving average since the beginning of May.
Above $34,934, Bitcoin price can target a rally to the June 15 high of $41,322 and the January high of $41,986. If momentum is sustained, BTC should surpass the 38.2% Fibonacci retracement of the April-July correction at $42,589 and eventually test the 200-day SMA at $42,604, completing a 38% gain from the current price.
It is essential to remain patient for the rally to gain traction and be mindful that the declining 50-day SMA will try to pull down on Bitcoin price as the move develops.
A collective sell-off in the cryptocurrency complex could undermine the developing trend change. Bitcoin price needs to hold the falling wedge's lower support line at $27,725 and the 61.8% retracement level of the advance beginning in March 2020 at $27,175 on a daily closing basis.
A BTC failure to engage those levels exposes it to a drop to the 2017 high of $19,981, constituting a 27% loss from the 61.8% retracement level.
From an on-chain perspective, Bitcoin price is not well supported according to the Daily Active Addresses. Interaction with the platform continues to trend down based on the 30 eight-hour SMA. The current level of the moving average shows activity is now at the lowest level since January 7.
A second concern for BTC is the negative or neutral funding rates over the last two months. The rates reveal that investors continue to build short positions despite the marginal new lows printed since May 19.
However, once a semblance of an uptrend is accomplished, there could be a buying stampede as shorts are forced to cover positions.
Here, FXStreet's analysts evaluate where BTC could be heading next as it seems bound for a rebound before capitulation.
Only July 20, Ethereum price successfully tested the impressive resistance around $1,700, formulated by the May 23 low of $1,728, the June 22 low of $1,700, the June 26 low of $1,717 and the 61.8% Fibonacci retracement of the ETH rally beginning in March 2020 at $1,730. The average of the four levels is $1,719, and the July 20 low was $1,718.
The gain of almost 12% on July 21 was a telling reply to the successful test of the support, carrying Ethereum price to a trifecta of a resistance framed by the influential February high of $2,041, the 200-day SMA at $2,094 and the 2020 ascending trend line at $2,110. Over the three days, ETH has recorded a 19% rally.
To dream of more significant returns, Ethereum price needs to achieve a daily close above the 2020 ascending trend line, currently at $2,110. It would release ETH to test the 50-day SMA at $2,184 and, more importantly, extend the rally to the descending triangle's upper trend line at $2,485, generating a 42% homerun from the July 21 low.
If Ethereum price cannot overcome the resistance, investors should prepare for a new test of the $1,700 range. A daily close below $1,700 shifts the focus to the support marked by the 2018 high of $1,419. The 50-week SMA strengthens the support at $1,415.
Here, FXStreet's analysts evaluate where ETH could be heading next as it seems bound for a breakout after holding above key support.
XRP price recorded an 8% gain on July 21, placing the international settlements token above the 78.6% Fibonacci retracement of the advance beginning in December 2020 at $0.555. Moreover, yesterday's follow-through raised Ripple above the 50-week SMA at $0.571, setting the weekly chart up for a bullish hammer candlestick.
To confirm the low on July 20 at $0.516 and bullish XRP price intentions, Ripple needs a daily close above May's declining trend line at $0.620 and the critical resistance associated with the May 23 low of $0.652.
Suppose a collective rally gains traction in the cryptocurrency complex. In that case, XRP price may engage the 50-day SMA at $0.706 before encountering the intimidating resistance bordered by the converging 200-day SMA at $.759 and the neckline of an inverse head-and-shoulders pattern at $0.773.
To avoid the XRP price churn associated with multiple layers of resistance, it is recommended to use weakness down to the 78.6% retracement level at $0.555 to accumulate Ripple, with a stop at the June 22 low of $0.512. A successful execution would reveal the potential for a 38% gain from the retracement level.
So far, the XRP price strength is not proving to be a one-day event, but a daily close below the June 22 low of $0.512 raises the probability that Ripple will test the 200-week SMA (mean) at $0.457. Any additional weakness would imply bigger issues for the cryptocurrency.
Events this week have reignited an interest in the cryptocurrency market, motivating market operators to trigger pilot buys for the first time in a few weeks. For now, it is all about the weekly close and where it positions the three crypto majors relative to influential moving averages and support and resistance levels. With the improved technicals, investors can explore bullish outcomes for the rest of the summer.
Here, FXStreet's analysts evaluate where Ripple could be heading next as it seems bound for an upswing before lower lows.
If not otherwise explicitly mentioned in the body of the article, at the time of writing, the author has no position in any stock mentioned in this article and no business relationship with any company mentioned. The author has not received compensation for writing this article, other than from FXStreet.
FXStreet and the author do not provide personalized recommendations. The author makes no representations as to the accuracy, completeness, or suitability of this information. FXStreet and the author will not be liable for any errors, omissions or any losses, injuries or damages arising from this information and its display or use. Errors and omissions excepted.
The author and FXStreet are not registered investment advisors and nothing in this article is intended to be investment advice.
Bitcoin price revival appears to be going well considering the recent sweep of the July 15 swing high. While this uptick in the market value of BTC is bullish, there is bound to be a minor pullback that will help catapult the pioneer cryptocurrency higher.
A brief technical and on-chain analysis on TRON price. Here, FXStreet's analysts evaluate where TRX could be heading next as it seems bound for higher highs.
Cardano price has seen a quick run-up after approaching the trading range's lower limit. While this uptick in ADA's market value was obvious, investors should be aware of a minor pullback before the so-called "Ethereum killer" embarks on another leg up.
A brief technical and on-chain analysis on Dash price. Here, FXStreet's analysts evaluate where DASH could be heading next as it consolidates.
Bitcoin price shows considerable strength after springing from the recent crashes. Still, it is uncertain whether the current bullish impulse will morph into a new uptrend or lead to a more profound decline.
Note: All information on this page is subject to change. The use of this website constitutes acceptance of our user agreement. Please read our privacy policy and legal disclaimer.
Trading foreign exchange on margin carries a high level of risk and may not be suitable for all investors. The high degree of leverage can work against you as well as for you. Before deciding to trade foreign exchange you should carefully consider your investment objectives, level of experience and risk appetite. The possibility exists that you could sustain a loss of some or all of your initial investment and therefore you should not invest money that you cannot afford to lose. You should be aware of all the risks associated with foreign exchange trading and seek advice from an independent financial advisor if you have any doubts.
Opinions expressed at FXStreet are those of the individual authors and do not necessarily represent the opinion of FXStreet or its management. FXStreet has not verified the accuracy or basis-in-fact of any claim or statement made by any independent author: errors and Omissions may occur.Any opinions, news, research, analyses, prices or other information contained on this website, by FXStreet, its employees, partners or contributors, is provided as general market commentary and does not constitute investment advice. FXStreet will not accept liability for any loss or damage, including without limitation to, any loss of profit, which may arise directly or indirectly from use of or reliance on such information.