NASA JPL
NASAJPL
#MarsHelicopter pushes its Red Planet limits. 🚁 The rotorcraft completed its 9th and most challenging flight yet, flying for 166.4 seconds at a speed of 5 m/s. Take a look at this shot of Ingenuity's shadow captured with its navigation camera. go.nasa.gov/ingenuity pic.twitter.com/zUIbrr7Qw9
Jonathan Strickland
JonStrickland
Ingenuity, the little helicopter on Mars, completed a 9th flight. The original plan was to MAYBE get five flights out of it. @NASA follows the philosophy of Mr. Scott on Star Trek: under promise and overdeliver.
Morissa (Dr. Rissy) Schwartz
MorissaSchwartz
Perseverance Selfie with Ingenuity #space #nasa pic.twitter.com/kAirYBb4iW

Carla Gentry
data_nerd
NASA's Mars helicopter Ingenuity could keep flying the Martian skies for months www.space.com/mars-helicopter-ingenuity-keep-flying-months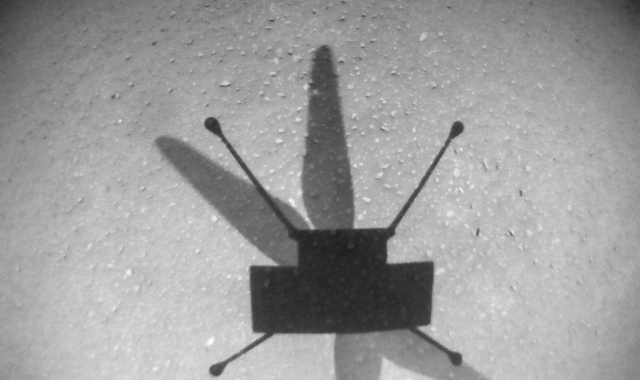 Sign up or login to join the discussions!
On Monday, NASA's Ingenuity helicopter made its ninth and most ambitious flight yet.
This time, the space agency said, the tiny flier took to the skies for 166.4 seconds and reached a maximum speed of 5 m/s. This is equivalent to 10 mph, or a brisk run. During this flight, Ingenuity covered about 625 meters.
A little more than two months have passed since Ingenuity's first flight, on April 19 of this year. During that initial test, the helicopter hovered to about 3 meters above the ground before landing again. Since then, the engineering team behind the helicopter has pushed the vehicle higher, farther, and faster across the surface of Mars.
In flying farther and farther, Ingenuity is showing off some of the benefits of using powered flight to explore other worlds. The distance Ingenuity traveled during this single flight, NASA engineer Keri Bean noted, is about the same distance that the NASA's Spirit rover traveled during the entirety of its prime mission on the red planet.
"We believe Ingenuity is ready for the challenge, based on the resilience and robustness demonstrated in our flights so far," NASA said. "Second, this high-risk, high-reward attempt fits perfectly within the goals of our current operational demonstration phase. A successful flight would be a powerful demonstration of the capability that an aerial vehicle, and only an aerial vehicle, can bring to bear in the context of Mars exploration."
That risk seems to have paid off handsomely. Not only does NASA have Ingenuity back safe and sound, scientists will be able to study images of a region they otherwise would have missed.
You must login or create an account to comment.
Join the Ars Orbital Transmission mailing list to get weekly updates delivered to your inbox.
Read full article at CNN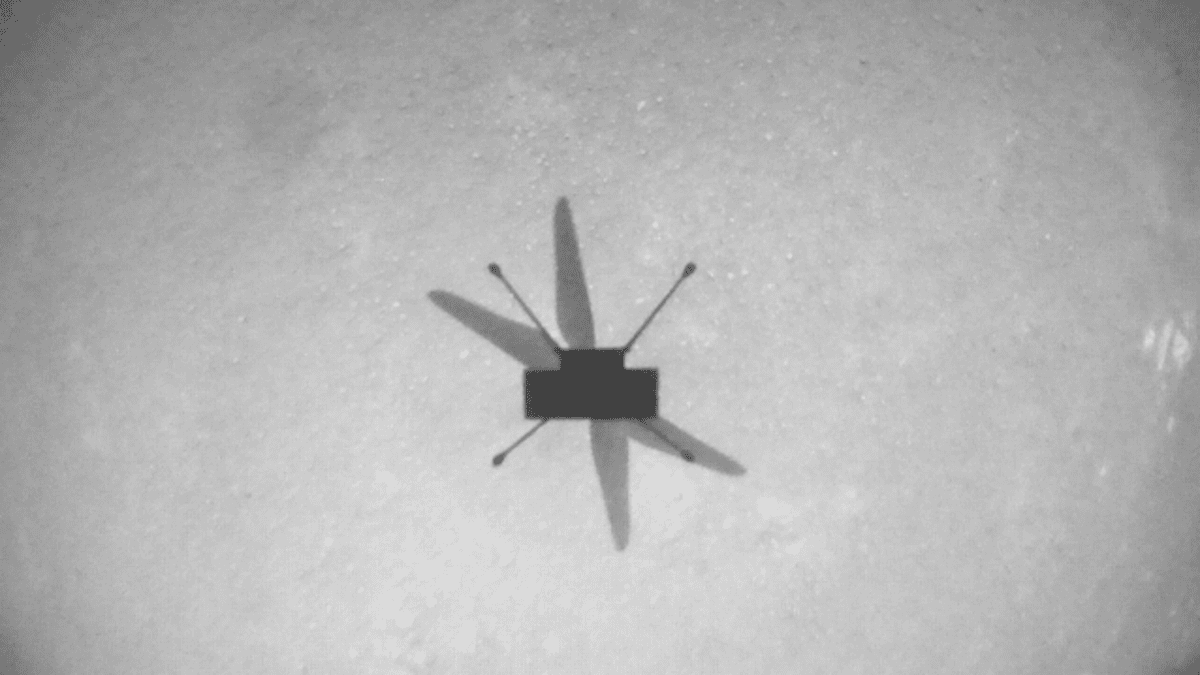 Gizmodo 07 July, 2021 - 11:19am
The Hill 07 July, 2021 - 11:19am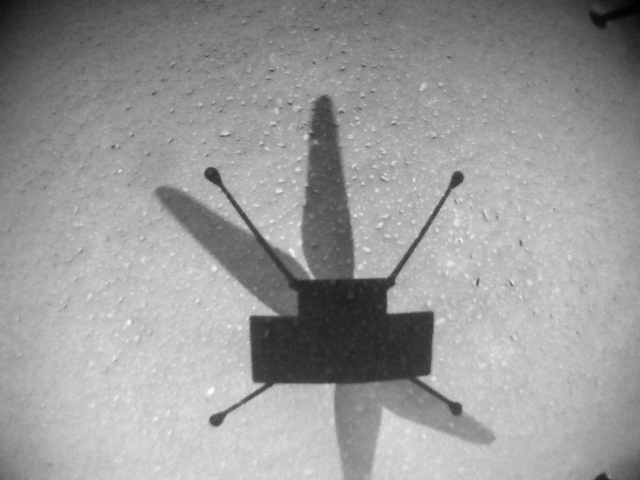 Space.com 07 July, 2021 - 11:19am
Ingenuity tested out some new tricks on its ninth flight.
Ingenuity made its ninth flight on Mars on Monday (July 5), when it remained aloft for 166.4 seconds and flew as fast as 16 feet (5 meters) per second, according to a tweet from NASA's Jet Propulsion Laboratory in California, which oversees the project.
Before the flight, NASA announced that the little aircraft would attempt new feats on this sortie, including taking a shortcut over rocky terrain unsafe for the helicopter's much larger companion, the Perseverance rover, mission personnel wrote in a July 2 statement.
Related: Watch NASA's Mars helicopter Ingenuity fly in 3D (video)
The Ingenuity helicopter is a technology demonstration project that trekked to Mars tucked away in Perseverance's belly and arrived on the Red Planet on Feb. 18. The rover deployed the 4-lb. (1.8 kilograms) chopper in early April for what was planned to be a five-flight, one-month mission. Ingenuity made history on April 19 when it executed the first powered flight on Mars.
But as Ingenuity aced flight after flight, NASA extended the little helicopter's mission, setting the experimental aircraft to keep pace with Perseverance as the rover begins its geology and astrobiology work, the heart of the mission.
As capable as Perseverance is, however, the rover faces limitations in terms of where it can safely explore, and that's what inspired Ingenuity's newest flight, which comes two weeks after the helicopter's most recent sortie.
"Perseverance is currently at the eastern edge of a scientifically interesting region called 'Séítah,' which is characterized by sandy ripples that could be very challenging terrain for wheeled vehicles like the rover," the helicopter's team wrote in the statement outlining plans for the ninth flight.
"Rather than continuing to skip ahead of the rover, however, we will now attempt to do something that only an aerial vehicle at Mars could accomplish — take a shortcut straight across a portion of the Séítah region and land on a plain to the south. On the way, we plan to take color aerial images of the rocks and ripples that we pass over."
NASA has not yet published the full statistics and image collection from the flight. Data from Ingenuity must pass first to Perseverance, then to one of the fleet of satellites orbiting Mars, then to Earth.
Email Meghan Bartels at mbartels@space.com or follow her on Twitter @meghanbartels. Follow us on Twitter @Spacedotcom and on Facebook.
Thank you for signing up to Space. You will receive a verification email shortly.
There was a problem. Please refresh the page and try again.
© Future US, Inc. 11 West 42nd Street, 15th Floor, New York, NY 10036.
UPI News 07 July, 2021 - 11:19am
Ingenuity scanned an area of the Martian Jezero Crater, named the Séítah, where the rover could get bogged down in sand dunes, NASA said in a description of the flight plan.
The space agency planned the flight to help the rover science team with "close-up images of the Séítah terrain that they will otherwise be unable to acquire" to plan the rover's path.
After Ingenuity finishes at the Séítah formations, it next will investigate an area called Raised Ridges for more potential science targets, said Ken Williford, deputy project scientist on the Mars mission.
Ultimately, the mission is to determine if life ever existed on Mars. To that end, Ingenuity truly is a scout now, Williford said.
NASA also can use Ingenuity's images to start doing science early, Williford said.
"Assuming the images are of high quality, we can get scientific guys on those images and we can start making interpretations before the rover and its instruments arrive," he said.
The Mars 2020 mission, including the rover and helicopter, was launched from Florida on July 30 and landed on the Red Planet on Feb. 18. The helicopter made its historic first flight -- the first powered, controlled flight on another planet -- on April 19.
autoevolution 07 July, 2021 - 11:19am
ExtremeTech 07 July, 2021 - 07:30am
— NASA JPL (@NASAJPL) July 5, 2021
Subscribe Today to get the latest ExtremeTech news delivered right to your inbox.
We strongly encourage you to read our updated PRIVACY POLICY and COOKIE POLICY.
CNBC 06 July, 2021 - 07:49pm
Intelligent life may exist elsewhere in the universe besides Earth, NASA Administrator Bill Nelson said in an interview Tuesday, and NASA is actively searching for signs.
"If you have a universe that is 13.5 billion years old — it is so big — is there another chance for another Sun and another planet that has an atmosphere like ours? I would say yes, so I think we're going to get some indication that there's intelligent life out there," said Nelson during an interview Tuesday. 
In a report on unidentified flying objects released June 25, the U.S. government couldn't explain 143 of the 144 cases of UFOs reported by military planes from 2004 to 2021, according to the Office of the Director of National Intelligence.
Nelson told CNBC's "The News with Shepard Smith" that NASA has been involved in searching for intelligent life for years, and noted that the agency is looking for life on the planets in our solar system and elsewhere in the cosmos to determine other Suns that have planets with a habitable atmosphere. 
The former Florida Senator added that part of the search includes learning more about Mars. NASA's experimental helicopter Ingenuity made its ninth flight on Mars on Monday. Ingenuity flew for nearly 3 minutes, going as fast as 5 meters (over 16 feet) per second, according to a tweet from NASA's Jet Propulsion Laboratory in California.
"This particular time, it's scouting a very sandy region in order to determine should the rover go there and possibly get stuck in the sand, so Ingenuity is just doing amazing things," Nelson said. 
NASA described Ingenuity's latest flight as "the most nerve-wracking flight since Flight 1."
Got a confidential news tip? We want to hear from you.
Sign up for free newsletters and get more CNBC delivered to your inbox
Get this delivered to your inbox, and more info about our products and services. 
Data is a real-time snapshot *Data is delayed at least 15 minutes. Global Business and Financial News, Stock Quotes, and Market Data and Analysis.