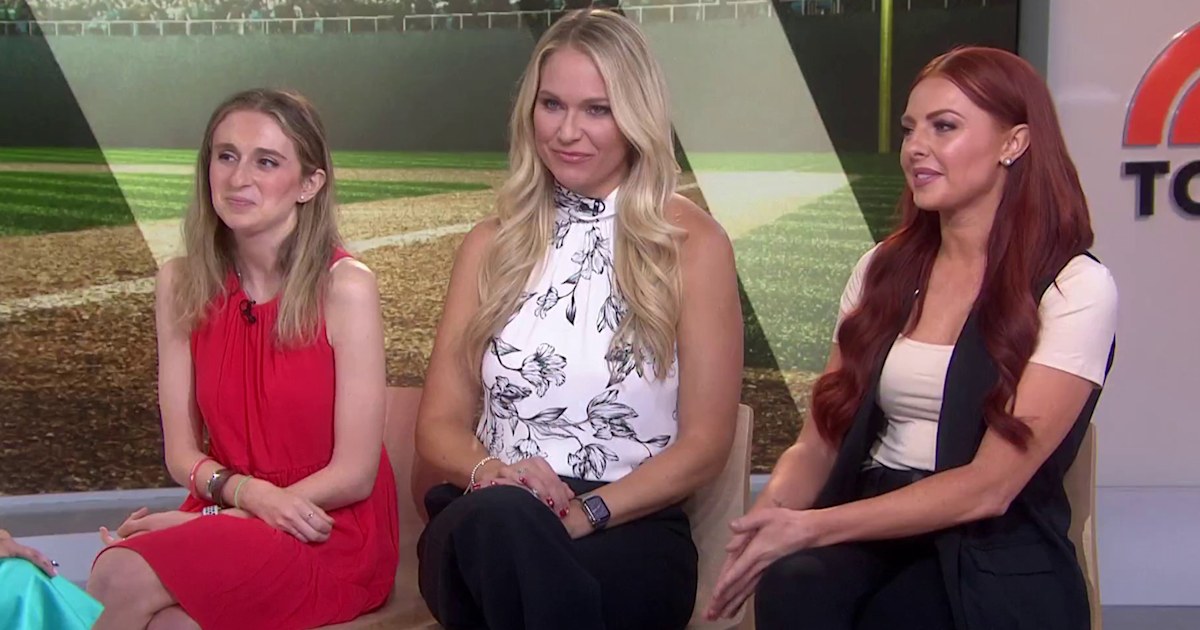 Steals and Deals: Up to 76% off satin pillowcases, beach reads and more
The matchup marked the first time a Major League Baseball game broadcast featured solely women.
Melanie Newman did the play-by-play, while Sarah Langs provided color commentary. Alanna Rizzo served as on-field reporter and Heidi Watney and Lauren Gardner handled the pregame and postgame shows.
Watney said they were surprised by all the attention the broadcast was getting before the game was played.
"I sent a little text out to everyone and said, 'Just remember, you're here because you love the game,'" she said Wednesday on TODAY. "And that's what fans want to see, the joy you have for the sport that they love."
Newman said she hasn't had a chance to reflect on the moment, since she's in the middle of a quick turnaround, with the Orioles playing again Wednesday afternoon.
I literally can't keep up with all the notifications so I just want to say a big thank you to every kind tweet, text etc over the past 24 hours. The moment has not sank in yet but calling the game last night with such an amazing crew of women is simply THE best 🧡
"After the final out today, I might finally get some time to really digest it and look back at it," Newman said.
"It hasn't fully hit yet, but I'm excited to be able to look back at it," she added.
Rizzo was acutely aware of what she and her colleagues accomplished, and that it showed young girls men's sports broadcasting was field they can enter.
"I think that it's so important for us to recognize the moment of, we have an important job to do and we have an opportunity to be able to open some doors for some young women that may not have realized that this was in fact a career path and a choice that they could do," she said.
She also said she'd like to come to a point where no one thinks twice when seeing women working a baseball game.
"At the end of the day, the five of us, collectively, have earned this right," she said. "We have the résumés to be there and, at some point, we need to take gender out of the equation and just say, 'You know what? This is a quality broadcast team, not a quality female broadcast team.'"
Gardner was also quick to thank the men who helped them all get to where they are today.
Langs noted that her parents are huge sports fans, and her mother wanted to be an announcer.
"She wanted to do that, but at the time when she was young, that was not really a realistic career path," she said.
The all-female broadcast is the latest step for women in baseball. Kim Ng became the first woman to serve as general manager when she took over the role for the Miami Marlins. Newman says the world is ready for more inclusion.
"That ratio of positivity has just so far outgained what used to be pretty negative and, quite frankly, an ignorant reaction when it was negative, to our presence in the sport," she said. "And so it's really cool just to see that turning the tide and moving forward."
Drew Weisholtz is a reporter for TODAY Digital, focusing on pop culture, nostalgia and trending stories. He has seen every episode of "Saved by the Bell" at least 50 times, longs to perfect the crane kick from "The Karate Kid" and performs stand-up comedy, while also cheering on the New York Yankees and New York Giants. A graduate of Rutgers University, he is the married father of two kids who believe he is ridiculous.
Read full article at Today.com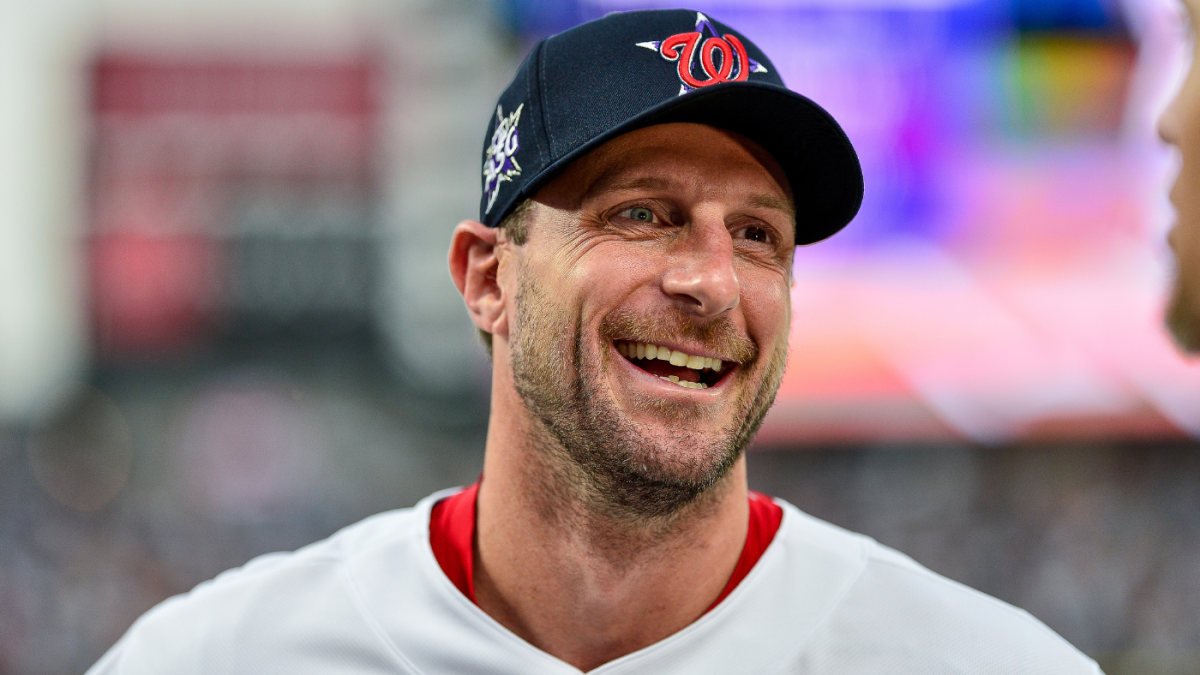 CBS Sports 21 July, 2021 - 10:10pm
MLB's July 30 trade deadline is now fewer than 10 days away, and that means it's time to let the rumors flow like water. Below, you can find the day's most notable reports and trade speculation.
One of the big storylines of this deadline is whether or not the Nationals make their ace Max Scherzer available. Scherzer, an impending free agent who has earned a no-trade clause by virtue of his 10-5 rights, would immediately become the top starter on the market. Alas, the Nationals themselves don't seem to know which direction they'll be taking between now and then.
"We still have some games to play before we make those kind of decisions, but I think a dual path is probably the most advantageous for us right now," Nationals general manager Mike Rizzo told reporters on Tuesday, according to Mark Zuckerman of MASN.
The Nationals entered Wednesday with a 45-49 record, putting them some five games back in the National League East. Washington will complete a series against the Miami Marlins on Wednesday before then beginning a seven-game road trip against the Baltimore Orioles and Philadelphia Phillies.
:I think if we turn into definite sellers, everything will be on the table, I would think," Rizzo added. "...Which I don't foresee."
Presuming the Nationals don't crater, it stands to reason they'll hold onto Scherzer. Even if they do fall off, it's possible that ownership would veto a Scherzer trade, much as they did with Bryce Harper during his walk year. As such, the smart money is on Scherzer remaining in D.C. through at least the rest of the season.
The Rays are among the teams with interest in Twins designated hitter Nelson Cruz, according to The Athletic's Ken Rosenthal. 
Tampa Bay has been linked to Cruz in the past, and he would be a sensible addition for a lineup that ranks 13th in FanGraphs' wRC+ measure. Cruz, 41, entered Wednesday hitting .295/.373/.538 (153 OPS+) with 19 home runs in 84 games; he would rank first on the Rays in OPS+ and tied for second in homers.
If there is a catch as it pertains to the Rays' interest in Cruz, it would be that they'd have to then play Austin Meadows in the outfield. The Rays, through preference or necessity, tend to prioritize defense over offense.
© 2004-2021 CBS Interactive. All Rights Reserved.
CBS Sports is a registered trademark of CBS Broadcasting Inc. Commissioner.com is a registered trademark of CBS Interactive Inc.
Images by Getty Images and US Presswire
MLB 21 July, 2021 - 10:10pm
ESPN 21 July, 2021 - 10:10pm
ST. PETERSBURG, Fla. -- — Austin Meadows hit a two-out, two-run single in the ninth inning and the Tampa Bay Rays rallied past the Baltimore Orioles 5-4 on Wednesday.
Randy Arozarena hit two home runs and also had a key single as the Rays won for the 10th time in 13 games. He stopped a 21-game home run drought in Tuesday night's 9-3 win over Baltimore.
"We're a very tough team," Arozarena said through an interpreter. "A very united team. We all have the same mentality in the sense that we all working hard to get that World Series."
Tampa Bay trailed when Francisco Mejía led off the ninth with a single against Tanner Scott (3-4) and pinch-hitter Mike Zunino drew a one-out walk.
Arozarena then hit a flare to right field, with first baseman Ryan Mountcastle and second baseman Pat Valaika colliding in pursuit, for a single that loaded the bases.
"I called it pretty late there," Mountcastle said. "Honestly, I didn't know Pat was over there. Here (at Tropicana Field) you can't really put your head down and run, you've got to stare at the ball the whole time so you don't lose it."
"I think we were both just doing that and it was sort of tough for both of us and unfortunately collided a little bit and let it fall. It's a tough play, I think," he said.
After Vidal Bruján struck out, Meadows lined an 0-2 pitch to center.
"One strike away," Baltimore manager Brandon Hyde said. "That one hurts."
Collin McHugh (3-1) worked two scoreless innings.
Alexander Wells allowed three runs and five hits over 5 2/3 innings while filling in for scheduled Baltimore starter Keegan Akin, who was placed on the COVID-19 injured list.
Wells, making his first career start and third appearance overall, struck out seven and walked two during a 93-pitch outing. The left-hander became the 13th Australian-born player and third with the Orioles to make a big league start.
"I found out about 11:30 last night," Wells said. "I called my parents straight away, called my girlfriend, my brother and then tried to get some sleep. Managed to get a little. I'm glad it was a day game because didn't have much time to think about anything. Just get out there and get going."
Wells said family and friends back home watched the game that started at 2 a.m. local time in Australia.
In addition to Akin, outfielder Anthony Santander also was put on the COVID-19 IL.
Mountcastle hit a solo homer in the fourth. He put Baltimore ahead 4-3 with a sixth-inning RBI single off Matt Wisler.
Valaika had a solo home run, his second of the year and first since May 5, to tie it at 2 in the third.
Baltimore's Austin Hays had a first-inning RBI double before Arozarena connected for a leadoff homer in the bottom of the inning.
Arozarena's second solo homer in the fifth pulled the Rays even at 3.
Rays starter Michael Wacha gave up three runs and six hits in five innings.
Bruján, a promising rookie, was optioned to Triple-A Durham after the game. He hit .077 (2 for 26) in 10 games.
The other Australian-born pitchers to start with Baltimore were RHP John Stephens and LHP Damian Moss.
Orioles: C Austin Wynns had his mask knocked off on the follow through of Arozarena's swing in the seventh. He stayed in the game.
Rays: Zunino (left hip flexor tightness) was out of the starting lineup for the second straight game… OF Manuel Margot (left hamstring strain) will start a rehab assignment in the next couple days with Triple-A Durham. … RHP J.P. Feyereisen (right shoulder discomfort) went on the 10-day IL and RHP Chris Mazza was recalled from Triple-A Durham.
Orioles: RHP Jorge López (2-12) will start Friday night's game against Washington.
Rays: RHP Luis Patiño (1-2) was put on the taxi squad from Triple-A Durham and will face Cleveland on Thursday night.
"We want him to start," Tampa Bay manager Kevin Cash said of the 21-year old Patiño. "He's done good things in Triple-A. A young pitcher that we've got to find a way to give him a little bit of a lane, create a path for him to take off here for us and hopefully tomorrow is the start of that."
RHP Cal Quantrill (2-2) is starting for the Indians.
Yermin Mercedes, an April sensation for the Chicago White Sox who was recently demoted to Triple-A, announced Wednesday night that he was "stepping aside" indefinitely from baseball.
— The second game of a split doubleheader between the San Diego Padres and Atlanta Braves was suspended by rain in the middle of the fifth inning Wednesday night.
Dylan Carlson hits an RBI double in the seventh inning to give the Cardinals a 2-1 lead vs. the Cubs.
— Pinch-hitter Jorge Alfaro drove in the go-ahead run with a double in the 10th inning, and the Miami Marlins snapped a four-game losing streak with a 3-1 win over the Washington Nationals on Wednesday night.
— For the city of Buffalo, it was fun while it lasted.
Jorge Alfaro comes up clutch for the Marlins as he rips a go-ahead RBI double to left in the tenth inning.
WJZ 21 July, 2021 - 10:10pm
MLB 21 July, 2021 - 10:10pm
masn Orioles 21 July, 2021 - 10:10pm
Bally Sports Florida & Bally Sports Sun 21 July, 2021 - 10:10pm
Baltimore Sun 21 July, 2021 - 02:28pm
He appreciated that the Orioles' series finale with the Tampa Bay Rays was a day game, meaning he didn't have to spend too much time thinking. But it also meant his family back home in his native Australia had to set their alarms for 2 a.m. local time to watch a game that started at noon at Tropicana Field in St. Petersburg, Florida.
If they went back to sleep once Wells came out of the game, they couldn't be blamed. They also would've missed a disappointing finish for his team. Wells' strong but unexpected first start came in a game that ended when the Rays scored twice in the bottom of the ninth inning against Tanner Scott on Austin Meadows' bases-loaded single for a walk-off 5-4 victory.
Wells, who had pitched 11 scoreless innings in his previous two outings for Triple-A Norfolk, drew the start only because scheduled starter Keegan Akin and outfielder Anthony Santander were placed on the COVID-19 injured list Wednesday morning. He had been a member of the Orioles' taxi squad for the road trip, one they finished 3-3 but ended feeling disappointed they couldn't earn what would've been their first road series victory against the Rays since June 2017.
Wells gave them the chance to do so, working 5 ⅔ innings and striking out seven. Rays postseason star Randy Arozarena homered off him twice, including on his second pitch of the start, but after Joey Wendle's RBI triple in the second, Wells settled in. Arozarena's second home run was one of only two hits he allowed over the final 16 batters he faced. The performance gave the Orioles (31-64) their fourth straight start of at least five innings, their longest streak this season.
"Third inning onwards, I felt a lot better," Wells said. "Instead of trying to nibble around the plate, I just went out there and I attacked the zone like I normally do and have been doing lately. Knowing that my stuff can play here, it gives me confidence going into my next appearance."
Added manager Brandon Hyde: "He had a tough first inning, first couple innings there, a lot of balls kind of up in the middle of the zone, and then he really settled in nicely. Thought he threw well to their left-handers really after that second inning, thought he had the slider going, pitched in with his fastball to lefties and righties, and really competed in the sixth inning, so gave us a chance to win."
Cole Sulser, Dillon Tate and Paul Fry combined to get the game to the ninth with the Orioles leading 4-3. Scott, who has yet to earn a save this season, scattered two strikeouts amid a walk and two singles, one of which was a bloop from Arozarena that fell when first baseman Ryan Mountcastle and second baseman Pat Valaika collided. In an 0-2 count, Meadows singled to center to end the game.
"I called it pretty late there, and honestly, I didn't know Pat was over there," Mountcastle said. "Here at that the Trop, you can't really put your head down and run. You've got to stare at the ball the whole time so you don't lose it, so I think we were both just doing that, and it was a sort of a tough play for both of us and unfortunately collided a little bit and let it fall."
Hyde hadn't seen a replay of the fallen pop-up and wasn't exactly sure what went wrong. He said rookie right-hander Tyler Wells, who has been getting a share of ninth-inning appearances lately, wasn't available Wednesday because of his recent usage.
Before Valaika and Mountcastle bumped into each other, they collided with a couple of first-pitch offerings from Rays starter Michael Wacha.
With the Orioles trailing 2-1, Valaika tied the game by homering on Wacha's first pitch of the third, and Mountcastle gave the Orioles the lead by hammering Wacha's first offering of the fourth out to right-center field. The homer was his first of July after he hit nine to earn American League Rookie of the Month honors in June.
"It feels like barrel's been tough to find, as of late," Mountcastle said. "But today, I felt good to the plate and hopefully I can keep it going moving forward."
After Arozarena tied the game with his homer on Wells' first pitch of the fifth, Mountcastle put Baltimore back ahead with an RBI single in the sixth. In eighth, Mountcastle also battled back from a 1-2 count to draw a walk as the Orioles loaded the bases but failed to score.
Arozarena did damage almost each time up. In the seventh, it was to Orioles catcher Austin Wynns' face.
After Sulser allowed a one-out triple to Brett Phillips, Hyde turned to Tate to face Arozarena. Amid a 10-pitch battle, Arozarena's backswing whacked Wynns, who wears a traditional catcher's mask when he's behind the plate, and cut the catcher's left cheek. He remained in the game, and Tate struck out Arozarena and got Vidal Bruján to ground out to strand the tying run at third.
When Wynns came up to bat in the ninth, he had a bandage on the wound.
TV: MASN, MASN2 Radio: 105.7 FM
PEOPLE 21 July, 2021 - 01:56pm
When the Baltimore Orioles took on the Tampa Bay Rays Tuesday night in St. Petersburg, Florida, Melanie Newman did the play-by-play, Sarah Langs served as an analyst, and Alanna Rizzo was the reporter. Meanwhile, Heidi Watney and Lauren Gardner were co-hosts for the pre- and post-game shows.
"Representation is important in every role and my hope is for this broadcast to become commonplace in the future," Gardner, who works for MLB Network alongside Watney and Rizzo, said in a statement ahead of the game.
Gardner told MLB.com that when she first glanced at her schedule, she didn't realize she was about to be a part of history — but then an MLB Network public relations representative asked her for comment.
"I [thought], 'This is awesome. Then someone said, 'You know, these are all women.' It took a minute for that to sink in, that we were going to be a part of history," she said.
All five women appeared on the Today show Wednesday morning, and Watney explained that they were "surprised" by the attention the broadcast received, as they're just doing their job.
Despite their professionalism, the gravity of the moment was not lost on others, including tennis legend Billie Jean King, who tweeted about the broadcast, and Orioles players, who were heard discussing it in the dugout in a clip shared to Twitter by the league.
"That's very important. Women have to continue to carve out their place," outfielder Anthony Santander told a teammate. "They are already smarter than we are anyway."
Rizzo, who told The New York Times that she's had a male play-by-play voice in her ear for every single game she's ever reported, said she couldn't help but "feel different" about Tuesday's broadcast, which aired on YouTube as part of the MLB Game of the Week Live on YouTube series.
"To do a game where those voices are Melanie and Sarah, that will be a unique feeling and a unique perspective of the game. It's exciting to be a part of something like this," she said. "It shows that the world is changing and it's more accepting of different voices and different looks and perspectives of the game. It's not an all-male game anymore, and we don't live in an all-male world."
Watney, too, emphasized the fact that baseball is for everyone.
"That's important for not just little girls to see, but little boys to see that it's normal, it doesn't matter your gender. It matters that you're passionate and [have] love for the sport, and your knowledge and your understanding of the sport," she told MLB.com. "It's important, but for me, it's going to be another day at work. It's prepping for the Rays and O's."
The first woman to broadcast a televised baseball game was Gayle Gardner in 1993, and the first all-female broadcast of a minor league game — which Newman was a part of — aired in 2019, according to The New York Times.
Noah Garden, MLB's chief revenue officer, told the Times that the league plans to feature all-female broadcast booths more regularly.