Formula 1 RSS UK 05 September, 2021 - 12:31am
The stories were fuelled by a lunch that Stroll had with Alonso's manager Flavio Briatore over the summer break.
That was before Alonso and Alpine agreed to take up an option to extend their F1 partnership into next year, and comes with Aston Martin yet to confirm current driver Sebastian Vettel's deal for 2022.
But with Aston Martin set to imminently conclude a deal with Vettel, the team has moved to dismiss the idea that it wanted to sign Alonso.
A spokesman for the team said: "Lawrence Stroll did not offer a drive to Fernando Alonso, as has been reported in some media.
"Lawrence had lunch with [Alonso's manager] Flavio Briatore in Sardinia during the summer break. Lawrence and Flavio are friends. They have lunched together in Sardinia many times over many years. It was a social occasion, nothing more."
Photo by: Glenn Dunbar / Motorsport Images
Aston Martin team principal Otmar Szafnauer said he expected formal talks with Vettel to finalise his new contract over the next few weeks, with the deal to be confirmed before the end of the season.
"We have a process that we go through and in our contracts," he said at Zandvoort. "Although I don't like to speak about the details there are certain timing milestones.
"Those are coming up within the next couple of weeks and once we've passed those I'm sure we'll make the requisite announcements."
Vettel joined Aston Martin this year after a frustrating end to his career at Ferrari.
Despite a difficult start to the campaign, where he was hampered by a lack of running in pre-season testing, he make good progress and delivered the team's only podium finish so far with second place in the Azerbaijan Grand Prix.
The German also finished second on the road at the Hungarian Grand Prix, but was disqualified after there was not enough fuel left in his car after the race for legality checks.
Wind sensitivity not a factor in Russell's Q2 crash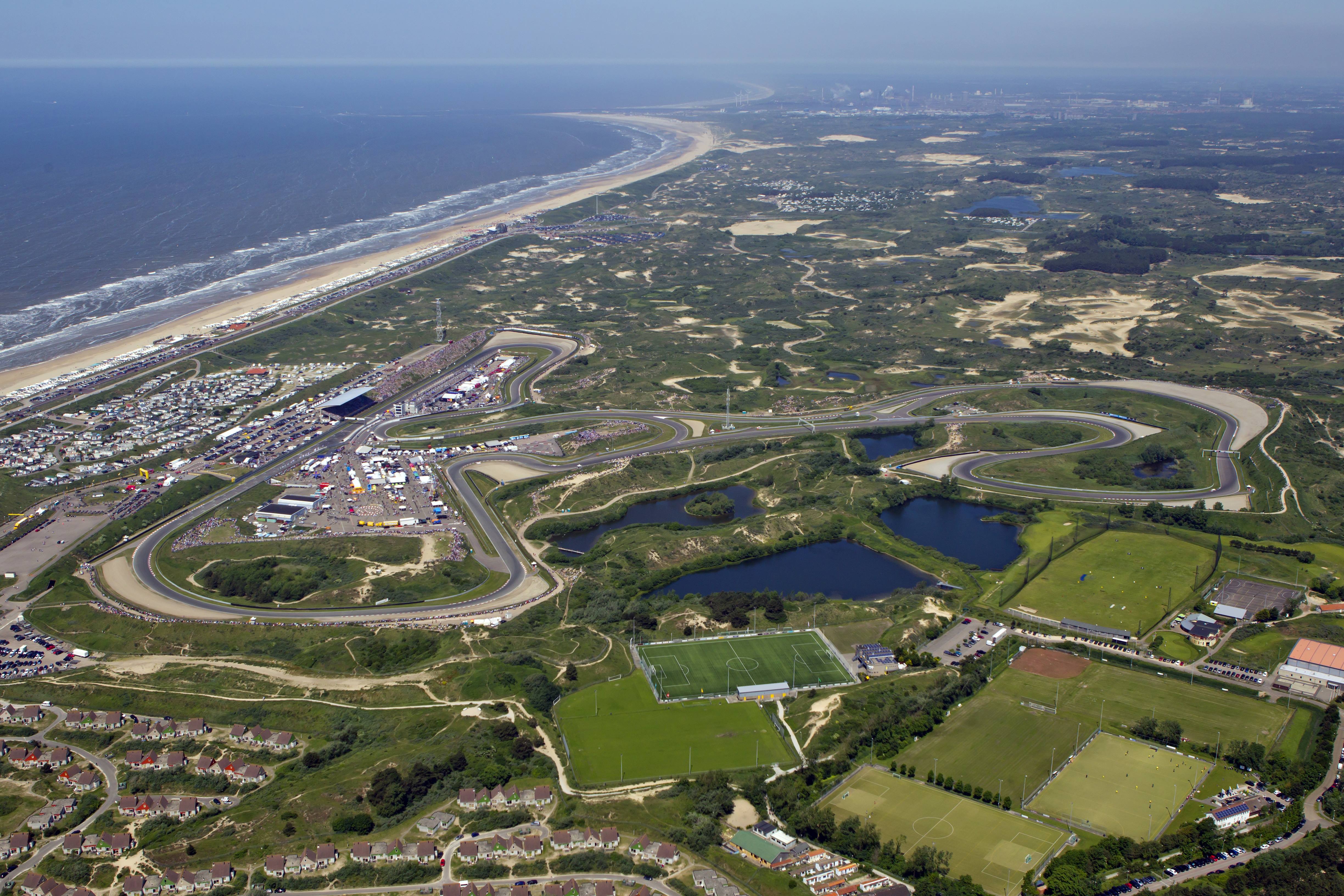 DutchNews.nl 05 September, 2021 - 12:31am
The circuit from the air. Photo Essay Produkties via Circuit Zandvoort
Fans poured into the Zandvoort racing circuit on Friday as the first Dutch Grand Prix in 37 years kicked off with free practice sessions.
Some 70,000 people are expected to come through the gates each day to see the three-day spectacle. Dutch rail has increased the number of trains between Amsterdam and Zandvoort to 12 an hour, to cope with the influx of racing fans.
'I have been looking forward to this all year long,' one fan told broadcaster NOS.
It has not been an easy ride for organisers of the race. Not only did racing fans have to wait 36 years for Formula 1 racing to return to the Netherlands, but the coronavirus also put a spoke in the wheel, postponing it by another year.
Environmental organisation Mobilisation for the Environment took the organisation to court for allegedly exceeding greenhouse gas emission norms but lost its legal bid to ban the event earlier this week.
Locals in Zandvoort have been decking out the streets in orange balloons and Formula 1 flags referencing Max Verstappen's Twitter call to 'Unleash the lion!'
The confrontation between Verstappen and reigning world champion Lewis Hamilton will happen on Sunday, with Hamilton just three points ahead in his quest to retain his title.
While fans were waiting to see the first free practice session of the day, some 20 farmers on tractors lined the entrance road to the circuit demanding to speak to sponsor Jumbo boss Frits van Eerd about fair prices for their produce.
'We are not here about carbon emissions and we think Formula 1 racing should continue. But we want a conversation about better prices,' one farmer told NH Nieuws.
The DutchNews.nl team would like to thank all the generous readers who have made a donation in recent weeks. Your financial support has helped us to expand our coverage of the coronavirus crisis into the evenings and weekends and make sure you are kept up to date with the latest developments.
DutchNews.nl has been free for 14 years, but without the financial backing of our readers, we would not be able to provide you with fair and accurate news and features about all things Dutch. Your contributions make this possible.
Many thanks to everyone who has donated to DutchNews.nl in recent days!
We could not provide this service without you. If you have not yet made a contribution, you can do so here.
GPblog 05 September, 2021 - 12:31am
Formula 1 fans will mainly go to the coastal town by bicycle or public transport. Cars won't be able to enter Zandvoort, parking is only possible in parking lots in surrounding towns. Most of the visitors will drive to one of the 'Park & Bikes', from where they can cycle the last part to Zandvoort.
Most visitors who choose public transport will take the train. The NS expanded the timetable to Zandvoort station considerably, running 12 trains per hour, good for 10,000 passengers per hour. About 300 extra NS employees were deployed to help passengers quickly find their way to the circuit and to promote traffic flow. For visitors who come by bus, a special bus line 33 will run from Haarlem station to a stop at the boulevard of Bloemendaal aan Zee.
The flow of race fans going to Zandvoort by train was getting underway on Friday morning. According to a spokesperson for NS, things were looking well. "The timetable started well.
Twelve trains per hour started running to Zandvoort and back again at 7:30 a.m. "We see that it works well. All people are still fitting well in the trains. The waiting time is minimal," said the spokesperson. The NS expects it to get more crowded soon.
NS expects to bring an average of 23,000 people a day to Zandvoort, and an approximately equal number back later in the day. From the station it is about a ten to fifteen minute walk to the circuit.
GPblog 05 September, 2021 - 12:31am
GPblog 04 September, 2021 - 01:50pm
The Briton is looking forward to the moment when the lights will go out a little after 3pm and the race at Zandvoort has begun. "It's a tough track to overtake at and he's in the best place to start tomorrow's race so the first part of the job is done. Looking at the start, we have the two Mercedes directly behind Max so they'll be able to split their options so it's important we just get our heads down and focus on our own race."
Verstappen won't have to count on Perez's support, as the Mexican veteran was eliminated in Q1 already. Possibly Pierre Gasly can play a significant role. The AlphaTauri driver will start from P4 on the second row of the grid alongside Valtteri Bottas.
© 2021 Autosport International B.V. All rights reserved.
You will be logged out and redirected to the homepage
Thank you for signing up! You can immediately use your account and comment on the news items!