By Mike Puma
July 17, 2021 | 11:28pm | Updated July 18, 2021 | 12:54am
PITTSBURGH — Edwin Diaz drilled the first batter he faced with the first pitch he threw Saturday night — and soon the Mets' worst nightmare was unfolding.
The two-run lead Diaz had been handed wasn't safe, just as a sizable advantage an inning earlier had become tenuous in the hands of Seth Lugo.
This one ended with Kevin Pillar lunging into the left-field stands desperately trying to retrieve Jacob Stallings' descending fly ball, but to no avail. Stallings' walk-off grand slam sent the Mets to a stunning 9-7 loss to the Pirates at PNC Park.
"I couldn't believe it when it cleared the fence," said Diaz, who pointed skyward as the ball left the bat. "I thought it was a fly ball."
The Mets, who led 6-0 in the eighth inning largely on the strength of a pair of two-run home runs by J.D. Davis, lost their third straight and fell to 2-4 against the last-place Pirates.
Wilmer Difo's three-run homer against Lugo spearheaded the Pirates' comeback in a five-run eighth. But Diaz, pitching for the first time since blowing a save against the Pirates last Sunday at Citi Field, had a two-run cushion as he took the mound in the ninth after Brandon Nimmo's solo homer in the top of the inning.
"It's tough, when you don't have your day, to win the game," Diaz said. "Two of the [last] three losses were with me and I have just got to stay positive. … Tomorrow is another day."
Ke'Bryan Hayes was hit by a pitch to begin the winning rally and Bryan Reynolds walked. After getting an out, Diaz surrendered a single to John Nogowski off Jonathan Villar's glove that loaded the bases. Gregory Polanco struck out, putting Diaz within one out of the save before Stallings ended it.
"[Diaz's] slider wasn't the good slider tonight, it was backing up, and the fastball command was scattered," manager Luis Rojas said.
The loss came hours after the Mets placed Francisco Lindor on the 10-day injured list with a strained right oblique. Rojas noted that Lindor is among the players who has a calming effect on Diaz during tough times and that presence was perhaps missed.
"Francisco is a guy that gives him a lot of confidence," Rojas said. "Francisco makes some visits to the mound and pumps him up and they have a really good relationship."
Rojas defended his decision to stick with Lugo in the eighth to face Difo after the Pirates had already scored twice against the reliever. He said Lugo was "finding himself" in the inning and his pitch count was at 20. Rojas said he liked the matchup and noted that Lugo has been used in some of the Mets' highest-leverage spots in recent weeks.
Lugo, who walked two and allowed three hits, never escaped the inning, as Aaron Loup entered to get the final out.
"We've got a lot of baseball left and one loss doesn't define the team," Lugo said.
Davis belted a two-run homer in the fourth and another in the sixth, giving rookie Tylor Megill run support in his most impressive performance since joining the Mets. The right-hander fired six shutout innings in which he allowed six hits and struck out two, dropping his ERA to 2.63.
Travis Blankenhorn, recalled from Triple-A Syracuse before the game to take Lindor's roster spot, drove in a run with a pinch-hit double in the seventh. Jeff McNeil contributed an RBI single in the inning.
J.D. Davis' initial blast of the night came after three futile innings in which base running and double plays were an issue. In the first, Nimmo was late retreating to first base on McNeil's fly to center and was doubled up to end the inning. Dominic Smith grounded into a double play in the second and Pete Alonso hit into one in the third.
McNeil walked to open the fourth and Davis crushed Wil Crowe's next pitch over the center-field fence for the Mets' first homer in 20 innings. The Mets had blasted two in the first inning in the final game before the All-Star break, but then went silent for the remainder of that game and scored their only run Friday on a ground out.
Read full article at CBS Sports
SNY 18 July, 2021 - 09:01am
SNY.tv 18 July, 2021 - 09:01am
MLB 18 July, 2021 - 09:01am
MLB 18 July, 2021 - 09:01am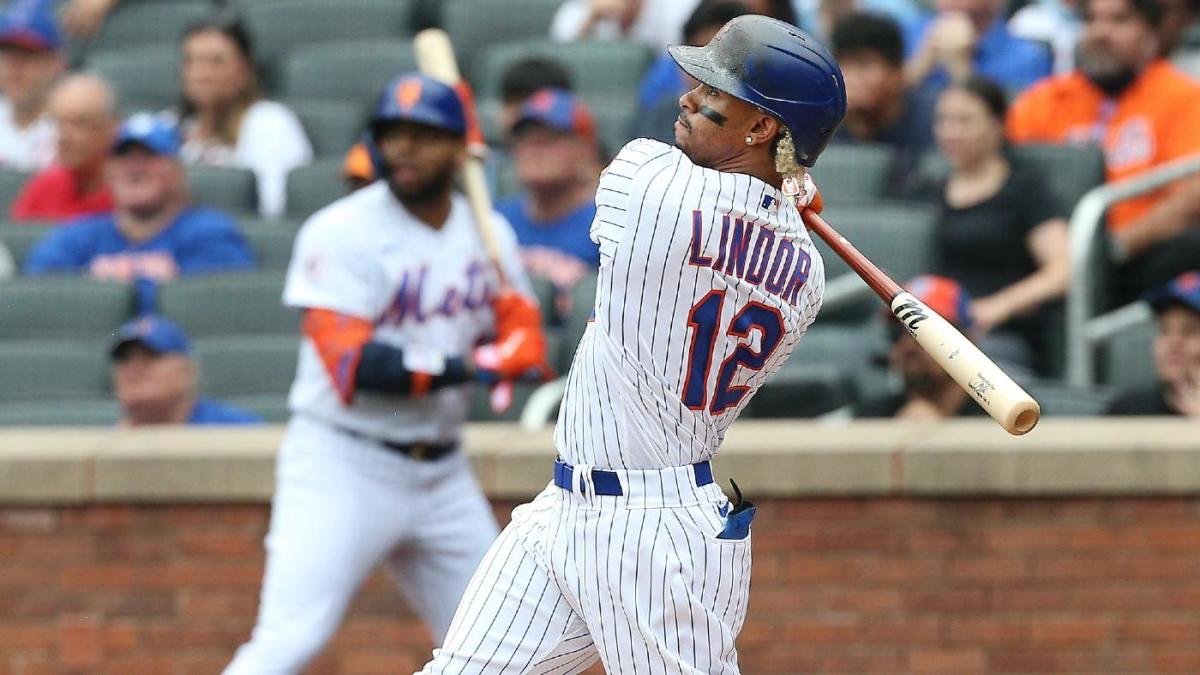 CBS Sports 18 July, 2021 - 09:01am
New York Mets shortstop Francisco Lindor has been placed on the 10-day injured list with a right oblique strain, the club announced on Saturday. To take Lindor's spot on the active roster, the Mets have recalled second baseman/outfielder Travis Blankenhorn. Lindor told reporters before Saturday's game that it is a Grade 2 strain. 
"This is the first time something like this has happened in my career," Lindor told Newsday's Tim Britton. "I don't have any timetable. I would love to say I'm day-to-day but I'm not. This is more like week-to-week at the beginning and we'll see how I bounce back."
Lindor exited Friday night's game against the Pittsburgh Pirates with what the team initially labeled right side soreness after grounding out to end the top of the fifth inning. Lindor appeared to be in immediate discomfort, as he winced and did not run out a ball hit deep into the overshift. Here's video of the sequence:
Francisco Lindor left the game in the middle of the 5th inning after appearing to injure his side on a swing. pic.twitter.com/eipL4J8JCJ
The Mets replaced Lindor at shortstop with utility infielder Luis Guillorme. 
While Lindor is out, the Mets will likely turn to some combination of Guillorme and Jonathan Villar at short. Villar has been the Mets' regular at third base, but with J.D. Davis back from his own injury, New York could justify the move. 
It's not certain how long Lindor will be out, but oblique injuries can be slow to heal. This marks just the second time that Lindor has been on the IL in his career. A grade 2 strain is moderate, with mild being grade 1 and severe being grade 3. Back in 2017, there was a study that found position players generally miss about 27 days with a grade 1 strain, so it appears the Mets will be without Lindor for quite a while and that might even trigger a stop-gap option in a trade (Trevor Story, Andrelton Simmons and Javier Báez are all free agents after the season and could serve as rentals, for example). 
Lindor this season is hitting .228/.326/.376 (96 OPS+) with 11 home runs and eight stolen bases (on 10 tries). His performance had picked up recently after a slow start. He hit .198/.295/.299 through April and May, but he had batted .262/.362/.468 beginning in June.
The Mets acquired Lindor as part of a six-player trade with Cleveland over the winter. New York also added right-handed pitcher Carlos Carrasco, who has yet to make a regular-season start because of injury. In exchange, the Mets gave up infielders Amed Rosario and Andrés Giménez, as well as right-hander Josh Wolf and outfielder Isaiah Greene.
According to Spotrac, the Mets have had 27 players spend time on the injured list this season, resulting in 1,160 days lost. Those marks rank fourth in Major League Baseball. Nevertheless, the Mets come into Saturday with a 47-41 record on the year, good for first place in the National League East. The Mets led the Philadelphia Phillies by three games.
© 2004-2021 CBS Interactive. All Rights Reserved.
CBS Sports is a registered trademark of CBS Broadcasting Inc. Commissioner.com is a registered trademark of CBS Interactive Inc.
Images by Getty Images and US Presswire
TribLIVE 18 July, 2021 - 09:01am
TribLIVE's Daily and Weekly email newsletters deliver the news you want and information you need, right to your inbox.
TribLIVE's Daily and Weekly email newsletters deliver the news you want and information you need, right to your inbox.
We welcome relevant reader comments on our sports stories on TribLIVE.com. Commenting is not available on any other stories.
Please read and be familiar our commenting policy, as follows.
You are solely responsible for your comments and by using TribLive.com you agree to our Terms of Service.
We moderate comments. Our goal is to provide substantive commentary for a general readership. By screening submissions, we provide a space where readers can share intelligent and informed commentary that enhances the quality of our news and information.
While most comments will be posted if they are on-topic and not abusive, moderating decisions are subjective. We will make them as carefully and consistently as we can. Because of the volume of reader comments, we cannot review individual moderation decisions with readers.
We value thoughtful comments representing a range of views that make their point quickly and politely. We make an effort to protect discussions from repeated comments either by the same reader or different readers
We follow the same standards for taste as the daily newspaper. A few things we won't tolerate: personal attacks, obscenity, vulgarity, profanity (including expletives and letters followed by dashes), commercial promotion, impersonations, incoherence, proselytizing and SHOUTING. Don't include URLs to Web sites.
We do not edit comments. They are either approved or deleted. We reserve the right to edit a comment that is quoted or excerpted in an article. In this case, we may fix spelling and punctuation.
We welcome strong opinions and criticism of our work, but we don't want comments to become bogged down with discussions of our policies and we will moderate accordingly.
We appreciate it when readers and people quoted in articles or blog posts point out errors of fact or emphasis and will investigate all assertions. But these suggestions should be sent via e-mail. To avoid distracting other readers, we won't publish comments that suggest a correction. Instead, corrections will be made in a blog post or in an article.
© 2021 Trib Total Media | All Rights Reserved