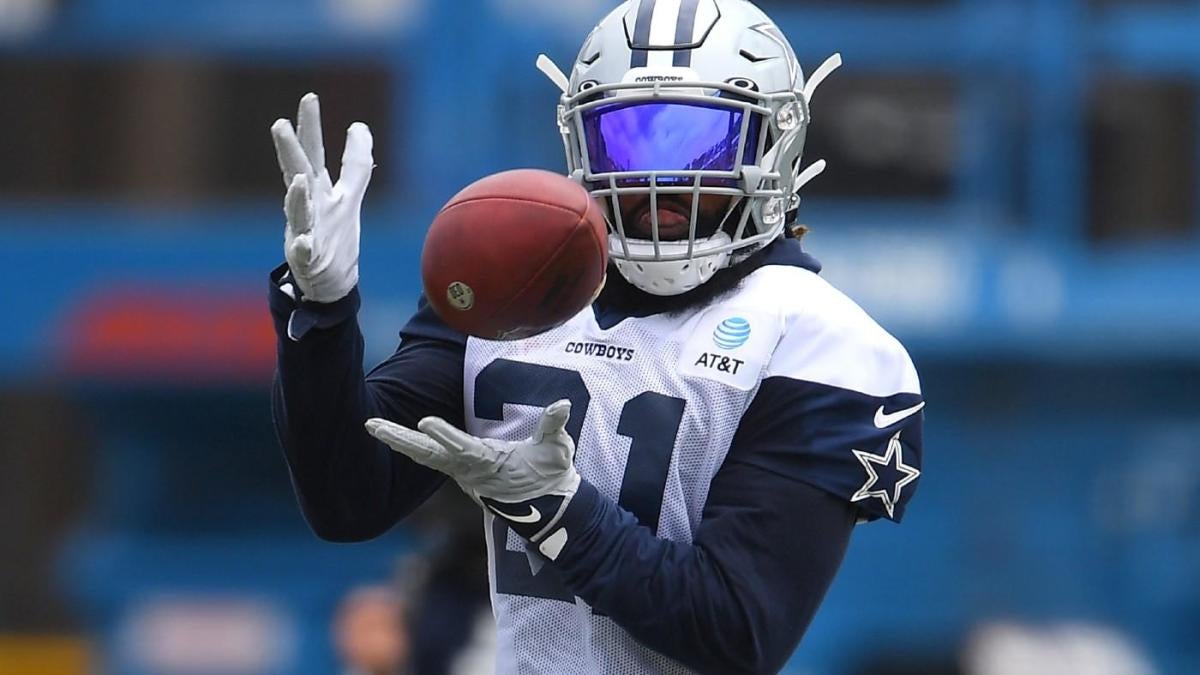 CBS Sports 19 August, 2021 - 05:10am
America's Team is back, baby. Amid all kinds of Dak Prescott injury news and an unfolding 2021 preseason, the Cowboys returned to TV on Tuesday night for the second episode of this year's edition of "Hard Knocks." HBO's annual training camp series, which runs weekly through Sept. 7 with an inside look at the club's preparations for the new year, marks the third time Dallas has been featured on the show.
Who stood out in Tuesday's second episode? Who needs some work for Episode 3? Here are the winners and losers:
The star running back didn't get a ton of airtime compared to Episode 1, when he was a focal point. But he's easily the most entertaining to watch, in large part because he doesn't take himself too seriously. Consider how he contrasts with Mike McCarthy; yes, the head coach has an entirely different job, but it's much more fun seeing Zeke giggling over sunflower seeds during the Cowboys' preseason game than McCarthy forcing the F-bomb into a toughen-up speech at camp. Thing is, Elliott's goofiness doesn't mean he's not invested, either; no one was more excited for preseason backups rattling off big plays than him.
We keep coming back to the Penn State rookie, only to ever see him straight-faced or mildly irritated over preseason playing time. It's nice that Parson's mom is a loyal cheerleader, but even her presence hasn't given this No. 1 pick a deep or affecting storyline. Oh, and he apparently got schooled in chess by an awkward Ben DiNucci.
What little we finally got of Lamb was some of this season's best stuff: An off-field dedication to candles, like the Sweet Berry Peony in his camp dorm ("I'm high on smells," he quipped); and some of the acrobatic leaping catches that Cowboys fans and reporters have become accustomed to at camp. Lamb's emerging star power is real -- so much so that you would be excused if you forgot Amari Cooper was part of the team until a wordless cameo on the preseason sidelines. Let's hope we get more of CeeDee moving forward.
.@_CeeDeeThree's been the talk of camp, but he's not satisfied. 🗣️#HardKnocks pic.twitter.com/FHVdJjVy59
Broadening this from "Mike McCarthy" so as not to pile on the head man. Look, Mike is probably a great guy, but in terms of reality-show material, well, it says something that Sean McVay's cameo during the Cowboys-Rams joint practice was the most exciting part of Episode 2's staff focus. At least McVay acted like a Jon Gruden incarnation. And then poor Aden Durde, the Cowboys' D-line coach who got spotlighted ... because he has a British accent? And not only that, but had to suffer through players' impressions of it? Good for Durde making it from London, but that whole segment was better suited for the kiddos. Bonus points for Dan Quinn acting like the Cowboys were in the divisional playoffs while overseeing preseason snaps from the booth.
Now here's a player profile that deserves more attention and already boasts some depth. Kamara, the 2020 undrafted Kansas pass rusher, is a former refugee who learned American football on the fly, and he didn't have a spotless "Hard Knocks" debut: After accidentally bumping backup quarterback Ben DiNucci in camp drills, he received the ire of every nearby coach. But his brief moment with family after the Cowboys' preseason game in Arizona was good stuff, as is his fight to prove he belongs.
© 2004-2021 CBS Interactive. All Rights Reserved.
CBS Sports is a registered trademark of CBS Broadcasting Inc. Commissioner.com is a registered trademark of CBS Interactive Inc.
Images by Getty Images and US Presswire
These cookies are essential for the proper functioning of our Services. Essential cookies cannot be switched off in our systems. You can set your device to block or alert you about these cookies, but some parts of the Service will not work.
These Cookies allow us to collect information about how visitors use our properties. Some examples include counting visits and traffic sources, so we can measure and improve the performance of our services. If you do not allow these Cookies we will not know when users have visited our properties and will not be able to monitor performance.
These Cookies enable the services to provide enhanced functionality and personalization. They may be set by us or by third party providers whose services we have added to our services. If you do not allow these Cookies then some or all of these services may not function properly.
These Cookies may be set by us or through our services by our advertising partners. They may be used by those companies to build a profile of your interests and show you relevant advertising on this and on other properties. If you do not allow these Cookies, you will still see ads, but you will experience less relevant advertising.
These Cookies are set by a range of social media services that we have added to the services to enable you to share our content with your friends and networks. They are capable of tracking your browser across other sites, building up a profile of your interests to show you relevant content and advertisements on the relevant social networks. If you do not allow these Cookies you may not be able to use or see these sharing tools.
NBC Sports - NFL 18 August, 2021 - 01:02pm
2021 VMAs nominees include Justin Bieber, Megan Thee Stallion, Billie Eilish, BTS, Doja Cat, Drake, Olivia Rodrigo, and Lil Nas X. Kehinde Wiley designed a new Moon Person trophy for this year's event.
Sports Illustrated 18 August, 2021 - 08:00am
The Seattle Seahawks have few questions at the top end of their roster, but there are plenty of positions that need to be decided upon outside of quarterback, safety and wide receiver.
The players around Russell Wilson, DK Metcalf and Jamal Adams will be vital to the team's success in one of the most competitive divisions in the NFL.
One of the biggest preseason concerns is who will start around Adams in the secondary. Seattle has a handful of candidates, but no decisions have been made yet.
At tight end, there are two clear contenders to land the bulk of the offensive snaps. Gerald Everett and Will Dissly might combine in the Seattle offense, or one could take full advantage of their time during the next few weeks.
Seattle is also waiting on Duane Brown to come back from his contract holdout. He might be back for the regular-season opener, but the Seahawks need a contingency plan in place in case the holdout lingers.
The Seahawks have been set in one part of the secondary since the Jamal Adams trade last season, but there is a lot more instability at cornerback.
D.J. Reed, Ahkello Witherspoon, Tre Flowers and Damarious Randall are the top candidates to start on the outside. Adams and Quandre Diggs will feature on the interior of the secondary.
Reed has been out of training camp with an injury, but he will likely be back next week, per ESPN.com's Brady Henderson.
Flowers received the most action during the first preseason game against the Las Vegas Raiders. He had three solo tackles. Witherspoon had a single solo takedown.
All of the players are fairly new to the Seahawks defense, and they will be tasked with filling the void left open by Shaquill Griffin's free-agent departure to the Jacksonville Jaguars.
Reed and Witherspoon carry the most starting experience from their respective tenures with the San Francisco 49ers. If both are healthy, they should get the nods to start the season.
Seattle does not need their corners to be all-world players, but they need to be consistent enough to not be liabilities that force Adams and Diggs to cover too much ground in the defensive backfield.
Prediction: D.J. Reed and Ahkello Witherspoon
Seattle has another peculiar positional battle developing at tight end.
Gerald Everett was acquired in free agency, but he ended up splitting time with Tyler Higbee during his final season with the Los Angeles Rams.
The 27-year-old has never had more than 450 receiving yards in a single season, and he caught one touchdown pass in 2020. That isn't exactly a promising sign for someone who could be the team's starting tight end.
Will Dissly did not have eye-popping numbers last season either. He brought in 24 receptions for 251 yards and two scores in his first full season of games for the Seahawks.
Everett and Dissly may split time at tight end, but one could emerge as the top target as the regular season gets underway.
Seattle does not need an exorbitant amount of yards and catches from its tight ends due to the presence of DK Metcalf and Tyler Lockett, but it needs a little more consistency than Everett and Dissly have produced in previous seasons.
Everett should earn the edge because he was brought in to be Jacob Hollister's replacement, but do not be surprised if Dissly eats into some of his touchdowns if he produces a high catch percentage in September.
Prediction: Gerald Everett
Seattle's offensive line situation is complicated.
It's a less than ideal situation to be in with the regular season rapidly approaching.
Duane Brown is not practicing because he wants a new contract, and Cedric Ogbuehi has been dealing with an injury for most of camp.
This has allowed rookie Stone Forsythe to receive first-team reps and likely improve his stock in the eyes of the coaching staff.
Seattle could solve this problem by negotiating a new deal with Brown. That situation could be made easier for the front office since the Jamal Adams contract is now completed.
Until Brown is on the field and practicing, Seattle has to come up with a solution just in case that drags on.
At the moment, Forsythe seems like the backup answer, especially if he receives more first-team reps before the first week of the regular season.
Prediction: Duane Brown if a contract solution is reached. If not, Stone Forsythe.
Enjoy our content? Join our newsletter to get the latest in sports news delivered straight to your inbox!