Sign in to the XDA Developers Forums
Add swipe gestures to any Android, no root
Make your phone easier to use with one hand, no root
The best way to access XDA on your phone
A sweet, feature-filled launcher with a beautiful UX.
XDA's official marketplace for buying and selling tech
A big part of Windows 11 is an entirely new design language. The Start Menu and taskbar are redesigned and centered, and the OS has an entirely new look and feel. One of the smaller changes that was made in Windows 11 is that there are new context menus. In a blog post today, the company talked a bit about what changed, why it was changed, and best practice for developers that are extending the existing context menu.
Microsoft says that the context menu is one of the most popular shell extensions. And as it turned out, there was a lot to improve upon with the Windows 10 context menu. For example, commonly used commands are weirdly low on the context menu list. If I right-click an image in the File Explorer, I have to scroll past things like "Create a new video", "Edit with Paint 3D", and dozens of other options before I get to basic commands like copy, paste, delete, and rename.
It's also super-long. As Microsoft notes in the blog post, it's grown since Windows XP was introduced 20 years ago. But that's also how issues come in. The Windows 10 context menu has a ton of things in it that are almost never used. If I open a menu and have to scroll past 25 items to get to where I need to go, and those 25 items are things that I never use, then there's a problem with the UI.
There's more too. Microsoft noted that sometimes common commands like "Open" and "Open with" aren't grouped together. And sometimes, third-party commands can break up inbox commands. Finally, Microsoft noted that there can be performance issues, since these processes from inside of Explorer.
Windows 10 context menu, Windows 11 context menu, and Windows 11 Share dialog
Those are the problems that Microsoft aimed to solve in Windows 11. Now, common commands are at the top in a row of icons. The point is that for the things that users do the most, those should take the least effort. Therefore, in the Windows 11 context menu, those commands are closer to where the pointer already is. You can see that third-party extensions are grouped together, so they don't interrupt things. Also, "Open" and "Open with" are actually next to each other.
If you need some of those rarely-used commands that Microsoft has exorcised, or if you just want the old Windows 10 context menu, you can press "Show more options". You can also pull this up by hitting Shift-F10.
Microsoft also touted some improvements to the Share dialog. The first entry on the contacts list is going to be you, just in case you want to email the item yo yourself. And while the company says that Nearby sharing is easier to use, bigger news is that all apps can now use the Share dialog. That includes unpackaged Win32 apps and web apps.
Receive the freshest Android & development news right in your inbox!
XDA Developers was founded by developers, for developers. It is now a valuable resource for people who want to make the most of their mobile devices, from customizing the look and feel to adding new functionality.
Read full article at XDA Developers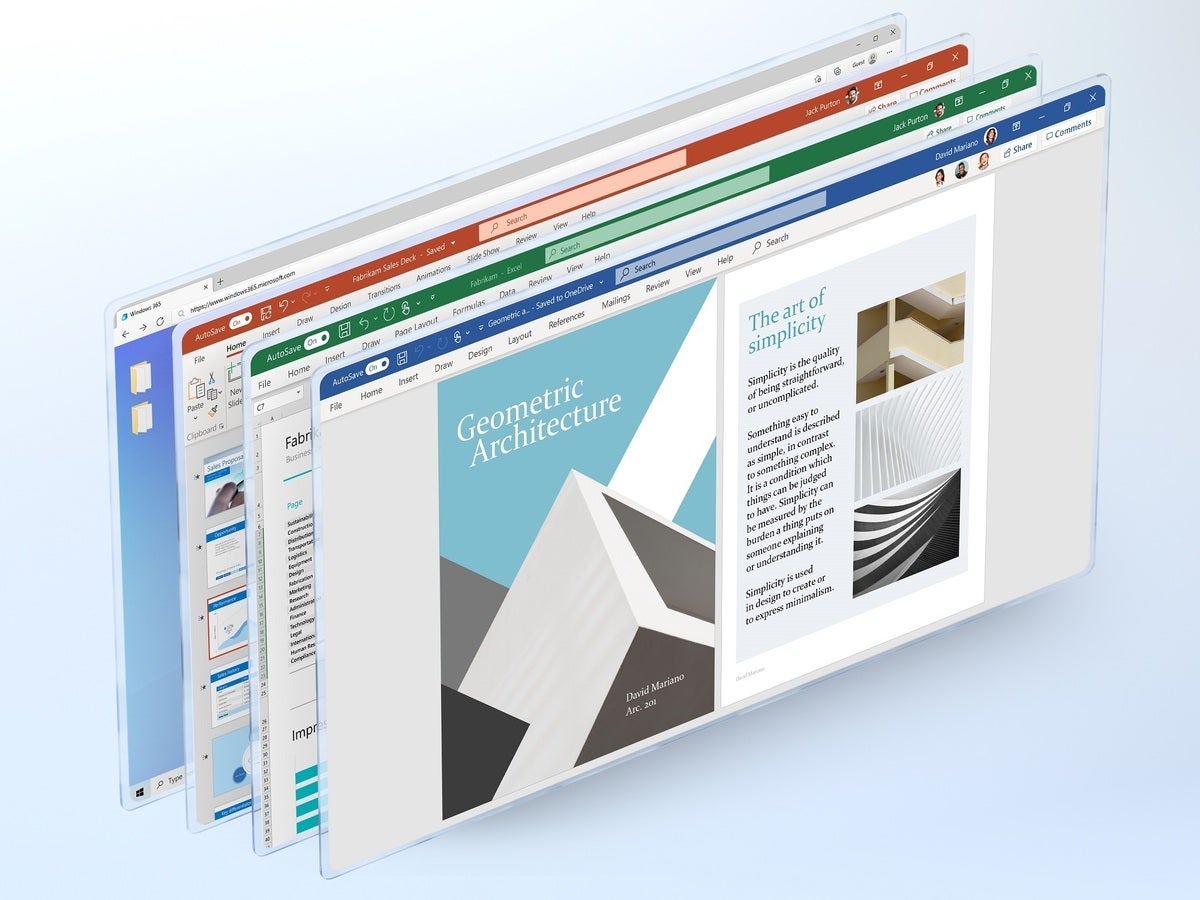 Computerworld 19 July, 2021 - 10:01pm
Microsoft last week introduced Windows 365, a new service that lets the company cut partners out of the money-making loop by providing virtual PCs to customers.
Rather than provide only the operating system or the OS and bits of other software — notably productivity applications in the form of Office — Microsoft will soon also serve up ersatz hardware, virtual machines running on its vast cloud of Azure servers.
Dubbed "desktop as a service" (DaaS, in keeping with other, similar acronyms) by some, Microsoft's tagged its offering as "Cloud PC" as in "Windows 365 is your PC in the cloud."
"Just like applications were brought to the cloud with SaaS, we are now bringing the operating system to the cloud, providing organizations with greater flexibility and a secure way to empower their workforce to be more productive and connected, regardless of location," said Microsoft CEO Satya Nadella in a statement.
While DaaS in general, and Windows 365 specifically, has the potential to dramatically change how computing takes place in commercial settings, there's nothing inevitable about it. Many will object to ceding the privacy of a local box to the servers of, in this case, Microsoft, for example.
And Microsoft, already active in PC manufacturing with its Surface line — originally touted as examples for OEMs, something that's been discarded as a talking point — puts itself into further conflict with hardware partners with Windows 365. When the desktop is streamed, what purpose does a high-powered laptop-on-the-lap serve? Will OEMs be relegated to making cheap Chromebook-like machines that need only run a browser?
Windows 365 is really a developing story, as Microsoft has promised to elaborate as the early-August launch nears. But we've assembled a first-pass set of questions and answers.
At its simplest, it's a virtualization service that provides a Windows desktop and first- and third-party applications to users with both PC and non-PC hardware.
Maybe it's better to think of it as a streaming service. Rather than stream movies and TV shows, it streams the output of a Windows 10-, or when it's available, a Windows 11-powered PC. The controller is the keyboard, touchscreen, mouse, even the microphone of whatever device is in front of the user.
It's also the latest incarnation of the thin computing model, which harks to the beginnings of digital computing when the computer was massive and cost multi-millions — and endpoints were unintelligent terminals. Like that model, Windows 365 runs the virtual desktop on servers at a distance; the data is transferred over the Internet rather than an organization's network.
Microsoft says to expect Windows 365 on Aug. 2.
That's for business. It's likely that Microsoft will offer the service to consumers and very small shops — sole proprietorships, say — at some point. But that's not going to happen right out of the gate.
We don't know because that's one of the details Microsoft withheld.
Here's what we do know: Microsoft will charge a flat monthly rate per user, rather than basing the cost on the amount of activity, as in the amount of Azure resources consumed.
Microsoft listed a dozen possible virtual machine configurations, from the most basic (2 cores, 4GB of memory and 64GB of storage) to the more advanced (8 cores, 32GB RAM and 512GB of storage space). It will almost certainly price these configurations from low to high.
Although Microsoft listed 12 configurations, it collected them into just 5 groups. It's possible, then, that there may be as few as 5 different price points for Windows 365 licenses.
One pricing hint came from The Verge's Tom Warren, who spotted a $31 per user per month cost for the 2-core, 4GB memory and 128GB storage option. That would be $372 annually. Ouch.
No, though it's easy to see it that way.
The Microsoft 365 license gives you the right to use the included software, among that collection Windows 10 (and down the road, Windows 11). The Windows 365 license pays for the virtual PC Microsoft's built, and Microsoft maintains on its servers that run the operating system you paid for.
It's no different than if you were on a physical PC. You paid for that with one invoice. You paid for the Microsoft 365 license with another.
Part of the problem, as we see it, is Microsoft's damn-the-torpedoes belief that everything possible should be stuck with the 365 suffix. Office first, then Microsoft, and now Windows. Sheeze. There's going to be endless confusion among these terms, notably Microsoft 365 and Windows 365, since to many, Windows = Microsoft and vice versa.
While their number is not legion, they are many. Conveniently, they break down into two categories: Licensing and Other.
Again, from Microsoft's mouth, they are:
Nope. Microsoft made it clear that where 10 goes, so will follow Windows 11.
It's safe to assume that Windows 10-powered "Cloud PCs" — Microsoft's name for the virtualized desktops — will be supported through the end of the operating system's lifecycle, which has been set as October 2025. It's also a gimme that organizations will be able to run both 10- and 11-powered virtual PCs in their environments simultaneously.
Microsoft certainly could, since the "devices" are on their servers. And for some instances, say if or when Microsoft opens this concept to owners of Windows 10 Home/Windows 11 Home, maybe that's how it'll work.
But while Computerworld couldn't find any clear evidence once way or another, our suspicion is that customers will continue to be responsible for updating upkeep. And that's as it should be. There's no easier way to get IT to squawk than to take control of an org's technology out of its hands.
The clues lie in the frequent reference to Microsoft's tools for managing physical systems and how they will serve the same roles for cloud PCs. "IT can easily procure, deploy and manage Cloud PCs for their organization just as they manage physical PCs through Microsoft Endpoint Manager," the company promised in its statement about the program.
Not surprising, Microsoft's own cloud computing platform, Azure. Specifically, Azure Virtual Desktop (it was known as Windows Virtual Desktop until June), which can be used to create Windows virtual machines on Redmond's servers, then stream those desktops to PC and non-PC devices.
Windows 365, Microsoft repeatedly said, is essentially an automated Azure Virtual Desktop, in that the former handled all the scut work of creating and assigning the virtual machines, slapped an analytics package on the result and offered a one-stop dashboard for admins.
Elsewhere, Microsoft characterized Windows 365 as a way for admins unfamiliar with virtualization (or hesitant to learn) to call on Azure Virtual Desktop.
Microsoft hasn't issued a declarative list, but in its many musings on Windows 365 it's mentioned everything from Windows 10- and 11-powered PCs, Macs (including, one has to assume, those with Apple's native silicon) and Linux machines to iPhones, iPads and Android devices. Presumably, Chromebooks will be in there somewhere, too.
Any device able to run a web browser should be able to act as a Windows 365 endpoint; in-browser is one of the two ways to stream a desktop. The other? Through Microsoft Remote Desktop already extant for the likes of iOS and Android.
What it did say was purposefully vague. "If you can stream a movie, you have enough bandwidth for a great experience," Scott Manchester, director of program management for Windows 365, said in a video posted by Microsoft Wednesday. (Manchester was the very public face for Windows 365's debut.)
At what resolution would be our first question. And how irritating will it be to see your PC put up the maddening buffering icon when your connection's speed isn't sufficient?
Here's hoping that Microsoft gets specific before or at the Aug. 2 launch.
Senior Reporter Gregg Keizer covers Windows, Office, Apple/enterprise, web browsers and web apps for Computerworld.
Copyright © 2021 IDG Communications, Inc.
Copyright © 2021 IDG Communications, Inc.
UC Today 19 July, 2021 - 02:37am
Major reveals from Microsoft Inspire 2021
Boasting more than 145 million daily active users, Microsoft Teams is well on the way to achieving its goal if being the number one tool for team collaboration. Over the last year and a half, countless companies have made the shift to Teams as their number one solution for keeping people connected, and Microsoft wants to ensure that Teams continues to lead the way with powerful innovations.
This year's Microsoft Inspire event paved the way for revealing various new products, services and experiences for the Teams landscape. From new Microsoft Teams and Dynamics 365 connections to an exciting "Windows 365" solution, there's plenty to look forward to this year.
Here's your overview of the biggest announcements from Microsoft Inspire 2021.
One of the most exciting new innovations from Microsoft aims to support the future of hybrid work in the modern landscape. According to Microsoft, the future of work requires a new class of apps to enrich the way we interact. These "collaborative apps", as Microsoft calls them, prevent an incredible opportunity for new productivity and efficiency in the workforce.
Going forward, Microsoft Teams and Dynamics 365 will work more seamlessly together to deliver new ways for everyone in an organisation to seamlessly capture and exchange ideas in the follow of the workday. Microsoft also removed the licensing tax that would otherwise make this integration harder to access.
Dynamics 365 users will now be able to invite anyone in their organisation to collaborate on customer records within a Teams channel or chat. Sales teams will even share information on different sales opportunities, customer relationship health, customer history, and more. Users of Dynamics 365 will also be able to add Teams meetings when creating appointments, allowing access to information within a Teams call.
Users will even be able to capture notes directly within the Teams call, which is saved automatically within the timeline of the Dynamics 365 record.
As more employees come together to collaborate on records, it's important for stakeholders to know when colleagues make key changes as they occur. Automatic notifications keep stakeholders aware of updates, and users can select specific channels and chats through which notifications can be sent. The new integrated experience between Teams and Dynamics 365 is just the beginning.
Microsoft also used Inspire as a platform to announce a new host of independent software vendor apps from companies like SAP Sales Cloud, Atlassian Confluence, ServiceNow, Salesforce, and Workday. ISVs will also soon have the option to sell apps directly in Teams, offering new opportunities and providing simplified experiences for IT admins to purchase subscriptions and apps from the Teams admin centre directly.
It's not just workflows and collaborative apps making a major difference to the Microsoft ecosystem. According to the Microsoft workforce, PCs play a crucial role in keeping people connected while they work and learn. Microsoft recently introduced Windows 11 to update the PC experience. At Inspire, they revealed Windows 365, a new cloud service which changes the way users experience Windows.
The solution will give users the ability to connect data, apps, and settings from any endpoint and device. This will create a new Cloud PC category, which uses the power of the cloud and device capabilities for a more personalised experience.
Windows 365 will allow users to log into their solution from any device, with an instant-on booting experience from any environment. You can pick up from wherever you left off, no matter which device you're using. This functionality will also allow companies to provision Cloud PCs in minutes without any virtualisation experiences.
Provisioning policies allow companies to provision a group of cloud PCs in minutes, and the experience is built to be accessible for companies of all sizes, too.
For true peace of mind, the Windows 365 solution is built on a Zero Trust framework and has been secured by design from the ground up. The solution uses Multifactor Authentication and secures information in the cloud at all times. Microsoft Endpoint Manager also allows you to pair MFA with conditional access policies.
Windows 365 will also allow you to bring collaborative apps, Dynamics 365, Microsoft Teams, and security or identity credentials with you wherever you go.
Microsoft also introduced more of the amazing features of Microsoft Viva during Insight. This solution, powered by Microsoft 365, will work alongside the existing solutions in the Microsoft ecosystem. The new Viva upgrades include the arrival of Viva Partner Integrations, with a host of content providers to choose from, including Qualtrics, Workday, and many others.
Microsoft also revealed new tools to help developers and partners bring their solutions into Viva. The new Viva Connections APIs coming later this year will make it easy to integrate with the Connections dashboard. Viva Learning APIs will also be available later this year to allow developers to integrate content from learning providers, as well as assignments and due dates.
To help partners leverage the Viva and Teams environment for building applications, Microsoft introduced a new set of benefits for app building in Microsoft 365, including access to technology, comprehensive consults with Microsoft specialists, and marketing resources to help you reach new customers.
Microsoft also revealed at Insight that it's empowering partners to develop better levels of trust with customers through new security offerings to prioritise sustainability, accessibility, and inclusion. Microsoft 365 Lighthouse is now entering preview to provide managed service providers with a central location for security management. There are templates to help with securing data and devices and tools to help partners quickly identify and respond to threats, like device compliance alerts and anomalous sign-in.
Partners already supporting Azure AD B2C clients to manage identity protection are also getting increased access to a selection of protection tools to reduce fraudulent activities, by integrating Azure AD B2C with Dynamics 365 Fraud Protection.
Microsoft introduced app governance add-on functionality for the App Security environment. Partners will be able to use this to monitor and govern apps on Microsoft 365 more effectively and prevent risky behaviour. Additionally, Microsoft has extended the priority user group abilities in Risk Management to include more fine-grained roles for access control. This will add permissions to further limit alerts and cases to specific people.
Finally, new universal regulatory templates in Compliance Manager for non-Microsoft cloud will allow partners to use over 300 templates to manage customer compliance in different apps and cloud spaces.
This wide selection of announcements and updates will help Microsoft customers and partners to prepare fully for a new age of digital transformation and hybrid work. We can't wait to see what comes next.
All content © Today Digital 2021