Windows Central 21 July, 2021 - 12:40pm
Surface Duo is on salefor over 50% off!
We may earn a commission for purchases using our links. Learn more.
Windows 11 and Windows 10 PCs have a vulnerability that allows users with low privileges to access Registry files. We reported on the issue in depth on July 20, 2021, but Microsoft has since acknowledged the issue in a security advisory.
"We are investigating and will take appropriate action as needed to help keep customers protected," said Microsoft in a statement to BleepingComputer.
The Windows Registry stores several types of secure information, including passwords and decryption keys. As a result, Registry files are only supposed to be accessible to users with elevated privileges. The vulnerability affects PCs running Windows 11 or Windows 10.
Security researcher Jonas Lykkegaard flagged the vulnerability to BleepingComputer. Lykkegaard discovered that Registry files associated with the Security Account Manager and other Registry databases could be accessed by anyone in the "Users" group of a device that has low privileges.
There's a chance that this vulnerability is related to the Windows Update process. It's been confirmed that the issue affects a fully patched Windows 10 20H2 build. It's also been noted that it is not present in PCs with a clean installation of Windows 20H2.
Microsoft shared a workaround for the vulnerability in its security advisory:
While security issues aren't rare, several notable vulnerabilities have caused problems with Windows recently. The Print Spooler saga started at the beginning of this month and continues to be a problem.
We may earn a commission for purchases using our links. Learn more.
A new Windows 11 preview build has been released to Insiders in the Dev Channel. The new build includes Microsoft Teams Chat, a new design for notifications, the ability to quickly access Focus assist settings, and more. Here's everything you need to know about build 22000.100.
Microsoft knows many people dislike their work. In fact, the company's gone so far as to report which groups dislike work the most, and for what reasons.
EA Play Live just concluded, and we rounded up all the announcements you need to know about. Here's everything announced at EA Play Live 2021.
Instant computer — just add a screen. That's the general idea behind the ultra-portable PC, but it can be hard to know which one you want. Relax, we have you covered!
Sign up now to get the latest news, deals & more from Windows Central!
I would like to receive news and offers from other Future brands.
I would like to receive mail from Future partners.
No spam, we promise. You can unsubscribe at any time and we'll never share your details without your permission.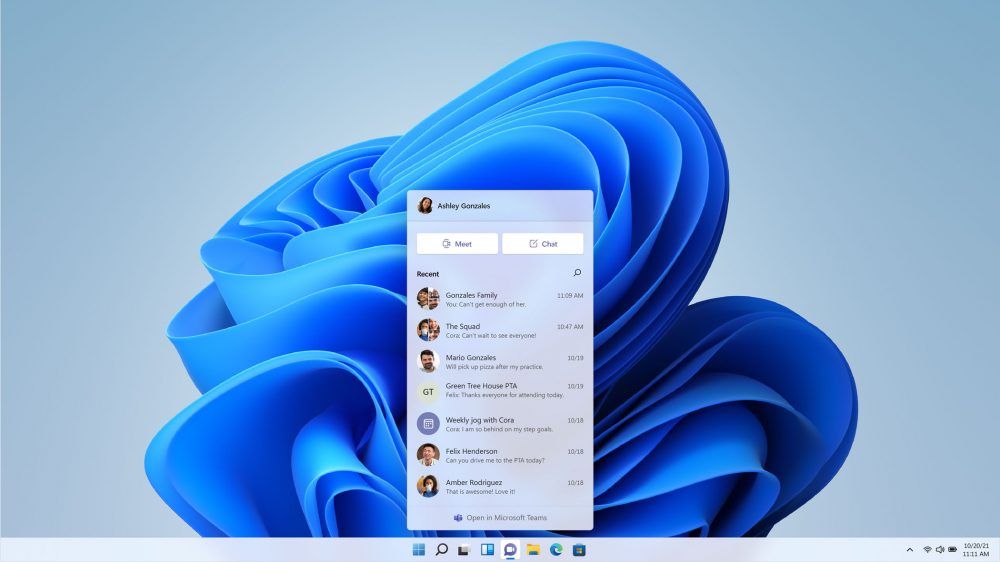 TechRadar 21 July, 2021 - 12:00pm
Microsoft Teams chat feature integrated into the Windows 11 taskbar
The new build is set to integrate the Microsoft Teams chat feature directly into the taskbar in Windows 11, allowing users to start chats or video conferencing calls with just a few clicks.
New preview builds of Windows 11, as pictured above, have shown that the software will have a dedicated button for the Microsoft Teams chat app alongside all the usual options within the taskbar.
The addition was discovered by BleepingComputer, which found that for now, the feature remains pretty basic, with users only currently able to sign in, add contacts, and connect via individual and group chats.
More features and functions for Windows 11 will be revealed soon, but Microsoft has already taken the wraps off a whole load of new additions and services - including some for Teams.
The company has already revealed it has given Teams a major revamp, including a whole new engineering base that it hopes will make Teams more intuitive and easier to use. "Microsoft Teams 2.0" is based on Edge WebView2 instead of Electron which will allow Microsoft to use embedded web technologies such as HTML, CSS and JavaScript along with the Chromium rendering engine.
Using Edge WebView2 means that Teams 2.0 also no longer has an address bar and users will be able to run the app in a separate window as they could with the old app.
Unlike the old client, the Teams 2.0 app window can now be resized and the interface scales alongside it automatically. Microsoft has also added integrations with native notifications and other Windows 10 features.
While many features are now available in the new client, advanced controls are still missing which limits the functionality of Together Mode and prevents users from changing Teams' noise cancellation features.
The move shows just how crucial a role Teams is set to play for Microsoft in the Windows 11 release and the years ahead, as companies around the world look set to adapt a hybrid working model that is hevaily reliant on such software tools.
Via BleepingComputer
Thank you for signing up to TechRadar. You will receive a verification email shortly.
There was a problem. Please refresh the page and try again.
© Future US, Inc. 11 West 42nd Street, 15th Floor, New York, NY 10036.
XDA Developers 21 July, 2021 - 08:25am
Sign in to the XDA Developers Forums
Add swipe gestures to any Android, no root
Make your phone easier to use with one hand, no root
The best way to access XDA on your phone
A sweet, feature-filled launcher with a beautiful UX.
XDA's official marketplace for buying and selling tech
Earlier this year, Microsoft announced that the Microsoft Store for Business and Education would no longer be able to distribute paid apps after April 14, 2021. It seemed like Microsoft was getting ready to kill off the enterprise versions of the Microsoft Store, and now we have confirmation. Today, Microsoft announced that the Microsoft Store for Business and Education is being retired in the first quarter of 2023.
This change is part of an evolution to how businesses can distribute apps to their users. Microsoft is working towards a new way of managing and deploying apps for business users, and the Microsoft Store for Business isn't part of it. This customized version of the Store was designed to integrate both public Store apps and private apps curated by each organization tailored to their own needs. However, the company is going for a different approach.
In the first half of 2022, Microsoft is going to start rolling out a new management experience, which lets businesses find and deploy apps from the public Microsoft Store using Microsoft Intune or a unified endpoint management (UEM) solution. This includes all free apps, including the new types of apps that will be allowed on the new Microsoft Store, including Win32, .NET, and PWAs. Android app support wasn't specifically mentioned, though Microsoft did say all app types are supported.
As for private apps, businesses will have to create their private repository and access them in a new way. That's where Windows Package Manager, or WinGet, comes in. It can integrate with Intune, and other UEM solutions can also choose to integrate with these APIs. Using WinGet, IT admins can more quickly deploy publics apps from the Microsoft Store, but they can also use them to deploy apps from private repositories. That's going to be the replacement for the Microsoft Store for Business once it's retired.
While the Microsoft Store for Business and Education is only being retired in 2023, it won't be available in Windows 11 at all. However, admins can use Intune to deploy apps from these stores until they're completely killed off. This might be because Windows 11 is going to ship with a completely new Microsoft Store, and Microsoft didn't want to create a new version that' going to be retired in just over a year.
Receive the freshest Android & development news right in your inbox!
XDA Developers was founded by developers, for developers. It is now a valuable resource for people who want to make the most of their mobile devices, from customizing the look and feel to adding new functionality.
Business Insider 21 July, 2021 - 12:00am
"No Rules Rules: Netflix and the Culture of Reinvention"
Get it now on Libro.fm using the button below.
Microsoft recently announced its new Windows 11 operating system that's being released later in 2021.
For students, the Windows 11 release could prove awkward. It begs a few questions, like whether students need to buy a new computer, or can they keep using the computer they have now.
In the past, a new Windows operating system wasn't the biggest deal, as pretty much any computer (PC) could upgrade to the latest version without much issue. However, Windows 11 comes with some requirements that not all computers have, even those as young as just four years.
"Later this year" in 2021, Microsoft promises. It will be a free upgrade for all eligible computers that will roll out in waves across a number of weeks.
Windows 11 isn't likely to somehow revolutionize the way you work for school, but it will come with a variety of new features and design elements that refreshes and modernizes the Windows experience overall.
One of the new features that could be useful is Desktops, which will let you create different desktop windows for different uses that can help organize and declutter the way you use your PC. Think of it like having multiple monitors, where you have one monitor for school and one monitor for personal stuff. And instead of glancing between monitors, you switch between your desktop windows on your single screen or monitor.
For example, you can dedicate a desktop window to school alone, with web browser windows, documents, and apps that are only relevant to school stuff. In another desktop window, you can keep browser windows and apps that you use for personal stuff separate from your school work.
Snap Layouts will also help organize your open windows on your desktop, like apps and documents. You'll find this useful if you often have several open windows and you're spending time resizing them and placing them neatly around your desktop.
Otherwise, Windows 11 will let you use finger gestures, voice, and a stylus pen in more apps to make note-taking more useful and accessible.
If you have a fairly recent PC from around 2018 or later, you'll likely be fine. If it's four years old or older, it's unlikely to support Windows 11.
The requirements for Windows PCs to run Windows 11 are higher than Windows 10, but most recent PCs will run Windows 11 as long as they're running on a processor (CPU) from 2018 onwards. It's even worth checking if you bought your PC in 2018, as it may be running on a processor that's a generation too old to run Windows 11.
Specifically, your PC must be running on Intel's 8th-gen processors or later, or an AMD 2000 series CPU or later. Intel and AMD also have other lines of processors that will support Windows 11. You can see a full list of Intel processors that will support Windows 11 here, and a full list of AMD processors that will support Windows 11 here.
One way to check what processor your computer is running on is in Task Manager.
Press Ctrl+Shift+Esc to bring up Task Manager, then click the Performance tab around the top left. You will see the processor model name and number above the chart in the CPU tab.
Nope, Windows 11 will be a free upgrade if you're currently using Windows 10. However, there will be a premium paid version known as Windows 11 Pro with features such as local accounts that power users normally look for. The price of Windows 11 Pro hasn't been announced yet.
Thankfully, this won't be the case. Windows 10 will continue to be supported until October 14, 2025. After that, your Windows 10 PC is unlikely to get any new features or active security updates from Microsoft.
After 2025, you'll still be able to use your Windows 10 PC, even without feature or security updates. However, it wouldn't be recommended to do so, as up-to-date security updates are important to patch up vulnerabilities when going online.
You don't need to buy a new PC until 2025, when Windows 10 essentially becomes obsolete.
It's not an absolute necessity if your current PC runs just fine, even if it's on the older side. Windows 10 itself won't hold you back compared to Windows 11.
If your computer is running slowly, then that's a good reason to get a new PC, as a laggy computer can drag you down for school work.
Yes, Microsoft says that any new Windows PC you buy today, whether it's a laptop or desktop, will support Windows 11.
Everything you need to know about buying a laptop for school can be found right here. We'll help you figure out how to know what you're getting for your money, what kind of hardware inside you might need, where to get the best student discounts, and deciding whether you want to go Apple, Microsoft, or Google for the operating system and ecosystem.