extratv 13 July, 2021 - 08:02pm
Dexerto 13 July, 2021 - 08:03am
The TikToker proceeded to defend his relationship with Brown, claiming that her parents were okay with it and that he did nothing wrong. He claimed that she "initiated" the relationship.
Many fans were outraged and disgusted during the live stream, who believed that Echo had "groomed" the child star.
One person said during the live "imaging being a grown adult and dating a kid. A groomer" to which Echo responded, "Yeah, no I groomed her".
One of Echo's friends mocked two girls who joined the live stream asking "which one is fatter" and made negative comments about Brown.
He claims "if anything I got taken advantage of" and "she used her powers on me" – referring to the abilities of Brown's character in 'Stranger Things'.
Echo referred to sexual intercourse with Brown, while making derogatory comments about her. One person commented "that child knew how to suck d**k" to which Echo responded "she did" and begins laughing. He also says he "ate her a**" at one point.
His friend claims Echo "talked about how weird the b**ch was" and Echo says that she was "obsessed".
Hunter Echo responds in the live to question "That child knew how to suck dick," by saying "She did." pic.twitter.com/fl6AjWDBGa
— Def Noodles (@defnoodles) July 13, 2021
In the series of videos posted on Instagram, Echo says that they were together for eight months.
At one point he claims "I am not digging the grave because everything I did was legal and it was approved by everybody that I was with."
Responding to the criticism in the comments, he said "You guys don't know anything. You guys are just following after one person like saying one thing."
He then continued "You guys just follow each other like a big duck and their baby ducks. You just follow. Whatever the top thing is. You guys don't know anything and I am not going to apologize."
An Instagram account has been set up called @exposinghunterecho with posts featuring various clips of the live stream as well as photos of Millie and Hunter together.
Hunter Echo has over 1.6 million followers on TikTok and 33.7 million likes. His videos consistently get above 100,000 views.
On Instagram, he has 123,000 followers.
His videos on TikTok usually feature jokes about dating, drinking, being in relationships, and boxing TikToker Bryce Hall (which is still yet to happen.
No comment has yet been made by Millie Bobby Brown since the live stream was posted, even though fans of the actress can be seen tagging her in the comments.
One of Brown's 'Stranger Things' co-stars, David Harbour, has previously expressed concern about Brown and the level of fame she had achieved off the back of the show at such a young age.
In 2018, he said, "I think she's in the crosshairs of something extremely dangerous that no one seems to really be paying attention to".
He also said that being famous so young was difficult and hoped "she gets the help that she needs." He said that he also tries to "protect her as much as [he] can".
Harbour plays Jim Hopper, the adoptive father of Brown's character Eleven in the series.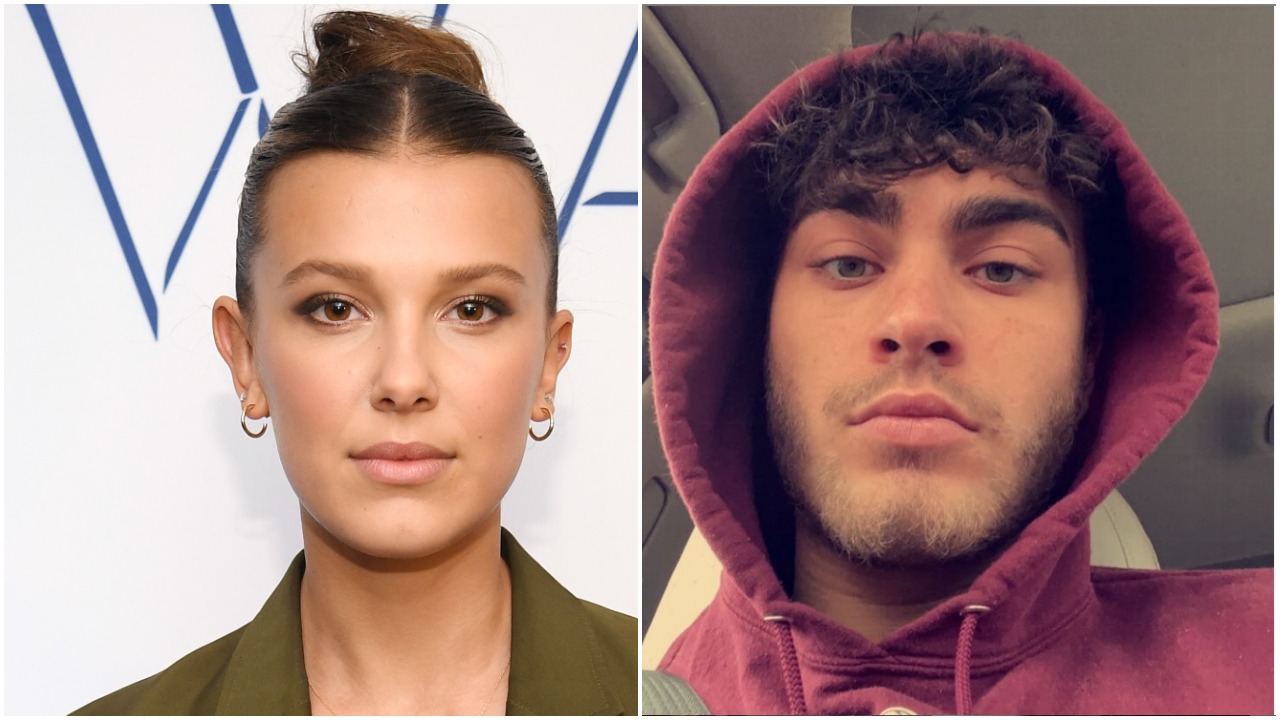 Newsweek 13 July, 2021 - 06:46am
Photographs have emerged on social media of Ecimovic kissing and embracing Stranger Things star Brown, and are said to have been taken late last year when she was aged 16 and he was 20. The age of consent in California, where Ecimovic is believed to be based, is 18.
Ecimovic, who boasts more than 1.6 million followers on TikTok, took to his Instagram Live with a group of friends on Monday, during which he addressed questions surrounding the nature of his relationship with the British actress.
A series of crude comments were made by Ecimovic, 21, purportedly referring to Brown, in which he alluded to having had sexual encounters with her.
The social media star was seen laughing with his small group, as claims were made that Brown was "in love" with him during their alleged time together.
However, as the criticism flooded in, Ecimovic defiantly lashed out—insisting that he had "zero things to apologize for" as he spoke on camera.
He said: "You guys don't know anything. You guys are just following after one person saying one thing, like, everybody hates him so that everyone's going to hate me."
"You guys just follow each other like a big duck followed by little ducks," he went on. "Whatever the top thing is, you just follow up. You guys don't know the story of anything, and I will never apologize. I hope you know that."
"I have nothing to apologize for, so make that clear. I have zero things to apologize for. You guys do not know a single thing at all."
He also claimed that Brown's parents approved of their alleged relationship, saying: "I was living at Millie's house for eight months. How the f*** is that a lawsuit. I thought her mum and dad knew about everything."
Footage from the Instagram Live session has also been shared on Twitter, where a large number of social media users have united in condemnation of Ecimovic.
Since Monday, several posts have been added to an Instagram account called @exposinghunterecho, as fans of Brown speak out against Ecimovic.
Brown, who has yet to publicly address the claims, has recently been seen spending time with Jake Bongiovi, the 19-year-old son of Bon Jovi rocker Jon Bon Jovi.
The teens took to their respective Instagram Stories over the weekend to share snaps of themselves hanging out, according to the New York Post.
On June 3, Bongiovi also posted an image of himself posing alongside Brown in a car, referring to her in the accompanying caption as his "bff."
Newsweek has contacted representatives for Millie Bobby Brown, Hunter Ecimovic and the Los Angeles Police Department for comment.
Sign-up to our daily newsletter for more articles like this + access to 5 extra articles
Daily news headlines & detailed briefings enjoyed by half a million readers.
J-14 12 July, 2021 - 01:31pm
Off the market? Millie Bobby Brown has sparked major romance rumors with Jake Bongiovi since June 2021.
The Stranger Things actress and the son of famed rocker Jon Bon Jovi were first spotted together in New York City, according to photos obtained by the Daily Mail. In the snaps, Millie wore a pink skirt with a white top while holding hands with Jake, first kicking off relationship speculation. She carried a white purse and blue tote bag which housed her pup. Jake, for his part, had on blue and yellow striped shorts with a matching button-down top. In some snapshots, he carried the Netflix star's pup. Both Millie and Jake donned face masks and sunglasses for their NYC outing.
Days prior, Jake actually shared a selfie alongside Millie on Instagram alongside a caption that read, "bff <3." The Enola Holmes star commented on the picture, writing, "BFF," alongside a unicorn emoji. It wasn't until the pictures of the duo holding hands that fans started speculating they were more than friends. In July 2021, Millie further sparked rumors when cozying up to Jake in a photo shared via her Instagram Stories. The British star had her arm around his neck while posing with a pouty face. She added a gif that read, "Happy Weekend." Jake shared a similar photo on his social media account. Both have stayed quiet about the status of their relationship thus far.
Aside from being a New Jersey native, Jake refers to himself as an actor on his Instagram account but little is known about the budding star.
In the past, Millie was romantically linked to musician Jacob Sartorius. She went public with the "Sweatshirt" crooner in October 2017 but announced their split in July 2018. "The decision with Jacob and I was completely mutual," she shared via Instagram Stories at the time. "We are both happy and remaining friends."
She's also addressed rumors over the years that she was dating fellow Stranger Things star Finn Wolfhard after their characters fell in love on the Netflix series. "While there's a love story that develops between Mike and Eleven, there are a lot of other types of relationships. Love is whatever you want love to be," the actress told the Jakarta Post in June 2019, noting that she shared her first kiss with her costar. "We had no idea what to do. It was like real life — nobody really knows what to do. At the end of the day, it was just work."
Love J-14? Be sure to subscribe to our YouTube channel for fun, exclusive videos with your favorite stars.
Jake posted a photo of himself and Millie.
Days later, the duo sparked romance rumors when they were photographed holding hands in NYC.
While they have yet to speak on their relationship status, the pair other fueled relationship speculation when sharing selfies together via Instagram Stories.
J-14 has affiliate partnerships so we may receive compensation for some links to products and services.
Page Six 12 July, 2021 - 11:34am
July 12, 2021 | 12:34pm
Millie Bobby Brown and Jake Bongiovi have got each other, and that's a lot.
The "Stranger Things" star and her boyfriend, the son of New Jersey rocker Jon Bon Jovi, boasted about their cozy weekend together on social media — like all teenagers in love do.
Brown, 17, shared a sweet photo with her arm around a smiling Bongiovi, 19, on her Instagram Story Saturday alongside a colorful GIF that read, "happy weekend."
The Syracuse University student echoed the sentiment by posting his own snap with the actress on his Instagram Story. In the picture, they were separated by sunlight stretching over a city skyline and stared directly into the camera lens.
This isn't the first time Brown and Bongiovi have posted about their summer love.
The "Livin' on a Prayer" singer's third child posted a selfie on his Instagram feed on June 3 calling Brown his "bff" with a heart in the caption. She seconded her boyfriend's "bff" sentiment in the comments section at the time, with the addition of a unicorn emoji.
Two weeks later, on June 18, the couple spent a day out and about with a group of friends in New York City. Brown and Bongiovi were photographed holding hands and even took turns carrying her therapy dog, Winnie, in a carrier bag.
Though it's his Grammy-winning dad who often makes headlines, Bongiovi is no stranger to the spotlight.
When he was just 15 years old, Bongiovi helped stage a protest at the Pennington School in New Jersey as part of the National School Walkout on March 14, 2018. The move was a response to gun violence in schools and happened exactly one month after 17 people were killed at Marjory Stoneman Douglas High School in Parkland, Fla.
His father, now 59, fully supported the walkout, writing on Twitter: "COULDN'T BE more proud of the youth of these UNITED STATES – Change starts with you."