By Joel Sherman
July 13, 2021 | 6:41pm | Updated July 13, 2021 | 6:41pm
When asked if it was easier to hit since the crackdown, Dodgers first baseman Max Muncy replied, "Yes and just leave it at that."
No surprise, among those who have at least 100 plate appearances since enforcement was upgraded, the Angels' Shohei Ohtani has the best OPS at 1.277, thanks largely to 18 homers in 34 games. But the next best belongs to the Rangers' Joey Gallo at 1.276. The slugger not only has 15 homers, but more walks (32) than strikeouts (31) in that time. Gallo's 72 walks for the season are 12 more than anyone else has. That's a reflection of his hitting eye, but also that he is pitched around as part of a weak Rangers lineup.
The athletic Gallo is among the best position players mentioned regularly as available in this trade market as the last-place Rangers try to rebuild. Gallo can be a free agent after next season. Padres general manager A.J. Preller was with Texas when Gallo was drafted, and opposing executives expect San Diego to be interested. The Yankees also have consistently had eyes for Gallo.
"In my head and in my heart, I believe I will be a Ranger," Gallo said about the coming trade deadline. "But at the end of the day, I know it is a business and if the team feels it is fit better elsewhere, I will understand it."
The third-best OPS since the memo went out also belongs to an All-Star, albeit one who was named but then had to be replaced: Kyle Schwarber. He strained his hamstring earlier this month, but before that, Schwarber had a 1.146 OPS in the non-sticky period with 16 homers in 27 games.
Schwarber, after being non-tendered by the Cubs after last season, signed a one-year, $10 million pact with the Nationals. There is an $11.5 million mutual option for next season, but Schwarber is almost certain to parlay his bounce-back into an attempt to find a strong multi-year deal in free agency. He will turn 29 next March. Like Gallo, Schwarber is a player the Yankees have long been interested in, and they could look toward him to try to gain lefty balance in their lineup.
"I believe if you care about your teammates and invest in winning, then good things will happen," Schwarber said about gambling on a one-year deal with the Nationals. "I told Washington I was going to invest in winning. As for [a next contract], I just don't want to look that far ahead."
By the way, to highlight how bad the lineup that Gallo hits in is, the two worst OPS in the non-sticky phase (minimum 100 plate appearances) belong to his Rangers teammates, Nick Solak (.523) and Isiah Kiner-Falefa (.533). But what should worry the Yankees is not that a former farmhand (Solak) leads this list, it is that third belongs to their current shortstop, Gleyber Torres, at .537.
Schwarber was removed from the Cubs' core after last season and now that team is likely to be in selling mode between now and the July 30 non-waiver trade deadline. Other members of the champions, such as Javier Baez, Kris Bryant and Anthony Rizzo — all of whom will be free agents after the season — will draw interest.
But how the Cubs handle this will say something about their path. Kimbrel has a $16 million club option for 2022, so if the Cubs were trying to contend as early as next season, they could always hold him and still have until the 2022 deadline to move him. Or do they see the value of removing what remains of his contract while gaining prospects more?
"I've been traded before," Kimbrel said. "I was traded on Opening Day once [2015, from the Braves to the Padres]. If it happens, I have dealt with it before."
Before last season began, the Red Sox traded their biggest star, Mookie Betts, and David Price to the Dodgers, partly because of rebuilding, partly as a salary dump to clear up future payroll.
The Red Sox finished last in the AL East. The Dodgers won the World Series. At that moment, Boston seemed far from being a high-level contender. J.D. Martinez could have opted out of the final two years at $38.75 million of his deal and the Red Sox certainly would not have minded that. Nathan Eovaldi had two years at $34 million left and if any competitor had made a suitable offer, Boston almost certainly would have moved the righty.
That was then. On Monday — at All-Star media availability in a large plaza outside Coors Field — Eovaldi and Martinez were separated by Boston closer Matt Barnes, who was just rewarded with a two-year, $16 million extension. Across from them were Xander Bogaerts and Rafael Devers. That was an AL-high five All-Starsfor the AL East-leading Red Sox.
"I really do think everyone felt in spring that we were going to be a good team," Eovaldi said. "Last year [shortened amid the pandemic] was different. We felt we had a good team and looked around and had added [Adam] Ottavino and [Hirokazu] Sawamura and good veterans like Enrique [Hernandez] and Marwin [Gonzalez]."
Eovaldi also mentioned as vital the return of manager Alex Cora after a one-year suspension for his involvement with the Astros' illegal sign stealing in 2017.
Boston opens the second half tied for the AL's second-best record, 1 ¹/₂ up on the Rays, but eight up on the Blue Jays and Yankees. The Red Sox-Yankees game is the lone one scheduled in the majors on Thursday and is part of a four-game series. Boston already is 6-0 against the Yankees this season. So the Red Sox — a last-place club in 2020 — have a chance this weekend to further the embarrassment of their biggest rivals and, perhaps, turn the Yankees into sellers at the July 30 trade deadline.
One player that executives view as likely to be traded in the next few weeks is Royals lefty Danny Duffy — as long as he is healthy. Duffy missed more than a month from May into June with a forearm strain. He has returned to make four short starts and one relief appearance.
There are two hurdles, beyond health, the could affect moving Duffy: He is still owed roughly $7 million of the $15.5 million he is due in the final season of his five-year, $65 million pact. He also exceeded 10 years of service time this season and gained 10-and-5 rights, which allows him to block any deal.
Unlike Duffy, acquiring Cole Hamels would take just money. The lefty only made one start last year due to shoulder problems after the Braves signed him to a one-year, $18 million pact (prorated for the shortened season). Hamels has not pitched this year, but he will hold a showcase Friday at the Rangers' Double-A facility for interested clubs. The Yankees will be among those with a scout in attendance. But the Yankees tend to send a scout to all showcases for — if nothing else — due diligence and to gather information.
In his last full season, 2019, the 37-year-old Hamels had a 3.81 ERA for the Cubs in 27 starts.
Hamels is 37 and in his last full season, 2019, he had a 3.81 ERA for the Cubs in 27 starts.
Read full article at NJ.com
The Dallas Morning News 14 July, 2021 - 04:21pm
10:07 PM on Jul 12, 2021 CDT
He was pitted against the hometown guy, Trevor Story. The baseballs Tony Beasley threw to him were, in fact, kept in a humidor instead of baked into skeet. He did actually tie Story at the buzzer of the assininery that goes along with the Derby. Stuff like Bonus Time, which is not actually bonus time because everybody got it. We'll even lob out the easy cheap shot and say Angel Hernandez was the presiding home run umpire.
This is what it took to slow down Joey Gallo.
Officially Gallo, the second seed, was a first-round loser to Irving's Story. Story hit 20 homers. Gallo followed with 19. And come to think of it, how do you like that idea: Gallo following Story in the Rangers' lineup. Maybe next year. If Gallo's not traded. If the Rangers pony up for Story. It would be fun.
Anyway, Gallo appeared to hit a 20th homer at the end of his bonus time. I mean he swung and the ball left the field of play. Apparently, though, his time had already run out. There was no ability to challenge. Maybe they can add that to the rules next year.
"It was quite an experience," said Gallo, who could not stop smiling throughout All-Star Workout Day. "I wish I did better. It just took some time to get into a groove. It was too frigging long. I didn't start out well, so I kind of had to pick it up a little bit. We got chemistry going right at the end. I thought I had maybe tied it up, but I didn't know. I'm happy. I had a lot of fun."
MLB has tried to cram a lot into a couple of days. In theory, the draft at the All-Star break seems great. Worth trying. Think it may get a bit lost though. Last two days have been crazy but fun. Makes you feel like good things are happening in baseball
He may not be the biggest story at this All-Star Game, but he's in the discussion for second place. It's been quite a week in Denver, and it's only Monday. The draft kicked off Sunday night. MLB announced it would donate at least $100 million to the Players Alliance to try to increase Black participation in the sport. Baltimore's Trey Mancini, a cancer survivor, reached the Home Run Derby finals, though New York's Pete Alonso retained the title. It's been a busy and fun couple of days. Word is, there will be an actual All-Star Game on Tuesday.
The biggest story, though, is Shohei Ohtani, of course. He was going to win the derby, start on the mound for the American League and lead off at the plate. He, too, was upset in the first round after a tiebreaker and a dreaded "Swing Off."
Beyond Ohtani, there is Gallo. It's becoming the Summer of Joey. In the post Sticky Ball Era, which started exactly one day after the summer solstice, Gallo has been head and shoulders above everybody else in offensive production. His 1.493 OPS is nearly 200 points higher than Ohtani. Nobody else is within 300 points of him. He leads the majors in homers in that span with 12 in 17 games. Maybe this is the hottest streak of Gallo's career. Maybe the rules change makes him a different player. Maybe a little bit of both.
"I felt like I was on the verge of breaking out a little bit," Gallo said Monday afternoon during a media availability when asked if he's benefited more than any other player. "I thought my ABs were always really good throughout the year. I was taking walks, taking good swings, I was still hitting the ball hard. I'm kind of a streaky guy. So, I got on a roll. I hit a couple of homers. I just started swinging a little better. I got a little confidence. If that's what the numbers say … "
That's what they say, all right.
And the likelihood is that he's going to benefit more if shifts are banned or modified so that opponents can't put infielders in the outfield. In Double-A, that's what they are trying this year. Gallo has paid attention. He endorsed some modification to shifts Monday.
You know who else has paid attention? Scott Boras, Gallo's agent. He also walked the promenade during the media availability Monday afternoon. We stopped him just to ask just casually how the changes in the game might impact Gallo's value. He, too, smiled.
He noted that it was all "in the book," which is Boras-speak for the famous binders he presented to owners interested in his free agents. They outlined the case for why each of his big free agents was an iconic franchise-changing player.
"You've got third basemen playing in right field right now," Boras said. "It will dramatically impact the value of left-handed hitters. You would have a system that is no longer stacked against him. And look at the confidence level, he's playing with now."
On Tuesday, he'll take the field among his peers as the hottest slugger in MLB at the moment. On Wednesday he'll return to the Rangers. And then the Summer of Joey will become the Fortnight of Rumors, of trade possibilities and potential contract extension talks.
He's had fun so far, even if he didn't win the Derby. Things are about to get more serious. If Gallo can stay where he is mentally, not even conspiracies will deprive him of taking his place among the game's best.
Stand with us in our mission to discover and uncover the story of North Texas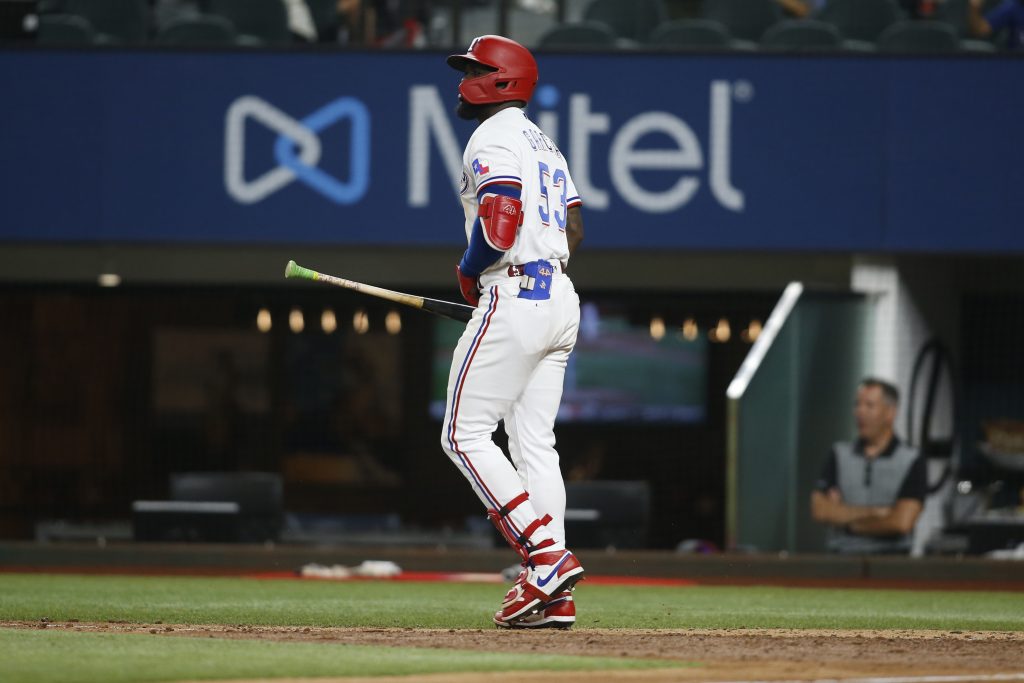 MLB Trade Rumors 14 July, 2021 - 04:21pm
The Rangers will have three representatives at tonight's All-Star Game. Joey Gallo has been there before, and the slugger's rare combination of light-tower power and athleticism could earn him a few more nominations before the end of his career. Kyle Gibson's dominance this season has been surprising, but he's an eight-year veteran with a generally solid track record. Few would've projected him to be an All-Star entering the season, particularly coming off a down 2020, but he was the team's Opening Day starter. It wasn't crazy to think he'd have a bounceback year.
Adolis García making the All-Star Game would've been inconceivable three months ago. He wasn't even on the Rangers roster to start the year, having been designated for assignment so they could sign Mike Foltynewicz. In February, all twenty-nine other clubs were offered the opportunity to add García for nothing more than a 40-man roster spot and the standard $50K waiver fee. Each one passed. So García reported to Spring Training as a non-roster invitee and began the year at the alternate training site.
In retrospect, each team made an error in judgment in not putting in a claim for García (as did the Rangers for designating him in the first place). It's hard to assign too much blame around the league, though. At the time of his designation, García was soon to turn 28 years old with all of 24 major league plate appearances under his belt. An obvious combination of power and speed had made him a fairly well-regarded prospect in Cuba and in his days in the Cardinals system, but scouting reports also came with question marks about his plate approach. His 2019 season in the minors did him no favors in that regard; García popped 32 homers and swiped 14 bags, but he also reached base at just a .301 clip and posted extremely concerning strikeout and walk rates (30.1% and 4.2%, respectively).
Given his first extended big league run after being re-selected in mid-April, García has continued to actualize his physical tools at the highest level. The right-handed hitting outfielder is surprisingly tied for eighth in the majors with 22 home runs this season. He's sporting an impressive .270/.312/.527 line across 333 plate appearances. He leads all rookie position players in FanGraphs WAR and looks to be the midseason favorite to win the AL Rookie of the Year award.
It's an open question whether García can continue to succeed at this level. His MLB strikeout and walk rates this season (30.6% and 4.8%) are eerily similar to those he posted during his last Triple-A campaign. He's frequently chasing pitches outside the strike zone, and his 17.5% swinging strike rate is ninth-highest among the 231 hitters with 200+ plate appearances.
There's still some chance García's aggressiveness undercuts his production moving forward. Some players have enough power and athleticism to succeed in spite of a poor approach. It's possible García's that kind of talent, but he'll need more than half a season of great play to cement himself within that rare group.
Whether or not García's performance takes a step back in the second half, there's no taking away what he's accomplished to this point. To earn an All-Star selection just five months after clearing waivers is an incredible achievement. Among the players whose talents will be on display tonight, García's had arguably the most meteoric rise.
He is a good player fun to watch, but I think in the long run Garcia takes it home.
I'm happy for him, but I feel bad he has to wear that horrendous All-Star uniform.
How did Aroldis Chapman make the all star team?
He was picked by players and managers. He was selected right after a bad meltdown too…
I'd been waiting for Garcia to do this, knew he had the potential was surprised at his DFA with the Rangers but the move paid off. Raw power potential, launched 32 Home runs in PCL with AAA Memphis in 2019, problem was his hit tool and ability to make consistent contact. He will strike out 200 plus times and not give you 40-50 doubles as of yet, but I think he has even more untapped potential. Has plus range in the outfield, decent glovework. I'm not surprised he made the all star team, not in the slightest, I been saying since January 2020 "I hope one day I'm not saying I could have been watching an outfield of Garcia, Arozarena, Carlson, and Tyler O'Neil."
I don't think Garcia will be in the big leagues for long but even still Mountcastle is below league average
He's already 28 and he's still striking out 30% of the time. We've seen plenty of flash in the pan types with very similar profiles as Garcia.
Never heard of him. He must be only on local tv where you are.
Mountcastle better start playing MUCH better if that prediction is to come true
A 105 OPS+, 30% K rate, no speed, useless in the field; Mountcastle is who he is, a 6/7-hole hitter who's "meh"; in many organizations, he'd still be in AAA .I get it; every team needs heroes, the O's stink, and they got to have somebody. But at the end of the day, you hold Mountcastle till about his Arb-2 year, then kick him down the stairs.
OR you get real aggressive, and given how a couple of good teams need help at 1B THIS year, you move him this month. He's worth more to the Red Sox, e.g, where they can park him lower in the order, and not pay him much.
I've watched my share of O's games….he still gets fooled easily at the plate and plays rather nonchalantly for a guy who's looking to establish himself. IMHO, he's at his zenith in value.
He might not ever be contact first, but he could still be productive for 2-7 more years at least, his range in the outfield is pretty good according to baseball reference? He has committed 3 errors but then there's this?
That means dude tracks down flyballs, that helps your pitching staff intangibly
He is a good player fun to watch, but I think in the long run Garcia takes it home.
So Joe Buck is talking to hitters in the batters box as Scherzer is going into his wind up? How distracting is that??!!
Joe buck is almost as bad for baseball as Stephan A Smith
Doesn't the A stand for alien ?
You are 3/4 correct for me. spot on on Stephen A., but Buck does ok in Baseball. As for Football, terrible!.
Buck is terrible regardless of the sport. He's only where he is because of nepotism. If he wasn't Jack Buck's kid, no one would have ever heard of him.
To hear Buck was addicted to hair plugs is so apt of description of any human being ever. Glad he was able to overcome. Struggle's real.
Garcia has been fun. Is he an all-star talent going forward? Probably not, but he seems to be a BJ Upton 2.0.
If anyone is looking to play fantasy football feel free to reply to my message, I have a 50 $ entry league for up to 4 prizes (1st-4th place). It's a 12 team standard league, looking for 1 MLBTR player to join… draft is on August 14th
I'd rather have Akil Baddoo. Less strike outs, better obp, more speed. Much younger.
I'll give you the OBP and age, but there isn't much difference in Ks between them. Garcia has way more power. Not even close. Baddoo's stats are being boosting by some babip luck. Still a promising player though.
Garcia has speed. He plays CF
For the first time in a while, actual deserving players made the all star team and in the starting lineup. there are a lot of great stories going on, aside from the obvious Mancini. Cedric Mullins, Merrifield, Hernandez from the Indians, 2nd and 3rd gen players and other good young players really coming along and having good years
Don't forget about Adam Frazier. Nothing made me happier than seeing Frazier and Mullins on the roster. They aren't household names, but boy did they deserve the All Star nod. It's nice that it wasn't a pure popularity contest, even if it *mostly* is
Huge trade deadline year for Rangers. So many players could be on move. It's time to replenish the farm system and hopefully compete in a few years in new Stadium.
If he keeps hitting, definitely a good chance. But if he starts slumping again like he did early in the year, that'd be a tough sell
Father Garcia will take home the ROY, and I'm so happy for him. He's gotten cold recently, but he's also become way more patient too. He works good counts atm, and I believe that there is good progress he's made as a player despite his slump. Let's go Rangers!
Yankees fan but also a Garcia fan. The guy has adjusted as the league adjusted to him. He's not exactly "cold," he's just hitting 'em where they ain't and taking his walks rather then knocking the snot out of the ball.
The K rate is tolerable if he can keep up what he's been doing, especially over the last week or so. IDK about ROY, there's some exciting talent on the verge of the bigs and some that could potentially grow into the big-league cleats they're wearing already.
ROY's always a crap-shoot, and this year is even more of one since no one saw prospect development last year but their own teams.
I think Adolis has it as of today. In the end I think it will be close between Andrew Vaughn, Luis Garcia, and Adolis Garcia. Clase and Kopech are the dark horse candidates with the potential to pitch lights out for extended periods.
Arozarena could enter the conversation too if he gets hot in the second half. He's quietly put up a 1.7 WAR first half.
Good for Garcia but 102 strikeouts against 16 walks is not good.
Another one the Cards gave up on…
Fox learned in the 9th tonight that you really need a tape delay if you're going to mic up an intense closer when he's on the mound.
I would watch a documentary about miking up Liam Hendriks, and the consequences that follow.
I prefer Baddoo long term over Garcia as Baddoo has a better approach at the plate. Mountcastle is essentially a Ryon Healy/Shea Hillenbrand replica. Vaughn has done well so far but I think he won't provide as much value as Baddoo. Luis Garcia of the Astros probably should win the award
MLB Trade Rumors is not affiliated with Major League Baseball, MLB or MLB.com