Ben Gilbert
RealBenGilbert
What are the chances that Legend of Zelda: Breath of the Wild 2 is a launch game (with a lesser version for Switch on the same day) for Nintendo's successor console to the Switch? Pretty good? I'm guessing pretty good.
Modders are recreating a demo of The Legend of Zelda: Ocarina of Time shown a year before the game came out.
The mod for Ocarina of Time aims to recreate the demo made playable in 1997 at Nintendo's defunkt Space World event. The N64 masterpiece wouldn't go on to launch until November 1998 in Japan.
A modder known as Zel is spearheading the effort, whichuses the Zelda '97 "overdump" as well as data from the infamous Nintendo "gigaleak" of July 2020.
In January Eurogamer reported on how the demo build, found on an old N64 development cartridge used to hold Nintendo racer F-Zero X, turned up fresh details on early ideas for Ocarina of Time, such as Link being able to turn into his fairy Navi.
According to the Forest of Illusion Twitter account, which is dedicated to preserving lost bits of Nintendo history, this demo included a series of magical spell medallions that granted eye-opening effects, such as the Soul Medallion that let Link become Navi and fly around.
Here's the F-Zero X development cartridge which contains the Spaceworld 97 Zelda 64 data in the overdump. There doesn't appear to be much code or music, just graphics and maps. Zelda 64 data begins at 0x1000000 in hex.https://t.co/DsFpv5uVau pic.twitter.com/JUyOjGRP5w
Other medallions let Link fire light arrow-esque attacks or hide within a cloak of darkness to avoid enemies. Another medal let Link warp when in danger, while two more let him create and extinguish fire.
There's a very different world map for Hyrule, too:
Hyrule World Atlas from the 1997 Zelda 64 overdump! Now that is incredibly different! pic.twitter.com/EMykH1eMub
Fans even translated some of the text found in the game, and suggested early versions of Ocarina's plot would have played out very differently. For example, the Deku Tree was going to be a prison for the game's fairies - including Navi - which Link would then set free.
While it's not possible to boot the version of Zelda found on the old F-Zero X development cart, maps, items, textures and script still existed, which gave observers a good idea of what that build of Ocarina of Time would have been like.
The community then made the maps playable, although they were barren, without NPCs, enemies or traps.
Enter Zel, who began working with his team to recreate the entire Zelda '97 demo experience, adding enemies and NPCs back into the recovered maps. This work was supplemented with information and areas from the gigaleak.
This week, Zel released a trailer for this in-development recreation, below:
It's a pretty impressive effort, a chance to experience the Zelda those who were at Space World in 1997 played (check out the video below to see what that all looked like). The team plans to release a build of the recreation soon.
Editor | wyp100
Wesley is Eurogamer's editor. He likes news, interviews, and more news. He also likes Street Fighter more than anyone can get him to shut up about it.
Moss 2! Deathloop! Jett! Death Stranding!
"Our story is political. A story about a modern revolution must be."
All GTA 5 cheats for every platform, in one place.
Buy things with globes on them
And other lovely Eurogamer merch in our official store!
The 10 most popular stories of the day, delivered at 5pm UK time. Never miss a thing.
Bad puns and video games since 1999.
This site © 2020 Gamer Network Limited, a ReedPop company. All Rights Reserved. No part of this site or its content may be reproduced without the permission of the copyright holder.
Read full article at Eurogamer.net
IGN 10 July, 2021 - 08:04pm
PCMag 10 July, 2021 - 07:17pm
Japanese authorities detained a man for selling hacked save files for The Legend of Zelda: Breath of the Wild.
Japanese authorities reportedly arrested a 27-year-old man for attempting to sell hacked The Legend of Zelda: Breath of the Wild save files.
Breath of the Wild debuted alongside the Nintendo Switch in March 2017. The most recent entry in the long-running series featured a drastic change in direction that emphasized player choice, equipment durability, and interactions between various systems in an open-world setting that could be approached in many ways.
Those qualities also made the game a compelling target for hacks. That appears to be what this man was offering: Dexerto reported that in April the suspect attempted to sell "the ultimate save data" featuring ideal stats, hard-to-find items, and other qualities that were obtained via cheats instead of being earned in-game.
Niigata Prefecture police reportedly learned of the auction in July after the hacker claimed to have earned more than 10 million yen—which is equivalent to nearly $91,000 at time of writing—by selling the hacked save data. (Though he also said he'd sold save files for roughly $32 a pop since at least 2019.)
Dexerto noted this isn't the first time someone's been arrested for selling modified save data for a Nintendo game. Another hacker was arrested in February for selling roughly $10,000 worth of save files that featured shiny Pokémon, which are harder to obtain than their non-shiny counterparts, for Pokémon Sword and Shield.
The message is clear: Nintendo doesn't take kindly to people auctioning off hacked save files for games on its platforms. As long as players are willing to pay for a Hylian Shield or Savage Lynel Crusher in their quest to take down Breath of the Wild's most formidable opponents, however, there will likely be a market for those files.
This newsletter may contain advertising, deals, or affiliate links. Subscribing to a newsletter indicates your consent to our Terms of Use and Privacy Policy. You may unsubscribe from the newsletters at any time.
Your subscription has been confirmed. Keep an eye on your inbox!
Nathaniel Mott is a writer and editor who has contributed to The Guardian, Tom's Hardware, and several other publications in varying capacities since 2011.
PCMag.com is a leading authority on technology, delivering Labs-based, independent reviews of the latest products and services. Our expert industry analysis and practical solutions help you make better buying decisions and get more from technology.
© 1996-2021 Ziff Davis, LLC. PCMag Digital Group
PCMag, PCMag.com and PC Magazine are among the federally registered trademarks of Ziff Davis, LLC and may not be used by third parties without explicit permission. The display of third-party trademarks and trade names on this site does not necessarily indicate any affiliation or the endorsement of PCMag. If you click an affiliate link and buy a product or service, we may be paid a fee by that merchant.
Mashable 10 July, 2021 - 11:25am
Just a few months after a record-setting auction turned a sealed copy of Nintendo's original Super Mario Bros. into the most expensive video game — at an eye-popping price of $660,000 — that record has fallen. Another NES classic, The Legend of Zelda, is now the title-holder.
In a Heritage Auctions sale that ended Friday, a sealed copy of the very first Zelda game sold for $870,000. Even though this particular copy scored a (slightly) lower quality rating than Mario, the rarity of the item boosted its value significantly.
This version of Zelda, described in the listing as a "true grail among games," is notable for its age. "This is the only copy from one of the earliest production runs that we've ever had the opportunity to offer," Heritage notes in the description, and that production run only lasted a handful of months.
The distinction here is a major difference-maker for serious collectors. There are little clues on every NES package that indicate which production run the release comes from. This copy of Zelda is from a run dubbed "NES R" (for the ® that appears next to the "Nintendo Entertainment System" logo on the box).
That "NES R" production run dates back to late 1987, and it was preceded by only one other run (dubbed "NES TM"). The auction listing notes that since only one copy of an "NES TM" version is known to exist — and it's not clear if or when it will ever be sold — that makes this particular Zelda "the earliest sealed copy one could realistically hope to obtain."
The fact that it's in great condition no doubted helped boost the sale price as well. While the Mario copy that sold in April rated higher — Wata 9.6 A+ Sealed — this copy of Zelda is still in stellar condition, with a Wata 9.0 A Sealed rating. (Wata Games does professional video game grading for collectors, in case that's not clear.)
Make no mistake, though: It's the rarity and age of this copy that made it such a pricey buy. As Heritage notes, "there has never been a single public opportunity" to buy a copy of The Legend of Zelda from this early in its life.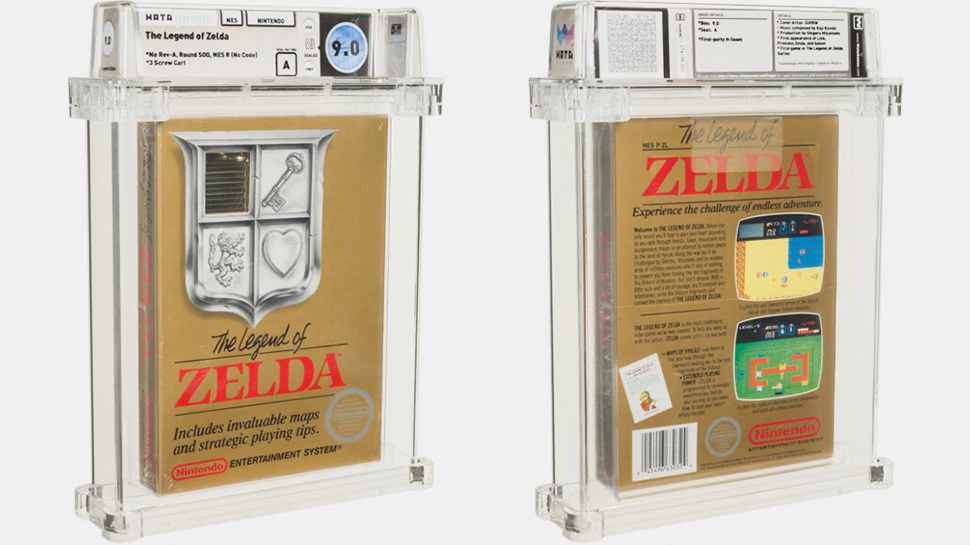 Tom's Hardware 10 July, 2021 - 11:12am
Nearly a million dollars for a video game
The game in question is from the original run of The Legend of Zelda NES R cartridge for the Nintendo Entertainment System. The company released the game cartridge in late 1987 and produced for just a few weeks (until early 1988). Heritage Auctions, which specializes in selling collectible items, describes the copy as "The Legend of Zelda - Wata 9.0 A Sealed [No Rev-A, Round SOQ, Early Production], NES Nintendo 1987."  
Wata 9.0 is a condition rating by collectible grading company WataGames. A 9.0 rating signifies the item is close to pristine condition, but not exactly new. Meanwhile, because The Legend of Zelda NES R cartridges were only produced for weeks and are incredibly rare, they're extremely valuable to collectors. 
Here is how Heritage Auctions describes the game that sold for nearly $1,000,000: 
While it is a hard truth, it is a truth nonetheless — none of the copies we've offered of this title previously could even attempt to hold a candle to this one due to its incredibly rare variant that holds early production status. This matter is completely inarguable. This is the only copy from one of the earliest production runs that we've ever had the opportunity to offer, and, possibly will have the opportunity to offer, for many years to come. Considering this variant was only produced for a few months in late 1987 before it was ultimately replaced by the "Rev-A" variant in early 1988, this statement likely comes as no surprise to collectors. Only one other variant precedes the offered "NES R" variant and that is the "NES TM" variant, which is the true first production run. However, it is also widely believed that only a single sealed "NES TM" example exists, and there is no telling whether or not that copy will ever come to market. Essentially, this copy is the earliest sealed copy one could realistically hope to obtain. 
Nowadays game developers offer special and limited edition releases with exclusive content to give something back to their fans, so there are a bunch of special versions of various game titles on the market and it isn't hard to buy something 'rare.' Keeping that item unpacked and in pristine condition for over three decades is considerably harder, but this is what collectors expect. 
The video game that sold for $870,000 wasn't purchased to play (even assuming that one can get a working NES or a copycat console), but to end up in an extremely valuable private collection. How much will that collection will worth if it ends up on an auction a couple of decades down the road? Well, that is literally a more-than-a-million-dollar question.
Thank you for signing up to Tom's Hardware. You will receive a verification email shortly.
There was a problem. Please refresh the page and try again.
© Future US, Inc. 11 West 42nd Street, 15th Floor, New York, NY 10036.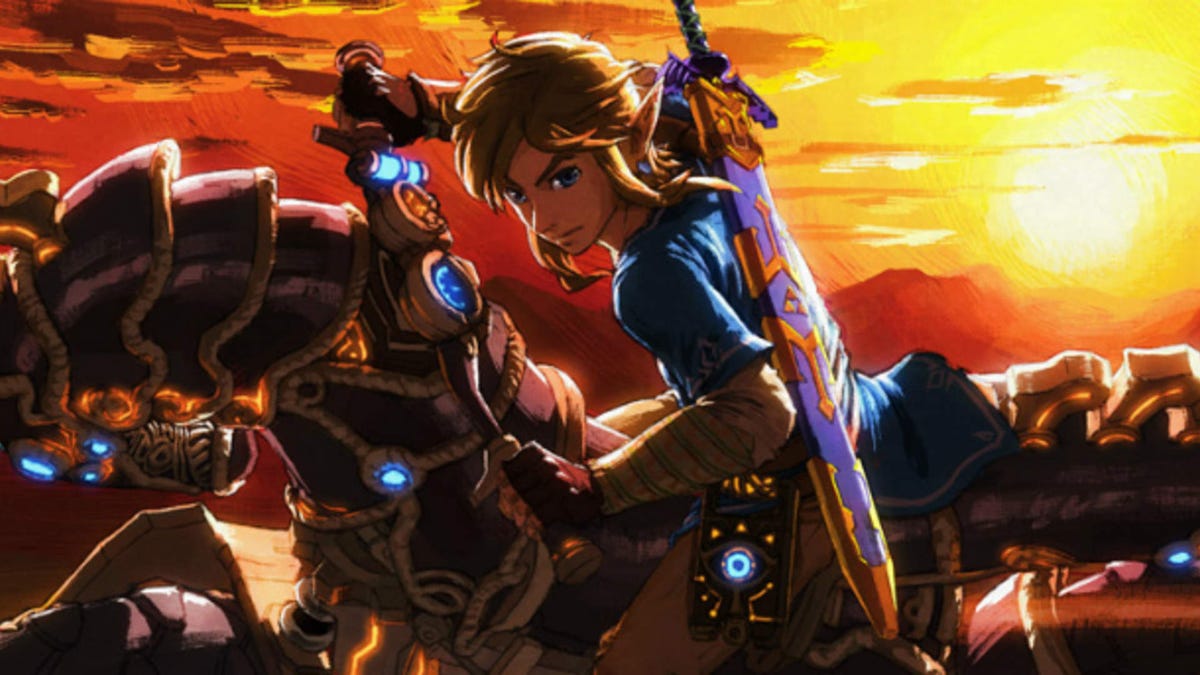 Kotaku 10 July, 2021 - 10:55am
As reported by the Broadcasting System of Niigata (and spotted by Dextro) Ichimin Sho was arrested on July 8 after he posted about modified save files for the Nintendo Switch version of Breath of The Wild. He posted his services onto an unspecified auction site, describing it as "the strongest software." He would provide modded save files that would give the player improved in-game abilities and also items that were difficult to obtain were made available as requested by the customer. In his original listing, he reportedly was charging folks 3,500 yen (around $31 USD) for his service.
Niigata Prefecture police spotted the listing and arrested Sho on July 8 for possibly violating the Unfair Competition Prevention Law. After being arrested, the man admitted he had sold modded saves and software before, telling police he had sold about 10 million yen (around $90,000 USD)in the past year and a half.
Read More: Nintendo Thanks People For Ratting Out R4 Retailers
While this might seem wild, being arrested for selling save files, it's not a new situation in Japan. Police in Japan have previously arrested folks for modifying video game software which violates the Unfair Competition Prevention Law in Japan. This same law was also used by Nintendo to sue a go-kart company in 2017. In 2015, another man in Japan was arrested after selling cheats in the popular online shooter Alliance of Valiant Arms.
In a comment given to the BSN, Deputy Director Okazawa of the Cybercrime Countermeasures Division of the Niigata Prefectural Police asked folks to not create, sell or buy modified save data or software.
This all seems a tad extreme to me. I'd reckon police in Japan (and around the world for that matter) should be more focused on far more dangerous and important crimes. But I guess a dude selling some modified save files for an old Switch game is also important too... to someone.
Yahoo News 10 July, 2021 - 09:22am
Heritage Auctions in Dallas said the video game sold Friday.
The auction house said it was a rare version that was created during a limited production run that took place during a few months in late 1987. The Legend of Zelda is a popular fantasy adventure game that was first released in 1986.
"The Legend of Zelda marks the beginning of one of the most important sagas in gaming; its historical significance can't be understated ... it is a true collector's piece," Valarie McLeckie, Heritage's video game specialist, said in a statement.
In April, the auction house sold an unopened copy of Nintendo's Super Mario Bros. that was bought in 1986 and forgotten about in a desk drawer for $660,000.
A hands-on with the phones the FBI sold in a sting operation has revealed that they're using a custom version of Android with sneaky apps — and a distinct lack of control.
The tournament reaches its climax on Sunday when Wembley hosts the final between England and Italy.
The attraction previously included racially and culturally insensitive features like Indigenous peoples being depicted as tourist attractions
The rainbow-colored snack has social media extremely confused.
During a sequence in The Last of Us Part II, players chase after Tommy, the brother of Joel from the first game. Normally, Tommy gets away by escaping through a store and closing a door behind him. But if you are quick enough, you can slide in and kill Tommy, which makes it impossible to move forward.
The auction house said "a milestone was reached in the adoption of cryptocurrencies."
In total, the A's have looked at over 25 sites in the Las Vegas area for possible ballpark locations.
Ahmir "Questlove" Thompson transported audiences back to the late 1960s with a special screening of his new documentary, "Summer of Soul (…or, When the Revolution Could Not be Televised)," at the Greek Theatre in Los Angeles on Friday night. In its first two weeks in theaters, the musical movie about the 1969 Harlem Cultural Festival […]
Think of this easy-to-use gizmo as 'The Clapper' for the digital age.
The complex superheroine finally gets her due in the latest installment of the Marvel franchise.
Ahead of the Loki finale, we spoke with head writer Michael Waldron about Frog Thor, Alligator Loki, Loki and Sylvie's intriguing relationship, and more.
You and shrimp go way back. In fact, it's one of your go-to proteins for quick weeknight dinners , since it...
UPDATE: Well, it was fun while it lasted. The Cannes Film Festival has said that 48-hour salivary testing for COVID-19 is still mandatory despite its introduction of sanitary passes earlier this week. Reports, which are as yet unconfirmed, indicate that organizers may even be revoking the passes from those who were issued the documents. Variety […]
VATICAN CITY (Reuters) -Pope Francis is continuing a normal recovery from intestinal surgery, gradually resuming work, walking and eating with aides, the Vatican said on Saturday, adding his blood tests were satisfactory. The 84-year-old pope is in hospital after undergoing a three-hour operation on Sunday to remove part of his colon, which the Vatican said had narrowed severely. Francis had a calm day on Friday, spokesman Matteo Bruni said, adding that the pontiff was continuing with the prescribed treatment.
Integral Images has filed a $150,000 lawsuit against the "Levitating" singer for an alleged breach of copyright, according to BBC News.
Lamborghini is about to close one of the longest and most significant chapters in its history. It announced the Aventador Ultimae unveiled in July 2021 is the last non-electrified, V12-powered street-legal model it will build. The car's successor, whose name hasn't been revealed yet, will inaugurate a gasoline-electric hybrid powertrain built around a new V12 engine.
We've got a checklist going to make sure we have everything we need to do for the hottest-girl summer on record: stock up on top-rated sunscreen; book the best lake house rental on Airbnb; acquire the most poppin' swimsuit our budgets can buy. The only thing holding us back from our last initiative is that we're about 20,000 leagues underwater, thanks to the veritable ocean of cute bathing suits in the swim-o-sphere right now. Do we want something cheap and cheerful or luxe and eco-friendly? (Al
Solo Stove fire pits are wildly popular among our staff and our readers. You can get a Solo Stove fire pit for up to 30% off at this sitewide sale.