No media source currently available
A new study predicts that a changing moon cycle will increase high-tide flooding across U.S. coastal areas in the mid-2030s.
The finding is based on ocean tide data collected from 89 coastal areas covering every U.S. state and territory except for Alaska. This data was examined along with flooding records and predictions for future sea level rise stretching into the year 2080.
Research results showed that the combined effects of rising sea levels linked to climate change and natural changes in ocean tides will lead to increases in coastal flooding.
The prediction was recently reported in a study in Nature Climate Change. The study was led by members of the U.S. space agency NASA's Sea Level Change Team. The lead researcher of the study was Phil Thompson, a member of the Sea Level Change Team and director of the University of Hawaii's Sea Level Center.
Thompson said in a statement he expects the biggest increases to happen along the U.S. Pacific and Gulf of Mexico coastlines, which include Hawaii and other Pacific islands. This is important because this is where high-tide flooding goes from being mostly "a local or regional issue and becomes a national issue affecting a majority of our nation's coastlines," he said.
The researchers note that many U.S. coastal areas, especially along the Atlantic coast, are already experiencing such flooding. High-tide flooding happens when tides reach anywhere from 0.5 meters to 0.6 above the daily average high tide, says the National Oceanic and Atmospheric Administration (NOAA).
NOAA reported more than 600 incidents of this kind of flooding -- also known as "sunny day" flooding -- in 2019. Such activity is expected to worsen and lead to longer lasting floods as high tides increase in the future and sea levels keep rising.
Ben Hamlington was a co-writer of the study. He is with NASA's Jet Propulsion Laboratory in California and also the leader of the Sea Level Change Team. He said in a statement the findings can be an important resource for U.S. coastal planners who may be centered more on preparing for extreme events rather than more high-tide flooding. For planning purposes, "it's important to know when we'll see an increase," Hamlington said.
Thompson agrees that results of the study can be used by scientists, engineers and government officials who are used to preparing for rare, severe weather events such as a 100-year storm. "But we demonstrate that it is important to plan for extreme months or seasons during which the number of flooding episodes, rather than the magnitude, is exceptional," he said.
The prediction of increased high tides starting in the mid-2030s is linked to a normal moon cycle. NASA says the cycle -- which affects how Earth lines up with the moon and the sun -- changes our planet's gravitational pull. This, in turn, affects ocean tides.
The cycle causes "a regular wobble in the moon's orbit that takes 18.6 years to complete," NASA explains. In half of the moon's cycle, it causes high tides on Earth to be lower than normal and low tides to be higher than normal. In the other half of the cycle, high tides get higher and low tides get lower.
Currently, NASA says the moon is in the cycle that intensifies high tides. And while there have been issues with high-tide flooding, there has not been enough sea level rise to cause high tides "to regularly top" flooding levels, the researchers said.
But the next time the cycle comes around again, in the mid-2030s, sea level rise "will have been at work" during those years, NASA noted. The higher seas, combined with the new moon cycle, "will cause a leap in flood numbers on almost all U.S. mainland coastlines, Hawaii, and Guam."
Such flooding could leave people in cities dealing with floods "every day or two," the research team predicts.
tide – n. the regular rise and fall in the level of the sea
episode – n. a single event or period of time
magnitude – n. the large size of importance of something
regular – adj. something that happens often
wobble – v. to move from side to side
leap – n. a sudden increase or improvement
Read full article at KSAT San Antonio
Reuters 19 July, 2021 - 10:01am
NBC News 19 July, 2021 - 10:01am
Global News 19 July, 2021 - 10:01am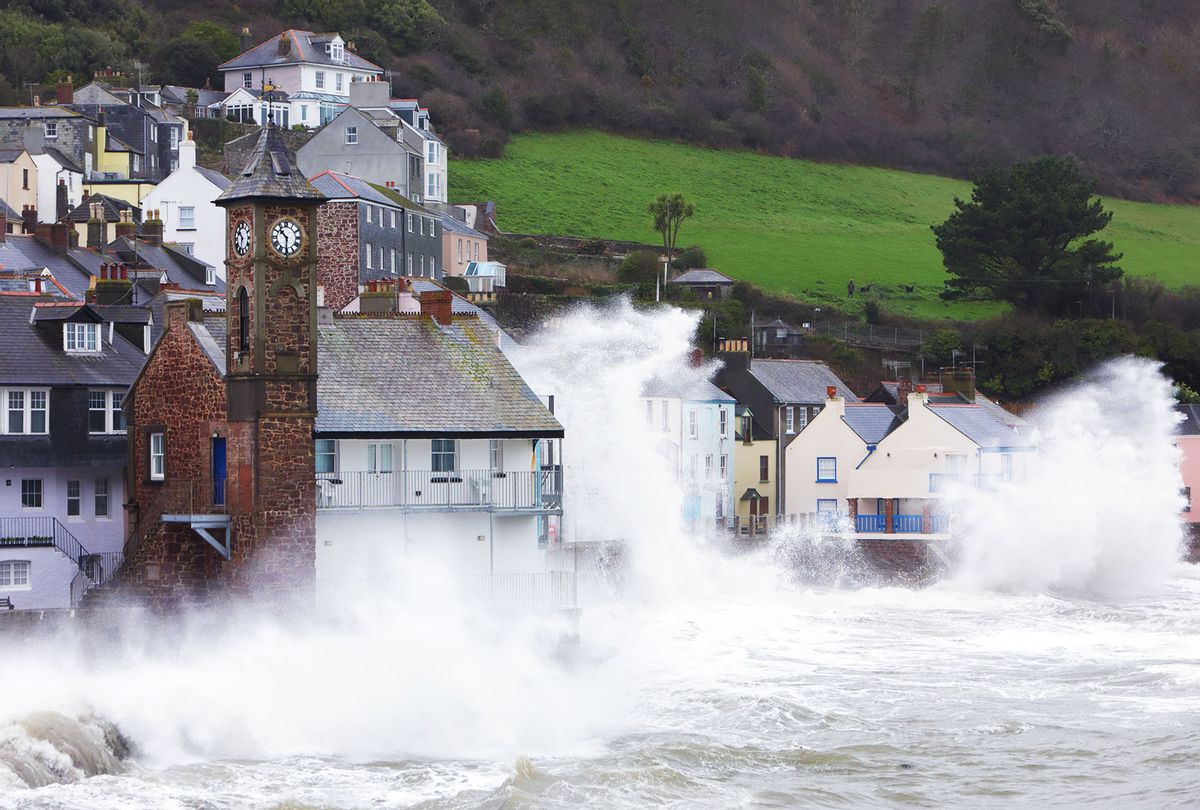 Salon 19 July, 2021 - 10:01am
These extreme weather events are inextricably linked to climate change, politicians and experts have noted. But there is another culprit, one above, that is also affecting the weather: a "wobble" in the orbit of the Moon.
Indeed, only days before the flooding, a study in the journal Nature Climate Change by scientists from NASA and the University of Hawaii warned that the Earth may experience record flooding in the mid-2030s because of changes in the Moon's orbit.
"Climate change causes a rise in sea levels which in turn increases the rate of high-tide floods," Harvard professor and astronomer Avi Loeb told Salon by email. "The gravitational force of the Moon pulls water in the oceans in its direction. The strength of the Moon's pull changes from year to year, as the moon 'wobbles' in its orbit, slightly altering its position relative to Earth on a rhythmic 18.6-year cycle." In one half of the cycle, Loeb explained, the moon's force on the Earth causes low tides to grow and high tides to shrink; during the other half, high tides get bigger and low tides get lower.
"We are currently witnessing the tide-amplifying part of the cycle and the next tide-amplifying cycle begins in the mid-2030s," Loeb pointed out. "By then, global sea levels will have risen enough to make those higher-than-normal high tides particularly troublesome."
But while the Moon's orbit is not something that humans can readily control, man-made climate change is the other half of the equation. 
"Only if we take up the fight against climate change decisively, we will be able to prevent extreme weather conditions such as those we are experiencing," German President Frank-Walter Steinmeier proclaimed. Environment Minister Svenja Schulze publicly stated that "Climate Change has arrived in Germany."
"We will be faced with such events over and over," Armin Laschet, the premier of North Rhine-Westphalia and a candidate to replace Merkel as German Chancellor, declared in a statement. "And that means we need to speed up climate protection measures, on European, federal and global levels, because climate change isn't confined to one state."
While the extent to which climate change contributed to the historic flooding remains unclear, Laschet's warning in particular is indisputable.
Indeed, climate scientists say perfect storm of variables is falling into place to imperil coastal cities.
"Climate change increases sea level relentlessly  and that is what increases nuisance flooding as well as all storm surges and coastal erosion," Kevin Trenberth, a climate scientist at the University Corporation for Atmospheric Research, wrote to Salon. "But the biggest effects are when things are aligned: high tide, a major storm with storm onshore wind component that piles up water along the coast and then adds big waves on top. The process is highly nonlinear, and the biggest effects are with big waves on a very high tide."
Ken Caldeira of the Carnegie Department of Global Ecology told Salon by email that the planet has natural variability when it comes to hot or cold spells, wet or dry periods. "It is the extremes that get us, not the change in average conditions. Coral bleachings happen when an ocean heat wave is exacerbated by global warming — turning an event that corals were adapted to into one that they are not prepared to confront," said Caldeira. 
What the new study reminds us, he added, is the presence of a 18.6 year lunar cycle of waxing and waning tidal amplitudes. "This 18.6 year cycle, mapped on top of the daily monthly and other cycles, allow us to predict when the sea level rise caused by melting glaciers and thermally expanding seas will be most likely to impact human and natural systems," he noted.
Caldeira expressed hope that our knowledge about the impending coastal city disaster will compel policymakers to take the necessary steps to offset climate change. Unfortunately, he noted, "seas go up and down with the natural cycles, but human interference in the climate system causes the seas to move in one direction only — and that direction is up."
He added, "It is likely to be tens of thousands of years, at least, before nature can fully reverse human influence on sea level."
Matthew Rozsa is a staff writer for Salon. He holds an MA in History from Rutgers University-Newark and is ABD in his PhD program in History at Lehigh University. His work has appeared in Mic, Quartz and MSNBC.
Yahoo News 19 July, 2021 - 10:01am
Astronomical cycles, coupled with rising sea levels from climate change, may cause a surge in coastal flooding beginning in the mid-2030s, according to a study from NASA released on July 7.
"Why will cities on such widely separated coastlines begin to experience these higher rates of flooding at almost the same time? The main reason is a regular wobble in the Moon's orbit that takes 18.6 years to complete," the agency said.
First recorded in 1728, the wobble has an impact on the severity of the ocean's tides caused by the moon's gravitational pull. The first portion of the cycle reverses the effects of tides, making high tides lower and low tides higher. The second portion amplifies the tidal effects, making high tides higher and low tides lower.
"The Moon is in the tide-amplifying part of its cycle now," NASA said. "However, along most U.S. coastlines, sea levels have not risen so much that even with this lunar assist, high tides regularly top flooding thresholds. It will be a different story the next time the cycle comes around to amplify tides again, in the mid-2030s. Global sea level rise will have been at work for another decade."
NASA scientists studied a total of 89 locations spread across every coastal state and territory, examining various flooding scenarios from NOAA's sea-level database and correlating the data with lunar cycles. They can predict tide levels from states such as Virginia and California as far into the future as 2080.
The only coastlines that are not projected to see an increase in flooding are Alaska's due to the rising of land areas in the state.
Coastal dwellers might see their cities flooded in monthlong clusters that yield a flood almost every day, the study found.
"From a planning perspective, it's important to know when we'll see an increase. Understanding that all your events are clustered in a particular month, or you might have more severe flooding in the second half of a year than the first — that's useful information," said Ben Hamlington, a co-author of the study who leads NASA's Sea-Level Change Team.
The Gulf Coast coast and southern Atlantic coast saw serious increases in high tide flooding days in 2020. Most areas were hit with an increase of at least 300%, while others witnessed increases as high as 1,100%, according to data from NOAA.
There were at least 15 major flooding events in 2020 that caused over $1 billion in damage, the agency reported. Fifty-nine people died from floods that same year, and there have been at least 25 flood deaths in 2021.
Tags: News, NASA, NOAA, Weather, Space
Original Author: Charles Hilu
Original Location: Moon's 'wobble' could lead to higher flooding on coasts, NASA says
Modern technology helped Kemo reunite with his owners after being separated for nearly a decade
If you ask Northrop Grumman (NYSE: NOC), they might tell you: Make sure you're the only company able to bid! As you may recall, roughly two years ago NASA announced plans to award Northrop Grumman a sole-source contract to build a "Minimal Habitation Module" that astronauts would live in while aboard the planned Lunar Gateway space station. At the time, it wasn't clear quite how much this contract would be worth to Northrop -- I estimated $339 million.
A man who climbed to the top of the Supreme Scream tower in Buena Park, California, is in police custody and will undergo a mental health evaluation.
Shiba Inu is moving towards the support level at $0.0000063.
All-rounder Shakib al Hasan hit an unbeaten 96 as Bangladesh beat Zimbabwe by three wickets on Sunday after a thrilling run chase to take a winning 2-0 lead in a three one-day internationals series in Harare.
Lasers create colorful light shows at concerts, are used by doctors in surgeries – and are used in scientific laboratories. EyeWolf/Getty Images Curious Kids is a series for children of all ages. If you have a question you'd like an expert to answer, send it to curiouskidsus@theconversation.com. What is the slowest thing on Earth? – Jiwon, Brookline, Massachusetts In the words of the infamous villain, Dr. Evil: "Lasers." Lasers focus a narrow, directed beam of light on a specific spot, making th
Approximately 7% of humans' genome is uniquely shared with other humans, and not by other early ancestors, according to a study published Friday in Science Advances.Context: "That's a pretty small percentage," Nathan Schaefer, a University of California computational biologist and co-author of the paper, told AP. Get market news worthy of your time with Axios Markets. Subscribe for free."This kind of finding is why scientists are turning away from thinking that we humans are so vastly different
U.S. Interior Secretary Deb Haaland visited her home state Saturday to celebrate what marks the largest wilderness land donation in the agency's history and another addition to the nation's landholdings as the Biden administration aims to conserve nearly one-third of America's lands and waters by 2030. The 15-square-mile (40-square-kilometer) donation from the Trust for Public Land increases the size of the Sabinoso Wilderness Area in northeastern New Mexico by nearly 50%. Haaland, who joined other officials at a remote site in San Miguel County, acknowledged that the area makes up part of the ancestral homelands of the Jicarilla Apache and northern pueblos of New Mexico.
German Chancellor Angela Merkel on Sunday toured villages devastated by recent record-breaking rains and flooding in Western Europe, which have lead to at least 180 fatalities.
Like other companies, Airstream has been seeing a boom in Gen Z applicants, primarily people who don't want to go to college.
Over 180 people are dead and many remain missing days after catastrophic rains hit western Europe.
The rapid succession of precedent-shattering extreme weather events in North America and Europe this summer is prompting some scientists to question whether climate extremes are worsening faster than expected. Why it matters: Extreme weather events are the deadliest, most expensive and immediate manifestations of climate change. Any miscalculations in how severe these events may become, from wildfires to heat waves and heavy rainfall, could make communities more vulnerable. Stay on top of the la
A fire roaring near Lake Tahoe that forced hundreds to flee blew up to cover 30 square miles Sunday, one of more than 80 fires raging across the West.
The Tamarack Fire in northern California grew to 6,600 acres Saturday and prompted the evacuation of a mountain town.
ST. HELENA, Calif. — Last September, a wildfire tore through one of Dario Sattui's Napa Valley wineries, destroying millions of dollars in property and equipment, along with 9,000 cases of wine. November brought a second disaster: Sattui realized the precious crop of cabernet grapes that survived the fire had been ruined by the smoke. There would be no 2020 vintage. A freakishly dry winter led to a third calamity: By spring, the reservoir at another of Sattui's vineyards was all but empty, meani
23 ABC News | KERO 19 July, 2021 - 10:01am
Greek Reporter 19 July, 2021 - 10:01am
A recent scientific study found that changes that are expected in the coming years to the moon's orbit would result in more frequent flooding incidents of coastal areas in the US.
The study was conducted by experts from NASA Sea Level Change Team at the University of Hawaii focused on a change in the orbit of the moon that takes place regularly.
The findings of the research were published recently in the scientific journal Nature Climate Change and forecast raised ocean levels across the coastal regions of the United States in the coming decade.
The NASA researchers told Voice of America that slight alteration, also known as "wobble" in the moon's orbit is part of an 18.6-year cycle, recorded as far back as 1728.
"During half of the cycle, the moon creates lower high tides and higher low tides; the other half creates higher high tides and even lower low tides," the scientists were reported as saying.
This new moon position is expected to reach its peak in the mid-2030s, and coincides with already higher sea levels, which are a result of decades of climate change.
This mixture of unfortunate circumstances could have devastating results to coastal communities, which already suffer from regular incidents of flooding.
More than 150 have now been declared dead in the floods that have ravaged Germany, the Netherlands and Belgium over the past several days.
All of Western Europe was inundated with floodwaters, with rescue crews combing devastated areas in Germany, Belgium and the Netherlands.
Deluges of rains have made rivers burst their banks and wash away roads, cover entire villages and sweep away vehicles in these three countries.
Germany's most populous area, North-Rhine Westphalia, was hit particularly hard while the Rhineland-Palatinate and Saarland regions are also suffering under the record flooding.
Meanwhile, the weather front that caused these latest European floods, is moving slowly towards the southeast of Europe.
According to meteorologists of the National Observatory of Athens, this atmospheric disturbance will bring heavy rain and storms in the eastern Alps in Austria, as well as in the western parts of the Balkan Peninsula. The areas that are expected to be affected the most are Croatia, Slovenia, Bosnia and Herzegovina and Serbia.
Italy is also expected to be hit hard by heavy rainfall on Sunday too.
The forecast also shows that from the beginning of next week, the weather pattern in Greece will change. The sunshine and high temperatures that have been prevailing for days will give way to unstable weather, with widespread storms across the country, both in the mainland and on the islands.
wpde.com 19 July, 2021 - 10:01am