A draft list of new emojis released by the Unicode Consortium, designed by Emojipedia, also shows gender neutral options such as "pregnant person" and "person in crown" among its shortlist.
The new set of emojis were unveiled ahead of World Emoji Day on July 17.
Approval of the final version of the emojis won't take place until September as part of Emoji 14.0. The approved list will then go live some time late 2021 and into the first half of 2022.
Other emojis on the shortlist include, a face holding back tears, a melting face, some coral, an empty nest and a nest with eggs, a mirror ball, low battery, an x-ray, a heavy equals sign, a multicultural handshake and a saluting face.
Emojipedia, the reference website and a voting member of the Unicode Consortium, also gave some examples as to how people may use the emojis.
For instance the coral emoji can be used as an icon to discuss climate change, with the "Hand with Index Finger and Thumb Crossed" emoji used as the finger heart gesture popular with K-Pop fans or as a request to be paid money.
The introduction of the pregnant man and pregnant person emojis have been introduced to recognize that pregnancy is possible for some transgender men and non-binary people, and will will exist alongside the current pregnant woman emoji.
"The above additions will mean that nearly all emojis can have a default gender neutral option, with choice to use a woman or man where relevant," Emojipedia said on its website.
The multiracial handshake is expected to be included in the final list. The handshake emoji has only been the default yellow color on most major platforms.
"It is yet to be confirmed which emojis are in the final version of Emoji 14.0. The final version is likely to resemble this draft list, and no new emojis will be added at this stage," Emojipedia added. "But there's always a remote possibility of a change or removal ahead of September"
The Unicode standard approves icons for and sets to code for how they will look. Manufacturers such as Apple then design their own emojis based on the descriptions provided.
Earlier this year, Apple redesigned the "syringe" emoji to remove the two droplets of blood from it so people could use it to describe getting the COVID-19 vaccination.
Emojipedia said the syringe was previously most commonly used for blood donation, but has now "had new life" as a COVID-19 vaccine emoji.
Sign-up to our daily newsletter for more articles like this + access to 5 extra articles
Daily news headlines & detailed briefings enjoyed by half a million readers.
Read full article at CNN
Yahoo Singapore News 17 July, 2021 - 02:01pm
In terms of emotions, the next slew of emojis promises a face with open eyes and hand over its mouth, another peeking through hands over its eyes, as well as a dotted outline smiley and one holding back tears. Various hands, in several skin colors, are also proposed, with some outstretched, others in a handshake, and some making heart shapes. Other new arrivals include crowned characters and pregnant men.
Other amusing new additions this year include a troll, coral, nests (empty or with eggs), beans, a slide, a crutch, an X-ray, a low battery, an ID card and a disco ball.
The list is expected to be finalized by the Unicode Consortium in September, before starting to roll out later this year.
World Dream cruise ambassador Ivan Choong is quarantined and cannot be with his wife, whose mother just passed.
Those who have visited hotspots at the same time as a COVID-19 case will be legally required to get tested for the virus and self-isolate until they get a negative result.
Afghan forces clashed Friday with Taliban fighters in an operation to retake a key border crossing with Pakistan, as the insurgents tightened their grip in the north and battled for the stronghold of an infamous warlord.
The first COVID-19 case linked to the growing KTV cluster is a short-term visit pass holder from Vietnam, said the Immigration & Checkpoints Authority (ICA) on Friday (16 July).
Co-living in Singapore is rising in popularity, especially amid COVID-19 in 2021. Operators are reporting occupancy rates of over 90%, and a three-fold increase in local demand. But why? And how does co-living compare to renting?
A strong sponsor and good dividend yield are two compelling reasons to take a second look at these five REITs. The post These 5 REITs Have Strong Sponsors and Are Yielding Almost 4% or More appeared first on The Smart Investor.
High coverage, no-fuss application and early benefit payout makes this a great plan for those seeking cancer protection. As many as 1 in 4 Singaporeans could develop cancer in their lifetimes. Hence, getting a protection plan specifically for cancer may be a prudent move, especially […] The post FWD Cancer Insurance (Review): Fuss-free Plan That Pays Out At All Stages appeared first on SingSaver Blog - We Compare, You Save.
The legal warfare between the European Commission and Poland and Hungary over LGBTQ rights, asylum rights and judicial reform raised concerns Thursday that the EU legal order is under threat.
Many of the cases in the KTV cluster visited KTV joints almost every day, while others went to multiple outlets.
While enforcement efforts will be ramped up in the wake of the ongoing KTV lounges/clubs cluster, it remains a "cat and mouse" game, with illegal gatherings taking place in many other settings too, said Finance Minister Lawrence Wong on Friday (16 July).
Hong Kong's press freedoms are "in tatters" as China remoulds the once outspoken business hub in its own authoritarian image, the city's main journalist union said Thursday, adding it feared "fake news" laws were on their way.
Owner-occupiers, landlords and tenants, a heads up: These are some of the hottest home insurance promotions in the house right now. Are you an owner-occupier, landlord, or tenant? Regardless which one you are, you will benefit from home insurance. As we've discussed in our comprehensive […] The post Home Insurance Promotions And Discounts To Protect Your Home (July 2021) appeared first on SingSaver Blog - We Compare, You Save.
The United States is open to high-level talks with China on their tense relationship, a State Department official said Friday, as Deputy Secretary of State Wendy Sherman prepared for a tour of Asia.
An owner of a mala restaurant that was found to have two groups of patrons in breach of the maximum permissible group size of five persons was fined $9,000 on Thursday (15 July).
Australia's second largest city was preparing to enter a fresh lockdown Thursday, as countries across the world struggle to quash surges in Covid-19 cases propelled by the highly infectious Delta variant.
In this article, we will explain what is SIBOR, why it's so important (it's far deeper than just mortgages), and factors to consider when choosing SIBOR-pegged home loans. We'll also discuss SIBOR's unpopular cousin, SOR, and its replacement, SORA.
Residents across Myanmar's biggest city are defying a military curfew in a desperate search for oxygen to keep their loved ones breathing as a new coronavirus wave crashes over the coup-wracked country.
China's economic growth slowed in the second quarter, official data showed Thursday, with consumers remaining hesitant to splurge and firms grappling with the increased cost of raw materials.
Windows 365 will deliver a full, personalized PC experience from the cloud to any device, giving workers and organizations power, simplicity, and security for hybrid work.SINGAPORE - Media OutReach - 15 July 2021 - Microsoft Corporation today announced Windows 365 – a cloud service that introduces a new way to experience Windows 10 or Windows 11 to businesses of all sizes. Windows 365 takes the operating system to the Microsoft Cloud, streaming the full Windows experience – apps, data, and setti
Japanese authorities were searching for a Ugandan weightlifter on Friday after he went missing just a week before the Tokyo Olympics, which have sparked public opposition over their coronavirus risks.
Daily Mail 17 July, 2021 - 02:01pm
By Jonathan Chadwick For Mailonline
A pregnant man and a gender neutral person wearing a crown are among the emoji set to be approved this September and coming to smartphones next year. 
Emojipedia, which is part of the Unicode Consortium, the central bank of all approved emoji, has revealed draft candidates for the next emoji release, Emoji 14.0.
The pregnant man and pregnant person recognise that 'pregnancy is possible for some transgender men and non-binary people', Emojipedia says. 
The gender neutral person wearing a crown, meanwhile, comes in a range of different skin tones, as do 15 new handshake combinations.   
Also among the emoji are new variations of the distinctive circular yellow face – Melting Face, Saluting Face, Dotted Line Face and Face Holding Back Tears.  
The 'version 14.0' list also includes a motorcycle tyre, a slide, a disco ball, a troll with a club, coral, kidney beans and a low battery. 
The 'version 14.0' list of new emoji also includes a motorcycle tyre, a slide, a disco ball, a troll with club and several different versions of a royal member wearing a crown, which vary by skin colour.
The working list of emoji are determined by the California-based Unicode Consortium.
Third parties can make applications in support of new emoji.
Candidates must work well at emoji sizes, convey new meaning and must appear to be in demand.
Patterns of existing emoji usage are used to help guide the uptake of new additions to the Unicode Standard.
The new additions have been detailed by Emojipedia prior to World Emoji Day this Saturday (July 17). 
'As this is only a draft emoji list, each emoji is subject to change prior to final approval in September 2021,' Emojipedia says in a web post. 
'Expect to see more about this later in the year when the final version of Unicode 14.0 and Emoji 14.0 is released on September 14.' 
Companies including Apple, Google and Microsoft apply stylised versions of the consortium's designs to their own operating systems. 
No release dates have been confirmed for the emoji on different operating systems, but they will likely be seen on all platforms by June 2022, Emojipedia says.
'Designs shown here are Emojipedia Sample Images, just one way in which these emojis might look,' it explains. 
'Actual vendor designs will vary from those released by major vendors, and Emojipedia's own sample images may also be updated when Emoji 14.0 final is released.' 
From left: Melting Face, Face with Open Eyes and Hand Over Mouth, Face with Peeking Eye, Saluting Face, Dotted Line Face, Face with Diagonal Mouth and Face Holding Back Tears. All  are among the emojis likely to be approved in September 2021
Emoji 14.0 should be approved this year by the Unicode Consortium before being rolled out next year 
Emojipedia has all the Emoji 14.0 designs listed with their names on its website, as well as old emojis included in previous installments.
This includes all 217 emoji for version 13.1, which was finalised in September last year and is now generally available on iOS 14.5, Google Pixel devices and Twitter. 
Version 13.1 includes a heart on fire, a face exhaling and a face in the clouds, as well as 'couples kissing' and 'couples with heart' in more variations of skin tones and genders.
Prior to this, version 13.0 introduced in 2020 added a transgender flag, a gender-neutral alternative to Santa Claus and the famous extinct dodo.     
According to Adobe's 2021 Global Emoji Trend Report, which also coincides with World Emoji Day, the most popular emoji worldwide is Face with Tears of Joy. 
For the report, Adobe surveyed 7,000 people in the US, the UK, Germany, France, Japan, Australia, and South Korea. 
It names the three emojis that make you most likeable when chatting online with a prospective date and the three that make you the least likeable, including the highly suggestive aubergine emoji.   
Face with Tears of Joy is the favourite emoji of global emoji users around the world, according to Adobe's 2021 Global Emoji Trend Report
It also found 55 per cent of global emoji users are more comfortable expressing emotions through emojis than phone conversations. 
And 89 per cent of respondents agreed that emojis make it easier for them to communicate across language barriers. 
Also revealed prior to World Emoji Day is that Clippy, Microsoft's virtual paperclip assistant, is being brought back as an emoji on Microsoft Office. 
Emojis may be a fun form of communication but they are destroying the English language, a recent study by Google has revealed.
Smiley faces, love hearts, thumbs up and other cartoon icons - rather than words - are the preferred method of communication by teenagers, who are considered the worst offenders regarding the decline in grammar and punctuation.
More than a third of British adults believe emojis are the reason for the deterioration in proper language usage, according to the study commissioned by the Google-owned site YouTube.
Emojis were first used by Japanese mobile phone companies in the late 1990s to express an emotion, concept or message in a simple, graphic way. Now, Twitter feeds, text messages and Facebook posts are crammed with them
Of the two thousand adults, aged 16 to 65, who were asked their views, 94 per cent reckoned English was in a state of decline, with 80 per cent citing youngsters as the worst offenders.
The most common errors made by Brits are spelling mistakes (21 per cent), followed closely by apostrophe placement (16 per cent) and the misuse of a comma (16 per cent).
More than half of British adults are not confident with their command of spelling and grammar, the study also found.
Furthermore, around three-quarters of adults rely on emoji to communicate, in addition to a dependence on predictive text and spell checking.
The use of emojis has seeped into our culture to such an extent that the Oxford Dictionary's 'Word of the Year' in 2015 wasn't actually a word at all - it was the Face With Tears emoji, which shows just how influential the little graphic images have become.
They were first used by Japanese mobile phone companies in the late 1990s to express an emotion, concept or message in a simple, graphic way.
The comments below have been moderated in advance.
The views expressed in the contents above are those of our users and do not necessarily reflect the views of MailOnline.
By posting your comment you agree to our house rules.
Do you want to automatically post your MailOnline comments to your Facebook Timeline?
Your comment will be posted to MailOnline as usual.
Do you want to automatically post your MailOnline comments to your Facebook Timeline?
Your comment will be posted to MailOnline as usual
We will automatically post your comment and a link to the news story to your Facebook timeline at the same time it is posted on MailOnline. To do this we will link your MailOnline account with your Facebook account. We'll ask you to confirm this for your first post to Facebook.
You can choose on each post whether you would like it to be posted to Facebook. Your details from Facebook will be used to provide you with tailored content, marketing and ads in line with our Privacy Policy.
Part of the Daily Mail, The Mail on Sunday & Metro Media Group
RT 17 July, 2021 - 02:01pm
Charlie Stone is an author and journalist who has worked for the BBC, several national newspapers in the UK and international media.
And, on that score, who would ever have thought there would ever be the need to have a little cartoon of a pregnant man? I didn't think men could get pregnant, yet. How could I have missed such a monumental event?
Oh, hang on a sec, I just checked. It is still clinically impossible for a genetic male to get pregnant on account of the dude having totally the wrong biology. A fetus cannot gestate in a box, not yet anyway. It requires a 'womb.' You know, the bag that comes with the package when you're born a female of the human species. We all start out in a womb.
And blokes – dudes, chaps, fellas, call 'em what you want – they simply don't have what it takes. Sorry guys, I apologise if that hurts your feelings. But nature, biology, simply doesn't care about how you feel.
Yes, I know, there are bearded people who have given birth. But at the fundamental genetic level – in their very DNA – they're female. They're transgender men, meaning they started life with a vagina and a uterus. The bits required to cook that fertilised egg, they're set in the womb of their mother – oops, sorry, birthing person – by about 22 weeks.
It's already too late before you're born. Never mind though, eh? At least you now have an emoji.
A pregnant man emoji is being released, but don't panic, he's only pregnant with a food baby! Greedy guts! Jokes, the emoji depicts a trans man. If trans men *are* men, men being adult human males, why are they popping out baby humans? That's something only females can do. pic.twitter.com/SIbxko5brv
You do know what an emoji is, right? On the off-chance you've been lucky enough to have managed to avoid them up to now, I'm gonna ruin it for you. First came emoticons – 'emotion icon,' get it? So, folk used to just type :-) for a smiley face, or :-( for a sad face. Etc. Simple enough. Emojis, which derived from the Japanese words for picture, 'e,' and for character, 'moji,' followed a while later. Fascinating, eh?
They're those bloody irritating little cartoons that some people pepper their emails and messages with these days. It's fine if you're 13 years old. But if an adult sends me these things, I may well think there is something wrong with them and they don't actually know how to type out real things called 'words.' There's even a limp little film about these things called The Emoji Movie. Of course there is.
Anyway, apparently World Emoji Day has been celebrated on July 17 for years and I never even noticed. Oh well. This year, to mark this vital occasion, the club of people who decide on what gets to be an emoji – the Unicode Consortium – have announced a whole raft of new ones to be dripped out over the coming year.
Awesome. How the hell do I get a job working for the Unicode Consortium? Imagine the fun to be had, subverting global culture with emojis such as 'the English football hooligan' and 'too fat to run' and 'the statue toppler.' How about 'gay Adolf'? That one could be a camp little Nazi with a toothbrush tash wearing a leather outfit. And so on.
But if this whole woke cultural abyss we're falling face first into really gets on your tits – male or female, of course – these new little idiotic icons are pretty much guaranteed to ruin your Saturday. So look away now…
Stealing the show is the pregnant man, available – obviously – in a variety of skin tones. And just to make sure we know he MUST be a man, he has a moustache. Do all transgender dudes have to grow a moustache? Is that kind-of a rule these days?
The 'pregnant person' one, though, doesn't have a hairy face and is in a green jumper instead of red. Dunno why. Maybe there's some kind of colour code significance that passed me by.
Then there is the handshake one, where you can choose a variety of shades of skin tone for either hand. Loads of Emojis are yellow. I don't know, and I have never actually met, a bright yellow person. Have you? I'm fairly sure they only exist on The Simpsons.
ARE YOU KIDDING ME I WAS GOING TO MAKE A JOKE THE OTHER DAY ABOUT HOW THEY NEED TO MAKE A HANDSHAKE EMOJI FOR ME AND MIKHAIL pic.twitter.com/RPzmkOdWvQ
Then there's the 'person with a crown' image? Dunno what that's supposed to mean; there have always been kings and queens, princes and princesses. A prince can be a princess, and vice versa? Maybe that's it. That's a great idea for Prince Harry and his woke wife Meghan to ingratiate themselves back onto the Windsor payroll. Maybe they can sell the idea to the Queen? Has to be ginger though, surely.
The folk who decide these things are clearly busy boys and girls, as they announced a fresh load only a few months back. Those beauties included a bearded lady avatar plus a 'gender-neutral' bearded face. Don't struggle trying to unpick that one or the need for both, it won't help it make any kind of sense.
Before that came gender-neutral couples and menstruation. Ah, yes, the 'time of the month.' That too is, still, I'm afraid chaps, an exclusive domain for the genetic human female.
They're gonna run out of options soon, surely. Where is there left to go with all this? Well, they could give me a job! Have a laugh with it, stop taking yourselves so effing serious. Better still, how about we all bin the emojis, emoticons and gifs – they're little videos, in case you're wondering – and just type out the words instead? They're far more precise. Or, God forbid, make a phone call. Hey, here's a wacky – some might say insane – idea: talk to them face-to-face over a beer. Then he can show off his brand new moustache and pregnancy bump.
The statements, views and opinions expressed in this column are solely those of the author and do not necessarily represent those of RT.
© Autonomous Nonprofit Organization "TV-Novosti", 2005–2021. All rights reserved.
This website uses cookies. Read RT Privacy policy to find out more.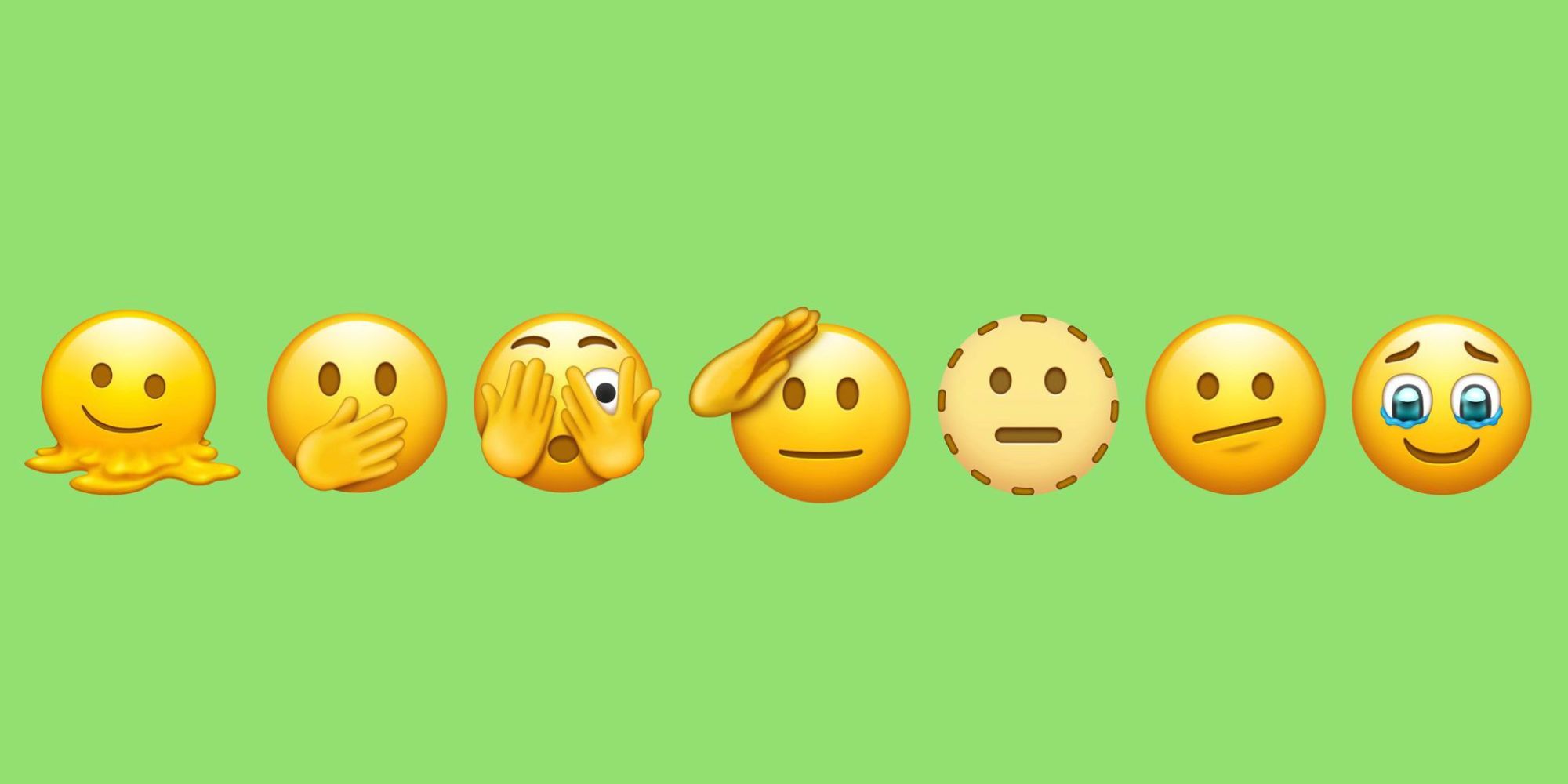 Screen Rant 17 July, 2021 - 02:01pm
Taking a look back at last year's Emoji 13.0 update, a ton of new options were made available. Some highlights from Emoji 13.0 include the pinched fingers emoji, a ninja, black cat, an accordion, and — of course — bubble tea. Emoji 13.0 also put a lot of focus on adding more gender-neutral options to exisitng emoji, such as a man wearing a veil, a woman in a tuxedo, and more. In total, Emoji 13.0 added 117 new emoji.
With Emoji 14.0, it looks like it's going to be another year of welcome additions. There are a little over 100 new emoji chosen for the update, ranging from silly emoji to more inclusive/welcoming ones. The selections are currently part of a draft list that could change between now and September when the final version is approved, though it is expected that all of the choices will remain as is. Once the final list is approved, it's up to companies to start implementing them in future updates. Google Pixel phones will likely be among the first to receive Emoji 14.0 between October and December, followed by the likes of Apple, Samsung, Twitter, and Facebook between January and June 2022.
Emoji 14.0 comes with many new hand emoji. This includes rightwards/leftwards hands, palm down/palm up hands, heart hands, hand with index finger and thumb crossed, and index finger pointing at the viewer (all of which are available in multiple skin tones). There are also 15 new skin tone options for the handshake emoji, which was previously limited to the standard yellow color.
On the note of inclusivity, Emoji 14.0 changes how gender is treated for certain exisitng emoji. Rather than having separate princess and prince emoji, Emoji 14.0 replaces them with a standard 'person with crown' one. The pregnant woman emoji is also gaining two new variations, including pregnant man and pregnant person. As Emojipedia points out, "Pregnant Man and Pregnant Person are new, and recognize that pregnancy is possible for some transgender men and non-binary people." Rounding Emoji 14.0 out, the rest of the additions feature a troll, coral, lotus, empty nest, nest with eggs, beans, pouring liquid, jar, playground slide, wheel, bing buoy, hamsa, mirror ball, low battery, crutch, x-ray, bubbles, identification card, and a heavy equals sign.
Source: Emojipedia
WGHP FOX 8 Greensboro 17 July, 2021 - 02:01pm
(File photo: TENGKU BAHAR/AFP via Getty Images)
(ABC4) – A pregnant man, beans, a lip bite, and a face trying not to see what is happening are among the latest emojis expected to roll out within the next year based on a draft from the Unicode Consortium, which decides what emoticons we see.
Emojipedia has illustrated the new draft emojis, which you can see below, ahead of World Emoji Day on Saturday, July 17. Other notable emojis include a cup pouring liquid, bubbles, a disco ball, and a playground slide.
Emoji 14.0 is to be finalized in September 2021. Here's on the latest draft list https://t.co/IAahiILGA0 pic.twitter.com/1GPyHxZnWu
If you are familiar with emojis, you can see the newest ones continue the trend of being more racially and gender-inclusive.
Each of the emojis with hands and faces can be changed to any skin tone and, in some cases, to include two different skin tones.
Others are gender-inclusive, like the "person with crown," or the "pregnant man" and "pregnant person."
Draft Emoji: Pregnant Man #WorldEmojiDay https://t.co/dHdM2hsBvZ pic.twitter.com/ZzuKDXsXdT
While most emojis, through the new update, will have a gender-neutral option, some are still under review, according to a Unicode Emoji Subcommittee report. The report indicates this is because it is unclear what a fitting gender-neutral approach entails.
For example, "sometimes a doctor is just a doctor," Unicode explains.
The above emojis are just a draft of what could be approved for Emoji 14.0. Which emojis are approved are based on Unicode approving them for use in September, and manufacturers like Apple and Samsung rolling them out to users.
In April, Apple released iOS 14.5, featuring new emoji options like a heart on fire, a bandaged heart, "a face exhaling," and an update to the couple kissing and couple with heart emojis.
To see Unicode's draft of emoji candidates, and to provide feedback on the proposed emojis, visit Unicode's website. Have an idea for an emoji? Here is how to submit an emoji proposal.
Copyright 2021 Nexstar Media Inc. All rights reserved. This material may not be published, broadcast, rewritten, or redistributed.
(Nexstar/AP/KXAN) -- President Joe Biden said Facebook and other platforms are "killing people" by allowing misinformation about COVID-19 and vaccines to spread.
"The only pandemic we have is among the unvaccinated, and that's -- they're killing people," Biden said Friday on the south lawn of the White House.
While we do expect temperatures to remain at, or slightly below, seasonal averages, it will still be plenty hot today. So please make sure to stay hydrated, stay cool, and take plenty of breaks in the shade. (Friendly reminder to do the same for your pets!)
Police reported to the 600 block of Neches Street just before 3 a.m. A 911 caller reported seeing an altercation a few moments before gun shots sounded.
9to5Mac 17 July, 2021 - 02:01pm
World Emoji Day is Saturday, July 17 and in honor of the occasion we've rounded up a number of ways to join in on the fun. From voting on the most 2021 emoji and upcoming emoji you're most excited about, checking out the most popular emoji from 2021, sponsoring an emoji to support the non-profit Unicode Consortium, and more, check out everything going on below.
Yesterday we got a look at the most popular emoji for 2021 based on an Adobe study of 7,000 people. Face with tears of joy (😂) took first place followed by thumbs up, heart, face blowing a kiss, and crying face rounding out the top five.
And we also got an early look at the emoji that could come to iPhone and other devices later this year with Emojipedia drawing up renderings of the Emoji 14.0 draft lift.
And to celebrate World Emoji Day, Emojipedia hosts the World Emoji Awards. That includes several different awards and voting is currently open to choose what new emoji you're most excited about. The final voting is also still open on Twitter for the "Most 2021 Emoji":
Ok, here we go. The FINAL vote. Your two options for the emoji that best sum up the year so far are:
— World Emoji Awards 🗳🌍🏆 (@EmojiAwards) July 15, 2021
The number one pick was heart one fire with second going to face with spiral eyes, followed by smiling face with tear, face exhaling, and pinched fingers.
And here's how the lifetime achievement World Emoji Award shook out for this year:
Notably, the Unicode Consortium behind all the work it takes to research, study, approve new emoji and so much more is a non-profit organization. It's supported by membership fees and donations for individuals, corporations, and other groups.
One easy way to support the Unicode Consortium is to sponsor an emoji. There are three options starting at $100 going up to $5,000 for the Gold level.
When you celebrate World Emoji Day this week by sponsoring your favorite emoji or another character for yourself or as a gift, your donation helps the non-profit Unicode Consortium support the world's many languages and make the digital world more inclusive.
FTC: We use income earning auto affiliate links. More.
Michael is an editor for 9to5Mac. Since joining in 2016 he has written more than 3,000 articles including breaking news, reviews, and detailed comparisons and tutorials.
What's new in iOS 15 beta 3?
macOS Monterey beta 3 brings redesigned Safari tabs
5G: How is your iPhone experience so far?
Cataloging the furnishings in virtual Apple keynotes
Sky News Australia 17 July, 2021 - 02:01pm