ESPN Stats & Info
ESPNStatsInfo
Chris Paul is on the verge of becoming the first player to lose four best-of-7 series in which his team led 2-0. The only other player with three best-of-7 series losses in which his team led 2-0 is former teammate Blake Griffin. pic.twitter.com/XyieZkCSvQ

Hannah Hilyard WISN
Hannah_WISN
HOW DARE THEY?😱 Who's seen this overlooking I-43 near downtown MKE? How do we feel about this @Bucks fans? #FearTheDeer #BucksIn6 pic.twitter.com/hB6VzDuB5p
Spencer Dinwiddie
SDinwiddie_25
Just thought of an interesting "What if?" (Maybe @Marvel inspired me) Giannis is out for Game 6 due to health and safety protocols. Close contact with Thanasis Bucks still win… Does K midd get Finals MVP?
Milwaukee Bucks
Bucks
Milwaukee, a message from @Giannis_An34: pic.twitter.com/zXIhsT0RVt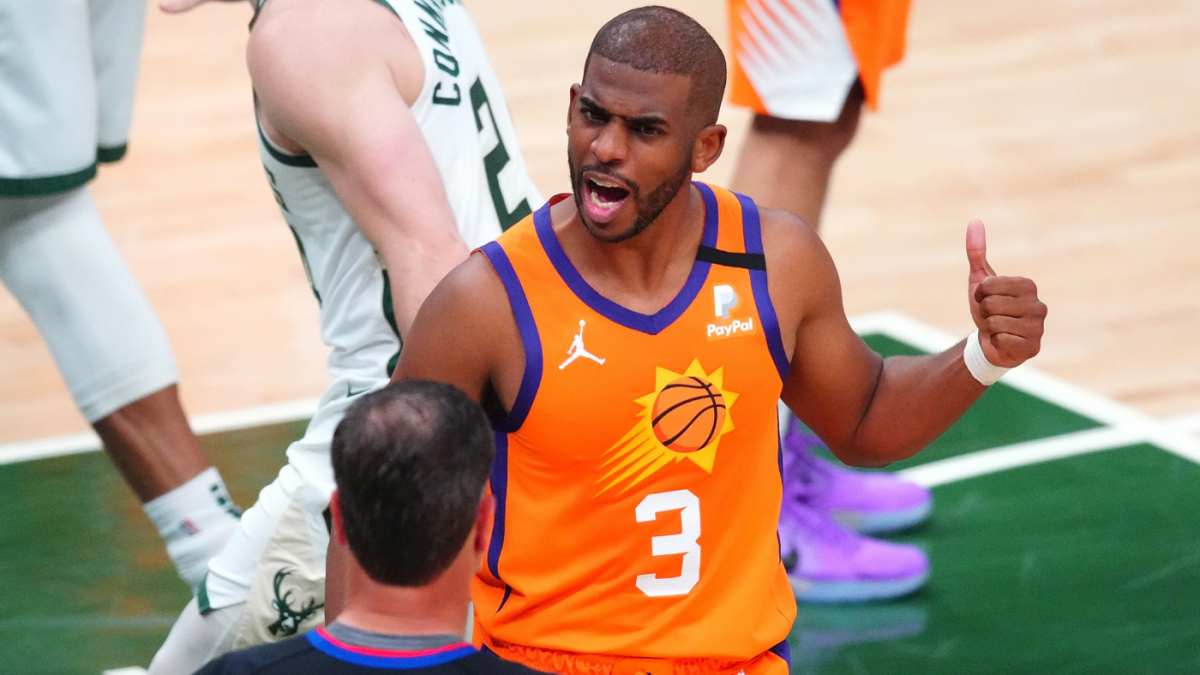 The Phoenix Suns will be fighting to stay alive in Game 6 of the NBA Finals on Tuesday night, as the Milwaukee Bucks have the opportunity to close out the series at home and win their first championship since 1971. As the Suns take the court to try and extend the series, they likely won't be thrilled to see referee Scott Foster taking the floor with them. 
Foster will be the crew chief for Game 6, and while referee assignments typically aren't that big of a deal, Chris Paul's history with games reffed by Foster is certainly a storyline to watch. In the last 12 playoff games Paul has played where Foster was the referee, his team has gone 0-12. In the first round of the playoffs, after a loss in Game 3 to the Los Angeles Lakers -- a game Foster refereed -- Paul alluded to his record in games called by Foster.  
"If I was a betting man, 11 games in a row," Paul said. "Eleven games in a row."
The latest loss when Foster was the referee came in Game 3 of the NBA Finals, when the Bucks blew out the Suns, 120-100. After that loss, Phoenix head coach Monty Williams criticized the officiating, specifically the lack of balance in free throw attempts.
"I'm not going to get into the complaining publicly about fouls, just not going to do that," Williams said. "But you can look -- we had 16 free throws tonight. One person had 17."
Williams is referring to the 17 attempts Bucks forward Giannis Antetokounmpo took in Game 3, which played a huge factor throughout the game as he got Suns big man Deandre Ayton in foul trouble. 
Ironically, the one game that the Suns have won this postseason that Foster has been the referee for is a game in which Paul didn't play. It was Game 2 of the Western Conference Finals against the Clippers and Paul was sidelined due to health and safety protocols. Phoenix ended up winning that game on a last-second inbound dunk from Deandre Ayton to take a 2-0 series lead against L.A. 
Paul will try to break that 0-12 streak when Game 6 tips off Tuesday night at 9 p.m. ET. 
© 2004-2021 CBS Interactive. All Rights Reserved.
CBS Sports is a registered trademark of CBS Broadcasting Inc. Commissioner.com is a registered trademark of CBS Interactive Inc.
Images by Getty Images and US Presswire
Read full article at CBS Sports
seehafernews.com 20 July, 2021 - 03:00pm
The Milwaukee Bucks could secure their first NBA Championship since 1971 tonight against the Phoenix Suns. Obviously, their play on the court is the main reason for that, but could a popular childhood snack also be playing a role?
ESPN writer Baxter Holmes released an article in 2017 entitled "The NBA's Secret Addiction", which you can read by clicking here, where he described a recent trend with NBA team regarding Peanut Butter and Jelly sandwiches.
The trend began with Kevin Garnett, who made the iconic snack part of his pregame routine in his 2007-2008 season with the Celtics and was a dominant force. The trend has spread (pun intended) to many other teams in the NBA, including the Milwaukee Bucks.
Holmes says that the Bucks "might boast the NBA's most elaborate PB&J operation" as they offer multiple styles of peanut butter, jelly, and bread for their players.
Professional athletes do tend to be superstitious, but there is more to the pregame routine than just superstition.
YouTuber Matt Pat recently released a video on his channel Food Theory, which you can view by clicking here, where he explains that the jelly and bread consist of simple carbohydrates, which give players energy immediately, while the peanut butter is packed with complex carbs, which break down slower, giving energy later.
He suggested that teams actually eat peanut butter before the game, and a simple jelly sandwich at halftime to amplify the positive effects of the components.
The Bucks and their PB&J sandwiches look to secure a Finals victory tonight in the Fiserv Forum, with tip-off scheduled for 8:00 PM.
The game will also be aired on 97.1 FM WCUB.
ESPN 20 July, 2021 - 03:00pm
Yardbarker 20 July, 2021 - 11:10am
As soon as he landed in the NBA, Giannis Antetokounmpo knew he was meant to do big things for himself, his family, and the Milwaukee Bucks. The Greek player knew the history of the team and vowed to become part of that. 
Recently, the NBA's official Twitter account shared an old video of Giannis visiting Fiserv Forum, with the young player telling his parents about his expectations with the team. Antetokounmpo wanted to make history and have his jersey hanging in the rafters like Kareem Abdul-Jabbar and Oscar Robertson. 
"In 15-20 years, maybe my number is up there next to Kareem, Oscar Robertson... I hope I'm there."
KAJ and The Big O led the Bucks to win their first and only NBA championship in 1971. Giannis is trying to do the same this year, and he's really close to accomplishing his biggest goal in the NBA. 
The Bucks lead the 2021 NBA Finals 3-2 against the Phoenix Suns, hoping to finish the job tonight with a win at home. Even if he doesn't win the title this campaign, Giannis will definitely get his number retired. 
If he keeps this level and takes the team to compete in the future, he could even end his career as the greatest Buck of all time. Still, time will tell how great he turns out to be in a very competitive NBA. 
This article first appeared on Fadeaway World and was syndicated with permission.
Get the latest news and rumors, customized to your favorite sports and teams. Emailed daily. Always free!