Jonathan Givony
DraftExpress
Source: 15 players have received invites to the NBA Draft green room so far Cade Cunningham Jalen Green Evan Mobley Jalen Suggs Jonathan Kuminga Scottie Barnes Davion Mitchell James Bouknight Keon Johnson Franz Wagner Josh Giddey Jalen Johnson Corey Kispert Moses Moody Kai Jones
Chad Ford
chadfordinsider
NEW NBA Mock Draft 3.0! Where will top prospect Cade Cunningham land? Will a trade shake up the draft? "All signs point to Cunningham being the No. 1 pick. The question is whether the Pistons will be the team that selects him."

Sam Vecenie
Sam_Vecenie
We're releasing in-depth scouting videos for top NBA Draft prospects on YouTube. So far, 3 are out Cade Cunningham, the No. 1 guy: youtu.be/n0-q7aReHM0 Jalen Green, an elite scoring prospect: www.youtube.com/watch?v=AmJetaBoDyQ Evan Mobley, the modern big man: youtu.be/DcegfhwKvOE
Chase Senior
Chase_Senior
NBA rumors are cookin! @ChatSports - Cade Cunningham isn't a lock to go no. 1? - Is Ben Simmons' trade value higher than what you think? (Yes) - Kevin Love to the Warriors? - Andre Drummond complained about his role, but he just wasn't that good WATCH: www.youtube.com/watch?v=rtJGoW0B48g pic.twitter.com/5WivoBz5VB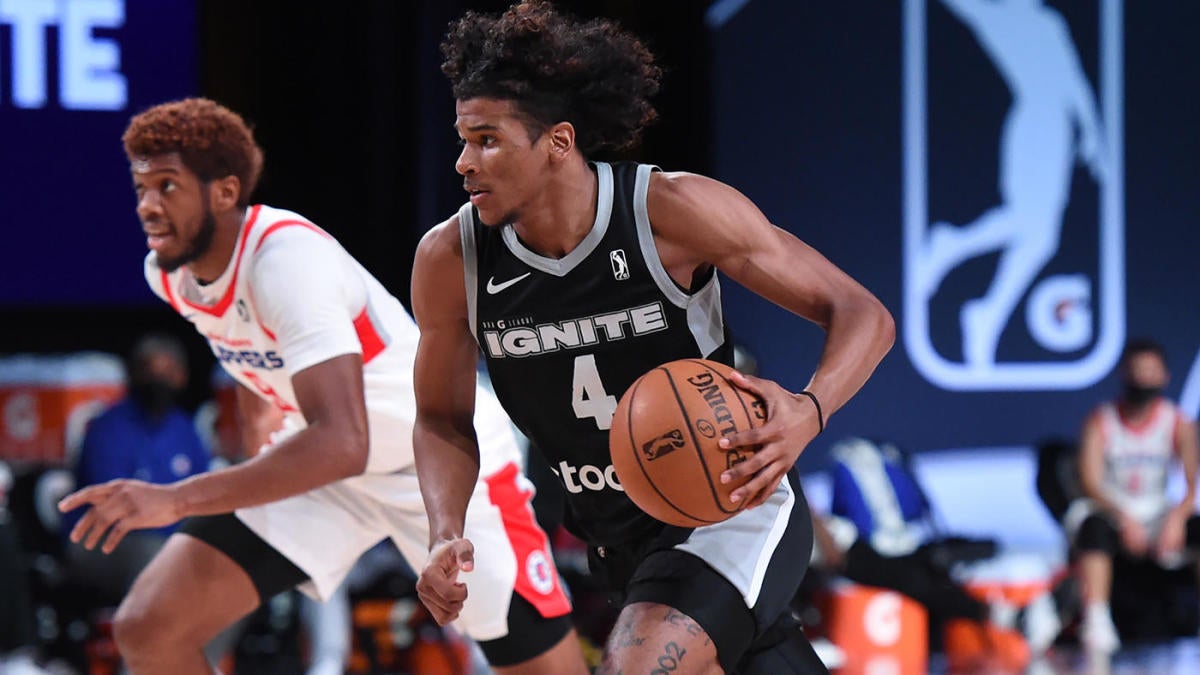 We need look no further than the Finals to see the importance of the NBA Draft brought to life. The two best players in the series have been Milwaukee Bucks forward Giannis Antetokounmpo and Phoenix Suns guard Devin Booker, who were selected by their current franchises with the 15th and 13th picks, respectively. Finding a player outside the top-five that turns out to be a superstar is rare, but it's what makes the pre-draft process so crucial.
Teams may find a late gem in the 2021 Draft, but the general consensus is that the prizes are all at the top, with Oklahoma State's Cade Cunningham leading the way. By all accounts he's still expected to go to the Pistons with the No. 1 overall pick, but after that it gets a little trickier.
Several reports have the Houston Rockets focused on Jalen Green with the second pick, so I've moved him ahead of USC big man Evan Mobley (who might not actually be a big man) in this mock draft, even though I consider Mobley to be the slightly better prospect. There's also been some movement throughout, as players continue to visit teams for private workouts. It's hard to know how prospects have done in those scenarios since teams tend to keep a tight lid on their evaluations, but we can be sure that at least one player will start shooting up draft boards as the fateful July 29 date approaches.
As of now, here's my latest 2021 NBA Mock Draft.
© 2004-2021 CBS Interactive. All Rights Reserved.
CBS Sports is a registered trademark of CBS Broadcasting Inc. Commissioner.com is a registered trademark of CBS Interactive Inc.
Images by Getty Images and US Presswire
Read full article at Yahoo Sports
ClutchPoints 19 July, 2021 - 04:10pm
Over the past couple of seasons, Sam Presti has kept the Oklahoma City Thunder very active during free agency, the NBA Draft, and at the trade deadline. At this point, the Thunder have stockpiled a ton of draft picks to put themselves in great position to make a variety of moves, but it all just depends on what direction they want to take and how much they're willing to give up in order to make this happen.
With the 2021 NBA Draft right around the corner, a logical move would be for them to trade up in the draft (they're currently at No. 6) so they could take Cade Cunningham with the first overall pick. It's unclear if the Detroit Pistons would be willing to bite on whatever the Thunder are throwing out there in a trade, but it doesn't hurt to make a play for that top pick.
Let's take a look at two reasons the Thunder should trade up in this year's draft to pick Cade Cunningham.
The Thunder already have a young star in Shai Gilgeous-Alexander on the roster, and trading up to get Cunningham would form one of the most dynamic young duos in the NBA. Drafting Cunningham would take some of the load off SGA and give OKC two young studs to take on playmaking duties, which would help diversify their attack and make them extremely dangerous.
On the other side of the ball, they'd also have a big, defensive-minded backcourt with two guards who are great rebounders for their position. Between Cunningham and SGA, they've got a wide array of skill sets to go along with size, youth, and athleticism that could form the next great backcourt of the NBA.
Now that Oklahoma City has strung together a ton of draft picks and trade assets, it would only make sense for them to use that to their advantage by trading their way up to the top pick to select a high quality point guard with lots of promise and All-Star potential. With Cunningham's speed and athleticism, he perfectly fits the mold of their youth movement and gives them their point guard of the future who could take them to the next level.
His court vision, high basketball IQ, and overall feel for the game are attributes that separate him from the other point guards in this year's draft. Thunder GM Sam Presti may feel like he's jumping the gun with this move, but this could also be an opportunity for him to draft the next generational talent in the NBA. This kind of move is why he has been stockpiling picks.
It would seem foolish for him not to even consider adding Cade Cunningham to this Thunder squad. With this move, the Thunder would inch closer to getting back into the playoffs while building a young and exciting team that's poised for postseason stardom. Oklahoma City would also have the next superstar of the NBA who could eventually lead them to the promised land.
Copyright © ClutchPoints. Partner of iOne Digital / Cassius Network.
cleveland.com 19 July, 2021 - 04:10pm
Here is the latest intel, rounded into cleveland.com's latest NBA mock draft 2021 with trade talk, rumors and news that could shape the fates of Cade Cunningham, Jalen Green and Evan Mobley.
The draft is July 29 and will take place at Barclays Center in Brooklyn.
Height, weight: 6-foot-8, 220 pounds
Age: 19 (Sept. 25 birthday)
2020-21 stats: 20.1 points, 6.2 rebounds, 3.5 assists, 1.6 steals in 35.4 minutes per game.
About the pick: The question remains, will Detroit seriously entertain any offers for No. 1? It last happened in 2017 with the Philadelphia-Boston swap that landed Markelle Fultz with the 76ers and Jayson Tatum with the Celtics. The Cavs traded Andrew Wiggins later in the summer after the 2014 draft when LeBron James returned, while Orlando and Golden State swapped Chris Webber for Penny Hardaway and picks in 1993.
The 2017 and 1993 trades, coincidentally, involved the team sitting at No. 3. The Cavaliers have inquired with the Pistons, according to cleveland.com's Chris Fedor, quoting one executive that it would take more than it cost Philadelphia to get that 2017 pick from Boston to select Fultz (the No. 3 pick that year and two future first-rounders). ESPN Insiders floated the idea of Darius Garland and the No. 3 pick with the top pick, Rodney McGruder and Jahlil Okafor coming to Cleveland. Don't count on it.
Cunningham is the cornerstone Detroit is craving. In our draft profile on Cunningham, Fedor called him "an unselfish player with winning intangibles, Cunningham is a three-level scorer and potential matchup nightmare at the next level, able to use his size and strength to overpower smaller defenders or rise above and fire from outside. His unique size also allows him to hold his own against frontcourt players while also being able to see over the defense and create passing angles."
Height, weight: 6-6, 186
Age: 19 (Feb. 19 birthday)
2020-21 stats: 17.9 points, 4.1 rebounds, 2.8 assists, 1.5 steals in 32.0 minutes per game.
About the pick: Last time, we projected Southern California's Evan Mobley here. Mobley and Green are the favorites, so we'll flip that selection this time. As Kevin O'Connor of The Ringer wrote, Houston's selection will dictate this draft. The front office is split between Green and Mobley, according to league insider Chad Ford.
"At one point Green was viewed as a potential No. 1 pick, choosing to pave his own path with G League Ignite," Fedor said in our draft profile. "While there are areas of his game that Green needs to hone — handle, playmaking and defense — the comparisons to bouncy Zach LaVine are tough to ignore. There's alluring untapped potential here. Green is a high-flying three-level scorer who has the natural talent to become a star. Green has a relatively safe floor as a bucket-getter, with a high ceiling to one day become a star."
Height, weight: 7-0, 215
Age: 19 (June 18 birthday)
2020-21 stats: 16.4 points, 8.7 rebounds, 2.4 assists and 2.9 blocks in 33.9 minutes per game.
About the pick: The Cavaliers will have the option of Mobley or Green — whomever Houston doesn't take — and Gonzaga point Jalen Suggs. Ford added in his mock draft that the Cavs could have a "slight preference" for Mobley and playing him with Jarrett Allen, who is due a contract extension as a restricted free agent.
Scouts and executives have told our Chris Fedor they believe Mobley slots into the power forward spot, leaving Allen at center, should the USC star be the choice.
"Mobley's length, athleticism, quickness, instincts and switchability give him a great defensive foundation, drawing comparisons to a young Chris Bosh." Fedor said in our draft profile on Mobley. He fits better with Allen than Suggs would with point guard Darius Garland or Collin Sexton as another small guard. At this point in the Cavaliers' roster building, fit remains a bonus.
Height, weight: 6-4, 205
Age: 19 (June 3birthday)
2020-21 stats: 14.4 points, 5.3 rebounds, 4.5 assists, 1.9 steals in 28.9 minutes per game.
About the pick: Suggs slots into the point for Toronto with Kyle Lowry entering free agency. Should Suggs go higher, perhaps to Houston, that won't hurt the Raptors. They are thinking talent, not fit, according to Ryan Wolstat of the Toronto Sun. Raptors assistant general manager Dan Tolzman said earlier this month on a media call that Lowry's status has no bearing on their selection. Regardless, it looks to slot out that way.
"One scout recently called him the Russell Wilson of the NBA," Fedor said of Suggs. "He makes teams better and teammates gravitate toward his magnetic personality. Suggs is a high-IQ unselfish playmaker who plays the game with an uncommon maturity for a teenager. He will make an immediate impact."
Height, weight: 6-8, 220
Age: 18 (Oct. 6 birthday)
2020-21 stats: 15.8 points, 7.2 rebounds, 2.7 assists, 1.0 steals in 32.8 minutes per game.
About the pick: With the eighth pick coming up from Chicago, Orlando can take the higher ceiling in Kuminga instead of the safer one in Scottie Barnes. The snub would keep Barnes, who grew up in West Palm Beach and played at Montverde Academy, from staying in his home state. Instead, the Magic can take Jalen Green's G League teammate.
"Kuminga got off to a great start with G League Ignite before fizzling, showing the concerns that have bumped him to the bottom of the third tier," Fedor said in cleveland.com's draft profile of Kuminga. "The tools are there. If a team can be patient, fix his jumper and get him to play hard every possession, he could become one of the best players from this class – a title he carried entering the season."
Height, weight: 6-2, 205
Age: 22 (Sept. 5 birthday)
2020-21 stats: 14.0 points, 2.7 rebounds, 5.5 assists, 1.9 steals in 33.0 minutes per game.
About the pick: As five-time OHSAA boys basketball state champion and current Cornerstone Christian coach Babe Kwasniak says, "winners win." That's Mitchell, who is coming off a national championship run with the Bears. Mitchell could be an excellent pairing with Shai Gilgeous-Alexander in Oklahoma City, which just acquired Kemba Walker at the point.
However, will Walker remain with the Thunder? Mitchell is accustomed to playing in guard-heavy sets at Baylor, which also rolled with two other potential first-rounders in this draft, Jared Butler and MaCio Teague.
"An elite defender who plays with a non-stop motor, Mitchell made significant strides on the offensive end as a junior, hitting 44.7% from 3-point range," Fedor said in our draft profile on Mitchell.
Height, weight: 6-8, 227
Age: 19 (Aug. 1 birthday)
2020-21 stats: 10.3 points, 4.0 rebounds, 4.1 assists, 1.5 steals in 24.8 minutes per game.
About the pick: Barnes should be the fifth-best prospect, but his shooting, which included a 27.5 percent clip last season on 3-pointers, could lead to a fall down the board. It should only be a slight drop, if any, considering his defensive prowess.
"Is he a small forward or power forward? Does he have a reliable outside shot to keep opponents honest? While those are legitimate questions," Fedor said in our draft profile on Barnes, "Cade Cunningham's high school teammate looked like an intriguing point-forward with disruptive defensive tools in his one season at Florida State, where he captured Freshman of the Year and Sixth Man honors."
Barnes should not drop further than Orlando's pick that's up next. It also should be noted there is speculation, according to Eric Ting of SFGate.com, that Golden State could package this pick and James Wiseman in a deal.
Height, weight: 6-8, 185
Age: 18 (Oct. 10 birthday)
2020-21 stats: 11.4 points, 7.1 rebounds, 7.4 assists, 1.1 steals in 31.9 minutes per game during NBL Australia play.
About the pick: Orlando acquired this selection from Chicago as part of the midseason trade of Nikola Vucevic to the Bulls for Wendell Carter Jr. and Otto Porter. A 2023 first-round pick also is headed to Orlando.
The Magic have invested in their frontcourt with Mohamed Bamba and Jonathan Isaac in recent drafts. They can look at more guards, even with two top 10 picks and a roster full of talented role players in those spots.
"Capable of recording a triple-double on any given night, Giddey is a big, crafty playmaker who has a terrific feel for the game and makes teammates around him better," Fedor said in our draft profile on Giddey. "Like many his age, there are questions about his defense and outside shot (31% on 90 attempts this season), which could push him a bit further down the board — even with the gaudy stats."
Height, weight: 6-5, 186
Age: 19 (March 10 birthday)
2020-21 stats: 11.3 points, 3.5 rebounds, 2. 5 assists, 1.1 steals in 25.5 minutes.
About the pick: The Kings' confirmed interviews, according to Jason Anderson of the Sacramento Bee, included Barnes, Mitchell, Arkansas guard Marcus Moody and Tennessee guard Keon Johnson. Duke forward Jalen Johnson, who's been previously pegged for this spot, reportedly did not meet with Sacramento.
By process of elimination, Moody and Johnson could be the top contenders to join a lineup that includes De'Aaron Fox and 2020 pick Tyrese Haliburton in the backcourt. An off-ball guard makes more sense, so that's Johnson. "Strong. Fast. Athletic. And ... raw. That sums up Johnson's game," Fedor said in our draft profile on Johnson. "In many ways, he has a similar draft profile to Isaac Okoro, Cleveland's choice with the No. 5 pick last year."
Height, weight: 6-6, 205
Age: 18 (May 31 birthday)
2020-21 stats: 16.8 points, 5.8 rebounds, 1.6 assists, 1.0 steals in 33.8 minutes.
About the pick: This pick came from Minnesota as a top-three protected selection from the DeAngelo Russell-for-Andrew Wiggins trade of last year. Lonzo Ball and Josh Hart are restricted free agents this summer. General manager David Griffin could be in for some roster shuffling, and the potential departure of either makes Moody an attractive option as he continues to surround Zion Williamson with complementary talent.
We can at least rule out Detroit as a suitor for Hart, who amusingly defused the suggestion. As for Ball, former cleveland.com reporter Chris Haynes asked agent Rich Paul if New Orleans is still an option. "We're open-minded to the landscape of the league," Paul replied for a Yahoo! Sports report.
Height, weight: 6-11, 206
Age: 19 (Jan. 10 birthday)
2020-21 stats: 8.4 points, 6.6 rebounds, 2.6 blocks in 20.8 minutes.
About the pick: This would reunite Jackson with LaMelo Ball after their year together at SPIRE. Jackson has the potential to be the second-best big in this draft, following Mobley, and is physically ready for the next level with a 7-5 wingspan. Ball posted an Instagram video earlier this month showing support for his former SPIRE teammates.
Height, weight: 6-5, 190
Age: 20 (Sept. 18 birthday)
2020-21 stats: 18.7 points, 5.7 rebounds, 1.8 assists, 1.1 steals in 31.7 minutes.
About the pick: DeMar DeRozan is a free agent, so the Spurs could look to add a wing. They also need frontcourt help, as Tom Orsborn of the San Antonio Express-News wrote, suggesting Duke's Jalen Johnson as an option. Bouknight's stock is on the rise after a strong combine performance.
Height, weight: 6-9, 220
Age: 19 (Aug. 27 birthday)
2020-21 stats: 12.5 points, 6.5 rebounds, 3.0 assists, 1.3 steals, 1.0 blocks in 31.7 minutes per game.
About the pick: The Pacers can keep one of the top Big Ten prospects in the heart of Big Ten country. Wagner will help them defensively, as Rick Carlisle returns to the bench as their new coach. Indiana could be prioritizing 3-and-D players, according to a roundup from the Indy Star. Gonzaga's Corey Kispert, who has previously been projected here, also fits that role.
Wagner is the younger brother of Orlando Magic forward Moritz Wagner and is regarded for his defensive play at Michigan.
Height, weight: 6-8, 185
Age: 19 (Sept. 12 birthday)
2020-21 stats: 10.7 points, 4.6 rebounds, 2.2 assists in 27.9 minutes per game.
About the pick: At least one of Golden State's two picks in the top 14 should be a guard, considering Klay Thompson is still recovering from his Achilles injury. That is, if the Warriors keep both. Williams is a sensible choice, considering Kelly Oubre Jr. appears to be on his way out, based on what he told Chris Haynes on his Posted Up podcast in regards to a diminished role last season.
Height, weight: 6-9, 220
Age: 19 (Dec. 18 birthday)
2020-21 stats: 11.2 points, 6.1 rebounds, 2.2 assists, 1.2 steals, 1.2 blocks in 21.4 minutes.
About the pick: Johnson interviewed with the Wizards last month at the combine and fits a roster that is dominated by Russell Westbrook and Bradley Beal. He is arguably the top prospect available at this point and could be a polarizing player as a draft night decision. Syracuse coach Jim Boeheim criticized Johnson when he announced in February he was leaving Duke to prepare for the draft, while Jay Bilas came to the forward's defense.
Height, weight: 6-11, 218
Age: 20 (Jan. 19 birthday)
2020-21 stats: 8.8 points, 4.8 rebounds, 0.9 blocks in 22.8 minutes.
About the pick: The Thunder acquired this selection last month with Kemba Walker for Al Horford, 7-footer Moses Brown and a 2023 second-round pick. They could use more help up front after sending away a promising player coming off his second season in Brown (he started 32 games and played in 43 for the Thunder, averaging 8.6 points and 8.9 rebounds).
"The bouncy 20-year-old big man plays above the rim on offense and has the athleticism and mobility to be a multi-positional defensive weapon," Fedor said in our draft profile on Jones. "There's always a steep learning curve for big men transitioning from college to the pros. It could take even longer for Jones, who didn't start playing organized hoops until high school." Jones was the Big 12′s sixth man of the year.
Height, weight: 6-6, 190
Age: 23 (June 14 birthday)
2020-21 stats: 17.1 points, 4.6 rebounds, 2.7 assists, 1.9 steals in 34.1 minutes.
About the pick: Duarte was listed among five players the Grizzlies should target at No. 17, according to Evan Barnes of the Memphis Commercial Appeal. He included Illinois guard Ayo Dosunmu, Florida's Tre Mann, Baylor's Jared Butler and Villanova forward Jeremiah Robinson-Earl. Based on this mock draft, Gonzaga forward Corey Kispert also could fit well. However, we'll defer to Barnes on the beat. He wrote of Duarte: "He would give the Grizzlies another wing at an already loaded position, one who can create his own shot. With his high energy, defensive potential and shooting ability, he could be a good fallback plan if the team decides to part with Grayson Allen after next season."
Height, weight: 6-3, 195
Age: 20 (Aug. 25 birthday)
2020-21 stats: 16.7 points, 3.3 rebounds, 4.8 assists, 2.0 steals in 30.3 minutes per game.
About the pick: Will Oklahoma City keep all three first-round picks? The Thunder also have three second-round picks and seven players under guaranteed contracts. We'll keep Butler, the Most Outstanding Player from the Final Four, in this spot. Analyst Fran Fraschilla suggested Butler to the Knicks with the next pick, according to the New York Post.
Height, weight: 6-8, 230
Age: 19 (March 9 birthday)
2020-21 stats: 4.0 points, 4.1 rebounds, 0.7 blocks in 16.5 minutes per game during EuroLeague play.
About the pick: Of the players Fraschilla suggested for the Knicks — including Chris Duarte, Jared Butler, Isaiah Jackson — Garuba is the only one left in this mock draft. On Garuba, who could blossom into a versatile defender at the NBA level, Fraschilla compared him to OG Anunoby of the Raptors. The Knicks could still use a long-term answer at point guard with 32-year-old Derrick Rose entering a free agency.
Height, weight: 6-7, 220
Age: 22 (March 22 birthday)
2020-21 stats: 18.6 points, 5.0 rebounds, 1.8 assists in 31.8 minutes.
About the pick: A rare four-year player who could go higher, Kispert shot 44 percent on 3-pointers for Gonzaga and 40.8 percent for his college career.
"Over the last few years, shooting specialists have worked their way into the lottery — and Kispert could be next," Fedor said in our draft profile. "A four-year player, he comes into the league more NBA-ready than some of his other classmates. While there are legitimate questions about Kispert's athleticism, lateral quickness and ball-handling, the swingman has an elite trait that teams covet in this pace and space era. He's also a winner and high-IQ competitor who made great strides each season. Kispert's scouting report is eerily similar to Joe Harris' coming out of Virginia."
Height, weight: 6-1, 180
Age: 19 (June 11 birthday)
2020-21 stats: 20.2 points, 4.3 rebounds, 8.1 assists, 1.0 steals in 33.1 minutes.
About the pick: There is plenty of buzz surrounding the Knicks, both in trying to acquire Collin Sexton from the Cavaliers and moving their picks at Nos. 19 and 21. SNY.tv's Ian Begley noted the Knicks are trying to gauge teams' interest in Cooper. He could be a selection here, but not necessarily for New York.
Height, weight: 6-4, 210
Age: 19 (Oct. 13 birthday)
2020-21 stats: 23.0 points, 3.4 rebounds, 1.4 assists in 34.0 minutes per game.
About the pick: The Lakers are likely to add a guard, considering Dennis Schroder is a free agent and reportedly turned down an $84 million extension before the trade deadline, according to ESPN's Brian Windhorst on the Hoop Collective podcast. Thomas is coming off an All-Southeastern Conference season as a freshman at LSU.
Height, weight: 6-9, 235
Age: 18 (July 25 birthday)
2020-21 stats: 19.2 points, 9.4 rebounds, 2.5 assists, 1.3 steals, 1.7 blocks in 28.3 minutes per game during Turkish Super League play.
About the pick: Fedor thinks Sengun is the best player among this year's international prospects. "The MVP of the Turkish League as a teenager, Sengun comes into the league with questions about his defense and natural position, but possesses a rare offensive skill set. Passing. Shooting. Ballhandling," Fedor said in our draft profile on Sengun. "Diverse set of fundamentally-sound post moves. Potential 3-point range. Sengun has it all at that end of the floor. His place as the modern-day big will depend on defensive limitations, including a lack of switchability. Will that lead to him getting played off the floor in certain matchups -- and diminishing his value?"
Considering Nikola Jokic won this year's MVP as a former second-round pick, this is where teams will think twice about passing on the chance to take a prospect who vaguely compares to Jokic at center.
Height, weight: 6-5, 190
Age: 20 (Feb. 3 birthday)
2020-21 stats: 16.0 points, 5.6 rebounds, 3.5 assists, 1.4 steals in 32.4 minutes.
About the pick: Like Oklahoma City, here sits Houston with its third pick of the first round. Mann confirmed last month to have worked out for the Rockets. He made All-SEC last season in his second year with Florida.
Height, weight: 6-6, 200
Age: 20 (Nov. 20 birthday)
2020-21 stats: N/A
About the pick: Walker played at Moreau Catholic in California and Hillcrest Prep in Phoenix before opting to train with Frank Matrisciano at Chameleon BX instead of a year in college. Walker is confirmed, according to Sports Illustrated, to have worked out for the Clippers. Walker also is a familiar face around Northeast Ohio, having participated in an NEO Youth Elite showcase.
Height, weight: 6-4, 200
Age: 21 (Jan. 17 birthday)
2020-21 stats: 20.1 points, 6.3 rebounds, 1.1 steals in 35.1 minutes.
About the pick: Building around MVP Nikola Jokic and bringing back Jamal Murray from his knee injury are the Nuggets' priorities this offseason. They don't have pressing needs, as Michael Porter Jr. has progressed into a potential All-Star. Paul Millsap is an unrestricted free agent and wing Will Barton has a player option. The Big Ten tournament MVP is a safe pick.
Height, weight: 6-4, 204
Age: 18 (Sept. 25 birthday)
2020-21 stats: 12.5 points, 3.5 rebounds, 2.9 assists, 1.2 steals in 25.9 minutes.
About the pick: Spencer Dinwiddie has a player option and Tyler Johnson will be a free agent, making Springer an enticing option at the end of the first round. He made the SEC all-freshman team and shot 43.5 percent on 3-pointers.
Height, weight: 6-4, 187
Age: 21 (Aug. 10 birthday)
2020-21 stats: 15.7 points, 7.3 rebounds, 7.3 assists in 34.6 minutes.
About the pick: All of the buzz around Philadelphia surrounds the trade status of former No. 1 pick Ben Simmons. With that in mind, the 76ers could consider a point guard at this spot. Preston is a flashy option, who drew some LaMelo Ball comparisons after leading the Bobcats to the NCAA Tournament.
Height, weight: 7-0, 235
Age: 21 (April 15 birthday)
2020-21 stats: 23.6 points, 7.6 rebounds, 1.6 assists, 1.1 blocks in 32.0 minutes during ABA Adriatic play.
About the pick: The former Gonzaga forward nearly entered last year's draft, but opted to play professionally in Serbia with Mega Bemax. He played two seasons at Gonzaga, averaging 17.5 points and 7.9 rebounds during the 2019-20 season.
Height, weight: 6-5, 210
Age: 21 (May 8 birthday)
2020-21 stats: 17.8 points, 5.7 rebounds, 2.0 assists in 27.4 minutes per game
About the pick: Mike Conley Jr.'s free agency is the top question mark surrounding Utah. Grimes is coming off his second season in Houston after beginning with Kansas. He is the reigning American Athletic Conference Player of the Year and made the NCAA Tournament All-Region team after guiding the Cougars to the Final Four, their first appearance since 1984 with Akeem Olajuwon in the final year of Phi Slama Jama.
Buy Cavs gear: Fanatics, Nike, Amazon, Lids
Note to readers: if you purchase something through one of our affiliate links we may earn a commission.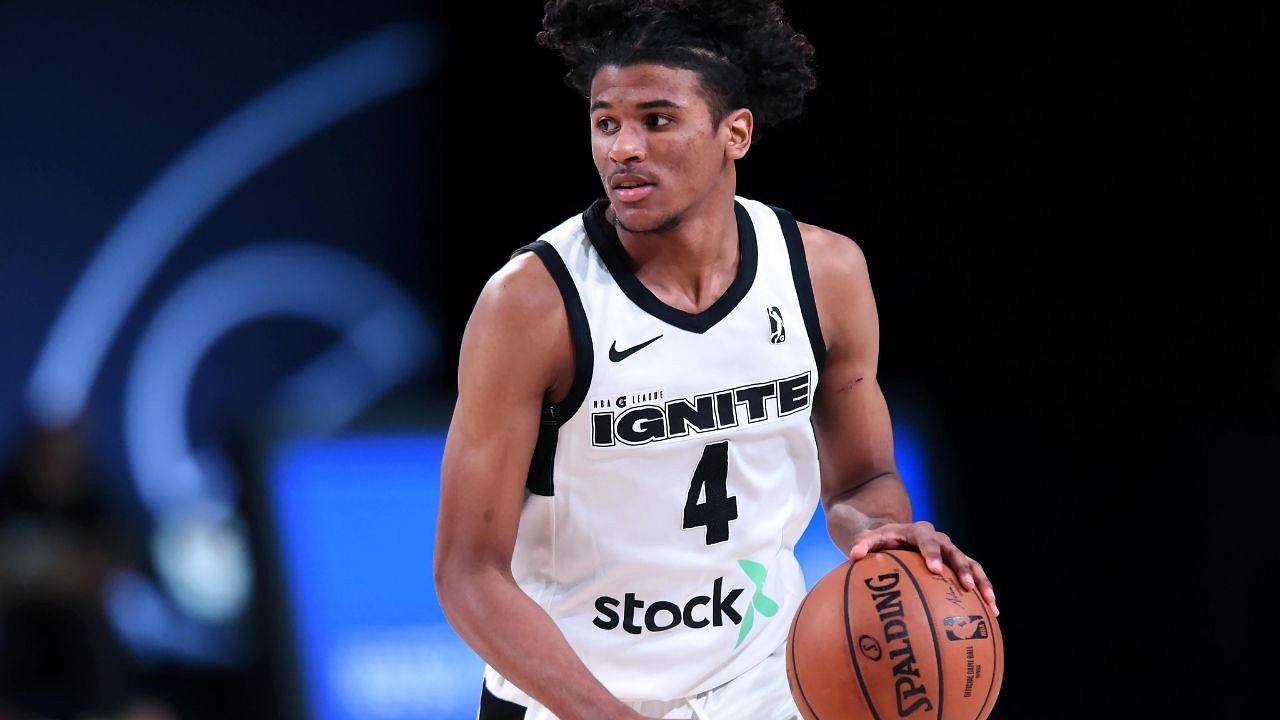 The Sportsrush 19 July, 2021 - 04:10pm
This upcoming NBA Draft has been touted as one of the stronger ones in the history of the league. According to scouts, the lottery especially is filled from top to bottom with future superstars. And one of them, that arguably has the most buzz around him, is Jalen Green.
Coming out of high school, Green had a number of offers from several high-profile programs such as USC, Arizona, and Florida State. However, the phenom decided to ignore all of them, and go pro early. He joined the G-League ignite program, which focuses on giving elite players out of high school the experience of playing against the pros in the G-League. And while it would've been understandable for him to falter a bit, the 19-year-old came out soaring.
Recently, ESPN scout and NBA insider, Fran Fraschilla had the pleasure of observing the player in-game and live. And well, his verdict on him will be something all teams in the lottery will want to hear.
Also Read: Bradley Beal aims a dig at 76er star after his abysmal postseason
 For those that don't know, Jalen Green is a smooth but explosively athletic 6'5" shooting guard, who has the ability to score from all parts of the court. In the G-League he shot over 80% from the charity stripe, and 36.5% from beyond the arc. He shows great touch around the rim, and even from a bit further from it.
There are areas that need to be improved, like his on-ball defense, consistency in his effort on defense, and more polish on his handle. However, even in those areas, he has shown some serious potential, and could one day become an elite two-way player.
ESPN's @FranFraschilla on @JalenGreen. "He should be an NBA All-Star wing player. There's a chance for generational greatness here, like a once-every-15- years kind of greatness." #Rockets
Full quote below…https://t.co/ozwOyAYRga pic.twitter.com/Z4BAOpgVbM
— Chris A. White 🐻 (@fyrebear) July 19, 2021
This draft is spearheaded by 4 potential superstars. And the first 4 picks are owned by Detroit, Houston, Cleveland, and Toronto, in that order.
Also Read: Nets guard's latest tweet earns him the ire of Giannis fans ahead of Bucks vs Suns Game 6
I've always been someone surrounded by sports. At 15 though, Basketball was brought to my attention, and I absolutely fell in love with it. At 20 now, I look to share the joy I feel with the world through my articles.
Lionel Messi and Papu Gomez combined for an alley-oop slam reminiscent of Jrue Holiday and…
Rockets Wire 19 July, 2021 - 04:10pm
We're 10 days away from the start of the 2021 NBA draft at the Barclays Center in Brooklyn, and the rebuilding Houston Rockets have some major decisions to make before they go on the clock on July 29.
Houston has three valuable first-round choices in 2021: picks No. 2, 23 and 24. Given the team's future assets, there's a chance we could see a blockbuster draft night trade.
It has been reported the Rockets have interest in trying to move up to select consensus top prospect Cade Cunningham. Still, the Pistons will have no shortage of potential trade packages should they wish to move the pick, and they might be able to get a better payoff than the Rockets can offer.
Here's the latest intel from around the internet on where the Rockets stand heading into draft night:
The Athletic's Sam Vecenie believes the Rockets will take a shot at prying away Cade Cunningham from the Pistons and moving up to the No. 1 pick.
Via The Athletic:
From that same Athletic piece, Vecenie reports Florida guard Tre Mann is not generating the buzz among teams he was hoping for, and he could slide as far as No. 40.
Via The Athletic:
The Rockets are reportedly leaning toward taking G League wing Jalen Green, though it was reported on Friday that some within the organization are making a push for Gonzaga guard Jalen Suggs. Over at The Ringer, Kevin O'Connor writes it's Evan Mobley who ranks No. 2 overall on many executives' draft boards, ahead of both Jalens.
Via The Ringer:
Sign up for the Rockets Wire newsletter to get our top stories in your inbox every morning
Start every day with our most popular content waiting in your inbox.
Please re-enter your email address.
You'll now receive the top Rockets Wire stories each day directly in your inbox.
Please enter an email address.
Please check your email for a confirmation.
Piston Powered 19 July, 2021 - 04:10pm
Cade Cunningham #2 of the Oklahoma State Cowboys (Photo by Andy Lyons/Getty Images)
In recent weeks, it has become incredibly clear that the Houston Rockets want to trade for the Detroit Pistons' first overall draft pick. But another team down south appears to be making a run at Cade Cunningham. The Oklahoma City Thunder fan account @okcaccess proposed a trade on July 7th that was absolutely ridiculous.
The Detroit Pistons would part with the first pick and center Mason Plumlee. In return, the Thunder would send the 2021 6th and 18th overall picks, a 2022 first-round pick via the Suns, the Thunder's 2023 first-round pick, Darius Bazley, and Isaiah Roby.
Both Bazley and Roby are young, inefficient benchwarmers who Detroit would rather not have. In return for one of the most hyped prospects in recent years, the Detroit Pistons can do a lot better.
Keep in mind that this is an Oklahoma City fan account. Most of the comments were along the lines of "we shouldn't have to give this much up." Excuse me? The only real pick of value there is the 6th pick. The last good players found at 18th overall were JR Smith and David West. Joe Dumars also went 18th overall, but the odds wouldn't be in Detroit's favor.
Weirdly enough, between all the OKC comments disapproving of the trade, a lot of people seemed to think that the draft capital in the mock trade was there, but the Thunder need to throw in a legitimately good player. Lu Dort and Shai Gilgeous-Alexander were brought up.
In response to people calling him out over his trade, the owner of @okcaccess followed up with a new post a few days later.
Rather than proposing a new trade, the updated post simply called out Piston fans for their greed. It was suggested that the Rockets and Nets trade that sent superstar James Harden to Brooklyn saw less talent returned to Houston than OKC was offering up in the mock trade. This could be up for debate, as the Rockets received massive amounts of picks and swaps, as well as actual talent in Caris LeVert, who was promptly traded to Indiana.
Continuing, it was suggested that the last two trades for the first overall pick were less lopsided than this one. In 2017, Boston sent the first overall pick to Philadelphia for the third pick and a 2019 first-rounder. Back in 2014, the Cavs got Kevin Love and a 2015 first-round pick for Andrew Wiggins and Anthony Bennet, both of whom had gone #1.
There's a big difference between those two draft-related trades and the one proposed. Namely, the Celtics knew who their guy was and was 100% sure they could still draft Jayson Tatum at #3. In regards to the Cavs/Wolves trade, LeBron had just come back and Cleveland was pushing to win, not rebuild around Wiggins.
Despite the backing provided, the @okcaccess trade is completely laughable. It does something I rarely see mock trades do: neither side wants it to happen. Pistons' fans say it's too little, Thunder fans say it's too much.
I don't expect to please everyone, but there's a much more realistic trade that could be pulled off. The Thunder need a center, so Plumlee simply has to be included in trade talks. Shai Gilgeous-Alexander is the best piece on an absolutely awful team. The Thunder could give him up, but then it would be too much to ask for the Pistons to also get the sixth overall pick.
I know, we all want both Shai and pick number six, but we have to be realistic, it simply won't happen. The best trade I can come up with for both sides is the number one pick, Killian Hayes, and Mason Plumlee for pick #18, Shai, and the 2022 Phionex first-round pick coupled with OKC's 2023 pick.
The Thunder would get to rebuild around Cade and have a serviceable young point guard, and the Detroit Pistons would immediately have one of the more deadly point guards to pair with Jerami Grant, Saddiq Bey, and new starter Isaiah Stewart. The additions of Bazley and Roby are unwelcome and frankly irrelevant.
I know Pistons fans won't go for this trade, they want Cade, but in a top-heavy draft class Shai Gilgeous-Alexander is worth more than the sixth pick, and the Pistons would still receive a small bounty of picks to work with. Maybe you want them to add pick #6, or maybe nothing can convince you to trade the draft rights to Cade Cunningham. The NBA and its fans are coming up with crazy offers, Detroit fans can dismiss them or counter, but I know for a fact no one is going to take the first offers.
Build your custom FanSided Daily email newsletter with news and analysis on Detroit Pistons and all your favorite sports teams, TV shows, and more.
Your favorite teams, topics, and players all on your favorite mobile devices.
Powered by Minute Media © 2021 All Rights Reserved.
Sports Illustrated 19 July, 2021 - 04:10pm
Cunningham will more than likely get taken No. 1 overall in the upcoming draft. A 6-foot-8 point guard with the tools to be elite on both ends of the floor is something every team would love to have on their roster.
Cunningham's height and skill alone make him the most interesting prospect in this class. Similar to Luka Doncic, he's able to run the point and facilitate offense at the size of a forward. Add the crazy vision and high IQ of Cunningham and you'll see why he's slated to be the top pick in this draft.
What's most impressive about Cunningham is that he doesn't have to score to make an impact on offense. Whether he's dishing to open players or just facilitating a smooth offense, he's positive on that end of the floor without even shooting. On the defensive end, he's got the build and length to lock up multiple positions in the NBA as well.
Cunningham doesn't have many weaknesses, which is why he's likely going No. 1 overall, but consistency is certainly something he can improve on. Throughout games in college, he would go from a non-factor for a handful of minutes to taking a game over. In the NBA, he'll need to make his presence felt at all times.
His 3-point shot was a concern coming into college, but Cunningham was able to shoot above 40 percent as a freshman. Will that continue into the NBA? He's not crazy athletic or quick right now, with more of a methodical style of play, but could become even better if he becomes a better overall athlete. 
King James Gospel 19 July, 2021 - 01:00am
USC Trojans big Evan Mobley looks to pass. (Photo by John McCoy/Getty Images)
The Cleveland Cavaliers are set to have the #3 pick in the 2021 NBA Draft, which will commence on July 29. In all likelihood, it does appear as if the Cavaliers could very well end up with USC big Evan Mobley.
That's based on it appearing to be likely the Houston Rockets will end up with Jalen Green, per a report/mock draft from Zach Harper of The Athletic (subscription required), who stated the Cavs "are probably locked in" on Mobley at that spot.
Harper in his report/mock did note how Cleveland is "interested" in acquiring other draft picks, and suggested how a framework for a trade, on the Collin Sexton trade rumor front, could result in Cleveland potentially landing the #19 and #21 picks from the New York Knicks in that case. He did suggest how the potential for a Darius Garland-Jalen Suggs backcourt, too, but Mobley was more so the target.
We'll have to see on that though, and while there has been Sexton-Cavs trade rumors, Sexton is a player on the rise. So perhaps he could stick around/they evaluate the situation further.
But looking back at the Mobley-to-Cavaliers possibility, I would imagine that even with his talent level, with others involved too, that Mobley could come off the bench more so earlier on. That's with him being thin still for a 7-footer, as he's only 210 pounds currently.
I don't foresee that as being a bad thing, in fairness; even with Kevin Love's situation/constant trade rumors/the injury element, I would still think he'll be around at least for some of next season with Cleveland; the buyout potential could come about at some point, though.
Albeit from there, there are the likes of Larry Nance Jr. seemingly still and Dean Wade, to go with Jarrett Allen, who it seems could very well stick around/be locked up by Cleveland this offseason.
In any case, in relation to Mobley, I believe it's realistic to foresee him being a key source of bench offense next season, and if he ends up starting more as the season progresses, okay.
Mobley showed plenty of low-post polish, touch as a finisher/low-post player in his lone collegiate season with USC, and he has guard-like skills with his handle and passing feel/vision.
Overall, Mobley had 16.4 points per contest in 2020-21, and although the three-point shooting potential didn't show much with the Trojans, I do buy with his skill level/showing flashes in AAU/high school, that the stretch big stuff will come from him. I'd think we'll see more of that as next season progresses, regardless of where he ends up.
In the Cavs' case, where I'd expect Mobley to end up in the 2021 NBA Draft, I would admittedly think he'd begin his career as a key bench player, which KJG's Justin Brownlow also believes should play out in that event. Mobley could appear at the 4 and 5, one would think though, and given his defensive abilities/switchability/rim protection, that'd be very intriguing.
Albeit on the offensive end, while I would anticipate that Love/Nance would begin at the starting 4, Mobley could very well be featured a bunch as a crucial offensive hub off the bench.
He again has impressive post-up polish, really with both hands, and Cleveland could go to him in the mid-post I'd think, too. Mobley has a great handle for a 19-year-old big, and that could enable him to get to the cup throughout spurts of games, and could lead to free throws regularly for him.
Plus, his counters getting to push shots and even fadeaways after establishing position from seals could very well lead to easy deliveries to him/quality shots after passes in stretches with Darius Garland/others, such as free agency target T.J. McConnell. Mobley's 7-foot-4 wingspan aids him as a shooter in those instances, for what it's worth.
In addition, with Mobley being able to throw dimes to cutters, hit spray-outs to opposite corners/wings out of the mid-post, and with his timing could make a difference for movement shooters on handoffs. I'd think Evan could work well getting some big-to-big feeds into Allen/Wade/perhaps Isaiah Hartenstein at times, too, and that could happen here and there after Mobley slips as a roller.
From there, Mobley is a player that could at times even initiate after defensive rebounds, involving the transition game. With his handle, that could help open up offensive opportunities for the likes of say, Dean Wade/Dylan Windler/Sexton and others.
That element could really bring some added juice in games, and thanks to his timing/lob throwing touch, I could foresee Mobley even toss some up there to Jarrett Allen/Nance here and there in secondary transition.
Nonetheless, while I would personally expect Mobley to start his career, in the event he gets drafted by Cleveland, off the bench for a chunk of Year 1, with him needing to get stronger/others involved, I'd imagine he'd be a crucial offensive hub in his PT.
And the dude would still get a bunch of minutes, anyway, too, and would feasibly get more as the season progresses.
Build your custom FanSided Daily email newsletter with news and analysis on Cleveland Cavaliers and all your favorite sports teams, TV shows, and more.
Your favorite teams, topics, and players all on your favorite mobile devices.
Powered by Minute Media © 2021 All Rights Reserved.