What happens in Season 1 of Never Have I ever?
Season 1 (2020) No. After her father's death and being confined to a wheelchair for her freshman year, Devi becomes determined to have an exciting sophomore year. She pleads with best friends Eleanor and Fabiola to get boyfriends so that the group becomes cool. wikipedia.orgNever Have I Ever (TV series)
In all the best teen TV series, the love triangle is a staple. Brenda/Dylan/Kelly and Brandon/Kelly/Dylan. Joey/Dawson/Jen and Dawson/Joey/Pacey. Archie/Betty/Jughead, Dean/Rory/Jess, Spike/Buffy/Angel and Willow/Oz/Tara … so many messy triangles.
Never Have I Ever introduced us to another one during its debut season last year, so it's not spoiling anything to tell you that the Paxton/Devi/Ben trio opens the Netflix dramedy's second season, which has just launched on Netflix.
But it would be a spilling a major spot of scoop to tell you just how out of control the love triangle action spirals in just the first two episodes, the many twists the teen romances take, and where all the players stand at the end of the season. What we will say: Devi is most definitely, officially with one of her equally delicious (hey, that's what makes it so fun to watch!) love interests by the time the credits roll on the season 2 finale. But …
"The love triangle is yet to be sealed," Paxton portrayer Darren Barnet (which is in no way a hint as to who Devi chooses, or who chooses her, at season's end) told Rotten Tomatoes. "As much as (everything) in season 2 is answering it, you don't know what is going to happen. This is high school, folks. People change their minds and get crazy every single day, so we've gotta wait and see."
OK, so you might have guessed that would be the case. And though the series has not yet been renewed for a third season, its massive success with season 1 during the pandemic (40 million households, internationally, watched the season) and the anticipation for its sophomore season return would make a lack of renewal shocking. Almost as shocking as what Devi (star Maitreyi Ramakrishnan) does when she becomes jealous of the new girl and …
Nope, not spoiling it. Suffice it to say that season 2 is such a winner because the writers, including series creator Mindy Kaling, introduced us to all these endearing characters in season 1, and they continue to allow their talented cast to flesh them out in ways both big and subtle, and in ways that allow them to grow, and remain endearing, in the new episodes.
"Who is this guy? Is he someone who really genuinely does care, or is he someone who just has these little moments, but most of the time he's a name-dropper, a bit overconfident, and rich and all that kind of stuff?" Ben portrayer Jaren Lewison said he wondered about his character. "I think season 2 does a really great job of showing that he does really genuine care, but he still is that person … he still is Ben Gross, he still likes to talk a lot about what his father does and his clients and some of his money. Sometimes you just shake your head and wanna say, 'Ben why would you say that right now?' But I think that's part of what's endearing about him … he's a goofball who really cares, and sometimes he just says the wrong stuff."
Devi, and again, not a spoiler, undergoes the most growth, as the center of the love triangle and the entire series, but not without a lot of drama throughout the season. There's tension with Aneesa (Megan Suri), the new girl at Sherman Oaks, Mrs. Vishwakumar's (Poorna Jagannathan) plan to move Devi to India, and a falling out with her friend Eleanor (Ramona Young). And as therapist Dr. Ryan (Niecy Nash) points out to her, Devi is still mourning the death of her father, which is manifesting itself in ways that continue to unmoor her.
"In the words of (Devi's friend) Fabiola (Lee Rodriguez), Devi's sort of always fighting with someone," Ramakrishnan said. "I will say,  it is very fun to play a hot mess, but it requires a lot of figuring out why she's being a hot mess. Like, even though Devi is doing some crazy lashing out, she's doing that because there's something else going on. Not to excuse her crap, but (it's about), 'Why do you think this is reasonable?' And then understanding that why, because I have to make it convincing for the audience."
All of Devi's pals are also going through teen trials, from Eleanor's own love triangle to Fab feeling pressure to change to fit in with her girlfriend Eve and Eve's friends. And Aneesa, well, that's a spoiler, but there is a reason she left her private school to transfer to Sherman Oaks.
Inside Casa Vishwakumar, Devi's cousin Kamala (Richa Moorjani) is working with a shady colleague who won't give her respect or credit for an important medical discovery she makes, while Devi's mom, Nalini, butts heads with a very handsome fellow doctor, played by Common, and sparks fly. But Nalini, too, is still dealing with the loss of her husband, Mohan (Sendhil Ramamurthy).
"Season 2 is such a huge lesson about grief, and that moving forward is just not the same thing as moving on," Jagannathan said.
The bottom line on season 2 is that there is plenty of drama and comedy to send you breezing through 10 episodes (including one, episode three, devoted to Paxton and his backstory). And it's going to have you hankering for another dose of Devi and the gang ASAP.
"The writers are geniuses," said Ramakrishnan, who still can't wrap her head around the fact that the series' fans are so enamored of her character that they create Devi fanfic. "I don't know how they come up with this stuff. Like, I had no idea at the end of season 1 that I would be in a cricket mascot suit,  sweating my butt off dancing. But here we are, and I love that, I'm proud of it.
"(And) I'm really excited to just see what shenanigans the writers get Devi and the rest of the gang up to. I want to see Devi continue to grow. She started standing up for herself at the end of (season 2) with Paxton … in a way she wouldn't have in season 1 or most of season 2. That was true growth. So I want to see more of that."
The Best TV Seasons Certified Fresh at 100%
"Rotten Tomatoes Is Wrong" (A Podcast From Rotten Tomatoes)
After "Breaking Free" with Wildly Operatic Performances, Nicolas Cage Says He's Returning to His Roots In Acclaimed Drama Pig
The Cannes Ketchup: The Florida Project Director Sean Baker Debuts Latest to Rave Reviews
The Suicide Squad First Reactions: Hilarious, Gory, Unpredictable, and Completely Insane
The Space Jam: A New Legacy Cast on Teamwork, Family, and Building Their Own Goon Squad
After "Breaking Free" with Wildly Operatic Performances, Nicolas Cage Says He's Returning to His Roots In Acclaimed Drama Pig
The Cannes Ketchup: The Florida Project Director Sean Baker Debuts Latest to Rave Reviews
Read full article at Rotten Tomatoes
Entertainment Weekly 16 July, 2021 - 12:10pm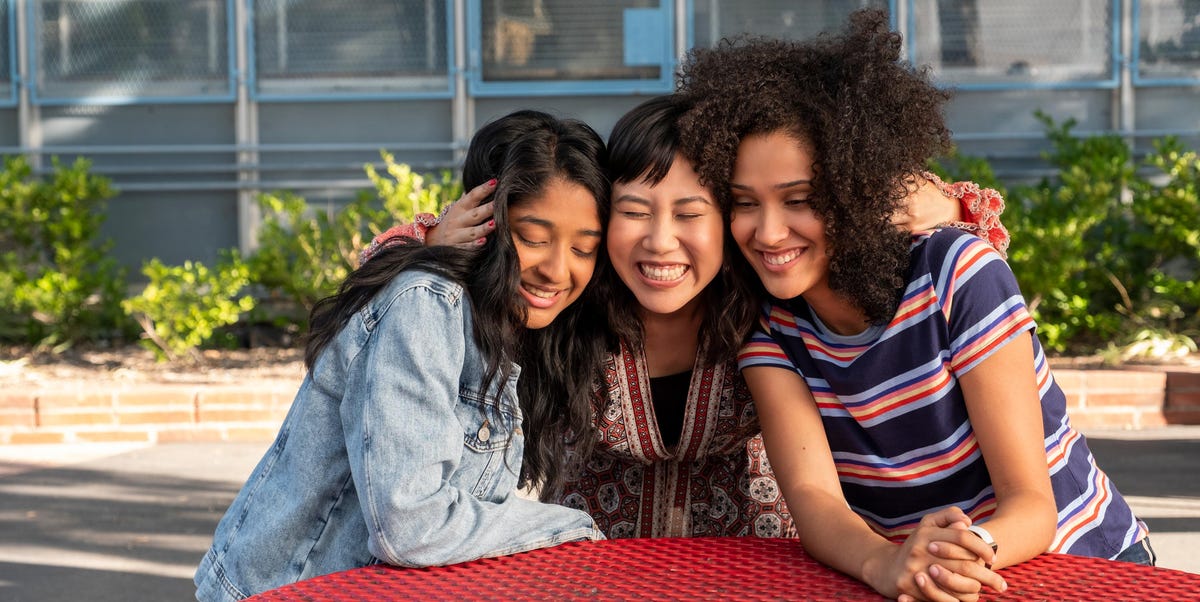 digitalspy.com 16 July, 2021 - 12:10pm
Will Devi and co be back for more?
If you're reading this, you've already raced through all ten episodes of Never Have I Ever season two and are desperate to know if Mindy Kaling and Lang Fisher have more in store for Devi and co.
There's been no word on its future but given that its first season was one of Netflix's most-watched series of last year, we're expecting the latest instalment to match that, in turn prompting the streamer to give season three the thumbs up.
Seasons one and two aired in April 2020 and July 2021 respectively, so if we do get a third season, we'd expect it to arrive in the first half of 2022.
There were no dramatic exits in the last season, so we'd expect all of the following major players return: Devi (Maitreyi Ramakrishnan), Paxton (Darren Barnet), Ben (Jaren Lewison), Fabiola (Lee Rodriguez), Eleanor (Ramona Young), Devi's mum Nalini (Poorna Jagannathan) and her cousin Kamala (Richa Moorjani).
And there's also former tennis pro John McEnroe as the narrator, who will undoubtedly be back.
The stars finally aligned for Devi in the season-two finale when she walked into the winter dance with Paxton after the pair made their relationship official. Initially, he wanted to keep their late-night rendezvous a secret for fear of being judged by his peers for forgiving Devi for cheating on him, but that didn't fly with her and she walked away from him and his washboard abs.
Right at the end, Eleanor told Ben that Devi had spent the past few weeks pining over him. She had been insanely jealous of Aneesa and at the relay, had done everything in her power to keep them apart.
"After you took her to Malibu, she wanted to choose you," said Eleanor. "Just for the record, it's not always been him."
Uh oh. Ben's face said it all: the boy was still totally into Devi.
We delve into all of that, and more, right here.
First up, we need that all-important renewal.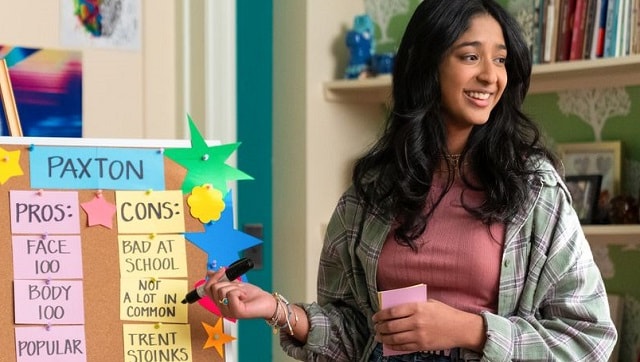 Firstpost 16 July, 2021 - 12:10pm
Maitreyi Ramakrishnan in Never Have I Ever Season 2
Remember how Season 1 of Never Have I Ever ended? Don't? Read through our recap.
The Malibu mountains, sky, and sand blended into each other as Devi (Maitreyi Ramakrishnan) reconciled with her mom Nalini (Poorna Jagannathan) to spread her dad's ashes into the sea. His favourite song 'Beautiful Day' by U2 amped up the moment, before Devi shared a passionate kiss with her nemesis-turned-lover Ben.
Season 2 starts right there. Nalini interrupts the kiss and mocks Devi, "When I die, you'll have sex on top of my grave. I hope it's a closed casket." That is the tone and zone of Never Have I Ever, the coming-of-age show created and written by Mindy Kaling and Lang Fisher. They never let the show get too sappy but ensure that it's also not just a surface skimmer. They break the emotional high Season 1 left us with the same reflex jerk that Devi cannot help but have whenever life gets marginally smooth for her (does it ever?).
To their credit, unlike Devi or Nalini, who wants her to move to India, Kaling and Fisher know exactly where they want Devi's life to go in Season 2. With Aaron Geary, Amina Munir, and Ben Steiner among others credited as additional writers and executive story editors, Kaling's writing room further build on Devi as the unlikeable protagonist you cannot help but root for. She continues to make grave mistakes, often by intention, only to bear the consequences.
Although Nalini suggests to another character in the show that Devi's questionable actions are an outcome of the crisis they're going through after her father's death, the writing never seems to back that argument with narrative arguments. For instance, never has Devi ever wriggled out of a tricky situation she has put herself in without being caught or without being cornered to confess. The degree of the consequence can be debated but all her sins never go unaccounted for.
Secondly, Devi never makes you feel indifferent towards her because of the powerhouse performer that Ramakrishnan is. Season 1 showed that she was a rare find but she only proves her indispensability in Season 2.
While that season was skewed towards probably Kaling's experience as an Indian-American girl growing up in the US, Ramakrishnan owns the follow-up by carving out a distinct identity for Devi. We no longer see her as a Mindy Kaling gone 2020 but as Devi herself, with her own whims, quirks, and vulnerabilities. Sample the scene when Devi, with virgin innocence intact, tells Paxton and Ben, "But I like you both," when she is caught double dating, or playing doubles as narrator John McEnroe puts it. A lesser actor could not have pulled that off — the virgin innocence I mean, not the double dating — that's not virgin at all.
As long as Devi is the pivot, Never Have I Ever Season 2 remains thoroughly engaging and occasionally exciting. But with this season, Kaling and Co try to branch into the arcs of the other characters that hover around Devi. And this branching out cannot exactly be called blooming.
Poorna Jagannathan in Never Have I Ever Season 2
It is lovely to see Jagannathan get ample space to exhibit a wide range of moods — because she can, and how! Season 1 saw her fall prey to the monochromatic mother who is always mocking and ridiculing her daughter. The only break in the comic cacophony was the choke in her voice as she tells Devi in the finale, "Sometimes even I think I should've been the one who died."
Season 2, however, gives her a homecoming she did not expect in India (it's fun to see her get incessant burns from her own mother), a romantic angle with a fellow dermatologist (played by Common), and chances to be a cool mom. It is the way Jagannathan fills her eyes with tears and smiles when she has to close the door on newfound love, puts on a poker face when being fed South Indian thalis, and switches pitch from concerned to stern towards her daughter that you realise she deserves a spin-off.
Maitreyi Ramakrishnan, Lee Rodriguez, and Ramona Young in Never Have I Ever Season 2
But the other character arcs do not make you feel as invested. The least of them is Kamala's (Richa Moorjani). It is certainly novel to place her in a stem cell research lab and battle gender discrimination at workplace (as Devi says, "People don't know you're this smart because you're so hot."). But that part of the story never takes off and remains a dispensable segue.
Devi's BFFs Elena Wong (Ramona Young) and Fabiola Torres (Lee Rodriguez) are given minor arcs of their own but both pale in comparison to Devi's by tints. Young has impeccable comic timing but her relationship with Malcolm Stone (Tyler Alvarez) is only summarised, never explored. The same holds true to an extent for Rodriguez's arc. The idea of a queer girl feeling lost in the lesbian community is a good start but it is not allotted enough room to thrive.
However, the Fabiola arc gives me the right counterargument to the pop culture jargon injected in this show. While it seemed commendable that Season 1 was so fresh off the tawa in terms of its dialogues given that it is based on Kaling's life in the 1980s, the wokeness often gets too overbearing in Season 2. I would find myself in Fabiola's shoes and say, "I don't talk like 'What's the tea?'"
References like "He's the LeBron of stem cell research" and "By the time they realise I have two boyfriends, I'd have busted out like the Road Runner," are cool. Devi's Black principal telling her, "If you play the race card on me, I'd Reverse, Draw 4, and UNO you" and calling the Ferrero Rocher pyramid the "Rolex of confection gift boxes for Indians" are brilliant. But the others like "Jodie Fasters" T-shirts for relay race event or Devi commenting on her therapist's turquoise statement necklace as "Cookie Monster's turd," and Elena drawing parallel to a farce-y Molière play, can become too much to take in, particularly when they are delivered at lightning speed.
What ground Never Have I Ever is the portrait of a protagonist with problematic behaviour and the gaze of quiet compassion that bathes her trajectory. Her flaws are not justified by woke phrases like "daddy's issues" or "racism is a b*tch." As her therapist consoles Devi, she explains, "You're not crazy. You just feel a lot. And that's why sometimes, you hurt a lot. But that's also why you'll lead an emotionally rich life." Or how an imaginary conversation with her dad (the perennially huggable Senthil Ramamurthy) echoes into her head, "I call you my perfect girl because you're perfect to me. And not because I want you to be perfect all the time."
That rings true at various levels. We don't want Devi to be perf. And to expect a perf portrait of an imperf character is asking for every woke abbreviation to be expanded. For now, we can celebrate the fact that like Fabiola, Never Have I Ever Season 2 does not discount a unique voice and emotional depth for fitting into the woke circles.
Updated Date: July 15, 2021 16:53:25 IST
The American War of Independence is recast as a sci-fi fantasy/action/adventure/bromance with comic book superhero treatment given to George Washington and his pals.
Copyright © 2021. Firstpost - All Rights Reserved.