What happens in Never have I ever season 1?
Season 1 (2020) No. After her father's death and being confined to a wheelchair for her freshman year, Devi becomes determined to have an exciting sophomore year. She pleads with best friends Eleanor and Fabiola to get boyfriends so that the group becomes cool. wikipedia.orgNever Have I Ever (TV series)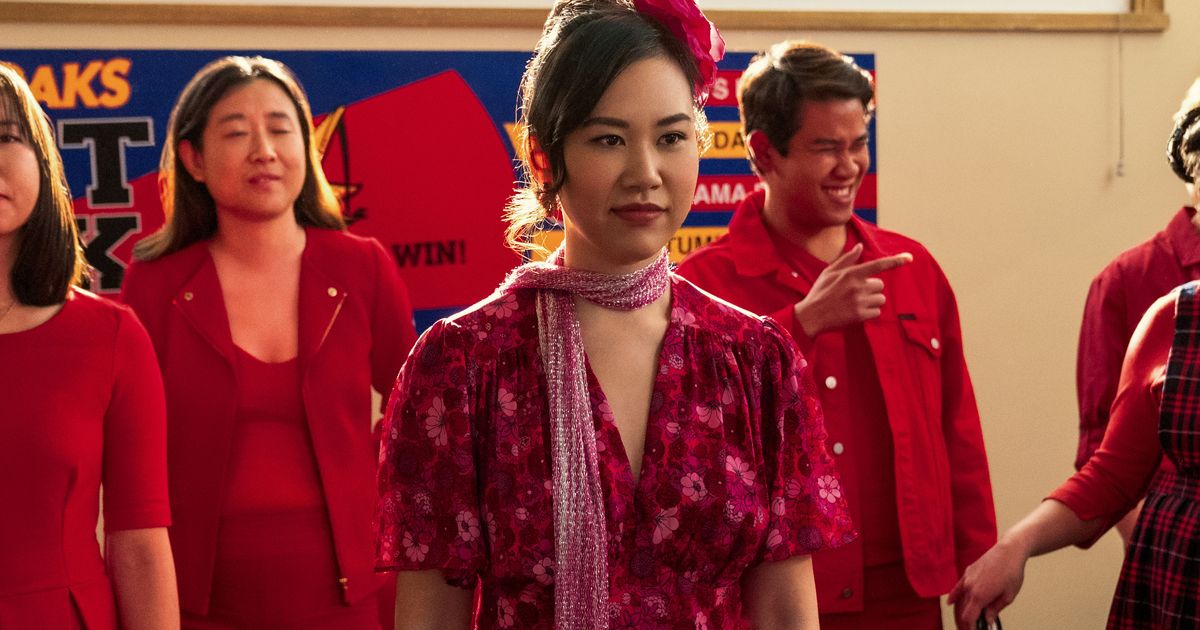 Devi, as a young Indian protagonist, was groundbreaking in a lot of ways. We saw, most notably, a healthy father-daughter relationship, as well as how she processes grief through her rage. That being said, she still falls into many stereotypical tropes of Indian television characters: nerdy, desperate to fuck, focused on getting into an Ivy League school. Those who had those criticisms of Devi's character will love Aneesa. Megan Suri perfectly embodies this effortlessly cool and sexy character, who provides a stark contrast to Devi: Aneesa has no problems making friends, getting male attention, or acclimating to her surroundings. John McEnroe's narration is hilarious as Devi processes this new arrival: "She always assumed her unpopularity was because of racism, but this new kid was proving that Devi might just be objectively lame," he explains. As someone who made friends with new people and hooked up with guys like I got paid for it in high school, I am a very big fan of Aneesa's character. She adds a layer of complexity to the show and illustrates that not all brown people are a monolith.
As much as Devi tries to avoid Aneesa, life keeps throwing them at each other. First, Devi learns they have the exact same schedule, and she is therefore assigned to show her around. Then, upon finding out there's another Indian girl at school, Nalini demands that Devi invite her over for a sleepover that was originally just supposed to be Eleanor and Devi. Initially Devi is irritated, but as the night goes on, she begins to value Aneesa's shared perspective of the Indian experience. In an attempt to impress Aneesa by trying to be cooler than her, Devi encourages her two friends to sneak out with her to meet up with Malcolm, an elusive theatre kid that Eleanor has a huge crush on despite being in a long-term relationship.
To Devi's surprise, Ben is there when she and her friends show up to an abandoned parking lot to meet Malcolm. Devi patched things up with Paxton pretty effortlessly last episode, but Ben has still been openly resenting her at school, understandably so. So when she notices their repertoire of poking fun at each other is slowly starting to come back, she sees a glimmer of hope. When Ben dares her to pierce her nose if he gets a tattoo, she figures it's a small price to pay to get his friendship back. The speed with which they seemingly rectify their relationship seems extremely unrealistic.
However, to Devi's shock, Ben reveals that the tattoo he got was temporary. When she asks him why he would mislead her like that, he tells her off in a fit of rage. "Stop acting like we're friends, because we're not." For a brief moment, this brought me back to my own high-school experience of getting cheated on. Infidelity is painful enough, but when you're a teenager, it really does feel like the end of the world. There's a sense of pride to be felt seeing Ben have the courage to stand up for himself, despite the fact that everyone's lives would be easier if he swallowed his emotions and pretended everything is okay, which is what I did in his position.
All of the side stories in this episode mirror those of Devi's. Nalini, Kamala, and Eleanor are all butting heads with people who, from the viewer's perspective, just seem to be misunderstood. Nalini is frustrated that Common the dermatologist is being flashy and ruining the integrity of the medical field by offering cosmetic procedures like facials. Kamala is upset by her Ph.D. clinical supervisor being inconsiderate of her time and efforts. Her boyfriend Prashant suggests that she try to find common ground with him, and it works surprisingly well when she finds out her supervisor is also a fan of K-pop. Eleanor is annoyed by her stepmother earnestly trying to bond with her so soon after her biological mother abandoned her family for a background-character role in Hollywood. These stories show that there is truly no age limit to feeling suffocated by people over trivial things; it further validates the emotions elicited in the central story line.
The episode almost ends peacefully, with Devi being grateful to have overcome her jealousy and make a genuine friend in Aneesa — until, abruptly, she sees Aneesa flirting with Ben. John McEnroe concludes the episode with a bitter "this bitch has got to go."
Overall, this episode was my favorite of the season so far — I would give it six stars if I could. It perfectly demonstrates a wide range of emotions through a relatable story line. Aneesa is a wonderfully lively character and I am very excited to see how her story line progresses. It also leaves the viewer wondering how Ben and Devi will possibly patch things up, if ever.
Read full article at Vulture
Polygon 16 July, 2021 - 06:01pm
Created by Mindy Kaling and Lang Fisher, Never Have I Ever follows the continued exploits of Devi Vishwakumar (Maitreyi Ramakrishnan), a Los Angeles high schooler mourning the loss of her father and juggling a love triangle between cute nerd Ben Gross (Jaren Lewison) and dreamboat jock Paxton Hall-Yoshida (Darren Barnet). One of the joys of the show's first season was its delight in complicating these stock teen archetypes. No character on the show is just one thing: Devi's friends aren't just theater nerds and robotics club captains; they're also navigating complicated personal lives, usually quite badly.
Never Have I Ever's characters are messy and raw in ways that feel true, even when they're loud and elevated. Devi is a bookish first-generation immigrant, but she's also selfish and inconsiderate. She starts rumors, spies through a stranger's skylight when she suspects her mom of going on a date, and tries to date both her crushes at the same time without either of them knowing. Devi is a hot mess, but her at times outlandish behavior is levied with moments that go straight for Friday Night Lights-level sincerity. Devi weeps for the dad she lost, she feels alienated by being one of the only Indian kids in her school (but also relishes that it makes her feel unique), she wants to be normal, she wants to be herself.
This care extends to every other character in season 2. Paxton Hall-Yoshida wants to be seen as more than a jock, but is scared about the loss of social clout that might come from being herself. Devi's friend Eleanor (Ramona Young) is a theater kid who loves acting and ends up dating Malcolm (a murderously funny Tyler Alvarez), a classmate who just came back from a stint as a Disney Channel star. At the same time, Eleanor wrestles with accepting her new stepmom. Fabiola (Lee Rodriguez) is captain of the robotics team and used to feeling deeply uncool, but now that she's out and dating a girl, she's confronted with a hip queer culture she feels like she has to fit into.
Never Have I Ever takes its characters' feelings seriously, and its writers work very hard to make sure the audience understands them. That way, when they do ridiculous things — like staging a marching-band apology performance, or trying to take two boys on a date to the same party, without alerting either one — viewers can laugh at the excess, but stay hooked because they understand.
This is basic good TV storytelling, but it's extremely hard to pull off. The approach needs everyone on both sides of the camera to agree about what to take seriously and what to goof off with. Never Have I Ever is one of the best shows on Netflix because it nails that balance, and showcases a high school that is nothing like high school, but still feels like it. It's an appealing fantasy because it plays to such a familiar feeling.Part of the reason high school is tough is that it's nothing like what the movies promised it would be. But what occasionally made it fun — and what Never Have I Ever recognizes — is the feeling that maybe, at any moment, it could be.