In other words, McEnroe could go. He was the plate of orange chicken on the table, invitingly tart but hardly necessary. So could the tray of avocado toast — Devi's gorgeous grad-student cousin Kamala (Richa Moorjani) — who embodied the kind of flawless femininity Devi felt she could never live up to. Then there's the wholly unappetizing presence of the vegan Cobb salad, a.k.a. Gears Brosnan, a wisecracking robot that belonged to one of Devi's best friends, Fabiola (Lee Rodriguez). Yes, this metaphor got old fast, and so did "Never Have I Ever's" pileup of quirks.
I looked forward to learning how Devi would navigate the love triangle she found herself in at the end of Season 1, with spiky-sweet Ben exciting her brain and James Franco-esque wincing hunk Paxton (Darren Barnet) exciting other areas. But I was even more curious about how Kaling and Fisher would revise the ungainly smorgasbord that was their show's freshman year.
The answer is: more maximalism. Surprisingly, that's not as bad as it sounds, with additions more suited to the show's strengths. Devi's occasionally conflicted feelings about her Indian American heritage flare up once more with the arrival of Aneesa (Megan Suri), another Desi girl at school, whom classmates immediately start calling "Devi 2.0." Nalini gets a romantic sparring partner of her own in fellow dermatologist Chris (Common), who forces the widow to ask herself whether she's ready to move on from her husband's death. And the series's Hollywood-adjacent, heightened-reality setting of Sherman Oaks, an affluent Los Angeles neighborhood, gets a fun boost from Malcolm (Tyler Alvarez), a pretentious Disney Channel actor who decides to toy with Devi's other BFF, theater kid Eleanor (Ramona Young).
These story lines, building on the most compelling facets of "Never Have I Ever's" first season, demonstrate that Kaling and Fisher have a robust grasp of what works, as well as which of their actors to lean on. But the duo are also too reluctant to jettison the components that no longer serve a purpose. (To their partial credit, Gears Brosnan does get a reduced role this time around.) The result is a follow-up season that, despite its greater narrative streamlining, feels crowded with characters and conflicts that make this otherwise sweetly horny, hijinks-fueled series feel bloated and weighed down.
If there's anything that adolescents or their parents know, it's that sometimes the people you love the most are the hardest to be around. That insight is often the driving force of "Never Have I Ever," which has a wholly believable narcissist at its center who chases away her mom, her friends and most reliably anyone who wants to get close. New girl Aneesa ultimately doesn't gain very much depth, but the episode in which Devi initially makes up a bunch of reasons not to be her friend, then realizes her bond with another Indian American girl can give her a kind of affirmation her other friendships cannot, is a much more organic and emotionally grounded version of the Season 1 episode about a Hindu celebration called Ganesh Puja titled "Never Have I Ever … Felt Super Indian."
Devi's love triangle, too, feels much more steadily drawn out here, with the grasping teen first two-timing the boys, then inevitably having the whole thing blow up in her face. There's something strangely nourishing about her selfishness, as there was about Kaling's titular character on "The Mindy Project," a bubbly and boy-crazy flibbertigibbet who used up all the moral credits she accrued as a kick-ass doctor on being a gloriously vain egomaniac. Kaling's fictional Mindy was a magpie who could hypnotize herself with her own bright, bejeweled outfits, but it was also undeniably subversive for the writer to turn the Asian American model minority myth on its head in such an aggressively ditsy fashion.
There's a lot of Mindy in Devi, but a later plot that stems from Devi's self-absorption bogs down the second half of the season with its suggestion that the show won't let its protagonist mature, using her grief as an excuse. Mourning doesn't have to be linear, but serialized comedies about adolescence pretty much require some sort of narrative progress. Mindy never grew much, and her show slid downhill after the first few seasons. It would be a disappointment for Devi to go down the same path.
Read full article at Vulture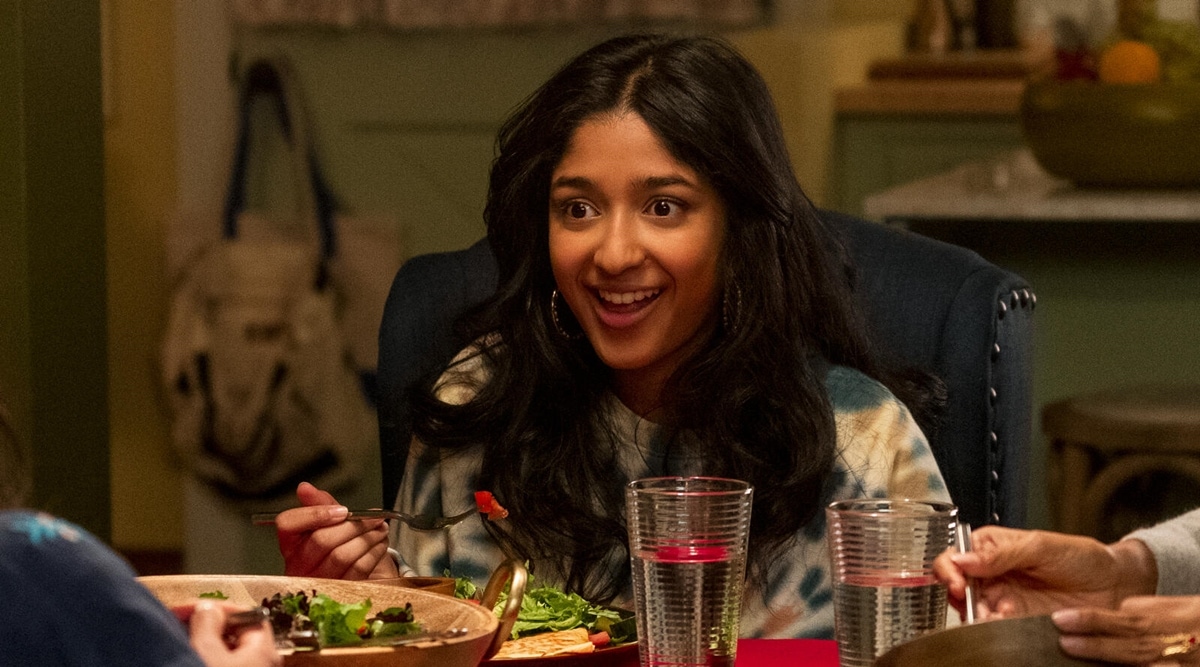 The Indian Express 15 July, 2021 - 06:09pm
It seems the curse of the first season, staple for most comedies, has been lifted from Never Have I Ever. Season 2, of the Netflix original series is bigger, wittier, more intelligent, and has the laughs cued up like clockwork. In the first season of Never Have I Ever, we met Devi Vishwakumar (Maitreyi Ramakrishnan) an Indian-American teenager, growing up in California. The show had an intelligent premise, but the foundation was a bit shaky. Season 2 is where the show has really bloomed and found its footing. It seems to be following the same trajectory as The Office and Parks and Recreation — both had not so great first seasons, but more than made up for it with successful later seasons.
What endeared Devi to the audience in the first season was her straight-minded dedication — she was equally determined in pursuit of her first sexual encounter, as she was to get straight 'As' in her report card. She was battling an overprotective mother, dealing with grief after losing her dad recently, and juggling it all with the all-American high school experience. Never Have I Ever Season 2 takes these narratives further and that's where things get all kinds of crazy. When we last met Devi, she had kissed two boys on the same day, and had bid good-bye to her father's mortal remains. We also met up with John McEnroe, the tennis legend who narrated the first season, and now returns for season 2.
This time, we see Devi navigating high-school, dating shenanigans, curfew and her standard-issue overbearing Indian mother. We also meet Devi's grandmother who has moved in with them from Chennai. The plot of the show and the relative arcs of the ten-episode season at times are predictable, but what makes it worth one's time is the slick dialogue, clever banter and the outrageous pop culture references that the show is liberally doused with. This is vintage Mindy Kaling. The whole season can serve as a primer for American pop culture for anyone needing a crash course. Kaling is known for this, be it her annoying character of Kelly Kapoor — which she helped write — in The Office, or her rendition of Dr Mindy Lahiri in The Mindy Project. Kaling's writing is often the coup-de-grace that makes a show comedy gold. Kaling has brought out the big guns for Never Have I Ever season 2. We get references from K-Pop, Beyonce, Ferrero Rochers, Harry Styles, Jodie Foster, the Kardashians, LeBron James… phew. You name them and Kaling has lined them up for an appearance in her show.
There is a whole scene where a fellow Indian-American student, Aneesa, explains Devi's rebellious act of piercing her nose as an attempt to 'decolonise her nose' and break the stereotypes of Western beauty. Score for both South Asian women and post-colonial narratives. Aneesa further clarifies that the act was a 'halal moment of celebration', sans alcohol and boys. Both these things are kryptonite to South Asian parents who wish their children to be straight A students on track to Ivy League schools. The show has been 'loosely' inspired from Kaling's own life, and it is no wonder she gets these nuances to the T.
Never Have I Ever is a fresh, funny and breezy take on the high-school genre. We have seen the melodramatic OC, One Tree Hill, 90210 and Gossip Girl — all highly unrelatable and borderline fantastical. Lately shows like 13 Reasons Why have dominated the high-school narrative. But that's where Never Have I Ever scores, it's very believable, has a lot of heart and it's quite novel to meet South Asian characters who are not relegated to the typical nerd/tech geek/best friend of the main lead caricature slot. The show, while being fun and breezy, also touches upon teenage anxiety, grief and eating disorders. There is a healthy nod to therapy as well, as being a teenager is not all fun and games.
What is bothersome though is the pronounced 'Indian accent' of the Indians in the show. It's not Appu from the Simpsons, sure, but the resultant attempt to sound 'authentic' is a bit jarring. Additionally, Indians in India don't always deck up in heavy Benarasi sarees and just lounge about at home. Major eye roll moment.
Watch Never Have I Ever season 2 for the ups and downs in Devi's life. Maitreyi Ramakrishnan wears Devi's character as a second skin. Can't wait to watch more of her work. Also, watch the show as it will remind you of simpler times, when the high-school winter dance was the high point of your life, and being suspended from school meant that your life ended.
For all the latest Entertainment News, download Indian Express App.
BuzzFeed 15 July, 2021 - 06:09pm
Dr Jackson is a fellow dermatologist and professional rival of Nalini. Although she finds him somewhat pretentious, Nalini also admires Chris's charm and work ethic. After a few encounters, the pair realise they have a lot in common and become ~friendly~. Naturally, Devi is totally okay with it.
In the second episode, Nalini goes to India to begin laying the foundations for her to move back with Devi. When she returns, she brings with her Nirmala, her mother-in-law and Devi's grandmother. Nirmala is strict, but very loving, and she instantly becomes a much-needed peacemaker in the Vishwakumar household!
We also meet Nalini's parents in the episode where she travels to India! She spends the most of her time with her mum, who is kinda bougie and definitely has big Real Housewife energy.
Evan is head research assistant at Caltech where Kamala also studies. He is sometimes friendly with her, but can often be a real jerk.
Malcolm is introduced as a Disney Channel actor who is fresh off of filming a new teen series (how meta) and is now back at school. He, of course, catches the attention of resident drama geek and all-round queen of my heart, Eleanor, and the two begin dating. Ciao, Oliver!
Sasha is one Eve's friends who begins "managing" Eve and Fabiola's PR once they announce they are running for Cricket Queen and Queen (which is basically prom queen and queen). She's no-nonsense, and doesn't really seem to get Fabiola as a person.
Also, fun fact, Donielle is the daughter of Niecy Nash who plays Dr Jamie Ryan, Devi's therapist!
We finally meet Sharon, and unlike Eleanor says in season one, she's anything but basic! In fact, Sharon is a dental hygienist (they're the flight attendants of the mouth) with a lot of love and wisdom to impart. Eleanor's dad, Paul Wong, also makes an appearance and is played by Andrew Timpo Lee.
Utkarsh comes on board this season as "cool teacher" Mr Kulkarni, or Mr K, as Devi calls him. He seems to really like Devi and he roots for her, often offering her advice or bantering with her. Sparks fly when Kamala comes in to see Devi at school and bumps into Mr K, but only time will tell if that goes anywhere!
TVLine 15 July, 2021 - 09:27am
The Second Coming of Dylan McKay Paxton or The Second Coming of Danny Castellano Ben? In Never Have I Ever's Season 2 premiere, Devi Vishwakumar refuses to choose.
The Netflix series returned Thursday, serving Devi a whopper of a romantic quandry: Date smokin' hot Paxton, whom she pursued with a passion last season, or super-smart Ben, her academic rival-turned-surprise-boyfriend-prospect? Both are distinct possibilities, as she and Ben make out in his car after she spreads her dad's ashes on a beach. But when she returns home, she finds Paxton waiting outside her house, where he apologizes for being distant after they kissed. What's more, he invites her to dinner the following night.
Devi has Eleanor and Fabiola over to break the news of her move as well as of her Ben/Paxton situation. "This is my last chance for an American high school boyfriend," she declares, and pretty soon, they're making a pros/cons list for both boys — even though both Eleanor and Fab immediately choose Paxton. After all, as Fabiola points out, "Ben is an obnoxious hobbit who has tortured you for countless years. Paxton is a mixed-race hottie who got scouted to model while sitting in the audience at The Price Is Right."
Armed with that sentiment, Devi goes to Ben's to break up with him. But he greets her with his own enthusiastic update: He dumped Shira, because "it wasn't real. What you and I have is." And he wants to be her boyfriend, taking a page from Luke Danes' playbook and vowing that he's "all in." So they kiss, and Devi leaves… and goes to Paxton's for their dinner.
But, at least she gains some clarity! So at a school-run park clean-up soon after, Devi officially tells Ben that she wants to be his girlfriend. Paxton notices the two of them paired up and gets Devi alone for a minute, asking why she didn't ask him to be her partner during the volunteer event. She references the Call of Duty night and he counters that that's how his dates always go — his friends stick around until it's time to hook up. He offers to take her on a real, one-on-one date to make up for it, but she says it's not going to work, because she's moving to India soon. "I guess we'll have to make this time count," he counters, kissing her.
A conflicted Devi turns to Fab and Eleanor. Fab jokes that she can't date both boys. "So you're saying I should just have two boyfriends?" Devi says, brightening. Both of her friends vehemently object. "Oh my God," Devi says, a smile blooming on her sweet, misguided face, "I have two boyfriends."
Richard Branson's Space Voyage Predicted By 'The Simpsons' Back…
Pac-12's $1 Billion Loan Program Draws One Taker: Colorado
Summer Must Haves: 5 Criterion Collection Movies You Need to…
Lionsgate Acquires Bulk of Weinstein Film and TV Library in…
These Menswear Basics Are On Sale via Amazon Prime – Save Up To…
Powered by WordPress VIP