CapitalsPR
CapitalsPR
#Caps place center Nicklas Backstrom on long-term injury list and recall forwards Connor McMichael and Beck Malenstyn from the Hershey Bears (AHL).
Samantha Pell
SamanthaJPell
George Parros, who heads the NHL's department of player safety, is also in the building tonight for Caps vs Rangers.

Greg Wyshynski
wyshynski
Happy Tom Wilson Night. Sign at @Capitals practice: "#43 lives rent free in their heads." #NHL pic.twitter.com/U6MLNeUaC1
Patrick Ewing
CoachEwing33
Good luck to the @Capitals as they start their season tonight! 👊🏿 #ALLCAPS #TheDistrict pic.twitter.com/bgE1TBRYP6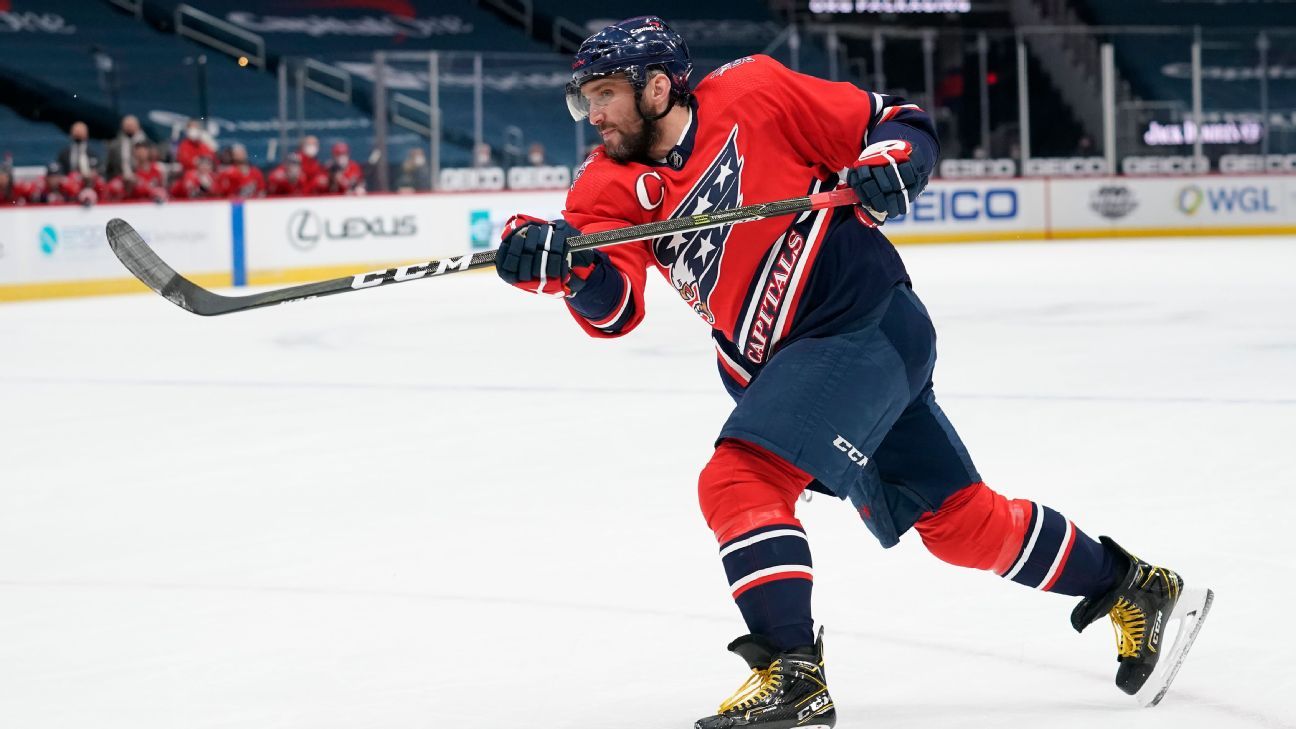 ESPN 13 October, 2021 - 07:15pm
No teams in your favorites yet.
ARLINGTON, Va. - Washington Capitals star Alex Ovechkin was a full participant in practice on Wednesday ahead of the team's season opener against the New York Rangers, but both the winger and coach Peter Laviolette said he remains a game-time decision.
Ovechkin, 36, skated off gingerly in the team's preseason finale against the Philadelphia Flyers on Oct. 8, following a collision with forward Travis Konecny. The Capitals said he had a lower-body injury. Ovechkin took part in an optional skate on Tuesday.
"My pinkie toe got hurt," joked Ovechkin after practice. "It was just a little collision. Nothing serious. We'll see how it goes."
Laviolette said it was "great to see him out there with full participation," but that the team has to check with medical staff to clear him.
In practice, Ovechkin skated on a line with center Evgeny Kuznetsov and winger Tom Wilson, who is the focal point of the pregame buildup against New York.
Late last season, Wilson was fined $5,000 for delivering a gloved punch to the back of the head of forward Pavel Buchnevich, who is now with the St. Louis Blues. Rangers forward Artemi Panarin jumped on Wilson's back during an ensuing scrum, and Wilson responded by flipping Panarin to the ice, causing an injury that kept Panarin out of the Rangers' final three games of the season.
Incensed there wasn't a more severe punishment for Wilson, the Rangers were fined $250,000 after the team called for the firing of George Parros, who heads the NHL's department of player safety. In their final meeting of the season after the Panarin incident, the Rangers and Capitals combined for 72 penalty minutes in the first 4 minutes, 14 seconds of their fight-filled game.
The Rangers responded in the offseason by acquiring a handful of physical players, such as defenseman Jarred Tinordi and forwards Barclay Goodrow, Sammy Blais and most notably Ryan Reaves of the Vegas Golden Knights, one of the NHL's lone remaining enforcers and a longtime rival of Wilson's.
"The whole summer, it seemed to be one thing after another. I don't know what the real goal is behind it all," said Wilson, in reference to the Rangers' offseason. "All I can do is focus on our team. Having a big physical first night with the Rangers isn't where we want to be this year. I want to score goals. I want to be a leader. I want to take on more responsibility and hopefully take our team to the playoffs. Obviously, tonight there's a big spotlight on the game. It's going to be fun."
In other Capitals news, Laviolette said that goalie Vitek Vanecek will get the start in the season opener over Ilya Samsonov. "His camp, for me, was really good. Separated himself a little bit and earned the opportunity," said the coach.
Bleacher Report 13 October, 2021 - 07:15pm
Japers' Rink 13 October, 2021 - 06:24pm
Bienvenue à LNH.com , le site officiel de la Ligue nationale de hockey
Добро пожаловать на NHL.com, официальный сайт Национальной хоккейной лиги
Välkommen till NHL.com, NHL:s officiella web-sida
Vítejte na NHL.com, oficiálních stránkách National Hockey League
Vitajte na NHL.com, oficiálnych stránkach National Hockey League
Willkommen auf NHL.com, der offiziellen Seite der National Hockey League
Bienvenido a NHL.com, el sitio oficial de la National Hockey League
ARLINGTON, Va. -- Alex Ovechkin said he was aware he'd likely encounter some bumps in the road during his pursuit of Wayne Gretzky's NHL goals record even before he sustained a lower-body injury that made him a game-time decision for the Washington Capitals season opener against the New York Rangers at Capital One Arena on Wednesday (7:30 p.m. ET; TNT).
"Let's don't look too far," Ovechkin said at the start of training camp. "Game by game, step by step."
The left wing is playing against the Rangers and enters his 17th season sixth in NHL history with 730 goals, 165 away from breaking Gretzky's record of 894. That's an average of 33 goals per season during the five-year contract Ovechkin signed with Washington on July 27, with Gretzky's record at least part of his motivation.
The 36-year-old led the Capitals with 24 goals in 45 games last season despite missing an NHL career-high 11 games. That's a pace of 44 goals for an 82-game season, which the NHL will play this season after adjusting to a 56-game schedule last season because of the coronavirus pandemic.
Ovechkin practiced Tuesday for the first time since he was injured hitting Philadelphia Flyers forward Travis Konecny in Washington's preseason finale Friday.
It's the kind of injury Gretzky warned could be Ovechkin's biggest obstacle in chasing his record.
"Obviously, you've got to get a little bit lucky in a sense that you want to stay away from injuries as much as possible," Gretzky said Oct. 6 while promoting his new role as a studio analyst for Turner Sports. "And I don't just mean missing game injuries. I'm talking about nagging injuries where your knee is sore or your ankle is sore or your shoulder is sore, but you play through that."
Ovechkin's durability throughout his career has been almost as impressive as his goal-scoring prowess. Before a groin injury caused him to sit out seven times in an eight-game stretch from April 24-May 8 last season, Ovechkin hadn't missed a game because of injury since a lower-body injury kept him out of a 2-1 loss to the Minnesota Wild on March 5, 2015.
Before last season, when he also missed four games while in NHL COVID-19 protocol, Ovechkin hadn't missed more than four games in a season since he missed 10 in 2009-10, including six with an upper-body injury and two two-game suspensions.
"Certainly he probably he has a different tolerance than other people," Capitals defenseman John Carlson said. "That's just based on the fact that guys get injured in this sport and guys play through injuries in this sport and you try to find the in between."
Ovechkin usually finds it. He attributed missing 11 games last season partly to not having a normal offseason to train before the season began Jan. 13, and a compacted schedule with fewer rest days.
"It was a short season. It was lots of games," Ovechkin said. "All the things were happening because of that, because sometimes your body doesn't recover well, and a little injury became difficult to recover [from]."
After Ovechkin had a more normal offseason to work with personal trainer Pavel Burlachenko, he arrived at training camp in excellent condition and focused on having a rebound season.
"I'm expecting him to be the player that he is," Washington coach Peter Laviolette said. "Every time he goes out on the ice, he tries to play the game hard. He tries to make a difference offensively. So I'm looking for that for him."
Prior to last season, Ovechkin won the Rocket Richard Trophy as the NHL goals leader in three straight seasons, increasing his record total to nine. That included 2019-20, when he tied David Pastrnak of the Boston Bruins for the NHL lead with 48 goals in 68 games before the regular season was cut short by the pandemic.
With his next goal, Ovechkin will tie Marcel Dionne (731) for fifth on the NHL goals list. He's 11 behind Brett Hull (741) for fourth, 36 behind Jaromir Jagr (766) for third and 71 behind Gordie Howe (801) for second.
"First of all, he's definitely got a legitimate shot," Gretzky said. "He's got a great opportunity. He's on a good team. He plays with really good centermen. He enjoys playing and loves playing in Washington. So he just has to be himself, go out there and play hard like he does every night."
Since acknowledging that chasing Gretzky's record factored into the length of his new contract, Ovechkin has tried to downplay expectations about it. But his teammates are thrilled about the possibility of being part of his ride toward history.
"It's so cool," linemate Tom Wilson said. "To watch it every day, to have a front-row seat to pass him the puck once in a while, it's been one of the coolest things just to watch his journey since I've been here. And it seems like every couple of weeks he's breaking a record. So I know that it's going to be fun."
Ovechkin's priority is to help the Capitals add another Stanley Cup championship to the one they won in 2018. But the focus on his record chase will intensify with each goal he scores.
"I've said this before: I think if anyone can do it, it's him," said Capitals center Nicklas Backstrom, who will begin the season on long-term injured reserve with a left hip injury. "That's the kind of hunger he's got, and that's the kind of goal-scorer he is."
Mattias Ekholm signed a four-year, $25 million contract with the Nashville Predators on Wednesday. It has an average annual value of $6.25 million and begins next season.
Charlie McAvoy and the Boston Bruins are closing in on a contract extension, Bruins president Cam Neely said Wednesday.
Jason Shaya hadn't slept for a week. He was full of nerves, full of worries, about revealing the truth about himself to the world. That came Wednesday when Shaya, the play-by-play voice of the Utica of the American Hockey League, came out as gay in a story on the TSN website.
WASHINGTON -- Alex Ovechkin is playing for the Washington Capitals in their season opener against the New York Rangers at Capital One Arena on Wednesday (7:30 p.m. ET; TNT) after being a game-time decision because of a lower-body injury.
Henrik Lundqvist will join MSG Network as a studio analyst for select New York Rangers telecasts beginning Thursday, when the Rangers play their home opener against the Dallas Stars at Madison Square Garden (7 p.m. ET; MSG, BSSW, ESPN+, NHL LIVE).
TAMPA -- The NHL is down to four players who have not received the vaccination for COVID-19, Commissioner Gary Bettman said prior to the season-opening game between the Tampa Bay Lightning and Pittsburgh Penguins at Amalie Arena on Tuesday.
Steven Stamkos is happy to say the Sunshine State rivalry finally is a real thing after the Tampa Bay Lightning and Florida Panthers played in the Stanley Cup Playoffs last season for the first time.
EDMONTON -- Connor McDavid said he is determined to raise the bar even higher this season for himself and the Edmonton Oilers.
Rick Tocchet is a guest on the first episode of the second season of "The Chirp with Daren Millard" podcast, available now on NHL.com and multiple iOS and Android podcast apps.
For 17 years, Bob Christianson's iconic NHL theme song sat in silence.
The Colorado Avalanche have not gotten past the second round of the Stanley Cup Playoffs since the 2001-02 season, but they will win the Stanley Cup this season, according to a panel of NHL.com writers and editors.
LAS VEGAS -- The Seattle Kraken did not look like an expansion team in their first regular-season game despite losing 4-3 to the Vegas Golden Knights at T-Mobile Arena on Tuesday.
BOSTON - DraftKings Inc. (Nasdaq: DKNG) announced today it has agreed to a deal with the National Hockey League to become an Official Sports Betting, Daily Fantasy Sports and iGaming Partner of the league in the United States. To complement the deal, DraftKings has also reached an agreement with Turner Sports, including Bleacher Report, to be the exclusive sportsbook and daily fantasy sports provider for their coverage of the NHL®.
The Tampa Bay Lightning gather on the ice and watch as their 2020-21 Stanley Cup championship banner is raised to the rafters at Amalie Arena
TAMPA -- The Tampa Bay Lightning raised their second straight Stanley Cup championship banner to the rafters at Amalie Arena in front of a capacity crowd prior to opening the season with a 6-2 loss to the Pittsburgh Penguins on Tuesday.
TAMPA -- Mike Sullivan was making a point Tuesday morning about the Pittsburgh Penguins and how they will have to play without Sidney Crosby and Evgeni Malkin when the coach reflected on a question he fielded earlier in the week.
NEW YORK -- Following are NHL club rosters, as of 10 a.m., Eastern time, on the opening day of the 2021-22 regular season.
Alex Ovechkin takes looking out for his teammate to the next level in a new commercial.
The Tampa Bay Lightning start off the 2021-22 regular season as Sonya Bryson-Kirksey makes her emotional return to sing the National Anthem
Sonya Bryson-Kirksey made her return to the Amalie Arena ice on Tuesday after an offseason that left her singing career in jeopardy.
Nick Suzuki agreed to an eight-year, $63 million contract extension with the Montreal Canadiens on Tuesday. It has an average annual value of $7.875 million and runs through the 2029-30 season.
TORONTO -- Auston Matthews is expected to be out for the Toronto Maple Leafs' first three games of the season.
Martin Necas and Sebastian Aho made a new friend at Old Chatham Golf Club in Durham, North Carolina on Monday.
Charles Barkley will help Turner Sports usher in its inaugural NHL coverage as a special guest on the premiere of the "NHL on TNT Face Off Presented by Verizon" pregame show prior to the network's doubleheader Wednesday.
Chandler Stephenson skates in on the rush and uses his skate to put home the dish from Mark Stone, giving the Golden Knights a 4-3 lead
LAS VEGAS -- The Seattle Kraken lost their first NHL game, 4-3 to the Vegas Golden Knights at T-Mobile Arena on Tuesday.
Brian Boyle signed a one-year, $750,000 contract with the Pittsburgh Penguins on Tuesday.
Brian Boyle gets a feed skating to the net and rips a shot through Andrei Vasilevskiy's five-hole, giving the Penguins a 2-0 lead in the 2nd
TAMPA -- Brian Boyle scored in his first NHL game in 14 months, helping the Pittsburgh Penguins to a 6-2 win against the Tampa Bay Lightning in the season opener at Amalie Arena on Tuesday.
ARLINGTON, Va. -- Alex Ovechkin participated in the Washington Capitals' optional practice Tuesday and could play in their season opener against the New York Rangers at Capital One Arena on Wednesday (7:30 p.m. ET; TNT).
LAS VEGAS -- Defenseman Jamie Oleksiak and forwards Jared McCann and Joonas Donskoi are in the Seattle Kraken lineup against the Vegas Golden Knights at T-Mobile Arena on Tuesday after being removed from NHL COVID-19 protocol.
Boone Jenner was named captain of the Columbus Blue Jackets on Tuesday.
Each season there are NHL prospects who surprise during training camp and play well enough to earn a roster spot to begin the regular season.
NHL.com is the official web site of the National Hockey League. NHL, the NHL Shield, the word mark and image of the Stanley Cup, the Stanley Cup Playoffs logo, the Stanley Cup Final logo, Center Ice name and logo, NHL Conference logos, NHL Winter Classic name, and The Biggest Assist Happens Off The Ice are registered trademarks and Stanley Cup Qualifiers name and logo, NHL.TV, Vintage Hockey word mark and logo, The Game Lives Where You Do, NHL Winter Classic logo, NHL Heritage Classic name and logo, NHL Stadium Series name and logo, NHL All-Star logo, NHL Face-Off name and logo, NHL. TV, NHL Premium, NHL After Dark, NHL GameCenter, NHL GameCenter LIVE, NHL Network name and logo, NHL Tonight name and logo, On The Fly, NHL Network Showdown name and logo, NHL Awards name and logo, NHL Draft name and logo, NHL Mascots, Hockey Fights Cancer, Because It's The Cup, NHL Green name and logo, NHL Vault, Hockey Is For Everyone, NHL Thanksgiving Showdown name and logo, NHL Centennial Classic name and logo, NHL Centennial Season logo, NHL100 Classic name and logo, NHL Global Series name and logo, NHL China Games name and logo, NHL Power Players name and logo, NHL Outdoors at Lake Tahoe name and logo, and Don't Miss A Moment are trademarks of the National Hockey League. All NHL logos and marks and NHL team logos and marks depicted herein are the property of the NHL and the respective teams and may not be reproduced without the prior written consent of NHL Enterprises, L.P. © NHL 2021. All Rights Reserved. All NHL team jerseys customized with NHL players' names and numbers are officially licensed by the NHL and the NHLPA. The Zamboni word mark and configuration of the Zamboni ice resurfacing machine are registered trademarks of Frank J. Zamboni & Co., Inc.© Frank J. Zamboni & Co., Inc. 2021. All Rights Reserved. Any other third party trademarks or copyrights are the property of their respective owners. All rights reserved.