Welcome to NHL.com, the official site of the National Hockey League
Bienvenue à LNH.com , le site officiel de la Ligue nationale de hockey
Добро пожаловать на NHL.com, официальный сайт Национальной хоккейной лиги
Välkommen till NHL.com, NHL:s officiella web-sida
Vítejte na NHL.com, oficiálních stránkách National Hockey League
Vitajte na NHL.com, oficiálnych stránkach National Hockey League
Willkommen auf NHL.com, der offiziellen Seite der National Hockey League
Bienvenido a NHL.com, el sitio oficial de la National Hockey League
NEW YORK -- The National Hockey League announced today the Available and Protected Lists for the 30 NHL Clubs who will provide players to the Seattle Kraken in the 2021 NHL Expansion Draft presented by Upper Deck.
The Kraken's selection of 30 players, one from each NHL Club with the exception of the Vegas Golden Knights, will be revealed live from Seattle in a special 90-minute broadcast on Wednesday, July 21, at 8 p.m. ET on ESPN2 in the U.S. and Sportsnet, SN NOW and TVA Sports in Canada.
ESPN's Chris Fowler will host and be joined by former NHL player Dominic Moore. Fellow NHL alumnus Kevin Weekes, who has provided commentary and analysis for NHL Network and Hockey Night in Canada, will be reporting from various iconic Seattle locations.
The 2021 NHL Expansion Draft is being conducted under the same rules for the Kraken as the Golden Knights in 2017. Current NHL teams were able to protect seven forwards, three defensemen and one goaltender, or eight skaters (forwards/defensemen) and one goaltender. More Expansion Draft rules are available here.
NHL.com is the official web site of the National Hockey League. NHL, the NHL Shield, the word mark and image of the Stanley Cup, the Stanley Cup Playoffs logo, the Stanley Cup Final logo, Center Ice name and logo, NHL Conference logos, NHL Winter Classic name, and The Biggest Assist Happens Off The Ice are registered trademarks and Stanley Cup Qualifiers name and logo, NHL.TV, Vintage Hockey word mark and logo, The Game Lives Where You Do, NHL Winter Classic logo, NHL Heritage Classic name and logo, NHL Stadium Series name and logo, NHL All-Star logo, NHL Face-Off name and logo, NHL. TV, NHL Premium, NHL After Dark, NHL GameCenter, NHL GameCenter LIVE, NHL Network name and logo, NHL Tonight name and logo, On The Fly, NHL Network Showdown name and logo, NHL Awards name and logo, NHL Draft name and logo, NHL Mascots, Hockey Fights Cancer, Because It's The Cup, NHL Green name and logo, NHL Vault, Hockey Is For Everyone, NHL Thanksgiving Showdown name and logo, NHL Centennial Classic name and logo, NHL Centennial Season logo, NHL100 Classic name and logo, NHL Global Series name and logo, NHL China Games name and logo, NHL Power Players name and logo, NHL Outdoors at Lake Tahoe name and logo, and Don't Miss A Moment are trademarks of the National Hockey League. All NHL logos and marks and NHL team logos and marks depicted herein are the property of the NHL and the respective teams and may not be reproduced without the prior written consent of NHL Enterprises, L.P. © NHL 2021. All Rights Reserved. All NHL team jerseys customized with NHL players' names and numbers are officially licensed by the NHL and the NHLPA. The Zamboni word mark and configuration of the Zamboni ice resurfacing machine are registered trademarks of Frank J. Zamboni & Co., Inc.© Frank J. Zamboni & Co., Inc. 2021. All Rights Reserved. Any other third party trademarks or copyrights are the property of their respective owners. All rights reserved.
Read full article at NHL.com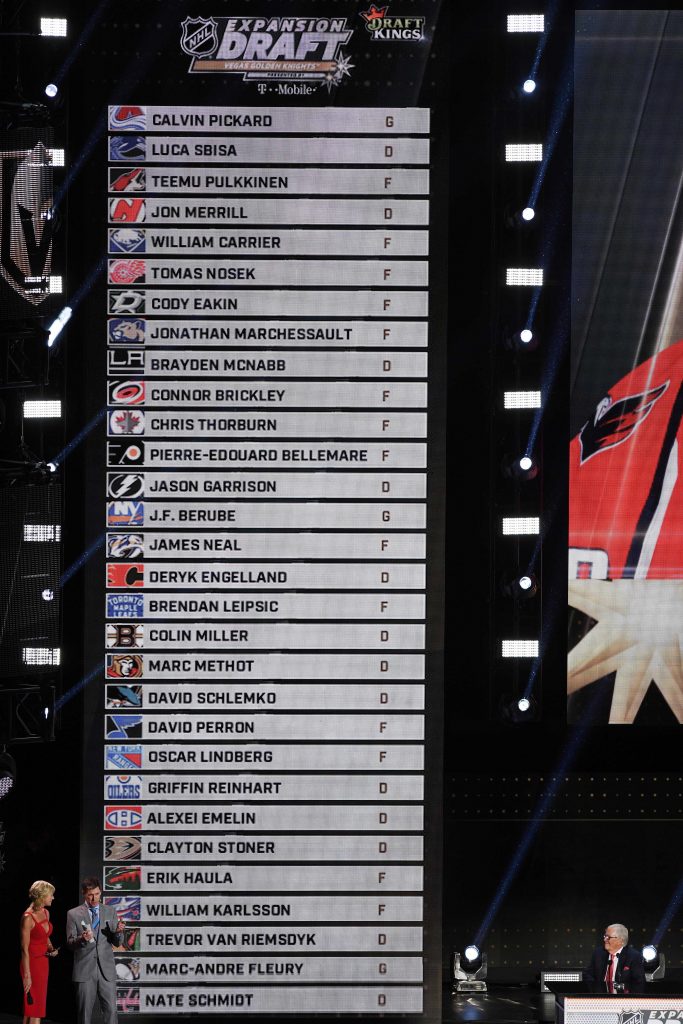 prohockeyrumors.com 18 July, 2021 - 12:10pm
The 2021 NHL Expansion Draft does not take place until Wednesday, July 21, but the proceedings are already underway. The NHL enacted a transactions freeze at 2:00pm CT on Saturday and at 4:00pm protection lists were due from all 30 teams taking part in the draft. The league will review and approve these lists and release them to the other teams and to the public on Sunday. In the meantime though, there will inevitable be leaks of who has been protected as well as who has been exposed. This list will be updated until all protection lists are confirmed:
Key Players Exposed: F J.T. Compher, F Joonas Donskoi, D Erik Johnson, F Gabriel Landeskog UFA 
Key Players Exposed: F Matt Duchene, F Rocco Grimaldi, F Calle Jarnkrok, F Ryan Johansen, F Rem Pitlick, F Colton Sissons, F Yakov Trenin, D Mark Borowiecki, G Connor Ingram
That Carey Price is a absolute stud
Price is a total stand up guy
As a habs fan and a guy who played goalie growing up i hope price gets selected. His 10.5 cap hit is a big deal and that miney whould go a long way to making this team better
there is no shot Seattle taken Carey Price, no way.
Yes way. Price is from BC and is instantly the face of the franchise. Could be Fleury 2.0 in SEA. I don't see him getting drafted personally but it's far from impossible he gets selected.
They're not taking him. That salary, not happening. They could trade for contracts and collect draft picks with those deals rather than do charity work for Montreal and take that salary off their hands for nothing.
They could turn around and trade Price for a significant return from a hungry team. The money to be paid Price is crazy but there could be a team who doesn't care how high the Price is.
They actually can't do that. Price waived his no movement clause solely for the purpose of the expansion draft. If selected his no movement clause is back in effect and can't be traded without waiving it
If he waived it for an expansion team why wouldn't he waive it for a contender?
Will be fun to see Frenchy's cry when Price is selected.
Because his wife is from that area snd he is from BC
Wow, some interesting names on that list. You have to think that no matter what, Seattle's going to take Tarasenko. If they're getting him for free, that's a gamble worth taking. If he can't play, that's LTIR. If he's fallen well off his old form, they're only on the hook until 2022 anyway. I guess St. Louis couldn't find any takers for a trade.
I'm a Blues fan in St. Louis – I wonder if Seattle thinks the gamble of paying Tarasenko his $9,500,000 this year is worth the gamble of betting that he is healthy this year.
I would say 9.5 mil is not exactly free addition in a salary capped league, but ik what you mean.
However Seattle may be better off spending 7 mil on a healthy free agent instead
Tarasenko's cap hit is $7.5 million, not 9.5.
I didn't say anything about his cap hit. I said PAYING him $9.5. Because that's his salary.
Oh ya cuz 7.5 mil is so cheap for a guy with a busted shoulder anyways
I'd call their bluff on Price.
Take the Vegas "be good and then rebuild in a few years" plan instead of the "build for a few years and then be good" plan.
Wow Seattle needs to grab Tarasenko & Price or Quick. Unreal start for the franchise
Might even end up with none of them too
Tarasenko has 7 goals over the last two years combined in a total of 34 games played. He may not be healthy STILL.
Quick has seen way better days. As a Kings fan since day 1 I wouldn't mind then taking him. More cap flexibility.
10 years ago, sure. Hard pass on all of them and the contracts that come along.
I agree that Price may be worth the money. However if the team struggles he'll be extremely hard to move and might not be worth it.
Seattle is going to take the goaltender from the Florida Panthers. I think that was said already.
They should take a non-Dreidger Florida Panther, then sign Dreidger in Free Agency.
You are most probably correct. But they are required to take at least three unprotected goaltenders and could pick more in order to trade extras.
is it 3?? i hear ya thou. i still don't see it happening.
Here is the question…does Seattle have to honor Price's NMC if it takes him? I believe teams get to decide after it is waived, right?
If so…why not take Price, eat half his salary and then trade him?
What is Carey Price at a $5.25 AAV worth to a contender?
Nevermind. Price's waiver is only good for expansion.
Also, I forgot Bishop was available and could be stashed on IR if not healthy.
And, Minnesota will definitely be exposing a very good goalie.
No Fleury, but SEA should be strong in net.
PS- Yeah, $10.5 million is a lot, but…in a league where Matt Murray makes $6 million…I take Price and run.
Yes. Hands off. Take Cam Johnson instead. He's way better. Trust me.
in this cap restrictive environment, i see no reason why not to corner the goalie market. heck, i think taking all three of Dridger, Price, and Bishop is great, then flip one and maybe retain cash.
Driedger and Bishop make for a pretty spiffy goaltending tandem, that's for sure.
I agree Price won't be picked, but to say he's completely shot physically is absurd. Did you miss this years playoffs bud?
Nope, we didn't. For a stretch of 17 games, Price went into God Mode, absolutely. And for most of the previous four *seasons*, and the Cup Finals, he's been average. If he had HALF the cap hit he has, it'd be a serious overpay for his performance over the last few years. People just need to get it out of their heads that he's still an elite goalie. He isn't one.
As far as Bishop being completely shot though, BoltforLife, says who? He was hurt last year and didn't play, yeah. And his performance beforehand was still elite.
Due to the death of that young Columbus goalie, did the league cut the Jackets some slack on having to make a goalie available to Seattle? Sure hope they showed some mercy to them.
Nothing to do with that. Elvis has been exempt all along. Columbus never had a real issue there.
Seattle will have to pick up a few big contracts to reach their mandated floor, so Tarasenko seems logical.
If I'm St. Louis, I don't trade ANYTHING to have Seattle pick Tarasenko. It's bad enough they lose him for nothing, let alone pay assets to do so. Pretty sure they wanted to make sure they protected Barbashev cuz they were certain, if left exposed, that he'd be Seattle's pick.
So they are going to pay a guy 7.5M( and against their cap no less as he's healthy) to sit out? He's turned his back on the team. He has to go and if no one will trade for him (maybe that changes who knows) maybe this would be best?
It's a LONG off-season. They didn't find a trade because very few teams had a protection spot for him (or wanted to give him one). IF Seattle selects him, that's one less headache for the Blues to worry about, but rumor has it that Seattle wants the moon from teams to select certain players ($$). If they pass on Tank, I'm pretty sure another team out there will take a flyer on him for a mid pick and long-range prospect . . . Just need to get this Seattle business out of the way first!
exactly. Penguins will give you Zucker for him if both remain with their teams.
Avs decline to protect Landeskog. SEA gets to talk to him and offer an 8 year deal.
Did Vegas get this UFA "tampering" window, I don't recall it?
SEA could sign Landeskog and Hamilton (assuming Canes don't protect him, which they will not) and other UFA's and possibly be better than VGK was.
There's no way any ufa of note will sign with Seattle before being able to negotiate with other teams
Disagree. Agents know, more or less, where their clients fit in salary wise. If Seattle makes an offer with a short window to accept at the top of said players expected range for 8 years, why would they go to market hoping to get the same money for 7 years, assuming no geographic or team preference?
In Landeskog's case, it's probably the only team besides the Avs where he would be the captain.
Watch Seattle select McCann. I believe his analytic numbers are great, which appeal to Seattle. Was that the purpose of the trade. Does Dubas love his team that much to trade for a player just to potentially lose him?
I'd absolutely take McCann. Gourde, too. DeHaan or Zadorov from the Hawks.
Of the early lists, the hardest choice so far might be OTT. Dadonov is better but costs more and they might need Tierney to play center.
Depending on their other choices at forward, it actually wouldn't surprise me if Seattla took Daccord from Ottawa. He's waiver exempt and if they may want a goalie with some experience that they can call up and send down without fear of waiver selection, especially if they go with Driedger who still is unproven as a starter, etc. Plus injuries of course. (Bishop?)
If I'm Seattle, I take Gourde or Foote from Tampa, maybe Palat and flip him. If I'm Francis, Tampa needs to shell out a boatload of picks/prospects to have me pick someone else (Johnson)
Sooooo the Leafs traded away a pick and a prospect to acquire McCann and expose him why? This makes no sense unless they already have a deal with Seattle in place to take Kerfoot which means Toronto is probably giving up another asset. Probably something like Liljegren. Why? Because that's just what the Leafs do.
If they expose McCann they might not lose kekerfoot. If they still take Kerfoot then they still have McCann.
Makes total sense to me.
And from Pens side they're just freeing cap space, McCann would've been the pick, now Seattle can help them even more by taking Zucker or Pettersson
Did Price agree to be exposed? He has no movement clause.
Should've protected Dadonov over Watson. His contract isn't enough to scare Seattle off.
Anaheim's protection list can't be right . . . Deslauriers? REALLY?? And they only have 6 frowards protected.
There's a lot more talent out there than I realized. I think they can be a good team year 1 after seeing these lists.
agreed. Should be solid out the gate
That left Kahkonen and Soucy exposed along with forwards Victor Rask and Nick Bjugstad and pending free agents Nick Bonino, Ian Cole, Brad Hunt and Marcus Johansson.
Man leaving kahkonen exposed is surprising.
I don't understand Ottawa's love/hate relationship with Logan Brown. Expose him, trade him… but move on. You don't want him to play, you don't let him play when he's healthy (a rarity for sure). He doesn't trust that the organization has his best interests at heart, so move on. If he turns into an everyday player in the NHL, it won't be with Ottawa. That's been obvious.
David Poile is insane. That's the only thing I can figure out at this point.
I was wondering how that was gonna play out after yesterday's trade. If Nashville wants Duchene or Johansen selected, it's gonna cost them a "pretty penny" to convince the Kraken. Sissons and Jarnkrok are some tempting pieces.
The only reason to move Ellis before this draft was so you could go the 4/4 route, but Poile goes 3/5 anyway? He could've waited until after the draft to make a deal like that if ge was going the 3/5 route.
Islanders protect Clutterbuck and Martin over Bailey, Eberle, Bellows. I get loving your "identity" and all, but come on . . .
Dang it. JVR or Ghost is gone. And freakin NAK stays. Garbage.
Hextall and I are not on the same page. I could always guess what Jimmy would do because (a handful of times aside) it made sense.
Blueger is a nice little player and all, but he's now given away McCann for a pack of gum and is risking Tanev to protect a very very replaceable player. To say nothing of a very old Jeff Carter.
Losing Tanev instead of Zucker would be really bad, so now…I am forced to hope he's cut a side deal to ensure Zucker's selection.
I was also surprised, but perhaps he knows of Seattle's interest in Carter.
Losing tanev would be unbearable.. id say throw in a 1st to ensure Zuck is the pick at this point
if Seattle takes Zuck, the Pens become one of the major players in free agency this year.
Read that again, cuz we haven't been able to say that in like 10 years …
Despite Hextall's statements to the contrary, I hope he's got a deal in place for them to take Pettersson or Zucker. But watch Seattle work out a deal with Ceci and he ends up the pick. Pens would be left with a lot of work to do to move contracts out.
It's funny that everyone is saying stay away from Price because of his contract right now their cap space is 100% so if won't matter and 2nd he did just take a crap team to the Stanley Cup finals also has a long injury history so at the end of the day he could always end up on LTIR
The Rangers exposed Colin Blackwell AND Julien Gauthier AND traded Howden to protect Kevin Rooney? Kevin Rooney…WHAT?
If I'm Seattle I'm feeling pretty good. Plenty of skilled but pricey veterans available and a lot of former First Round Picks still in their early 20's worth taking a flyer on (Del Colle, Bellows, Bean, Fleury). Plenty of depth guys too (Dunn, Hagg, Kylington, Henrique).
Price only hits LTIR if he has a career ending injury. If he just has a normal age-related decline/increase in non career ending injuries his contract is an albatross. He's obviously in his decline phase now so unless Seattle wants him for "Face of the Franchise" purposes they should pass.
Pro Hockey Rumors is not affiliated with National Hockey League, NHL or NHL.com
Raw Charge 17 July, 2021 - 07:44am
Gabriel Landeskog is reportedly interested in signing with the Lightning.
Given the latest rumours and speculations, the most possible option is that the Tampa Bay Lightning will protect four forwards, four defencemen and one goalie. Besides obvious locks like Nikita Kucherov, Steven Stamkos, Brayden Point, Anthony Cirelli, Victor Hedman, Mikhail Sergachev, Erik Cernak and Andrei Vasilevskiy, the Lightning will probably protect Ryan McDonagh. The Lightning's executives and coaches pushed pretty hard on the narrative of McDonagh's importance for the team during both Stanley Cup runs, which makes it obvious to assume that the team will try to keep their defensive core in an attempt to win another Cup next year. Protecting McDonagh also automatically leaves Alex Killorn, Yanni Gourde and Ondrej Palat out of the list – not a bad variety of choice for Seattle. Earlier this weeks Geo compiled all the potential Lightning options at the Expansion Draft [Raw Charge]
The biggest risk in this protection list is leaving Ryan McDonagh exposed. Ultimately, by choosing this protection list, you're doing so with the belief that Ryan McDonagh's contract, as well as his analytical outlook through the rest of the contract, would dissuade Seattle from taking him. It's also being ok with the risk that you lose him for nothing. There's certainly concerns about how he'll hold up through the end of his contract with him turning 33 years old today and being under contract for five more seasons.
Meanwhile the Colorado Avalanche's Gabriel Landeskog is interested to sign with the Lightning, however his asking price in the range of $9-$10M which makes it almost impossible. Reportedly the St. Louis Blues are the main favourite to land Landeskog.
Teams Gabriel Ledeskog will have interest in signing with in the event he can't come to terms with his current club, the #GoAvsGo. Fla, TB, Vegas, Toronto, NYI, St. Louis.
The other teams did not waste their time either. Yesterday the Detroit Red Wings traded their forward Richard Panik and the 52nd selection in the 2021 NHL Entry Draft to the New York Islanders in exchange for defenceman Nick Leddy. The Red Wings will also retain half the Panik's $2,75 salary.
UPDATE: The Detroit #RedWings acquired D Nick Leddy from the New York Islanders in exchange for F Richard Panik and the 52nd selection (originally EDM) in the 2021 NHL Entry Draft. pic.twitter.com/SNWmaoV14q
The Islanders still need to find another defenceman to expose in the Expansion Draft. Andy Greene or former Lightning player Braydon Coburn are the possibilities
The Islanders aren't done, in some fashion. Assuming they protect Pelech, Pulock & Mayfield, they do not currently have another D that meets the criteria to be exposed in the Expansion Draft. They can either re-sign Coburn or Greene, or acquire another D before tmrw's freeze.
The Carolina Hurricanes re-signed forward Morgan Geekie to a one-year contract. He meets the expansion draft exposure requirements.
Geek(ie) Squad ️https://t.co/y7lPGQf4FT
The New York Rangers agreed on a one-year contract with forward Julien Gauthier
OFFICIAL: #NYR have agreed to terms with restricted free agent forward Julien Gauthier on a one-year contract. pic.twitter.com/GBiKODkEEe
The Pittsburgh Penguins are potentially leaving Jared McCann out of their protection list.
According to Alex Edler's agent Mark Stowe, his client will be exploring free agency this offseason.
Just spoke with Alex Edler's agent Mark Stowe, who re-iterated this is simply about the veteran defenceman wanting to test free agency for the first time in his career and not some blow up with the Canucks over money or role.https://t.co/Q3UdadsuzF
A Winning Habit 17 July, 2021 - 03:00am
May 20, 2021; Toronto, Ontario, CAN; Montreal Canadiens Jake Allen. Mandatory Credit: John E. Sokolowski-USA TODAY Sports
The Montreal Canadiens finally found a backup goaltender for Carey Price this season.
It took years of suffering, but when general manager Marc Bergevin traded a third round pick for Jake Allen last offseason, he finally patched a hole that had turned into a canyon.
That doesn't mean Bergevin should double down to keep Allen.
The Canadiens can only protect one goaltender before the expansion draft which will be held on Wednesday night. Allen is a likely target for the Seattle Kraken, and it would be foolish for Bergevin to try and get creative to keep the Canadiens goaltending tandem in place. It is possible for him to offer a trade to Seattle, to entice the Kraken to stay away from Allen.
However, it sounds like the asking price for such a deal is astronomical.
Darren Dreger on @TSN690 says that if Marc Bergevin wants to make a deal with Seattle not to take Jake Allen in the expansion draft the price would be either a top prospect + a good draft pick (2nd/3rd) or a first round pick + a later pick.
— HabsLinks (@HabsLinks) July 16, 2021
TSN Hockey Insider Darren Dreger was on radio yesterday and mentioned the price tag to convince the Kraken to stay away from a given player is a first round pick and a later pick or a top prospect and a good pick (2nd or 3rd round).
Considering the Canadiens only. had to give up a 3rd round pick to get Allen, it would be ridiculous to give up far more just to keep him. There is no way the Canadiens should get cute about the expansion draft. Just put in your list and let the Kraken take one player. Then go out and fill the void.
The teams that tried to entice the Vegas Golden Knights into taking certain players were the teams that got clobbered by expansion. The Anaheim Ducks were afraid to lose a young NHL defender like Sami Vatanen or Josh Manson so they traded Shea Theodore to Vegas and had them take Clayton Stoner's contract.
I think they would prefer to have Theodore now.
If the Habs lose Allen, who had a 11-12-5 record with a 2.68 GAA and a .907 SV%. He stepped up when Carey Price was injured and helped the team reach the postseason, while allowing Price to start the playoffs rested and ready for a long run.
The Canadiens finally filled that backup goaltender void last offseason but that doesn't mean they can't do it again if Allen moves to Seattle. In fact, there has rarely been a time when so many NHL ready backups were available in free agency.
Mike Smith, Chris Driedger, Jonathan Bernier, Linus Ullmark, Laurent Brossoit and Petr Mrazek will all be unrestricted free agents after posting a better save percentage than Allen last season. James Reimer, Jaroslav Halak and David Rittich will also be available and could fill the role admirably as well.
Yes, it was nice to have Jake Allen in Montreal this season. But the Canadiens need to lose someone in the expansion draft and replacing Allen wouldn't be that difficult with all the options available this offseason.
Want your voice heard? Join the A Winning Habit team!
It really makes no sense to offer anything to Seattle to try and keep certain players, especially a backup goaltender.
Build your custom FanSided Daily email newsletter with news and analysis on Montreal Canadiens and all your favorite sports teams, TV shows, and more.
Your favorite teams, topics, and players all on your favorite mobile devices.
Powered by Minute Media © 2021 All Rights Reserved.