任天堂株式会社(企業広報・IR)
NintendoCoLtd
A news report on July 15, 2021(JST) claimed that the profit margin of the Nintendo Switch (OLED Model) would increase compared to the Nintendo Switch. To ensure correct understanding among our investors and customers, we want to make clear that the claim is incorrect. (1/2)

Matt Swider (tracking PS5 / Xbox / GPU restock)
mattswider
🥳1,000+ people got PS5 / Xbox Series X / Nintendo Switch OLED stock from my alerts this week ⚠️Sony Direct PS5 restock will be later today – if the virtual queue opens to everyone. I'll live stream + send a🚨if it does 💻Go! Steam Deck orders are live: store.steampowered.com/steamdeck pic.twitter.com/YHa9HOsUtM
Arthur Gies (he/him)
aegies
I hope the people excited for switch emulation on the steam deck are also prepared for the Normandy beach invasion level of legal crackdown Nintendo will bring against the emulation scene if it picks up any meaningful traction.
Paul Tassi
PaulTassi
Yes, The Nintendo Switch Should Be A Little Worried About The Steam Deck via @forbes www.forbes.com/sites/paultassi/2021/07/16/yes-the-nintendo-switch-should-be-a-little-worried-about-the-steam-deck/
Company says it has "no plans for launching any other model at this time"
"A news report on July 15, 2021(JST) claimed that the profit margin of the Nintendo Switch (OLED Model) would increase compared to the Nintendo Switch," Nintendo's statement reads. "To ensure correct understanding among our investors and customers, we want to make clear that the claim is incorrect." Nintendo didn't provide any information about the profit margins of either Switch console.
The OLED Switch costs $349.99, $50 more than the standard model. Aside from the 7-inch 720p OLED screen, it also doubles the internal storage to 64GB, adds an ethernet port to the dock, and includes a more flexible kickstand. If the estimates cited by Bloomberg were accurate, it'd mean that Nintendo could be making up to $40 more on each model sold, but the company now says this isn't the case.
Nintendo also said in its statement that it has "no plans for launching any other model at this time." Bloomberg had previously reported that a new version of the Switch would come not only with an OLED screen, but more powerful internals and the ability to output 4K resolution by making use of Nvidia's DLSS technology.
Subscribe to get the best Verge-approved tech deals of the week.
Check your inbox for a welcome email.
Read full article at The Verge
GamingBolt 19 July, 2021 - 04:00am
TechRadar 19 July, 2021 - 04:00am
Engadget 19 July, 2021 - 02:45am
"A news report on July 15, 2021 (JST) claimed that the profit margin of the Nintendo Switch (OLED Model) would increase compared to the Nintendo Switch. To ensure correct understanding among our investors and customers, we want to make clear that the claim is incorrect," the company said in a tweet.
Nintendo doesn't often react to rumors, so it's notable that it has refuted this one. However, the report involves potential profits and Nintendo specifically mentions "investors," so it may have wanted to head this one off for fiduciary reasons. If Bloomberg's report was accurate, Nintendo would be making $40 more per Switch, a pretty notable boost. The OLED Switch replaces the LED display on the original Switch with a 7-inch 720p OLED screen and doubles the storage to 64GB, while adding an ethernet port and improved kickstand.
Multiple reports also pointed to the possibility of Nintendo launching another console, the Switch Pro, with higher-end components and NVIDIA's DLSS technology. However, Nintendo also shot down that rumor. "We also want to clarify that we just announced that Nintendo Switch (OLED Model) will launch in October, 2021, and have no plans for launching any other model at this time," Nintendo added in a follow-up tweet.
Please enter a valid email address
Wccftech 19 July, 2021 - 02:21am
Nintendo has said that it currently has no plans to launch any other new Switch model and has stated that recent reports on the Switch OLED profit margin are not correct.
Following the announcement of the Nintendo Switch OLED earlier this month, various sources said that the Kyoto-based company might still be launching an upgraded Switch model, the Switch Pro, later on. Some analysts said that the Switch OLED might be more of an interim model while Nintendo is waiting for Breath of the Wild 2 to be completed and component shortages to end.
The upcoming Switch OLED will sport an all-new, and larger, OLED display alongside a redesigned docked with built-in LAN port. Other than that, the new model won't feature any major hardware improvements. As covered last week, Bloomberg reported that Nintendo will be improving profit margins on the new model as it will only cost them around $10 more per unit.
"We also want to clarify that we just announced that Nintendo Switch(OLED Model) will launch in October, 2021, and have no plans for launching any other model at this time."
Of course, with Nintendo debunking the Switch Pro rumors, still could still mean that we'll be getting a new model somewhere next year.
The Nintendo Switch OLED launches on October 8 for $349.99.
For latest tech news in your inbox, once a day!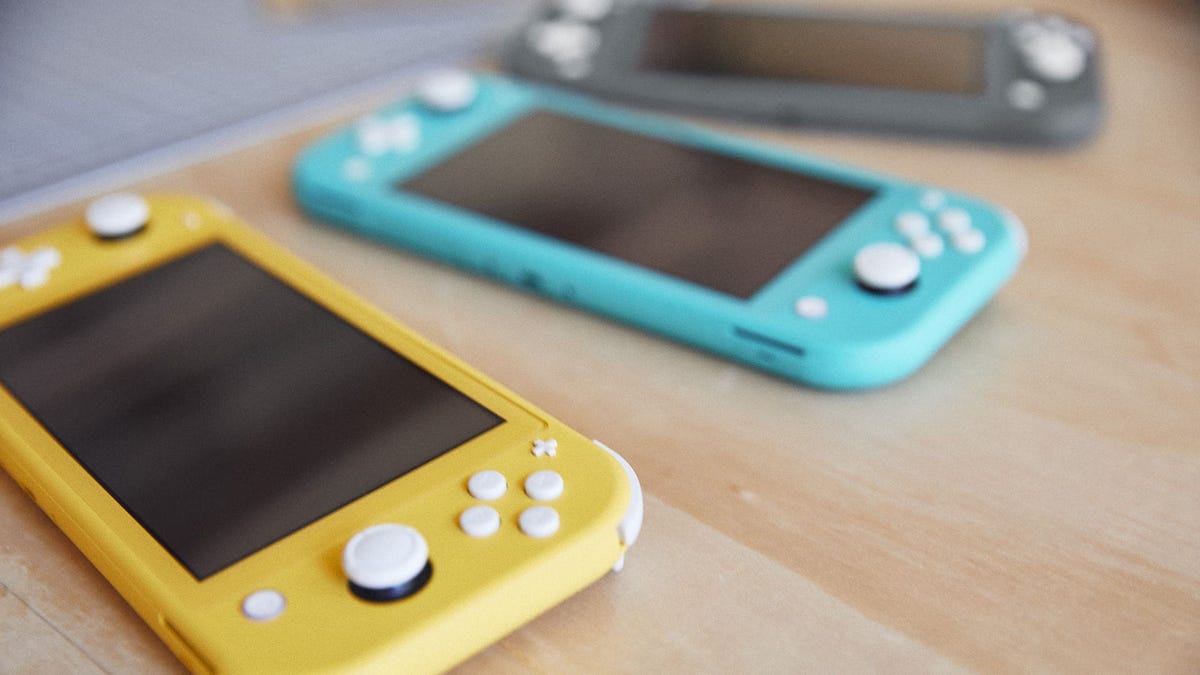 Kotaku 19 July, 2021 - 01:23am
A news report on July 15, 2021(JST) claimed that the profit margin of the Nintendo Switch (OLED Model) would increase compared to the Nintendo Switch. To ensure correct understanding among our investors and customers, we want to make clear that the claim is incorrect.
Like I said, that's pretty unusual! Take, for instance, the original 2019 rumours of new Switch hardware, when Nintendo president Shuntaro Furukawa said:
While we are aware there has been coverage to that effect, we cannot comment in regards to speculation and rumors about new hardware or software. It would spoil the surprise for consumers and is against the interests of our shareholders, so we are withholding any discussion.
Yet here, in the interests of "investors and customers" (as opposed to the "consumers and shareholders" of the 2019 statement), the company wants to "ensure correct understanding" and directly address the reports, even though they're not saying how much the console actually does cost to be able to prove it.
In a follow-up Tweet, Nintendo then moves on to broadly address the persistent rumour of a "Switch Pro" model, saying:
We also want to clarify that we just announced that Nintendo Switch(OLED Model) will launch in October, 2021, and have no plans for launching any other model at this time.
"No plans" are two of the most meaningless words in the video game industry, so often are they employed (then later shown to have been misleading or even straight up false), but they do at least suggest that if a Switch Pro model is coming, it's not coming anytime soon. Which, again, is refuting a different Bloomberg report, albeit less directly.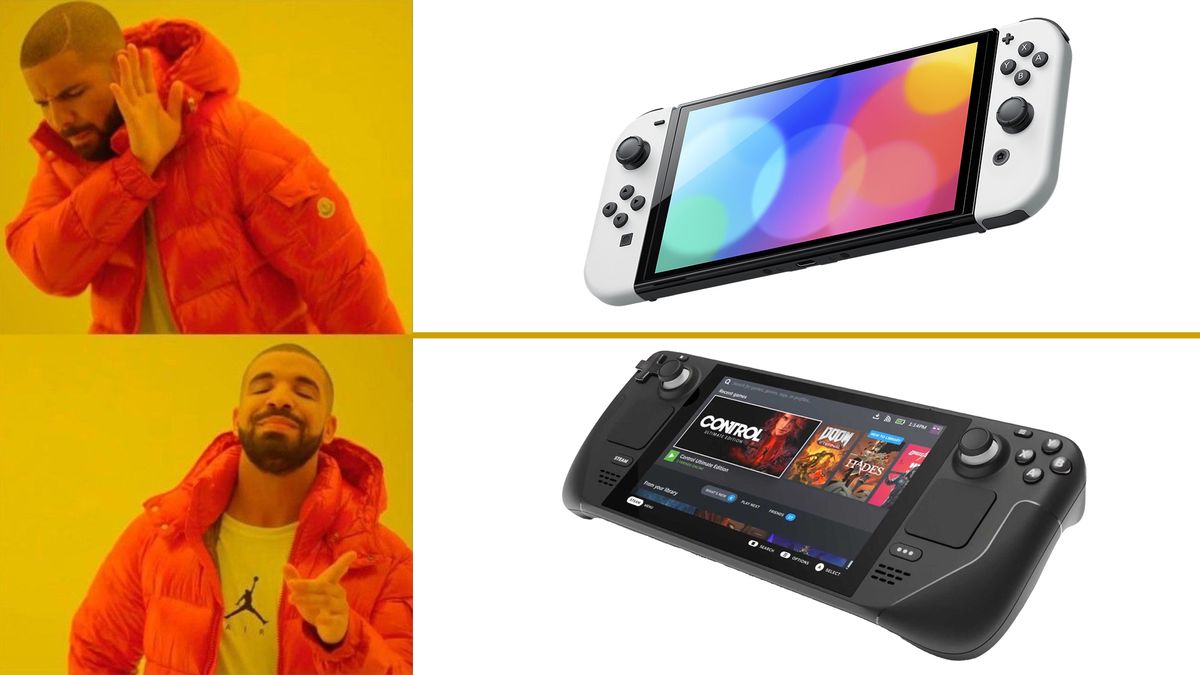 T3 18 July, 2021 - 11:58pm
I've made my thoughts very clear by this point on the Nintendo Switch OLED – I think it is an underwhelming offering that will leave many existing Nintendo Switch owners disappointed.
With the Switch OLED, in my mind, Nintendo has focused almost entirely on new customers rather than offering existing Switch gamers a meaningful upgrade, and it has done so while seemingly ignoring many requests for new features, too.
How we got to this point, though, isn't really a surprise. Nintendo has had the handheld gaming market tied up to a near monopoly extent over the past four years, with zero mainstream rival product to challenge it.
For a long time I thought that the first competition we would see to the Switch family of consoles would be a Sony PSP 5G, but so far that hasn't materialised. Thank the gods of the multiverse, then, that the Steam Deck handheld gaming console is now a reality.
This is literally brilliant news for gamers. Not only do they now have options in the handheld gaming market but Nintendo itself now has to face up to the fact that there's a system on the market that offers gamers a vastly more technically advanced system. And it does so while also taking the BigN to school in terms of gaming library and ecosystem, too.
Competition is always healthy and the lack of it for Nintendo over the past half decade or so has, in my opinion, been a key driver to how the Japanese gaming company has shown so little ambition with the Nintendo Switch OLED. With the Switch and Switch Lite tearing up the market due to zero mainstream competition, why would Nintendo need to do anything more?
Exactly, it wouldn't, as it has the market tied up. That's why the Nintendo Switch OLED is powered by a half-a-decade-old technology, and offers nothing more than a slightly bigger OLED screen and kickstand to justify gamers dropping another $350.
But now with the Steam Deck incoming, it could be the jolt Nintendo needs to finally deliver a Nintendo Switch Pro, or at the very least drop the price of the Switch OLED.
Roll on December this year, then, which is when the Steam Deck is due to release. As I for one, like I'm sure many other gamers are, am looking forward to unwrapping a Steam Deck this winter holiday season, and not a Nintendo Switch OLED.
Deputy Editor for T3.com, Rob has been writing about computing, gaming, mobile, home entertainment technology and more for over 15 years. You can find Rob's work in magazines, bookazines and online, as well as on podcasts and videos, too. Outside of his work Rob is passionate about motorbikes, skiing/snowboarding and team sports, with football and cricket two favourites. Feel free to contact him with any related products, events, and announcements.
In the SecretLab Titan Evo, the best gaming chair just got better
ComicBook.com 18 July, 2021 - 06:45pm
Later this year, the Nintendo Switch OLED will go on sale, and apparently Sony will be "closely monitoring" the system's sales with great interest. In a report from The Japan Times, Ace Research Institute analyst Hideki Yasuda says that Sony is very interested in Nintendo's pricing strategy for the new model. The Nintendo Switch OLED will launch for $50 more than the current version of the system, despite offering few improvements over the model that's been out for four years. Yasuda claims that this "could set a precedent for charging more across the industry," if the Switch OLED performs well for Nintendo.
It's not unprecedented for Nintendo to release new models for its platforms after a few years. While the company's consoles tend to remain the same, its handhelds have frequently seen upgrades, including the "New Nintendo 3DS." As Nintendo Life mentions however, it is unusual to see a price increase for a console after several years on the market, as opposed to a price drop. Meanwhile, Sony has also been known to offer new models for its hardware, but typically at a lower price point. If the reporting is accurate, Sony could make a similar move for a more expensive PlayStation 5, at some point.
It will be interesting to see how the Switch OLED performs, regardless of Sony's interest in the platform! While the Switch OLED isn't quite the "Switch Pro" that many were expecting to see, the prospect of a better, brighter screen certainly seems promising for those that predominantly use the system in handheld mode. Whether or not that will result in strong sales is hard to say, but the Switch has been nothing short of a massive success for Nintendo. Even if most players don't want to upgrade their consoles, it stands to reason that the majority of newcomers will spend an extra $50 to get a superior version of the hardware.
Of course, even if the Switch OLED is successful, it's hard to say whether or not this would be indicative of a new trend for the industry; just because it works for Nintendo, it doesn't mean it will work for other console manufacturers. For now, we'll just have to wait and see what happens!
Do you plan on buying a Nintendo Switch OLED? Do you think the upgrade is worth the extra cost? Let us know in the comments or share directly on Twitter at @Marcdachamp to talk all things gaming!
[H/T: Nintendo Life]
Copyright 2020 ComicBook.com. All rights reserved.
Yahoo Entertainment 18 July, 2021 - 09:45am
Despite the early excitement, Steam Deck might already have a huge software problem that Valve needs to fix: Running the popular games customers want.
The reason why Nintendo gets away with releasing a new Switch version that has no meaningful hardware upgrade is the games. Nintendo sits on a massive collection of original titles that gamers want. These games aren't available anywhere else. Customers might not like the lack of hardware upgrades on the Switch OLED. But they'll tolerate it as long as they can get Mario and Link.
Valve's new console appears to be a more formidable machine than the Switch. It's basically a portable PC that should run all of the best games in the Steam store. But that's just one small piece of the puzzle.
Valve's Steam has millions of customers already. That explains the huge interest in the Steam Deck. Unlike Nintendo, you can play all those Steam games on a PC. As long as the hardware supports it, the games will work.
The Steam Deck isn't even out, and it already has a huge software problem that Valve needs to fix. Per Kotaku, Steam Deck might not run some of Steam's most popular games. The list includes Destiny 2, Apex Legends, Rainbow Six Siege, and PUBG. That's a huge problem for a gaming console that starts at $399 and goes up to $649, depending on storage options.
Valve's new Steam Deck has better hardware than the Switch OLED. As a result, the more expensive price tag makes sense. But the software might be an issue.
The Steam Deck runs a custom Valve operating system (SteamOS) based on Linux. On top of it, Valve is running a feature called Proton that ensures games can run on Linux.
However, running the games mentioned above is a problem on the current Steam Deck prototype. Apparently, the games crash or fail not long after starting up. Kotaku says the Steam Deck software problem might already have an explanation. It's the anti-cheat systems that come with the games which don't play nice on the prototypes. This leads to players being "insta-booted" from multiplayer servers. That's the kind of issue that Valve will have to address before the Steam Deck hits stores.
An unofficial fix already exists. You can run the full version of Windows 10 on the Steam Deck. Valve won't force SteamOS on anyone, and that's a great feature to have. But you'll need to fork over extra cash for Windows if SteamOS won't let you run your favorite games.
Consoles aren't dead, but cloud-enabled game streaming is coming to life at a staggering rate. Microsoft's Xbox stands ready to benefit.
South Korea is set to be the first Asian economy to raise interest rates from pandemic-era lows as its hawkish, outgoing central bank governor steps up efforts to stamp out any incipient property bubbles or household debt stress. Bank of Korea Lee Ju-yeol surprised financial markets last week, when policy rates were kept at record lows but he signalled they could rise as early as August, at the next policy review. "It's one of those rare times where taming home prices has become more important, both politically and on economic fronts," said Yoon Yeo-sam, an analyst at Meritz Securities.
A new Witcher game comes out this week. Calm down, calm down, it's that game that looks a lot like Pokemon GO and is coming out only on phones. (The headline should have tipped you off already.)
Last week, a pair of analysts cired in a report from Bloomberg claimed that Nintendo's new OLED model of the Switch contained "upgrades [that] are estimated to cost around $10 more per unit", despite the console costing $50 more at the register than its predecessor. Today, Nintendo took the unusual step of publicly refuting those claims.
The measure is voluntary and comes after Los Angeles County said its residents will be required to wear masks indoors, regardless of vaccination status, beginning late Saturday.
The Detroit Lions score defensive end Chase Young in 2020 draft do-over
Money can be a touchy subject, so how you approach it with others may take some extra thought and consideration. And although everyone has different levels of comfort when it comes to how they...
It's not a new discovery that Social Security income will fall short of scheduled benefit. But there's no need to overreact.
Folks who have been waiting nearly a decade for the follow-up to The World Ends With You got a nice, little surprise in their inbox this morning: A full digital copy of the NEO: The World Ends With You.
Call of Duty Warzone devs Raven Software confirmed yesterday afternoon that more than 50,000 players were banned in the last week across two waves of bans hitting the popular online shooter.
A Nerds and Dungeons & Dragons collaboration is finally here, and they're ready to take you on a few "sweet" adventures. The post A Sweet Adventure From Nerds x DUNGEONS & DRAGONS Arrives appeared first on Nerdist.
The "NASCAR Heat" series has been consistently solid over the past few years of releases. It seems, though, that the Heat series has run its course as George Holmquist, representative for NASCAR games developer Motorsport Games has confirmed to IGN that the next NASCAR game won't be a Heat game at all, instead debuting with the title "NASCAR 21."
Netflix reportedly wants to have games on its service as soon as next year, but you shouldn't expect anything like "Super Mario" or "Call of Duty."
Digital Extremes revealed the first real look at Warframe's next major expansion, The New War during TennoCon 2021. This new free expansion will force Tenno (aka space ninjas) across the Origin System to unite to defeat an evil force known as the Sentients. And for the first time, this update will launch simultaneously across all systems.
Today, Digital Extremes announced during TennoCon 2021 that its popular online shooter Warframe will get full cross-play and cross-save support later this year, letting space ninjas take their characters across PC, Switch, PS4, PS5, Xbox Series X/S, and Xbox One seamlessly.
British company Sumo Group, whose various studios have worked on everything from Hitman to Forza to Disney Infinity, has been bought by Chinese giant Tencent for a whopping $1.3 billion, Reuters report.
EA announced today that the next Skate game, which is currently in development, won't be shown during EA Play 2021 on July 22. It's another game to add to the growing list of "Stuff That Won't Be At EA Play 2021."
The Verge 18 July, 2021 - 09:00am
It's not a Switch-killer, but it doesn't need to be
It's called the Steam Deck, and you can read all about its specs, extensive controls and TV docking station right here.
I'm not deluding myself into thinking it's a Switch-killer. (Even if the Steam Deck's $399 starting price might seem close to Nintendo's $350 Switch with OLED screen, you're not getting Mario, Zelda and Metroid on a Steam Deck.) But having watched Valve closely over the past nine years, I don't believe it will flop like the Steam Machines either.
Here are six reasons why this isn't Steam Machines all over again — and, a few brand-new reasons to be skeptical.
There are plenty of reasons why Valve's Steam Machines failed, but one towers over the rest: Valve was never in control of its own hardware destiny.
In 2015, after years of reporting on their promises and possibilities, The Verge warned our readers not to preorder a Steam Machine. The reason had little to do with how long they'd been delayed, and everything to do with how Linux simply didn't have enough games. We put together a chart of the top 50 games on Steam that made that clear — no Grand Theft Auto V, Fallout or Skyrim, DayZ or any games that weren't on Steam. Meanwhile, the PS4, Xbox One, and even Windows controller support were looking better and better all the time.
Today, it's still the case that fewer than 15 percent of all Steam titles officially support SteamOS, but thanks to seeds that Valve planted with Linux nearly a decade ago, the company no longer has to convince developers to port their games from scratch. Many of the officially recognized 8,000 SteamOS titles work thanks to a Proton compatibility layer that lets Windows games run on Linux. Huge competitive shooters like Apex Legends, Destiny 2, PUBG and Fortnite might soon be possible since Valve is working to get their anti-cheat software working ahead of launch. If that happens, most of the top games on Steam should be playable on SteamOS, too.
With Steam Machines, it sometimes felt like Valve was trying to reinvent the wheel. That's not the case here. Even though most everyone has a smartphone in their pocket these days, video game handhelds are resurgent, thanks to the Nintendo Switch and an array of inspiring concepts that followed in its wake.
The Steam Deck isn't even the first gaming PC to get Switch-ified: we wrote about how we're getting closer to a Nintendo Switch-sized gaming PC earlier this year, and for the past few months I've been playing with one of them, the crowdfunded Aya Neo. It's similar to the Steam Deck in that it's also AMD-powered with joysticks and buttons on both sides of a 7-inch, 1280 x 800 touchscreen. While it's not powerful enough to competently run demanding games and the software's a little janky, I played through the majority of Persona 4 Golden and some Star Wars: Squadrons and Outer Wilds on the go, and chatted with buddies on Discord while exploring the deadly plains of Valheim — where the handheld's AMD Vega 6 graphics did tend to bog down.
As YouTube gaming handheld expert Taki Udon will tell you, the build quality and ergonomics on these crowdfunded handhelds isn't always that great, and that's an opportunity for Valve to flex. Plus, existing handhelds typically cost $700 to $1000. Valve's asking hundreds of dollars less for the Steam Deck, and with a newer GPU that might bring more games within reach.
In 2020, thirteen years after the most infamous cliffhanger in video game history, Half-Life made its triumphant return with Half-Life: Alyx, a full-length VR-exclusive that quickly shot to the top of "best VR game" lists and reportedly gave the Valve Index headset a huge boost in sales. Ever since, Valve employees have repeatedly hinted that Alyx made them excited about building single-player games again.
With the Steam Deck, Valve may now have an opportunity to use one of those games to jumpstart a platform yet again. If you'll recall, that's how the Steam platform made it off the ground in 2004 to begin with — it was the only place to play Half-Life 2 and Valve's subsequent games. But with Steam Machines, the company opted not to do it, telling me in 2013 that "It's against our philosophy to put a game in jail and say it only works on Steam Machines."
That left Valve at the mercy of other developers for games, during an era when it didn't make many new games of its own. It did bring the then-two-year-old Counter-Strike: Global Offensive, three-year-old Portal 2 and four-year-old Left 4 Dead 2 to Linux in time for the platform's debut, but there was no good gaming reason to pick a SteamOS box over Windows once the Steam Machines came out.
The Steam Deck is one and a HALF times wider than the Switch, has a battery LIFE of 2-8 hours, and sells for THREE hundred and ninety nine dollars.
But Valve's philosophy may have evolved. With virtual reality, Valve realized it needed to kickstart the platform, building an incredible showcase with The Lab and then adding system seller Half-Life: Alyx last year, a game it justified keeping VR-exclusive because it was designed explicitly for VR immersion and controls.
I wouldn't exactly bet on it, but I wouldn't bet against the idea that Valve could make a similar argument for games that use the Deck's precision touchpad, touchscreen, touch-sensitive thumbsticks, gyro and rear buttons to emulate the sensation of hands moving around and grabbing things. Valve could build a Half-Life exclusive to portables like this, if not exclusive to the Steam Deck itself. Most PCs certainly don't have quite this array of input, and it might be a shame if the Deck's extensive controls were limited to the kind of homegrown controller schemes that Steam Controller fans pump out.
Valve's Steam Deck might be right on time. Due to the global pandemic, the world's gamers are acutely aware of who they are. There's never been a better time to play video games, and demand has never been higher, with US consumers spending more in 2020 than ever before. And while the PS5, Xbox Series X and an array of new PC gaming graphics cards are here, the global chip shortage means you still can't easily buy them even now, as some of the world is coming out of that pandemic and thinking about leaving the house.
But even if the Steam Deck doesn't attract gamers away from next-gen consoles or graphics cards, that doesn't mean it'll flop. So far, every piece of hardware Valve's built is a gadget its own engineers wanted to see in the world, not a piece of mass-market kit. But if the Steam Deck winds up being a niche product that barely sells, it might still be a success for the company and fans. Some have grown to appreciate what Valve was trying to do with the Steam Controller, for instance, which has a loyal community pumping out custom control schemes for new games last I checked.
The other important thing above Valve building its own hardware is that it can only hurt itself if it fails, and Valve can likely take the pain. According to a recent lawsuit, Valve rakes in an estimated $6 billion in annual revenue from Steam commissions alone, incredible for a company its size, working out to something like $15 million per year per Valve employee.
Besides, Valve seems to be taking a more cautious approach, with buyers putting down $5 deposits to reserve a device, limit 1 per customer, and Valve fulfilling those orders when they're ready instead of letting a product "sell out." (It's incredible that Valve's the first to try the common-sense approach to preorders we've been begging the game industry to adopt for many months with consoles and GPUs.) It might also allow Valve to fulfill orders in small batches instead of investing in a mountain of devices it might have to put on fire sale down the road.
I highly doubt the Steam Deck will be a public flop, but I can imagine a few reasons the PC gaming community won't wind up embracing it anyhow. For instance, it's largely priced like a next-gen console with only a fraction of the performance, even if it winds up being more powerful than other handheld PCs on the market.
The $399 base model only comes with 64GB of eMMC flash, too, in an era when a single game can sometimes require more space than that, and when PS5 and Xbox Series X games are beginning to take advantage of the faster load times that speedy NVMe solid state storage can afford. While you can add a microSD card to any model to expand your storage, the speed of your storage might hold the system back some.
Lastly, I've got to agree with some of my colleagues with more taste: this is not a particularly good looking machine. It reminds me of the bulbous Wikipad far more than it does a Nintendo Switch, with those thumbsticks mounted high like antennae sticking out of its head.
But I tried the Wikipad, and there's a reason it was shaped like that: it was designed to be comfortable to hold, not necessarily pleasing for the eyes. I wonder if that's the idea behind the Deck, too.
In case you're wondering, I ordered one. We'll see how it goes.
Subscribe to get the best Verge-approved tech deals of the week.
Check your inbox for a welcome email.