Jon Heyman
JonHeyman
Congrats to Orioles ace John Means on his no-hitter over the Mariners. Close to perfection — only blemish was a strikeout with the batter reaching first on a wild pitch. Fantastic!
Britt Ghiroli
Britt_Ghiroli
John Means is the Orioles' No. 1 pitcher, without question. But he is an ace? theathletic.com/2570218/2021/05/05/ghiroli-do-the-baltimore-orioles-have-a-potential-ace-in-john-means/?source=emp_shared_article

Jeff Zrebiec
jeffzrebiec
Awesome scene in Seattle with Orioles left-hander John Means no-hitting the Mariners. Read this piece from @danconnolly2016 and you can't help but root for Means. theathletic.com/2488704/2021/04/01/orioles-john-means-losing-father-gaining-son/
Craig Norris
craignorriscbc
Sens beat Habs, Jets shut out Flames, Canada Russia in U 18 gold medal game, Canada wins 4th straight at WW curling, Jays win, Orioles pitcher John Means throws no hitter, all England final in Champions league, Chelsea vs Man City. @johnhancockcbc has sports at 735 @CBCKW891.
A little over two years ago, John Means felt his career had stalled to the point where his priority wasn't refining his pitching craft or trying new workout routines. Instead, he was fine-tuning his LinkedIn bio.
Aside from "professional baseball player," Means's previous work experience included a four-month stint as a substitute teacher at De Soto Public School District 73. Two years later, it's safe to say Means won't need to worry about keeping that profile up to date any time soon.
Means dazzled by throwing a no-hitter on Wednesday against the Mariners, striking out a dozen batters while facing the minimum 27 batters. It was an outing that few likely saw coming when the left-hander was toiling in the minor league and wondering how much longer he had a future in baseball.
Means was an 11th-round pick in 2014 out of West Virginia, and was never viewed as a premier prospect. He spent three straight years at the Double-A level and was 35-41 with a 3.83 ERA during his minor league career. He didn't possess standout velocity, didn't strike many people out and didn't flash the ace potential that he's been putting on display through his first seven starts.
Now, he's thrown a no-hitter, the latest dominant performance in what's shaping up to be a career year for the 28-year-old. It was also the latest in what's been a record pace of no-hitters for a league where making contact has become harder and harder to do.
Means's no-no is the third official no-hitter of the season, following Joe Musgrove's on April 9 and Carlos Rodón's on April 14. It's the fourth if you consider Madison Bumgarner's seven-inning no-hitter against the Braves on April 25, which the league does not officially recognize since the game did not last nine innings.
Through Wednesday night's action, we're now 18.6% of the way through the season based on total games played. With the acknowledgement that no-hitters don't exactly occur at regular intervals, we are on pace for 16 no-hitters this season—and that's without counting Bumgarner's unofficial no-no.
The record for most official no-hitters in a single season is eight (1884), and the modern record is seven, which has happened three different times (1990, 1991, 2012). There's certainly luck and randomness baked into these things, but given the way the game is played at present, the conditions have never been more conducive for no-hitters.
The league's batting average of .234 is an all-time low. If the current strikeout rate (24.3%) holds, it would set a new record for the 14th consecutive season. The current batting average on balls in play (.284) is the lowest in over 30 years. Compound all of that with the rise of defensive shifts that's handcuffing an entire type of hitter—powerful, lumbering left-handed batters—and the biggest pratfall for pitchers to overcome is to avoid giving up the long ball.
Limiting home runs was one of Means's strengths coming up in the minor leagues. He averaged 0.75 HR/9 in the minors, though struggled more on that front in the majors before this season. He's managed to effectively suppress home runs so far this year, giving up just 0.98 HR/9 through his first seven starts (the league average is 1.2 HR/9). Among the adjustments he's made in 2021 is a greater reliance on his changeup, which hitters are batting a meager .125 against.
In his post-game interview after the 27th out, Means credited his late father—who passed away less than a year ago—for helping guide him through to the finish line. "I know my dad was back there today, telling me what pitch to throw," he said to MASN.
Means's story is already an inspirational success. Whatever comes next might not top Wednesday's masterpiece, but one thing is for sure: he can now add another line to that LinkedIn profile, this time under career accomplishments.
• The struggles continue for the defending champion Dodgers, who were swept by the Cubs in an 11-inning defeat—their second straight walk-off loss. The Dodgers have lost four consecutive series and 13 of their last 17 games.
• Giancarlo Stanton's blistering run continued against the Astros on Wednesday. The slugger went 3-for-4 with a walk, four RBIs and a home run that left the bat at 107.4 miles per hour. Stanton has hit safely in 11 straight games, raising his slash line to .314/.363/.590 for the year.
• The White Sox fell to the Reds, 1-0, in part thanks to a failure on Chicago's coaching staff to understand the rules for placing a runner on second base in extra innings. It's safe to say Tony La Russa's White Sox tenure hasn't gotten off to the smoothest start.
Read full article at Sports Illustrated
MLB 06 May, 2021 - 09:00am
masn Orioles 06 May, 2021 - 09:00am
CBS Sports HQ 06 May, 2021 - 09:00am
The Athletic 06 May, 2021 - 02:14am
Connolly: 'Overlooked' John Means makes Orioles history with one of club's best outings ever
The New York Times 05 May, 2021 - 10:04pm
"Now, every time he takes the ball, he is well aware — because he's done it — that he could pitch a no-hitter," said Jim Palmer, the last Orioles pitcher to throw one on his own.
Throwing a no-hitter, you could say, is like lassoing the moon. You can see the distant glow, beckoning and teasing all at once. Can you really get there? Probably not. But you can dream.
On Aug. 13, 1969, Jim Palmer made the giant leap for the Baltimore Orioles with nine no-hit innings against the Athletics. It was the same day that Neil Armstrong, Buzz Aldrin and Michael Collins glided up Broadway and down Michigan Avenue for ticker-tape parades in New York and Chicago, followed by a state dinner with President Richard M. Nixon in Los Angeles.
Palmer, now 75, has never been to the moon, of course. But the no-hitter broadened his universe in a way no other Oriole had experienced until Wednesday, when John Means became the first Baltimore pitcher since Palmer to toss a complete-game no-hitter. Means subdued the Mariners, 6-0, with 12 strikeouts and no walks in Seattle.
Four Orioles combined for a no-hitter in 1991, but going the distance set Means's feat apart. It was his 44th career start and the first to stretch past the seventh inning. His work days will never be the same.
"Pitching a no-hitter — and pitching a no-hitter with a complete game now, because they're so rare — is kind of like a hole in one," Palmer said by phone on Wednesday night. "It's funny, when you're a good golfer, you look at a par-3, you want to get on the green, you want to make a birdie. And then you make a hole in one, and for the rest of your life, every time you tee a ball up on a par-3, you don't think about birdies — you think about the possibility of 'You know what? I could have a hole in one.'
"So for the modern-day pitcher, if you're John Means, you've never pitched a complete game. You've never pitched a no-hitter or a one-hitter or a two-hitter or a three-hitter, because you've never pitched nine innings. So now, every time he takes the ball, he is well aware — because he's done it — that he could pitch a no-hitter, he could pitch a complete game. There's a litany of things now, all of a sudden, that come into play."
"I sat with him at his locker in 2019 and he said, 'You know, I wasn't one of the real highly touted prospects, so I could kind of always fly under the radar,'" Palmer said. "Until he made the club — and it all started that first weekend. He pitched three or four innings in relief up in Yankee Stadium, against their A lineup, and they didn't have a chance. I think he threw a hanging changeup and Gary Sanchez hit a solo home run. That was it."
Means, 28, has not hung many changeups since. He made the All-Star Game that summer and was the runner-up for the American League Rookie of the Year Award, going 12-11 with a 3.60 earned run average. This season he is 4-0 with a 1.37 E.R.A.
Last season, though, was wrenching: Means lost his father, Alan, to pancreatic cancer in August. On Wednesday, as he prepared to secure the no-hitter, Means thought of his dad.
"I looked in my glove right before I went out there for the ninth, it had his initials on it, and I said to myself, 'He wouldn't care, he's just glad that I'm having a good time,'" Means said. "The accolades and everything like that never mattered to him."
Even so, Means said, it took him a moment to compose himself against Dylan Moore, the leadoff hitter in the ninth.
"I got a little bit of the Jell-O legs, started to feel a little wobbly," he said. "But once I threw that first pitch, I was able to lock in again."
Moore popped out to the third baseman in foul territory. Then Sam Haggerty struck out on a changeup, the weapon Means learned from the pitching coach Chris Holt at spring training in 2019, the separator that vaulted him to the majors for good.
Means threw one more pitch, his 113th, and J.P. Crawford punched it softly on a line to shortstop Ramon Urias, ending the game. Means had faced the minimum 27 hitters and thrown 26 first-pitch strikes. The only batter who reached base was Haggerty in the third inning, on a third-strike breaking ball that skipped past catcher Pedro Severino. Haggerty made it to first without a throw, but was then caught stealing.
It was the third nine-inning no-hitter of the 2021 season — after ones by the San Diego Padres' Joe Musgrove and the Chicago White Sox' Carlos Rodon in April — but Means's performance was unique in modern baseball history: Never before had a pitcher faced only 27 batters in a nine-inning no-hitter, with the only runner reaching base on a strikeout/wild pitch.
Only twice before had a pitcher failed to throw a perfect game despite facing the minimum 27 batters, while allowing no hits or walks. It happened in 1960 to the Milwaukee Braves' Lew Burdette, who hit a batter, and in 1990 to the Philadelphia Phillies' Terry Mulholland, who allowed a batter to reach base on an error. Both runners were erased on double plays.
Severino said he felt "very bad" about letting the ball get by him, though he recovered by pegging Haggerty at second, much like the Phillies' third baseman in 1990, Charlie Hayes, who made up for his error by lunging to spear a liner and seal Mulholland's no-hitter.
In any case, Means was hardly disappointed to miss a perfect game, which no pitcher has achieved since Felix Hernandez of the Mariners in August 2012. Means said he had always wanted to throw a no-hitter but never thought he could even reach the majors. As a boy, he said, he would write "M.L.B. player" when asked in school for his life goals, but he thought it sounded unrealistic.
"I was never that kid who had a ton of confidence in myself," Means said.
Then he learned the changeup and began to establish himself. On Wednesday he explored the outer limits of his talent, launching himself to a land no Orioles pitcher had visited since the greatest of them all, more than half a century ago.
"It's been such a whirlwind of an experience, and I don't think I've been able to process it yet," Means said. "But to be in the same breath as Palmer, I don't think it gets much better than that."
ESPN 05 May, 2021 - 08:45pm
I swear I'm not making this up, but earlier Wednesday, I happened to see a quote attributed to Hall of Famer Greg Maddux that he may or may not have said but certainly sounds like something he would say: "No need to steal the sign. I'll tell you what I throw. It's an 89 mph sinker, and you won't even swing at it."
Watching John Means befuddle the Seattle Mariners with a bunch of sinkers in his no-hitter reminded me of an old-school Maddux or Tom Glavine performance. The Baltimore Orioles left-hander worked side to side, sinkers on the inside part of the plate, changeups away, with an occasional curveball mixed in for a different look.
In and out, in and out, exactly the way Maddux and Glavine pitched. It's a different style of pitching than you typically see today, as the favored craft is a more vertical approach, with high-velocity fastballs up in the zone and breaking balls to change the batter's eye level.
It's pure power pitching, and given the strikeout rates, it's working. Means' game, like those of Maddux and Glavine, feels more like the thinking man's guide to pitching, beguiling batters with location, movement and changing speeds. It's perhaps a more artistic form of pitching, and Means' outing on Wednesday was a thing of beauty.
Continue reading this article and more from top writers, for only $5.99/mo.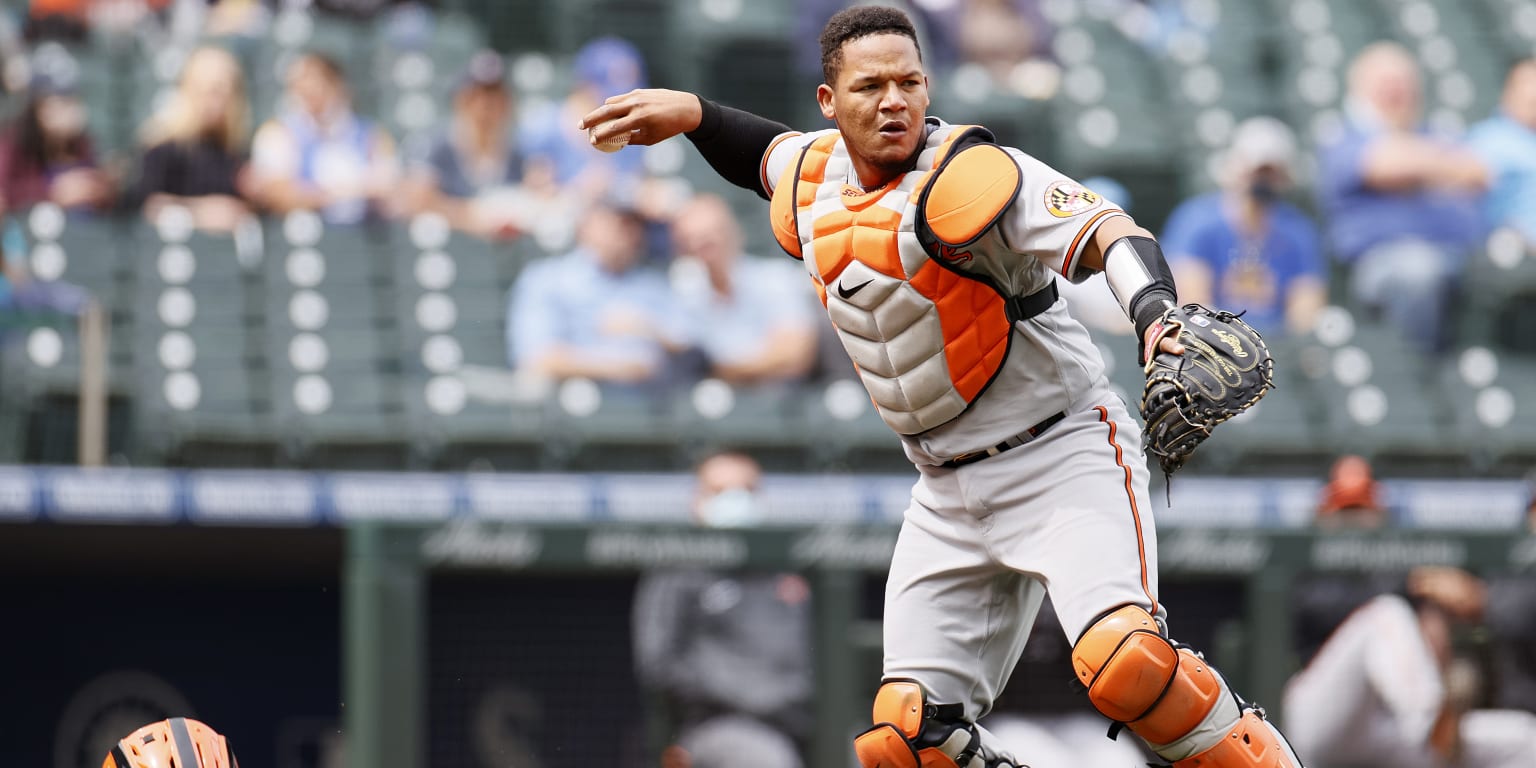 MLB.com 05 May, 2021 - 08:03pm
Here's a relevant reminder of how we got to the dropped third strike rule — baseball's strangest rule — in the first place: https://t.co/o0fEKN5vwr
Striking out 12 without a walk to complete the Orioles' first solo no-hitter in more than a half century, the only thing separating Means from the first perfect game in the O's storied history was a third-inning dropped third strike. The curveball whiffed Sam Haggerty but eluded catcher Pedro Severino, who promptly threw Haggerty out attempting to steal second a few pitches later. It was an innocuous series of events at the time.
A few short hours later, Means was staring down the barrel of history. His no-hitter will live in history with a completely unique caveat: it is the first non-perfect no-hitter in which the opposing team did not record a walk, a hit by pitch or an error. Effectively, it was the first no-hitter in Major League history in which the only baserunner reached on a dropped third strike.
"It's fine -- it happens to everybody," Means said. "It's not a big deal. I'm just happy that I got through. Honestly, I'm happy I went complete game. I was stuck in the seventh inning, that was the farthest I've gone so far [in my career]. So to be able to go eighth and ninth -- I was happy with that. But you know, to get a good no-hitter -- I could care less that it wasn't a perfect game."
Severino popped up on the 1-2 curveball in the dirt to Haggerty, allowing it to skip to the backstop. Blocking and receiving in general has been an area of focus for Severino since becoming the Orioles' everyday catcher in 2019; he tied for the Major League lead with five passed balls in 2020, and he ranks at the bottom of Statcast's Runs from Extra Strikes metric this season. He had been 0-for-7 throwing out attempted basestealers before nailing Haggerty.
"It's supposed to be my job to block that ball right there, so when he stole second, I did my best throw to second to try to help Means," Severino said. "He would've thrown a perfect game today if I didn't let that breaking ball between my legs. I feel a little bit bad. But we still threw the no-hitter and we still celebrated."
Otherwise, though, Means and Severino spent Wednesday completely in sync. Means fired first-pitch strikes to his first 17 batters -- 26 of 27 overall -- needing 113 pitches to breeze thrice through the Mariners' lineup. He registered 14 swinging strikes on his changeup; 51.4 percent of his changeups resulted in either called or swinging strikes. Meanwhile, Severino kept putting down the right fingers.
"I thought he and Sevi had a great rhythm between them," O's manager Brandon Hyde said. "You rarely saw John shake. The tempo was amazing. I thought [Severino] received the ball extremely well. I'm really proud of him. He's come a long way behind the plate and his receiving is improving. To catch a no-hitter, that's something he's never going to forget."
Asked about the dropped third strike, Hyde chose to focus on what the Means-Severino battery did accomplish, not what it fell just short of.
"I don't want to take away from anything," Hyde said. "I just want to enjoy this special day. It's early in the game and there was a lot of game left, and then [Severino] makes an A-plus throw on a stolen-base attempt to put it right on the bag. So just want to enjoy this, honestly."
Here's a relevant reminder of how we got to the dropped third strike rule — baseball's strangest rule — in the first place: https://t.co/o0fEKN5vwr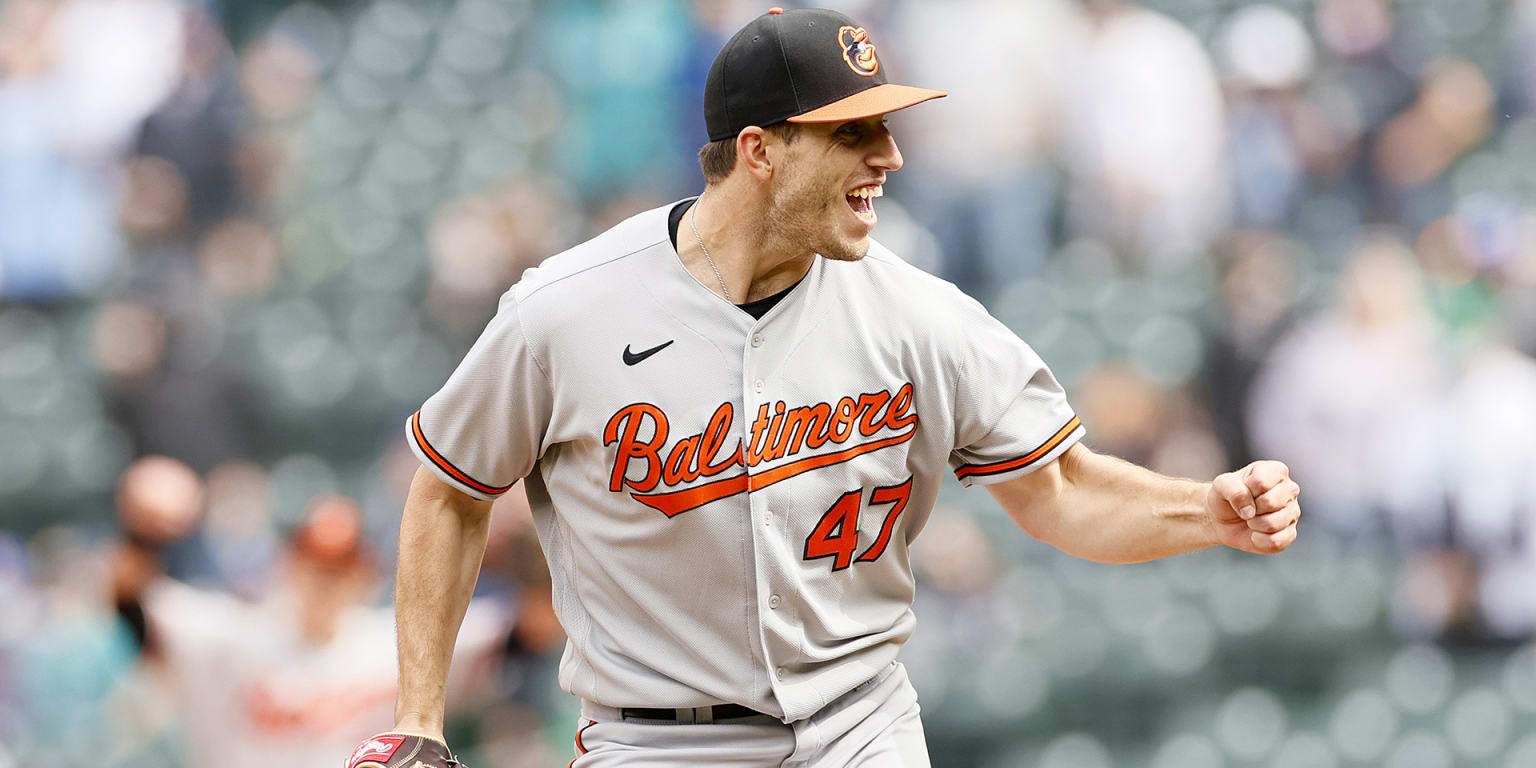 MLB.com 05 May, 2021 - 07:24pm
Yet the Orioles' left-hander didn't throw a perfect game -- not quite. He did throw the third no-hitter of the 2021 season, but the Mariners' Sam Haggerty reached base on a dropped third strike (ruled a wild pitch) in the third inning, before he was caught stealing. In facing the minimum, Means became the first pitcher in Major League history to throw a non-perfect no-hitter in which the opposing team did not reach base on a walk, hit-by-pitch or error, according to the Elias Sports Bureau.
Here are 11 more facts and stats about Means' singular no-hitter.
Camden Chat 05 May, 2021 - 05:24pm
JOHN MEANS THREW A NO-HITTER!!!! YOU KNOW WHAT MUST BE DONE!
JOHN MEANS JUST THREW A DAMN NO-HITTER. This is the first Orioles no-hitter of any kind since the combined no-hitter on July 13, 1991, and the first solo no-hitter since Jim Palmer tossed one on August 13, 1969. Means did not allow a baserunner by his own pitching; only a dropped third strike runner reaching stopped him from a perfect game. He struck out 12.
And maybe buy a John Means Business shirt?