San Francisco Chronicle 12 May, 2021 - 02:33am
The A's will begin to explore other markets for possible relocation at the instruction of Major League Baseball as they continue to pursue building a new waterfront ballpark in downtown Oakland, the team said Tuesday.
A new stadium has long been a priority for the A's, who have proposed a 35,000-seat ballpark at the downtown Howard Terminal location and accompanying mixed-use development, a project with a total budget of $12 billion.
Opening the possibility for relocation could add urgency as the A's have asked the Oakland City Council to vote on the proposal by July.
"The future success of the A's depends on a new ballpark," A's owner John Fisher said in a statement Tuesday. "Oakland is a great baseball town, and we will continue to pursue our waterfront ballpark project. We will also follow MLB's direction to explore other markets."
The A's play at the outdated Coliseum, their home since 1968, and in recent years have seen the NFL's Raiders and NBA's Warriors leave Oakland for new facilities in Las Vegas and San Francisco, respectively. Their proposed Howard Terminal ballpark — expected to cost more than $1 billion, paid for through private financing and project-generated revenues — is the furthest the team has advanced toward building a new home in Oakland.
In addition to the ballpark, the proposed project includes 3,000 housing units, 1.5 million square feet of offices and 270,000 square feet of retail space. According to the A's proposal, the project is expected to generate $955 million for the city of Oakland's general fund and $450 million in community benefits, and it proposes using $855 million in tax-generated revenue from the site to fund infrastructure costs.
Major League Baseball said in a statement Tuesday it is "concerned with the rate of progress on the A's new ballpark effort with local officials and other stakeholders in Oakland."
"The A's have worked very hard to advance a new ballpark in downtown Oakland for the last four years, investing significant resources while facing multiple roadblocks," MLB's statement said. "We know they remain deeply committed to succeeding in Oakland, and with two other sports franchises recently leaving the community, their commitment to Oakland is now more important than ever.
"The Oakland Coliseum site is not a viable option for the future vision of baseball. We have instructed the Athletics to begin to explore other markets while they continue to pursue a waterfront ballpark in Oakland. The Athletics need a new ballpark to remain competitive, so it is now in our best interest to also consider other markets."
Justin Berton, a spokesperson for Oakland Mayor Libby Schaaf, said in a statement: "We share MLB's sense of urgency and their continued preference for Oakland.
"Today's statement makes clear that the only viable path to keeping the A's rooted in Oakland is a ballpark on the waterfront. … Now, with the recent start of financial discussions with the A's, we call on our entire community — regional and local partners included — to rally together and support a new, financially viable, fiscally responsible, world class waterfront neighborhood that enhances our city and region, and keeps the A's in Oakland where they belong."
As recently as last year the A's targeted 2023 to possibly open the Howard Terminal ballpark. However, A's president Dave Kaval said in an interview Tuesday that due to delays, "probably the earliest that could happen is 2027."
The A's lease at the Coliseum ends after the 2024 season, though it could likely be extended. Kaval said MLB's direction Tuesday is "an acknowledgment that time is running short, that we really need to get some clarity on our future and where our home is going to be.
"We have a great vision for a downtown waterfront ballpark at Howard Terminal," Kaval said. "But by the same token, the progress on that has not been quick enough, and we're concerned, and so is the league, with where things stand."
Kaval has urged Oakland's City Council to vote on the project before its summer recess. Council President Nikki Fortunato Bas said in a statement Tuesday that the council "is committed to keeping the A's in Oakland."
"I met with Dave Kaval on April 30 and told him the Council leadership … are ready to meet with A's ownership to discuss the project," Bas said. "They have not responded and I reached out today to reiterate our offer. We are also awaiting additional information from the A's about the project so that City staff can schedule the term sheet to City Council."
Opponents of the project have stated concerns over transportation and environmental impacts and say it would hurt shipping business at the Port of Oakland. The East Oakland Stadium Alliance, which opposes the project, has urged the A's to explore building at the Coliseum site.
"If they focused on rebuilding at the Coliseum, which is already approved for a new ballpark village, there wouldn't be a need to make threats aimed at compelling the city to give away public resources to support a luxury development complex in the region's industrial jobs center," the group said in a statement.
Previous A's ideas for a ballpark near Laney College in Oakland or a move to Fremont or San Jose fell through. According to ESPN, the "likeliest possibility" for the A's if they were to relocate would be Las Vegas, current home of the A's Triple-A affiliate. Commissioner Rob Manfred has previously listed Las Vegas as a candidate city for possible MLB expansion, along with Montreal; Portland, Ore.; Charlotte, N.C.; Nashville, and Vancouver, British Columbia.
Kaval said it is "really (MLB's) decision in terms of the locations we'd look at. … But that process will start immediately."
Tuesday's news came with the A's in Boston to start a series against the Red Sox. On the field, the A's have had a successful run in recent seasons, reaching the playoffs three straight years. Manager Bob Melvin, a Bay Area native, said Tuesday afternoon the news "certainly doesn't preclude" the A's from getting an Oakland stadium built and the team is "focused on playing."
"The A's have been an important organization in Oakland for a long time," Melvin said. "I think that's still the hope. … We continue to play in Oakland. Until something changes, really, it's the same for me, and the same feeling I've always had playing there."
Matt Kawahara covers the A's for The San Francisco Chronicle. Email: mkawahara@sfchronicle.com Twitter: @matthewkawahara
Washington Post 11 May, 2021 - 09:41pm
Matt Chapman and Elvis Andrus hit RBI singles for the A's in the seventh inning as Oakland broke a 1-all tie with two runs. Matt Olson also had an RBI single for the A's, who opened six-game road trip with a victory.
Rafael Devers homered for Boston, which has lost two straight since winning four in a row.
Bassitt (3-2), whose previous high this season was nine strikeouts on April 29 at Tampa Bay, allowed just three hits and two runs. He hurt himself in the first with a pair of wild pitches that helped Boston take a 1-0 lead. But he settled down nicely after J.D. Martinez's sacrifice fly, retiring 14 straight batters before Michael Chavis singled in the sixth.
"My nerves were way more than normal in the first inning," said Bassitt, who was making his first appearance at Fenway Park. "After that, I just kind of started pitching again and I was kind of normal. But yeah, I would say in the first inning, Fenway got the best of me."
Boston led 1-0 until the fourth, when Olson singled to drive in Seth Brown.
Red Sox starter Nathan Eovaldi lasted six innings, holding Oakland to one run on two hits and two walks. He struck out four before Darwinzon Hernandez took over in the seventh. After Olson drew a leadoff walk, Jed Lowrie and Chapman followed with back-to-back singles as Oakland took its first lead.
"You've got to find a way to push those runs across any way you can. That's what good teams do," Olson said.
Hernandez (0-2) was replaced by Adam Ottavino with one out and runners at second and third. Boston caught a break when Sean Murphy hit a hard grounder to third and Devers came right home to catcher Christian Vázquez, who had Lowrie in a rundown and tagged him for the second out. Chapman scored on Elvis Andrus' bloop single for a 3-1 lead.
"That was huge. He's gotten some big hits for us," Oakland manager Bob Melvin said. "That ended up being as big an at-bat as we had during the game."
Devers' homer in the bottom of the seventh, his ninth of the season, pulled Boston back within a run. Fans booed when the umpire crew circled for a replay review, but the cheering resumed when replays showed the ball cleared the Green Monster before a fan touched it.
The A's outhit the Red Sox 7-4 and Boston batters were 0 for 2 with runners in scoring position.
"You don't need to hit rockets or hit home runs when there's traffic around. You put the ball in play and good things happen. That's what they did today," Boston manager Alex Cora said. "We had the tying run at third and the winning run at first on a night where we didn't do too much offensively. We'll take that and get ready for tomorrow."
Melvin said it was important for the A's to put some pressure on Eovaldi early. Melvin said Eovaldi can throw hard and has five different pitches that he can throw for strikes.
Although Eovaldi pitched six innings, he threw 102 pitches before Hernandez replaced him in the seventh.
"He can be tough to navigate," Melvin said. "It was good that we made him work and get him out of the game."
Athletics: C Aramís García (viral enteritis) is traveling with the club and could return to the roster this week, Melvin said. … OF Chad Pinder (sprained left knee) continued a rehab assignment with Triple-A Las Vegas, where he played shortstop on Monday. Melvin said the A's can play Pinder in the outfield or infield whenever he's ready to return. "We're going to play him in different positions like we always do and then once he gets here, we'll figure out what we think the best complement is," Melvin said.
Red Sox: INF Kiké Hernández (right hamstring strain) and INF Christian Arroyo (bruised left hand) could be activated from the 10-day injured list by next week, Cora said.
Athletics: RHP James Kaprielian gets his first start in the majors Wednesday.
Red Sox: LHP Eduardo Rodríguez (5-0, 3.82 ERA) is unbeaten through six starts and has gone at least five innings in his last 34 starts.
More AP MLB: https://apnews.com/MLB and https://twitter.com/AP_Sports
The Mercury News 11 May, 2021 - 09:12pm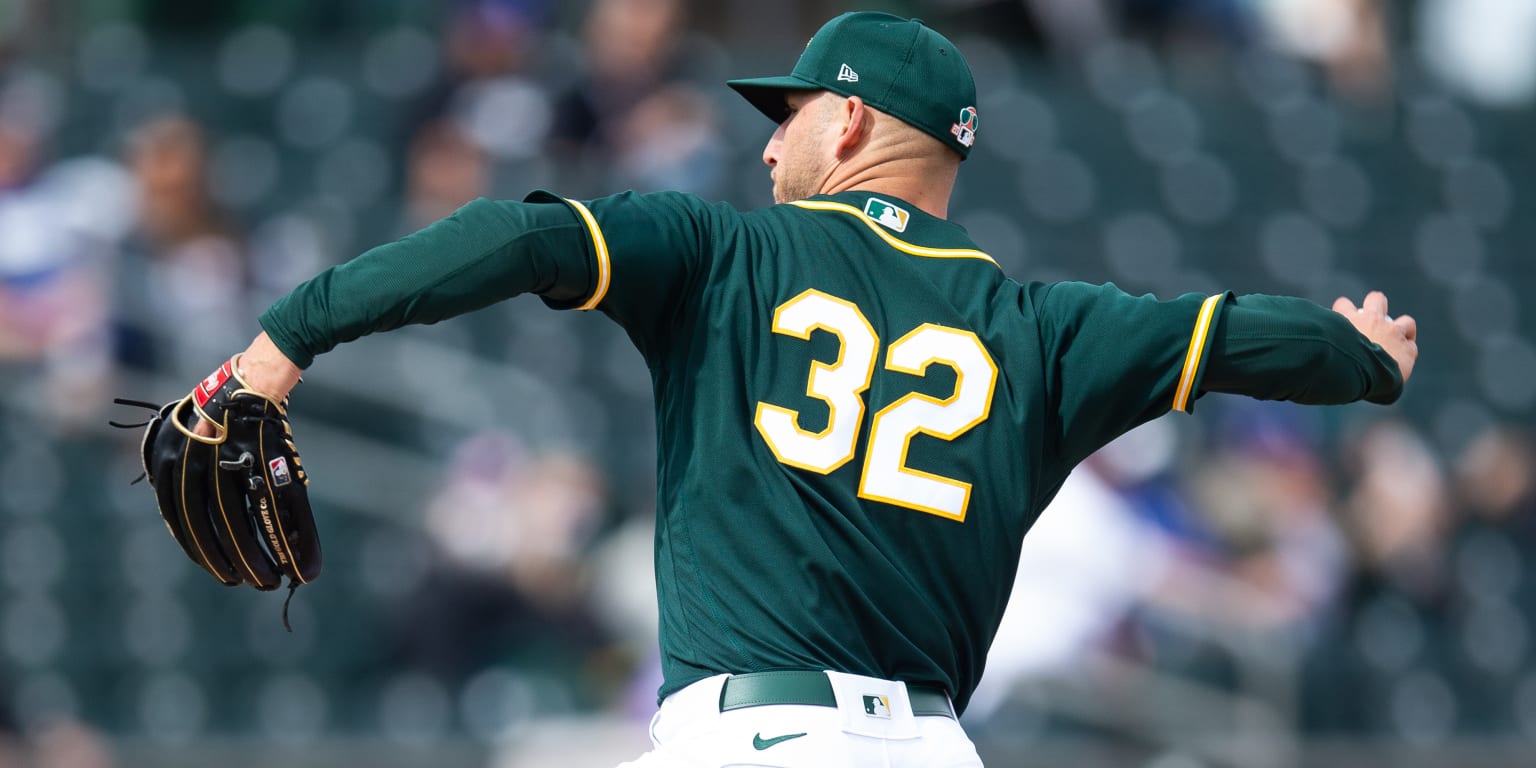 MLB.com 11 May, 2021 - 05:52pm
Right-hander James Kaprielian, Oakland's No. 10 prospect per MLB Pipeline, will make his first big league start on Wednesday against the Red Sox at Fenway Park. A move to officially add Kaprielian to the A's active roster will be made prior to Wednesday's game. 
"This is a big time in his career," A's manager Bob Melvin said. "He's getting an opportunity to come here and start. This is something he's been longing for. A real opportunity for him. 
"Probably his best opportunity to pitch in a role that he's used to pitching in for us, since he's been in our organization." 
Left-hander Jesús Luzardo (left hand/pinkie fracture) and right-hander Mike Fiers (sprained right elbow) both hit the 10-day injured list in the span of a week, cutting the A's starting staff from six members to four. Though Monday's off-day could have kept the starters on their regular turn through the rotation, Melvin said he preferred that they get an extra day of rest. 
Considered the key piece acquired from the Yankees in the Sonny Gray deal at the 2017 Trade Deadline, it took nearly three years for Kaprielian, who was selected 16th overall by New York in the 2015 MLB Draft, to appear in a Minor League game for the A's due to various injuries, including Tommy John surgery that caused him to miss the '17 and '18 seasons. In 2020, the 27-year-old righty finally got his first taste of big league action with two relief appearances for Oakland. 
What has the A's excited about Kaprielian is the resurgence his fastball velocity showed in his brief time with the club last season. After he sat around 91-93 mph with the heater for most of '19, Kaprielian was throwing as hard as 96 mph out of the A's bullpen with a sinker that averaged 95.1 mph over his two outings last year. 
In his first start for Triple-A Las Vegas last week, Kaprielian allowed two runs on eight hits and one walk with five strikeouts over 4 2/3 innings. 
Finally healthy, this could be his best shot to seize the moment and develop into the starter the A's envisioned him to be when they traded for him. 
"The velo is back, and his breaking ball seems to be a lot sharper," Melvin said. "He's got a starter's complement. When we made that trade, this was a guy that we expected to be in our rotation sooner than later. Injuries set him back some, but this is a great opportunity for him." 
Injury notes 
• Chad Pinder (left knee sprain) played shortstop for Triple-A Las Vegas on Monday night and went 0-for-4 at the plate. He'll appear in two more games for Vegas, with the A's targeting his return to the club at some point during their upcoming three-game series in Minnesota, which begins Friday night. 
• Left-hander A.J. Puk (biceps strain) will throw to hitters one more time before beginning a rehab assignment with Triple-A Las Vegas later this week. 
• Catcher Aramis Garcia (viral enteritis) is traveling with the club on their current six-game road trip and is taking part in normal baseball activities. He could be activated at some point over the weekend.