Las Vegas sportsbook Circa Sports, the first to hang an over/under on the total points scored in the game, opened it at 248.5. An hour before the game tipped off, the total was sitting at 195.5.
The 53-point movement was the largest shift that multiple veteran bookmakers could ever recall, and it wasn't caused by any attempt at corruption or by a rush of big wagers. Instead, it was simply a mistake by an oddsmaker who was short on time.
On Wednesday, around 7 a.m. PT, Matt Metcalf, sportsbook director for Circa Sports, saw an opportunity to post the first total on the WNBA All-Star Game on the betting market, he told ESPN. He had a morning meeting at 9 a.m. and still needed to get showered and dressed for work. Rushing, Metcalf said he looked at the total points scored in the previous All-Star Games and landed on 248.5 as the opening number for this year's game.
"At worst, I don't think this was more than 15 points off. That's as bad as I think it could be," Metcalf said. "I didn't think it would be the worst number ever."
Metcalf said he didn't take into account that WNBA All-Stars were facing the U.S. women's national team, which is tuning up for the Olympics and expected to take the game more seriously than traditional high-scoring All-Star Games that are often played with reduced intensity and lackadaisical defense.
"This is very different than a [typical] All-Star Game," Las Vegas Aces coach Bill Laimbeer told Sports Illustrated. "Normally everybody is kind of goofing around. That's not what USA Basketball wants. USAB wants a very competitive game."
The 248.5 opening number was up for a couple of hours at Circa before the first bet came in, and it was on the over from a respected account that pushed the total up to 252.5. Metcalf said he believed the bet on the over was designed to "dummy up" the market, a tactic used by professional bettors to mislead bookmakers about which way they're going to bet.
At that point, sportsbooks in the U.S. and internationally began posting over/under totals similar or identical to Circa's number. With more sportsbooks having the total on the board, bettors started to bet the under, and the line began to plummet.
"I've been monitoring this stuff since 2004, 2005," said Rex Beyers, risk manager for the SuperBook at Westgate Las Vegas, "and, off the top of my head, I can't think of a bigger move. It's certainly in the top five."
The SuperBook opened at 251 and moved the number 32 times before it settled at 197. Beyers said they hadn't taken any limit bets on the under but were just trying to stay in line with the market.
"We have more money on the over than the under," Beyers told ESPN a few hours before the 7 p.m. ET tipoff.
In the past when some bookmakers have posted bad point spreads or totals resulting from a typo or mistake, the sportsbooks have voided the bets on those numbers, claiming "palpable error." Metcalf emphasized that this wasn't the case with his WNBA total: "I made a horrific number, hung it and took bets," he said.
Metcalf estimates Circa took only six to 10 limit bets on the under that caused the line to drop so significantly. The opening limit was $2,000 and later reduced to $500.
Circa, which caters to professional bettors, has earned a reputation in the industry as having sharp lines and totals.
"I always say a bad number is better than no number," Metcalf said. "I think we earned some trust by the numbers we've put up in the past -- granted, we may have blown that all today.
"I think the market respects our numbers for the most part, but we're not perfect. We're going to make some bad numbers. That said, I would never expect that we'd put up a number that's 50 points off on a total."
Read full article at ESPN
WNBA 14 July, 2021 - 08:04pm
8 News NOW Las Vegas 14 July, 2021 - 08:04pm
Yahoo Sports 14 July, 2021 - 11:53am
Dan Wetzel, Pat Forde, Pete Thamel
This year's WNBA All-Star Game may be the most competitive matchup in league history.
The marquee event will feature a contest between Team USA and Team WNBA. The game serves as the Olympic squad's send-off match ahead of Tokyo, while will also providing players slighted by the national team an opportunity to make a statement.
Here are the three players to watch in Wednesday's All-Star Game:
Parker will face off against Team USA five years after being snubbed by the national team in 2016, after which Parker said she would never play for Team USA again. The Chicago forward has also had some choice words for the Olympic committee following Nneka Ogwumike's shocking exclusion from this year's Tokyo squad.
"How many times are we going to say that it's not politics? Like I think we all know that," Parker said of the roster selection.
In Tuesday's media availability ahead of the All-Star Game, Parker emphasized the competitive nature of the All-Star contest.
"We're gonna go out there, we're gonna play, we're gonna compete, we're gonna have fun," said Parker, adding, "Are we happily walking down the hallways, like, 'Hey, USA Basketball'? No. But at the end of the day, it's like, this is your job and it's an honor to be an All-Star."
Ogunbowale also has a history with Team USA. The Wings guard was left off the Tokyo roster after participating in several national team camps. Averaging 18.9 points per game with Dallas this season, Ogunbowale clearly has what it takes to be a USA basketball mainstay. Ogunobowale, however, insists she has nothing to prove in this year's All-Star matchup against Team USA.
"I'm not really here to prove anything. We proved what we had to to get to the All-Star Game. Now we're just competing against other players who would have been All-Stars, as well. So I'm just looking at it as a regular All-Star Game."
Even if there's no extra motivation, expect Ogunbowale to put on a show. All-Star Games are notorious for enticing players to flex their dribbling skills, and Ogunbowale has some of the best handles in the game today.
Team USA veteran Tina Charles spoke on Atkins' role on the squad, emphasizing the Olympic rookie's selflessness on the court.
"That's why she's on this team because she just fits in. It's not all about scoring as to what gets you on this team. It's, can you be selfless? Can you make the right play?"
Tune in: the WNBA All-Star Game will be held in Las Vegas on June 14 and airs on ESPN at 7 p.m. ET.
The post Three players looking to make a statement in the WNBA All-Star Game appeared first on Just Women's Sports.
Candace Parker grew up playing video games, and now she'll be the first female basketball player on the cover of one. The Chicago Sky star will appear on the NBA 2K22 cover for the WNBA 25th Anniversary special edition when it's released Sept. 10. "I grew up a video game fanatic, that's what I did, to the point where my brothers would give me the fake controller when I was younger where I think I was playing and I wasn't," Parker said.
Both the U.S. Olympic team and the WNBA All-Stars expect a competitive game in the league's showcase Wednesday. Usually there is not much defense played in All-Star games until the fourth quarter, but this one could be different with the Olympians having limited time to get ready for the Tokyo Games. The past seven WNBA All-Star games have been decided by single digits, including the one in 2019 that was a three-point contest.
The Women's National Basketball Association (WNBA) hopes to have more concrete expansion plans in place by this time next year after the COVID-19 pandemic delayed progress, Commissioner Cathy Engelbert said on Wednesday. Engelbert, speaking to reporters ahead of Wednesday's WNBA All-Star Game in Las Vegas, said growing the 12-team league remains a priority. "This would be something I would be talking with you more seriously about if it wasn't for the pandemic," Engelbert told reporters.
As the Tokyo Olympics begin this month, Rookie Wire took a look at some of the biggest rule differences between the NBA and FIBA.
When Jovnel Moise, a deeply unpopular president of Haiti since 2017, was assassinated on July 7 by a squad of gunmen posing as DEA agents, the news stunned and horrified the world. Most Haitians shrugged off the news and braced themselves for worst, while praying the violence that has plagued their lives the last few years is not exponentially increased by the violence of losing their freedom to foreign forces. The drumbeat of news of brutal killings and kidnappings of neighbors and friends, priests and commoners, and children and cops has become routine in Haiti since 2018, when an unforeseen spike in gas prices triggered protests against the Moise government.
Minutes after returning from a mission on Tuesday before dawn, a convoy of exhausted Afghan commandos were speeding back out of their base to try to extract a wounded policeman trapped by Taliban insurgents on the outskirts of Kandahar. This operation in the southern city, a Taliban stronghold before the movement was ousted from power in 2001, was anything but. As they approached the checkpoint where policeman Ahmad Shah had been holed up alone for 18 hours, some 30-40 special forces soldiers in a line of Humvees came under automatic weapons fire, according to a Reuters reporter travelling with them.
The Taliban killed 22 Afghan commandos attempting to surrender in June, according to footage and multiple witnesses.
"The South Atlantic winter was a big surprise for us," a retired SAS officer who served in the Falklands told Insider.
The greatest team in Olympic history remains its least appreciated. The post Team USA Women's Basketball: the biggest global dynasty we take for granted appeared first on Just Women's Sports.
Now we know the real story of how the Stanley Cup sustained an upper-body injury in Monday's boat parade celebration. Veteran forward and three-time Cup winner Pat Maroon went on 101 ESPN Sports Talk for St. Louis, his hometown radio station, Wednesday afternoon. "It was obviously raining and it was wet," Maroon said. "I went to lift it, and I went backwards with it. I slipped and (Cup keeper) ...
The former boss of Nissan and Renault reveals how he evaded house arrest to flee to Lebanon.
The Chicago Sky's Candace Parker will make history as the first WNBA player on the GameStop-exclusive cover of the newest edition of NBA 2K.
Ethiopian leaders warned Wednesday they were ready to launch a new offensive against their "enemies" after rebels pushed deeper into Tigray, effectively tearing up a government-declared ceasefire in the war-torn region.
Another classic Klay story from Andre Iguodala.
The Sixers are starting to field Ben Simmons interest - but they won't be taking just any offer that comes their way. By Adam Hermann
A new trade suggestion has the Philadelphia 76ers sending Ben Simmons to the Portland Trail Blazers.
A day after his comments about LA Angels and MLB All-Star Shohei Ohtani sparked outrage, Stephen A. Smith opened "First Take" on ESPN with an apology.
What the Lakers can get for the money/trade assets they have available may not make fans happy.
Hunter Woodhall and Tara Davis first crossed paths at a high school track meet, and more than four years later, they're both competing in Tokyo.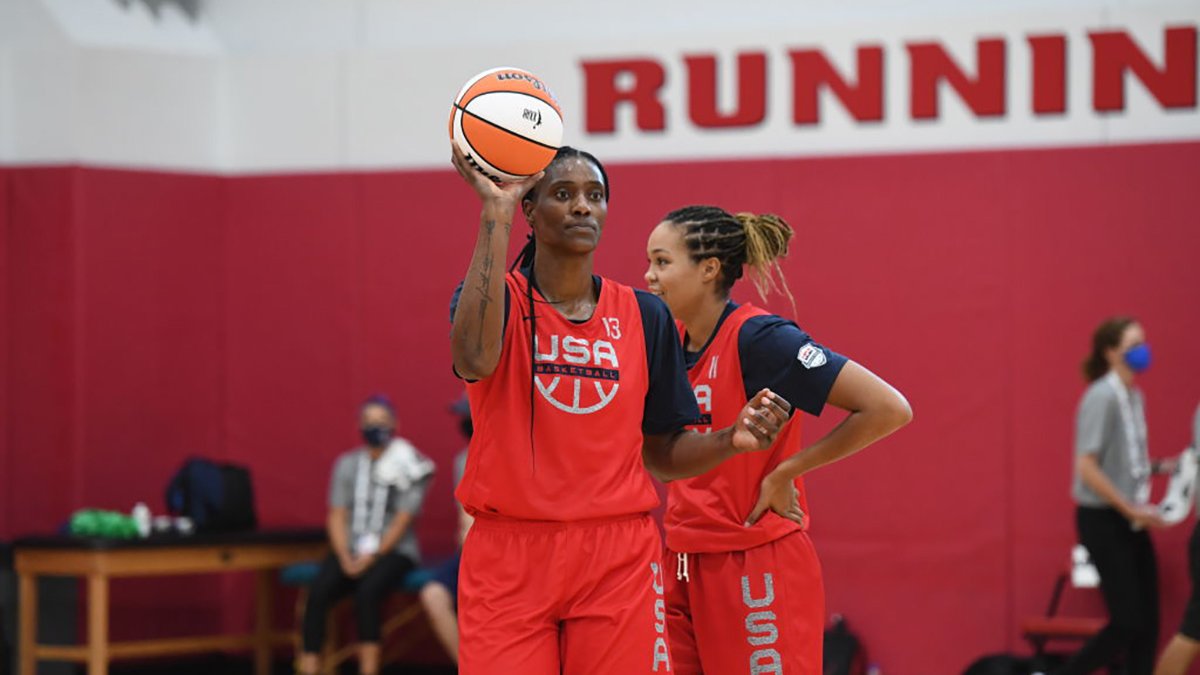 NBC 6 South Florida 14 July, 2021 - 08:57am
It's nothing but net for WNBA legend Sylvia Fowles. The center with the Minnesota Lynx is on her way to the Tokyo Olympics with USA Basketball.
"When I got named to the team, I was still in disbelief. Not that I haven't put in the work over the years, but not everybody gets the opportunity to say that they can compete for their fourth gold medal so that's pretty special," said Fowles.
Donning number 13, Fowles is dominating on the court. The six-foot-six star aimed high and quickly rose to the top in her career. In 2020, she became the reigning WNBA career rebound leader and was named league MVP in 2017.
Fowles started playing ball on small courts in Miami. She hails from Liberty City, went to Gulliver Prep for high school and then Louisiana State University before going pro.
"Everything I do, I carry Miami-Dade with me so when I'm out there on the court, my love and my passion for whatever I do directs me back to home," she said.
Fowles is also a veteran Olympian. She will be doing a full court press with her team to hopefully get another gold medal in her fourth Olympics. She had some advice for the newcomers on her team.
"My words to the first time Olympians would be to take it all in, have fun and enjoy the experience," said Fowles.
The 35-year-old will definitely bring her experience on the court to Japan and she's not holding back.
"I'm just looking for some good basketball. I think this one will be a little different due to COVID and we're limited to do stuff, but I'm just looking to play really good basketball and have fun," said Fowles.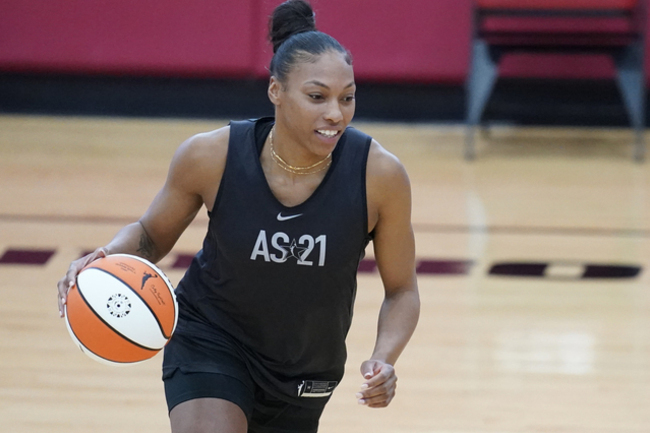 Bleacher Report 14 July, 2021 - 08:55am
"I don't think anybody out here has to prove who they are or reinvent the wheel or be something that they're not," she said  "We're going to go out there, we're gonna play, we're going to compete, we're going to have fun."
Three-time All-Star Jonquel Jones has some other ideas about what she wants to get out of this All-Star Game. She explained that the way she's played this year is in response to a misconception, or a lack of putting her in the same conversation as some of the other greats in the league. She knows she should be in those conversations. "I kind of feel like people forget some of the things that I've done in the league," she said.
Jonquel Jones on the #WNBA All-Star Game: "Listen, we want to beat Team USA ... I want to tell my grandkids, 'Back in 2021, we beat the gold medal team, so technically we won a gold medal.' This is the closest I'm going to get to a gold medal."
"I think [Team USA head coach] Dawn [Staley] said it before practice," Team USA and Aces guard Chelsea Gray said. "She was like, 'Keep the main thing the main thing.'"
But Gray didn't back down from acknowledging how grateful she is for the different opportunities she has as a professional athlete. She explained that it's important to embrace it all when folks desire to be "in your shoes."
Enjoy our content? Join our newsletter to get the latest in sports news delivered straight to your inbox!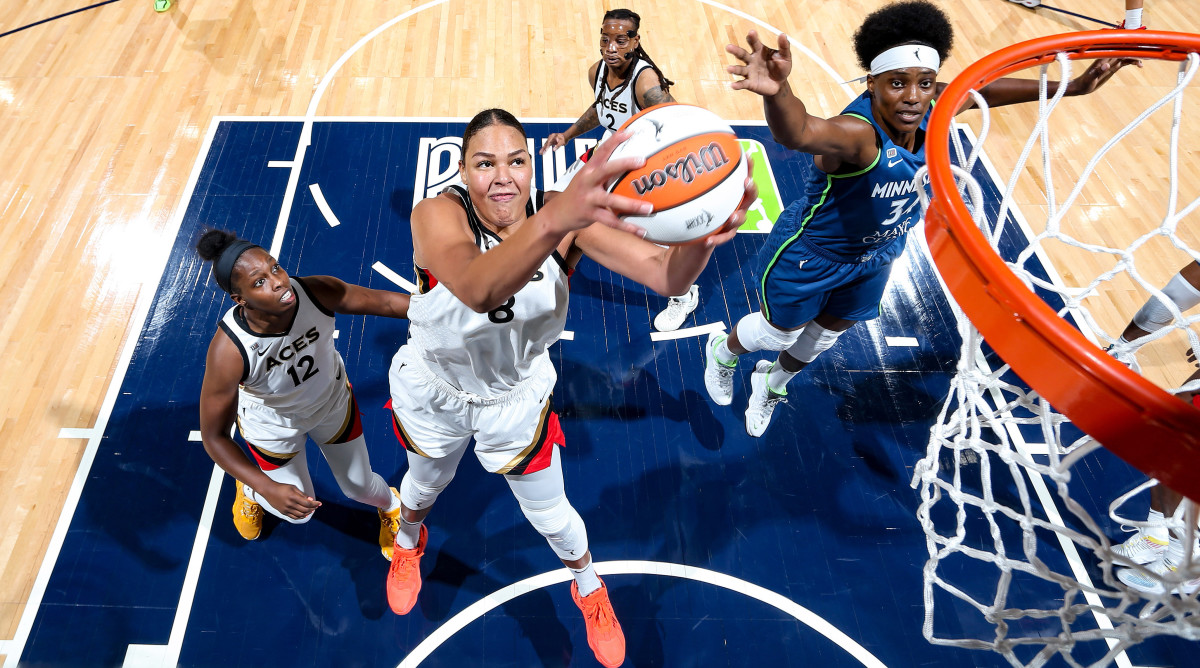 Sports Illustrated 14 July, 2021 - 08:00am
When the 2021 WNBA All-Star Game tips off Wednesday in Las Vegas, it will feature a new format—and it won't be all fun and games.
For the first time, the WNBA is holding an official All-Star Game the same year as the Olympics. League commissioner Cathy Engelbert said she didn't want to go two years without a game—after last year's was canceled because of COVID-19—or miss an opportunity to commemorate the W's 25th season. Rather than the traditional East vs. West matchup, this year's showcase will pit the U.S. women's national team against the best of the rest in the league. It will be the U.S. Olympic team's toughest test before the Tokyo Games.
"This is very different than a [typical] All-Star Game," says Aces coach Bill Laimbeer. "Normally everybody is kind of goofing around. That's not what USA Basketball wants. USAB wants a very competitive game."
In 2004, Team USA faced a group of WNBA All-Stars in an exhibition before the Athens Olympics, but it wasn't considered an official WNBA All-Star Game. (The "Stars at the Sun" showcase at Mohegan Sun Arena in '10 before the FIBA World Cup featured a similar matchup.) Lisa Leslie—who happens to be one of the '21 WNBA All-Star co-coaches—had 15 points and 12 rebounds for Team USA in '04, as the national team cruised to an easy 74–58 win.
"The 2004 game was played at Radio City Music Hall. The atmosphere was very different," says Laimbeer, who coached the WNBA All-Stars in that '04 matchup against Team USA. "This time, the All-Stars are going to be there for one reason—to play basketball. Not to go out there and goof around or have fun. The stakes are very different."
The 2021 version of Team USA is made up of the 12 players who were selected to compete for the U.S. Olympic women's basketball team in Tokyo later this month. The 12-person Team WNBA roster was determined after the top 36 vote-getters from that voting process who were not members of the USA Basketball five-on-five roster were provided to WNBA head coaches, who then voted for five frontcourt players, three guards and four additional players at any position.
It was a complicated process, but one that resulted in two stacked teams—which means that we could see one of the most competitive All-Star Games in the league's history. Unlike in previous exhibitions, victory for Team USA is not assured this time around. For several reasons, the U.S. women's national team could have its hands full against the best of the rest in the league.
The All-Stars include several players with chips on their shoulders.
There has been a lot of conversation about USA Basketball politics since the Olympics team roster was revealed—much of it focused on the snub of veteran Sparks forward Nneka Ogwumike, who was left off the Olympics roster for the third time. Some consider the six-time All-Star's omission the biggest snub in Team USA basketball history.
Ogwumike has played in just five WNBA games this season because of a left knee sprain, but it's unclear how much the injury had to do with her being left off the Olympic team. She is the only WNBA MVP to have never made an Olympic roster and has been a member of the senior national team since 2014.
Ogwumike, who was listed on Nigeria's provisional 15-person roster and might be going to the Tokyo Olympics after all, won't be at the All-Star Game, but her former Sparks teammate Candace Parker will be. Parker, who was left off the Olympics squad in 2016 after helping the U.S. win gold medals in '08 and '12, is making her sixth All-Star appearance. She has been outspoken about her lingering frustration with USA Basketball and Ogwumike's omission from this year's team.
"I was like, 'Listen, it sucks, it's unfair,' all that blah, blah, blah," Parker told reporters on June 22. "[I told Nneka,] 'You're one of the greatest. You're the only MVP not to make an Olympic team, which is bulls---.' But that's what it is, right?"
Several other players on this year's WNBA All-Star team were also passed over for the Olympic squad, including Wings guard Arike Ogunbowale and Sky forward Kahleah Copper, who are two of eight players making their All-Star debuts.
Both teams also feature multiple MVP candidates—and plenty of offensive firepower. Sun forward Jonquel Jones, Liberty guard Betnijah Laney and Aces center Liz Cambage will bring offense to the WNBA All-Star squad, while Team USA counters with Storm forward Breanna Stewart, Aces forward A'ja Wilson, Mystics center Tina Charles and Lynx center Sylvia Fowles.
Jones, who leads the league in rebounding and trails only Tina Charles for the league scoring title, is from the Bahamas and currently plays for the Bosnia and Herzegovina national team. She told reporters Sunday that the chance of beating Team USA—which is overwhelmingly favored to win it all in Tokyo—provides extra motivation during this All-Star Game.
"The chances of me winning a gold medal … are slim to none," Jones said. "I'm trying to go out there and win so I can tell my grandkids that I got a gold medal, technically."
Team USA—which is chasing its seventh consecutive gold medal at the Olympics—might be conservative when it comes to managing playing time during the All-Star Game. But the Olympic players know that it's not a great look if they lose to a team of WNBA All-Stars who, for the most part, were passed over for Olympic consideration.
How do they know? They've lost to some of these players before as a collective relatively recently.
In November 2019, No. 1-ranked Oregon beat the U.S. women's national team 93–86. It marked the first time that the U.S. had lost a major international game since falling in the semifinals of the '06 world championships to Russia—and its second loss ever to a college program. Dallas forward Satou Sabally—last year's No. 2 WNBA draft pick and a first-time All-Star—scored 25 points for Oregon in the win over a team that featured Fowles, as well as her current Team USA teammates Sue Bird, Skylar Diggins-Smith and Diana Taurasi.
Another scorer who could play a big role for the WNBA All-Stars is Cambage. At 6' 8", the versatile Australian presents matchup problems for just about everyone, plus she will have home court advantage in Las Vegas, and has made no secret of how hungry she is to win an Olympic gold medal.
"I'm going to play with my sisters that I've been playing with since I was a wee little thing, and I'm going to ball out for all those young brown kids back in Australia watching me, baby. I'm going to do it for you," Cambage said on her Instagram account after announcing her Tokyo plans in May.
Cambage, the first woman to dunk in an Olympic game, will be competing in her third Olympics in Tokyo. She and the Opals won a bronze medal in London in 2012 but lost in the quarterfinals at Rio in '16 and didn't medal.
The All-Star Game will give Cambage a trial run at Team USA. She'll face the U.S. again two days later, in a pre-Olympic tune-up game, also in Las Vegas, on July 16.
Can she and the WNBA All-Stars pull off the upset? They will certainly try.
"It'll be a hard-fought game," Laimbeer said. "Hopefully everybody projects themselves and there are no injuries."
USA TODAY 14 July, 2021 - 05:33am
In this year's WNBA All-Star Game, the U.S. Olympic women's basketball team will face off against the league's All-Star team on Wednesday.
A link has been sent to your friend's email address.
A link has been posted to your Facebook feed.
WNBA players Stefanie Dolson, Katie Lou Samuelson, Allisha Gray and Kelsey Plum teach you everything you need to know about Olympic 3x3 basketball. USA TODAY
The WNBA is taking a unique approach to the 2021 All-Star Game in honor of the upcoming Tokyo Olympic Games. The U.S. Olympic women's basketball team will face off against the WNBA's team of non-Olympic All-Stars Wednesday in Las Vegas.
Team USA is headlined by A'ja Wilson, the Las Vegas Aces star and 2020 WNBA MVP, and Breanna Stewart, the WNBA finals MVP from the Seattle Storm. Five-time Olympian Sue Bird (Storm) will play in her league-record 12th All-Star Game. Diana Taurasi (Phoenix Mercury) — in her 10th All-Star appearance — likely will not compete due to a lingering hip injury, but she will play alongside Bird in Tokyo as they attempt to become the first basketball players — female or male — to win five Olympic gold medals. The WNBA's current leading scorer, Tina Charles, is also competing for Team USA.
"I've learned how to be selfless," Charles said of playing for Team USA. "You check who you are on your WNBA team at the door. You sacrifice the me for the we. I think that's the biggest thing that has helped my career."
On the WNBA All-Star team, the Chicago Sky and Connecticut Sun are well-represented with three players apiece. Two-time MVP Candace Parker is joined by Sky teammates Courtney Vandersloot and Kahleah Copper, and Jonquel Jones, Dewanna Bonner and Brionna Jones will compete from the Sun. Another notable team member is Liz Cambage (Aces), who will be competing against Team USA in the All-Star Game and in the Olympics as a member of Team Australia.
Basketball Hall of Famers and retired stars Lisa Leslie and Tina Thompson will serve as co-head coaches of Team WNBA. Leslie, a four-time Olympic gold medalist, and Thompson, who won two Olympic golds, still rank among the WNBA career leaders in points and rebounds. Former WNBA star and current South Carolina coach Dawn Staley guides the U.S. team. The Basketball Hall of Famer won three Olympic gold medals as a player before being named head coach in 2018.
The 2021 WNBA All-Star Game will tip off July 14 at 7 p.m. ET. It is being played at the Mandalay Bay Resort and Casino in Las Vegas.
The All-Star Game will be live on ESPN at 7 p.m. ET. In 2018 and 2019, the game was broadcast on ABC, but this year it was moved to ESPN because it is competing with Game 4 of the NBA Finals.
The game can be streamed on ESPN.com and the ESPN app, both of which require a subscription or cable login. It will also be on fuboTV.
Jonquel Jones, Jewell Loyd, Allie Quigley and Sami Whitcomb compete in the three-point contest. Whitcomb is currently the league leader in three-pointers made this season with 56, while Lloyd is tied for eighth with 40. Jones is ranked sixth in three-point percentage at .437. Quigley is the most experienced of the group, having won the three-point shootout twice in the past.
A link has been posted to your Facebook feed.
© 2021 USA TODAY, a division of Gannett Satellite Information Network, LLC.
ESPN 13 July, 2021 - 04:20pm
"I probably won't play. My goal is to be ready for the Olympics," Taurasi said in a video call with media Tuesday. "Preparation is key. So at this point in my career, I think being ready for Tokyo is what's best for our team and me. So I'm taking it day by day. I'm getting better, and I'll be fine once the real games start."
Taurasi, 39, will be headed to her fifth Olympics for Team USA, as will Seattle's Sue Bird, 40. Taurasi did not say whether she would play in Team USA's exhibition games this week in Las Vegas against Australia on Friday and Nigeria on Sunday. The Americans open Olympic group play in Tokyo on July 27 against Nigeria.
Taurasi has been limited to seven of the Mercury's 19 games this season. She dealt first with a sternum fracture that kept her out games from May 21 to June 27. After returning and playing in three games, she suffered an injury she said was "pretty much a hip pointer" and hasn't played since July 3.
There are no alternates who train with Team USA, so no one will be named to replace Taurasi on Wednesday if she doesn't play. Team USA will be going for its seventh consecutive gold medal in Tokyo.
The WNBA All-Star Game is Wednesday night at 7 ET and will be aired on ESPN and the ESPN App.
The Washington Post 13 July, 2021 - 12:39pm
The Lynx are riding a seven-game winning streak and have turned around their season.
A big reason for the change has been the addition of Layshia Clarendon, who Minnesota signed after its 0-4 start. During the current winning streak, she's averaging 14-1 points, 6.4 assists and has shot nearly 63% from the field. The Lynx are 12-3 with Clarendon, who was cut from New York early in the season.
While most teams would love to keep going while playing well, Reeve was happy for the break — although she'll still be busy as an assistant for the U.S. women's basketball team.
"I am very grateful for the break,″ Reeve said. "But I'm glad we ended on a really good note.″
The Lynx have climbed the standings and moved up to fourth in the AP power poll this week.
"Feels awesome to finish strong and it gives us a lot of confidence," said Lynx forward Napheesa Collier. "When we come back we just need to tweak things."
1. Seattle (16-5): The Storm won the Western Conference bid into the Commissioner's Cup championship after winning two of three last week. Nearly half the team is headed to Tokyo to compete in the Olympics so they won't be well rested coming out of the break.
2. Las Vegas (15-6): The Aces dropped two of their last three games heading into break. They were missing Liz Cambage for the final two games —which they split — because she was training with Australia. Las Vegas has a solid top seven-player rotation, including potential sixth women of the year Dearica Hamby and Kelsey Plum.
3. Connecticut (14-6): The Sun will represent the Eastern Conference in the Commissioner's Cup final after a stellar week. Jonquel Jones has been playing extremely well since returning to the team from playing overseas in the EuroBasket tournament. She averaged 20.5 points, 16.5 rebounds and 3.5 assists to help Sun go undefeated last week.
4. Minnesota (12-7): Kayla McBride has been a major reason for the success of the Lynx, averaging just under 19 points over her last five games.
5. Chicago (10-10): The Sky lost a disappointing overtime game to Washington in their lone contest last week. The Sky should be well-rested and ready for the rest of the season when they return from the Olympic break with most of their core —excluding Stefanie Dolson — not competing in the Olympics.
6. Phoenix (9-10): The Mercury had impressive wins over the top two teams, beating both Seattle and Las Vegas. They did it without Diana Taurasi, who is nursing a left hip injury.
7. New York (10-11): The Liberty had a tough weekend on and off the court as travel issues in and out of Indiana led to long airport delays. Owner Joe Tsai said on social media he would work to rectify the problem in the future.
7. Washington (8-10): The Mystics headed into the break with a win and now look forward to being mostly healthy when the WNBA returns. No team has been hit as hard by injuries the first half of the season.
9. Dallas (9-12): Arike Ogunbowale has kept her double-digit scoring streak alive, just barely the last few games. She's averaged just 11 points in the last three contests — all Wings losses. She heads into the break with 58 consecutive double figure scoring games for the fifth longest streak in WNBA history.
10. Atlanta (6-13): It's been a struggle for the Dream lately as they dropped seven of their last eight games. Hopefully the break will give them a chance to regroup and recharge.
11. Indiana (4-16): A three-game winning streak has Indiana feeling good heading into the break. The Fever have gotten really strong play from Teaira McCowan lately, who averaged 18 points, 11.5 rebounds and 3.5 blocks the team's two wins last week.
12. Los Angeles (6-13): The Sparks fell to the final spot in the power poll as they have been on a six-game skid. Los Angeles hasn't scored more than 79 points in any of those losses.
Tina Charles had 34 points, 17 rebounds and two steals as well as a basket just before the regulation buzzer to force overtime and help Washington beat Chicago in the team's lone game last week. Other players receiving votes included Jonquel Jones of Connecticut, Layshia Clarendon of Minnesota, Brittney Griner of Phoenix and Teaira McCowan of Indiana.
Team WNBA vs U.S. Olympic team, Wednesday. For the first time since 2000 there will be an All-Star Game in an Olympic year. While most All-Star contests are fun exhibition games this could have a more competitive feel to it with the U.S. team looking to prepare for the Tokyo Games and the WNBA squad featuring players who feel they should be Olympians.
More AP women's basketball: https://apnews.com/hub/womens-basketball and https://twitter.com/AP_Sports