Daryl Ruiter
RuiterWrongFAN
With video -- Odell Beckham Jr. wants the ball, but he's not begging for it; #Browns WR accepts his role within offense www.audacy.com/923thefan/sports/cleveland-browns/odell-beckham-jr-wants-the-ball-but-hes-not-begging-for-it?utm_campaign=sharebutton&utm_medium=social&utm_source=twitter.com&utm_term=WKRKFM via @923TheFan
Nate Ulrich
ByNateUlrich
#Browns OC Alex Van Pelt said OBJ's plays will come and probably in bunches

Tony Grossi
TonyGrossi
Are Browns content using Odell Beckham Jr. as run-blocker and offensive decoy? via TLOD thelandondemand.com/news/2021/oct/13/have-browns-turned-odell-beckham-jr-run-blocker-an/
Hayden Grove
H_Grove
OBJ: "The ultimate goal is to win a championship and I feel like I'm in a great situation to do that." #Browns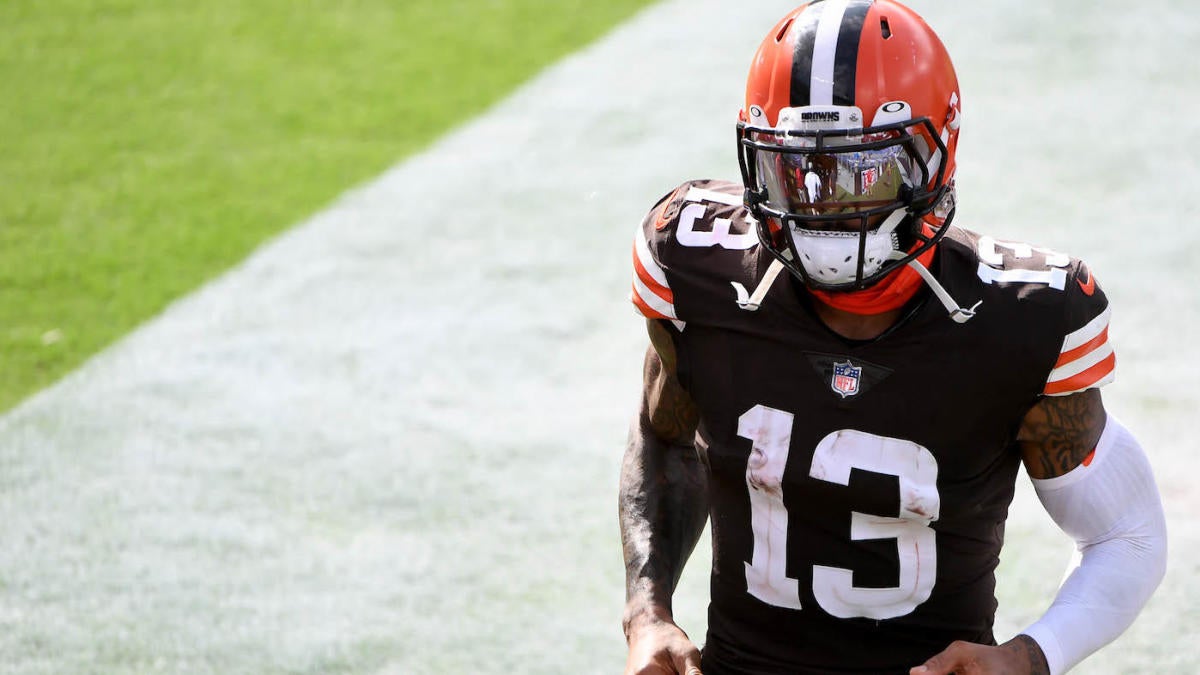 CBS Sports 14 October, 2021 - 02:14pm
Every game of Odell Beckham Jr.'s tenure in Cleveland seems to be a referendum on his fit with the Browns. Ever since arriving via trade from the Giants in 2019, the veteran wide receiver has been under the spotlight for his production -- or lack thereof -- alongside quarterback Baker Mayfield. Just this week, Cleveland.com's Mary Kay Cabot suggested the Browns should actively look to trade the former All-Pro, not because he can't be a 1,000-yard receiver again, but because he's yet to look like one in Ohio. Ask Beckham, however, and he's focused more on winning a championship, which he thinks the Browns have a "great" chance to do in 2021.
"I can't sit there and lie like I don't want the ball," Beckham said Thursday, per 92.7 The Fan. "I feel like I'm a shooter (in basketball). I know I bring a lot of attention to defenses and other people are going to be open. You just have to live with that ... The ultimate goal is to win the championship, and I feel like I'm in a great situation to do that. My main focus was to be healthy, stay healthy, get through a season."
The Browns are certainly candidates to make a run this year. They're 3-2 behind the Ravens in the AFC North, but their two losses have come in shootouts with the Chiefs and Chargers, arguably two of the most explosive teams in the conference. Through five games, they've scored the sixth-most points (142) in the NFL and averaged more yards per game (417.6) than all but four teams.
Only time will tell, of course, if Beckham will, in fact, be part of their prospective playoff run. Mayfield and coach Kevin Stefanski and everyone in between -- Beckham included -- have said all the right things about the wide receiver's place in the offense. Since returning in Week 3 from a torn ACL that wiped out more than half of his 2020 campaign, however, the ex-Giants star hasn't lit up the stat sheet. He's caught just nine passes for 124 yards and no touchdowns, finishing Week 5's high-scoring affair with a season-low two catches for 20 yards, even with fellow starter Jarvis Landry still sidelined.
© 2004-2021 CBS Interactive. All Rights Reserved.
CBS Sports is a registered trademark of CBS Broadcasting Inc. Commissioner.com is a registered trademark of CBS Interactive Inc.
Images by Getty Images and US Presswire
These cookies are essential for the proper functioning of our Services. Essential cookies cannot be switched off in our systems. You can set your device to block or alert you about these cookies, but some parts of the Service will not work.
These Cookies allow us to collect information about how visitors use our properties. Some examples include counting visits and traffic sources, so we can measure and improve the performance of our services. If you do not allow these Cookies we will not know when users have visited our properties and will not be able to monitor performance.
These Cookies enable the services to provide enhanced functionality and personalization. They may be set by us or by third party providers whose services we have added to our services. If you do not allow these Cookies then some or all of these services may not function properly.
These Cookies may be set by us or through our services by our advertising partners. They may be used by those companies to build a profile of your interests and show you relevant advertising on this and on other properties. If you do not allow these Cookies, you will still see ads, but you will experience less relevant advertising.
These Cookies are set by a range of social media services that we have added to the services to enable you to share our content with your friends and networks. They are capable of tracking your browser across other sites, building up a profile of your interests to show you relevant content and advertisements on the relevant social networks. If you do not allow these Cookies you may not be able to use or see these sharing tools.
Bleacher Report 13 October, 2021 - 08:00am
Odell Beckham Jr. has not looked like a No. 1 wide receiver in his first three games back from his torn ACL.
The Cleveland Browns wide receiver had four receptions for 47 yards in Weeks 4 and 5 combined. Those totals came after he put up 77 yards on five receptions in his season debut in Week 3.
As the NFL season goes on, the Browns need more out of Beckham, especially in big games, to contend with the Baltimore Ravens in the AFC North.
At the moment, Cleveland is one game back of the Ravens in the division, and it is one of four non-division leaders in the conference with a 3-2 record.
Cleveland's two losses have come against two of the strongest teams in the AFC, the Kansas City Chiefs and the Los Angeles Chargers.
Starting with Sunday's clash against the Arizona Cardinals, the Browns have a chance to prove they can beat the best teams in the league.
For that to happen, Beckham and a few others need to make more big plays.
It is natural to point fingers at Beckham for his lack of receiving yards in the last two weeks.
The totals are more frustrating when you look at how the 47-42 Week 5 loss to the Chargers played out. Beckham only had three targets, but with more productions, the Browns could have left Sofi Stadium with a 4-1 record.
Beckham deserves some criticism for his performances, particularly while Jarvis Landry is out injured. However, he may need a few weeks to get his legs back to game speed after suffering a torn ACL in the first half of the 2020 season.
Cleveland managed to get past the Minnesota Vikings in Week 4 without Beckham playing a major role. That win was earned by its defense that held the NFC North side to seven points.
Sunday's matchup carries significance for where the Browns stand in the NFL hierarchy, but it also serves as the start of a three-game home stand.
If the Browns offense fires on all cylinders versus Arizona, Denver and Pittsburgh, they could create separation between themselves and some of the wild-card contenders in the AFC.
The upcoming stretch is also important to build more offensive chemistry ahead of the most important three-week run of the season in Weeks 12-14, where they face the Ravens twice with a bye week sandwiched in between.
The Chargers exploited their opportunities with wide receivers going one-on-one with Ronnie Harrison.
The Cleveland safety allowed two touchdown catches on the three targets sent in his direction in the Week 5 defeat.
Harrison has been directly targeted on eight occasions by opposing quarterbacks this season. He has allowed five completions, three of which have been touchdowns.
Additionally, Harrison has conceded 69 yards after the catch on the five completions he's allowed. Three of those receptions were in Week 2 against the Houston Texans. The other two were scoring plays versus the Chargers.
Harrison may not be targeted at a high rate throughout the season, but he needs to clean up his coverage skills when he is thrown at.
Arizona may look to exploit that weakness in Week 6 since Kyler Murray has an abundance of targets to work with in the passing game.
The Cardinals could try to match up James Conner or Chase Edmonds against Harrison, or force him into one-on-one coverage against one of their many talented wide receivers.
As long as Harrison works on his coverage skills, he should be fine as the season goes on, but Sunday's concessions brought up a concern that can't linger.
The Browns need support around Myles Garrett to threaten opposing quarterbacks every week.
Garrett leads the team with seven sacks. The star pass-rusher earned 4.5 sacks in the Week 3 win over the Chicago Bears. He has at least a half-sack in four of five games.
Takkarist McKinley has provided some decent support for Garrett in the last few weeks. He had 1.5 sacks in Weeks 3 and 4. He had a quarterback hit and a single tackle in Week 5.
McKinley will be one of the pass-rushers the Browns turn to for more production when opponents double Garrett.
If any of Cleveland's upcoming foes attempt to take away Garrett with double teams, McKinley needs to make an impact in the pass rush to divert some of the attention away from his squad's top defensive player.
McKinley had 13 sacks in his first two seasons with the Atlanta Falcons, so he is capable of generating pressure on his own.
McKinley may have trouble with that in Week 6 against Murray's elusiveness in the pocket, but he has two prime opportunities against Denver and Pittsburgh in Weeks 7 and 8.
Enjoy our content? Join our newsletter to get the latest in sports news delivered straight to your inbox!