The Buckeyes' defensive problems can no longer be dismissed as an aberration, especially after Oregon exposed many deficiencies in the Ducks' 35-28 victory on Saturday.
"(We're) giving up too many yards and too many points," coach Ryan Day said Monday. "That's the bottom line. Now it's not just a single game. It's a little bit of a pattern. We took a long, hard look the last 48 hours and certainly will make some adjustments."
Day was short on specifics of what will be different.
we are going to make some adjustments and changes. We have to.
Asked if embattled Kerry Coombs remains the defensive coordinator, Day chuckled before replying, "Yes, he's still the defensive coordinator. But we're going to look at everything."
Day declined to say that Coombs will make the defensive calls Saturday against Tulsa, saying everything is being evaluated.
"I don't want to get into specifics," he said. "No hard decisions have been made."
Day said the past two days have been spent in intense meetings trying to dissect what has gone wrong and how to fix it.
"They're just honest," he said. "I wouldn't say they're uncomfortable. They're just real."
As for his discussions with Coombs specifically, Day said, "I'd rather not share the conversations. But we do look at the results over the last couple of games and then coming off the last year and it's not what we expect here. It's not our expectation."
The defense was expected to be an issue for the Buckeyes entering the season because of the lack of experience among linebackers and defensive backs. Ohio State's pass defense ranked 122th last year.
But its run defense, stout last year, has also faltered. Oregon averaged 7.1 yards per carry on Saturday. The front four had no sacks and only one tackle for loss.
"That is frustrating, for sure," Day said. "We have to create some disruption and affect the quarterback, and we didn't do that."
Ohio State dropped to ninth in the Associated Press poll after Saturday's defeat.
"This loss doesn't sit well at all," Day said. "We wanted to win this game and had it circled for a very long time."
Two starters from the 2020 Browns found new homes on Tuesday of Week 2 of the NFL season:
After not playing a game since being drafted in 2017 to starting in Week 2 of 2021... Quite a ride for the former second-round pick:
Had he stayed on the roster for at least two games, the Panthers would given up that seventh round pick.
Penn State head football coach James Franklin discussed speculation that USC could pursue him to replace the fired Clay Helton.
How USC's head coaching search could impact Josh Heupel.
History for the Bengals and a rookie.
One player who's been coached by a couple of legendary coaches!
Former #Chiefs QB Alex Smith spent extra time after his ESPN interview with Patrick Mahomes studying film on the #Browns ahead of Week 1. | from @TheJohnDillon
Here's to wishing Proctor a healthy and speedy recovery! #GoBucks
The Raiders won their first game of the season in thrilling fashion, but it may have been costly. In his Tuesday press conference, head coach Jon Gruden said the team is concerned that edge rusher Yannick Ngakoue, quarterback Marcus Mariota, defensive tackle Gerald McCoy, and guard Denzelle Good may have suffered long-term injuries. Ngakoue, Las [more]
The "Blank Space" singer enjoyed a very quiet drink.
We do what we must and sheepishly hand out grades for each unit and tell you the snap counts for Ohio State after the loss to Oregon.
BetMGM is offering a special promotion for football bettors this season.
Michigan vs Northern Illinois prediction and game preview. Saturday, September 18
After four decades of war and the deaths of tens of thousands of people, security has largely improved, but Afghanistan's economy is in ruins despite hundreds of billions of dollars in development spending over the past 20 years. Drought and famine are driving thousands https://www.reuters.com/video/watch/idPxFY?now=true from the country to the cities, and the World Food Programme fears food could run out by the end of the month, pushing up to 14 million people to the brink of starvation. While much attention in the West has focused on whether the new Taliban government will keep its promises to protect women's rights or offer shelter to militant groups like al Qaeda, for many Afghans the main priority is simple survival.
The new style will be available on SNKRS.
Chargers rookie offensive lineman Rashawn Slater was so good in his NFL debut that it took 24 hours for everyone to notice.
The NBA guard and his wife already have a wine label; soon they will be growing their own grapes.
U.S. team captain Steve Stricker didn't say if there's been talk of a contingency plan if Brooks Koepka can't play.
Read full article at Yahoo Sports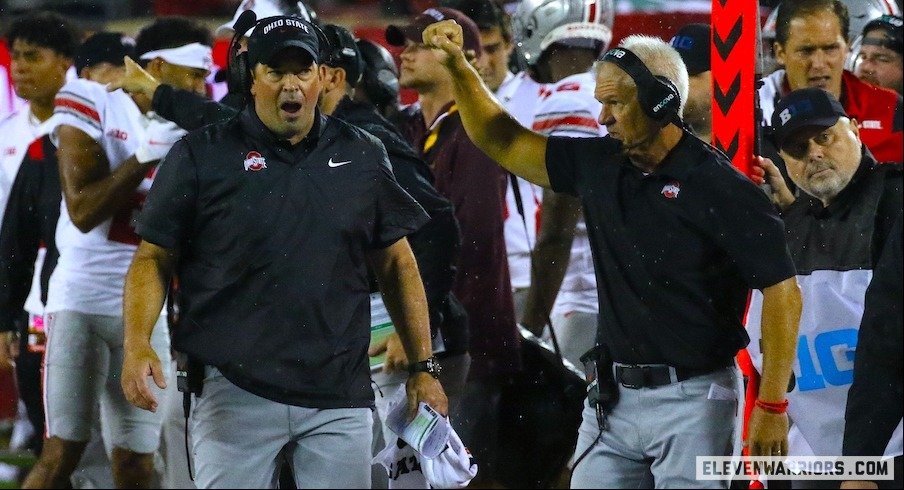 Bleacher Report 14 September, 2021 - 10:40pm
As Ryan Day's nearly 30-minute-long press conference neared its end on Tuesday, a reporter felt the need to clarify the answer to a question that Day still hadn't answered directly: Is Kerry Coombs still Ohio State's defensive coordinator?
The fact that that question even needed to be asked, and the way Day answered it, was indicative of how Tuesday's press conference reflected upon Coombs.
"Yes, he's still the defensive coordinator," Day replied with a laugh. "But we're gonna look at everything, and we're gonna keep working toward Tulsa and figure out how the staff is working together, how the scheme works together and then we'll go from there."
On a day where the vast majority of questions from Ohio State reporters centered around the Buckeyes' defensive struggles in their first two games of the season following their 35-28 loss to Oregon, that answer was as close as Day came to ever defending Coombs on Tuesday. While Day never specifically threw Coombs or anyone else under the bus for Ohio State's defensive performance so far this season, in which the Buckeyes currently rank outside the top 100 nationally in both total and scoring defense, he made it clear he is not happy with how things have gone on that side of the ball.
"Giving up too many yards and too many points, that's the bottom line. And I think now, it's not just a single game, it's a little bit of a pattern," Day said. "When you look at the results over the last couple games and then coming off of last year, it's not what we expect here. It's not our expectation."
Although he didn't want to specify what changes are coming ahead of this week's game against Tulsa, Day said he has taken a "long, hard look" over the last 48 hours at what's wrong with the defense and that changes have to be made.
"Certainly we've gotta make some adjustments here, not only of how we're attacking other offenses but also, just structurally, how we're doing our day-to-day operations," Day said.
Day said the possibility of changing responsibilities within the coaching staff is on the table, and did not answer directly when asked if Coombs would still be the defensive play caller going forward, though he said no changes within the coaching staff had been decided upon yet.
"I want to keep looking at it this week," Day said. "I don't think it's something that we're gonna decide right now either. It's gonna be something that we all get in there, we're all taking a hard look at everything we're doing, from scheme to our structure to all those types of things, and what gives us the best chance when we play against Tulsa to win the game. And we'll look at all those things. But no hard decisions have been made in that way yet."
Day also indicated that adjustments will be made to the schematic structure of the Buckeyes' defense. Ohio State's defensive structure has remained largely the same since Day became head coach in 2019, starting with when Jeff Hafley and Greg Mattison were co-defensive coordinators, though the Buckeyes did make one notable change this year by replacing the Sam linebacker in their base defense with another safety (the bullet). While fixing the pass defense was a big point of emphasis for the Buckeyes this offseason after they ranked 122nd nationally in passing yards allowed per game last season, they now rank 123rd nationally in run defense with 236 rushing yards allowed per game in their first two games this year.
"I think when you're coming off of last year, the passing game was obviously a big issue. We were top 10 in the country last year in stopping the run, and made some adjustments to get things stopped in the back end, and now we're having a hard time in the run," Day said. "So different issues, but the same outcome. So once again, we have to look at, what is the issue? Is it the style we're playing, is it the way we're coaching it, is it the scheme? When you go in the offseason, you have time to make an adjustment and you think it's right and you come into these games and you're not getting it done, then there were some bad assumptions made and bad changes. So we gotta own that."
"When you look at the results over the last couple games and then coming off of last year, it's not what we expect here. It's not our expectation."– Ryan Day on Ohio State's defensive struggles
Personnel changes might also be necessary to improve the defense, and it's been evident through the first two games that the Buckeyes are still figuring out who their best defensive players are, as 25 different defenders played against Minnesota while 26 different defenders played against Oregon. That said, Day made it clear on Tuesday that the Buckeyes need to do a better job of putting their players in positions to succeed, which could mean both changing the scheme and changing how players are coached within that scheme.
"We certainly haven't found an identity on defense yet. We've gotta figure that part of it out, because we haven't done that," Day said. "We have good coaches and we have good players, so we can figure this out. But we have to ask hard questions and make things uncomfortable, and that's part of my job."
Whose responsibilities on the defensive coaching staff could be increased if Coombs' are decreased is uncertain. None of Ohio State's other current defensive assistants have ever been a full-time defensive coordinator, though secondary coach Matt Barnes was Maryland's defensive play caller in 2018. Ohio State does have an experienced former defensive coordinator on its staff in analyst Paul Rhoads, but Day indicated that promoting Rhoads – which would mean replacing one of the 10 current on-field assistants – is a move he doesn't intend to make right now.
"Paul's a great resource for our coaches, and he's really good. The hard thing for him and in any of those types of situations is he doesn't really know the players that much, because he doesn't really get the chance to coach the players. So that would be unfair to him," Day said. "But we're obviously looking at all those types of things right now to figure out what gives us the best chance, and he's great for our coaches and he's a great resource."
RELATED Snap Counts: Ohio State Plays 57 Buckeyes, Including 26 Players on Defense, in Second-Game Loss to Oregon
One way or another, though, Day knows changes have to be made on defense and that they'll have to continue to be made if things don't get better. While the Buckeyes aren't expected to face a serious challenge this week against Tulsa or in any of their next few games, it's still important for them to get their defense fixed as quickly as possible – in part because it affects Day's ability to do his job, which usually consists of him working primarily with the offense, if the defensive coaches aren't getting their job done.
"I'm not happy about that at all," Day said. "For me to do what I need to do on offense, I need the defense really on point, the special teams on point, I need Mark Pantoni to do a great job in recruiting, Mickey Marotti to handle strength and conditioning and the minute that I get taken away from those types of things, then it affects everything else that's going on offense. So yeah, to be honest with you, I'm disappointed.
"We hire guys to do a job, and they gotta do it."
Fresh cotton and other wares at Eleven Warriors Dry Goods.
Eleven Warriors is where Ohio State fans gather. As an independent site, we're committed to delivering Buckeye fans the news and analysis they deserve, all while remaining free.
If supporting an indie site is your thing, please consider becoming a 12th Warrior, buying our merch, or contributing in other ways.
All systems operational.