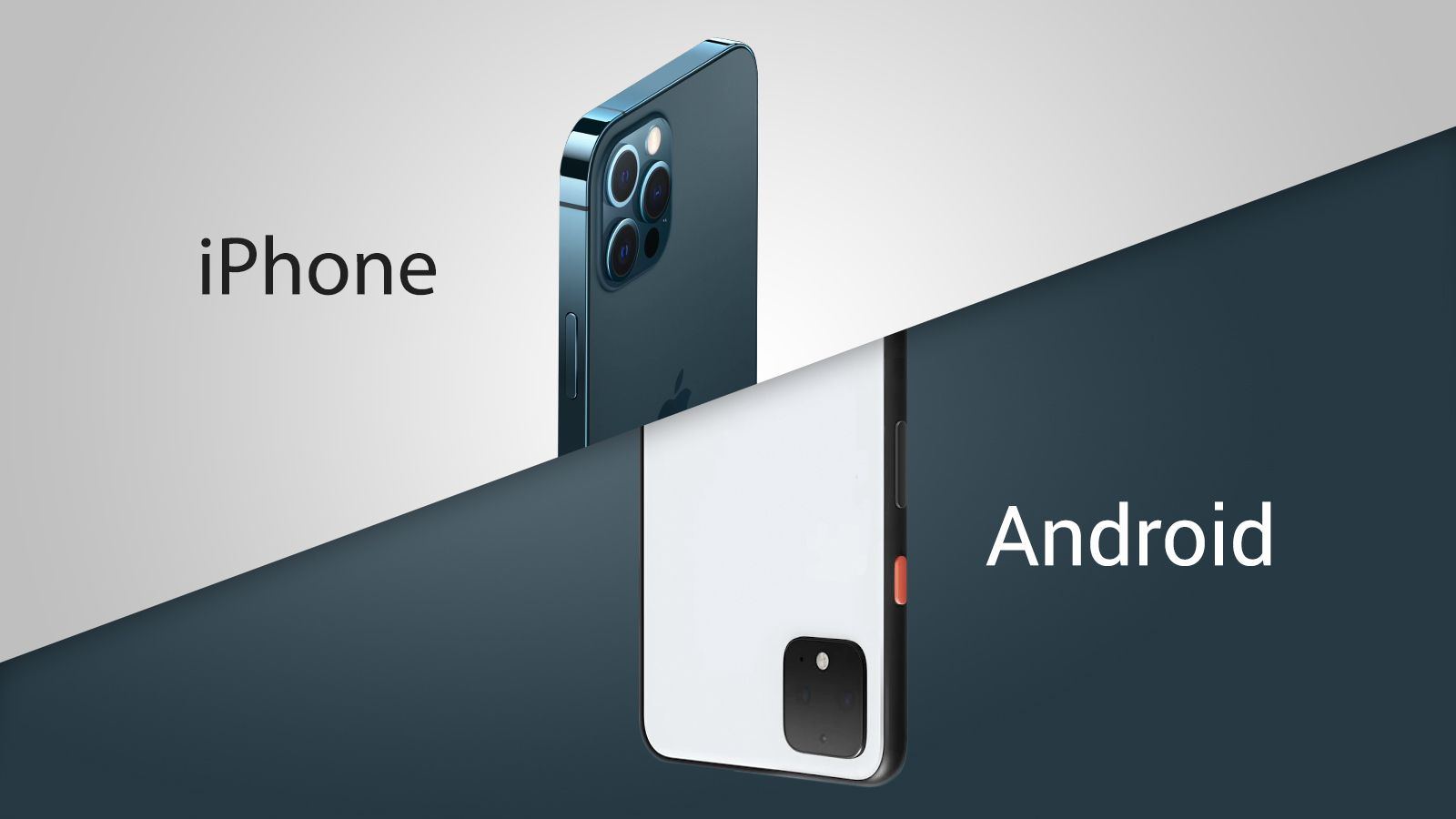 MacRumors 01 September, 2021 - 01:20pm
The survey found that 18.3 of Android users would consider switching to an ‌iPhone 13‌. This is a significant decline from last year when 33.1 percent of Android users were open to switching to an ‌iPhone 12‌ model. This is a drop of 14.8 percent.
Of the ‌iPhone 13‌ lineup, expected to consist of a 5.4-inch ‌iPhone 13‌ mini, a 6.1-inch ‌iPhone 13‌, a 6.1-inch ‌iPhone 13‌ Pro, and a 6.7-inch ‌iPhone 13‌ Pro Max, 39.8 percent of the Android users open to switching are most interested in the ‌iPhone 13‌ Pro Max. 36.1 percent are most interested in the ‌iPhone 13‌ Pro, 19.5 percent are most interested in the ‌iPhone 13‌, and just 4.6 percent are interested in the ‌iPhone 13‌ mini.
This matches broad trends around the iPhone lineup among existing iPhone users, where the 6.7-inch model is very popular while the 5.4-inch "mini" form factor has generally been marginalized and suffered from low sales.
When the potential switchers were asked what would compel them to switch to an ‌iPhone 13‌ model, 51.4 percent cited longer software support, 23.8 percent cited the Apple ecosystem, and 11.4 percent cited better privacy.
31.9 percent of Android users said that the ‌iPhone 13‌'s lack of a fingerprint scanner for authentication was the main reason they will not consider switching. 16.7 percent said that they will not consider switching due to iOS's limited customization, 12.8 percent pointed to iOS's lack of support for sideloading apps, 12.1 percent cited general design and hardware, and 10.4 percent said that "intrusive" scanning for child sexual abuse material (CSAM) was the main reason for not switching.
Of the Android users that are interested in buying an ‌iPhone 13‌, only 14.7 percent were also interested in buying an accompanying Apple Watch Series 7. Likewise, only 6.2 percent were interested in buying third-generation AirPods.
The official unveiling of the ‌iPhone 13‌, Apple Watch Series 7, and third-generation ‌AirPods‌ is believed to be just weeks away, and while major design changes are not expected for the ‌iPhone‌ this year, we can likely count on a number of camera improvements, ProRes video recording, a 120Hz ProMotion display, a smaller notch, a faster A-series processor, a new 5G chip from Qualcomm, and more.
When Apple released iOS 14.5 in April, it introduced the ability to unlock your iPhone with Face ID while wearing a mask, as long as you are wearing an Apple Watch. Here are some troubleshooting tips.
iOS 15 is available as a public beta. Here's how to install it.
macOS Monterey is now in public beta. Here's how to install it.
MagSafe Battery Pack support, the ability to merge two existing Apple Card accounts, HomePod timer management in the Home app, and more.
New features for FaceTime calls, tools to reduce distractions, a new notifications experience, added privacy features, complete redesigns for Safari, Weather, and Maps, and more.
Updates for Safari, FaceTime, and many other apps, Universal Control to let a single mouse or trackpad control multiple devices, new Shortcuts app, machine-learning Live Text detection and Visual Lookup, and more.
Redesigned with flat edges, Apple silicon, more ports, improved display, no Touch Bar, and the return of MagSafe charging.
Rumored design changes include shorter stems like current AirPods Pro, but without advanced features like active noise cancellation.
Wccftech 01 September, 2021 - 01:20pm
The iPhone 13 is expected to bring forth a swath of upgrades, but that may not compel a whole lot of users from the Android camp to upgrade. According to the latest survey, only 18.3 percent of these users want to switch to iOS and have provided reasons for not making the switch.
The survey from SellCell states that the remaining 81.7 percent of respondents do not want to switch to the iPhone 13 was due to the lack of a fingerprint reader, which scored 31.9 percent of the entire vote. We can all agree that Face ID is convenient and does not require any physical contact with the phone to unlock but having another layer of security is something that Android users apparently want.
These Android users also believe that iOS offers very little in the way of customization. This reason garnered 16.7 percent of the entire vote. The third reason is no way to sideload applications. For now, Apple prohibits the use of third-party launches due to security reasons, but recent software updates are slowly making changes to iOS in terms of personalization.
Another reason and this is a controversial one, is the intrusive iCloud photo scanning for CSAM, or Child Sexual Abuse Material. This reason is at the top half, taking 10.4 percent of the total vote. Some Android users also do not want to upgrade to the iPhone 13 because it does not sport a foldable form factor, though this only makes up 0.8 percent of the total respondents.
Keep in mind that the SellCell survey was based on 5000 Android users in the U.S. over the age of 18 and that might not include the entire region's opinion. Regardless, for customers waiting for the iPhone 13 launch, they are likely expecting displays with faster refresh rates, improved cameras, bigger batteries, and faster performance thanks to the A15 Bionic, whose mass production reportedly kicked off in May, with Apple rumored to have placed a 100 million shipments order.
If you want to know more about the iPhone 13 series, check out our comprehensive rumor roundup, which we update round-the-clock.
News Source: SellCell
For latest tech news in your inbox, once a day!
PhoneArena 01 September, 2021 - 01:20pm
This is our new notification center. Inside, you will find updates on the most important things happening right now.
Hmm, push notifications seem to be disabled in your browser. You can enable them from the 'Settings' icon in the URL bar of your browser.
Save on iPhone 12 5G with 12m plan
This is our new notification center. Inside, you will find updates on the most important things happening right now.
Hmm, push notifications seem to be disabled in your browser. You can enable them from the 'Settings' icon in the URL bar of your browser.
Save on iPhone 12 5G with 12m plan
Laptop Mag 01 September, 2021 - 01:20pm
Less than a fifth of Android users would get an iPhone 13
Still, according to a new survey conducted by SellCell, these new tweaks aren't seductive enough to attract Android users to the iPhone world. Only 18% would consider upgrading to an iPhone 13.
Majority of Android users revealed that they have no interest in upgrading to an iPhone 13. As mentioned, less than a fifth of Android users (18%) would transition to the Apple realm. SellCell noted that this is a significant drop compared to last year's survey; a third of Android users (33%) said they would be open to purchasing an iPhone 12.
SellCell asked the Apple-averse Android users why they had no interest in switching to iPhone. Most are turned off by the iPhone 13's non-existent fingerprint reader (32%).
Other iPhone aspects that deter Android users from upgrading include poor customizability (17%) and no support for sideloading apps (13%).
Among the 18% of Android users who would purchase an iPhone 13, the main draw is Apple's software support (51%) followed by the ecosystem integration (24%) and privacy protection (11%).
Apple products all work seamlessly together, so there's a good chance Android users are eyeing the iPhone 13 for a more cohesive, harmonious experience. On top of that, Apple has developed a reputation of being the better choice for privacy-concerned users who don't want apps to follow their digital trail.
Unsurprisingly, current iPhone owners are more willing to purchase the upcoming iPhone 13; 44% intend to upgrade to the next-generation Apple device.
Check out our oft-updated iPhone 13 hub to keep abreast on all the current news about the highly anticipated phone line.
Kimberly Gedeon, holding a Master's degree in International Journalism, launched her career as a journalist for MadameNoire's business beat in 2013. She loved translating stuffy stories about the economy, personal finance and investing into digestible, easy-to-understand, entertaining stories for young women of color. During her time on the business beat, she discovered her passion for tech as she dove into articles about tech entrepreneurship, the Consumer Electronics Show (CES) and the latest tablets. After eight years of freelancing, dabbling in a myriad of beats, she's finally found a home at Laptop Mag that accepts her as the crypto-addicted, virtual reality-loving, investing-focused, tech-fascinated nerd she is. Woot!
Thank you for signing up to Laptop Mag. You will receive a verification email shortly.
There was a problem. Please refresh the page and try again.
© Future Publishing Limited Quay House, The Ambury, Bath BA1 1UA. All rights reserved. England and Wales company registration number 2008885.
Gizchina.com 01 September, 2021 - 01:20pm
Three weeks after naming him as Alex Trebek's replacement to host the show, Sony cited "disruption and internal difficulties" in its announcement that he will leave the program entirely.
Sony said on Tuesday that Mike Richards would immediately exit his job as the executive producer of "Jeopardy!," completing a stunning downfall for a game-show impresario who just three weeks ago had secured one of the most coveted jobs in television as the replacement for the longtime host Alex Trebek.
"We had hoped that when Mike stepped down from the host position at 'Jeopardy!' it would have minimized the disruption and internal difficulties we have all experienced these last few weeks," a Sony executive, Suzanne Prete, wrote in a memo to staff on Tuesday. "That clearly has not happened."
Mr. Richards is also set to leave his role as executive producer of "Wheel of Fortune." He will be temporarily replaced at both programs by Michael Davies, a veteran game-show producer who developed the original American version of "Who Wants to Be a Millionaire?"
Sony had named Mr. Richards as the permanent host of "Jeopardy!" on Aug. 11, calling him a "unique talent." But Mr. Richards quit the hosting job on Aug. 20, days after a report by The Ringer revealed offensive and sexist comments he had made on a podcast several years ago, the latest in a series of scandals that tarred his brief tenure.
Top executives at Sony had initially signaled support for Mr. Richards to stay on as executive producer even after he stepped down as host. But they eventually came to believe his continued presence would be untenable, according to a person with knowledge of the matter, who requested anonymity to describe sensitive internal discussions.
Crew members confronted Mr. Richards on Aug. 19 in an emotional meeting, where they expressed dismay at his past behavior and said it had imperiled the show's reputation. An all-hands call last week that included Mr. Richards left some staff members demoralized. Some "Jeopardy!" fans also said they were confused as to why Mr. Richards was being allowed to stay on behind the scenes.
A final decision was made over the weekend, the person said.
Mr. Richards is in contact with the powerful Hollywood lawyer Bryan Freedman about negotiating his exit from Sony, according to a person familiar with the discussions. Mr. Freedman also represented the former NBC News anchor Megyn Kelly and Chris Harrison, the former host of "The Bachelor," after their own abrupt ousters.
Mr. Richards taped one week's worth of "Jeopardy!" episodes in a single day of filming before Sony announced that he had ceded the hosting job. (Those episodes are still set to air the week of Sept. 13.) The sitcom star Mayim Bialik is expected to remain as the host of "Jeopardy!" prime-time specials, but Sony has said it would resume the search for a replacement for Mr. Trebek's weeknight slot. Ms. Bialik will be the first guest host of the regular program in place of Mr. Richards.
The competition to replace Mr. Trebek, who died in 2020 after serving as the show's host for 37 years, captivated "Jeopardy!" fans and featured a parade of potential successors including the former contestant Ken Jennings and the actor LeVar Burton.
But it was Mr. Richards who won out, despite having virtually no name recognition among viewers and the fact that, as the show's executive producer, he had overseen elements of the replacement process. Old lawsuits also resurfaced from Mr. Richards's last job running "The Price Is Right" that included accusations of sexist behavior.
"Jeopardy!" first aired in 1964 and became a beloved TV institution that still draws millions of weekly viewers. The furor surrounding Mr. Richards pierced the show's above-the-fray reputation, long cultivated by the understated Mr. Trebek, and subjected it to intense debates about diversity, privilege and behavior in the modern workplace.
Sony's leadership was also facing scrutiny for the mess. "Jeopardy!" had been a reliable jewel in the studio's television portfolio, quietly earning tens of millions of dollars in annual revenue. But its messy succession drama roiled fans and raised questions about why Sony had not discovered Mr. Richards's past offensive behavior before naming him as the new host.
The report in The Ringer revealed offensive comments Mr. Richards made on a podcast, including a 2013 episode where Mr. Richards called his female co-host a "booth slut" because she once worked as a model at a consumer show in Las Vegas. He described women who wear one-piece swimsuits as looking "really frumpy and overweight" and referred to stereotypes about Jews and large noses, prompting outrage from the Anti-Defamation League.
Mr. Richards, in a memo to the "Jeopardy!" staff on Aug. 20 announcing he would step down as host, wrote that "it pains me that these past incidents and comments have cast such a shadow on 'Jeopardy!' as we look to start a new chapter."
He closed the memo by writing, "I know I have a lot of work to do to regain your trust and confidence."
One prominent former contestant, James Holzhauer, who first appeared on "Jeopardy!" in 2019, seemed to rejoice on social media after the news of Mr. Richard's exit, suggesting that he might not have even watched the show if Mr. Richards had remained involved.
Andy Saunders, who runs the website The Jeopardy! Fan, said on Tuesday that he was relieved and hopeful that peace might be restored at the game show.
"Its reputation has taken a bit of a hit over the past few weeks," he said in an interview. "I'm really looking forward to being able to move on from this. And I'm hopeful that the show has learned from what's happened."