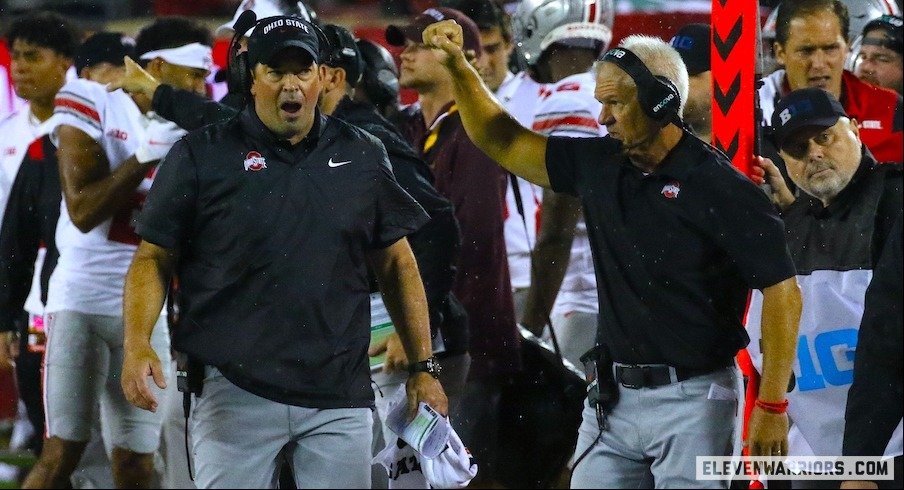 Eleven Warriors 15 September, 2021 - 02:31pm
As Ryan Day's nearly 30-minute-long press conference neared its end on Tuesday, a reporter felt the need to clarify the answer to a question that Day still hadn't answered directly: Is Kerry Coombs still Ohio State's defensive coordinator?
The fact that that question even needed to be asked, and the way Day answered it, was indicative of how Tuesday's press conference reflected upon Coombs.
"Yes, he's still the defensive coordinator," Day replied with a laugh. "But we're gonna look at everything, and we're gonna keep working toward Tulsa and figure out how the staff is working together, how the scheme works together and then we'll go from there."
On a day where the vast majority of questions from Ohio State reporters centered around the Buckeyes' defensive struggles in their first two games of the season following their 35-28 loss to Oregon, that answer was as close as Day came to ever defending Coombs on Tuesday. While Day never specifically threw Coombs or anyone else under the bus for Ohio State's defensive performance so far this season, in which the Buckeyes currently rank outside the top 100 nationally in both total and scoring defense, he made it clear he is not happy with how things have gone on that side of the ball.
"Giving up too many yards and too many points, that's the bottom line. And I think now, it's not just a single game, it's a little bit of a pattern," Day said. "When you look at the results over the last couple games and then coming off of last year, it's not what we expect here. It's not our expectation."
Although he didn't want to specify what changes are coming ahead of this week's game against Tulsa, Day said he has taken a "long, hard look" over the last 48 hours at what's wrong with the defense and that changes have to be made.
"Certainly we've gotta make some adjustments here, not only of how we're attacking other offenses but also, just structurally, how we're doing our day-to-day operations," Day said.
Day said the possibility of changing responsibilities within the coaching staff is on the table, and did not answer directly when asked if Coombs would still be the defensive play caller going forward, though he said no changes within the coaching staff had been decided upon yet.
"I want to keep looking at it this week," Day said. "I don't think it's something that we're gonna decide right now either. It's gonna be something that we all get in there, we're all taking a hard look at everything we're doing, from scheme to our structure to all those types of things, and what gives us the best chance when we play against Tulsa to win the game. And we'll look at all those things. But no hard decisions have been made in that way yet."
Day also indicated that adjustments will be made to the schematic structure of the Buckeyes' defense. Ohio State's defensive structure has remained largely the same since Day became head coach in 2019, starting with when Jeff Hafley and Greg Mattison were co-defensive coordinators, though the Buckeyes did make one notable change this year by replacing the Sam linebacker in their base defense with another safety (the bullet). While fixing the pass defense was a big point of emphasis for the Buckeyes this offseason after they ranked 122nd nationally in passing yards allowed per game last season, they now rank 123rd nationally in run defense with 236 rushing yards allowed per game in their first two games this year.
"I think when you're coming off of last year, the passing game was obviously a big issue. We were top 10 in the country last year in stopping the run, and made some adjustments to get things stopped in the back end, and now we're having a hard time in the run," Day said. "So different issues, but the same outcome. So once again, we have to look at, what is the issue? Is it the style we're playing, is it the way we're coaching it, is it the scheme? When you go in the offseason, you have time to make an adjustment and you think it's right and you come into these games and you're not getting it done, then there were some bad assumptions made and bad changes. So we gotta own that."
"When you look at the results over the last couple games and then coming off of last year, it's not what we expect here. It's not our expectation."– Ryan Day on Ohio State's defensive struggles
Personnel changes might also be necessary to improve the defense, and it's been evident through the first two games that the Buckeyes are still figuring out who their best defensive players are, as 25 different defenders played against Minnesota while 26 different defenders played against Oregon. That said, Day made it clear on Tuesday that the Buckeyes need to do a better job of putting their players in positions to succeed, which could mean both changing the scheme and changing how players are coached within that scheme.
"We certainly haven't found an identity on defense yet. We've gotta figure that part of it out, because we haven't done that," Day said. "We have good coaches and we have good players, so we can figure this out. But we have to ask hard questions and make things uncomfortable, and that's part of my job."
Whose responsibilities on the defensive coaching staff could be increased if Coombs' are decreased is uncertain. None of Ohio State's other current defensive assistants have ever been a full-time defensive coordinator, though secondary coach Matt Barnes was Maryland's defensive play caller in 2018. Ohio State does have an experienced former defensive coordinator on its staff in analyst Paul Rhoads, but Day indicated that promoting Rhoads – which would mean replacing one of the 10 current on-field assistants – is a move he doesn't intend to make right now.
"Paul's a great resource for our coaches, and he's really good. The hard thing for him and in any of those types of situations is he doesn't really know the players that much, because he doesn't really get the chance to coach the players. So that would be unfair to him," Day said. "But we're obviously looking at all those types of things right now to figure out what gives us the best chance, and he's great for our coaches and he's a great resource."
RELATED Snap Counts: Ohio State Plays 57 Buckeyes, Including 26 Players on Defense, in Second-Game Loss to Oregon
One way or another, though, Day knows changes have to be made on defense and that they'll have to continue to be made if things don't get better. While the Buckeyes aren't expected to face a serious challenge this week against Tulsa or in any of their next few games, it's still important for them to get their defense fixed as quickly as possible – in part because it affects Day's ability to do his job, which usually consists of him working primarily with the offense, if the defensive coaches aren't getting their job done.
"I'm not happy about that at all," Day said. "For me to do what I need to do on offense, I need the defense really on point, the special teams on point, I need Mark Pantoni to do a great job in recruiting, Mickey Marotti to handle strength and conditioning and the minute that I get taken away from those types of things, then it affects everything else that's going on offense. So yeah, to be honest with you, I'm disappointed.
"We hire guys to do a job, and they gotta do it."
Fresh cotton and other wares at Eleven Warriors Dry Goods.
Eleven Warriors is where Ohio State fans gather. As an independent site, we're committed to delivering Buckeye fans the news and analysis they deserve, all while remaining free.
If supporting an indie site is your thing, please consider becoming a 12th Warrior, buying our merch, or contributing in other ways.
All systems operational.
WKBN27 15 September, 2021 - 02:31pm
These cookies are necessary for the website to function and cannot be switched off in our systems. They are usually only set in response to actions made by you which amount to a request for services, such as setting your privacy preferences, logging in or filling in forms. You can set your browser to block or alert you about these cookies, but some parts of the site will not then work. These cookies do not store any personally identifiable information.
These cookies allow us to count visits and traffic sources so we can measure and improve the performance of our site. They help us to know which pages are the most and least popular and see how visitors move around the site. All information these cookies collect is aggregated and therefore anonymous. If you do not allow these cookies we will not know when you have visited our site, and will not be able to monitor its performance.
These cookies enable the website to provide enhanced functionality and personalisation. They may be set by us or by third party providers whose services we have added to our pages. If you do not allow these cookies then some or all of these services may not function properly.
These cookies may be set through our site by our advertising partners. They may be used by those companies to build a profile of your interests and show you relevant adverts on other sites. They do not store directly personal information, but are based on uniquely identifying your browser and internet device. If you do not allow these cookies, you will experience less targeted advertising.
These cookies may be set through our site by us or our partners. These are cookies that may allow us to count visits and traffic sources so we can measure and improve the performance of our site. If you do not allow these cookies we will not know when you have visited our site, and will not be able to monitor its performance.
KOIN 6 15 September, 2021 - 02:31pm
Ohio State Football on Lettermen Row 15 September, 2021 - 02:31pm
OregonLive 14 September, 2021 - 09:32am
Dayton Daily News 14 September, 2021 - 05:38am
Next up for the Buckeyes is visiting Tulsa.
Rabinowitz: I'll be honest. I did not expect that outcome, especially if you'd told me that star defensive end Kayvon Thibodeaux and linebacker Justin Flowe wouldn't play for the Ducks. But Oregon deserved to win. The Ducks did everything but stop Ohio State's passing game.
Kaufman: The style of the game, the way the Buckeyes were beaten, is the thing that's staying with me. So let's linger a little bit on the battle in the trenches, especially the way Oregon handled Ohio State's defensive line. The Buckeyes gave up 7.08 yards per carry, the most since Indiana averaged 7.81 against them in 2014. It was also their first time without a sack in a game since 2018. Really an unusual sight.
Kaufman: The injury might indeed force them to use a two-high safety scheme because there isn't anyone on the roster who has really shown to have a grasp on playing the single-high safety outside of Proctor. It's been a slow adjustment for Bryson Shaw, and though Marcus Hooker has experience from last season, there was a reason the defensive staff ultimately had Proctor take over for him. Maybe Lathan Ransom can be a second deep safety. He's already the slot cornerback, which is also referred to as a cover safety position, so it wouldn't require a huge overhaul of an approach.
Kaufman: As much as the defense has been the subject of most of the postgame critiques, let's not overlook the other factors that were at hand on Saturday. The Buckeyes' 612 total yards of offense led to only four touchdowns. Three times, they were stopped on fourth down inside Oregon's territory. Finishing drives was an issue, as was a running game that averaged only 4.13 yards per carry.
Kaufman: While there weren't a lot of holes for either Henderson or Williams to run through against Oregon, do you think the lack of a run threat at quarterback could also be hampering the running game? Stroud hasn't given opponents reason to think he'll ever keep it on zone reads, so an extra defender doesn't have to stay with him. They can go after a running back. Remember in 2018, the Buckeyes' running backs were less effective with an immobile Dwayne Haskins behind center.
Kaufman: For Stroud and everyone else, the next few weeks are a fertile training ground. Tulsa and Akron come to Columbus during the final weekends of September, then a trip to Rutgers and a visit from Maryland before an idle week in mid-October. The soft stretch of the schedule is the time to figure stuff out.
Kaufman: Certainly, it's not a fatal defeat, but remember a two-loss team has never made the College Football Playoff since its inception in 2014, leaving the Buckeyes with little room for error until December. They can't afford another slip up if they want to reach the postseason and vie for a national championship.