What are the Oscars?
The Academy Awards, popularly known as the Oscars, are awards for artistic and technical merit in the film industry. They are regarded as the most famous and prestigious awards in the entertainment industry around the world. wikipedia.orgAcademy Awards
April 26, 2021 | 7:39am
When Yuh-Jung Youn took the stage at the 2021 Oscars to accept her Best Supporting Actress award for her role in "Minari," the 73-year-old was radiant. Viewers wondered, could it be her skincare routine?
Nah, it's just her effortless sense of humor.
"She's like the grandmother everyone wants to have," her Hong Kong-based stylist Alvin Goh told The Post. "She doesn't even know she's funny, that's the best part."
On Sunday night, Youn became the first Korean actress to win an Academy Award. While accepting the Oscar for her role in "Minari," she charmed audiences with her humble yet hilarious speech, referring to herself as a "mommy who works so hard" after calling out her A-List presenter: "Mr. Brad Pitt, finally nice to meet you — where were you while we were filming in person?"
Even in a deep navy dress by Marmar Halim, Youn shone bright amidst the lengthy telecast — but she didn't plan it that way.
"She's a very understated lady," said Goh, who lovingly calls the star "YJ." "She told me this and I'll never forget it: 'I do not need to stand out… I don't need big jewels, I don't need crazy clothes.'
"I have never heard any celebrity say that to me… I've worked with a lot of big celebrities: Emma Watson, Tilda Swinton, Uma Thurman, Dakota Johnson, Margot Robbie," Goh said. "So it's shocking for someone of that level like YJ to say that; She's been in this industry for more than 50 years!"
Indeed, Youn is a household name in Korea: Most recently she starred on reality show "Youn's Kitchen," which was spun off into "Youn's Stay," set in a Korean guest house.
Said Goh, "She's telling me, 'You have to come to Korea, I have to cook something for you!'"
Due to pandemic restrictions, Goh and Youn have never actually met in person and communicated primarily via Zoom. All fittings were done virtually; they first started working together for the SAG awards in early April.
Goh had "at least 250 outfits" at the ready for the Oscars, and they settled on a long navy gown by Dubai-based label Marmar Halim worn with Chopard high jewelry, Bottega Veneta heels (which are actually available for purchase) and a Roger Vivier clutch.
"I've been receiving non-stop phone calls… people wanted to pay her to wear the brands. And she is not into all those things," he said.
Indeed, Goh remembers Youn trying on gems from "a big famous international brand," and saying, "It's too heavy, I don't like it! I can't wave my hand," he recalled with a laugh. "She wants to be understated… she wants to be comfortable."
The gown they ultimately chose "is very much YJ's style– it's the kind of silhouette she would normally wear," he said. Plus, the fabric is light and versatile: "Whether she's sitting down or standing up, it doesn't crease, which is a plus for her," he said.
"The moment she tried it she said, 'I like it."
But they still wanted to give other glam garments a fighting chance and scheduled several video fittings, taking into account different time zones; Goh is based in Hong Kong, Youn has been in LA, and she has teams working in NYC and Korea.
"I'd go to sleep at 3 a.m. and get up at 6 a.m. to do a Zoom fitting with her," he said. "I remember at one of the fittings she saw me on Zoom [and said] 'I like this dress, no more fittings. This dress is ok! I am so grateful to you; You work so hard, no more fittings!'
Said Goh, "This is a true star, no drama, No drama, no nothing."
In fact, they even toned-down the dress to match her low-maintenance vibe.
"The original design had panels inside but we took out everything; she didn't want it to look too puffy," Goh revealed.
"She's not into the princess look. She wants to look age-appropriate — she owns her age."
Read full article at Page Six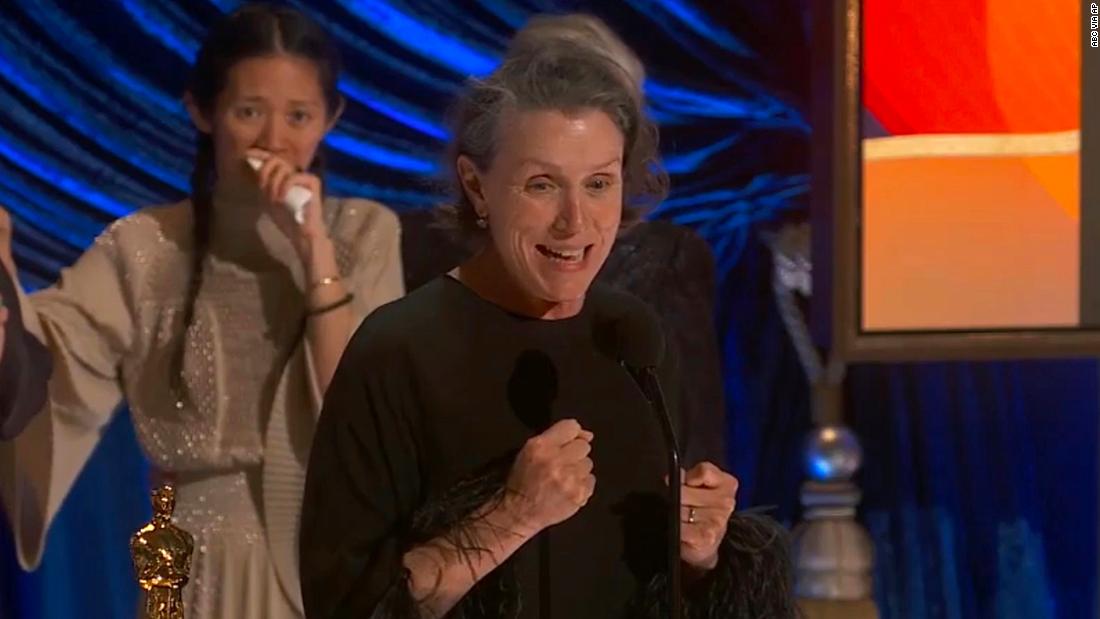 CNN 26 April, 2021 - 11:00am
Updated 6:21 AM ET, Mon April 26, 2021
Yahoo News 26 April, 2021 - 01:14am
SEOUL (Reuters) - While accepting her award for best supporting actress at Sunday's Academy Awards, South Korean film icon Youn Yuh-jung joked that her win may have been the result of American hospitality for a Korean actor.
If so, it was hospitality that had never been extended before. Youn's Oscar win for her role in "Minari" was a historic first for any Korean performer, a year after the South Korean-produced "Parasite" was lauded for "breaking the language barrier" when it became the first non-English language film to win Best Picture.
In her acceptance speech, Youn noted the challenges Korean actors have faced, joking about the different ways her name has been mispronounced.
"Tonight, you are all forgiven," she said with a smile.
Youn's witty speech and dryly humorous exchanges with reporters went viral as she joked about finally getting to meet presenter Brad Pitt, whose Plan B Entertainment Inc. produced "Minari."
"Finally, nice to meet you, where were you when we were filming?" she asked the actor to laughs from the audience. Asked by an entertainment reporter later what Pitt smelled like, Youn didn't bite.
"I didn't smell him. I'm not dog," she said, laughing.
Youn, 73, has been a fixture of Korean cinema for decades.
Amid the glitz and flashiness of South Korean icons such as K-pop global superstars BTS, Youn is perhaps an unlikely ambassador for an entertainment industry that is making ever greater strides on the world stage.
Youn downplayed competition with the other nominees, attributing her win to luck. And she acknowledged her roots in Korean cinema, dedicating her victory to the late Kim Ki-young, a legendary director who cast her in key roles in the 1970s and 1980s.
South Korean President Moon Jae-in said Youn's win rewrote the 102-year history of Korean film, and he praised her acting career as one that "gave sympathy to those who have lived in other cultures."
Moon also noted the Korean heritage of others involved in "Minari", including director Lee Isaac Chung and Steven Yeun, the first Asian-American to be nominated for a best actor Oscar.
Since her acting debut in 1966, Youn has been a sensation on Korean screens for playing witty, thought-provoking characters.
Before Sunday she had already won more than 30 awards for her role in "Minari" as a grandmother who travels to the United States to watch her grandchildren as their immigrant family tries to start a farm in 1980s Arkansas.
The film resonated widely in the United States at a time when reports of violence against Asian Americans have spiked since the beginning of the coronavirus pandemic.
"Congrats to Yuh-Jung Youn and thanks to @MinariMovie for bringing to life a beautiful character that embodies the love and care and strength of Korean American families," U.S. congressman Andy Kim, who was born in Boston to Korean immigrant parents, said on Twitter.
When asked at a backstage news conference about more diverse films and actors being recognised, Youn said it was "about time" and that people should understand and embrace each other, rather than divide themselves by race or gender.
"I think if we put our colours together, make it more prettier, even a rainbow has a seven colours," she said. "It's an opportunity for us to share in the story together."
(Reporting by Josh Smith; Additional reporting by Sangmi Cha. Editing by Gerry Doyle)
The title is as poetic as the award-winning film.
For one South Korean couple who spend nine months a year farming minari, watching the leafy green become world famous at the Academy Awards brought pride and excitement. "Minari", which tells the tale of an immigrant Korean family trying to farm in the United States, brought home six nominations and one Oscar - for supporting actress Youn Yuh-jung - on Sunday. The movie uses minari, a green with interconnected roots that takes at least a year to grow, as a metaphor for the immigrant experience.
The move would be a good first step toward racial equality. Too many people of color end up dead after police pull them over.
"Minari" star Yuh-Jung Youn was in awe of Brad Pitt as she accepted her Oscar for supporting actress at Sunday's Academy Awards.
H.E.R. brought the themes and even subject of the film "Judas and the Black Messiah" into the performance of her Oscar-nominated song "Fight for You" on the Academy Awards' pre-show telecast, "Into the Spotlight," Sunday. Watch it below. The singer-songwriter started the number off at a drum kit before moving out in front of her […]
The London-born actor is the first non-white Briton to win an acting Oscar in the show's 3-year history.
Children attending summer camp can get within 3 feet (1 meter) of each other but should wear masks to limit the spread of COVID-19, according to fresh guidance issued by the U.S. Centers for Disease Control and Prevention. The CDC's updated recommendations for camps, issued on Saturday, have been eagerly awaited by parents as the end of the school year approaches. The agency said its camp guidance aligns with its evidence for social distancing at schools, with at least 3 feet between children - and at least 6 feet (2 meters) when eating and drinking.
Racial identity has never been a big deal on Sydney to the Max. Sure, the title character Sydney (Happy!'s Ruth Righi) has a white father and a Black mother, but race is never addressed on the Disney Channel series. So when the showrunner and writers behind the tween sitcom decided to comb through Sydney's very […]
Actor Chadwick Boseman at the GQ Men of the Year party at the Chateau Marmont in Los Angeles, Dec. 3, 2015. Jordan Strauss/Invision/APThe tragic death of Chadwick Boseman at age 43 following a four-year battle against colorectal cancer underscores two important public health concerns. First, the incidence of colorectal cancer has risen dramatically among adults under age 50 in the U.S. and in many countries around the world. Second, African Americans have a much greater likelihood of being diagnosed and dying from the disease at any age. Both issues are important to the public health community and efforts are ongoing to address them. Colorectal cancer remains a major source of cancer incidence and death in the U.S. The American Cancer Society estimates that in 2020, about 147,950 people will be diagnosed with colorectal cancer and 53,200 will die from the disease, making it the fourth most prevalent form of cancer and the second leading cause of cancer mortality. As a scientist conducting basic research on colorectal cancer, I have been generally aware of these sobering trends. Increases in adults younger than 50 In 2017, Dr. Rebecca Siegel and colleagues published detailed and compelling statistical data clearly bringing the issue into sharp focus, stimulating greater coverage in the media. Analysis of trends in colorectal cancer incidence and mortality have clearly shown a decline in the general U.S. population overall during the past few decades. Unfortunately, this has not been the case for young adults. For example, incidence has decreased by an average of 4% per year between 2007 and 2016 in those over 65 years of age, in contrast to an increase of 1.4% per year during the same period in those under 50. The observed decrease in older adults is likely due to preventive screening, which is recommended and advocated for people over 50 and has been undertaken by a larger fraction of the population. Similarly, colorectal cancer mortality has declined by 3% per year between 2008 and 2017 in those over 65, while it has increased by 1.3% per year in those under 50. The American Cancer Society predicts 17,930 new cases of colorectal cancer within the under-50 population and 3,640 deaths in 2020. Expectations are that the fraction of cases occurring in young adults will increase even more over the next decade, and may carry over to those over 50. I have met a number of young people, including several in their 20s and 30s, who had been diagnosed with colorectal cancer and were in the midst of fighting it. I have also met parents who lost young adult children to the disease, and were still trying to understand how this could have happened. I have been struck by the intensity and complexity of emotions displayed by these people, including anger, resentment, embarrassment, hopelessness, fear and resolve. While a cancer diagnosis at any age is scary and disorienting, it extracts a particularly powerful psychological and social toll on young adults. What is causing the increase in young adults? We do not know for certain. Several studies have indicated that the disease in young people is different with regard to the specific location of the tumor within the colon or rectum. Also, the pathology, genetics and response to treatment differ. Lifestyle trends, such as overweight and obesity, lack of physical activity and changing diets, have been suggested to play roles. Studies have indicated that obesity is associated with increased risk of early-onset colorectal cancer in women. While these trends may contribute, they are not fully explanatory. Physicians have told me anecdotally that many of their younger patients are thin, fit, physically active and in general good health, suggesting that something else must be going on. What could that something else be? One intriguing possibility may lie in the billions of microbes, collectively termed the microbiota, that live on and within our bodies. Preliminary findings reported at the 2020 Gastrointestinal Symposium recently indicated that there may be differences between the microbiota within tumors from younger versus older colorectal cancer patients. Microbes that make up the microbiome affect health in different ways. Kateryna Kon/Shutterstock.com African Americans and colorectal cancer The death of Boseman has also underscored the long-standing racial disparity for colorectal cancer. African Americans suffer from high incidences and mortalities, regardless of age. Incidence in African Americans was 18% higher than in whites during 2012-2016, while mortality was 38% higher during the same period. For reasons we do not yet know, incidence in younger African Americans has been relatively stable in contrast to that in younger whites. Increased incidence and death from colorectal cancer in African Americans is likely a consequence of lower rates of screening, as well as environmental, socioeconomic and lifestyle factors. Reduction of the disparities may depend upon addressing these factors. Screening can prevent colorectal cancer Precancerous growths called polyps can be easily removed during a colonoscopy. Sezer33/Shutterstock.com Screening for colorectal cancer not only detects the disease but is also highly effective in preventing it. Screening can readily identify precancerous growths called polyps, as well as early-stage cancers. These often can be removed before they progress to life-threatening stages. Any of a number of methods for colorectal cancer screening are now available, including colonoscopy, flexible sigmoidoscopy, imaging and several stool-based tests. In addition, research is underway to find new methods for colorectal cancer screening based upon analysis of easily obtained body fluids such as blood and urine. Based upon the knowledge that about 90% of colorectal cancer cases occurs in those 50 and over, the U.S. Preventive Services Task Force currently recommends that screening should begin at age 50 for those who have no predisposing symptoms. This population is experiencing the decrease in colorectal cancer incidence and death that is currently being observed overall. But screening is not typically recommended for those under 50, and most health insurers do not pay for screening in this group. This lack of screening, combined with a general lack of awareness about colorectal cancer and its symptoms among young people can result in late diagnoses. Later diagnoses can often result in more advanced stages of the disease, when it is harder to treat and significantly more lethal. Recently, the American Cancer Society recommended lowering the screening age to 45, in order to catch a good percentage of the younger people whose risk may be increasing. Health-related professional organizations such as the U.S. Preventive Services Task Force and the Centers for Disease Control and Prevention have yet to adopt them. This may change, as discussions are ongoing. There is also a need to increase screening in the African American community. At present, recommendations vary. In contrast to the U.S. Preventive Services Task Force and the CDC, the U.S. Multi-Society Task Force recommends that screening in African Americans should begin at age 45 rather than 50. I hope these influential organizations will reach a consensus on this issue. Sorting out the causes of age and race disparities in colorectal cancer incidences and mortalities, and understanding the nature of the disease more thoroughly, will take time. As Boseman's untimely death reminds us, colorectal cancer is a difficult and emotional disease for all people at any age. Awareness of signs and symptoms, along with engagement in screening as appropriate, will lead to the eventual eradication of the disease as a major form of cancer. Editor's note: This article is an updated version of an article originally published March 26, 2019.This article is republished from The Conversation, a nonprofit news site dedicated to sharing ideas from academic experts. It was written by: Franklin G. Berger, University of South Carolina. Read more:Chadwick Boseman died of colon cancer at just 43. Here's what under 50s need to know about bowel cancerTowards Wakanda – Chadwick Boseman's passing and the power and limits of AfrofuturismCancer deaths decline in US, with advances in prevention, detection and treatment Franklin G. Berger has received funding from the National Institutes of Health, the BlueCross BlueShield of South Carolina Foundation, and The Duke Endowment
EV giant Tesla, Inc. (NASDAQ: TSLA) is scheduled to release its first-quarter results Monday, after the market close. Key Q1 Metrics to Watch For: Tesla is expected to report non-GAAP earnings per share, or EPS, of 79 cents in the first quarter of 2021, up sharply from 23 cents in the year-ago quarter. The consensus revenue forecast for the quarter is at $10.29 billion, up 72% year-over-year. In the fourth quarter, Tesla had earned 80 cents per share on a non-GAAP basis on revenues of $10.74 billion. Tesla revealed in early April it delivered a record 184,800 vehicles in the first quarter, comprising 182,780 Model 3/Y vehicles and 2,020 Model S/X vehicles. This represents a 109% year-over-year increase and 2.2% sequential growth. Quarterly production was at 180,338. Focus On Regulatory Credits, Automotive Margins: The focus is likely to be on regulatory credits, which accounted for 4.3% of its revenues in the fourth quarter of 2020. Zero-emission vehicle regulations adopted by several states allow EV manufacturers to earn regulatory credits, which can be monetized by selling to legacy automakers, who are not able to achieve the minimum target set for the proportion of green energy vehicles sold. Related Link: Tesla's Battery Charging Vs. Nio's Battery Swapping: What Investors Should Know Automotive gross margin slipped to 24.1% in the fourth quarter of 2020 from 27.7% in the previous quarter. It's likely the company could see a further moderation in margins, as production of the higher priced Model S/X vehicles was stalled in the quarter to allow for model refreshes. View more earnings on TSLA With competitive pressure intensifying, Tesla could aggressively slash vehicles prices in order to achieve volume production targets, long-time Tesla bear Gordon Johnson said in a note previewing the quarterly results. Tesla investors may also be keen to find out more about the company's Bitcoin investment strategy and its decision to allow the use of Bitcoin for vehicle purchases. Forward Outlook: Tesla is well positioned to capitalize on the opportunity presented by the exponential growth that is anticipated for green energy vehicles. Its Giga Shanghai factory is now churning out both Model S and Model Y vehicles, and more capacity is expected to come on line with the opening of factories in Berlin and Texas. Tesla's CFO Zach Kirkhorn said on the earnings call that the company is shooting for a 50% compounded annual growth rate in volume sales and expects to materially exceed the target in 2021. Stock Take: Tesla's shares, which were flying high until early February, joined the tech sell-off that ensued. From a split-adjusted high of $900.40 on Jan. 25, the stock fell to $539.49 on March 5, a peak-to-trough decline of 40%. Although the stock has made good some of the losses since then, it is yet to break above $800 level. Tesla holds a several-year lead and is now expanding aggressively into storage, and therefore a premium valuation for its shares is justified, CANACCORD Genuity analyst Jed Dorsheimer said in a recent note. The firm has a $1,071 price target for the stock. Friday, Tesla's shares ended 1.35% higher at $729.40. Related Link: Tesla Hits Record Production, Deliveries Despite Global Semiconductor Shortage See more from BenzingaClick here for options trades from BenzingaIs ARK Invest's Cathie Wood Interested In Nio?What's Driving Luminar Technologies Stock Higher?© 2021 Benzinga.com. Benzinga does not provide investment advice. All rights reserved.
The young actor also lets us in on the most stylish person on set and the advantages of not jumping out of a helicopter without a parachute.
The Oscars decided to switch-up the order of proceedings this year, but it seems like not everything went to plan.
"I'm asking you specifically: Did he say to you 'I guess some people are more concerned about the election than you are'?" the "Fox News Sunday" host pressed Kevin McCarthy dodged Chris Wallace's attempts Sunday to get him to discuss a reportedly heated call he had with Donald Trump on the day of the U.S. Capitol attack, insisting his communications with the former president are a private matter. According to a CNN report that was later confirmed by Washington GOP Rep. Jaime Herrera Butler, the House Minority Leader spoke with Trump on the phone during the Capitol attack and urged the then-president to call off his supporters, to which Trump replied, "Well Kevin, I guess these people are more upset about the election than you are." When pressed to confirm whether Trump actually said this, McCarthy sidestepped Wallace's question. Kevin McCarthy refuses to answer Chris Wallace's question about whether it's true that Trump told him, "Well Kevin, I guess these people are more upset about the election than you are" when McCarthy called and urged him to call off the insurrectionists on January 6 pic.twitter.com/cSYSPUs8OO— Aaron Rupar (@atrupar) April 25, 2021 "I was the first person to contact him when the riots were going on," McCarthy said. "When he ended the call, he was telling me he will put something out to make sure to stop this. And that's what he did. He put a video out later.""Quite a lot later and it was a pretty weak video," Wallace responded. "But I'm asking you specifically: Did he say to you 'I guess some people are more concerned about the election than you are'?" Wallace once again pressed McCarthy. "No. Listen, my conversations with the president are my conversations with the president," the California Republican insisted. "I engaged with the idea that we could stop what was going on inside the Capitol at that moment in time; the president said he would help." Also Read: Chris Wallace Grills Both Biden's Allies and Critics: 'Why Mislead People?' (Video) Following the attack, McCarthy reprimanded Trump on the House floor, saying the then-outgoing president "bears responsibility" for the violence that killed five people and that Trump "should have immediately denounced the mob when he saw what was unfolding."But McCarthy stopped short of voting in favor of impeachment against Trump and visited him at Mar-a-Lago shortly after he left office. When asked by Wallace, McCarthy said he has not discussed the contents of the Jan. 6 call with Trump since then, as they are part of ongoing Congressional investigations into the attack. Read original story Kevin McCarthy Dodges Chris Wallace's Questions About Trump Call on Day of Capitol Attacks At TheWrap
Anthony Hopkins became the oldest man to win Best Actor at the Academy Awards in a stripped-back, sanitised ceremony from a train station in Los Angeles which rewarded British actors, broke barriers for women of colour and attacked police brutality. In an anti-climatic ending to a largely muted ceremony, the 83-year-old Welshman was not in Los Angeles to pick up his prize and did not appear by video link to give an acceptance speech. The award was received on his behalf by the Academy and the credits started rolling. It was symptomatic of a show where there was little laughter, no orchestra and a number of awkward interludes as hosts struggled to cajole the nominees into having fun. The highlight was Glenn Close twerking to a song called "Da Butt." The cheer was short lived as moments later she became the most-nominated actress never to win an Oscar, losing out for an eighth time on Sunday. In a year when so many people in film had been affected by the pandemic, with jobs and lives lost, the atmosphere was heavy, and the couple of hundred people inside Union Station were largely restrained. The big winner of the evening was Nomadland, which won Best Picture, Best Actress (Frances McDormand) and Best Director (Chloe Zhao). This was Ms McDormand's third Best Actress Oscar, while Ms Zhao became the first woman of colour to be named Best Director. Daniel Kaluuya and Emerald Fennell will be taking awards back to Britain, but Olivia Colman and Vanessa Kirby missed out. There were a number of awards handed to black and Asian actors, including Yuh-Jung Youn, who beat Ms Close and Ms Colman to win the best supporting actress Oscar for Minari, becoming the first Korean to do so. Mia Neal and Jamika Wilson became the first black women to win an Oscar for best hair and makeup for their work on "Ma Rainey's Black Bottom."
Reporters who cover their teams on a daily basis predict how the first round of the 2021 NFL draft will unfold in The Times' beat writers' mock draft.
"He's mad at everybody one day. He's mad at me one day," House Minority Leader Kevin McCarthy said of Trump pushing him to overturn the 2020 election.