PARIS -- Manchester City have taken a big step towards the UEFA Champions League final with a 2-1 semifinal first leg win over Paris Saint-Germain.
Kevin De Bruyne and Riyad Mahrez scored the goals as Pep Guardiola's men overcame Marquinhos' first half opener to leave Mauricio Pochettino's men with a mountain to climb.
To make matters worse, Idrissa Gueye was sent off with 13 minutes to go as PSG went from dominant in the first half to dominated.
It all started so well for the hosts with Neymar, Kylian Mbappe and Angel Di Maria looking motivated in a purposeful first half showing.
The Argentina international's delicious corner delivery was met by Marquinhos and the Brazilian headed Les Parisiens in front after 15 minutes.
Although Keylor Navas saved from a Phil Foden effort that was hit directly at him, it was largely PSG as Leandro Paredes flashed a header wide from another corner and Di Maria and Neymar took turns at terrorizing the City defense with the ball at their feet.
Although Marco Verratti was inches away from doubling the home side's advantage at the start of the second half, it was as if they never re-emerged from the tunnel as City seized control.
De Bruyne's acrobatic effort was a warning of what was to come and the Belgium international levelled after 64 minutes when his ball into the box deceived everybody, including the usually formidable Navas, and ended up in the back of the net.
Paredes joined the disappointing Joao Cancelo on a booking, and it took Guardiola's men just seven more minutes to complete their turnaround through Mahrez.
The man from the Parisian suburb of Sarcelles put the Premier League leaders ahead from a free-kick and the tide had turned against PSG.
It soon became insurmountable as a straight Gueye red card followed a Neymar yellow as Pochettino's troops lost their composure in the face of a controlling City.
De Bruyne joined the list of cautioned players before the final whistle and Navas' gloves were warmed once more but it finished 2-1 and it is now well and truly advantage to the Citizens.
Huge away goals 💪🏼🎱⚽ So happy we've turned this game around. C'mon City! 💙🔥 @ChampionsLeague pic.twitter.com/tURsLV6qd8
Only halfway! pic.twitter.com/6DYu1mWmvL
Gran victoria! Todos juntos// Great victory! All together 🤟🏽#UCL pic.twitter.com/UPVxkldLEw
PEP 💬 They're so incredibly dangerous with Mbappe in behind. But we found the goals and could've scored more. Just half of the job done. If we play shy and not who we are, anything can happen. But if we play who we are, maybe we have the chance to reach the final. pic.twitter.com/AV0Hvkg8FO
Watching @Carra23 and @MicahRichards reacting to City beating PSG is EVERYTHING 🤣 pic.twitter.com/PXwJvHUIst
First leg recap: pic.twitter.com/xr6qKGyLSk
90mn left... ✊🏼 pic.twitter.com/073cfkcVVQ
"I don't know why the defenders are not heading this away because they're there, they should be dealing with this now..." @Pschmeichel1 doesn't believe Keylor Navas is fully to blame for Kevin De Bruyne's goal. pic.twitter.com/TxmgyigGo7
PSG remain winless against Man City 😞 pic.twitter.com/deyZUUqrWr
City's comeback has @MicahRichards feeling on top of the world 😂 pic.twitter.com/ZzNaHUtRPJ
Tough one for PSG to take. So good in the first half, but nowhere near good enough in the second. They will need another epic away showing if they are to make the final. It feels far right now, we will see what happens next week!
First-leg finishes in defeat at the Parc. All to play for in Manchester 💪#PSGMCI | #UCL pic.twitter.com/CILaMUdPFo
This is already a mountain for PSG to climb without conceding another...
Riyad Mahrez finds the hole in the wall. 🎯 pic.twitter.com/v7EBmiicHr
PSG go down to 10-men 🟥 pic.twitter.com/aNtgPCGqKk
82' Another change for the home side.#PSGMCI | #UCL pic.twitter.com/jE1lCMjTlm
© 2004-2021 CBS Interactive. All Rights Reserved.
CBS Sports is a registered trademark of CBS Broadcasting Inc. Commissioner.com is a registered trademark of CBS Interactive Inc.
Images by Getty Images and US Presswire
Read full article at ESPN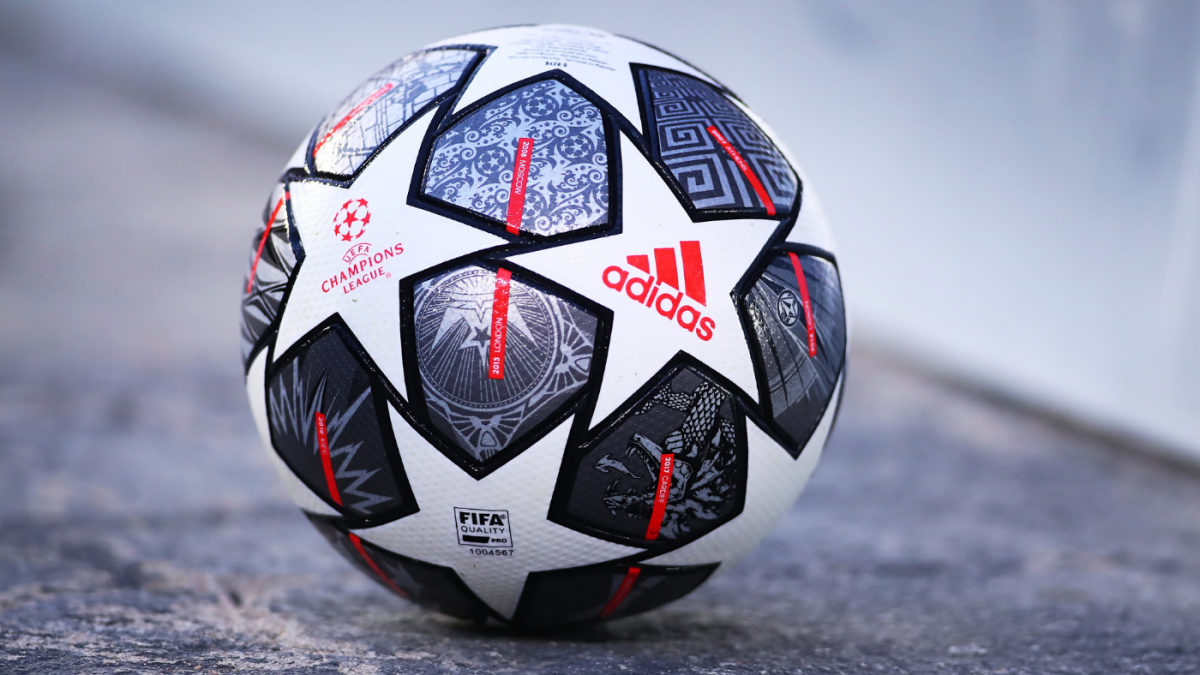 CBSSports.com 28 April, 2021 - 11:10pm
The Champions League semifinals are here, and the final will be set next week. Manchester City hold a 2-1 advantage vs. PSG with  their second leg in England set for Tuesday. Real Madrid and Chelsea, meanwhile, played a 1-1 draw in Madrid and will determine the tie on Wednesday in London. 
All Champions League matches will be streaming on Paramount+. CBS Sports Network will also broadcast the semifinals, and the May 29 final will air on CBS. You can print your bracket and pick out the winners here. And for a complete look at our experts brackets check out all their picks here.
UEFA Champions League Today will once again be hosted by Kate Abdo, along with analysts Jamie Carragher, Roberto Martinez and Micah Richards. Peter Schmeichel and Alex Scott will provide analysis in studio and on-site. CBS Sports HQ, the 24/7 streaming sports news network, will bookend CBS Sports' UEFA Champions League coverage with pre-match and post-match shows.
Here's the complete schedule, including times and streaming info, for the 2021 Champions League knockout stage:
The first legs of the semifinal round will be played on Tuesday, April 27 and Wednesday, April 28. The second legs will be played on Tuesday, May 4 and Wednesday, May 5.
The UEFA Champions League final will be played on Saturday, May 29 at the Ataturk Olympic Stadium in Istanbul, Turkey at 3 p.m. ET. The match will air on CBS and will be streaming on Paramount+. The quarterfinal and semifinal draw on March 19 will determine the designated "home" team. 
© 2004-2021 CBS Interactive. All Rights Reserved.
CBS Sports is a registered trademark of CBS Broadcasting Inc. Commissioner.com is a registered trademark of CBS Interactive Inc.
Images by Getty Images and US Presswire
The Top Flight 28 April, 2021 - 06:19pm
Manchester City and Chelsea FC (Photo by Ben Stansall - Pool/Getty Images)
Chelsea, Manchester City, Real Madrid and Paris Saint Germain – Four titans of Europe came together in the Champions League semi-finals to battle it out for a place in the biggest final in club football.
With world class stars like Neymar, Mbappe, De Bruyne, as well as Benzema, Kante and co. we would have been forgiven for expecting intricate passing moves leading to easy-on-the-eye goals.
In reality, although both semi-finals first legs were entertaining, both were decided by set pieces. Both Chelsea and City head into the second leg with loads of confidence but both semis, are far from decided.
Out of the five goals in the Champions League semis, four of them came from dead-ball situations. This is just to highlight its importance and its impact in the Premier League cannot be overlooked.
Much has been made of the form of Craig Dawson and Tomas Soucek for West Ham this year and a great deal of their influence for the Hammers has come from dead-ball situations.
It will therefore come as no surprise that West Ham have scored the most set-piece goals in the Premier League this season with 12.
Chelsea, Everton and Manchester United are next, with 7 each. That means that the top four set-piece scorers in the Premier League this season are all in the top eight and have all had great seasons thus far.
But attacking set pieces are just half the story and interestingly on the defensive side of things Chelsea, Man City and West Ham have conceded the fewest goals from dead balls this season, with just five between all of them.
Given how successful the top set-piece performers have been this season, it's easy to assume that the worst would be hanging around the bottom of the table. That's actually not the case.
Although bottom half sides Leeds, Brighton and Sheffield United rank the lowest for set-piece goals conceded, they are closely followed by Leicester City, Man United and Tottenham.
Leicester and Sheffield United also rank among the worst sides for scoring from set-pieces, where they're joined by Arsenal, West Bromwich Albion and Newcastle United.
It's clear that the teams who are the best at set-pieces are doing better in the Premier League right now, but not every team near the top of the table focuses on them.
Liverpool, for example, rank pretty much slap bang in the middle with four goals conceded and four goals scored from dead balls. The Anfield side hasn't had their best year so far, but they're still a top Premier League team.
Leicester have proved that teams can actually be bad at set-pieces and still get success, having settled in third place in the league despite the fact they're one of the worst at scoring from and conceding from dead balls. But just think where they could be if they sorted that out?
Nine of England's twelve World Cup 2018 goals came from set-pieces and yet there remains an idea that they're somewhat out of date and unfashionable. There's almost a reluctance to focus too much on that side of the game.
The Champions League has proved they still have their place in football and we'll be seeing their impact in the Premier League for a long time to come.
Build your custom FanSided Daily email newsletter with news and analysis on All English Premier League and all your favorite sports teams, TV shows, and more.
Your favorite teams, topics, and players all on your favorite mobile devices.
Powered by Minute Media © 2021 All Rights Reserved.
Eurosport COM 28 April, 2021 - 01:32am
101 Great Goals 27 April, 2021 - 03:51pm
The Champions League returned to our screens on Tuesday evening, with a huge tie.
Real Madrid played host to Chelsea in the first of two semi-final meetings.
The winner of the clash is set to face off with one of Manchester City or PSG in the competition's showpiece.
Both outfits headed into tonight's game in fairly decent form, with Chelsea's last outing having seen them secure a crucial 1-0 win over top-four rivals, West Ham.
Madrid, meanwhile, were held to a 0-0 draw by Real Betis at the weekend, but remained on a 17-game unbeaten run across all competitions in the process.
So, a closely contested affair was widely predicted at the Estadio Alfredo Di Stefano. And, when the 90 minutes were up, that is exactly what unfolded in the Spanish capital.
The first major moment of the game came 10 minutes in, when Chelsea broke through Christian Pulisic. The ball eventually fell to Timo Werner, but the German, as has become a common sight of late, failed to beat the keeper from just six yards out:
Courtois with a BIG early save against his former side! 🧤❌ pic.twitter.com/Q27W4MmKKv
— Football on BT Sport (@btsportfootball) April 27, 2021
Pulisic, though, made no mistake just three minutes later, in firing the Blues into the lead.
Antonio Rudiger played a lofted ball over the top to the American, who kept his composure to glide past Thibaut Courtois before smashing the ball into an open goal:
Christian Pulisic with a superb solo effort! 🔥
He kept his head to take the ball down, round Courtois, and finish off the move 👏👏👏
Chelsea lead! pic.twitter.com/Fi15wVrwXl
— Football on BT Sport (@btsportfootball) April 27, 2021
Madrid, who had been dominated early on, responded well following the opener. Karim Benzema burst forward to smash a long-range effort off Edouard Mendy's post 23 minutes in.
Los Blancos' second chance of the game fell to Benzema, too, with the Frenchman having this time fired a volley straight into the roof of Mendy's net:
Benzema smashes the ball home on the turn and volley. Such a clinical strike!
Against the run of play Real Madrid are level… pic.twitter.com/byfE5d9wt6
— Football on BT Sport (@btsportfootball) April 27, 2021
Werner then wasted a Chelsea break by shooting wide, when he had Mason Mount as a much better option.
The half-time whistle blew shortly after, with both sides probably fairly happy with the opening 45 minutes.
The second-half began much the same way the first did, with Chelsea on top.
The Londoners' first half chance following the break saw Marcelo get in the way of Werner's effort.
The score remained deadlocked after an hour, though, with both sides, in turn, having opted to shake things up somewhat.
Former Blue Eden Hazard was brought on by Madrid, whilst Thomas Tuchel opted to introduce Reece James, Kai Havertz and Hakim Ziyech.
Pulisic, Cesar Azpilicueta and Werner were the men to make way, with the latter having again looked short on confidence in front of goal – something which will no doubt trouble Tuchel, who has continued to place his faith in the former RB Leipzig man.
In the end, the changes failed to have the desired impact, though, with Chelsea set to head back to Stamford Bridge with a crucial away goal.
Overall, the Pensioners produced a solid showing in the Spanish capital, with N'Golo Kante particularly impressive – earning himself some high praise from former Chelsea man, Cesc Fabregas:
N'golo has always been a big game player. Never doubt him. He plays for 2.
— Cesc Fàbregas Soler (@cesc4official) April 27, 2021
Given the fact that, over the 90 minutes, Chelsea did enjoy the better of things, though, Tuchel and co. will be left to wonder what could have been, had Werner not been so poor in front of goal once again.
The German's dismal finishing both on Tuesday, and across the campaign as a whole, can be summed up by the rather concerning statistic below:
No Premier League player has missed more Big Chances in league and European competition this season than Timo Werner:
Another huge chance tonight. #UCL pic.twitter.com/ovzyM1kFdZ
— Squawka Football (@Squawka) April 27, 2021
Marcelo out of 2nd leg because he has to man a polling station in Madrid
Chelsea set Tammy Abraham asking price as Blues prepare to make room for at least one big-name striker signing
Thiago Silva's wife insulted Timo Werner on Instagram during Chelsea's clash with Real Madrid
Thomas Tuchel's remarkable record against Europe's best managers revealed/Updated Champions League winner odds
N'Golo Kante shines to help Chelsea earn crucial away goal vs Real Madrid, but Werner's dire finishing is summed up in concerning stat
Christian Pulisic makes Champions League history with Chelsea opener vs Real Madrid
Thomas Tuchel explains decision to bench Hakim Ziyech vs Real Madrid
Jose Mourinho trolls Steven Gerrard 7 years after his famous slip vs Chelsea
Buyuksehir Belediye Erzurumspor vs Istanbul Basaksehir FK live streaming: Watch Super Lig online
FC Bayern Munich vs Milano live streaming: Watch EuroLeague online
Fenerbahce vs CSKA Moscow live streaming: Watch EuroLeague online
Caykur Rizespor vs Besiktas JK live streaming: Watch Super Lig online
Lionel Messi & Joan Laporta discuss 2-year contract on reduced terms with US future integrated
'With Wenger, it was freedom' and 'Then there was Emery' Mkhitaryan opens up...
Everton 'seriously interested' in Juve's Demiral as Max Aarons interest is cooled
Thibaut Courtois explains his wonder save from Timo Werner to ex Chelsea teammates during Real Madri...
EFL looking to ask Premier League for a share of the saved £83m Norwich City & Watford parachut...
The 101 Great Goals website is constantly updated with live streaming information and football betting tips, as well as football (soccer) news, video and social media updates by the hour. Every single day of the week.
We pride ourselves at 101 Great Goals on sourcing the best ways for football fans to watch upcoming matches. Our intention is to inform on forthcoming matches, both how to view and also provide a level playing field when football betting.
This site is protected by reCAPTCHA and the Google Privacy Policy and Terms of Service apply.
Daily Mail 27 April, 2021 - 07:56am
By Harry Slavin For Mailonline
Thomas Tuchel has been here before. In fact, Chelsea have been in this position, too. Twice in the last nine years. 
Thomas Tuchel has got his Chelsea side primed to tackle one of Europe's most potent threats in Real Madrid 
And yet, there are serious questions being asked about this side's ability to cope with the might of Real Madrid and the gargantuan occasion of a Champions League semi-final. 
'Maybe there is a lack of experience in semi-finals,' admitted the Stamford Bridge trainer in his pre-match press conference on Monday. 'But we can compensate with hunger and enthusiasm.' 
Tuchel is doing himself, and his squad, a disservice. There is much more to his team than the ability to show a bit of willing and enjoyment. But both help.
Both have been evident in abundance during the German's first three months in charge - Liverpool beaten at Anfield, Atletico and Simeone stunned in Madrid and Manchester City's Quadruple hopes quashed.  
Denying a Real side led by Zinedine Zidane, a combination so well-versed in success in this competition, would represent a much larger feather in their cap. 
Here, Sportsmail looks at what Tuchel has brought so far to Stamford Bridge, and what he can bring to the battle against Europe's most potent force of the past decade. 
When Tuchel arrived at Stamford Bridge, Chelsea were going backwards. 
A squad that had performed admirably under a transfer embargo to deliver Champions League football, had struggled with the imbalance caused by a raft of new, expensive signings. 
Frank Lampard had lost his grip and the players were quickly withdrawing into themselves. During his last eight league games in charge, the Blues lost five of them. Something needed to change. 
In came Tuchel, and back came a feeling of unity within the camp. The likes of Antonio Rudiger came back in following issues with the previous boss, as did Marcos Alonso.  
Tuchel's side have been in scintillating form since his arrival, and look sharp at both ends
Repairing the divides produced a foundation from which every single player could begin to feel part of the process once more. 
Tuchel has dispelled myths, too, continuing to use Mason Mount to great effect, silencing the suggestions he was purely Lampard's pet project. Timo Werner, too, has built on his trust - ending his two-month scoring drought at the weekend. 
It has created an environment in which all players are given their opportunity to thrive. After the disappointment of missing out on a spot in the FA Cup semi-final squad, Tammy Abraham was off the bench last weekend at West Ham. 
This is a manager who knows how to squeeze every last ounce of effort out of his squad.  
The most telling aspect of Tuchel's time in charge, has been the change in fortunes at the back. 
Under Lampard, Chelsea were scoring for fun, exciting to watch going forward, but always liable to the odd defensive collapse. 
Flipping the script, Tuchel has made a strong backline the key to his early success.
Switching to a back three on his arrival, and returning the likes of Rudiger and Alonso to the squad, the Blues have been able to frustrate teams time and time again, both domestically and on the continent. 
The clean sheet against West Ham on Saturday was the 16th in all competitions since the former Paris Saint-Germain coach arrived at the Bridge. 
Antonio Rudiger has been restored to a regular place in the squad under the German coach
The likes of Atletico Madrid, Liverpool, Manchester United and Manchester City have all failed to find the net against the Blues - and that isn't just down to the defence either. 
Rotating N'Golo Kante, Matteo Kovacic and Jorginho to sit in front of the back three has been pivotal, with the resurgence of the Frenchman particularly impressive.
In the quarter-finals, too much time was afforded by Liverpool to Toni Kroos, who was able to pull the strings for Real Madrid in the first leg as he ripped the Reds apart. 
It will be on Kante and Jorginho to ensure he isn't afforded the same luxuries on Tuesday night, with Kovacic out injured.  
When Chelsea last reached this stage of the competition, seven years ago, only one of their current squad was involved. 
Cesar Azpilicueta got the ball rolling for Chelsea in the second-leg of their last-four showdown against Atletico, setting up Fernando Torres to give Stamford Bridge hope. It didn't last as Simeone's men came roaring back with a fine counter-attacking display to win 3-1 and progress to the final. 
Cesar Azpilicueta is the only Chelsea player remaining from their last semi-final appearance
There is still experience within the squad of the latter stages of the competition -  Thiago Silva having captained Tuchel's PSG in the final last year. Their only winner - Kovacic - is out injured. 
It is Tuchel's knockout experience, then, that they must rely on, but there is plenty of it. 
Tuchel has lifted the DFB Pokal in Germany with Borussia Dortmund, and enjoyed winning the Coupe de France and Coupe de la Ligue with PSG as part of a domestic treble last season.
Most notably, he has reached a Champions League final, too. That came in the form of last season's truncated format, where one-legged quarter finals and semis were played in Portugal. 
But the knowledge of having done it before shouldn't be discounted. 
Tuchel has already shown an adept handling of knockout football with the Blues. They were far from favourites against a high-flying Atletico side in the last-16, before beating them home and away. Even on British soil, the FA Cup semi-final victory over Manchester City was something of a shock.
And so maybe that is a word that should be cast aside in Tuchel's pursuit of glory with the Blues. Nothing should come as a surprise, not even victory in the Spanish capital. 
'I strongly believe our squad can do this,' said Tuchel on Monday. Why shouldn't anyone else? 
Tuchel has experienced success in knockout competitions previously with Dortmund and PSG
The end of Lampard's tenure at the Bridge was fraught. It was riddled with in-fighting, players looking to move away and a coach that was beginning to show cracks under the pressure of such an intense job. 
One of Tuchel's main goals when coming in was restore a feelgood factor that had been punctured by a run of five defeats in eight matches before the former England international departed. 
To do that, Tuchel decided to get his squad engaged on the training pitch.
According to a piece on The Athletic, even for those not getting many minutes under the German, his sessions are still engaging and keeping them motivated. 
'There is a lot more attention to detail tactically now,' a source said. 'Tuchel is more hands-on in training sessions than Lampard. Players believe in the philosophy.'
Tuchel's training sessions have got the thumbs up from players, with the enjoyment back
This has been echoed by players, with Italian Jorginho recently commenting on this very subject. There is a feeling among some in the Chelsea squad that the former England international wasn't quite cut out for management at the top level just yet.  
The instructions and thought process under Tuchel are much more clear.
'The coach wants us having control of the game, playing from behind, even when the pressure comes,' Jorginho said. 
They have started to control games once again - only against Liverpool have they not enjoyed the majority of possession in a Premier League clash since the German's arrival. 
But as the clash at Anfield showed, even if Real do boss the ball, that does not necessarily mean the result will follow.  
Zinedine Zidane has his detractors, but his record in the Champions League cannot be questioned.
Having won it as a player, he has led Real Madrid to victory on no fewer than three occasions, winning each in three consecutive years from 2016 to 2018. 
His affinity with the trophy has played a large part in seeing him restored to the head coach role at the Bernabeu and given his experiences at this stage, few would bet against him making a fourth final. 
To do so, though, Zidane will need to notch up a first. His first victory against Tuchel to be precise. 
Zinedine Zidane has failed to beat a Thomas Tuchel side in four attempts in European clashes
They have met four times in the Champions League. Twice in the group stages when the German was still at Borussia Dortmund, and twice more last season during the group stages while Tuchel was at PSG.
The clashes have resulted in three draws and one solitary victory - for Tuchel's PSG in 2019. 
Tuchel is the only coach that, having played three games or more against them, Zidane has failed to taste victory over.  
Zidane was handed his first taste of defeat in the knockout stages of the Champions League by another English club last season, when Manchester City beat them over two legs in the last-16. 
It is not something the Frenchman will be wanting to make a habit of.  
The comments below have not been moderated.
The views expressed in the contents above are those of our users and do not necessarily reflect the views of MailOnline.
By posting your comment you agree to our house rules.
Do you want to automatically post your MailOnline comments to your Facebook Timeline?
Your comment will be posted to MailOnline as usual.
Do you want to automatically post your MailOnline comments to your Facebook Timeline?
Your comment will be posted to MailOnline as usual
We will automatically post your comment and a link to the news story to your Facebook timeline at the same time it is posted on MailOnline. To do this we will link your MailOnline account with your Facebook account. We'll ask you to confirm this for your first post to Facebook.
You can choose on each post whether you would like it to be posted to Facebook. Your details from Facebook will be used to provide you with tailored content, marketing and ads in line with our Privacy Policy.
Part of the Daily Mail, The Mail on Sunday & Metro Media Group