Gavin Newsom
GavinNewsom
CA will be aligning with the new CDC guidelines. If you're fully vaccinated, outdoors, and not in a large crowd -- you do not need to wear a mask. We've administered 29+ million vaccines & have the lowest positivity rate and case rate in the nation. Let's do this. Vax up, CA!!

President Biden
POTUS
Because of the extraordinary progress we've made in the fight against COVID-19, the CDC made a big announcement today: If you are fully vaccinated — and if you are outdoors and not in a large crowd — you no longer need to wear a mask.
Jack Posobiec
JackPosobiec
Biden IGNORES new CDC mask guidelines and keeps his on despite being fully vaccinated, outside and alone www.dailymail.co.uk/health/article-9517729/Biden-keeps-mask-CDC-said-fully-vaccinated-Americans-MASKLESS-outside.html
Governor Jay Inslee
GovInslee
The data continues to show that we're safest from COVID-19 when we #TakeItOutside. With the guidance released by the CDC today, now we know that fully vaccinated individuals can gather or dine safely outdoors in small groups without masking. pic.twitter.com/jItGk8Du9t
And those who are unvaccinated can go outside without masks in some situations, too.
The new guidance represents another carefully calibrated step on the road back to normal from the coronavirus outbreak that has killed over 570,000 people in U.S.
For most of the past year, the CDC had been advising Americans to wear masks outdoors if they are within 6 feet of one another.
"Today, I hope, is a day when we can take another step back to the normalcy of before," CDC Director Dr. Rochelle Walensky said. "Over the past year, we have spent a lot of time telling Americans what you can't do. Today, I am going to tell you some of the things you can do, if you are fully vaccinated."
The change comes as more than half of U.S. adults have gotten at least one dose of coronavirus vaccine, and more than a third have been fully vaccinated.
Walensky said the decision was driven by rising vaccination numbers; declines in COVID-19 cases, hospitalizations and deaths; and research showing that less than 10% of documented instances of transmission of the virus happened outdoors.
Dr. Mike Saag, an infectious disease expert at the University of Alabama at Birmingham, welcomed the change in guidance.
"It's the return of freedom," Saag said. "It's the return of us being able to do normal activities again. We're not there yet, but we're on the exit ramp. And that's a beautiful thing."
More people need to be vaccinated, and concerns persist about variants and other possible shifts in the epidemic. But Saag said the new guidance is a sensible reward following the development and distribution of effective vaccines and about 140 million Americans stepping forward to get their shots.
The CDC, which has been cautious in its guidance during the crisis, essentially endorsed what many Americans have already been doing over the past several weeks.
The CDC says that fully vaccinated or not, people do not have to wear masks outdoors when they walk, bike or run alone or with members of their household. They can also go maskless in small outdoor gatherings with fully vaccinated people.
But from there, the CDC has differing guidance for people who are fully vaccinated and those who are not.
Unvaccinated people — defined by the CDC as those who have yet to receive both doses of the Pfizer or Moderna vaccine or the one-shot Johnson & Johnson formula — should wear masks at outdoor gatherings that include other unvaccinated people. They also should keep using masks at outdoor restaurants.
Fully vaccinated people do not need to cover up in those situations, the CDC says.
However, everyone should keep wearing masks at crowded outdoor events such as concerts or sporting events, the CDC says.
And the agency continues to recommend masks at indoor public places, such as hair salons, restaurants, shopping centers, gyms, museums and movie theaters, saying that is still the safer course even for vaccinated people.
"Right now it's very hard to tease apart who is vaccinated," Walensky explained.
She said the CDC guidance should be a model for states in setting their mask-wearing requirements.
Dr. Babak Javid, a physician-scientist at the University of California, San Francisco, said the new CDC guidance is sensible.
"In the vast majority of outdoor scenarios, transmission risk is low," Javid said.
Javid has favored outdoor mask-wearing requirements because he believes they increase indoor mask-wearing, but he said Americans can understand the relative risks and make good decisions.
He added: "I'm looking forward to mask-free existence."
"The timing is right because we now have a fair amount of data about the scenarios where transmission occurs," said Mercedes Carnethon, a professor and vice chair of preventive medicine at Northwestern University's Feinberg School of Medicine in Chicago.
What's more, she said, "the additional freedoms may serve as a motivator" for people to get vaccinated.
AP medical writer Carla K. Johnson in Washington state contributed to this report.
The Associated Press Health & Science Department receives support from the Howard Hughes Medical Institute's Department of Science Education. The AP is solely responsible for all content.
Attorneys for the Brown family announced the results of an independent autopsy Tuesday, nearly a week after the 42-year-old Black man was killed in a police shooting.
PORTLAND, Ore. — After the protests have concluded, sometimes in the early morning hours, Margaret Carter finds herself climbing into her gray Toyota Camry and cruising the streets of Portland so she can see the latest damage for herself. Carter, 85, has been downtown to the Oregon Historical Society, where demonstrators have twice smashed out the windows, recently scrawling "No More History" on the side of the building. She has driven past the local headquarters of the Democratic Party, where windows have also been shattered. Last week, she found herself at the Boys & Girls Club in her own neighborhood, nearing tears at the scene of costly window destruction at a place she has worked so hard to support. "Portland was a beautiful city," said Carter, who was the first Black woman elected to the Oregon Legislative Assembly and is now retired. "Now you walk around and see all the graffiti, buildings being boarded up. I get sick to my stomach. And I get angry." Sign up for The Morning newsletter from the New York Times After almost a year of near-continuous protests since the police killing of George Floyd in Minneapolis, Portland's city leaders are signaling that it may be time for a more aggressive crackdown on the most strident street actions. Mayor Ted Wheeler, himself a target of many of the protests as he oversaw a police department that has repeatedly turned to aggressive tactics, last week put into place a state of emergency that lasted six days and vowed to "unmask" those demonstrators who engaged in repeated acts of vandalism or arson, saying it was time to "hurt them a little bit." The demonstrations over racial justice and police violence have struck a chord with many Portland residents, and the mayor's effort has infuriated some in the progressive city's more liberal corners. Wheeler's call for crowdsourced surveillance has alarmed civil rights advocates, and critics say the city has failed to bring an end to acts of violence by the Portland Police Bureau, a demand echoed by hundreds of demonstrators who have not destroyed property. One of the latest flash points came this month, when a police officer fatally shot a man in a city park — a shooting that authorities have largely not explained. Teressa Raiford, a community organizer who founded the nonprofit Don't Shoot PDX, said activists were focused on saving lives while city leaders seemed to be focused on saving windows. "There would not be protests if police didn't continue to murder people," Raiford said. "I wish we cared about life as much as we care about property." Protests erupted in thousands of communities around the country after Floyd's death, but most gradually petered out. Portland, by contrast, had nightly protests for months, with a broad swath of the community demanding changes to confront racism and inequality in the criminal justice system. The Police Bureau exacerbated tensions, using force and tear gas in ways that have drawn the ire of judges and the Justice Department. But the crowd sizes have waned, and figures such as Terry Porter, the former Portland Trail Blazers player, have called for an end to destructive demonstrations. Wheeler seemed to use last week's conviction of Derek Chauvin, the former Minneapolis police officer who murdered Floyd, as an opportunity to bring the most raucous of the protests to a close. As people around the country went into the streets to cheer the conviction, some businesses in Portland boarded up their windows once again. That night, a small group of activists wearing black approached a group of journalists, threatening to smash the cameras of those who remained on scene. The group later shattered windows at two Starbucks stores. One man was arrested after throwing a punch at a police officer. The crowds the city has seen are often made up of amorphous groups of people who come for different reasons. Chris Davis, the deputy police chief, estimated there were 150 to 200 people among the regular protesters who were prone to engage in property destruction, although the demonstrations often feature smaller numbers. Those protesters often seen in identity-concealing black apparel and engaging in vandalism are a mix of anarchists and police abolitionists, said David Myers, an activist who has joined many of the city's protests. He said that while he was OK with those who engaged in property damage to apply pressure on city officials unwilling to impose change, he bemoaned that some of those demonstrators seemed to be sidelining the original Black Lives Matter message and harming the cause. In some cases, he said, businesses owned by Black people or which support the Black community have been attacked. "I think everybody in that mix wants to say they are BLM, but their actions show otherwise," Myers said. Myers was among a group of Black activists who posted a letter to the protest community last week, decrying "ongoing behavior seen as detrimental to Black Liberation." Success, it said, requires "thoughtful action." The increasing consternation among protesters themselves provided an opening last week for Wheeler to announce a crackdown. In his call for the public's help, Wheeler urged people to report anything they might overhear about property destruction plans or boasts. He also called for residents to report protesters who appeared to be disguising their identity and to document their license plates for the police. He urged a local college to expel one student currently facing charges in connection with a demonstration if the student is convicted. Police officers have been attempting to target and arrest demonstrators who engage in property destruction. Using a tactic known as "kettling" that has been used in policing protests around the country despite concerns from civil rights advocates, officers last month surrounded a crowd and began gathering information about each person caught inside the perimeter. The effort "yielded a lot of information," Davis said. In another recent case, after activists lit a fire at the police union headquarters, investigators reported working with an informant in the crowd to identify a suspect. Since then, he said, his office has been focused on protesters who have committed violent crimes or those involving property; for those who are arrested after such crimes, prosecutors will consider restoring lesser criminal charges that were previously dropped. He said his office was also asking judges to impose additional conditions for the pretrial release of some people charged with crimes, requiring them to leave any demonstration in which police officers declare an unlawful assembly or a riot. Schmidt said he was frustrated that people were still engaging in property destruction, noting cases like the Boys & Girls Club. "These are not just attacks on windows," he said. "These are attacks on our community. These are attacks on the values of who we are." Myers, the activist, said he was worried about the mayor's call for members of the public to alert the police when they see people wearing black protester-style clothing, saying it raises the prospect of vigilante actions. "It puts people at risk," he said. Myers said he expected the protests to continue despite the mayor's efforts to quash them. Eric Murfitt, who manages Mercantile Portland, a high-end women's clothing store, said he had heard leaders such as Wheeler expressing the right determination to end the unrest. But he said he still had not seen a lot of follow-through or results. "Do we want to live in chaos where there are no laws, no police, no accountability?" Murfitt said. "Or do we want to live in a civil society?" Murfitt said a night of looting in May resulted in $1 million in damage at his store, only days after it had reopened after the coronavirus lockdowns. Later in the year, Murfitt said, the store's insurer declined to renew the policy. The store eventually found another insurer but must pay four times more than the previous policy — tens of thousands of additional dollars per year — for a new policy that does not cover losses from civil unrest, Murfitt said. He said he was also spending tens of thousands of dollars to put bars over the windows and film on the window glass. This article originally appeared in The New York Times. © 2021 The New York Times Company
After a long year and a lot of anticipation, getting the COVID-19 vaccine can be cause for celebration, which for some might mean pouring a drink and toasting to their new immunity. But can alcohol interfere with your immune response? The short answer is that it depends on how much you drink. Sign up for The Morning newsletter from the New York Times There is no evidence that having a drink or two can render any of the current COVID vaccines less effective. Some studies have even found that over the longer term, small or moderate amounts of alcohol might actually benefit the immune system by reducing inflammation. Heavy alcohol consumption, on the other hand, particularly over the long term, can suppress the immune system and potentially interfere with your vaccine response, experts say. Since it can take weeks after a COVID shot for the body to generate protective levels of antibodies against the novel coronavirus, anything that interferes with the immune response would be cause for concern. "If you are truly a moderate drinker, then there's no risk of having a drink around the time of your vaccine," said Ilhem Messaoudi, director of the Center for Virus Research at the University of California, Irvine, who has conducted research on the effects of alcohol on the immune response. "But be very cognizant of what moderate drinking really means. It's dangerous to drink large amounts of alcohol because the effects on all biological systems, including the immune system, are pretty severe and they occur pretty quickly after you get out of that moderate zone." Moderate drinking is generally defined as no more than two drinks a day for men and a maximum of one drink a day for women, whereas heavy drinking is defined as four or more drinks on any day for men and three or more drinks for women. Keep in mind that one "standard" drink is considered five ounces of wine, 1.5 ounces of distilled spirits, or 12 ounces of beer. Some of the first concerns about alcohol and COVID vaccination began circulating after a Russian health official who warned in December that people should avoid alcohol for two weeks before getting vaccinated and then abstain for another 42 days afterward. According to a Reuters report, the official claimed that alcohol could hamper the body's ability to develop immunity against the novel coronavirus. Her warning sparked a fierce backlash in Russia, which has one of the world's highest drinking rates. In the United States, some experts say they have heard similar concerns about whether it is safe to drink around the time of vaccination. "We've been getting a lot of questions from our patients about this," said Dr. Angela Hewlett, an associate professor of infectious diseases who directs the COVID infectious diseases team at the University of Nebraska Medical Center. "Understandably, people who are receiving these vaccines want to make sure they're doing all the right things to maximize their immune response." Clinical trials of the COVID vaccines that are currently approved for use by the Food and Drug Administration did not specifically look at whether alcohol had any impact on the effectiveness of the vaccines, Hewlett said. It's possible that there will be more information on that in the future. But for now, most of what is known comes from previous research, including studies that examined how alcohol affects the immune system in humans and whether it hinders the immune response in animals that received other vaccines. One thing that is clear from studies is that heavy alcohol consumption impairs the immune response and increases your susceptibility to bacterial and viral infections. It prevents immune cells from traveling to sites of infection and carrying out their duties, like destroying viruses, bacteria and infected cells; makes it easier for pathogens to invade your cells, and causes a host of other problems. In contrast, moderate drinking does not seem to have this effect. In one study, scientists exposed 391 people to five different respiratory viruses and found that moderate drinkers were less likely to develop colds, but not if they were smokers. In another study, Messaoudi and colleagues provided rhesus monkeys access to alcoholic beverages for seven months and then looked at how their bodies responded to a vaccine against poxvirus. Much like humans, some rhesus monkeys enjoy alcohol and will drink a lot, while others show less interest and will limit themselves to small amounts. The researchers found that the animals that were chronically heavy drinkers had a weak response to the vaccine. "They had almost a nonexistent immune response," Messaoudi said. The animals that consumed only moderate amounts of alcohol, however, generated the strongest response to the vaccine, even compared to the teetotalers that consumed no alcohol at all. Studies in rats have found a similar pattern: Those consuming large amounts of alcohol have only a weak immune response to infections compared to animals given moderate amounts of alcohol or none at all. Other studies have found that when people drink moderately, it seems to lower inflammatory markers in their blood. Another reason to moderate your alcohol intake is that heavy drinking — along with the hangover that can ensue — can potentially amplify any side effects you might have from the COVID vaccine, including fever, malaise or body aches, and make you feel worse, said Hewlett of the University of Nebraska Medical Center. Hewlett chose not to drink after getting the COVID vaccine. But she said that people should feel free to imbibe so long as they drink within reason. "Having a glass of champagne probably won't inhibit any immune response," she said. "I think having a celebratory beverage in moderation is fine." This article originally appeared in The New York Times. © 2021 The New York Times Company
Despite thinking the action figure resembles Jamie Foxx more than it does himself, Mackie was happy with it and said it's amazing.
Florida residents are furious as scientists prepare to release hundreds of millions of genetically modified mosquitoes into their communities. The experiment, led by British biotech company Oxitect, will see around 750 million male mosquitoes sent out into the Florida Keys over the next two years in an attempt to control the population of an invasive, disease carrying species which has settled in the area. But many residents are unhappy at being part of what one group called "a Jurassic Park experiment." The first wave of the project will see thousands of mosquitoes released at six locations this week. The project has been launched to combat the Aedes aegypti mosquito, which makes up about four per cent of the mosquito population in the Keys but is responsible for virtually all mosquito-borne diseases transmitted to humans, including dengue, Zika and yellow fever. It can also transmit heartworm and other potentially deadly illnesses to pets and animals.
The actress has been open about her wellness journey and reached her goal weight last November
Kyle Shanahan's NFL draft smokescreen took an exceptionally dark turn on Monday.
The UNC student whose childhood photo became the iconic Disaster Girl meme sold the photo as an NFT for a life-changing amount of money.
The steamy photo comes just a week after Travis Barker celebrated Kourtney Kardashian's 42nd birthday with a PDA-packed slideshow on Instagram
West Virginia will give $100 savings bonds to 16- to 35-year-olds who get a COVID-19 vaccine, Gov. Jim Justice said Monday. There are roughly 380,000 West Virginians in that age group, many of whom have already gotten at least one shot, but Justice said he hoped the money would motivate the rest to get inoculated, as "they're not taking the vaccines as fast as we'd like them to take them." The state will use federal funds from the CARES Act to pay for the bonds, Justice, a Republican, said at a news conference, adding that he had "vetted this every way that we possibly can" to ensure that the unconventional use of the funds was allowed. Sign up for The Morning newsletter from the New York Times The bonds will also be available to anyone in that age group who has already been vaccinated, Justice said. West Virginia has the 16th highest rate of new coronavirus cases per person among U.S. states and ranks 12th in hospitalizations, according to a New York Times database. Justice said the state needed to stop the virus "dead in its tracks," and that if it did, "these masks go away, the hospitalizations go away, the death toll and the body bags start to absolutely become minimal." Earlier this year, at the start of the country's vaccination effort, West Virginia had stood out for its success in vaccinating its residents. At one point, it had administered second doses to more of its population than any other state; it was also behind only Alaska for the percent of its residents that had received a first dose. But now West Virginia is fallen behind, ahead of only nine states for the portion of its residents that have had a first dose, according to a New York Times database tracking vaccines. Justice said that young West Virginians could "always stand an extra dose of patriotism." He urged them to "accept that wonderful savings bond" — which will allow the recipient to retrieve the $100, plus interest, at a later date — adding, "I hope that you keep it for a long, long, long time." This article originally appeared in The New York Times. © 2021 The New York Times Company
The estate of Michael Jackson has scored a victory in court against Wade Robson, the dancer and choreographer who sued the estate in 2013 claiming that the late pop star sexually abused him when he was underage.
A woman has been arrested after allegedly running over and killing a man and his dog while they were out for a walk in a hit-and-run incident while fleeing at a high speed from another hit-and-run incident she had reportedly committed only moments earlier. The incident occurred on the evening of Sunday, April 25, shortly before 8 p.m. in Sandy Springs, Georgia -- a suburb north of Atlanta -- when police responded to a hit-and-run incident involving a pedestrian, later named as 25-year-old Michael Farmer of Sandy Springs and his dog, a Catahoula named Bruce. An initial police investigation found that Farmer and his dog were walking on Hammond Drive near Glenridge Drive in Sandy Springs when a white sedan traveling eastbound at a high rate of speed struck the victim and fled the scene, according to a statement from the Sandy Springs Police Department.
Masvidal is 'a fan' of the punch that knocked him out.
Clearly, Kevin Love isn't happy with how things are going in Cleveland.
The actor did not mince words when it came to addressing the trial.
The US Navy says that four Iranian Iranian vessels harassed two US Coast Guard cutters in international waters in the Persian Gulf earlier this month.
U.S. Census data released Monday will shift political power in Congress, reapportioning two House seats to Texas and one each to Florida, North Carolina, Oregon, Colorado, and Montana — and stripping a seat from California (for the first time ever), New York (barely!), Illinois, Pennsylvania, Ohio, Michigan, and West Virginia. Florida, Texas, and Arizona — each controlled entirely by Republicans — had been expecting to pick up an additional seat. "On balance, I think this reapportionment offers a small boost for Republicans, but the bigger boost is likely to come from how Republicans draw these seats in Florida, Texas, North Carolina, and Georgia," the Cook Political Report's Dave Wasserman tells Axios. "Reapportionment itself means little compared to the redistricting fights to come." It won't exactly be a level playing field. "Republicans control the redistricting process in far more states than do Democrats, because of GOP dominance in down-ballot elections," The New York Times reports. "Democrats, meanwhile, have shifted redistricting decisions in states where they have controlled the government — such as California, Colorado, and Virginia — to independent commissions intended to create fair maps." House seats broken down by final redistricting authority (vs. 2011): - Republican: 187 (219)- Democratic: 75 (44)- Independent/bipartisan commission: 121 (88)- Split control: 46 (77)- At Large states: 6 (7)https://t.co/qDEAQHGIZF pic.twitter.com/voM1hHEDrK — Dave Wasserman (@Redistrict) April 26, 2021 "The good news for Democrats: They have more control over the process than they did in 2010, the last time the lines were drawn," Wasserman's colleague Amy Walters tells PBS NewsHour. "The bad news for Democrats, the good news for Republicans, is that Republicans still control more than twice as many congressional district lines." And Oregon, controlled by Democrats, will probably add a GOP seat under a power-sharing deal with the Republican minority. In Texas, where the population gains came from Hispanic and Asian residents and out-of-staters moving to Houston, Austin, Dallas, and other Democrat-leaning urban centers, the GOP legislature will make both new congressional districts Republican, Wasserman predicts. In fact, Republicans "could conceivably pick up all five seats they need" to take control of the House from drawing favorable districts in just Texas, Florida, Georgia, and North Carolina, he adds. The estimates will change, "but right now, Republicans might expect to gain between zero and eight House seats via map changes." More stories from theweek.comThe Republican plot to steal the 2024 electionThe Oscars finale was a heartless disasterNetflix denies rumors that nobody wants to play Prince Andrew on The Crown
Disgruntled Subway franchisees have become increasingly vocal about their corroding relationship with the sandwich chain amid growing rumors that the company is planning to sell itself to investors. One point of contention, which was outlined in a recent open letter to co-owner Elisabeth DeLuca and signed by more than 100 Subway operators, is the claim that the food served at the chain's restaurants isn't as fresh as it could be. In a new pair of interviews, franchisees allege that Subway's marketing slogan "eat fresh" is, in fact, alarmingly misleading—and that the misrepresentation is making the brand lose favor with customers.Two sources behind the open letter, who requested anonymity over concerns of retaliation from the company, claim that Subway has absolute control over the procurement of supplies at stores, from ingredients to cleaning supplies and even staff uniforms. Because the company maintains a tight grip on distribution channels, operators' hands are tied when it comes to improving the quality of food at their own restaurants, even if purchasing fresher ingredients from local vendors would save them money. (RELATED: There's New Legal Drama Around McDonald's Soft Serve Machines)One example that both operators highlighted in unison is the life cycle of the chain's lettuce. The produce is purportedly picked, processed (aka chopped up), packaged, and transported to restaurants from a distribution center. By the time it arrives at Subway, it's allegedly anywhere between 10 to 15 days old. Considering the fact that most franchisees get their permitted supply of vegetables once a week (some higher-volume stores get deliveries twice a week), that lettuce may be up to 22 days old by the time it lands on your sandwich.And that's only one example. According to one operator in the western region, all of the "fresh" ingredients, including other vegetables and chicken, arrive at restaurants pre-processed and laden with preservatives."The 'eat fresh' slogan is absolutely misleading," he tells Eat This, Not That!. "People are willing to pay extra for healthy these days, but they want an honest product."Subway tells Eat This, Not That! it requires food purchases from approved suppliers in order to maintain the safety and consistency of its products.But the same operator alleges that Subway generally operates within loopholes in the Food and Drug Administration's regulations, which mandate the standard of quality of food products. And this isn't the first time that the ingredients in the chain's food have been called into question. It was only in 2014 that the company decided to drop azodiacarbonamide, a chemical used in yoga mats and shoe soles, from its bread after thousands of concerned individuals demanded the change in a petition.More recently, a lawsuit questioned the ingredients in Subway's tuna, which allegedly didn't contain any tuna when tested in a food lab. And a TikTok video showing what the chain's steak looks like straight out of the package didn't further help convince consumers about the quality of the food at America's largest fast-food company.While some other fast-food chains likely have similar brand-wide mandates when it comes to procuring and storing ingredients, this operator thinks customers can sense dishonesty."Other chains don't advertise themselves as 'fresh,'" he says. "People don't even know how many chemicals they're consuming when they're eating at Subway—it's anything but fresh, healthy food."Another operator on the West Coast shares the same sentiments, adding that the ethics of the "eat fresh" slogan really bother him as a business owner."'Fresh' is an objective description," he says. "Be honest, be ethical, say we are low cost, and maybe that will resonate."According to him, Subway lost its way with its messaging a long time ago. Now, the chain allegedly tries to fit the mold of whatever buzzy trend will bring in business. A franchisee for decades, he has witnessed many iterations of how the chain brands its sandwiches."In 2004 we were healthy, 2008 we were cheap, then we tried becoming fresh," he says. "Now, we are none of those things anymore."Subway, however, maintains that its food is freshly made in a statement issued to Eat This, Not That!."We serve freshly made sandwiches, wraps, bowls, and salads," the company says, "and stand behind the quality and freshness of our food while complying fully with all laws on advertising."For more on Subway, check out America's Largest Fast-Food Chain Is on a Downward Spiral, Reports Say. And don't forget to sign up for our newsletter to get all of the latest restaurant news delivered straight to your inbox.
Geno Hayes was diagnosed with chronic liver disease two years ago and entered hospice care at his mother's home last week.
The 42-year-old North Carolina man was fatally shot by sheriff's deputies last week in Elizabeth City.
Read full article at WGAL Susquehanna Valley Pa.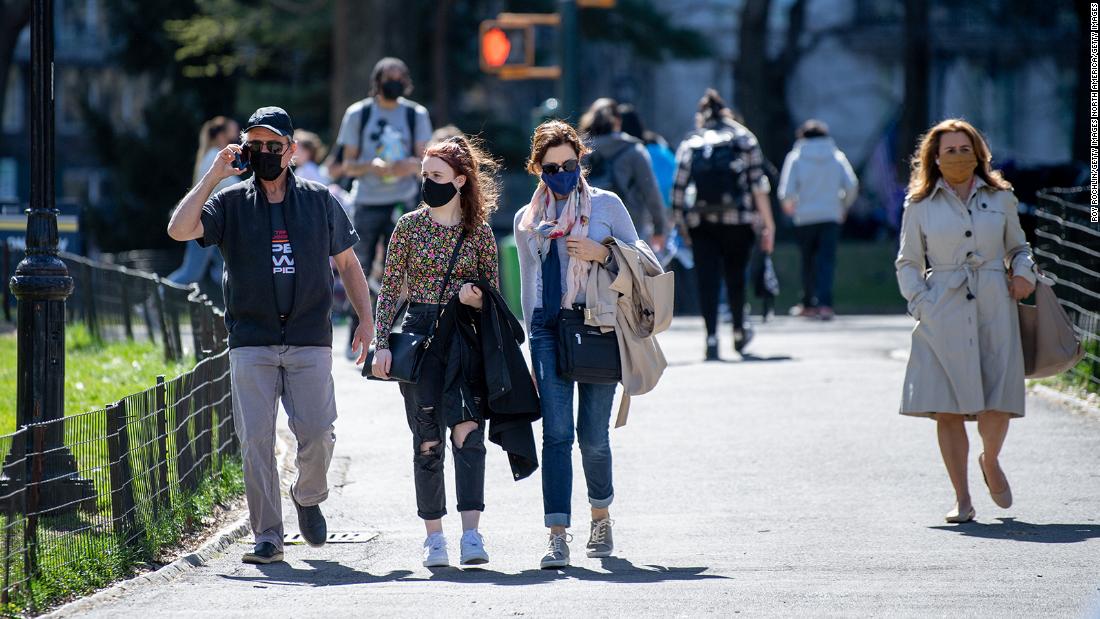 CNN 28 April, 2021 - 06:00am
Updated 1:48 PM ET, Tue April 27, 2021
Sign up here to get The Results Are In with Dr. Sanjay Gupta every Tuesday from the CNN Health team.
CNN's Kaitlan Collins and Naomi Thomas contributed to this report.
NBC News 28 April, 2021 - 06:00am
ABC15 Arizona 28 April, 2021 - 06:00am
CBC News: The National 28 April, 2021 - 06:00am
ABC News 28 April, 2021 - 06:00am
The Wall Street Journal 28 April, 2021 - 02:22am
Newly reported coronavirus cases in the U.S. edged down, as federal health officials eased guidelines on wearing face masks in public for fully vaccinated people.
The U.S. reported just over 50,000 new cases for Tuesday, according to data compiled by Johns Hopkins University that was published early Wednesday. The data may update later. Tuesday's figure was lower than the more than 56,000 cases reported on Monday, and is similar to levels seen in mid-March. Not all states report data on new cases daily.
The seven-day moving average, which smooths out irregularities in the data, was 55,272 as of Monday, according to a Wall Street Journal analysis of Johns Hopkins data, while the 14-day average was 61,197. When the seven-day average is lower than the 14-day average, as it has been since April 17, it indicates cases are falling.
Deaths from Covid-19 rose on Tuesday to 863 from 474 a day earlier, according to Johns Hopkins data. The overall U.S. death toll now stands at more than 573,300.
Vaccination campaigns continued to push forward, but at a somewhat slower pace. The U.S. administered an average of 2.7 million doses a day over the past week, according to a Wall Street Journal analysis of data from the Centers for Disease Control and Prevention, down averages of about 3.2 million a day earlier this month. New York state plans to open mass-vaccination sites to walk-ins beginning Thursday, as Gov. Andrew Cuomo said demand for Covid-19 vaccines across the state was waning and people are no longer chasing appointments.
Some 29.1% of the U.S. population has now been fully vaccinated, and 42.7% of people have received at least one dose. Vaccination levels vary by state. In Maine, 37.4% of all residents are fully vaccinated, while in Alabama, the figure is 22%.
On Tuesday, the CDC said people who are fully vaccinated don't need to wear face masks when walking, hiking, biking, running alone or gathering in small groups outside. The same applies to conducting those forms of exercise with household members, dining at restaurants outside and to small outdoor gatherings that include some unvaccinated people. Yet vaccinated people should still wear masks in public settings indoors and outdoors where there is a substantial risk of Covid-19 transmission, such as concerts, sporting events and other crowded gatherings, the CDC said.
The new guidelines follow mounting scientific evidence indicating the risk of infection is low outdoors, especially among people who are vaccinated. The risk of Covid-19 transmission by vaccinated people is low, evidence shows.
The easing of mask guidelines comes as a variant of the coronavirus first spotted in India has been detected in the U.S. and 18 other countries and territories. The variant, known as B.1.617, isn't as well studied as other worrisome variants—some of which are also circulating in India—and its role in driving India's current wave of infection isn't entirely clear. The surge in cases followed a loosening of restrictions and a large number of religious and political gatherings.
Meanwhile, Pfizer Chief Executive Albert Bourla said in an interview on CNBC that an oral Covid-19 treatment the company is developing could be available for use by the end of year. In March, Pfizer began an early-stage trial testing the drug in people. The drug is also under evaluation as an intravenous treatment, in a separate trial Pfizer started last fall. Pfizer's drug is known as a protease inhibitor because researchers believe it blocks a key enzyme, known as a protease, that helps viruses replicate.
Covid-19 tests for people to use at home are finally available, but it appears the tests will cost consumers at least $20 for a pack of two, which health experts say is probably too pricey for frequent use.
Many health authorities have been looking forward to the introduction of the fast-acting tests, which people could take at home to see if they are infected. The paper-strip tests also could help curb the spread of the coronavirus, supporters say, if people used them a few times a week.
Dr. McLaren and medical-testing experts expressed hope that prices would drop if more companies get clearance to sell paper-strip tests.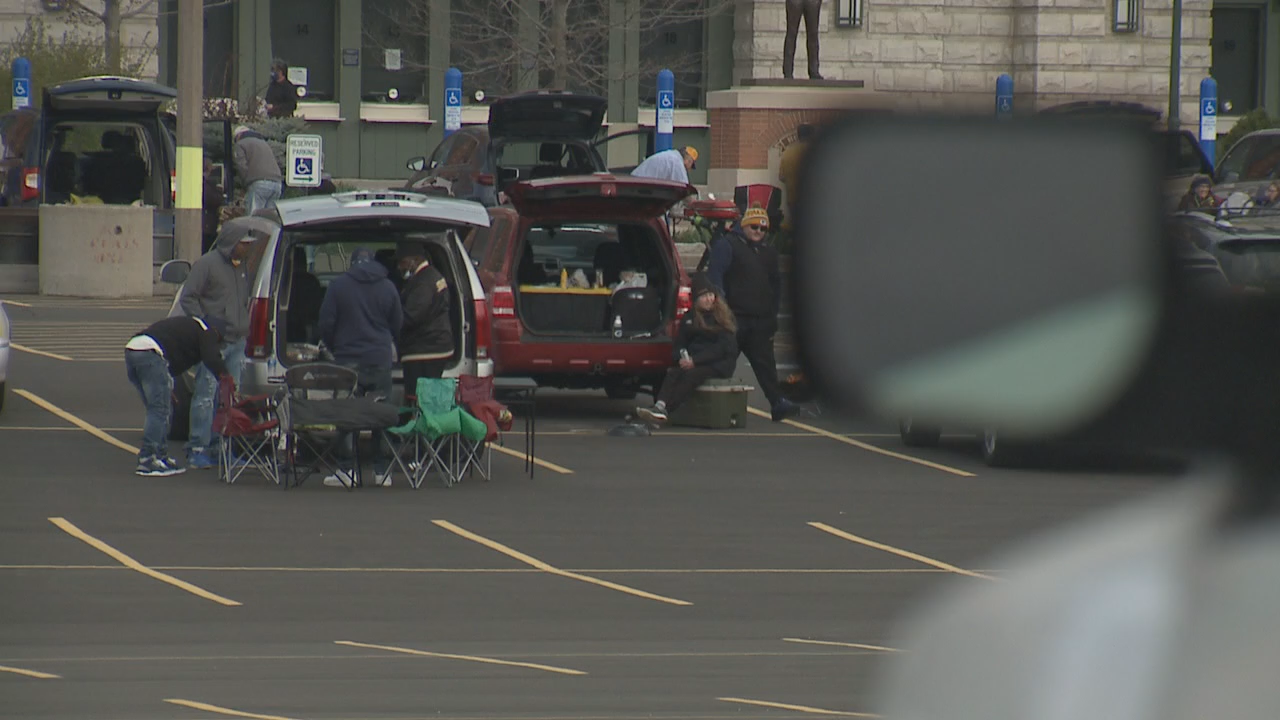 FOX 6 Milwaukee 27 April, 2021 - 07:40pm
If you're vaccinated, the CDC is now saying it's OK to go without a mask outside. Because of it, Milwaukee leaders are considering revising the city's own mask mandate.
If you're around large crowds or inside the ballpark, you'll still need to wear a mask, but if you're fully vaccinated and outside the CDC says it's OK to go without a mask in smaller settings.
The parking lots outside of the Brewers game are starting to feel like they once did, with bags, beers and brats offering a sight for sore eyes.
"It's our first game of the year," said Matthew Byrge. "I'm happy to be here.
But the smaller crowd and COVID-19 rules served as reminders we are still in the pandemic.
"We're not done with this yet," said Byrge. "It's not going away.
Byrge and his family said it's important to stay vigilant. He's been fully vaccinated and said he's relieved new CDC guidance says he can ditch the mask outdoors in smaller settings.
"It's nice to know," said Byrge. "I think there's a light at the end of the tunnel."
The new CDC guidance has city leaders considering revising Milwaukee's own mask mandate which requires anyone within 6 feet to mask up. However, any revisions wouldn't change requirements in large settings.
"The guidelines very specifically state outside events like festivals or sporting events should still maintain masking requirements," said Milwaukee Health Commissioner Kirsten Johnson.
But that's not the case if you're out at a place like a park or a beach and it's not crowded.
"I feel like we should just be able to open up entirely," said Kyle Larsen.
Those back at American Family Field said they're willing to play by the rules.
"I feel safe, if everyone's vaccinated, that you can enjoy the Wisconsin summers," said Michael Haase. "I think this is a great step to getting back to where we were."
Any changes to Milwaukee's mask mandate would need to be approved by the Common Council.
U.S. health officials say fully vaccinated Americans don't need to wear masks outdoors anymore unless they are in a big crowd of strangers. The change comes as nearly one-third of Wisconsin residents have completed their COVID-19 vaccine series. 
After receiving the first dose of the two-dose vaccine, the three-week period between shots leaves room for the virus to remain a threat.
This material may not be published, broadcast, rewritten, or redistributed. ©2021 FOX Television Stations