July 15, 2021 | 3:36pm | Updated July 15, 2021 | 7:12pm
Ten years ago, Phil Mickelson nearly won the British Open at Royal St. George's, finishing runner-up to winner Darren Clarke.
After Thursday's opening round at the same course, Mickelson is tied for last place after shooting a shocking 10-over-par 80, which placed him 16 shots out of the lead, and left him with no realistic chance at making the cut to play the weekend.
"I didn't see that coming,'' Mickelson said to his coach, Andrew Getson, as he left the scoring area, according to ESPN.com.
All Mickelson would say further to reporters was: "I'm in last place. I'll try to do better tomorrow.''
It was the second-highest score Mickelson has ever posted in 93 rounds played at the Open. Mickelson shot 85 during the third round in 1998.
Mickelson, 51, won the PGA Championship at age 50 to add a sixth career major championship to his brilliant résumé, but his form hasn't been close to the same since his magical week at Kiawah Island.
Mickelson missed the cut at the Charles Schwab Challenge the week after the PGA, then tied for 62nd at the U.S. Open, tied for 61st at the Travelers Championship and tied for 74th at the Rocket Mortgage Classic in the lead-up to this week.
His round on Thursday never got going. He hit just 6 of 14 fairways, 9 of 18 greens and took 35 putts. He shot a 40 on the front nine with five bogeys and 40 on the back with four bogeys and a double on 18. He didn't card a single birdie.
Entering the week, Mickelson conceded that he had no idea what to expect of his play.
"Your guess is as good as mine," Mickelson said before Thursday's round of his chances this week. "All I can tell you is that I like the course. So, as always, I'm looking forward to playing over here."
His score notwithstanding, though, Lowry called it "very special day'' for himself being announced as the reigning Open champion on the first tee.
"The announcement on the first tee, I've been waiting over a year for that, so it's quite nice," he said. "It was quite unsettling at the start. I got off to a pretty nervy start. I didn't play my best golf. I battled hard. I was quite proud of myself. On to tomorrow."
Louis Oosthuizen said on Thursday that he seems to have settled on a Ping putter that he feels comfortable with, hopefully for the long term. Why is this relevant? Because, by his own admission, Oosthuizen has been a player who goes through putters like writers go through notebooks.
"I've got a bag [of putters] at home that I might just throw in a river someday," Oosthuizen said. "I went through a stage where I changed a lot of putters. Every week we were trying something. I realized quickly that there's no way to find any consistency in putting if you do that."
Richard Bland, the 48-year-old Englishman who recently ended a 477-tournament winless drought to win is first European Tour victory and get into the Open field, struck the opening tee shot Thursday morning and called it "very special, very nerve-racking."
"I was OK when I got onto the tee," Bland said. "A little bit nervous because you're just about to start a major championship, but then once the announcer said, 'It's 30 seconds guys,' you're like, 'Right, this is it. This is what it's all about.'
"The nerves definitely sort of cranked up a little bit and was glad to get one down the fairway."
Bland shot an even-par 70, but he'll remember the day for the start.
"It was a tremendous honor, great for the R&A to put that on me," he said. "It's something that I wasn't expecting at all. It was a special moment."
Brian Harman, who's one shot out of the lead after shooting a 5-under-par 65, missed the cut in his previous four Opens and was 16-over par in those eight rounds. … Since 1960, 73 percent of the Open champions have been inside the top 10 after the opening round.
… Will Zalatoris carded the first eagle of the tournament when he holed out from the fairway on No. 12 to get to 3-under. … Brooks Koepka shot 69, his 40th round in the 60s in majors since 2016 — eight more than any other player in that span. … When Jon Rahm double bogeyed the ninth hole, that snapped a streak of 102 consecutive holes without a double or worse.
Read full article at New York Post
The Open 15 July, 2021 - 08:12pm
The Star Online 15 July, 2021 - 08:12pm
Golf - The 149th Open Championship - Royal St George's, Sandwich, Britain - July 15, 2021 Phil Mickelson of the U.S. reacts during the first round REUTERS/Paul Childs
SANDWICH, England (Reuters) - American veteran Phil Mickelson suffered a nightmarish first round at the British Open as the 51-year-old carded a 10-over-par 80 at a blustery Royal St George's on Thursday.
Mickelson, who became the oldest major champion in history when he claimed the PGA Championship title in May, made eight bogeys before a double-bogey on the 18th completed a miserable afternoon.
Barring something extraordinary on Friday, the 2013 champion will almost certainly miss the cut at the Open for the third time in his last four appearances.
It was not Mickelson's worst round at the Open, however. At Royal Birkdale in 1998 he carded a third-round 85 when heavy wind and rain caused havoc.
(Reporting by Martyn Herman; Editing by Toby Davis)
Copyright © 1995- Star Media Group Berhad (10894D)
We would love to keep you posted on the latest promotion. Kindly fill the form below
We hope you enjoy this feature!
Golf.com 15 July, 2021 - 06:07pm
Phil Mickelson hits out of the rough on Thursday on the 12th hole at Royal St. George's.
Phil Mickelson, on the par-4 1st at Royal St. George's, hit his drive down the left side of the fairway, looped in a short iron to about 12 feet and just missed the birdie putt to the right of the hole. He'd settle for a par during Thursday's first round of the Open Championship. On his way to his tap-in, this year's PGA Championship winner and a six-time major champion overall, would smirk at his miss.
It would worsen from there — the expressions and the round. 
On the par-4th, after a par on the 2nd and a bogey on the 3rd, Mickelson made a 5-footer for bogey, then tug at the back of his blue cap in frustration. On the par-4 5th, he rimmed out a 12-footer for par, then jolted back out of his putting crouch.
On the par-3 6th, Mickelson missed another 12-footer, this time for birdie, and this time he held his putter from both ends and lightly tried to bend it. On the par-5 7th, he rimmed out a 10-foot par putt, leaned back and opened his mouth wide. The crowd around the green also gasped.
By the time Mickelson reached 18, he had made nine pars and eight bogeys. And zero birdies. He'd double the par-4 closing hole after a drive into the thick stuff left, a blast out, a third shot that came out 10 yards short of the green, a chip and two putts, the 34th and 35th of his round.
Add it all together and it was a 10-over 80, which tied Mickelson for last in the 156-player field. It was his highest-ever first round at the Open Championship across 26 appearances. It was his second-highest round ever at the Open, behind his 85 in 1998 at Royal Birkdale. 
A decade ago, at the last Open played at Royal St. George's, he finished tied for second, and two years later, he won his first and only Open. On Thursday, he was 16 shots behind leader Louis Oosthuizen.
Mickelson's final expression was more subdued. On 18, after his tap-in for a 6, he handed his putter back to his caddie and brother, Tim, waved gently to the crowd and tipped his cap, and fist-bumped his group's players and caddies. Mickelson will be back Friday, but almost assuredly won't be Saturday and Sunday. 
"I'm sure he's pretty shocked by that," analyst Paul Azinger said on the Golf Channel broadcast. "He was here in plenty of time. Played a lot of practice rounds. Just never saw that coming."
GOLF.com and GOLF Magazine are published by EB GOLF MEDIA LLC, a division of 8AM GOLF
The Boston Globe 15 July, 2021 - 04:38pm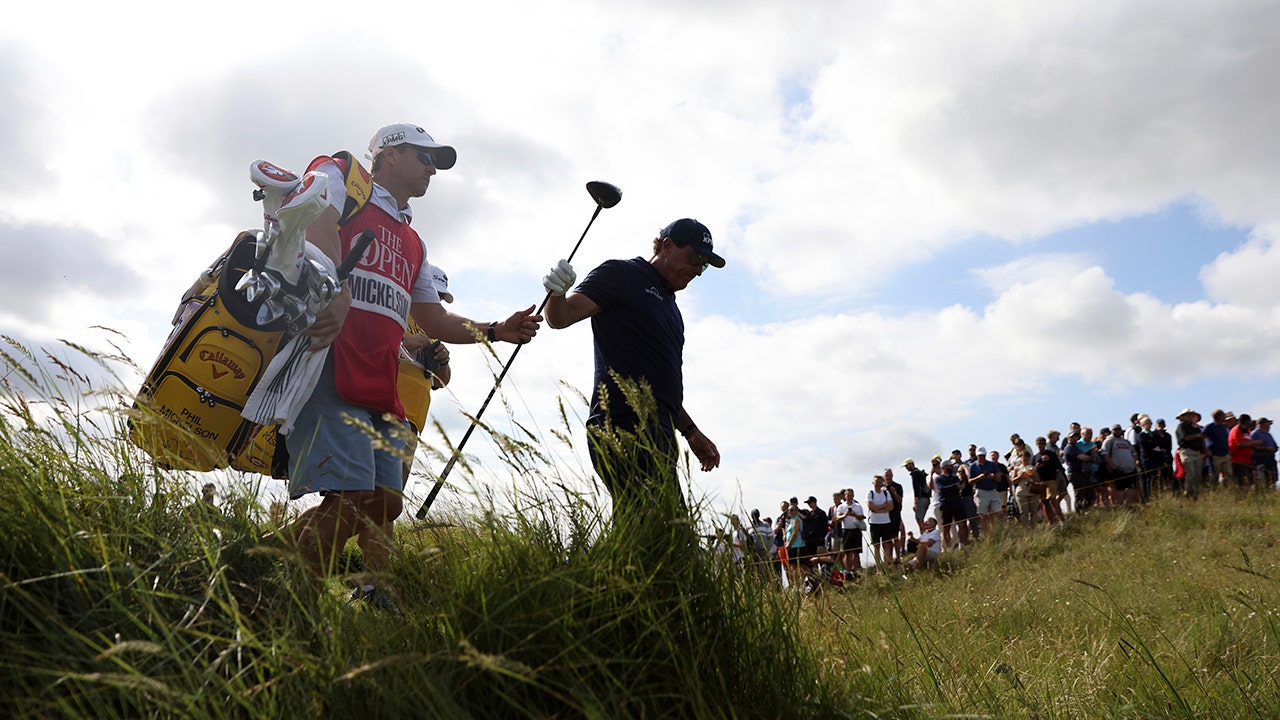 Fox News 15 July, 2021 - 04:24pm
This material may not be published, broadcast, rewritten, or redistributed. ©2021 FOX News Network, LLC. All rights reserved. Quotes displayed in real-time or delayed by at least 15 minutes. Market data provided by Factset. Powered and implemented by FactSet Digital Solutions. Legal Statement. Mutual Fund and ETF data provided by Refinitiv Lipper.
Fox News Flash top headlines are here. Check out what's clicking on Foxnews.com.
Phil Mickelson must have walked off Royal St. George's and wondered what hit him.
The opening round Thursday in the British Open was accommodating enough for 47 players to post scores in the 60s, led by Louis Oosthuizen at 6-under 64.
The good news for Mickelson? He still ends the year as a major champion, having captured the PGA Championship two months ago at age 50.
Mickelson wasn't alone in failing to take advantage.
U.S. Open champion Jon Rahm, trying to become the first player since Tiger Woods in 2000 to win golf's two oldest majors in the same year, hit the face of a fairway bunker on the ninth hole and made a double bogey. Worse yet, he managed only two birdies for a 71.
Bryson DeChambeau couldn't find the fairway and never got any momentum until early in the back nine when he ran off enough birdies to at least salvage a 71.
Both of them played in the morning, before the links began to get drier and a little bouncier. The afternoon played just over 1 1/2 shots harder.
"If I can figure out how to make that driver go straight and figure out the jumpers out of the rough, it would be awesome," DeChambeau said. "I just can't figure it out."
Only five players have broken par over 72 holes at Royal St. George's the last two times it hosted the British Open. The course figures to get drier and tougher for the rest of the week, and the number of players in red figures — 47 — will start shrinking quickly.
But this was the day, morning or afternoon, to make hay.
Justin Thomas couldn't make a birdie. Thomas, who has such great control of the flight of his irons that he would seem to be a natural for links golf, scrambled out of ankle-deep grass for pars and reached 1 under with a birdie on the tough par-4 fourth hole.
He didn't make another birdie the rest of the way, dropped three shots and opened with a 72. That left him in a tie for 91st, along with Patrick Reed.
Rory McIlroy shot 70 and realized it could have been worse.
He began the Open with wedge to 3 feet for birdie. He drilled it down the middle of the next fairway — the ball winds up in the middle more than actually aiming it there — and stuck another wedge in tight. He missed that putt, however.
And then he ran off a string of three straight bogey and was still 2 over with five holes remaining. The frustration began to show, especially on the 17th hole. Another great tee shot, McIlroy had wedge in hand and sent the ball high and soaring to the right, some 50 feet beyond the pin. He had to scramble for par.
A birdie on the last hole gave him hope.
"The conditions got pretty rough there in the middle of the round. The wind got up and I made a few bogeys in a row," McIlroy said. "Sort of said to myself at the turn if I could get back to even par for the day I would be happy.
"To birdie the last hole and get back to even par, yeah, it's nice to finish like that," he said. "Looking forward to getting back out there tomorrow."
It was more challenging in the afternoon, with sustained gusts and the turf starting to get dry. Even though, Webb Simpson was among those who managed a 66 in the afternoon. Former PGA champion Collin Morikawa, in his first test of links golf, had a 67.
Tommy Fleetwood also had a 67.
"First round of the Open, you can only lose it on the first day," Fleetwood said. "It's nice to have shot a good round and get going and move on to tomorrow."
Rahm, Thomas, DeChambeau and anyone else who over par are certainly not out of the tournament. They just failed to take advantage of a day when good scores were available.
Mickelson is another story. He was tied for last place. Only twice in the last 20 years has a player shot 80 in the first round and even made the cut. The most recent was Paul Lawrie in 2013 at Muirfield. Ernie Els opened with an 80 at Royal Birkdale and went on to tie for seventh.
There's one difference, though. Els was among 19 players who shot in the 80s that day (it would have been 21 if Sandy Lyle and Rich Beem had walked in early). On this day, Mickelson shared that space with Deyen Lawson, a local qualifier.
This material may not be published, broadcast, rewritten, or redistributed. ©2021 FOX News Network, LLC. All rights reserved. Quotes displayed in real-time or delayed by at least 15 minutes. Market data provided by Factset. Powered and implemented by FactSet Digital Solutions. Legal Statement. Mutual Fund and ETF data provided by Refinitiv Lipper.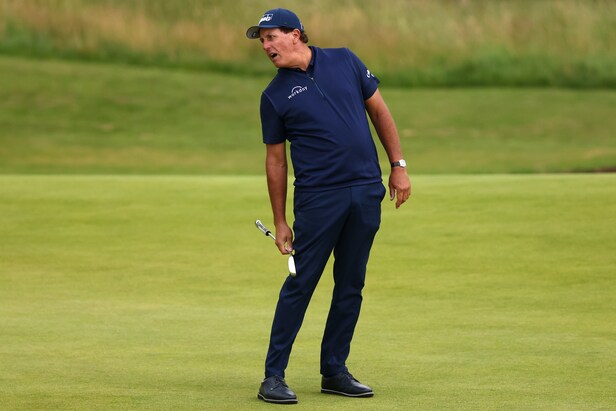 Golf Digest 15 July, 2021 - 04:08pm
All except the very late starters at the 149th Open Championship were treated Thursday to heaping helpings of Royal St. Gettable (nee St. George's), with greens more green and the winds less sweeping, leaving the par-70 layout set up at 7,049 yards in a rather vulnerable state.
Seven thousand yards? That's, like, 12 holes at Kiawah Island or Torrey Pines, where they played the PGA Championship and U.S. Open, respectively, earlier this year.
The results were not surprising. Forty-seven players broke par and 73 shot par or better. Seven players didn't make a bogey. Among those in red figures was a player whom we expect to break par and that was Brooks Koepke, who despite a bogey at the last shot 69. Seems like we're always talking about Brooksie in these majors, and that is to be expected when the guy now has 40 rounds in the 60s in major championships since 2016.
The surprising part of his day was reportedly declining an interview afterward. In addition to good scores in majors, this guy delivers direct hits in his interviews, so a lost moment in what was otherwise a rather eventful opening day.
All we have to say is watch out if Brooks is miffed after a 69. No one plays better with internal combustion motivation.
Here are eight other surprises to Round One:
A graphic displaying players with the most rounds of 75-plus in the Open since 2015 included Sullivan, who is tied with Dustin Johnson for third-most with five, thereby proving that not every comparison to the No. 1 player in the world is favorable. Thursday's handsome score came in just his 17th Open round, meaning nearly a third of his previous scores required advanced math. In fact, his 67 came on the heels of ignoble scores of 76-76-75 in his previous three rounds in the Open at Carnoustie and Portrush, respectively. Ranked 81 in the world, Sullivan gained entry as an alternate when Matthew Wolff took a pass. His performance Thursday was some kind of alternate reality.
New irons in the bag need a breaking in period. Or so goes conventional wisdom. Took Jordan, oh, about four holes. Shot lowest opening round since Birkdale in 2017, when he also scored 65 and went on to win. Still hasn't shot higher than 72 in any first round since he showed up in 2013 at Muirfield and started with a 69. The performance represents a bit of a breakthrough for the three-time major winner, who hadn't opened a major with a round in the 60s since shooting 69 in the 2019 PGA Championship at Bethpage. Nice having that trusty putter to lean on.
We might tend to categorize Cink's victory in the 2009 Open as having a "lightning in a bottle" quality, but the Georgia native arrived at St. George's with top-25 finishes in three of his last four appearances, and he was T-6 in 2007 at Carnoustie before beating 99-year-old Tom Watson at Turnberry two years later. (OK, Old Tom only looked 99 in the playoff.) A two-time-winner this season, Cink is enjoying a resurgence at age 48 and that continued with his best score at St. George's and only his second bettering par in Kent compared to three 75s and a 77 among his previous eight rounds. Oh, and like Spieth, Cink equaled his lowest opening round from the year he won.
This diminutive left-hander hasn't rounded third and come home to cash a check in the Open since his debut in 2014, when he finished T-26 at Hoylake in 2014. Since then, the 5-foot-7 hunting enthusiast delivered a string of 70s hits, none of them representing a score below par, and missed cuts, four in a row at last count. Harman putted well on Thursday, but that's to be expected, looking at his stats on the greens this season. The problem has been finding them; Harman ranks 138th on the PGA Tour in greens in regulation, but at St. Gettable he got on 15 of them.
Playing in just his third Open Championship (his first two were 11 years apart in 2008 and '19), Hebert, a 34-year-old Frenchman, didn't make a bogey. Ranked 262 in the world, he has played in 14 events this year on the European Tour and has one top-10 finish, a T-7 at the Porsche European Open. Not to be confused with Lucas Herbert—he has, indeed, been confused with Lucas Herbert, and right there in the Open Player Guide, which says he got into the championship off his win in the Dubai Irish Open. Nope, that was Lucas Herbert. So he overcame an identity crisis as well as sparse Open experience to tie for third-best score of the day. Footnote: Hebert beat Herbert by four shots and one consonant.
Look what this guy does when fully awake. Last we heard from the South Korean golfer he was voicing displeasure over his series of early tee times on the PGA Tour. But let this guy get a second cup of coffee and muffin, and he ties his second-lowest score of his Open career, bettered only by a 66 in the third round at Carnoustie three years ago. An has never started stronger in his previous seven Open starts, and he did it with birdies on his final two holes. Can't wait to see what he does with breakfast and lunch under his belt before his 3:54 p.m. local tee time on Friday.
Proving that he and Brooks seemingly can never get on the same page, Brooks didn't talk after his 69 and Bryson said too much amidst a few brief observations after posting a score two shots higher. Can't blame his troubles on new caddie Brian Zeigler, and certainly can't blame himself. No, no, no. Equipment is sub-standard. "If I can hit it down the middle of the fairway, that's great, but with the driver right now, the driver sucks," he said after hitting four fairways, which was only two fewer than he found in the final round of the 2020 U.S. Open at Winged Foot, where he closed with 67 and won by six. Weird, right?
Welp, this isn't going to help the Ryder Cup bid. It's one thing to shoot the highest score in the field and in your Open Championship career, but it's another when the scoring average is hovering around the age for full Social Security benefits (70) and you've got one of only two snowmen in the 156-player field. And it's still another when you fail to make a birdie doing it when you're kind of known for your ability to light it up, even at 51. In his 115th major, Mickelson sits outside the top 100 for just the 10th time. But he is the PGA champion. Truthfully, that fact seems even more amazing given Thursday's proceedings. For Phil, it was Royal St. Forgettable.
MORE BRITISH OPEN 2021 STORIES FROM GOLF DIGEST:
© 2021 DISCOVERY GOLF, INC. ALL RIGHTS RESERVED
ESPN 15 July, 2021 - 02:47pm
"I didn't see that coming,'' Mickelson said to his coach, Andrew Getson, as he left the scoring area. He didn't care to say much else.
"I'm in last place,'' he said. "I'll try to do better tomorrow.''
Mickelson shot 85 during the third round of The Open in 1988.
Mickelson, 51, who became the oldest major championship winner two months ago at the PGA Championship, had cautious optimism about playing well this week.
He got to the venue on Sunday and talked Monday about liking Royal St. George's, where he finished second to Darren Clarke in 2011.
But Mickelson had little going on Thursday. He hit just six fairways and only eight greens. He took 35 putts. And he shot his highest opening round in relation to par in any major championship, 10 over par. His prior worsts were 9 over at last year's U.S. Open at Winged Foot and 9 over during the opening round of the 2008 Open at Royal Birkdale. He is tied for last with Deyen Lawson, who also shot an 80 Thursday.
Since winning the PGA, Mickelson has missed the cut at the Charles Schwab, tied for 62nd at the U.S. Open, tied for 51st at the Travelers and tied for 74th at the Rocket Mortgage Classic. He is on his way to a missed cut at The Open.
Yahoo Sports 15 July, 2021 - 09:58am
Dan Wetzel, Pat Forde, Pete Thamel
During a day of otherwise good scoring at Royal St. George's, Mickelson failed to make a birdie on his way to a 10-over 80 at The Open – the worst opening-round score in his decorated major career.
Mickelson is just two months removed from his history-making triumph at the PGA Championship, where at age 50 he became the oldest major winner of all time. Since then, he has failed to finish better than 61st.
In a field of 156, Mickelson is tied for last with Australian Deyen Lawson.
The 80 was Mickelson's worst score in a major since the third-round 81 at the 2018 U.S. Open, when he infamously swatted a moving ball on the green.
In his last seven events overall, Mickelson's lone finish inside the top 60 was the decisive victory at Kiawah Island. Barring a stunning Day 2 rally, he's looking at his third missed cut in his past four Open appearances. He tied for second when The Open was last held at Royal St. George's in 2011, two years before his win at Muirfield.
Large undulations and blind shots might drive players a bit mad at Royal St. George's in the British Open. Check out the hole-by-hole maps.
Phil Mickelson must have walked off Royal St. George's and wondered what hit him. The opening round Thursday in the British Open was accommodating enough for 47 players to post scores in the 60s, led by Louis Oosthuizen at 6-under 64. Mickelson wasn't alone in failing to take advantage.
Jordan Spieth and Louis Oosthuizen are in the early lead at the Open Championship.
Brooks Koepka had a solid breeze behind him when he stepped to the tee at the par-4 10th hole.
Bryson DeChambeau backtracked on his claim that his driver at the British Open "sucks", admitting his frustration was "very unprofessional".
SANDWICH, England (Reuters) -Jordan Spieth gave his big-hitting fellow American Bryson DeChambeau a masterclass in the complexities of links golf as the former champion began his latest British Open campaign in fine style on Thursday. Spieth, who claimed the Claret Jug at Royal Birkdale in 2017 but whose form has slumped, recovered from an early bogey to card a five-under 65 -- producing a beautifully controlled round in a moderate breeze around the Royal St George's layout. Playing partner DeChambeau crunched a few trademark monster drives but all too often found himself chopping out of thick rough on his way to a disappointing one-over 71.
You may have already noticed, but Prince George is growing up fast. And it was his last two appearances that made us realize that as he...
Full round one leaderboard Bryson DeChambeau and other big hitters warned that Royal St George's 'can eat you alive' Two Scots and an American to lead BBC commentary in first Open Championship without Peter Alliss It might be premature to whip up the patriotic fervour that drove English football over the past month, but given the Open Championship is being played at Royal St George's – and given the number of crosses of St George in the top portion of the leaderboard – there is room for cautious
SANDWICH, England (Reuters) -Former champions Louis Oosthuizen and Jordan Spieth sparkled in the morning sunshine to set the pace in the first round of the 149th British Open at Royal St George's on Thursday. South African Oosthuizen, the winner in 2010, made six birdies in a flawless 64 to finish on six under par, one shot ahead of American Spieth, champion in 2017. Brian Harman matched compatriot Spieth with a 65 to share second place, one clear of Canadian Mackenzie Hughes, South African Dylan Frittelli, Frenchman Benjamin Hebert and Americans Webb Simpson and Stewart Cink, another former champion.
Sergio Garcia had broken 70 only once in his previous eight rounds at Royal St. George's, so he was particularly pleased with a 68 in the first round Thursday at the British Open. "Even though I left the house with plenty of time, I needed a little bit of help from a couple of very nice English policemen on bikes to get me here with only about 35, 40 minutes to tee off," Garcia said. It certainly worked out better for Garcia than it did Seve Ballesteros, who claimed he was stuck in traffic on the way to Baltusrol in the 1980 U.S. Open, was late to the tee and disqualified.
Everything you need to know for the second round of the British Open.
Sergio Garcia needed a little assistance Thursday at The Open – and that was before he even arrived at the course.
Louis Oosthuizen continued his stellar run of form at major championships to lead the British Open with a flawless first-round 64 at Royal St George's on Thursday. The 38-year-old South African, British Open champion at St Andrews in 2010, finished tied second in this year's PGA Championship and was runner-up at last month's U.S. Open. "Probably in my mind it was the perfect round I could have played," Oosthuizen told reporters.
The new Titleist T100 irons are not yet available at retail, but Jordan Spieth put a set in play to climb the leaderboard at St. George's.
Jennifer Carpenter is set to return for the "Dexter" limited series revival at Showtime, a source close to the production confirmed to Variety. Carpenter played Deb Morgan in the original "Dexter" series, which ran for eight seasons from 2006 to 2013. Carpenter's character is the adopted sister of Michael C. Hall's Dexter Morgan, and was […]
Novak Djokovic has plenty left in the tank after winning Wimbledon.
Could four rounds with Stacy Lewis be the catalyst that turns around Maria Fassi's year? Judging by her words, it sure seems that way.
After runner-up finishes at the last two majors, Louis Oosthuizen said that may be thanks to getting a relationship going with his putter.
Andy Fordham, who has died aged 59, was the British Darts Organisation Embassy world darts champion in 2004; a familiar figure on the international darts circuit from the mid-1990s, he enjoyed a devoted following wherever he played. He was as well-known for his physical appearance as his achievements at the oche, which were arguably modest by professional standards. But in a game inhabited by extroverts, his shyness and relaxed approach to life ensured that he was one of the most popular winners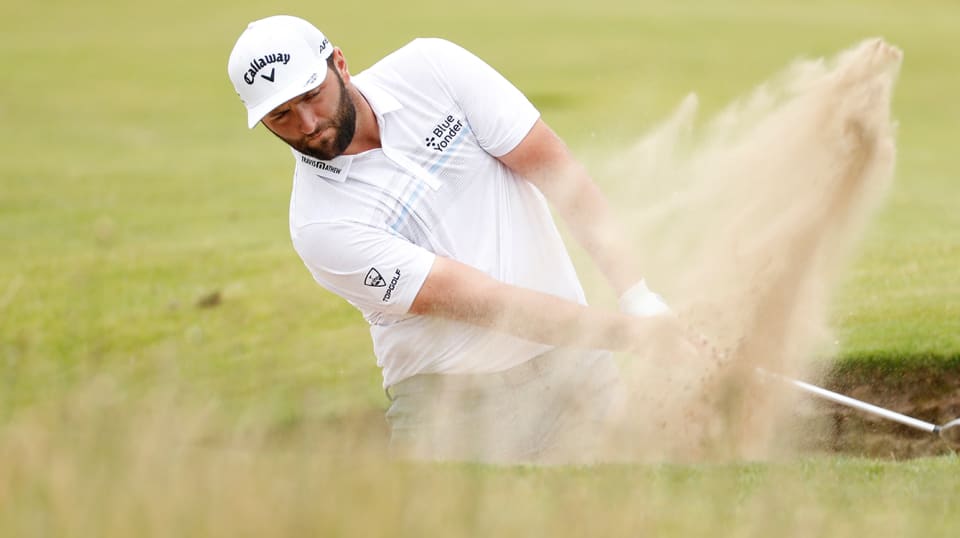 pgatour.com 15 July, 2021 - 07:00am
It appears your browser may be outdated. For the best website experience, we recommend updating your browser. learn more
Comcast Business TOUR TOP 10 menu
SANDWICH, England – While red numbers weren't rare during the opening round at The 149th Open, Royal St. George's still claimed some big names with U.S. Open champion Jon Rahm and PGA Champion Phil Mickelson among those to struggle.
The season's previous two major winners will need a form turnaround if they are to make it a double in 2021, with Mickelson shooting a 10-over 80 – his worst ever start to a major – and Rahm battling to a 1-over 71.
Bryson DeChambeau, Matt Fitzpatrick and defending champion Shane Lowry were among those joining Rahm at 1 over while Justin Thomas and Patrick Reed are 2 over. Recent PGA TOUR winners Garrick Higgo (73), Patrick Cantlay (74), Marc Leishman (75), Harris English (75), and Lucas Glover (75) also struggled.
Rory McIlroy needed a final-hole birdie to shoot even-par 70.
Mickelson's 80 was his worst round in The Open – which he won in 2013 – since an 85 in the third round of the 1998 tournament. Those represent just two of now 93 rounds in The Open where the veteran has failed to break 80.
Five bogeys on the front nine started the pain as the six-time major winner turned in 40 and another five dropped shots in his last six holes, including a closing double bogey, left him tied for last in the 154-man field.
Spaniard Rahm was the pre-tournament favorite after his impressive U.S. Open victory at Torrey Pines last month, but he lost his way on the ninth hole when he failed to escape from a fairway bunker on the first attempt and made a double bogey.
Playing with Oosthuizen, Rahm felt like his wheels were spinning despite making plenty of grinding pars, until a final-hole birdie gave him something to smile about.
DeChambeau couldn't get his radar adjusted off the tee. He managed four birdies on the round but hit the same number of fairways in regulation meaning he was hamstrung by five bogeys.
"The driver sucks. It's not a good face for me and we're still trying to figure out how to make it good on the miss-hits. I'm living on the razor's edge," DeChambeau bemoaned post round.
"It's quite finicky for me because it's a golf course that's pretty short, and so when I hit driver and it doesn't go in the fairway, it's first cut or it's in the hay, it's tough for me to get it out on to the green and control that… I couldn't control my wedges."