Read full article at The Sixer Sense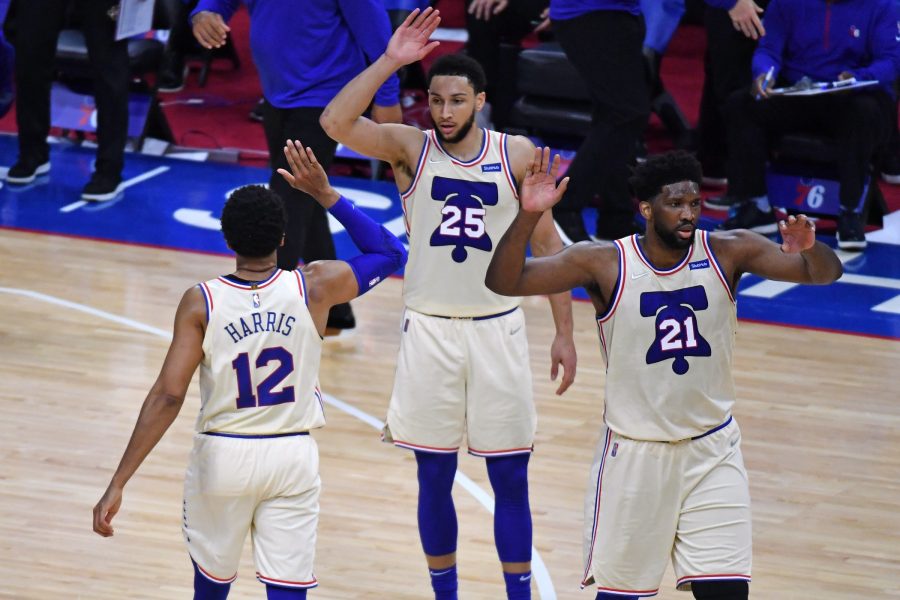 hoopsrumors.com 21 July, 2021 - 03:01am
And for much of the year, it looked like they were on track to do just that. With a rebalanced roster and Joel Embiid playing at an MVP level, the Sixers finished the year with a 49-23 record, one game ahead of the Nets for the top seed in the East.
Though Ben Simmons had a disappointing year, averaging the fewest points, rebounds, and assists per game of his career, Tobias Harris looked rejuvenated under head coach Doc Rivers, Seth Curry finished the year sixth in the NBA in three-point percentage, and Dwight Howard and young guards Shake Milton and Tyrese Maxey shined in their limited roles.
In the first round of the 2021 playoffs, the Sixers comfortably dispatched the Wizards in five games, but Embiid suffered a meniscus tear in Game 4. While he was able to keep up his dominant level of play in the Sixers' seven-game series against the Hawks, the team's supporting cast was ultimately unable to provide enough to best an underdog Atlanta squad. For the second year in a row, the team was left with more questions than answers heading into the offseason following a disappointing playoff performance.
All questions regarding the Sixers offseason begin with Simmons.
Simmons didn't just take a step back during the regular season — his lack of aggression against the Hawks in the playoffs was so notable that both Embiid and Rivers addressed it in comments to the media following the series' end. While team president Daryl Morey spoke publicly of his faith in Simmons to address his unwillingness to shoot and to continue to be an important part of the team, reports have since indicated that the Sixers have opened up trade dialogues and are hoping to get a star in return for the 25-year-old point guard.
Despite his flaws, Simmons is a huge part of how the 76ers function, and the possibility of trading him away creates a major question mark about what the team will look like next year. Luckily, the Sixers are no strangers to offseason overhauls. Should Morey manage to trade Simmons in a blockbuster deal, it will be the fourth season in a row in which one of the team's highest-paid players was either added or subtracted. From acquiring – then losing – Jimmy Butler to signing Al Horford to a $100+MM contract to dumping Horford for Danny Green, the 76ers have gotten into the habit of shaking up the roster on an annual basis.
The Sixers will also have to address Green's unrestricted free agency. Although he only scored seven points per game during the playoffs, the threat of Green's shooting and his versatile defense was important, especially given Curry's limitations on the defensive end. And with the team paying maximum contracts to Embiid, Harris, and Simmons (or, potentially, the centerpiece of a Simmons trade), there will be very little money to replace Green on the open market.
The team will also need to rebalance its roster, as promising rookie Paul Reed represents the only bench depth at the forward/center spot. Furkan Korkmaz, the 6'7″ scoring specialist, will hit unrestricted free agency this summer, meaning Maxey, Milton, Isaiah Joe and Matisse Thybulle are the only bench players on guaranteed contracts, and all are combo guards.
George Hill, who came over in a midseason deal with the Thunder, has a partially-guaranteed deal and was largely ineffective in the series against the Hawks, though he still provided his typical brand of stout defense. With so many guards on the roster, the Sixers may decide not to guarantee the rest of his $10MM deal.
One player of interest will be Howard. The three-time Defensive Player of the Year was great for the Sixers off the bench and filled in when needed for Embiid. Philadelphia would undoubtedly like to keep him around, but it remains to be seen if Howard will be able to score one last slightly bigger payday elsewhere after two solid years of being a backup center.
Curry could potentially offer a point of flexibility. Curry was massively important to the Sixers, both in the playoffs and the regular season. But should Morey move Simmons for a scoring guard (such as CJ McCollum), it's possible the club could view Curry as redundant and – given his bargain contract – try to move him for another wing, inserting defensive specialist Thybulle into the starting lineup to complement the newly-acquired guard.
Whatever happens, one thing is clear: given the team's high expectations, roster holes, and lingering trade rumors, the Sixers we see on opening night of the 2020/21 season could look very different from the group we last saw walking off the floor against the Hawks.
If they were to waive Hill, the Sixers would have $120MM+ in commitments for nine roster spots, giving the team the flexibility to remain below the tax line and even use the full mid-level exception.
However, if Philadelphia either hangs onto Hill or re-signs Green, that flexibility below the tax line will mostly disappear and the club would be limited to the taxpayer mid-level. I lean toward the front office taking that approach for now, but it's hardly set in stone — the 76ers' financial outlook could also change if they're able to trim team salary at all on the trade market.
If 76ers don't want to pay luxury tax, they can only offer Korkmaz and Danny Green $6 million per year each
Or trade Simmons for smaller contract
Wonder who they would include in a sign and trade for Lowry.
Of course it won't be Embiid, so it would most likely have to be Simmons or Harris.
If I squint, I can see a three way deal with McCollum going to Toronto, Simmons to Portland, and Lowry signed and traded to Philly. Philly would have to get more than Lowry, but not a lot more.
Lowry, Boucher and a 2nd for Simmons.
Danny green was making 19 million? I loved him his year in Toronto but that's ridiculous.
He was making closer to $15MM this past season — the $19MM+ figure is his cap hold.
Well Ben Simmons aka Salvatore Bonpensiero, probably will be on the roster if they can't get Dame.
Nothing has changed on the Beal Fox or LaVine front. Dame kinda left the door open. If the Blazers can't "fix" their roster, apparently he wants to go to NY or PHL per reports.
I honestly don't know if they pull the trigger on a Buddy/MB3/#9 or a Brogdon/LeVert/#13 trade. I can almost certainly say they won't trade him for a Sexton/Love package. Love's latest episode just devalues him even further which is hard to imagine. I don't see the fit from a GSW standpoint if they keep Draymond, but it would be Wiggins/#7/#14, and I'd say have to include Poole too, the league sees Wiggins as a negative value. And then is CJ a good enough consolation? Thats probably a straight up trade.
Based on the latest I've got 10% chance Dame is dealt preseason. Which is up from 0%. If the Blazers are 7-10th by the deadline he's gone 100%. So do they only hold out for a Dame trade?
I don't think they'll be paralyzed waiting to do that deal, so I expect them to be active in building the bench.
How can they build the bench though? I don't see this team being able to do anything while they have Ben and Tobi on the roster. They won't have the cap room to do anything. We are seeing this year how important it is to have depth and while having those 2 under the numbers they are at, we can't build the team out.
Edit: Ben and his number is interchangeable with whoever they get to replace him. The bottom line is Harris has to go. That contract is the death of this team.
Regardless of what they do with Ben, they need to figure out what they are doing with spots held by Furkan, Hill, Dwight, Scott, and Green. Whether is keep or minor upgrades.
The best thing for Love would be BO, he retires, and he works on his mental health. Looks like the unhappiest millionaire in the NBA.
Figure out a way to get Nance in that trade and I'd be interested.
All of them can go as far as I'm concerned. They can take Shake with them.
Nice Sopranos reference by the OP. Too bad Tony had to whack him.
Trade Big Ben and 28 for Jax Hayes, 10 and a future pick.
I know sixers could get way way better for Big Ben but maybe throw in Nickeil and another pick and Philly would accept. They just need to get something for Big Ben that will be another trade piece or a piece if they are rebuilding all of a sudden. It would be and Underpay for Philly, but it could be a last resort if they don't like any other offers before the next season.
I disagree with you, Simmons & Dray are almost made to play with each other, so there goes your point, right?
Not quite. Explain please. Draymond has no offense unless he's in the paint. Simmons has no offense unless he's in the paint (and even then he will just make a stupid pass out of the paint). Both great defenders. Klay gets hurt and/or Curry gets hurt, which both is likely unfortunately, then there's nobody left to shoot considering what they have to give up to even get Simmons. It is an ideal fit but given the injury history and the fact that you would be taking the ball out of the best shooter in the worlds hands more doesn't make sense. Unless you are keeping Curry at point and then what's Simmons do? Stand still because he doesn't know what to do without the ball unless he's running a rub screen to get the ball? I like him traded to the west but just doesn't work for GSW.
If he could do things without the ball in his hands, they could find something to do with him. He could be a great small forward but he doesn't work around the court very well. Just dribbles and hands the ball off. Runs a circle. Comes back to the ball and takes a handoff. Then looks for embiid and sits back and watches the play finish. Kenton came into the league and didn't have a backdown game or a three. He developed it pretty quickly. Simmons time is up. I think he stays on the team through the offseason and when morey has had enough, pulls the plug.
None of the players, I've seen mentioned in the posts aside from Lillard gets the 76ers where they need to be. Lillard and Embiid on the floor at the same time would be ridiculous. I like McCollum but he's not a PG. The 76ers need to make the Blazers an offer they can't refuse for Lillard. Embiid's championship window is closing. They need to go all in.
Sports Illustrated 21 July, 2021 - 03:01am
But without any deals worth making coming across his desk right now, the Sixers intend to select a brand new prospect late in the first round. As the big event inches closer, mock drafts are flooding the net.
In a new and updated mock draft from The Athletic's Zach Harper, the Sixers land a talented guard. In his latest installment, Harper mocked Illinois guard Ayo Dosunmu to the 76ers. However, with Dosunmu's stock rising out West, he gets taken six picks before Philly's selection in this case, which left the Sixers to select Auburn guard Sharife Cooper.
The Sixers' need for guards is apparent. In the past, Philly's front office would typically search for players with notable college experience, but the new front office regime proved that isn't as important these days.
The Sixers need efficient three-point shooters, and Cooper isn't that yet. While that doesn't mean Philly would overlook the Auburn guard at pick 28, it certainly means he wouldn't have a great shot at cracking the rotation much at all in year one.
Picking late in the first round is always a huge gamble and never guarantees the selecting team will land a year one contributor. If the Sixers were to end up with Cooper, they would likely end up with a project player who would spend most of his time developing his shot in the G League during his rookie effort.
Yahoo Sports 21 July, 2021 - 03:01am
Dan Wetzel, Pat Forde, Pete Thamel
Ben Simmons, already a fairly reclusive public figure, took an even further step back after the Sixers were eliminated by the Hawks in the second round of the NBA playoffs on the back of probably his worst playoff series as a pro.
Simmons, a lightning rod for Sixers fans - and basketball fans everywhere - was crushed from all angles for shrinking in the second-round series, barely producing in the fourth quarter and actively passing up a dunk in the waning moments of Game 7. He said after the loss that he had a mental block in the series and that he needed time to get his "mental right".
After more than a month away from posting, Simmons returned Tuesday - his 25th birthday - with an Instagram post that vaguely acknowledges the criticism he received after the playoffs and his need to improve while also standing firm in his convictions:
A pretty innocuous post, all things considered.
Simmons saying he's "doing what he loves" on his birthday, with photos of him in the gym circulating social media and these shots of him practicing, feel at least a little bit like a subtle jab back at personalities and talking heads who questioned his work ethic as he struggled in the Hawks series.
(Unsurprisingly, once you get past the verified accounts the comments section turns into a maelstrom of people attacking Simmons' abilities. As always, avoid.)
While this is the first time Simmons has publicly put out a message since the playoffs, he was spotted last month with an apparent new romantic interest, British radio presenter Maya Jama, at Wimbledon in London. The two have increasingly made their apparent relationship public over the summer; on Monday, Jama snapped a smiling photo with Simmons in her Instagram story after a fan asked how Ben was.
From one person's perspective, I certainly hope Simmons continues to "remain relentless", both on and off the court. He's an interesting all-around person and an electric basketball player when he is indeed playing with relentless pursuit, as he puts it here. It's when that relentless nature fades away that he becomes the player fans are ready to trade for Damian Lillard.
We'll see whether Simmons continues that pursuit in a Sixers uniform or in different threads as the always-chaotic NBA summer beats on.
Philadelphia 76ers star Ben Simmons celebrates his birthday by being in the gym and with an Instagram post.
Are Daryl Morey and the Sixers willing to be patient if it increases their chances of landing a superstar? By Noah Levick
If you ever wondered how pole vaulters practice their pole vaulting, here you go. #TokyoOlympics(📽️ @sandicheekspv) @usatf pic.twitter.com/g0OI1K8NkH- #TokyoOlympics (@NBCOlympics) July 20, 2021 Pole vaulters make it look so effortless: they run, stick their massive poles in the ground, and leap over super-high bars onto a mat.
The Philadelphia 76ers are aggressively pursuing Portland Trail Blazers star Damian Lillard.
Powell will have multiple suitors with the Trail Blazers making it a top priority at re-signing the high-flying guard, sources said.
Norman Powell signed the largest-allowable contract extension in 2018 then had the worst season of his career.
The Ravens are one step closer to having their entire draft class under contract. Offensive lineman Ben Cleveland has signed his standard four-year rookie deal, the team announced on Tuesday. Cleveland was the 94th overall pick in the third round out of Georgia. He was a first-team All-SEC selection in 2020, playing the season at [more]
There isn't any real news on the Deshaun Watson trade front, but here four teams who would still be interested in the Houston Texans quarterback.
Knicks center Nerlens Noel discussed what he wants in NBA free agency, his time with the Knicks, 76ers, and Chris Paul with Michael Scotto.
The NBA championship and the legacies of the four favorites to win Finals MVP are on the line Tuesday night in Milwaukee, where the Bucks, holding a 3-2 series lead, host the Phoenix Suns in Game 6.
"That's all it's been about. Bringing everybody back."View Entire Post ›
Scottie Pippen wants you to watch the Olympics from his $2 million mansion.
Olivia Breen, the British double Paralympic world champion who will compete at the Tokyo Games next month, was left "speechless" after being told that her briefs were "too short and inappropriate" by an official at the English Championships. Welsh para-athlete Breen was wearing official 2021 Adidas briefs when the incident occurred after she competed in the long jump in Bedford at Sunday's event and questioned whether a male competitor would be subjected to similar remarks. The 24-year-old, who
As Phoenix tries to force a Game 7, Devin Booker defends Chris Paul's playoff shortcoming while Paul defends Booker's solo scoring dominance.
Kevin Durant tells a basketball fan that James Harden gets double teamed just like Stephen Curry.
Being QB No. 1 at Alabama has its advantages, even if you haven't started a game yet.
In a recent report from TMZ, Biz Markie's wife confirms that rapper Fat Joe called him every week for the […] The post Biz Markie's wife says Fat Joe called every week for the past year appeared first on TheGrio.
Black Twitter is at it again. After a clip from an episode of Love and Hip-Hop: Atlanta went viral, social […] The post Black Twitter sounds off on Safaree's reaction to Erica Mena's pregnancy reveal appeared first on TheGrio.
The Sep. 25 fight will be the first time two Olympic gold medalists face off in the professional ranks.
Section 215 21 July, 2021 - 03:01am
Mandatory Credit: Nick Turchiaro-USA TODAY Sports
On Thursday, March 25th, the Philadelphia 76ers almost made a trade that could have defined their short and long-term future.
Up against the wall with a cornucopia of attractive picks, young players, and contracts of varying shapes and sizes, Daryl Morey was deep in talks to once again acquire Kyle Lowry, who played for his Rockets from 2009-12.
Would he pull off a deal for the ages that cashed in the potential of Tyrese Maxey and Matisse Thybulle for an immediate contributor alongside Ben Simmons, Tobias Harris, and Joel Embiid, or would he instead hang back and take his chances on a smaller deal that didn't disrupt the status quo?
Oh gosh, could you imagine if Morey was outbid by either Miami Heat or the LA Lakers, and we had to watch the pride of Villanova win another 'chip elsewhere?
Well, as it turns out, that wasn't the case. The 76ers made a move to acquire George Hill – which was far from fruitful – and Lowry remains on the Toronto Raptors' books to this day, waiting for a sign-and-trade or extension later this summer.
Was that the right call? Only time will tell, but as the Milwaukee Bucks attempt to secure their fourth win in six contests in the 2021 NBA Finals, it's hard not to wonder if Kyle Lowry could have been Philly's answer to Jrue Holiday.
When the Milwaukee Bucks surrendered Eric Bledsoe, two first-round picks, two first-round pick swaps, George Hill's contract, and the draft rights to R.J. Hampton in a four-team trade with the New Orleans Pelicans, OKC Thunder, and Denver Nuggets for Jrue Holiday – plus the draft rights to Sam Merrill – some questioned if the deal was an overpay.
Sure, Holiday is a fantastic player, a good shooter, and one of the better defensive guards in the NBA today, as fans of the Philadelphia 76ers know all too well, but is he really worth a package more substantive than the Toronto Raptors paid for Kawhi Leonard a few seasons prior?
Well, if his performances in the 2021 NBA playoffs are of any indication, the answer to that question would be a resounding yes.
Despite losing out on a Bogdan Bogdanovic sign-and-trade with the Sacramento Kings for the silliest reason imaginable, the addition of Holiday proved transformative enough to finally vault the Bucks over the proverbial hump and get them back into the NBA Finals after an underwhelming performance in the 2020 Eastern Conference Finals.
Why? Well, to simplify things considerably, it's because Holiday is a perfect foil to Giannis Antetokounmpo, the Milwaukee Bucks' two-time MVP point forward.
Holiday is a better shooter than Bledsoe, a better scorer than Bledsoe, a better defender than Bledsoe – basically better than Bledsoe in every possible way – and most importantly of all, the sort of grizzled floor general capable of running the show and getting the most out of his teammates. The two-man game he's established with Antetokounmpo – and Kris Middleton for that matter – is fast becoming one of the better guard-forward pairings in the NBA, and the now-infamous pass steal/pass Holiday play in the waning moments of the Game 5 all but cemented a third-straight win for the Bucks after dropping a pair to the Suns to start the series.
Does Eric Bledsoe make that pass? How about George Hill? Maybe, maybe not, but it's safe to say the Bucks are a whole lot better now than in seasons prior, even if Jeff Teague is far from an elite 1b option behind "The Jruth."
So, you may ask, why is this particularly relevant to the Philadelphia 76ers? Well, because for years now, Antetokounmpo has been a popular comp for Ben Simmons, and thus, comparing how their respective front offices decided to address their flaws with complementary pieces becomes a viable topic of discussion.
You see, ever since the Markelle Fultz situation burned out in spectacular fashion, the Sixers have been incredibly hesitant to pair up Simmons with another ball-dominant guard. Sure, they've given him run alongside players like T.J. McConnell, Raul Neto, and, most recently, Tyrese Maxey, but those minutes were always fleeting and never all that impressive due to their inconsistent frequency.
Some of this, obviously, came down to Simmons' desire to be a point guard or at least the perceived desire that he was disinterested in being listed in the frontcourt. Despite his unselfish nature on the court and near-compulsion for getting the ball to his teammates over taking his own shot, Simmons is about as ego-driven as any 25-year-old former first overall pick signed with a max contract, and thus, his feelings have to be taken into consideration when making massive roster moves, just ask Jimmy Butler.
Antetokounmpo also tried to play point guard for a time early in his career, as well as shooting guard, small forward, and pretty much every other position on the court, but ultimately settled on power forward as his position of choice.
After watching some of Simmons' eventual bad playoff habits penetrate into the regular season – aka his inconsistent effort, passiveness, and unwillingness to get embarrassed at the charity stripe – the Sixers' reported interest in Lowry made sense. Like Holiday, Lowry is a top-tier NBA point guard who plays defense like a dog, is a quality distributor, and most importantly of all, drained 37.7 percent of his 6.7 3 point shots a night over his tenure in Toronto. Even if the team had to pay a premium for his services, landing a player with that sort of skill set to play alongside Seth Curry in a new-look backcourt may have just been worth the price of admission.
Something tells me the Bucks would happily surrender two very late first-round picks plus R.J. Hampton, Eric Bledsoe, and a pair of pick swaps for a Holiday in hand 100 times out of 100, especially since it helped to secure a happy Antetokounmpo on an NBA supermax contract.
Assuming the Sixers either procured a viable frontcourt player to fortify their rotation from the Raptors or in a separate transaction – maybe the Sixers keep Tony Bradley and exchange picks/roleplayers for Kenrich Williams if they want to keep the OKC connection alive, but it doesn't really matter – the team would have a more balanced rotation featuring four 15-plus points per game scorers and enough two-way players to weather whatever losses had to be incurred to facilitate such a deal.
Could that have been enough to get past the Hawks in Round 2? That, my friends, is the $50 million question.
With Lowry in the fray, the Sixers would have had a legitimate lead guard to rely on in the final five or so minutes of the game, instead of giving Joel Embiid the ball over and over and over again. Lowry could make good passes, drive to the basket, and most importantly of all, actually drain free throws down the stretch.
And as for Simmons? Well, why not use him as a supersized screener instead of a non-shooting wing without an offense purpose once the ball passes the halfcourt; you know, just like how the Bucks use Giannis.
But now? Well, the best chance of the Sixers righting their proverbial ship is to trade Simmons for… someone somewhere else, maybe even Lowry in a bigger package involving multiple other assets, as any sort of a "come-to-you-know-who" moment feels borderline impossible.
If the 2020-21 NBA season was truly about seeing what the Philadelphia 76ers already had – as Daryl Morey claimed multiple times – the idea of passing on a legitimately talented point guard to instead roll with the same old Ben Simmons/Joel Embiid/Tobias Harris plus a rotational supporting cast feels rather antithetical, no? The Sixers already missed out on the best potential trade they'll come by anytime soon, even if the Houston Rockets didn't want to ship James Harden back to his former GM, and by failing to play ball with Toronto, they effectively whiffed on what could have been the perfect moonshot for a 2021 title to instead hope something better materialized in the offseason. But instead? Instead, Philly will all but surely lose Simmons to trade while his value is at its lowest, and their future will be no less certain than one season prior. *sigh* such is the life of a Sixers fan.
Build your custom FanSided Daily email newsletter with news and analysis on All Philly Sports and all your favorite sports teams, TV shows, and more.
Your favorite teams, topics, and players all on your favorite mobile devices.
Powered by Minute Media © 2021 All Rights Reserved.
Sports Illustrated 21 July, 2021 - 03:01am
Others stay around the local market in Philly and continue working out with Sixers personnel. Count 76ers soon-to-be second-year guard Isaiah Joe as somebody who prefers the latter route this summer.
The former Arkansas standout posted a picture of the Sixers' practice facility in Camden on Sunday. Clearly, Joe is showing Sixers fans that he's back to working on his game as he heads into his second NBA season in a couple of months.
But as Joe remained available throughout the remainder of the first round, the Sixers were ready to call his number when they were on the clock again at pick No. 49. Sure enough, they did that. Although he was a late pick, Joe flashed some serious upside both on offense and defense during his rookie year.
In 41 games, the rookie averaged 37-percent from beyond the arc. Since he was just a rookie on a team that was destined for first place in the Eastern Conference, Joe wasn't expected to get too much playing time in year one. However, as he will get a real offseason to prepare for year two, Joe could certainly earn himself a role in the rotation next year if all goes well this summer.