National Observer 15 August, 2021 - 05:10am
The $1tn infrastructure package, which passed with bipartisan support on Tuesday, includes $8bn to develop "clean hydrogen" via the creation of four new regional hubs. The White House has said the bill advances Biden's climate agenda and proponents of hydrogen have touted it as a low-emissions alternative to fuel shipping, trucking, aviation and even home heating.
But a new study has found surprisingly large emissions from the production of so-called "blue" hydrogen, a variant being enthusiastically pushed by the fossil fuel industry and probably falling under the definition of clean hydrogen in the Senate bill.
Our award-winning journalists bring you the news that impacts you, Canada, and the world. Don't miss out.
This means that the production of this hydrogen actually creates 20 per cent more greenhouse gases than coal, commonly regarded the most polluting fossil fuel, when being burned for heat, and 60 per cent more than burning diesel, according to the new paper, published in the Energy Science & Engineering journal.
"It's pretty striking, I was surprised at the results," said Robert Howarth, a scientist at Cornell University who authored the paper alongside Mark Jacobson, a Stanford University researcher. "Blue hydrogen is a nice marketing term that the oil and gas industry is keen to push but it's far from carbon free. I don't think we should be spending our funds this way, on these sort of false solutions."
The Hydrogen Council, a group that includes the oil companies BP, Total and Shell among its members, has said that hydrogen has a "key role to play in the global energy transition" by replacing more polluting fuels, predicting it will account for 18 per cent of total energy demand by 2050.
Dozens of gas companies in the US have started producing hydrogen or testing its viability in existing gas pipelines, which some climate campaigners have said is a step towards entrenching fossil fuel infrastructure at a time when the world, as outlined by Monday's Intergovernmental Panel on Climate Change (IPCC) report, needs to rapidly move to net-zero emissions.
But others are more upbeat about the use of hydrogen to help lower emissions in some stubbornly polluting sectors. "Hydrogen is not a panacea or a silver bullet, but it appears to be critical for decarbonization of 'hard-to-electrify' sectors such as long-haul heavy trucking, international marine shipping and some parts of heavy industry," said Mike Fowler, director of advanced energy technology research at the Clean Air Task Force.
There is a form of "green" hydrogen that involves producing hydrogen from water using only renewable energy, but this option isn't explicitly chosen for funding by the infrastructure bill, which still needs to pass the Democrat-held House of Representatives.
"We look at that bill and see massive giveaways to fossil fuel infrastructure that is incompatible with serious climate action," said Carroll Muffett, chief executive of the Center for International Environmental Law. "Congress went out of its way to not specify green hydrogen and so this funding just helps prop up the fossil fuel industry. The potential of these technologies is being routinely overstated even as the impacts are being understated."
Progressive Democrats hope that methane, as well as other greenhouse gases, will be more comprehensively tackled in an upcoming $3.5tn reconciliation bill that will include far stronger climate measures than the infrastructure legislation.
"This budget resolution will be a generational investment in the future of our people and our planet," said Ed Markey, a Democratic senator who helped craft the Green New Deal alongside Alexandria Ocasio-Cortez.
pv magazine USA 15 August, 2021 - 05:10am
You are using an outdated browser. Please upgrade your browser or activate Google Chrome Frame to improve your experience.
A new study from Stanford University and Cornell University shows that blue hydrogen can produce more greenhouse emissions than heat produced by coal and gas. The modeling classifies blue hydrogen emissions as carbon dioxide and unburned fugitive methane, as well as lifecycle emissions linked to the mining, transport, storage, and use of methane.
Proponents of blue hydrogen produced with fossil fuels and carbon capture usage and storage (CCUS) technologies often present it as a cleaner alternative to hydrogen produced with the steam methane reforming (SMR) process, or so-called "gray hydrogen," which is now the prevailing generation source globally. Blue hydrogen advocates also view it as a potential partner for green hydrogen produced with renewables in facilitating an emissions-free energy transition.
The blue fuel, however, is not as green as described, according to a new study from Stanford University and Cornell University. The research concludes that the CO2 footprint of hydrogen produced with fossil fuels is more than 20% greater than heat generated by natural gas or coal and around 60% greater than burning diesel oil for heat.
"We emphasize that our analysis in this paper is a best-case scenario for blue hydrogen," the scientists said. "It assumes that the carbon dioxide that is captured can indeed be stored indefinitely for decades and centuries into the future."
They said that blue hydrogen emissions include carbon dioxide and unburned fugitive methane and said that their modeling considered the lifecycle emissions linked to the mining, transport, storage, and use of methane. They considered several CCUS techniques for blue hydrogen, including the carbon dioxide released by the SMR process, and the removal of additional carbon dioxide from the gases created by burning methane to provide the heat and high pressure needed to drive the SMR process. They also looked at the carbon dioxide and methane from the energy used to produce electricity for the carbon-capture equipment.
According to their modeling, the carbon dioxide emissions of blue hydrogen were only between 9% and 12% lower than those of gray hydrogen.
"While carbon dioxide emissions are lower, fugitive methane emissions for blue hydrogen are higher than for gray hydrogen because of an increased use of natural gas to power the carbon capture," the research group explained.
"We further note that much of the push for using hydrogen for energy since 2017 has come from the Hydrogen Council, a group established by the oil and gas industry specifically to promote hydrogen, with a major emphasis on blue hydrogen," they said.
They described their findings in "How green is blue hydrogen?," which was recently published in Energy Science & Engineering.
This content is protected by copyright and may not be reused. If you want to cooperate with us and would like to reuse some of our content, please contact: editors@pv-magazine.com.
Please be mindful of our community standards.
By submitting this form you agree to pv magazine using your data for the purposes of publishing your comment.
Your personal data will only be disclosed or otherwise transmitted to third parties for the purposes of spam filtering or if this is necessary for technical maintenance of the website. Any other transfer to third parties will not take place unless this is justified on the basis of applicable data protection regulations or if pv magazine is legally obliged to do so.
You may revoke this consent at any time with effect for the future, in which case your personal data will be deleted immediately. Otherwise, your data will be deleted if pv magazine has processed your request or the purpose of data storage is fulfilled.
Further information on data privacy can be found in our Data Protection Policy.
Legal Notice Terms and Conditions Privacy Policy © pv magazine 2021
The cookie settings on this website are set to "allow cookies" to give you the best browsing experience possible. If you continue to use this website without changing your cookie settings or you click "Accept" below then you are consenting to this.
ZME Science 15 August, 2021 - 05:10am
Blue hydrogen, an energy source that involves obtaining hydrogen by using methane in natural gas, is usually described as a low-carbon option for generating electricity, powering vehicles, and even heating buildings. But researchers believe it may actually cause more harm to the climate than conventional fossil fuels.
In a new study, a team from Stanford and Cornell universities found that the CO2 footprint of blue hydrogen is more than 20% greater than that generated by natural gas or coal and around 60% higher than burning diesel oil for heat. The finding comes at the time the Biden administration is funding a set of regional hydrogen hubs.
"Blue hydrogen provides no benefit," the researchers wrote. "We suggest that blue hydrogen is best viewed as a distraction, something than may delay needed action to truly decarbonize the global energy economy, in the same way that has been described for shale gas as a bridge fuel and for carbon capture and storage in general."
Hydrogen is widely seen as an important fuel for a future energy transition. Currently, it's used mostly by industry during oil-refining and synthetic nitrogen fertilizer production, and not so much for energy because it's expensive relative to fossil fuels. However, hydrogen is increasingly being promoted as a way to address climate change
The vast majority of hydrogen (96%) is generated from fossil fuels, particularly from steam methane reforming (SMR) of natural gas but also from coal gasification. In SMR, heat, and pressure are used to convert the methane in natural gas to hydrogen and carbon dioxide. The hydrogen so produced is often referred to as "gray hydrogen " — this type is responsible for 6% of all-natural gas consumption globally
Join the ZME newsletter for amazing science news, features, and exclusive scoops. More than 40,000 subscribers can't be wrong.
That's not the only "colored" type of hydrogen. There's "brown hydrogen," made from coal gasification. When such electricity is produced by a renewable source, such as wind or solar, the hydrogen is termed "green hydrogen."
But blue hydrogen is different. It's produced using the same reforming process that is used to create other types of hydrogen, but the CO2 that would ordinarily be released is captured and stored underground. As of 2021, there were only two blue-hydrogen facilities globally that used natural gas to produce hydrogen on a commercial scale.
In the study, the researchers found the production of blue hydrogen is energy-intensive, with emissions released during the hearing and pressuring process and from the use of natural gas as a base fuel to generate the hydrogen. Energy is also needed in the carbon-capture process, leading to higher emissions compared to fossil fuels, particularly methane emissions.
They also warned that not all carbon dioxide emissions from blue hydrogen can be captured, which would make the situation even worse. Even in the best-case scenario, in which blue hydrogen would be produced with renewable electricity instead of natural gas, emissions would still be high and there would be a large consumption of renewable energy.
Instead, renewable electricity could be better used by society in other ways, replacing the use of fossil fuels, for example, they argued. Similarly, the researchers see no advantage in using blue hydrogen-powered by natural gas compared with simply using natural gas directly for heat. Blue hydrogen has emissions as large or larger than those of natural gas used for heat, as they showed.
"In the past, no effort was made to capture the carbon dioxide byproduct of gray hydrogen, and the greenhouse gas emissions have been huge," Robert Howarth, co-author, said in a statement. "Now the industry promotes blue hydrogen as a solution, an approach that still uses the methane from natural gas, while attempting to capture the byproduct CO2."
The study was published in the journal Energy, Science and Engineering.
Fermin Koop is a reporter from Buenos Aires, Argentina. He holds an MSc from Reading University (UK) on Environment and Development and is specialized in environment and climate change news.
© 2007-2019 ZME Science - Not exactly rocket science. All Rights Reserved.
© 2007-2019 ZME Science - Not exactly rocket science. All Rights Reserved.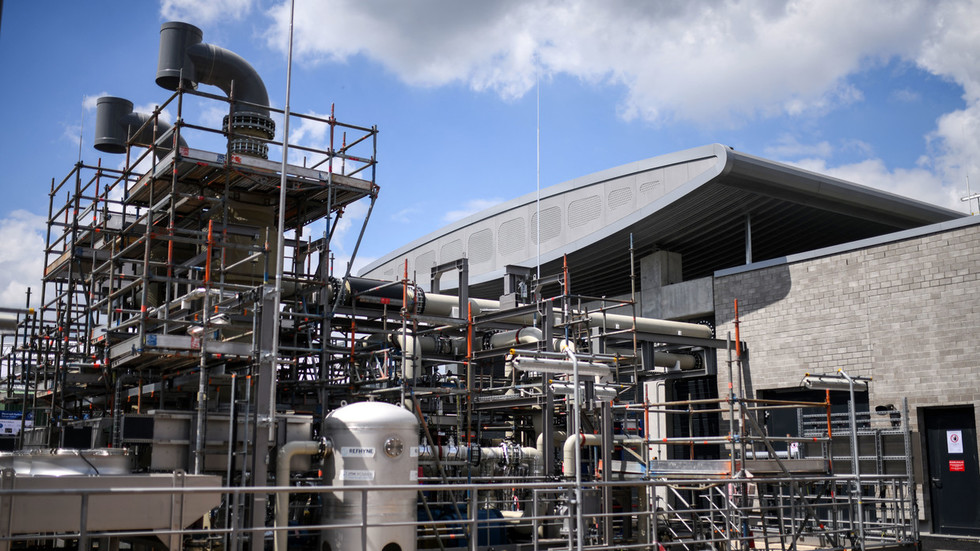 RT 14 August, 2021 - 03:39am
If only the energy potential of the gas, which could burn so furiously it destroyed the airship within 30 seconds, could be harnessed then its uses would be legion. Since 1937, such leaps and bounds have been made that we are at the point now where the UK government has even produced a hydrogen strategy, details of which will be announced imminently.
Of course, the only reason we're even talking about this is that the UK plays host to the UN's Climate Change Conference of the Parties (COP26) in Glasgow later this year, and Prime Minister Boris Johnson needs something to show the nation is a global leader in reducing its own carbon footprint on the way to a 2050 target of net-zero.
The problem with choosing to showcase the use of hydrogen is that the gas is not something that exists as a natural fuel, it needs to be manufactured. And while burning hydrogen produces no carbon, the processes involved in extracting it from either natural gas (so-called 'blue hydrogen') or from water ('green hydrogen') can be more polluting than burning the fossil fuels it seeks to replace.
The UK government's hydrogen strategy will back the development of both blue and green hydrogen but you have to wonder how closely they have looked at the science here.
In a report for the Japanese government released this year, the International Energy Agency found that hydrogen production is currently responsible for CO2 emissions of around 830 million tonnes per year, equivalent to the emissions of the UK and Indonesia combined.
So while using hydrogen for heating our homes, fuelling fleets of cars and powering public transport sounds like sexy sustainability, until we can produce the gas totally carbon-free then all the green tech is useless and upscaling production is simply making the problem we're trying to solve even worse.
Blue hydrogen relies on fossil fuels for its production because it's extracted from natural gas with the carbon produced piped to storage in saline aquifers under the North and Irish seas or in the now-depleted gas and oil fields. When burning gas for hydrogen, however, more of the problematic greenhouse gas methane escapes into the atmosphere than it would when burning natural gas for heat, according to a study released this week.
That work by two US academics and published in the journal Energy Science & Engineering, finds that the greenhouse gas footprint of blue hydrogen is more than 20% greater than burning natural gas or coal for heat and 60% greater than diesel. It concludes, "The use of blue hydrogen appears difficult to justify on climate grounds."
Meanwhile, green hydrogen is mostly extracted from water using chemical and heat processes, which are polluting and carbon-producing themselves. If, however, the process of electrolysis is used to extract green hydrogen, and the electricity used comes from solar or wind sources, then no carbon is produced.
Most experts appear to agree that this is the only true path to clean hydrogen although it is currently a massively underused technology with just 0.1% of the world's hydrogen produced this way. It will take money to develop this potential. And lots of it.
This will mean more than just higher green levies on energy bills for UK citizens, it will mean serious financial commitment from the global energy companies and unprecedented intergovernmental agreements.
If that can be achieved at COP26 then it will be time well spent. If not, then all this talk about hydrogen is just more hot air.
The statements, views and opinions expressed in this column are solely those of the author and do not necessarily represent those of RT.
© Autonomous Nonprofit Organization "TV-Novosti", 2005–2021. All rights reserved.
This website uses cookies. Read RT Privacy policy to find out more.