Read full article at Golf Channel
Daily Mail 18 July, 2021 - 09:01pm
By Martin Samuel for the Daily Mail
The last two men to win their second major faster than Collin Morikawa had a date in common: 1902, the year of their birth.
Gene Sarazen was quickest, Bobby Jones not far behind. They were born the year the Boer War ended, the year Land of Hope and Glory was first performed, Manchester United and Real Madrid were founded, postcards as we know them — picture on the front, message on the back — were invented, as were teddy bears. It was a long time ago.
See footage of Sarazen now and golf was a very different game. There is footage of him at the 1970 Open. 
Collin Morikawa held off the challenge of Jordan Spieth to clinch the Claret Jug in Sandwich
Gene Sarazen and Bobby Jones were the last two men to win two majors earlier in their careers 
Between inserting his tee into the turf and driving takes seven seconds. Sarazen was 68 by then. He finished 22 over par.
So we're talking history here. What Morikawa is doing, too, is historic. He won the second major he played and now this, his eighth. 
By comparison, Tiger Woods took 18 majors to achieve this milestone. Not that Morikawa is the new Woods. That is the beauty of golf. That we have been here before, and via various routes.
Pursuing Morikawa ferociously but in vain along the back straight was Jordan Spieth, who cut the lead to one shot coming off the 14th, but was bested by two in the end. There was a time, and it was not so long ago, that Spieth was also the future of golf.
It took him nine tries to win his first major, but then he swept up three in 11. He was going to dominate. 
And then: nothing. The same with Rory McIlroy. He won four majors across 1,148 days and it is now 2,534 since his last victory of such substance.
So the way Morikawa separated from the pack on Sunday was both daunting yet also strangely trivial. It could be that we are about to see the Morikawa years, the way Woods came to bestride this game.
Equally, we could be sitting here five years on, wondering what happened. Another in the chasing group, Louis Oosthuizen, won the Open in 2010 at the age of 27. 
He probably thought it wouldn't be his last, either. Since then, second at the US Masters, the US Open (twice), the Open and the PGA Championship (twice).
Jordan Spieth has suffered a succession of near misses since his last taste of major glory
That's the sport: in 2021, Phil Mickelson became the oldest winner of a major, and also shot his worst opening round at the Open in 26 visits. How to explain any of it?
That golf, for all the talk of length and yardage, is primarily played in the inches behind the ears is the common explanation. 
How else to rationalise Spieth's fall from the world's No 1 golfer in 2015, and its No 2 in 2017, to 85th in 2020.
How to compute McIlroy's wild lurches, not year by year, or tournament by tournament, but hole to hole. 
He made 17 birdies around Royal St George's — as many as Morikawa made in his first 62 holes, and two fewer than the champion across 72.
It should have been enough to contend, had McIlroy not given the same net value back in bogeys. 
Phil Mickelson's worst Open first-round display in 26 visits was in the same year as a major win
He was long gone by the time the championship was being decided, in a quite wonderful slugfest down the back nine.
'Seventeen is more than enough to challenge,' he said. 'It's just I make too many mistakes, and that's the part I need to get right. 
'Whether that's trying to be a little too aggressive from bad spots or putting myself in bad spots to begin with, but it's just a matter of trying to iron out those mistakes.
'There is enough good stuff in there to contend but I'm not allowing myself to do that. 
'There are certainly times when there were mistakes, when those bogeys didn't come from a bad swing but a bad decision, or trying to do something you shouldn't do.'
Yet the sight of Spieth applying pressure, of Oosthuizen only kept at bay by a quite exceptional round from Morikawa, should offer hope.   
Rory McIlroy's infuriating inconsistency left him out of contention on the final day in Kent
Just as two majors in eight are no guarantee, neither is seven years in the relative wilderness. As is so often the case in elite sport, the finest margins decide. 
At one stage Morikawa threatened to make this a procession but the reason front-runners are so vulnerable in golf — Woods was an exception, which is why he was so special — is because the pressure when leading is immense and the price of every mistake so savage.
At the par-five seventh, Oosthuizen hit a lovely tee shot then planted his approach into a greenside bunker to the right. 
He caught a flyer out and ended up across the green in a bunker to the left, and with a rotten lie near the far bank. He ended up with bogey. 
Morikawa sank his putt for a birdie. It was a two-shot swing on the back of one error. And from there, Morikawa never relinquished his grip.
A word about Morikawa's putting to close out this championship. Fabulous. A word on his putting as perceived by many observers of the PGA Tour. Miserable. And that's the other sliver of hope for those doing the chasing.
Louis Oosthuizen led going into the final day - but a tough time at the seventh proved costly
If there is a part of Morikawa's game that is said to possess flaws — he's straight from the tee and his iron play is wonderful — it is on the green. 
Now the bad news. There was absolutely no evidence of that flaw when the pressure was on. Zero. Zilch. Nada.
He needed to save par as all champions do sometimes and did. Not a single bogey on the card, remarkable in the circumstances.
It wasn't as if he had a cushion, a substantial lead to lean on either. For those final holes he was at the mercy of the same two-shot swing that did for Oosthuizen earlier. One dropped shot and a birdie from Spieth and they were level.
Nor was it a rookie leaderboard. Spieth, US Open champion Jon Rahm, Oosthuizen one of the most consistent competitors on the circuit. 
Morikawa's putting has often been his flaw - but the 24-year-old was nerveless on this occasion
With Spieth in the clubhouse 13 under, even the last could not be approached with a spotless mind.
Yet not a flicker. Morikawa drained a short putt for par on the 17th, sensibly took the conservative three wood option on the 18th tee, stepped away from the ball because the crowd were a little excitable, regrouped and planted one straight down the middle.
It wasn't seven seconds, like the good old days, but it was history just the same. Morikawa is the man to catch. Yet so was Spieth once, so was McIlroy. Bloody hard game, golf.
The comments below have not been moderated.
The views expressed in the contents above are those of our users and do not necessarily reflect the views of MailOnline.
By posting your comment you agree to our house rules.
Do you want to automatically post your MailOnline comments to your Facebook Timeline?
Your comment will be posted to MailOnline as usual.
Do you want to automatically post your MailOnline comments to your Facebook Timeline?
Your comment will be posted to MailOnline as usual
We will automatically post your comment and a link to the news story to your Facebook timeline at the same time it is posted on MailOnline. To do this we will link your MailOnline account with your Facebook account. We'll ask you to confirm this for your first post to Facebook.
You can choose on each post whether you would like it to be posted to Facebook. Your details from Facebook will be used to provide you with tailored content, marketing and ads in line with our Privacy Policy.
Part of the Daily Mail, The Mail on Sunday & Metro Media Group
KFGO News 18 July, 2021 - 09:01pm
You are using an outdated browser. Please upgrade your browser to improve your experience.
The Texan ended up in second place, two shots behind compatriot Collin Morikawa who produced a bogey-free final round to claim his second major title.
Spieth had begun the day in third place but two bogeys in his first six holes, following on from bogeys on the last two holes of his third round on Saturday, ultimately cost him the chance of repeating his 2017 Open win.
After eagling the seventh hole he led the chase of Morikawa but all to no avail.
"I'm proud of going six-under in the last 12 in this golf tournament and putting some pressure on Collin," he said.
"From what I've heard, he made a big par save on 10, made a putt up the ridge on 14 and a par save on 15. I needed a break, and I didn't get it from him. I did everything I could in the past few hours to win this championship."
Spieth said his bogey-bogey finish to his third round the night before, including missing a tiddler on 18, had left him "wanting to break something".
Crucially it meant he was not playing in the final group on Sunday — a position he has thrived on in the past.
"When you're the last to come in you've got the last chance on 18, and I think that's the easiest place to come from, especially when it's easier conditions," Spieth said.
The 27-year-old paid tribute to Morikawa's coolness under pressure, especially as unlike his first major win at the 2020 PGA when there were no fans because of COVID-19, this time he had to stay calm with 32,000 lining the fairways.
"His other wins had come with little to no crowds, then you step in to 35,000 and holding a lead down the stretch, I think is really impressive considering — not only his first Open Championship, but given the timing of when he's been out here.
"He spent a year, year and a half of that in essentially a crowdless environment. It's harder with big crowds. You feel it more. I think that's impressive."
(Reporting by Martyn Herman. Editing by Jane Merriman)
MSN UK 18 July, 2021 - 09:01pm
It was a fitting finale to a memorable tournament, which marked the return of fans en masse to watch golf's oldest major.
Royal St George's was bathed in sunshine for all four days and it was a joyous event for everyone in attendance.
Stats Perform's man on the ground said a fond farewell to the Kent links, but not before one last wander around the course.
Congratulations to Collin Morikawa, the Champion Golfer of the Year, from #Doosan. See you all at The 150th Open #TheOpen pic.twitter.com/d6uXptLWkW
The soaring temperatures made walking the course a test of endurance, and not everyone was keen to partake.
What few spots of shade there were soon became occupied by weary bodies, sheltering from the warmth of the sun.
'I'd love to play with Koepka at Ryder Cup!'
Poulter: How bounce can improve chipping
McIlroy praises 'perfect' Royal St George's
Open tips: Clarke's guide to the stinger
Rory: Missing Scottish Open cut wasn't bad
Oosthuizen: You want the awkward shots at The Open
Fleetwood to draw on experience at The Open
Koepka: I'll put DeChambeau rivalry aside for Ryder Cup
Rahm: It would be incredible to win both Opens
Rahm: Club foot the cause of shortened swing
'Fan return could give McIlroy a spark'
Faldo: Older golfers will be inspired by recent winners
Bland relishing playing in front home crowds
'Royal St George's pristine ahead of The Open'
The queues at the water refill points were longer than for the grandstands.
It may have been premature to share the story of a chance encounter with British comedian Michael McIntyre on Saturday, as Sunday heralded the arrival of an even bigger celebrity.
Milling around outside the entrance to the media centre, and somehow not surrounded by a large crowd of autograph hunters, was One Direction's Niall Horan.
He's a keen golf fan and can often be seen at the majors rubbing shoulders with the biggest names in the sport.
At the end of a long tournament, some members of the media pack wanted a morale-boosting moment, so waited patiently for Champion Golfer of the Year Morikawa to exit from the interview room in hope of an autograph or photo.
Two had souvenir flags with Open Championship branding, in the expectation Morikawa might take the time to sign them.
He bolted through the doors carrying the Claret Jug, saw his waiting fans, but had no time to stop, telling them: "Sorry guys. Maybe I'll see you later."
Like us on Facebook to see similar stories
Please give an overall site rating:
MSN UK 18 July, 2021 - 09:01pm
Three-time Open champion Faldo believes the 24-year-old has been aided by the softer, greener conditions than usually seen at the Sandwich links, and he is certain the American will remain a leading contender for the Claret Jug over the weekend.
"Many times we pitch up at Royal St George's and the fairways are brown and look a little burnt, and the R&A have said that was intentional," Faldo told Sky Sports. "With the rough so long, they didn't want it firm and fast so balls were kicking off the fairways and into the thick stuff.
"That has helped the course become a lot more playable for the Open debutants, and particularly the Americans like Morikawa, because they know they have more control over where they can land the ball. We have not seen any players left scratching their heads because they have nailed a drive straight down the middle which has taken a wicked bounce into the rough.
"Morikawa has looked so comfortable, and he has got so much quality. It's easy to think of him as still a rookie as he has only been out on Tour for a couple of years, but he is already a major champion. But nobody is really shocked by his quality and calmness over the first couple of days, and I do not think this is a flash in the pan.
"He was really impressive on Friday, had a nice run of birdies to gain the lead and he just kept ploughing on, knowing that posting a good score in the morning wave does not mean the late starters cannot catch him. Collin looked determined to keep moving forward, and I am pretty sure he will be sticking around over the weekend."
PGA Tour statistics suggest he is the best player in the world from tee to green right now, and Faldo added: "Collin certainly looks it this week. He's nicely in control, and that's exactly what you need here. You need to control the ball flight, think smart about the options, and know which pins you can go at and which ones to avoid.
"What I also like about Morikawa is he has an "old-school" feel about him. He plots his way around, he's not looking to overpower any golf course, his positional play is very good, and he clearly has a natural feel and instinct about his game.
"It's quite a statement to refuse to change your strategy and chase the guys that are hitting it miles. He's not exactly short, but some players can find it demoralising if his playing partners are knocking it 20, 30 yards longer off the tee.
"For Morikawa, he does not care about that. His mindset is he thinks he can hit it closer to the flag with any iron in the bag than his opponents hitting a wedge."
But while Morikawa was enjoying a leisurely Friday afternoon with his work done for the day, Bryson DeChambeau was scrambling to make the halfway cut after another turbulent week for the controversial former US Open champion.
His ongoing feud with Brooks Koepka continues to dominate press conferences, he was clearly angered by accusations he fails to shout "fore" after a wayward shot might be putting crowd safety at risk, and after hitting only four fairways in his opening 71, he upset his club sponsors by declaring, "my driver sucks".
DeChambeau later apologised for his comments, although only after a Cobra representative labelled him "stupid" and claiming he was "never happy", and Faldo urged the powerful American to rein himself in, both on and off the golf course, to avoid unwelcome - and unnecessary - distractions.
"When you are building up for a major, I think you need to come in quietly," added the six-time major champion, who will be teeing it up at The Senior Open at Sunningdale next week. "I arrived at many majors as the favourite, and I made it a priority to just take everything down a couple of notches. You keep talking to a minimum, saying as little as you can.
"But it appears Bryson is the opposite, he's come in and created a firestorm - and you do not want to be out on the golf course when you are trying to put out fires. He clearly felt embarrassed with his comments on Thursday evening that landed him in hot water with his equipment sponsors, and he looked a little sheepish when he got to the first tee on Friday morning.
"It's a distraction you do not need when you are competing at The Open. You need to concentrate 100 per cent on yourself and be comfortable with everything you are doing and how you are doing it. Bryson seems to be expending an awful lot of emotional energy at times, and that has an adverse effect on your game, and your thought process."
Although he disappointed many in the grandstand around the first tee when he pulled an iron out of his bag, DeChambeau reached for the driver far too often for the liking of Faldo, who insisted the world No 6 needs to cut out the bravado and manage his way around the links in the manner of Morikawa.
"This is a golf course of just over 7,000 yards, so it would be nice to see him use some power management," said Faldo. "I would go and buy him a proper driving iron. If he twanged that iron off all the par-fours, and probably the par-fives as well, saving the driver for when he really needed it, he would find this course much easier.
"Yes, the crowd love watching him smashing it miles off the tee, but Bryson should only be reaching for the driver on a few occasions, when it really will be a benefit. If he reaches for the long-iron, he can still send that 300 yards comfortably and still have only a short-iron in.
"It does not matter if the holes are 470 yards, that could be a two-iron and an eight-iron or less for Bryson. Why hit a driver so he can get his ball within 50 yards of the green, when the likelihood is he will be in the long grass with little control over how his ball comes out?
Like us on Facebook to see similar stories
Please give an overall site rating:
Golf365 18 July, 2021 - 09:01pm
Open runner-up Jordan Spieth blamed a couple of "dumb mistakes" at the end of his third round for costing him the chance of winning a second Claret Jug.
The 2017 champion was 11 under when he walked onto the 17th tee on Saturday, the same score as eventual champion Collin Morikawa.
However, he bogeyed both – missing a par putt on the last from a couple of feet – and he left the course, after a 45-minute session on the putting green, furious with himself.
"The finish yesterday was about as upset as I've taken a finish of a round to the house," he said after a round of 66 which matched that of Morikawa's on the last day at Royal St George's.
"I walked in and said 'Is there something that I can break?' I knew that was so important because I would have been in the final group.
"So I'm upset because I really felt like I played well enough to win and made a couple of really dumb mistakes that possibly if I had maybe played the week before, wouldn't have made.
"Like just stepping in and missing a couple footer on 18 yesterday, not really thinking about it.
"I finished two-over on those holes, which what was frustrating as it would have been three of us (plus overnight leader Louis Oosthuizen) separated by at least three shots from the field and I would have been in the final group.
"So it was kind of a double whammy there. But at the same time, I did everything I could in the past few hours to win this championship.
"What good does it do to be upset? You come out today (thinking) 'Yes, I should be leading the tournament'. That's how I felt.
"But now I get to play with a chaser's mentality, which sometimes can be with a bit more freedom."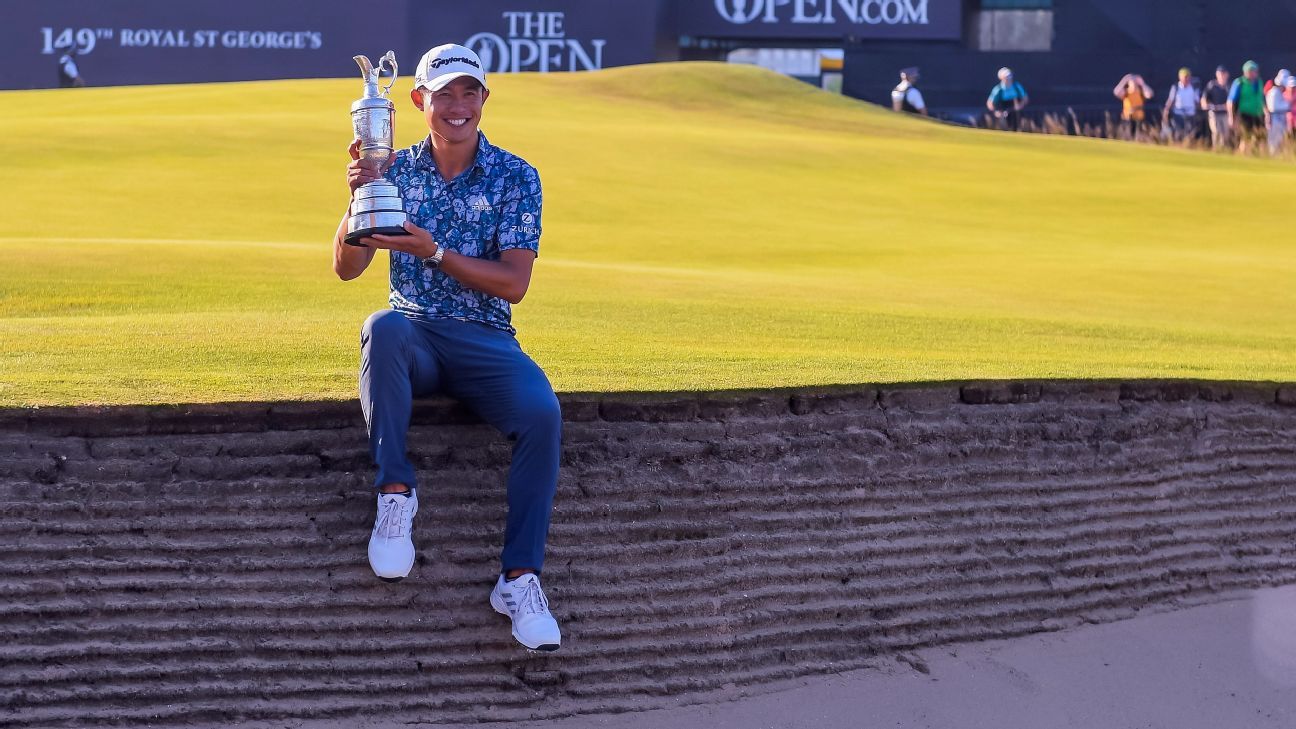 ESPN 18 July, 2021 - 03:23pm
SANDWICH, England -- He waved to the crowd, clapped his show of appreciation and then stepped to the microphone like he's been giving speeches for years. Collin Morikawa might have called it the "British Open,'' but he nonetheless handled the ceremony as coolly as he did the course at Royal St. George's.
Morikawa is just 24 years old but plays, acts and talks like he has been around for decades. Competing in his first Open, he won it -- a feat accomplished just twice previously in the past 25 years.
By playing the final round Sunday without a bogey and several times making clutch putts, it was Morikawa hoisting the Claret Jug on a sun-splashed day near the English Channel, winning his second major while holding off major champions Jordan Spieth, Jon Rahm and Louis Oosthuizen.
"He's a special kid,'' said Morikawa's caddie, J.J. Jakovic, whose 39th birthday was acknowledged by Morikawa in his victory speech. "I'm lucky to have him. He seems like he's been there 100 times.
"It just goes to his mental strength and his maturity. You add the freakish ball striking to his absolute cold-stone demeanor who is very comfortable in all the situations, you get someone who is very special. He seems to perform better in big spots.''
It is rare for someone to take on links golf for the first time and master it so quickly.
Ben Curtis did it here 18 years ago, winning The Open in his first attempt at any major. Before that, you have to go back to Tom Watson in 1975, who won the first of his five Claret Jugs at Carnoustie in his initial attempt.
Watson has often said that even while winning The Open, he had to learn to embrace the style of golf.
"I won two Open championships the first three years I played not particularly liking links style golf,'' Watson said several years ago. "I had a mental turning point in 1979 at Royal Lytham & St. Anne's. I was criticizing the golf course rather than playing the golf course. I didn't like that attitude. It was a lousy attitude to have if you're going to try and win a golf tournament. I finally had a good talk with myself, and I started playing the golf course the way it should be played. I kind of got with it after that. I didn't want to go out with a negative attitude about playing the courses.''
The only adjustment Morikawa needed was to his irons. Last week, getting his first taste of links golf at the Scottish Open, he found difficulty in getting a clean strike with his short irons.
So he changed out the 7-, 8- and 9-irons and immediately found improvement. He also wasn't afraid to make a putting change on the eve of the tournament. He realized his claw putting grip was not effective on longer putts, because the fescue putting surfaces at Royal St. George's are much slower than what he was accustomed to putting on at PGA Tour events in the United States.
Morikawa went conventional on longer putts, and the results were stunning. He seemed to make every big putt he needed. He made eight birdies over his last 31 holes and did not card a bogey.
"I came out this week and didn't worry about playing against everyone else,'' he said. "I'm just trying to learn the golf course. And learning a links style golf course is tough because there's so many slopes, and I like to know everything. I like to know every little detail possible, but it's hard to do that out here.
"So you have to be precise about everything, That's how I looked at it -- as a challenge.''
The big shift in the tournament came Sunday, when Morikawa made his first birdie of the day at the par-5 seventh hole. At the same hole, Oosthuizen made a bogey. The lead was 2.
Nobody, including Spieth, who also shot 66, could ever catch him.
For the week, Morikawa made just four bogeys. He hit the ball like Jack Nicklaus and putted like Tiger Woods. And he became the first male golfer ever to win two major championships in his debut appearance in each. He won the PGA Championship the first time he played it, in 2020.
Jakovic explained Morikawa's ball-striking ability in simple terms: His rate of dispersion is simply smaller than that of other players. He hits a 6-iron as accurately as others hit a 9-iron. Therefore, any length he might give up off the tee is not as much of a disadvantage.
"He swings the club beautifully, gets it in positions that make it very, very difficult to not start the ball online. So therefore, he's going to be very consistent tee to green,'' Spieth said. "Clearly, with the shots he's hit and the putts he's holed, he's not afraid of high-pressure situations and winning a major championship.''
In the past 11 months (because of the coronavirus pandemic), there have been seven major championships, a Players Championship and two World Golf Championship events. Morikawa won three of those -- the PGA, The Open and a WGC event -- upping his PGA Tour total to five in just more than two years.
So far, the ratio is pretty good. While playing college golf at Cal, Morikawa won five of his 48 tournaments. So far as a pro, he's won five of 50, plus two of eight major championships with two other top-10 finishes.
Morikawa is making it look normal. He was calm in victory, then at ease in talking about it to the thousands who lined the 18th hole grandstands, remarking that the largest golf crowds on hand since the start of the pandemic were some of the best fans he has seen or heard.
"To be called the Open championship winner, to be called the championship winner of the year, it gives me chills,'' he said.
OK, so it's "champion golfer of the year.'' And "The Open.''
But Morikawa was so endearing in victory, he gets a pass.
What will be remembered far longer is that his name is engraved on the Claret Jug.