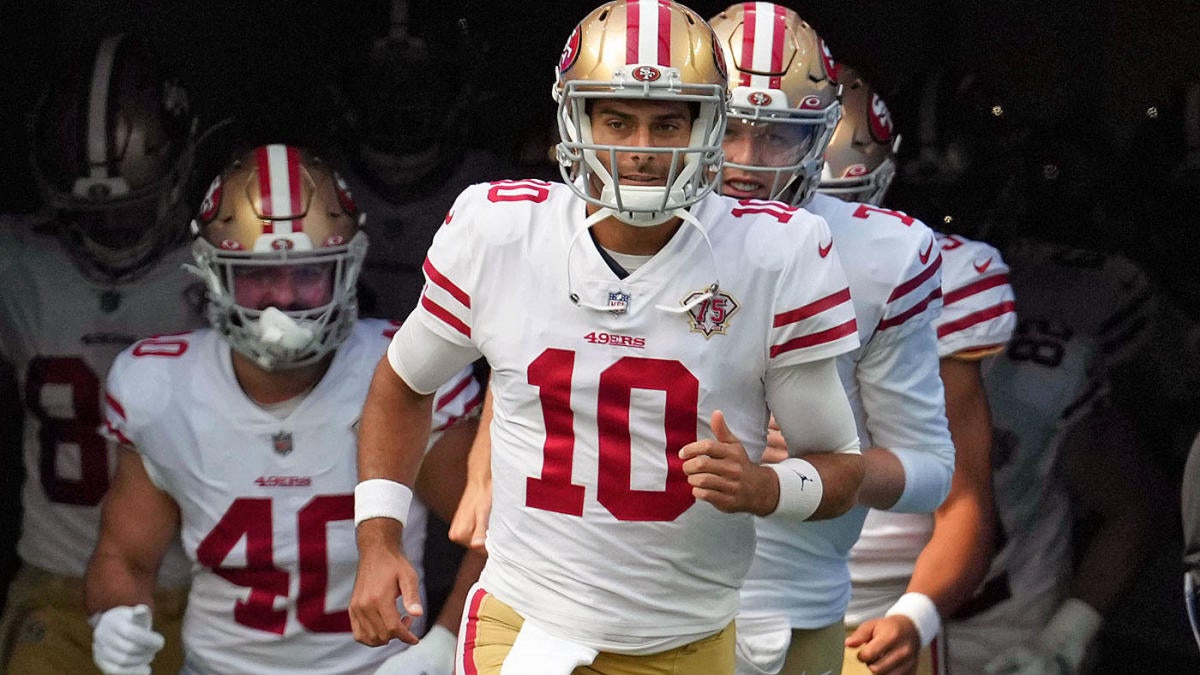 The dress rehearsals are almost over. The exhibition season is nearing its completion. The time for teams to evaluate their quarterbacks in truly competitive game environments is nearing its end.
It's go time. Decision day is basically upon us. Closure is coming in places like New Orleans and New England and San Francisco.
The reality is, most of the head coaches and their staff already know who is going to be taking their first snaps of the season in Week 1. Many have known internally for quite some time, just waiting to see if anything unforeseen would occur to alter their course of thinking. And for the most part, that hasn't happened. Things are largely as they anticipated. These quarterbacks are, by and large, who these staffs thought they were.
So with the announcement of the winner many of these pending quarterback competitions almost at hand – especially given that many teams will opt not to expose the true starter to injury in the final game, anyway – this seems as good a time as any to reassess where things stand and try to handicap these QB races. Ultimately, it's going to end up being as many of us figured given the lack of readiness of some rookies, the expectations for some of these franchises and the variance in the supporting casts around many of them.
We'll go in order of least suspenseful to most potentially suspenseful, though I believe Denver may be the only situation where things could actually pivot based on the results of the preseason finale. The larger takeaway is that these scenarios have generally sorted themselves out over the past month.
There was never any other option. There was never going to be any other option. They brought in no one or nothing that could be construed as any degree of competition for the first-round pick. It's all about maximizing his reps and having him as ready as possible for Week 1. He'll take his lumps, but this was never in doubt barring injury. And the kid is healthy as can be right now.
Don't believe the hype about this being a knock-down, drag-out battle between Lawrence and Gardner Minshew. Splitting their snaps is kinda nuts, and I'm not sure what advantage Urban Meyer thinks he is gaining by perpetrating this faux mystery. But the first overall pick is pro ready; remains to be seen if this staff and offensive line is.
You might think Justin Fields is the right choice and I might think Justin Fields is the smart choice … But this has never been close to a fair fight or open competition. Matt Nagy has said from the jump that Dalton is his guy to open the season, he continues to declare it even after Saturday's debacle and nothing is going to change his mind now. I suspect we see a transition to Fields at some point in October.
My reporting on this throughout the spring and summer has continually led me to believe Winston's ability to push the ball downfield to all quadrants and his superiority over Taysom Hill in special situations would carry the day. Sean Payton has been eager to open up his attack to all quadrants of the field and Winston followed up a strong first game with a stellar second exhibition. He is playing with confidence and without fear and spent ample time in this system. There is still a role for Hill. But Hill cannot operate an offense like Winston can. That much is obvious.
This might have been set prior to Newton's latest COVID-related absence, this time failing to comply with proper testing protocols over the weekend. That opens up an opportunity for Mac Jones to put on a show this week, but I still don't think it will be enough to unseat the veteran. Newton has had a solid camp, is completing downfield throws at a better rate that a year ago, and actually has some decent pieces around him in this offense this year, plus a robust offensive line. I wouldn't be shocked to see Jones in some hurry-up or two-minute situations early in the regular season, and he has merited ample trust and belief from this staff. But Newton unlocks some unique things in the run game, and I anticipate him being under center when the season begins.'
This smells a lot to me like the Dolphins situation a year ago when, even though the team was doing pretty well, the staff eventually wanted to see if the more athletic and dynamic QB could take them to a higher gear. Trey Lance has had incredible highs and low lows, but that ceiling is in a different stratosphere from Jimmy G. Lance will have plays and packages that should allow him to shine as a sidekick early on, but there is no reason why Kyle Shanahan has to make this change in mid-September and he can continue to develop the first-round pick while his $20M veteran displays how he can move this offense with the 49ers more healthy than they were a year ago.
This one is the most 50/50 between newcomer Bridgewater and holdover Drew Lock. And they have basically put up very similar production through the summer. Vegas sees it as pretty even as well. I feel like Bridgewater's more extensive experience, the fact that he took a Vikings team to the playoffs as a youngster while Broncos new GM George Paton was assistant GM there, and his overall body of work (more risk averse than Lock) will carry the day. If Lock does get the first start I can't help but wonder if the leash is fairly short, especially if ball control and decision-making remain an issue. Vic Fangio is notoriously hard on QBs/offensive staff and espouses old-school values (hang on to the football, play not to lose and win with defense). Bridgewater has spent most of his career in those sorts of operations.
Create your custom survivor, confidence or picks pool with Football Pick'em.
© 2004-2021 CBS Interactive. All Rights Reserved.
CBS Sports is a registered trademark of CBS Broadcasting Inc. Commissioner.com is a registered trademark of CBS Interactive Inc.
Images by Getty Images and US Presswire
These cookies are essential for the proper functioning of our Services. Essential cookies cannot be switched off in our systems. You can set your device to block or alert you about these cookies, but some parts of the Service will not work.
These Cookies allow us to collect information about how visitors use our properties. Some examples include counting visits and traffic sources, so we can measure and improve the performance of our services. If you do not allow these Cookies we will not know when users have visited our properties and will not be able to monitor performance.
These Cookies enable the services to provide enhanced functionality and personalization. They may be set by us or by third party providers whose services we have added to our services. If you do not allow these Cookies then some or all of these services may not function properly.
These Cookies may be set by us or through our services by our advertising partners. They may be used by those companies to build a profile of your interests and show you relevant advertising on this and on other properties. If you do not allow these Cookies, you will still see ads, but you will experience less relevant advertising.
These Cookies are set by a range of social media services that we have added to the services to enable you to share our content with your friends and networks. They are capable of tracking your browser across other sites, building up a profile of your interests to show you relevant content and advertisements on the relevant social networks. If you do not allow these Cookies you may not be able to use or see these sharing tools.
Read full article at CBS Sports
PGA TOUR 25 August, 2021 - 03:20pm
Yardbarker 25 August, 2021 - 01:07pm
Cameron Smith is squarely in the hunt to win the FedEx Cup, as he is third in the standings heading into the BMW Championship this week. The winner of the FedEx Cup will earn a $15 million bonus, but Smith apparently is not all that motivated by the massive prize.
Smith, who lost to Tony Finau in a playoff at the Northern Trust on Monday, was asked this week what he would do if he won the $15 million FedEx Cup bonus. You might be surprised by his response.
"I don't know. I'm pretty set, to be honest," Smith said, via Dylan Dethier of Golf Magazine. "I'm good. I'm good with what I've got. I don't know what I'd do, to be honest. Maybe (buy) some more fishing equipment."
That is certainly a refreshing, if not unexpected, take from Smith. It also speaks to how much money the 28-year-old Australian has made during his golf career. Smith has more than $17 million in career earnings on the course. That doesn't take into account any endorsement deals he has, so you can understand why he feels comfortable with his financial situation.
Smith has quickly become a fan favorite on the PGA Tour. He and his fantastic mullet were locked in while setting a course record at Liberty National on Saturday. His indifference to the $15 million FedEx Cup prize will probably add to his popularity.
This article first appeared on Larry Brown Sports and was syndicated with permission.
Get the latest news and rumors, customized to your favorite sports and teams. Emailed daily. Always free!
Damian Lillard is not leaving the Portland Trail Blazers. The star guard was asked during an Instagram live session if he was leaving "PDX." He responded, "I'm not leaving PDX. Not right now at least." Trade rumors have been following Lillard since the Trail Blazers were eliminated from the 2021 playoffs in the first round by the Denver Nuggets. After Portland's final game of the postseason, Lillard fanned the flames, saying, "I mean, we didn't win a championship, so obviously where we are now isn't good enough." NBA insider Marc Stein reported last month that Lillard and the Trail Blazers were not "ready to entertain trade possibilities." The veteran guard has three years and $127.5 million left on his contract, which also includes a player option for 2024-25. If the Blazers lose in the first round of the playoffs again or the team isn't in playoff contention come the trade deadline, then maybe Lillard will seek a move elsewhere. For now, though, it appears Trail Blazers fans can breathe a sigh of relief as their superstar appears ready to stay put. Lillard, 31, averaged 28.8 points, 7.5 assists and 4.2 rebounds per game last season. The Blazers finished sixth in the Western Conference with a 42-30 record.
The Denver Broncos finally have a starting quarterback. How long he'll keep the job is anybody's guess. Broncos head coach Vic Fangio informed the team Wednesday that veteran Teddy Bridgewater won the quarterback competition over 2019 draft pick Drew Lock. The news dropped just one day after Fangio told reporters he and his coaching staff hadn't yet chosen a QB1 ahead of Saturday's preseason finale against the Los Angeles Rams. In fact, Fangio's words on Tuesday suggested either signal-caller could find himself on a short leash come September. "It's pretty damn close," Fangio said at that time. "You guys have seen it. . . . It is close, and I think it's close for a good reason. They both have played well. The good news of this competition is we've got two quarterbacks we feel we can go win with." Denver acquired Bridgewater from the Carolina Panthers in exchange for a sixth-round draft pick in April so that the 28-year-old could push Lock and potentially win the starting gig. Both were solid in preseason starts earlier this month, but Aric DiLalla noted for the Broncos website that Bridgewater recorded the better stats of the two. Bridgewater completed 16-of-19 passes for two touchdowns and a 141.0 quarterback rating with zero turnovers and no sacks across the first two exhibition games. Lock, meanwhile, hit on 14-of-21 throws for 231 yards and two touchdowns. The Broncos begin the regular season at the New York Giants on Sept. 12.
Manchester City still have a need for a striker ahead of the close of the transfer window on Tuesday night now that Tottenham Hotspur star and England captain Harry Kane has committed at least his foreseeable future to his current employer. According to Rob Dawson of ESPN, the reigning Premier League champions could now pursue none other than Juventus' Cristiano Ronaldo. Ronaldo has only one season left on his contract and reportedly wishes to leave the Italian Serie A giants before the end of the month. There are, however, multiple obstacles that could prevent the 36-year-old from joining City this summer, most notably his massive wages. Money isn't the only issue. Reports surfaced Tuesday that Paris Saint-Germain rejected an offer of $188 million (€160 million) from Real Madrid for wantaway forward Kylian Mbappe. If PSG sell Mbappe, who is also out of contract next summer, at some point over the next week, they could swoop in for Ronaldo to add him to an attack that already features Lionel Messi and Neymar. It's also worth mentioning Ronaldo previously spent six years with Manchester United, where he became an English club legend playing for City's biggest rivals. CR7 has repeatedly said glowing things about United and the club's passionate fan base since leaving in 2009, but a perception exists he'd never be welcomed back to Old Trafford the same way if he signs for City.
Paris Saint-Germain has rejected Real Madrid's €160 million offer for Kylian Mbappe, multiple sources told ESPN's Julien Laurens and Rodrigo Faez. Sources close to Real Madrid told ESPN that negotiations will be complex, but the club still hopes to convince PSG to agree to a deal before the transfer window closes next week. Other sources in France suggested to ESPN that Madrid would need to raise the offer to €200 million to have a chance of landing the French international. PSG sporting director Leonardo Araujo said Wednesday, according to Fabrizio Romano of Sky Sports, that the club will not hold Mbappe back from joining Real Madrid, and if the conditions are met, then he could be transferred. Araujo also said that PSG has "no plans" to talk to Real Madrid again regarding Mbappe, adding the €160 million offer is less than what the club paid for him in 2017. Mbappe's contract at PSG expires next summer, and he has made it clear that he has no intention of renewing his contract with the club. The Parisians believed the arrival of Lionel Messi would change Mbappe's mind, but that has not been the case. Mbappe has been Real Madrid's top target for some time now, and the striker has been close to joining Los Blancos on several occasions in the past.
Harry Kane has confirmed he will be staying at Tottenham this summer and will not be headed to Manchester City or elsewhere. The 28-year-old pushed for a move away from the Spurs this summer, and speculation about his potential departure had heated up over the last several days. The Spurs responded to his statement saying, "Let's do this." Kane has been training on his own after returning later for preseason than his teammates, and he played for the first time this season as a second-half substitute in Tottenham's 1-0 win over the Wolves on Sunday. Tottenham chairman Daniel Levy had turned down multiple offers for Kane from Manchester City this summer, and Pep Guardiola's side reportedly decided to move on with the price tag being high. Kane has three years remaining on his contract and said in his statement that he will be staying with Tottenham "this summer." So there's a chance he could once again look for a move away from the club after the 2021-22 season. The Englishman has spent the last 10 seasons with Tottenham, recording 166 goals and 32 assists in 243 games.
Knicks center Nerlens Noel has filed a lawsuit against agent Rich Paul and the Klutch Sports agency, reports Darren Heitner of SportsAgentBlog.com. The suit, which was filed in Dallas, Texas, claims that in a birthday party for the Klutch-represented Ben Simmons in 2017, Paul convinced Noel that he was a "$100M man," and that if Noel fired then-agent Happy Walters and signed with him, Paul would get him a max contract. Noel subsequently left Walters and signed with Paul. As part of the same pitch, Paul allegedly told Noel to cut off negotiations with the Mavericks, who had offered Noel a four-year, $70M extension, and instead sign the one-year, $4.1M qualifying offer. After a season plagued by injury, however, his free agency proved unsuccessful, as he claims that no one from Klutch presented any ideas for how to pursue long-term contracts, and none were forthcoming on the market, leading him to sign a two-year, $3.75M contract with the Thunder, which Noel claims was largely orchestrated by Thunder stars Russell Westbrook and Paul George, rather than by Rich Paul. Finally, the lawsuit states that Noel learned that multiple teams, including the Sixers, Clippers, and Rockets informed him that they attempted to get in touch with Paul about offering Noel a contract, but were unable to make contact. Noel left Klutch Sports in December of 2020, and is suing Paul and the agency for the loss of approximately $58M stemming from the initial declined extension with Dallas.
Tampa Bay Buccaneers kicker Ryan Succop previously spent six seasons (2014-19) with the Tennessee Titans and, understandably, wanted to get a bite with some old friends in connection with this past Saturday's preseason contest between those two clubs. Two days after Titans head coach Mike Vrabel tested positive for COVID-19, Buccaneers head coach Bruce Arians confirmed Succop will miss this coming Saturday's preseason finale against the Houston Texans after testing positive for the virus. "All contacts [with Vrabel] were outside. We had one that went to dinner with some guys that did test positive today," Arians told reporters, according to Jenna Laine of ESPN. "He went to dinner with some Titan friends. That was Ryan Succop. So he's out for this game." Succop is considered fully vaccinated against the coronavirus and, thus, should be cleared for the regular-season opener against the Dallas Cowboys on Sept. 9. The 34-year-old originally joined the Buccaneers ahead of the 2020 season and, per Pro Football Reference, set a franchise record of 136 points in regular-season play en route to ultimately earning a Super Bowl ring.
It appears to be the end of the NHL journey for veteran forward Valtteri Filppula. The 37-year-old became a free agent when his two-year, $6M contract expired this offseason and now he's heading overseas to finish his career. Filppula has signed with Geneve-Servette HC of the Swiss National League, becoming the team's fourth import player. Filppula played in 38 games for the Detroit Red Wings last season, scoring six goals and 15 points. If that is indeed the final season of his NHL career, it has been a very impressive one. The Finnish center played 1,056 regular season games and another 166 in the postseason, going deep into the postseason several times. He reached the Stanley Cup Finals three times, winning it in 2008 with the Red Wings. He currently sits at 197 goals and 530 points, quite the legacy for the 95th overall pick in 2002. He also made quite a bit of money in his career, with CapFriendly estimating his contract earnings at just under $50M. Filppula's return to Detroit in 2019 may not have gone exactly to plan, but he still did contribute 36 points in 108 games while the team went through a rebuild. His departure is one of many that will open roster spots for some of the Red Wings' younger players as they try to turn the corner and start the long road toward contention. In Switzerland, he'll join Daniel Winnik, Marc Pouliot and Henrik Tommernes as the foreign contingent for Geneve-Servette.
New England Patriots quarterback Cam Newton will be sidelined until Thursday after unknowingly violating the NFL's COVID-19 testing policy, according to ESPN's Adam Schefter. The Patriots said in a statement that there was a "misunderstanding" about COVID-19 tests conducted away from NFL facilities, and as required by the NFL and NFLPA, Newton will have to sit out five days. The former MVP was away from the team on Saturday to attend a club-approved medical appointment that required him to leave the New England area. He received COVID-19 tests daily, which were all negative. However, due to the misunderstanding, he's not eligible to practice. Newton's absence gives rookie quarterback Mac Jones a significant opportunity to gain ground in the quarterback competition. However, Patriots head coach Bill Belichick said Monday morning that "somebody would have to play better" than Newton to get the starting job. It certainly sounds like Belichick doesn't believe Jones has been better than Newton thus far. Offensive coordinator Josh McDaniels also said over the weekend that Newton "certainly is the starter now." Still, Jones has been impressive in two preseason games and will get the opportunity to make the Patriots coaching staff at least think twice about starting Newton next month.
Cameron Smith is squarely in the hunt to win the FedEx Cup, as he is third in the standings heading into the BMW Championship this week. The winner of the FedEx Cup will earn a $15 million bonus, but Smith apparently is not all that motivated by the massive prize. Smith, who lost to Tony Finau in a playoff at the Northern Trust on Monday, was asked this week what he would do if he won the $15 million FedEx Cup bonus. You might be surprised by his response. "I don't know. I'm pretty set, to be honest," Smith said, via Dylan Dethier of Golf Magazine. "I'm good. I'm good with what I've got. I don't know what I'd do, to be honest. Maybe (buy) some more fishing equipment." That is certainly a refreshing, if not unexpected, take from Smith. It also speaks to how much money the 28-year-old Australian has made during his golf career. Smith has more than $17 million in career earnings on the course. That doesn't take into account any endorsement deals he has, so you can understand why he feels comfortable with his financial situation. Smith has quickly become a fan favorite on the PGA Tour. He and his fantastic mullet were locked in while setting a course record at Liberty National on Saturday. His indifference to the $15 million FedEx Cup prize will probably add to his popularity.
Patch.com 24 August, 2021 - 05:51pm
BALTIMORE COUNTY, MD — Due to the PGA Tour in town, anticipate extra traffic around the Caves Valley Golf Club.
Access will be restricted on Park Heights Avenue/MD 129 between Caves Road and Walnut Avenue daily during the event. Hours for the road restrictions are 5 a.m. to 8 p.m.
Here is more information on parking for the event.
See Also: BMW Championship Drives Preparations In Owings Mills
GamingTodaySlotsToday 24 August, 2021 - 10:49am
GamingToday.com is an independent sports news and information service. GamingToday.com has partnerships with some of the top legal and licensed sportsbook companies in the US. When you claim a bonus offer or promotion through a link on this site, Gaming Today may receive referral compensation from the sportsbook company. Although the relationships we have with sportsbook companies may influence the order in which we place companies on the site, all reviews, recommendations, and opinions are wholly our own. They are the recommendations from our authors and contributors who are avid sports fans themselves.
For more information, please read How We Rank Sportsbooks, Privacy Policy, or Contact Us with any concerns you may have.
Gaming Today is licensed and regulated to operate in CO, IN, MI, NJ, PA, TN, and VA.
The PGA Tour season is down to the final two playoff events–including this week's BMW Championship–as players vie for the FedEx Cup title.
And with that title comes a $15 million bonus to the last man standing. Oh, and just making the 30-man field for the finale next week guarantees a $395,000 payout for the man who finishes last in the Tour Championship.
But first, players need to get into that top-30 field by finishing well this week at the BMW. The tournament will be held at Caves Valley Golf Club in Owings Mills, MD.
For the players at the top of the FedEx Cup standings, it's no problem getting into that final event. But for players ranked, say, No. 25 through 70, it's go-time.
There will be more shuffling this week than dealers do at a blackjack table in Vegas. Players will move in and out of the top-30 with every shot, every missed putt, every penalty stroke. It's that tight.
With that in mind, let's take a look at who has the most to gain–as well as the most to lose–during this week's event.
Everyone's guaranteed to play four rounds this week as there is no cut so it will be a payday for everyone.
But to get into the top-30 and that guaranteed $395,000 payout for just showing up next week, some players are going to have to go very low this week to move up.
And for those way down that list, it's likely going to take a victory to keep the season going.
Which player has the momentum and the drive to possibly pull out a much-needed victory?
That's where Cameron Smith, at +2500 this week, currently resides. His season has been a yo-yo…some ups and some downs. Now is the time to keep the momentum of last week's tournament going.
Sure he lost to Tony Finau in a playoff at the Northern Trust, but he's trending in the right direction as the playoffs continue. He could pull it off this week.
He's been top-five in his last two events and just missed out on a bronze medal at the Olympics right before his last two events. Before his recent run there was a win at the Zurich Classic but he also had back-to-back missed cuts.
It may be obvious, but it's all going to depend on how his first nine holes of the tournament go. If he's on a birdie roll, watch out as the optimism will rise. If he's struggling out of the gate with a hangover following last week's loss, it won't be a good sign.
It's always a lot more comfortable near the top of the FedEx Cup standings.
The reasoning is there is a little leeway for a few errors. A three-putt here or an untimely bogey there won't be as devastating as if you're in the top-20, you're going to head to Atlanta and the Tour Championship.
That's where Justin Thomas at +1800 comes into play. He's simply been consistent week-in and week-out.
Not great as he's been in the past, but still consistent.
He won the Players Championship before hitting a recent string of non-JT type of play but last week's effort may have him on the right track.
He wound up T-4 in the first playoff event despite a couple of errant shots that proved costly. That's been his MO of late. Before last week's T-4, he had no top-10 finishes in his last 11 events. There were finishes between T-13 and T-42.
Paydays for sure but no standout weeks…until the playoffs started.
First the good news for Jon Rahm. He's ranked No. 1 in the world and is No. 2 in the FedEx Cup rankings. He's got 13 top-10s in 19 tournaments where he made the cut and he's made more than $7.5 million on the golf course in this wraparound season.
That's all well and good for Rahm, the favorite this week at +650. But here's where one of those asterisks comes into play as his results could have been better.
He had a six-stroke lead after three rounds of the Memorial Tournament and was likely already working on his post-round quotes when a positive COVID test forced him to withdraw costing him more than a million dollars and 500 FedEx Cup points.
A recent second positive COVID test cost him a shot at Olympic gold so he's got to be hoping all the bad luck is behind him.
But is it all behind him? Rahm held the lead for just about the entire week at the Northern Trust before Finau caught him with an impressive final nine holes of the tournament and went on to beat Smith in a playoff for his first title in five years.
But a victory by Rahm this week heading into the Tour Championship would be another step in finishing off an impressive season in high style that might cement him as the Player of the Year.
Sometimes there's just something about a player that sticks out. Even when he's not at the top of his game, he's got enough game to turn a poor week into a good week or a good week into a great week.
We're thinking that just might be the case with Keith Mitchell at +15000 this week. The reasoning is simple as he wasn't even supposed to be in the picture this week. He came into last week at No. 101 and was still outside of the top-70 with three holes left on Monday before he went birdie-birdie-birdie to finish and come in at No. 63.
Heading into the Tour Championship, all players want is a chance and now Mitchell has just that chance.
Get connected with us on Social Media
Gaming Today has been publishing independent sports betting news since 1976!
Regulated & Licensed: MI, CO, NJ, PA, VA, IN, TN