When did Krispy Kreme go public?
On April 5, 2000, the corporation went public on the NASDAQ at $21 using the ticker symbol KREM. On May 17, 2001, Krispy Kreme switched to the New York Stock Exchange, with the ticker symbol KKD, which it carried until its private acquisition. wikipedia.orgKrispy Kreme
by Jordan Valinsky, CNN Business — July 1, 2021 .
Krispy Kreme's public stock debut is generating some pretty sweet news on the Nasdaq market despite low expectations.
The doughnut chain, which began trading under the DNUT symbol on Thursday, had priced its initial public offering at $17 per share, hoping to raise about $500 million. At the close, shares were trading at $21.
Krispy Kreme has headquarters operations in Charlotte and Winston-Salem. J.P. Morgan, Morgan Stanley and Citigroup are some of the major banks underwriting the stock.
The 84-year-old company announced in May it was, once again, going public. Krispy Kreme delisted its stock in 2016 after it went private following a $1.35 billion purchase from JAB Holding Company, a private firm that invests in food and beverage brands. It had previously gone public in 2000, and had some difficult years before the 2016 acquisition.
The company has been working to remodel its stores in recent years and has also opened lavish locations showcasing its sugary treats. Last year, Krisy Kreme opened a 4,500-square-foot location in New York City's Time Square with a glaze waterfall and a 24-hour street-side pickup window.
Krispy Kreme has around 400 locations in the United States. In total, there are 1,400 shops in 33 countries.
Latest headlines delivered to you twice daily
© 2021 WRAL TechWire. | Site designed and managed by WRAL Digital Solutions. | Privacy Policy
Read full article at WRAL Tech Wire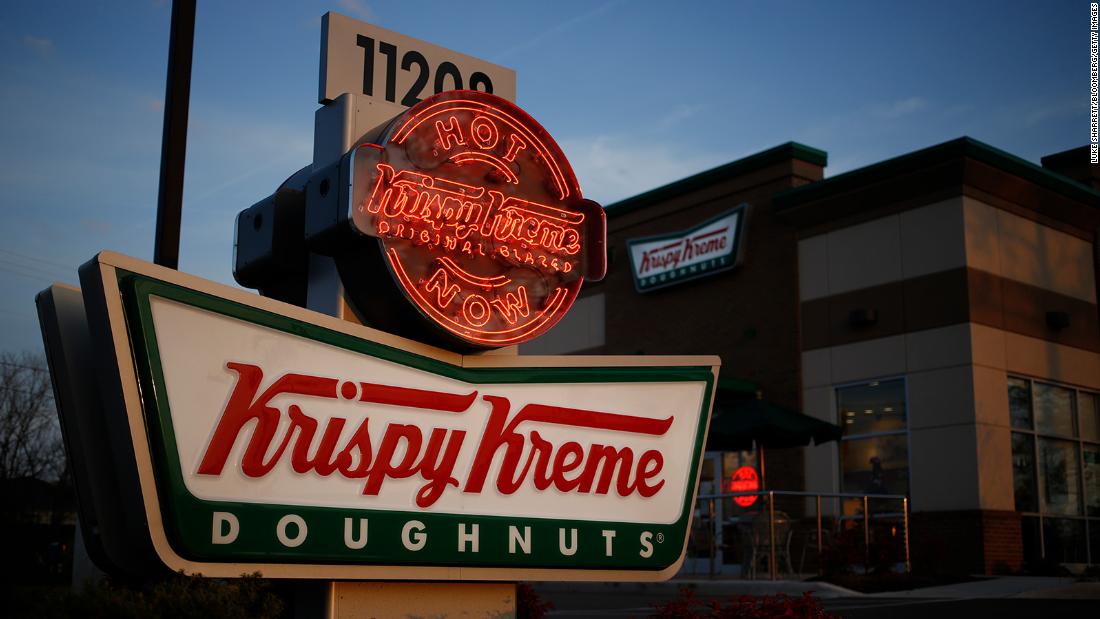 CNN 02 July, 2021 - 02:08pm
Updated 4:06 PM ET, Thu July 1, 2021
Barron's 01 July, 2021 - 10:56am
This copy is for your personal, non-commercial use only. To order presentation-ready copies for distribution to your colleagues, clients or customers visit http://www.djreprints.com.
Krispy Kreme led a group of six companies to the public markets on Thursday.
Besides the doughnut chain, Acumen Pharmaceuticals, D-MARKET Electronic Services & Trading, Evercommerce, Torrid Holdings, and the Glimpse Group made their stock-market debuts.
So far this week, 17 companies, including those six, have listed their shares. There are no initial public offerings on tap for Friday because of the holiday weekend. On Wednesday, 10 companies went public, with Didi Global, the Uber of China, trading flat and closing at $14.14, 14 cents above its offering price.
On Thursday, Acumen Pharmaceuticals (ticker: ABOS) was one of the first to begin trading. The stock opened at $25.07 and closed at $20.10, up nearly 26% from the offering price.
The solid performance came after Acumen increased the size of its deal by nearly 20%. The biotech company, which is developing therapies to treat Alzheimer's disease, collected about $160 million. It sold roughly 10 million shares at $16, the top of its $14-to-$16 range.
The Glimpse Group (VRAR), which develops and commercializes virtual and augmented reality software products, also opened. Shares kicked off at $11.75 and ended at $17.66, up 152% from its offer price. Glimpse delivered Thursday's smallest deal. The company collected $12.3 million, after selling 1.75 million shares at $7, the midpoint of its $6-to-$8 price range.
Torrid Holdings (CURV) shares rose 15% from the offer price to close at $24.15. The direct-to-consumer retailer of plus-sized women's clothes increased the size of its deal twice. It filed to offer 8 million shares at $18 to $21, which it boosted Wednesday to 10 million. It ended up selling 11 million shares at $21, the top of its expected range, raising $231 million. Sycamore Partners, the retail-focused private-equity firm, will own nearly 76% of Torrid after the IPO. 
Krispy Kreme (DNUT), the most well-known of Thursday's group, kicked off at $16.30 and ended at $21, up nearly 24% from the offer price. The doughnut chain increased the size of its deal by 10% but priced it well below its expected range to raise $500 million. Krispy Kreme had planned to offer 26.7 million shares at $21 to $24 each, but ended up selling 29.4 million shares at $17 each. JAB Holding, the European investment firm, will own about 39% of Krispy Kreme after the IPO
D-Market Electronic Services & Trading, or Hepsiburada (HEPS), jumped nearly 12% from its offer price to close at $13.43. Hepsiburada, which means "you can find anything you want here" in Turkish, is a leading e-commerce platform from Istanbul. The company raised $680 million after selling 56,740,000 American depositary shares at $12 each, the midpoint of its $11-to-$13 price range. Each ADS represents one class B ordinary share.
Lastly, EverCommerce (EVCM) stock opened at $20, but slipped back to close nearly 4% above its offer price at $17.60. EverCommerce's IPO came in at $325 million after the comp[any sold 19.1 million shares at $17, the middle of its $16-to-$18 range. The company provides software for small and midsize service businesses.
Write to luisa.beltran@barrons.com
Krispy Kreme led a group of six companies to the public markets on Thursday.
An error has occurred, please try again later.
This article has been sent to
Copyright ©2021 Dow Jones & Company, Inc. All Rights Reserved
This copy is for your personal, non-commercial use only. Distribution and use of this material are governed by our Subscriber Agreement and by copyright law. For non-personal use or to order multiple copies, please contact Dow Jones Reprints at 1-800-843-0008 or visit www.djreprints.com.