Chris Ship
chrisshipitv
🌍 Ahead of the @COP26 UN Climate Change summit which the UK is hosting next month, Prince Charles suggests a way we can all help: eat less meat and dairy. 🥩 🐠 He says he cuts out meat and fish twice a week 🧀 🍳 And dairy once a week More here 👇 www.itv.com/news/2021-10-11/eat-less-meat-and-dairy-to-help-the-planet-urges-prince-charles
Robert Jobson
theroyaleditor
Prince Charles has shown sympathy with campaigners from organisations like Extinction Rebellion who take direct action on climate change. He said to BBC whilst actions like blocking roads "isn't helpful" he totally understood the "frustration" climate campaigners feel.
Latika M Bourke
latikambourke
Prince Charles is asked by @BBCNews about Australian PM @ScottMorrisonMP's refusal thus far to attend climate (#COP) talks in Glasgow. "Is that what he says is it? ... well... I'm trying to say all the time - the point being - this is our last chance to move literally." pic.twitter.com/qmEZAvX0o7
Gary Robertson
BBCGaryR
Prince Charles has told the BBC that he can see why campaigners from organisations like Extinction Rebellion take to the streets to demand action on climate change. But he said blocking roads didn't help their cause. #bbcgms 0610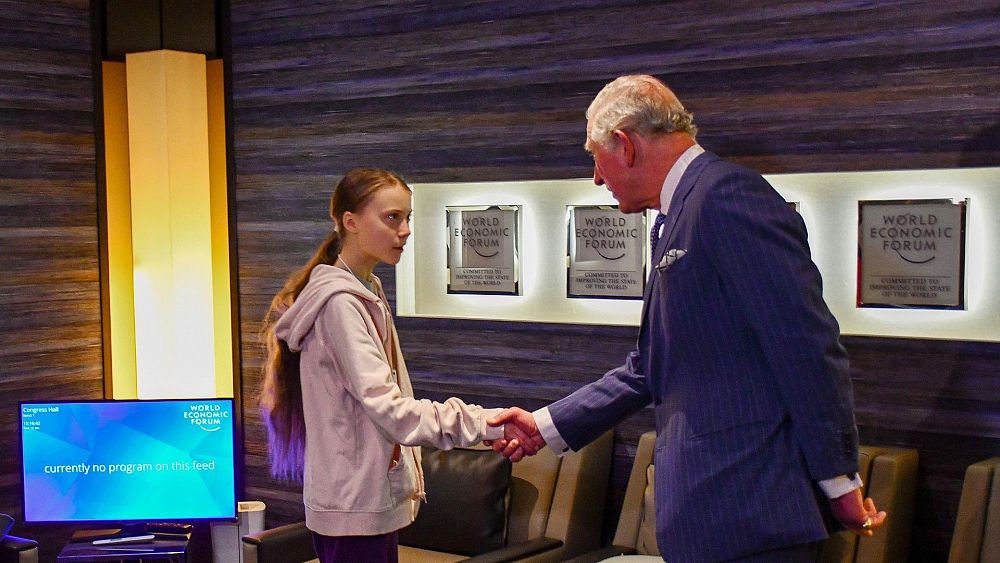 Euronews 11 October, 2021 - 12:37pm
British royal Prince Charles says he shares the concerns of Greta Thunberg and other environmental activists when it comes to world leaders' lack of climate action.
According to Thunberg, politicians around the world talk about climate change but are not doing enough to prevent its catastrophic impact.
Speaking ahead of the UN Climate Change Conference, COP26, the heir-to-the British throne, 72, who has spent most of his life speaking out on green issues, said he understood why campaigners take direct action when faced with the inactivity of politicians.
His views echo remarks from Thunberg and her fellow youth campaigners at a Youth4Climate event in Italy last month when she accused world leaders of "thirty years of blah, blah, blah".
Charles said he understood young people's despair and why groups such as Extinction Rebellion took to the streets to carry out disruptive protests.
"All these young feeling nothing is ever happening, so of course they're going to get frustrated. But it isn't helpful, I don't think, to do it in a way that alienates people," Charles said.
"So I totally understand the frustration, the difficulty is how do you direct that frustration in a way that is more constructive rather than destructive. The point is that people should really notice how despairing so many young people are."
Charles, who will be joined by his mother Queen Elizabeth and his eldest son Prince William for events at the COP26 summit, has been calling for governments to work with business chiefs and the private sector to help solve the climate crisis.
Asked if the British government was doing enough, he said: "I couldn't possibly comment."
However, he said the Glasgow COP26 summit, which runs from October 31 to November 12, was a "last chance saloon". Without action "it will be a disaster", he said. "It will be catastrophic. It is already beginning to be catastrophic."
Questioned about his own green credentials, given his passion for cars and the carbon impact of royal palaces, Charles said he had converted his 51-year-old Aston Martin to run on surplus white wine and whey from making cheese, and had installed biomass boiler systems and solar panels at his homes.
He also said he did not eat meat or fish two days a week, and had no dairy products on Mondays.
FarmersWeekly 11 October, 2021 - 06:26am
Prince Charles has urged the public to eat less dairy, meat and fish to help cut greenhouse gas emissions from farming ahead of a global summit on climate change.
Speaking to the BBC, the prince revealed that he regularly abstains from eating meat and dairy products on environmental grounds.
"For years, I haven't eaten meat and fish on two days a week. And I don't eat dairy products on Monday," Prince Charles said.
"If you all did that you would reduce a lot of the pressure on the environment and everything else," he added.
Asked how the UK should respond to climate change, Prince Charles said: "We could have an enormous impact as somewhere that was renowned for its environmental quality, the way we farm and the products we produce."
The prince's comments were made in a feature heralding global climate change talks at the COP26 summit in Glasgow next month.
There has been a flurry of activity in the build-up to the talks, and much of the publicity has focused on meat eating, despite livestock farming not being central to planned discussions.
Last week University of Oxford researchers revealed meat eating in the UK had fallen by 17% over the past decade.
Researchers used dietary data recorded in the annual National Diet and Nutrition Survey, which requires respondents to keep a food diary for four consecutive days.
The analysis showed that, in the 10 years to 2019, average meat consumption dropped from 103g a person a day to 86g/day – roughly 17%.
The decline was seen in red meat consumption – down 13.7g/day – and processed meat, which dropped by 7g/day.
White meat consumption bucked the trend with a daily 3.2g increase a person.
Visit our Know How centre for practical farming advice
Head researcher Cristina Stewart called the reductions positive and said she hoped her team's work would help tailor public health policies to accelerate the reduction in meat consumption.
However, UK farming bodies have put out a raft of myth-busting facts to counter misinformation, and are set to stage their own environmental summit.
See also: QMS launches toolkit to debunk myths about red meat
The summit – Countryside COP26 – will take place on 11-15 October, two weeks ahead of the main talks.
Organisers have said there is a limited amount of positive attention on the UK's rural economy, yet agriculture is already making a contribution to reaching net-zero targets.
The programme includes a mix of virtual and live events involving researchers, rural local authorities, education and farming leaders.
Each event will discuss specific subjects in depth to produce three to five key messages to drive implementation. These will be collated into an outcomes document of recommendations and actions for policymakers, the industry, research, the supply chain and investors.
The National Sheep Association (NSA) has already consulted members and selected five case studies showing how flock-keepers manage the environment.
Among them is John Pawsey, from Shimpling Park Farms, Suffolk.
"Our diverse leys have improved soil health, while flowering legumes are great for pollinators and ground-nesting birds. We have so much diverse insect and bird life and take great pride in the knowledge that our holistic, low-input system is carbon negative."
In Scotland, Sybil McPherson, Dalmally, Argyllshire, said her sustainably reared lamb used vegetation from land unsuitable for cultivation. "Native sheep breeds forage and use poor-quality grazing and enhance all environmental aspects," Ms McPherson said.
And Cumbrian farmer Will Rawling added: "Grazing sheep is part of the solution to climate change and can assist with flood mitigation and enhance nature – an ambition of every farmer I know.
"We are part of nature. We cannot ignore it or work against it, because natural processes will prevail."
The beef chain must become much more transparent, AHDB's major research into the sector has concluded. While that thought was hardly novel, the three-part study, carried out over the summer,…
A new "mix and match" calculator that considers the cost and margins of setting up a beef herd into an arable rotation has been developed by the AHDB. For growers…
Arable farmers are being urged to follow Metaldehyde Stewardship Group (MSG) guidelines closely to avoid polluting water in the product's last season of use. There is uncertainty about exactly how…
Glassers disease is widespread in UK pig herds, and worldwide. It can cause blood poisoning and death, and is often associated with cases of porcine reproductive and respiratory syndrome (PRRS).…
Meeting energy efficiency rules is already a challenge for many farmers and landowners with let property, given that many homes in rural areas are of an older build, listed or…
If the first six months outside the EU were marked by Defra announcements of post-Brexit policy plans for English farmers, the past three months have at last seen some signs…
Another carbon payment programme has come to the UK. We find out how the Soil Capital Carbon programme will work. Farmers signing up to Soil Capital's carbon programme will receive…
Reducing emissions while maintaining productivity is the goal for most farms as they look for ways to reduce their impact and become carbon neutral. While every farm will have its…
The best way to deal with rat infestations is not to have them in the first place. Waiting until you see rats running around the farm is too late. Every…