BBC News (UK)
BBCNews
Prince Charles says his beloved Aston Martin is now powered by cheese and wine bbc.in/3mGToqF pic.twitter.com/MrlOQ1IDH1
Aamer Madhani
AamerISmad
Prince Charles says his Aston Martin runs on wine and cheese byproducts www.washingtonpost.com/world/2021/10/12/prince-charles-cheese-wine-car-climate/?tid=ss_tw

Samantha Maiden
samanthamaiden
Prince Charles warns ⁦@ScottMorrisonMP⁩ Glasgow is "last chance saloon" for climate change & expresses surprise he could be a Glasgow no show. (Also reveals his Aston Martin is powered by surplus white wine - and cheese - ⁦@newscomauHQ⁩ ) www.news.com.au/technology/environment/climate-change/prince-charles-expresses-shock-that-scott-morrison-may-not-attend-glasgow-cop2g/news-story/47cbe98e62d4e824521ddb6e59c111c5
Neha Khanna
nehakhanna_07
Prince Charles' Aston Martin runs on wine and cheese, he tells BBC www.usatoday.com/story/entertainment/celebrities/2021/10/11/prince-charles-climate-change-leaders-do-more-than-just-talk/6087674001/
Does Prince Charles car run on wine?
The Prince of Wales has revealed that his favourite Aston Martin car now runs on wine and cheese. ... The heir to the throne revealed that he had converted his favourite vehicle, which he has owned for 51 years, to run on what he describes as "surplus English white wine and whey from the cheese process". The IndependentPrince Charles' beloved Aston Martin now runs on wine and cheese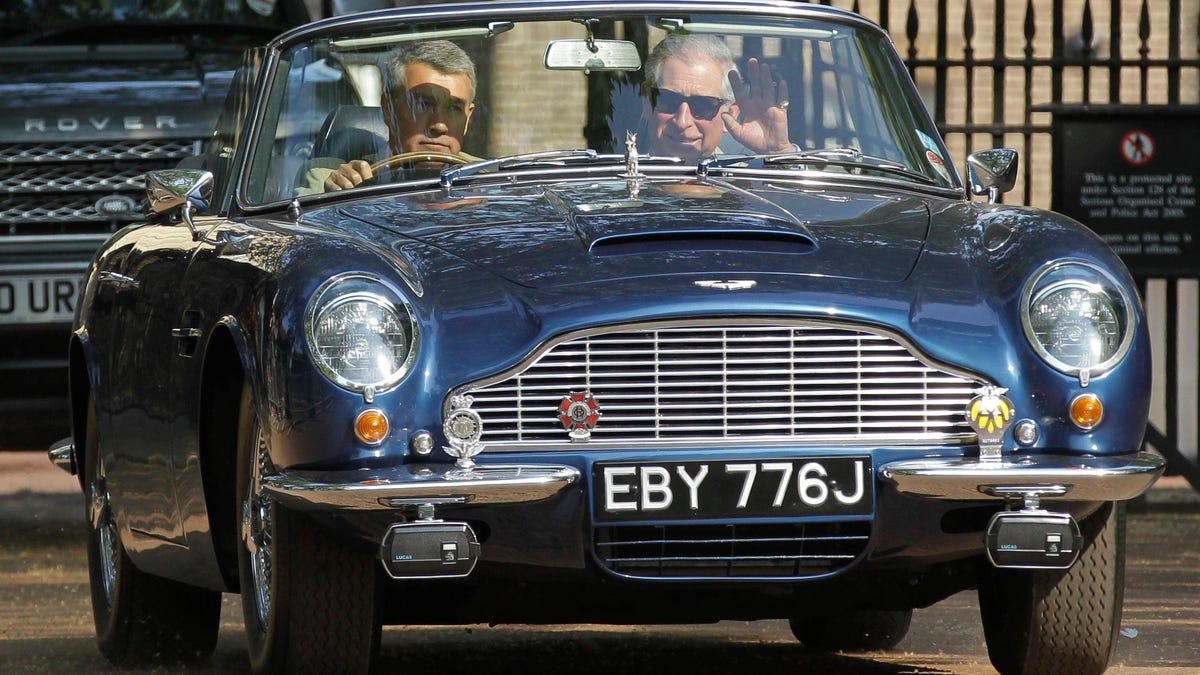 Ahead of a major climate meeting in Glasgow next month, Charles gave a wide-ranging interview to the BBC where he talked about climate change—a favorite topic of his. During the conversation about his own personal carbon footprint, Charles talked about his 1970 Aston Martin, which now runs on the nice stuff you'd put out for your parents when they come to visit your apartment.
Charles is a notorious car lover. His taste runs somewhat counter to other rich car aficionados, though. While Charles told the BBC that most cars on his estates are electric, he's had to get creative for some of his older models. The Aston Martin is a point in case. The blue DB6 Mk2 Volante that was a gift to Chuck on his 21st birthday from his mother, Queen Elizabeth II. He had the Volante retrofitted in 2008 to run on a type of bioethanol fuel, which he said is made from the "surplus English white wine and whey from the cheese process."
This car isn't a recent upgrade to prove the UK is, uh, serious about dealing with climate change; Charles has been driving this cocktail-chic ride for decades. In a truly zany interview with the Telegraph from 2018, he described how he basically forced the Aston Martin designers to figure out a way to get his car to run on the fanciest combination of foods they could find:
"The engineers at Aston said, 'Oh, it'll ruin the whole thing'.
"I said, 'Well I won't drive it then', so they got on with it and now they admit that it runs better and is more powerful on that fuel than it is on petrol.
"And also, it smells delicious as you're driving along."
Wonder if any of that cheese is Wensleydale.
In that 2018 interview, Charles also revealed that he'd gone to "battle" with the operators of the Royal Train, a special line used a handful of times a year to get the Royal Family around the country, to get the train to run on used cooking oil. ("They say it clogs up the engine or something," he added.)
Technically, Charles isn't shoving wedges of brie and pouring bottles of Cabernet into his ride. The fuel Charles's car runs on is called E85, a flexible fuel that blends ethanol with some percentage of gasoline. Ethanol can be made from a bunch of different plant byproducts, most notably corn and sugar, but certain leftovers from the wine and cheesemaking processes can also be used.
Read full article at USA TODAY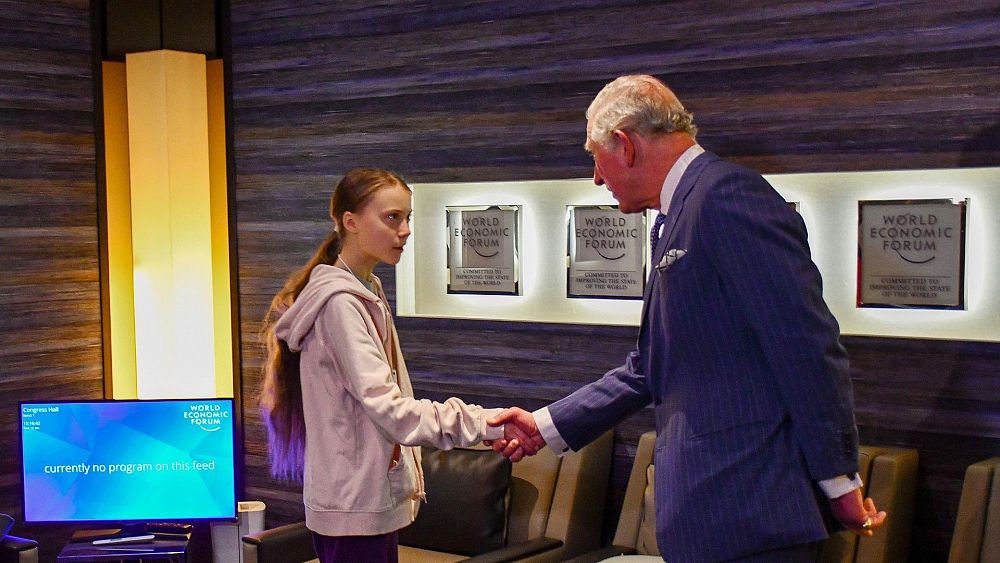 BBC News 13 October, 2021 - 06:11am
British royal Prince Charles says he shares the concerns of Greta Thunberg and other environmental activists when it comes to world leaders' lack of climate action.
According to Thunberg, politicians around the world talk about climate change but are not doing enough to prevent its catastrophic impact.
Speaking ahead of the UN Climate Change Conference, COP26, the heir-to-the British throne, 72, who has spent most of his life speaking out on green issues, said he understood why campaigners take direct action when faced with the inactivity of politicians.
His views echo remarks from Thunberg and her fellow youth campaigners at a Youth4Climate event in Italy last month when she accused world leaders of "thirty years of blah, blah, blah".
Charles said he understood young people's despair and why groups such as Extinction Rebellion took to the streets to carry out disruptive protests.
"All these young feeling nothing is ever happening, so of course they're going to get frustrated. But it isn't helpful, I don't think, to do it in a way that alienates people," Charles said.
"So I totally understand the frustration, the difficulty is how do you direct that frustration in a way that is more constructive rather than destructive. The point is that people should really notice how despairing so many young people are."
Charles, who will be joined by his mother Queen Elizabeth and his eldest son Prince William for events at the COP26 summit, has been calling for governments to work with business chiefs and the private sector to help solve the climate crisis.
Asked if the British government was doing enough, he said: "I couldn't possibly comment."
However, he said the Glasgow COP26 summit, which runs from October 31 to November 12, was a "last chance saloon". Without action "it will be a disaster", he said. "It will be catastrophic. It is already beginning to be catastrophic."
Questioned about his own green credentials, given his passion for cars and the carbon impact of royal palaces, Charles said he had converted his 51-year-old Aston Martin to run on surplus white wine and whey from making cheese, and had installed biomass boiler systems and solar panels at his homes.
He also said he did not eat meat or fish two days a week, and had no dairy products on Mondays.
autoevolution 13 October, 2021 - 06:11am
You will only receive our top stories
The Takeout 12 October, 2021 - 11:45am
Case in point: today, Prince Charles and his precious Aston Martin DB6 are in the news after an interview with the BBC, in which he mentions the 51-year-old car runs on "surplus English white wine and whey from the cheese process." More specifically, it runs on a type of fuel called E85 that is 15% unleaded gasoline and 85% bioethanol. The latter is an environmentally friendly fuel made from plant byproducts. Pretty rad, right?
Thing is, this isn't breaking news: Prince Charles' car started running on cheese back in 2018 but, again, the world wasn't paying much attention when to the future King of England proselytizing about climate-friendly vintage luxury cars. But now, looking back at this nearly three-year-old Wallpaper interview from a world that is actively burning, it's much easier to take the Prince's words, environmentalism, and cheese car seriously.
The Prince told Wallpaper that he'd been trying to convert his various cars and royal vehicles to biofuels for several years, including an attempt to get the Royal Train to run on "old chip grease." Eventually he found an upstart eco-friendly fuel company that was making bioethanol from whey and wine (both of which were deemed unsuitable for human consumption). He then hired an Aston Martin specialist to figure out how to figure out how to make the eco-magic happen.
Now that Charles' Cheese Car has captured the world's attention, perhaps we should start paying attention to his other climate-related philanthropic efforts. In 2019, the prince founded the International Sustainability Unit, which seeks solutions to environmental challenges like food security, the depletion of natural resources, and ecosystem resilience. I know the monarchy has no actual political power, but maybe the British should start listening to some of Prince Charles' ideas. He did, after all, voice serious concerns about Brexit, and you see how well that's been going for the U.K.