Cyrus Shahpar
cyrusshahpar46
Milestone Monday just in: Today we hit 70% of adults w/ at least one dose! +468K doses reported administered, incl. 320K newly vaccinated (vs. 257K last Monday). 7-day average of newly vaccinated highest since July 4. Let's continue working to get more eligible vaccinated! 🇺🇸

Jack Posobiec, IWO 🇺🇸
JackPosobiec
Biden administration to offer COVID vaccines to migrants in U.S. custody along the Mexico border as number of people stopped reaches 20 year high www.dailymail.co.uk/news/article-9860595/Biden-administration-offer-COVID-vaccines-migrants-U-S-custody-Mexico-border.html
Gov. Henry McMaster
henrymcmaster
Every day illegal immigrants, drug dealers and sex traffickers enter the USA undocumented, unvaccinated and untouched. Yet an American citizen wouldn't make it into an airport like that. The hypocrisy of @POTUS and Democrats is astounding and dangerous. www.washingtonpost.com/politics/biden-tells-governors-to-get-out-of-the-way-if-they-wont-help-on-vaccines/2021/08/03/a3a83b30-f46b-11eb-9738-8395ec2a44e7_story.html

Prof Peter Hotez MD PhD
PeterHotez
Regarding renewed calls for vaccine equity, here's what we (with @kmvnarayan14) wrote in @JAMA_current "Biden administration must fill those gaps by supporting the production and scale-up manufacturing of COVID-19 vaccines." jamanetwork.com/journals/jama/fullarticle/2780640
President Biden announced Tuesday that the CDC would extend the eviction moratorium in the areas of the country that have been hardest hit by the resurgence of COVID-19. After making the announcement, Biden conceded that "the bulk of the constitutional scholars say it's not likely to pass constitutional muster."
When a reporter suggested that many Americans are concerned about Biden's willingness to pursue a constitutionally dubious course of action, Psaki pushed back, suggesting that the reporter was citing non-existent critics.
"You know I'm going to ask you who's saying that," Psaki said.
"I think what's important to note here is that the president would not have moved forward with a step where he didn't feel comfortable and confident in the legal justification," she continued. "But he asked the CDC and his legal experts to look at what is possible. This is a narrow, targeted moratorium that is different from the national moratorium. It's not an extension of that," she added.
Just one day before Biden announced the unilateral moratorium extension, the head of his COVID task force, Jeff Zients, said that the administration had "kicked every tire" but was unable to come up with a legal justification for the move. The administration's initial insistence on staying within the bounds of their constitutional authority angered progressives, particularly those in the House Democratic caucus who camped in front of the Capitol for days to show solidarity with those who might be evicted.
In response to a reporter's inquiry about landlords struggling to pay their bills because they're prohibited from evicting tenants with overdue rent, Psaki replied, "Well actually the landlords can benefit from exactly the same emergency rental assistance that renters can benefit from." The reporter followed up that the distribution of relief to landlords has been delayed across the country, exacerbating their financial plight.
Republican U.S. Representative Mo Brooks asked a federal judge on Wednesday to grant him immunity from a civil lawsuit alleging a speech he delivered to then-President Donald Trump's supporters on Jan. 6 helped incite the attack on the Capitol. In a series of court filings, Brooks addressed a decision by the Justice Department issued last week https://www.reuters.com/world/us/us-justice-dept-wont-defend-republican-lawmaker-capitol-riot-lawsuit-2021-07-28, which determined it could not defend the Alabama congressman because he was not acting within his scope of employment as a member of Congress when he spoke at the rally. Brooks is a co-defendant with Trump and several others in a lawsuit brought by Democratic Representative Eric Swalwell in the U.S District Court for the District of Columbia, before Judge Amit Mehta.
Fox BusinessFormer House Speaker Newt Gingrich appeared to fully subscribe to the racist "Great Replacement Theory" in an interview with Fox Business' Maria Bartiromo Wednesday.In a conversation about Mexican immigrants traveling to the country amid rising COVID-19 cases and low job numbers, Gingrich claimed the immigrants did nothing to represent "traditional, classic Americans.""The anti-American left would love to drown traditional, classic Americans with as many people as they can who know n
Citing a Supreme Court decision issued in late June, the White House said it was unable to unilaterally extend the moratorium for evictions.
U.S. congressional Democrats on Tuesday pushed the White House to reinstate an expired moratorium on residential evictions that kept millions of people from being forced out of their homes for unpaid rent during the pandemic, but which expired over the weekend. Senate Majority Leader Chuck Schumer and House Speaker Nancy Pelosi both called for reinstatement of the ban on evictions that expired at midnight on Saturday. Congress wants the Biden administration to reinstate the ban, while the White House says a Supreme Court ruling in June means it lacks legal authority to do so without congressional approval.
A Florida woman made quite a scene on a trip to South Dakota last Friday night.
The Mexican government sued United States gun manufacturers and distributors Wednesday in U.S. federal court, arguing that their negligent and illegal commercial practices have unleashed tremendous bloodshed in Mexico. The unusual lawsuit was filed in U.S. federal court in Boston. Among those being sued are some of the biggest names in guns, including: Smith & Wesson Brands, Inc.; Barrett Firearms Manufacturing, Inc.; Beretta U.S.A. Corp.; Colt's Manufacturing Company LLC, and Glock Inc. Another defendant is Interstate Arms, a Boston-area wholesaler that sells guns from all but one of the named manufacturers to dealers around the U.S.
A contractor in State College pleaded guilty this week to stealing more than $20 million from its employees in what's considered the largest prevailing wage criminal case in U.S. history.
With the 7-day average of COVID-19 deaths in the U.S. currently at 350 and rising, public health experts are arguing that recent deaths were largely avoidable due to widespread availability of effective vaccines.
A Kaiser Family Foundation survey finds wide differences in attitudes about the Covid-19 vaccines.
Video of DC Mayor Muriel Bowser shows that she was not 'actively eating and drinking' when photographed without a mask at an indoor wedding reception.
Former President Donald Trump Wednesday sought to block the Treasury Department from providing his tax returns to Congress with a new legal filing.
Quick-thinking firefighters were able to free the toddler and save the toy he was reaching for.
America's newest pop princess made her way to the White House press stand clad in a baby-pink tweed and plaid skirt suit, chunky white high heels and black socks. Olivia Rodrigo, the Disney star turned Billboard sensation, had met with President Biden and taken a photo with Vice President Harris before facing the masses with her signature half-smile to advocate for vaccines. Contrast was essential to Rodrigo's look. The actress-singer-songwriter's outfit was "Clueless" meets punk, her effortless
Marty Baron led the Washington Post during Donald Trump's tumultuous presidency and recently reflected on Trump's influence on the news business.
Rep. Devin Nunes (R-California) sued NBCUniversal on Tuesday, claiming that primetime MSNBC host Rachel Maddow defamed him. The suit specifically points to comments she made in a March 18 broadcast that the congressman refused to hand over to the FBI a package he had received from a suspected Russian agent. Nunes maintains that Maddow and her team were aware before the show aired that he had told other reporters he had already handed the package over to the FBI and claimed MSNBC didn't reach out
If America's current COVID-19 surge continues unabated into the fall and winter, the country will likely face an even more deadly strain of the virus that could evade the current coronavirus vaccines, NIAID director Anthony Fauci told McClatchy Wednesday.Why it matters: Fauci's comments underscore the importance of acting quickly to vaccinate the tens of millions of Americans who have not been inoculated against the virus.Stay on top of the latest market trends and economic insights with Axios M
MSNBC's Mika Brzezinski said Wednesday that when she first saw the montage New York Gov. Andrew Cuomo released of himself embracing other leaders to defend himself against accusations of sexual harassment, she thought it was part of "a comedy show." "We're going to show you later the response video that the governor put out. It's pretty staggering. I thought it was like, a comedy show thing until I had to watch it again. It is really incredible, given the allegations against him," the "Morning J
Federal judge blocks Texas governor's order for state troopers to halt migrant transports
A 68-year-old Asian American woman who fell to the ground after being punched out of the blue in New York City is doing better since the incident, her son tells NextShark. What happened: The woman was out for a walk after 10 p.m. on July 27 when an unidentified man punched her from behind outside a flower shop in Lower Manhattan.
Giant sea bass are listed as a critically endangered species. Maru Brito, CC BY-NDI was looking at the seafloor, focused on identifying fish species as I normally did when diving off of the California coast, when suddenly I felt something large above me. When I turned my head I saw a giant fish – more than 6 feet (2 meters) long – calmly interested in the air bubbles coming from my SCUBA regulator. This was 2016 and was my first encounter with a giant sea bass. I am a marine ecologist, and I stu
Read full article at Yahoo News
WPTV News - FL Palm Beaches and Treasure Coast 04 August, 2021 - 03:00pm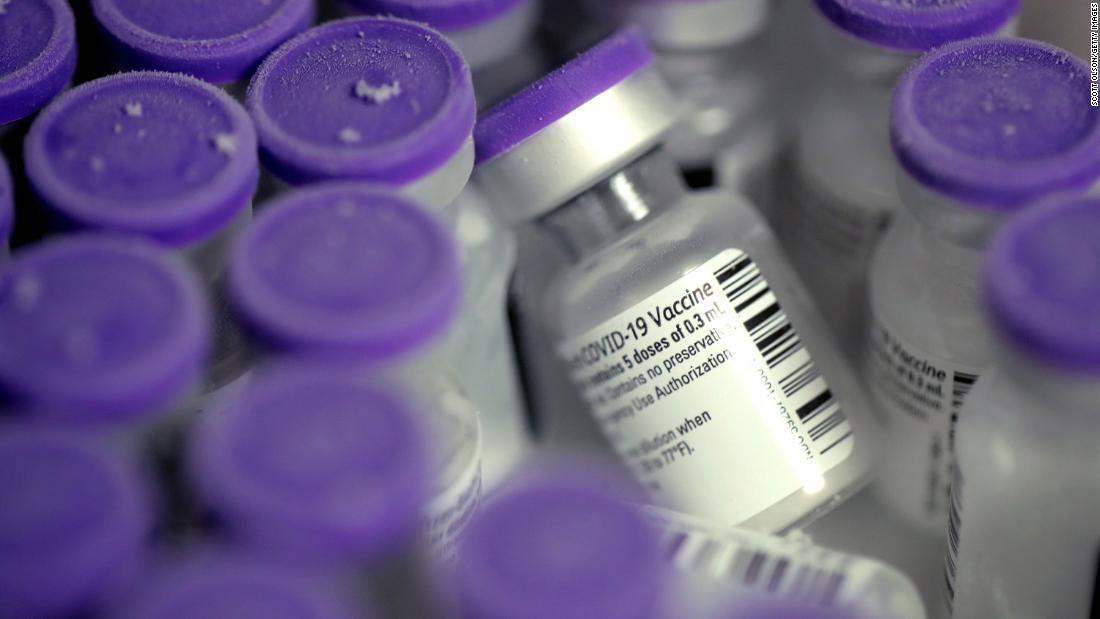 CNN 04 August, 2021 - 05:14am
Unvaccinated adults still also largely believe the news media have exaggerated the severity of the pandemic, and are less likely than vaccinated adults to wear a mask in public, according to the ongoing Kaiser Family Foundation survey.
The health-focused nonprofit group surveyed 1,500 US adults between July 15 and 27 for this chapter of its survey, and found little change among those with the most hardened attitudes about vaccination. About 14% of those surveyed say they will "definitely not" get vaccinated -- the same proportion as in December.
"Among those who say they will 'definitely not' get a vaccine, 75% say the news is exaggerated. The sharply different views of the vaccinated and unvaccinated help to explain the contentiousness of ongoing policy debates about vaccine mandates," KFF said in its report.
Only 23% of adults who have yet to get vaccinated say they believe vaccines are very or extremely effective at preventing death -- despite strong evidence that they are.
"A narrow majority (53%) of unvaccinated adults believe the vaccine poses a bigger risk to their health than COVID-19 itself," Kaiser said. "In contrast, an overwhelming majority (88%) of vaccinated adults say that getting infected with COVID-19 is a bigger risk to their health than the vaccine."
"The increase in COVID-19 cases and news of the Delta variant spreading in the U.S. has made some people say they are more likely to wear a mask in public or avoid large gatherings, though this is mainly driven by vaccinated adults," KFF said.
"Seeing their friends get sick and local hospitals fill up again with COVID patients may speed them along and add to their ranks," KFF President and CEO Drew Altman said in a statement.
The survey found 57% unvaccinated people said news media have "generally exaggerated" the pandemic's impact, while three-fourths of vaccinated adults say media have been "generally correct" (53%) or even "underestimated" its severity (24%).
Among vaccinated adults, 53% say they wear masks in grocery stores and other indoor places, compared to 44% of unvaccinated adults.
"These differences are to a large degree driven by unvaccinated Republicans. Majorities of Republicans say they 'never' wear a mask outdoors in crowded outdoor places, at work, or in a grocery store," KFF said.
A quarter of unvaccinated people -- 8% of all adults -- say they are likely to get vaccinated by the end of the year.
But 10% of adults who remain unvaccinated say they want to "wait and see" how the vaccine works for other people before getting vaccinated. Another 3% say they will be immunized "only if required." But that's down from 6% in June.
The survey found people divided on whether the federal government should recommend employers require vaccines among their employees. Half said the federal government should recommend employers require staff to get the COVID-19 vaccine unless they have a medical exception.
Three quarters of Democrats support a mandate for federal employees, while two-thirds of Republicans oppose the idea.
© 2021 Cable News Network. A Warner Media Company. All Rights Reserved.
Terms of Use | Privacy Policy | AdChoices | Do not Sell my Personal Information | Manage cookies+