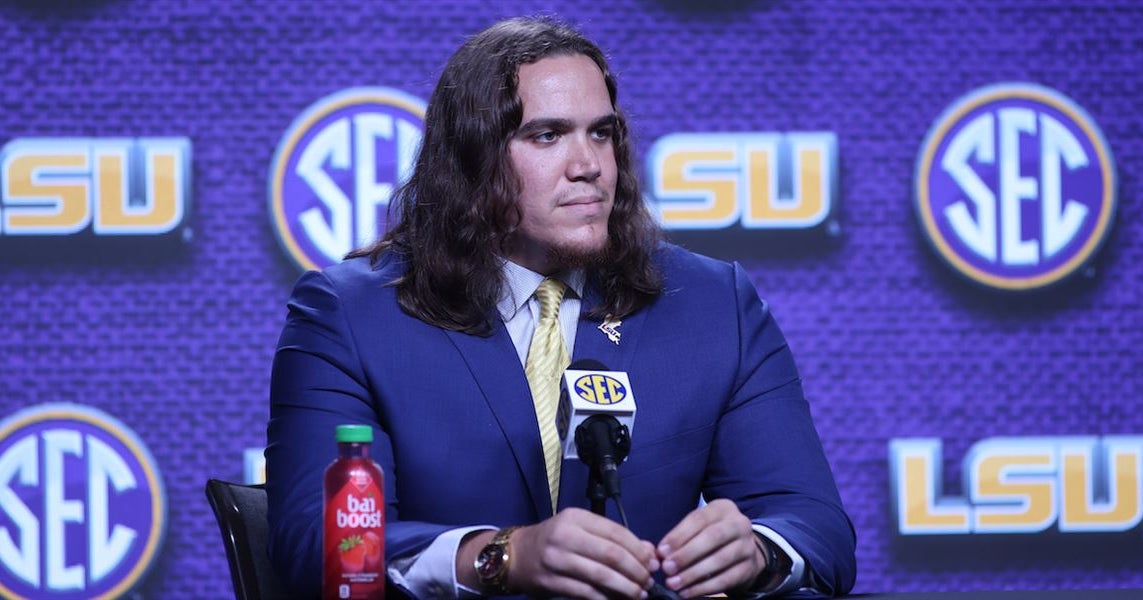 50% off Annual VIP Pass first year
AUSTIN DECULUS: Dare Rosenthal is like my brother. I can honestly say this with no hesitation, there's a dog. You know, big athletic freak, big -- he's about 6'7", 6'8", dunk the ball, he can hoop, overall athlete, plays to the end of the whistle. So they're getting a very dependable and very great player.
AUSTIN DECULUS: It's amazing really because you have both of those guys and they are like human highlight reels because they're fighting for everything. They're fighting for that spot. So they're going to give their best every day, and regardless of who it is, they're both going to do a great job for us, and, hey, at the end of the day, I'm going to block for both because I know both of them are going to get the job done.
AUSTIN DECULUS: Just to play to LSU standard of performance. Coming together as a team, just being able to be consistent where we weren't consistent, just being able to just bounce back and show, not that we're just going to play -- we don't play with a chip on our shoulder at LSU. We never have, and we never will. We're always going to play to that LSU standard of performance.
AUSTIN DECULUS: It's been great. Like I said earlier, it's a competition. Competition brings out the best in everybody, and both of those guys are stepping up. Even everybody from Garrett Nussmeier too. He's been coming in, and he's one of those Patrick Mahomes-type guys. He likes throwing his special little passes. But all of them are doing a great job really.
AUSTIN DECULUS: When you compare both offenses from that 2019 season to the one Peetz is bringing, you have both -- both of those offenses are just highlight reel offenses. You've got dangerous running backs, dangerous receivers, two dangerous quarterbacks, whoever it's going to be.
But the thing is about both of those offenses that are similar is giving playmakers plays to make plays in space.
Say that about three times, and I can't do it, I promise you.
The thing is, like I said before, it's going to be a very energetic offense, just like the 2019 season.
AUSTIN DECULUS: That also falls on us, the offensive line. We didn't have the best season that we had in the past, but having everybody come back from all aspects, from the offensive line to the running backs, it's going to build on the depth, build on the experience of the group, and you're going to see something different.
AUSTIN DECULUS: I believe both of them are leaders in their own aspect because not all leaders are the same. 2019 season, you had two different type of leaders. You had the lead by example type. You had Lloyd Cushenberry, which is both. He was a lead-by-example guy in 2019 season, then you have Damien Lewis, which is more of like the voice of the offensive line room.
So you see a difference in both of them, but they're both great leaders of the overall like team.
AUSTIN DECULUS: Any program that goes from National Championship to 5-5, they're going to always go like, eh, they're going to put them to the side a little bit, which is respectful. If you don't produce and you don't do it good within your season, you're not going to get the love, you're not going to get the recognition. So it's really going to change after the season.
AUSTIN DECULUS: There's a lot of things, there's a lot of reasons why we chose to come back. The thing going 5-5, you know, it's no one's fault. Us players, we play with our hearts. The coaches coach their hearts out. And at the end of the day, the chips didn't fall in their hands.
With the offensive line group, we really like just came together, and you look back, you look at 2018, you look at the season that the offensive line had, people were saying similar things to us this past 2020 season. I kind of like told those guys, like look what happened whenever we all came back, 2019 season, Joe Moore Award, all that. I just sprinkled that insight on them, and we just took that on the ground running.
AUSTIN DECULUS: Changes with Coach O, Coach O has always been that great man since the first day I met him. The first day we had home visits and he came and visited my house, he had a bowl of chili in my living room with me. But, no, he hasn't changed one bit. He's going to be that stern coach everyone knows, but he's a player's coach. He cares about us.
It's just that respect there, from us to the coaches, from us to Coach O and from Coach O to us, it's just that respect feeling to where we're going to do what's right at the end of the day.
(Music playing.) Someone has got some jams back there today.
Yeah, we just have that relationship with each other where we're going to depend on each other and bounce back.
AUSTIN DECULUS: We're going to respect everybody. We respect A&M. We respect all the SEC schools and all the other schools in their respective conferences. We don't really have a rivalry with anybody. We play everybody the same, no matter who it is, too big or too small. We treat them the same.
Personally, being a Texas guy, I always like playing in Texas, playing in my backyard, because I have a lot of teachers in high school who graduated from A&M, so it's always fun to go play there. As a team, everybody's the same.
AUSTIN DECULUS: Coach Davis is a very stern coach. He's going to put that foot down. He's a Louisiana native. Many people might not know that. He's going to be a great asset for us. It's always tough seeing a coach leave, but at the end of the day, one door closes and another door opens.
Just being able to see and grow your game off a whole different mindset of a coach can really be beneficial for a room, and I think that's going to be so.
50% off Annual VIP Pass first year
Read full article at 247Sports
Death Valley Voice 20 July, 2021 - 01:11pm
[Staff Photo/Gary Cosby Jr.] Sec Media Days Ed Orgeron
LSU football head coach Ed Orgeron admitted on Monday that he made a mistake after the Tigers won the 2019 national championship.
But he stopped short of saying he would do things differently if given a second chance.
Orgeron was asked on Monday during his appearance at SEC media days about his decision to hire Bo Pelini to replace Dave Aranda as LSU's defensive coordinator.
Pelini was hired after Aranda left Baton Rouge for Baylor.
The hiring of Pelini was widely praised at the time.
But the move ultimately didn't work out very well for Orgeron and the Tigers.
LSU's defense allowed 34.9 points per game last season (No. 98 in the nation) after allowing only 21.9 points per game in 2019 (No. 32 in the nation).
The mistake that Orgeron admitted to making was not formally interviewing Pelini before offering him the job.
"When I hired Bo, it was not a formal interview," said Orgeron on Monday (via 247Sports). "I believed in him, and it just didn't work. I said I would never do that again."
While Orgeron obviously regrets the way he went about hiring Pelini, he said an in-person interview with the former Nebraska head coach wouldn't have dissuaded him from making the same decision.
"If I'd have interviewed Bo Pelini face to face, I would have still hired him," explained Orgeron. "There would have been no question about that because of his reputation and because of the guy I knew."
Sometimes hires just don't work out. For whatever reason, Pelini wasn't a good fit on Coach O's staff. Fortunately, both parties recognized it wasn't a good fit and they amicably split.
Orgeron hired Minnesota Vikings defensive backs coach Daronte Jones this offseason to replace Pelini as LSU's defensive coordinator.
Jones is expected to bring some much-needed youthful energy to the Tigers' coaching staff.
Hiring Jones, however, is still a bit of a gamble. His only defensive coordinator experience came over a decade ago at Bowie State, a CIAA program.
Build your custom FanSided Daily email newsletter with news and analysis on LSU Tigers and all your favorite sports teams, TV shows, and more.
Your favorite teams, topics, and players all on your favorite mobile devices.
Powered by Minute Media © 2021 All Rights Reserved.