Tom Pelissero
TomPelissero
#Rams RB Cam Akers suffered a torn Achilles while training, per source. Brutal blow for L.A., which loses its leading rusher from last season a week before camp begins.
Michael Lombardi
mlombardiNFL
Cam Akers was ready to have a great season, tough way for the Rams to start camp. Forget Gurley coming back, the Rams need an explosive back who can highlight their offense, which isn't Gurley any longer.

Warren Sharp
SharpFootball
how quickly people forget when Todd Gurley could barely move, the Rams brought in CJ Anderson off the street and he put up nearly 500 rush yards in 5 games & the Rams almost won a Super Bowl losing Cam Akers truly sucks but let's be realistic about its impact on the Rams season

Lindsey Thiry
LindseyThiry
Losing running back Cam Akers to a ruptured Achilles is a massive blow for the Rams running back depth. Akers was scheduled to start this season. Behind him: Darrell Henderson, Xavier Jones, Raymond Calais and Jake Funk. Malcolm Brown departed in free agency.
Just before the start of training camp, the Rams have suddenly lost a high-profile player.
Rams running back Cam Akers suffered a torn Achilles, according to Tom Pelissero of NFL Network. That is almost always a season-ending injury, so it's highly unlikely we'll see Akers on the field again before 2022.
As a 21-year-old rookie last season, Akers led the Rams with 145 carries for 625 yards. He was expected to be their primary ball carrier again this season.
Now the Rams will turn to Darrell Henderson, who split carries with Akers last season. Rookie seventh-round draft pick Jake Funk suddenly has a much better chance of making the roster and contributing right away.
The Rams also may try to sign one of the few free agent running backs available, picking from a list that's mostly aging veterans like LeSean McCoy, Adrian Peterson, Le'Veon Bell and Frank Gore. Former Rams running back Todd Gurley also remains available.
Gore would be my target there…. The guy has the heart of a lion!!!
Matt Stafford can't be happy this morning.
These football players work too hard in the off season. Too much of anything is not good for you. They need to go back to that Jerry Rice, Walter Payton, Roger Craig, and Hershal Walker routine. A good distance run uphill, a thousand push-ups and enjoy the rest of the day. Let your body rest and recuperate.
The number one thing no team can predict, preseason injuries.
I know his best days are way behind him, but I'd love to see Frank Gore play one more year.
Ugh. Hate seeing things like this happen at any time, but it's always worse when it happens in the summer.
bring back Gurley or bring in AP
Hate to see any player injured but to see a young guy who's just getting started makes it even worse . Hoping for a full , speedy recovery .
Sorry to see a fine young man get injured, especially a RB early in his career….but This is only the beginning for the individual contract heavy Rams and their braintrust arrogance in significantly over paying for Stafford. Rams are going to finish 6-11, and those draft picks , combined with Goff exceptional play will propel the Lions dynasty.
That is awful. This year was going to be his big shot. And I really felt the Rams were the biggest competition for the Bucs in the NFC.
But even as a Buc fan, I feel terrible for Cam.
Adrian Peterson should be an affordable choice.
Brutal injury. He was in for a huge season.
This will be the excuse used by Stafford fans if the Rams don't live up to expectations. Matt has always gotten the benefit of the doubt his whole career…Even when he had Megatron, Reggie Bush and a good Defense.
pliability! learn from the GOAT! Main problem is so many of these guys are carrying more muscle mass then their frames will support and their wound up like rubber bands, just waiting to snap.
Billy B on line 1. I understand you are looking for a Sony
Gurley would be the most productive, I would think. But there might be bad blood there. Then it's a coin toss between AP and Gore.
There goes the Rams run game. That offense will be drastically different with a struggling run game, no ones afraid of Stafford taking either either. This is really going to hurt their play action game. For an offense as dependent on the run game as the Rams is this is a huge loss. Not good.
Oh jeez he was my keeper….
I hate to see that. These guys work so hard for their shot and a year is wasted. It is especially tough for running backs who have very limited shelf lives. Hope he heals quickly and recovers.
I never want to see any NFL player hurt but I especially liked this kid on that team. Plus I'm rooting against SF this year (Dolphins fan) so I am not thrilled about that aspect either.
Bummed for Akers though. I liked him coming and wanted to see more. See you next year Cam.
Wish him a speedy recovery, but this doesn't end the Rams chances for a special season.
Cam ran for 600 yards and had 2 rushing TDs last season.
Darrell Henderson time. Just as good, if not better than Cam.
The Rams should try to make a trade for Sony Michel from the Patriots.
This time Drew Brees for sure wants an explanation.
At least their QB is used to playing without a RB.
You must be logged in to leave a comment. Not a member? Register now!
This site uses Akismet to reduce spam. Learn how your comment data is processed.
Read full article at NBC Sports
CBSSports.com 20 July, 2021 - 11:10am
Training camp is set to begin soon for the Los Angeles Rams, but a key player won't be available. The team received brutally bad news regarding starting running back Cam Akers, who was seen by many -- including CBS Sports -- as a potential breakout candidate in 2021. Instead, it's now unlikely Akers will see a single snap this coming season, having reportedly suffered a torn Achilles tendon while training ahead of camp, per Tom Pelissero of NFL Network. 
News of the injury lands only a week ahead of the Rams firing up training camp, and now thrusts Darrell Henderson into the starting role going forward, with assists from Xavier Jones, Raymond Calais and rookies Jake Funk and Otis Anderson -- those behind Henderson on the depth chart now having a slightly better chance of surviving roster cut-downs in late August. There's also the option of adding a veteran running back in free agency to help with the loss of Akers, and a reunion with Todd Gurley might make sense on paper, but the two sides suffered a toxic divorce that could preclude any sort of vow renewal.
However the Rams choose to handle the situation, they'll miss Akers in a big way. Without him on the field, their chances of making the playoffs drop precipitously from 64.6 percent to just 53.9 percent -- per CBS Sports stats analyst Stephen Oh -- with their chances of winning the uber-competitive NFC West also taking a grave hit and dropping nearly eight percentage points to just 22.6 percent (down from 30 percent with Akers in tow).
According to William Hill Sportsbook, it's not expected that the Rams losing Akers will move their lines on any odds they're offering on futures bets.
"Not planning on a move unless market dictates it," said a William Hill spokesperson, via SportsLine. The Rams remain at +1400 to win the Super Bowl.
While he's only heading into his second season as pro, Akers ended his rookie year in impressive fashion. After getting the nod as the Rams' second-round pick in the 2020 NFL Draft, Akers was mostly caged until Week 11 (ish), when he rushed for 84 yards and a touchdown on an awe-inspiring 9.33 yards per attempt. That would turn out to be a prelude for two weeks later, when he ran rampant over the New England Patriots in Week 14 -- to the tune of 171 rushing yards. In doing so, he put the entire league on notice that he had the chops to not only be the starting RB for the Rams, but that he could get the dirty yards as much as readily as he could hit the home run.
He'd continue his momentum in the playoffs, rushing for 131 yards against the Seattle Seahawks on Super Wild Card Weekend and even in the Rams' loss to the Green Bay Packers the following week, Akers was still impactful with 90 yards rushing. All signs pointed to him having a stellar season with Matthew Stafford now under center, but he'll now instead have to undergo surgery to repair his torn Achilles and months of rehabilitation before he can get back to realizing his NFL potential.
© 2004-2021 CBS Interactive. All Rights Reserved.
CBS Sports is a registered trademark of CBS Broadcasting Inc. Commissioner.com is a registered trademark of CBS Interactive Inc.
Images by Getty Images and US Presswire
FantasyPros 20 July, 2021 - 11:10am
by Adam Koffler | Rams Correspondent | Tue, Jul 20th 10:26am EDT
Per sources, Los Angeles Rams RB Cam Akers suffered a torn Achilles while training and he will be out for the entire 2021 season. (Tom Pelissero on Twitter)
Brutal blow for both Akers and the Rams, who figured to lean heavily on the second-year running back out of Florida State. With Akers now done for the season, this looks to be Darrell Henderson's job, and he should be viewed as a high-end RB2 with the expected workload. With Malcolm Brown also gone, look for Los Angeles to bring in a veteran running back to take some of the workload off Henderson this season.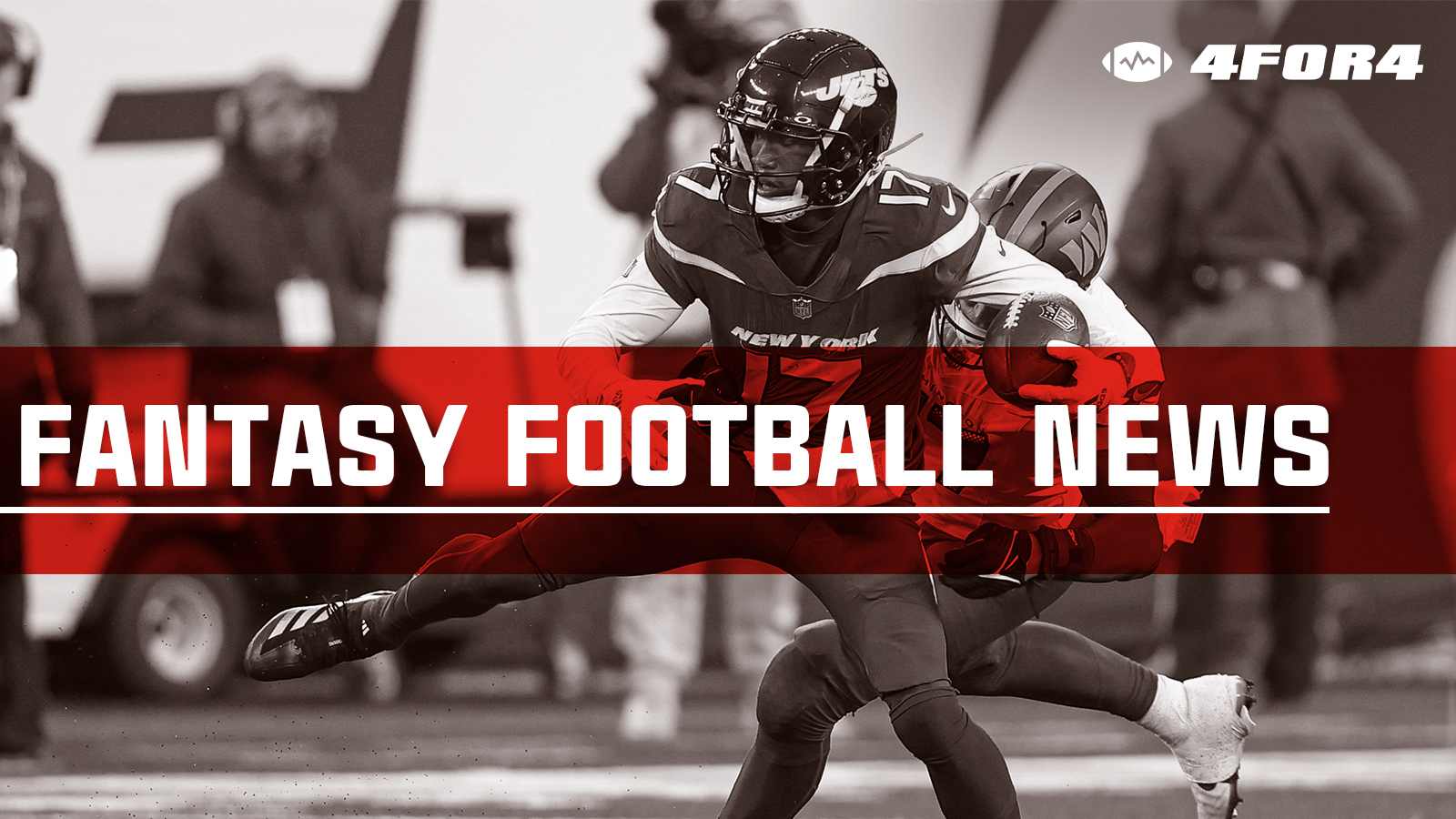 4for4 20 July, 2021 - 11:10am
#Rams RB Cam Akers suffered a torn Achilles while training, per source.
Brutal blow for L.A., which loses its leading rusher from last season a week before camp begins.
With Cam Akers out, the next man up is Darrell Henderson. Henderson served as the Rams' lead back from Week 2 to Week 7, racking up 86 total yards (4.84 YPC) and 0.67 touchdowns on 15.5 touches per game. Those are low-end RB1 numbers, which is the sort of production that we can expect from Henderson now that he finds himself in the lead role once again. With Malcolm Brown moving on to Miami, the Rams' depth chart behind Henderson now consists of 2020 7th-rounder Raymond Calais, 2021 7th-rounder Jake Funk, undrafted second-year player Xavier Jones and undrafted rookie Otis Anderson. The Rams' RB2 role will be a camp battle to monitor. The team is now a candidate to bring another veteran in (Todd Gurley?).
"Depending on what the game is, what's happened the last couple years and why some of David's carries -- which aren't low -- haven't been quite as high is a lot of guys get it in to four-minute mode in the fourth quarter," Nagy said, via SI.com. "That's where they can get those extra four or five carries, which can bump them into the top five, you know, with 20 rushes a game. That's our goal."
"Depending on what the game is" is also code for game script so getting David Montgomery that many carries may not be so easy. There's also the fact that Tarik COhen is back and if they end up using Justin Fields, that could also take some running opportunity away from Montgomery, particularly in the red zone. He's 4for4's RB 17 in half-PPR rankings and is currently being drafted as RB20 in Underdog leagues.
Sanders is the most underrated piece to the Bills offense from a real-life and fantasy perspective. The Bills were aggressive in their pursuit of Sanders this offseason, immediately targeting him after his release from the Saints.
Some expect Davis to step into John Brown's role from last season, but all of the Bills' actions in the offseason were not of a team confident that Davis was ready to step into an enormous role. Allen often looked for Sanders during spring workouts, trying to establish a rapport with him through meaningful reps.
It may behoove fantasy managers to grab Emmanuel Sanders now while his ADP is somewhat depressed. Right now he's going two rounds after Gabriel Davis which should begin to even out once more training camp hype appears.
Kroft has been one of the bigger surprises of the spring. He has seen a lot of time with the starting unit and tight end is a position battle to watch in training camp. Kroft could beat out Chris Herndon for the job if Herndon does not shake out of the funk he was in last year.
Right now both Tyler Kroft and Chris Herndon are free in both best ball and redraft leagues. Neither is recommended for redraft but at their current ADPs (Kroft: 216.0, Herndon: 211.6), whoever emerges at the end of training camp is worth a dart throw.
4for4 Fantasy Football. Copyright © Intense Industries, LLC. All rights reserved.
The Athletic 20 July, 2021 - 11:05am
Los Angeles Rams running back Cam Akers suffered a torn Achilles, the team announced Tuesday. He is expected to miss all of the 2021 season, a source told The Athletic.
The injury comes a week away from the start of training camp, with veterans set to report next Tuesday. Akers, a second-round pick in 2020, was expected to be the Rams' starter in the backfield.
The 22-year-old carried 145 times for 625 yards and two touchdowns in 13 games (five starts) as a rookie. He added 11 receptions for 123 yards and a touchdown. In the playoffs, Akers had 221 yards and two touchdowns on 46 carries in two games.
Jourdan Rodrigue, Rams beat writer: This loss is brutal for the Rams, as Akers was poised to take over as the lead back this fall and has certainly put in the extra work to do so. The other backs on the roster are Darrell Henderson, Xavier Jones, Jake Funk and Raymond Calais.
Henderson is talented and has plenty of game experience — but durability is a big question for him, and he wasn't fully healthy in the spring. No other backs have relevant game minutes, so the Rams may need to make a move.
If they don't, it actually says quite a lot about their expectations for Jones, who really impressed teammates in training camp last summer and has quietly been developing since.
Jake Ciely, senior fantasy writer: Henderson is the clear replacement for Akers, and the drop-off isn't as great as many might think. Henderson's main issue has been health, as you don't average 8.9 yards per carry, even in college, without being dangerous.
Henderson gets up to speed quickly with breakaway ability and great ability in the receiving game. He doesn't crack the RB1 tier as Akers did, but he can be quite similar to D'Andre Swift.
With that in mind, Jones, Calais and the rookie, Funk, will compete for the backup role. I lean to Jones having the most upside — for now — as I could see the Rams signing a veteran (Todd Gurley return? Adrian Peterson), and whoever the backup is would likely share more of the touches than Henderson will, if Henderson were to also miss time.
Cam Akers will miss the entire 2021 NFL season after suffering a torn Achilles while working out in advance...
The Rams could have an impressive year in the run game if Cam Akers and Darrell Henderson stay healthy.
Jake Ciely covers offseason NFL news with Cam Akers, Aaron Rodgers, Denzel Mims, hype, rumors and more in the fantasy football mailbag.
The Rams could have an impressive year in the run game if Cam Akers and Darrell Henderson stay healthy.
Jake Ciely covers offseason NFL news with Cam Akers, Aaron Rodgers, Denzel Mims, hype, rumors and more in the fantasy football mailbag.
USA TODAY 20 July, 2021 - 09:42am
Cam Akers was poised to be a central figure for the Rams' offense, but Los Angeles now will have to make new plans for its ground game.
A link has been sent to your friend's email address.
A link has been posted to your Facebook feed.
Sports Seriously: Mackenzie Salmon connected with Jags head coach Urban Meyer to get his perspective on Jacksonville and if he thinks he can revitalize the fanbase. Meyer also supported the Jaguars efforts to play games annually in London. USA TODAY
The Los Angeles Rams' offensive outlook took a major hit just days before training camp.
Running back Cam Akers suffered a torn Achilles while training and is expected to miss the entire 2021 season, NFL Media's Tom Pelissero reported.
Despite serving as part of a three-man rotation with Darrell Henderson and Malcolm Brown, Akers led the Rams with 625 rushing yards in his rookie campaign as a second-round pick out of Florida State.
In 2021, however, he was expected to seize the lead role in the backfield and take on an expanded workload in the passing game.
"You could see he's always had a real and authentic confidence, but then as he's getting more and more comfortable for the different ways that we were able to utilize him, I think he can come alive in the pass game," Rams coach Sean McVay said during a February news conference. "I think he can continue to play at a high level. Really, I think he's an every-down back. I think he's a special player."
Henderson now is poised to take over as the Rams' starting running back. Brown signed with the Miami Dolphins in the offseason.
If Los Angeles is in search of additional help in the backfield after Akers' injury, it could look to a number of marquee veteran free agents. Former Rams standout Todd Gurley, Adrian Peterson, Le'Veon Bell, LeSean McCoy, Duke Johnson and Frank Gore are among the notable names who remain unsigned.
Rams veterans are scheduled to report to training camp on July 27.
A link has been posted to your Facebook feed.
© 2021 USA TODAY, a division of Gannett Satellite Information Network, LLC.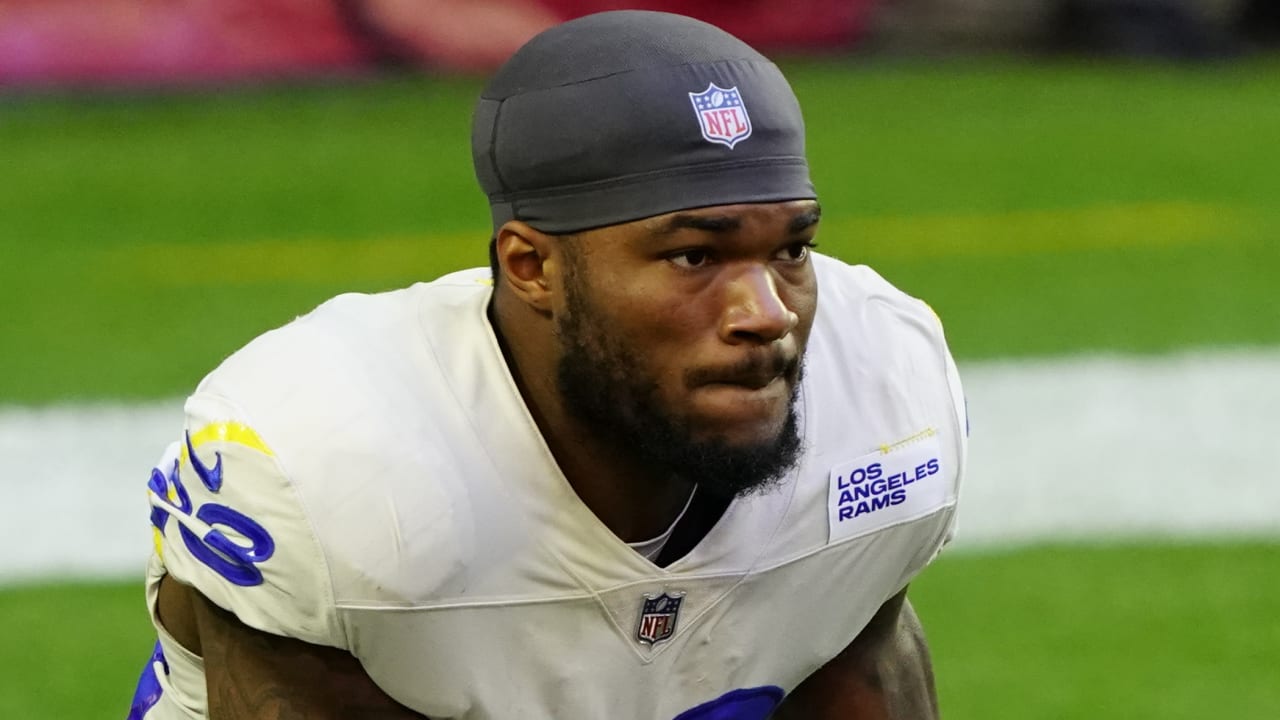 NFL.com 20 July, 2021 - 09:33am
The Rams' top rusher from 2020 has been upended by terribly unfortunate news.
Second-year tailback Cam Akers suffered a torn Achilles while training before the start of camp, NFL Network's Tom Pelissero reported Tuesday. The team later confirmed the news.
Akers was set to headline a backfield that began 2020 as a committee, but saw the Florida State product rise to the top of the group down the stretch of the season. Akers finished the season as Los Angeles' leading rusher thanks in large part to his increased workload from Week 13 onward, going from averaging just 6.3 attempts per game to over 20 in the latter portion of the season.
The uptick in carries produced results for Akers, who averaged 92.1 yards per game, scored four touchdowns and broke 130 yards twice in that span. His 645 rushing yards from Week 13 through Super Bowl LV were the fourth most in the entire NFL, giving the Rams plenty of reason to be excited about the future of their running game in the post-Todd Gurley era.
After Tuesday's news, they'll instead have to drum up excitement for handoffs to Darrell Henderson, Xavier Jones, Raymond Calais and Good Morning Football favorite Jake Funk. Three of those four were either seventh-round picks or undrafted free agents.
If numbers never lie, the Rams will have to hope their committee backfield can make up for what they'll lose from Akers' absence. Los Angeles has averaged 120-plus rushing yards in each of the three seasons in which the Rams have made the playoffs under Sean McVay. In the one season in which they didn't make the playoffs in the McVay era, the Rams averaged just 93.7 yards per game.
The Rams can continue to be excited about their chances with a new and improved situation at quarterback thanks to their acquisition of Matthew Stafford. But they'll undoubtedly miss Akers, and can only hope to find a way to replace his projected production over the course of a full season.
Rams Wire 20 July, 2021 - 12:01am
Rams training camp is right around the corner as the team prepares for the all-important upcoming season with a new quarterback, defensive coordinator and retooled secondary.
OTAs and minicamp set a good baseline for players who are getting acclimated to the Rams' system, but there won't be any leeway given in camp. This is the time for guys to step up and showcase their abilities to the coaching staff.
Here are 12 Rams players to watch during training camp this year.
It might be worth watching the Rams' new quarterback, who they traded two first-round picks to land. There may not be a player in the NFL with more pressure on him or higher expectations attached to his name than Stafford. He's supposed to be the offense's savior after it regressed mightily in 2020 with Jared Goff, and if he can't come through, the front office will be criticized for surrendering valuable draft capital. Get ready for a boatload of videos of Stafford throwing touchdown passes to Robert Woods and Cooper Kupp in practice.
(Photo by Thearon W. Henderson/Getty Images)
Long has a golden opportunity to finally become a starter in his third season after being a third-round pick. Troy Hill is gone, opening the door for Long to step in as the nickel back for the Rams. He'll have to hold off Robert Rochell and Donte Deayon, though, which won't be that easy. There's a fair amount of pressure on Long and plenty of eyeballs will be watching him throughout camp.
Atwell was the Rams' first pick in the draft, but his role is still completely unclear. We might get some clarity on that situation during training camp when the Rams trot him onto the field, either as a receiver, punt returner or gadget-type player. His speed will be on full display regardless of where he lines up, so he'll be hard to ignore. We should get a better idea of Sean McVay's plan for Atwell in camp.
Corbett has played center before, but never with the Rams and when he did line up there in Cleveland, he struggled. He'll be tested by a good defensive line in training camp, and the hope is it'll be a seamless transition from guard. If not, the Rams could be in some trouble because their next-best option might be Brian Allen, who was overmatched as a starter in 2019. Corbett's play will decide how well the offensive line comes together.
As important as Corbett is, Evans stepping up is just as crucial at right guard. He's taking over Corbett's spot and while he could face some competition from the likes of Tremayne Anchrum, it's likely his job to lose. Evans has to show he can be a quality starter because the Rams need stability on the interior of their line to complement their stud tackles. Evans will be challenged by Aaron Donald, Sebastian Joseph-Day and A'Shawn Robinson in camp, which will be a good test.
Burgess might have the best chance to replace John Johnson, and after essentially a lost rookie season, he has a lot to prove in Year 2. He's expected to be fully healthy for camp, which is great news, and hopefully that will lead to a breakout season. He's versatile, has great instincts, tackles well and has good range in the secondary, making him a potentially valuable player for Raheem Morris and the Rams. Keep tabs on where Burgess lines up in camp, be it at nickel or safety.
Brown has as good a chance to contribute in Year 1 as any Rams rookie this season, given the hole at defensive end with Michael Brockers gone. A'Shawn Robinson is projected to be the starter, but Brown is a stud and could carve out a role early in sub-packages. He can play all across the defensive line and it'll be worth watching where the Rams play him most. Brown fits well as a defensive end and should thrive with Aaron Donald playing alongside him.
Howard was in line to start last season before suffering a knee injury in camp that ended his year before it began. He should be healthy now and will have every chance to be a starter once again. His range at inside linebacker should help him stand out from the rest of the group, with most of the Rams' other linebackers being run-stoppers first. Howard could be key player for Los Angeles this season if he can put together another strong camp (and stay healthy).
There's bound to be a deep rotation at outside linebacker opposite Leonard Floyd, with Lewis certainly factoring into the equation. Durability is the biggest question with the former Alabama edge rusher, so he'll have to stay on the field first and foremost in camp. He has the size, athleticism and length to start in the NFL, that's for sure. When healthy, he's an exciting player with immense potential. The Rams would love for him to emerge as a starter for them.
Harris generated a lot of hype during OTAs and minicamp as a dynamic pass catcher with great size and speed. But that was without pads and contact. He'll be tested in training camp when the pads come on and the competition is taken up a notch. Will he continue to stand out and potentially emerge as the No. 2 tight end? Or will the learning curve in the NFL be too steep?
Sign up for the Rams Wire newsletter to get our top stories in your inbox every morning
Start every day with our most popular content waiting in your inbox.
Please re-enter your email address.
You'll now receive the top Rams Wire stories each day directly in your inbox.
Please enter an email address.
Please check your email for a confirmation.