What is champion golfer of the year?
Collin Morikawa is the champion golfer of the year. Morikawa captured the British Open on Sunday for his second major championship in two years. It was his first time playing the British Open, just like it was his first time playing the PGA Championship when he won at Harding Park last year. The Washington PostThe Latest: Morikawa is the champion golfer of the year
SANDWICH, England -- Collin Morikawa was making one of the most satisfying walks in golf, down the 18th fairway as a soon-to-be Open champion, when he looked up at the huge grandstand surrounding the green.
It was filled with spectators, who firstly were applauding and soon giving a standing ovation to a 24-year-old American making a historic start to his major championship career.
So different from 11 months ago, when Morikawa won his first major -- the PGA Championship -- at an empty venue.
"I hope the thing is off the table," Morikawa said, "that I can play with fans and I can play well on a Sunday."
Fans. No fans. Parkland. Now even links. Morikawa is the real deal, make no mistake.
The mature-beyond-his-years Californian closed with a bogey-free, 4-under 66 at Royal St. George's and won The Open in his debut Sunday, becoming the first player to capture two different majors on the first attempt.
And this time there was a crowd, at 32,000 the biggest since golf returned following the coronavirus outbreak.
After tapping in for par to win by 2 shots over Jordan Spieth, Morikawa gave a fist pump before applauding the spectators.
Before long, he was being handed the Claret Jug that so many go their entire career without winning. He gazed adoringly at it, then thrust it into the air and gave it a kiss.
"Those are the moments, the few seconds that you embrace so much," he said. "And you look around, every seat is packed. Everywhere is packed with people."
They were seeing a young player already halfway to the career Grand Slam after eight starts, the first since Bobby Jones in 1926 to win two majors in so few appearances. He follows Gene Sarazen, Jones, Jack Nicklaus, Seve Ballesteros, Tiger Woods, Rory McIlroy and Spieth in winning multiple majors before turning 25.
His total of 15-under 265 was a 72-hole record in 15 Opens at Royal St. George's. In 13 of them, the winning score has been 5 under or lower.
"When you make history," he said, "it's hard to grasp, it's hard to really take it in. ... At 24 years old, it's so hard to look back at the two short years that I have been a pro and see what I've done because I want more."
Starting the final round 1 shot behind Louis Oosthuizen, Morikawa was tied for the lead after four holes and then made three straight birdies on Nos. 7 through 9 to overtake the South African, who hadn't trailed since the 12th hole of his second round.
Morikawa made key par saves -- pumping his fist both times -- at Nos. 10 and 15, between which he rolled a birdie putt up and over a ridge and into the cup on the 14th to build a 2-stroke lead he never lost. Spieth parred his final four holes and also shot 66.
By making par at the last after another perfect drive, Morikawa played his final 31 holes without a bogey on a course that has confounded many great players because of its quirky bounces and undulating fairways.
All the more remarkable was that this was his first major test on a seaside links. Morikawa had little experience with this style of golf before playing the Scottish Open last week at the Renaissance Club, which is not a traditional links but features the kind of tight lies and rolling terrain that prepared him for it. He even had three new irons in his bag this week.
He matched a feat achieved by Ben Curtis on the same course in 2003, winning golf's oldest championship in his links debut.
For Oosthuizen, who was seeking a wire-to-wire win and a second Claret Jug -- he had a runaway victory at St. Andrews in 2010 -- it was another near miss in a career full of them. He was runner-up this year at the PGA Championship and the U.S. Open, two of his six second-place finishes at majors.
This time Oosthuizen tied for third with U.S. Open champion Jon Rahm (66) after closing with a 71 -- his first round not in the 60s this week. He never recovered from losing his lead with an ugly bogey on the par-5 seventh hole. He caught way too much ball out of the greenside bunker with his third shot, which bounced onto the putting surface and landed in a bunker on the other side.
Morikawa made a routine birdie on the hole to move 2 ahead of Oosthuizen. Spieth had made eagle at No. 7 a few minutes earlier.
"Well I do know one thing, the fans at the Open are second (or third) to none," Oosthuizen said on Twitter, having declined to talk to reporters. "Thank you for the incredible support this week, and congrats to Collin Morikawa who played with class and grit today."
Collin Morikawa closed The Open with 31 consecutive bogey-free holes. That is the third-longest streak to end a tournament by a major champion over the past 30 years.
Spieth had his closest call in a major since winning The Open in 2017 at Royal Birkdale. Missing an 8-foot par putt at No. 4 and hitting his tee shot into a bunker at No. 6 led to dropped shots. He made up for those with his eagle and played the final 10 holes in 4 under.
"I did everything I could in the past few hours to win this championship," Spieth said.
It was his bogey-bogey finish on Saturday -- he missed a 2-foot par putt on the 18th -- that Spieth mostly regretted.
"Had I finished par-par, I'd have been in the final group," he said. "And if you're in the final group, you feel like you have control."
Read full article at CBS Sports
Daily Mail 19 July, 2021 - 02:00pm
By Derek Lawrenson for the Daily Mail
From spectral calm in San Francisco last year to thunderous acclaim at the 149th Open on Sunday evening, Collin Morikawa didn't just place his name next to the legends of the game, he achieved something that's earned him a page in golf lore that will surely forever remain his own.
To win one major championship on your debut in the event is rare enough. To win two is not only territory previously unexplored but hitherto not even considered. Not even by the bloke called Tiger.
To think, there were plenty who wondered when he won the USPGA Championship on his first appearance in his home state of California in front of no fans, whether those factors had been pivotal in his success. 
Collin Morikawa won The Open at the first attempt as he finished 15 under par on Sunday
Morikawa's success followed on from his victory at the 2020 US PGA Championship
Becoming the Champion Golfer of the Year on first sight of the most funky course on the Open rota rather answers that one. The 24 year old joins Seve Ballesteros, Tiger Woods and Jordan Spieth as the only men to win the Open in the last 60 years at such a young age.
How Spieth, now 27, tried to deny him his gilded throne. He had three majors to his name at 23 and this was like the Spieth of that era, as he picked up six shots in a blistering run of golf from the 7th.
Playing behind him, Morikawa would have had to have been deaf not to know what was going on. He'd already seen off poor Louis Oosthuizen, who was not the same golfer over the last two rounds as he had been in setting his 36 hole record score. Could he hold off Spieth?
They reckon the weakest part of Morikawa's game is his putting but we surely have to consign that thought to history's dustbin after this. Every time questions were asked, he responded with putts that found the bottom of the hole every time. 'He's already had a great career and he's only been a pro for two years,' said Sir Nick Faldo, on Sky.
Jordan Spieth provided Morikawa with competition but was ultimately unable to prevail
Amidst marvellous scenes with the 18th hole framed by thousands of fans, Morikawa emerged from the cauldron with a bogey-free 66 for a two stroke victory over Spieth, with luckless Louis tied third, two further strokes behind.
Adding to the excitement of the closing stretch was a bit of Rahm rage. Dormant for 12 holes, Jon Rahm had four birdies in a row but Morikawa was too impervious for it to matter. Rahm caught Louis but not the men out in front. Nevertheless, following up his US Open win with this top three will see him ranked this morning as the new world number one.
There were plenty of other fascinating storylines to intrigue the spectators who revelled in the freedom and the glorious sunshine.
Bob MacIntyre finished tied sixth on his Open debut at Royal Portrush in 2019 but the Scot looked to be feeling the weight of expectation when he opened with a 72 on Thursday. What a response, though, from the exciting left-hander from Oban, who birdied the 18th on Friday to make the halfway cut, and then followed it with a 65 on Saturday.
Louis Oosthuizen made a stuttering start on day four and eventually ended up falling away
When he got to eight under for the event after 13 holes on Sunday there was the exciting thought he might post a testing total, but driving out of bounds at the dangerous par five 14th took care of that. Typical MacIntyre, he bounced back with a birdie with his second ball and followed it with five pars for a 67 and tied 8th place. Believe it or not, he's now posted as many top ten finishes in the Open in two starts as Colin Montgomerie managed in his entire career.
At the venue where Sandy Lyle won the Open, the 24 year old has served notice that he can follow in his footsteps all the way to holding the Claret Jug himself one day.
Brooks Koepka fell away badly on Saturday and was clearly smarting when he got to the first tee. The Floridian, who shot a third round 72, made his move with a birdie at the 6th and then followed it with an eagle at the 7th. A birdie at the 9th took him out in 31 shots and raised brief thoughts of an unlikely charge into contention. Too much damage had been inflicted, however, as Koepka picked up one more shot for a 65 and what would prove tied sixth place to continue his remarkable run in the majors. This was his ninth top six finish in his last 16 starts.
Fans flocked to the Royal St George's course to witness the Open Championship finale
Around 32,000 more supporters have flocked to sunny Sandwich in Kent to view the action
Rory McIlroy finished on a 72 hole total of level par, which was some achievement in itself to be placed so badly given he had 17 birdies over four rounds. Not for the first time over the past two years, he had as many gains as the people contending for the title but finished buried in the pack after as many mistakes as the back markers.
After a three week trip to the British Isles that has been a massive disappointment following his tied 7th finish at the US Open, he'll be back in Florida by now for a welcome break, before jetting to Japan for the Olympics.
A week of wild drives and unsavoury headlines at least ended on a positive note for Bryson DeChambeau. With the sun on their backs and no pressure, he was one of three Americans out early to post a 65, the others being Xander Schauffele and Rickie Fowler. This was the first time the Mad Scientist had ever so much as broken 70 in the Open, and it was the lowest round of his career in a major.
No prizes for guessing he did so by dropping the reckless gambler approach and adopting the strategy of an accountant. 'I enjoy coming here and I enjoy trying to figure out the challenge,' he said. 'I feel like I've earned a lot this week. This definitely felt like progress.'
It didn't feel like progress when placed alongside his fellow American who's three years younger, already won more majors and will be flying home with the best piece of silverware in the game.
The comments below have been moderated in advance.
The views expressed in the contents above are those of our users and do not necessarily reflect the views of MailOnline.
By posting your comment you agree to our house rules.
Do you want to automatically post your MailOnline comments to your Facebook Timeline?
Your comment will be posted to MailOnline as usual.
Do you want to automatically post your MailOnline comments to your Facebook Timeline?
Your comment will be posted to MailOnline as usual
We will automatically post your comment and a link to the news story to your Facebook timeline at the same time it is posted on MailOnline. To do this we will link your MailOnline account with your Facebook account. We'll ask you to confirm this for your first post to Facebook.
You can choose on each post whether you would like it to be posted to Facebook. Your details from Facebook will be used to provide you with tailored content, marketing and ads in line with our Privacy Policy.
Part of the Daily Mail, The Mail on Sunday & Metro Media Group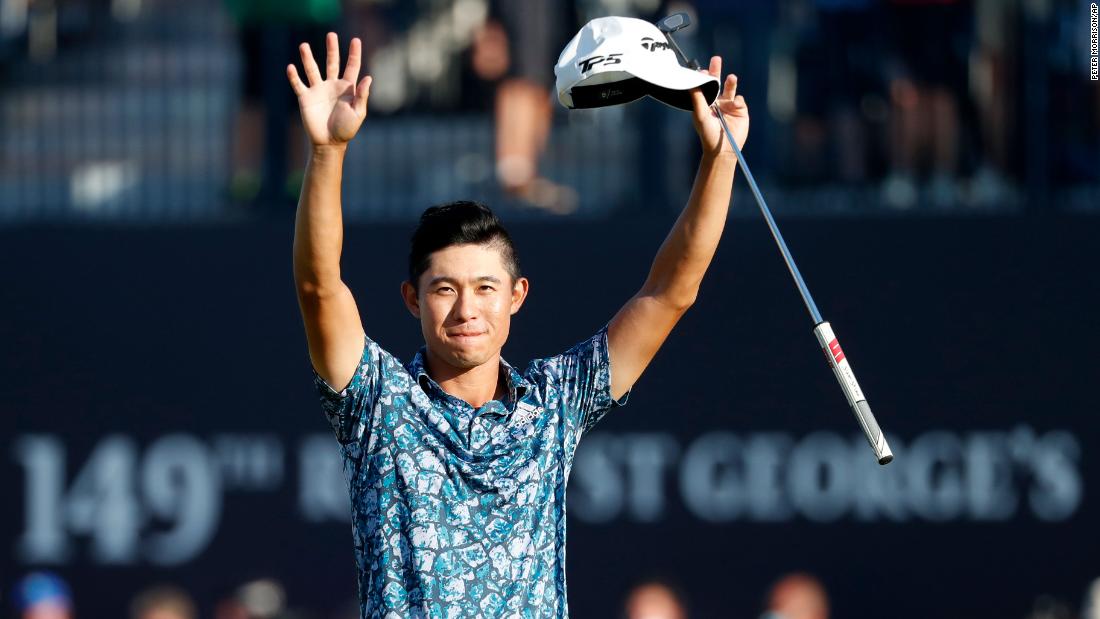 CNN International 19 July, 2021 - 02:00pm
Updated 2100 GMT (0500 HKT) July 18, 2021
The Open 19 July, 2021 - 02:00pm
The Open 19 July, 2021 - 02:00pm
Some of these cookies are necessary to make our site work, while others help us to improve your experience by providing insights into how the site is being used.
The Independent 18 July, 2021 - 03:50pm
Under the glare of such unforgiving temperatures in Sandwich, the coolest head proved to be the least experienced, and the scale of Morikawa's remarkable achievement can hardly be overstated. He is just the fifth winning Open debutant since the Second World War and the only player in history to win two different majors on his maiden attempt, having already stormed to victory at the PGA Championship last summer. That is the greatest testament to Morikawa's unparalleled precision and preternatural composure. The spearhead of a generation that had so aggressively pursued distance, instead he relies on a purity of ball-striking that no player can match in the modern game, and has now shown it can adapt to any terrain and stay true under the most heightened strains of pressure. It's an omen that may well herald a new era, even if that mantle has been inherited so cumbersomely since Tiger Woods's decline.
After all, no player has laboured under that reputation quite like Jordan Spieth since he last lifted the Claret Jug in 2017, and he will bitterly rue the yipped two-foot putt on Saturday evening that cost him so much momentum and, ultimately, redemption. Starting three shots back, bogeys at the fourth and sixth seemed to have stamped his hopes to remnants, while Louis Oosthuizen, the leader after all three rounds, succumbed to familiar scar tissue. The South African had already endured six runner-up finishes at the majors since winning at St Andrews in 2010, and when a heavy bunker shot at the seventh dribbled despairingly over the green and into a different hollow, all his fine work had disintegrated into a million grains of sand.
But if those early mistakes had cleared Morikawa's path, to claim he simply strode down it would be severely disingenuous. In fact, his hat-trick of birdies before the turn was one of the finest sprints to glory this links course has witnessed and bordered on as close to perfection as golf's fickle nature will allow. While Oosthuizen unravelled at the seventh, Morikawa's first birdie came as a matter of mere inches after almost holing his chip outright. What followed at the eighth, though, was the clearest exhibition of what separates him from his closest rivals as a 200-yard approach cut through the coastal wind with the unwavering accuracy of a bullet and finished just four feet from its target. And after another snaking 25ft putt was sunk with venom at the ninth, Morikawa had surged four shots clear of a field that would never claw him back.
That wasn't for their lack of trying, though. Jon Rahm had begun the day deep in the peripheries but birdied four holes in succession on the back-nine to close the gap. Then it was Spieth's turn to test Morikawa's resolve as he birdied 13 and 14 to narrow the gap to just a single shot. But if it is a divine talent that is the foundation for Morikawa's succession, his striking sense of calm are the bricks and mortar that make it so stern. And with the weight of the field so suddenly back on his shoulders, Morikawa holed a 15ft birdie putt at the 14th to restore his cushion and then consolidated it with another spectacular save at the next when the tension had finally, and perhaps inevitably infiltrated his irons. That, though, would be the last time they inflicted any manner of restraint on Morikawa's assault on history.
There were no tears on the 18th green, no unhinged celebrations or cathartic roars of relief. Instead, Morikawa simply raised his arms with a smile that told of being exactly where he belongs. And for fans and competitors alike, it is also fast becoming a familiar feeling.