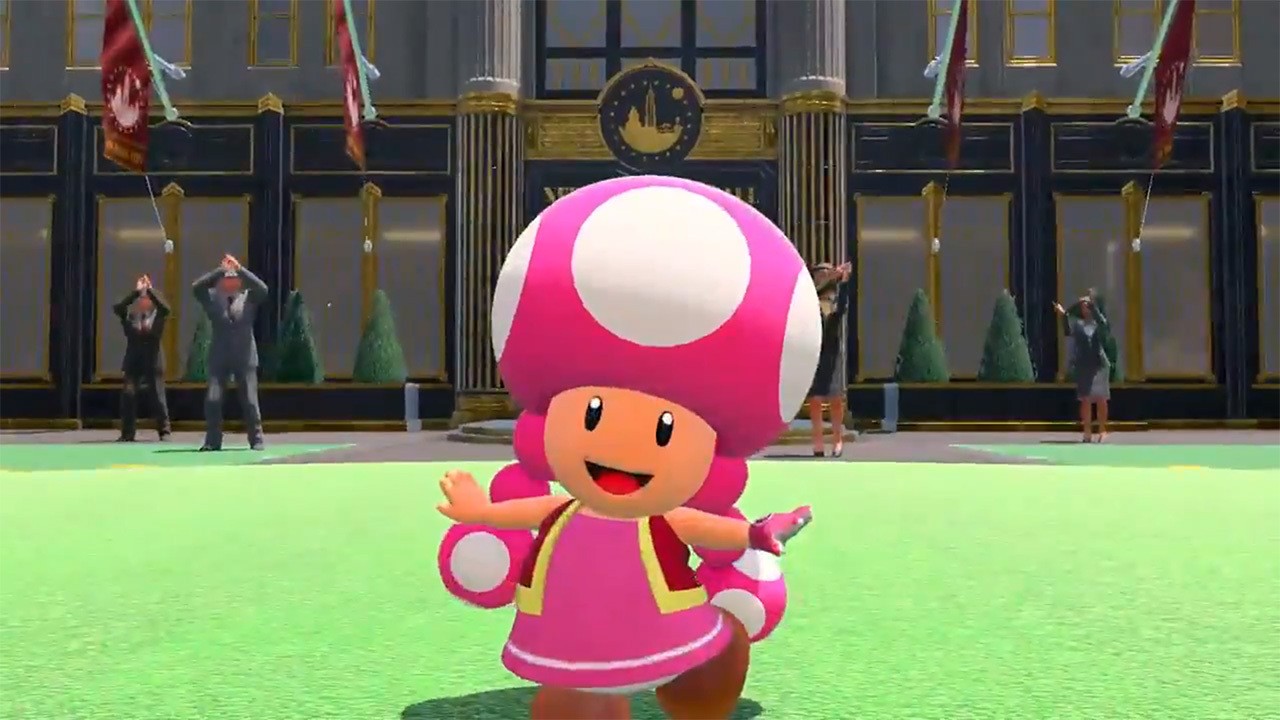 Nintendo 07 August, 2021 - 11:30am
Out of nowhere, Nintendo has announced that Mario Golf: Super Rush will receive its first major free update later today (or tomorrow, for those in Europe).
The new update will add a brand new mode called Ranked Match, the New Donk City course, and new character Toadette. It'll also bring "improved motion controls," as detailed below.
More updates have also been confirmed for the future, so expect more new characters to appear over the coming months.
Earlier today, Nintendo's latest sales data revealed that Super Rush is already the Mario Golf series' second best-selling entry – in fact, owing to the dates covered by that data, it may even already be top of that list.
Will you be checking out this new update tomorrow? Let us know with a comment.
About Ryan Craddock
Ryan can list the first 151 Pokémon all in order off by heart – a feat he calls his 'party trick' despite being such an introvert that he'd never be found anywhere near a party. He'd much rather just have a night in with Mario Kart and a pizza, and we can't say we blame him.
Comments (62)
That New Donk City course looks really cool ! Can't wait for the update !
I think I might just buy this now. I had been looking forward to it but the basic online mode put me off, as like with Tennis Aces, that's where I'd be spending most of my time. The new ranked mode changes everything. Hopefully anyway.
Tennis Aces was superb to play online when it was easy to find matches. Matches could be super intense. I can't imagine the game is selling much anymore. Nintendo should add its online mode to NSO. Unlikely to happen though.
Looks like Nintendo is filling in the August drought with new content for existing games (not that that a drought would've meant much given the insanity of June and July's lineup):
And if you look at the 3rd party front there's even a MH Stories 2 update. All of these in the space of 3 days.
oh hey, i was talking about this like an hour ago neat
Kinda hilarious how a free update drops not long after everyone was bashing it in the other article about it being the 2nd best selling game in the series 🤣
Though it feels like a lot of these updates these days are content that is intentionally held from release, not because it wasn't ready, but so they can remind us to return to playing these games, bolster a public social media presence, and drive sales.
Nice, I'll definitely check it out. I've been regularly playing the game since launch.
I'm interested in seeing what else they add to the game. This looks like a nice update.
Say what?? Sweet wasn't expecting this and so quick go on Nintendo that's how you do it.
I wish Nintendo would drop a bit of a road map for this.
I'd love to know how much content they have planned, otherwise I'm just waiting it out until I think there is enough to warrant a purchase.
They did announce free updates and this New Donk City course a bit before the game was released, but many reviews and articles for the game completely ignored this fact so many people missed the news.
There also appears to be different colours of Yoshi available from the Ranked Mode!
Any idea what "improved motion controls" means?
Still doesn't really fix my lack of content problem but I'm sure some people will be happy with this.
I really need to play this, bought it on launch but have yet to actually boot it up
Neat, really having fun with this game. Really was lacking on content at launch. Looks like their promise of free updates is coming true. I already thought the motion controls worked fine once you get used to them. Maybe the update helps with the learning curve.
Not exactly an exciting first character addition (imo), but that course will probably be interesting.
And it didn't review badly either. Most sites said it was fun and entertaining, which is enough for most people.
Nice, I'll try out it later today. Perfect timing
@russell-marlow it doesn't though does it? If it's already selling well, why would you 'need' to add more content? It's brilliant that they are and that it isn't in the guise of paid dlc is commendable. To be honest I'm strongly considering picking it up now, I'm curious what the motion control improvements are like.
@russell-marlow dude most people don't really care about reviews, they see bright colours, Mario, multiplayer, power ups/crazy stuff(speed golf) and the fact that summer holiday has started and that's all it takes. I highly doubt that the average Joe will check nintendolife before he makes his decision to buy a game
This is a great game and it seems to get overhatted by a minority of people and I don't get why. What an interesting idea for a golf course though can't wait to play it!
@Morph So you're saying you want Nintendo to cut more content from their games so they could maybe add them in later.
@RupeeClock You might be right, but it also feels like a course they put to the side because it just wasn't ready at launch. Regardless, this will be a nice update.
@lighteningbolt79 Yeah, I know reviewers can only review the game they have and not potential future updates, but they could have at least mentioned that there would be at least one new course in the near future.
@russell-marlow is that seriously what you took from that? I'm saying from a business pov if a game is selling well and it is then they really have no need to carry on adding content. It's brilliant that they are and I like that they continue to add content to games post release, the balance is working out what is an acceptable amount of content to have in order to release a game.
Cool, it seems they are starting to finish it.
I don't think that Nintendo releasing the game first, then finishing it later is a bad thing as long as the game at launch has enough content, is playable and free of bugs, and the extra content comes for free in updates, not in paid DLC.
@victordamazio that's been my takeaway from this, too. It irks me that they are doing this, but at least the content is free and it wasn't released with just one course and a couple of golfers. Just started last night and it is a pretty fun game.
Hey, it has a Ranked Mode now. I guess I can finally go out and buy it now that it's in more of a finished state...like, why would you not include that to begin with??
@russell-marlow it's not bad. The focus is more on the multiplayer aspect.... definitely recommend if nothing else when it eventually goes on sale. I am enjoying it
@tanaka2687 They added a new course. What kind of new content do you want?
I love the game, but I NEED Dry-Bones as a playable character
@Grumblevolcano didnt you forget NMH3 comes out this month more games for switch inbound in coming months so there no drought to speak off.
I'm not interested in buying this game unless they add additional swing systems so that the game requires at least some thought and timing like the all previous Mario Golf games and Everybody's Golf/Hot Shots.
I'm perfectly fine playing 2K21 PGA for my videogame golf needs for now.
@Morph I think if a game is selling well they still see benefit to adding free DLC because it gets more people playing and talking about the game for awhile thus generating more sales (above what would've happened with no news, no DLC, no chatter online and in person about new DLC).
New Donk City looks like a fun course. Hopefully I can find time to try it out sometime. MH Stories 2 is keeping me busy.
@Hero-of-WiiU Yeah, there's only a few online multiplayer games I've played more on my Switch. Rocket League, Splatoon 2, Worms WMD, and that's it. Mario Golf Super Rush is so fun. I'm pretty much addicted to it's online multiplayer.
@RobbySuave The game to be better. That's the problem when you like a series that fails to live up to your past favourites. It's a fine game that just feels barren and rushed. If this gets the Kirby treatment, it will end up great. If this gets the Mario Tennis treatment then it doesn't really change barring some new characters and maybe a course or two. I'm not trying to hate on the game for no reason, this just isn't enough for me to pick it up again
@RobbySuave he wants 10 new courses!
@tanaka2687 I agree it could be better, but you said a lack of new content is what you want. If a new course and a new character isn't content, what is? What exactly do you want to come to the game?
@Pikman me too, that was horrible. Killed the fun for me. 😓
I'm sad that they forgot Mario Tenis long time ago.
This update looks really substantial actually! I'm really excited for all of the new additions actually. I'll definitely play some Mario Golf later.
But me and my buddies got addicted to pokemon unite and they were who I was going to play golf with…
@rockodoodle Pretty much every other Mario Golf game before had multiplayer as well as more content like with Toadstool Tour. So far, Super Rush has yet to show off more modes and courses.
Reminds me of the tennis game and ARMS where they kept adding characters and people said they won't buy it til it's a "finished" game and once they end they say "Nintendo killed the game by not supporting it"
@Morph If you factor in the amount of money you're paying for Nintendo Online to play multiplayer, then you could count that as indirectly paying for the "free" DLC for some of the 1st party Nintendo games.
Seeing as how you're not getting the same perks as with Xbox Game Pass or Playstation Plus with the subscription service for NSO, it leaves a bit more to be desired and doubly so with the crappy offerings with the NES and SNES games that now mostly include shovelware.
No N64 or Gamecube games, no free 3rd party games with NSO, no early access to demos or betas etc. Just paltry offerings for 1st Party games with poor multiplayer internet that is just peer-to-peer connections. I feel bad to anyone that lives in Australia.
Any idea when it drops exactly?
@RiasGremory they are talking about how there is no 1st party games this month. Meaning games made by nintendo themselves not third party meaning a studio seperate from nintendo 2nd party is a game made by a company owned by nintendo.
@Hero-of-WiiU When nintendo announces somthing same day it typicly drops around 7-8pm eastern based on my own research.
@dbeiler0814 is second party those published by Nintendo (not necessarily owned by)?
?? Still waiting ?? Any time frame?
Nintendo has succumb to the criticism because of the lack of content in Mario Golf by releasing some DLC early.
No way was this DLC going to be released this soon after the Game was released. But it seems pressure and the less than expected sales figures is what did it.
We have paid for this content already so it's not free, Nintendo decided to drip feed it to us for their own marketing reasons, and it seems that with this game it has not worked for them.
Holding back content is not the same as developing and releasing additional new content. Nintendo should give us the rest of the DLC now and stop this under handed way of treating it's customers.
@zool "No way was this DLC going to be released this soon after the Game was released"? ARMS released on June 16, 2017. The first major update to the game, including Max Brass as a playable character, was out on July 12. Splatoon 2 also had regular updates and additions on an almost weekly basis starting the week after it launched (and its launch was a major success). This is absolutely what Nintendo has been doing in recent years, no need to get up in ARMS about it.
@Pirate1 basicly a Second Party game developer is a game developer who creates games as a partially owned subsidiary or exclusive partner to the platform creator.
@zool the new Donk city course was announced before the game even came out, so it's not "releasing early"
Hold on there, you need to login to post a comment...
Trouble at the Lanayru Mining Facility
Includes fixes, balance adjustments and more
Missions will be far less frustrating
Title:
Publisher:
Developer:
Genre:
Players:
Release Date:
Series:
Reviews:
Where to buy:
Join 1,196,452 people following Nintendo Life:
© 2021 Nlife Media, partner of ReedPop. Hosted by 44 Bytes.
Nintendo Life 07 August, 2021 - 11:30am
Polygon 06 August, 2021 - 11:35am
$2M sale bests $1.56M sale of Super Mario 64 in July
According to a report from The New York Times, the buyer of Super Mario Bros. offered $2 million for the copy — which is factory-sealed, professionally graded, and part of a limited print run — and the sale was approved by shareholders in the NES game. That's Rally's business; investors can purchase shares of expensive collectibles, like vintage baseball cards, comic books, cars, and dinosaur skulls, instead of buying them outright. Collectibles that sell at a high price through Rally can result in a return on investment for shareholders. In this case, investors reportedly received a roughly 900% return on their shares.
The $2 million sale of Super Mario Bros. breaks the previous record for a video game collectible, a $1.56 million copy of Super Mario 64 that sold through Heritage Auctions in July. That sale broke the prior record holder nearly twice over; a game cartridge of The Legend of Zelda sold for $870,000 at auction earlier in July.
Despite that there are more than 40 million copies of Super Mario Bros. for the NES and Famicom out in the market, a sealed, highly graded copy of a widely available game can (obviously) go for big bucks. Based on how price trends are going — today's sale is nearly three times what a similar, but slightly lower-graded copy of Super Mario Bros. went for in April 2021 — expect prices to inflate further.