Gloria Oladipo
gaoladipo
Reviewed "Chicken and Biscuits" on Broadway for @GuardianUS. The play felt like a somewhat funny, but ultimately tedious sitcom taping for white people www.theguardian.com/stage/2021/oct/11/chicken-and-biscuits-review-under-baked-broadway-comedy
Cheryl Wills🔛
cherylwillsny1
Tonight on @ny1 #LiveatTen find out why ⁦@normlewis777⁩ and the cast of ⁦@ChickenBway⁩ made history!!! pic.twitter.com/C93cRJs8iZ

Chris Jones
ChrisJonesTrib
BROADWAY REVIEW: 'Chicken & Biscuits' is over-long, under-baked comedy despite a warm center www.nydailynews.com/entertainment/broadway/ny-chicken-and-biscuits-broadway-20211011-2u64bhhczfgo7k5k6vavzq5bqu-story.html
Michael Park
park24hrs
I wanna be @michaelurie when I grow up… This cast is brilliant @ChickenBway Thank you for the laughs tonight! What a show y'all
Squabbling siblings, familiar stereotypes and a chorus of amens: A new play aims for the pleasures of Broadway's traditional family sitcoms.
"Why we gotta wear black, huh? We already Black!"
So grouses Beverly, the kind of woman who features aquamarine hair and a peek-a-boo push-up bra at a funeral.
To be specific: her father's funeral. "We should be honoring my Daddy in style, color!" she proclaims. Certainly the deceased — the late pastor of a church in New Haven, Conn. — has complied; he's heading to the Pearly Gates in a canary yellow tie.
"Canary yellow was his favorite," Beverly explains. "And he wore it like a pimp!"
As I sat alternately laughing and cringing in the audience of "Chicken & Biscuits," a play by Douglas Lyons that opened on Sunday at Circle in the Square Theater, I couldn't help thinking that Beverly was voicing more than a personal, sartorial truth. In her impatience with tragedy, her gaudy antics and her beeline for fun, she was also delivering what may be the play's mission statement. This family comedy, with its cheek and secrets and eulogies and amens, wants to offer audiences living in bad times an old-fashioned good one.
Whether it succeeds for you will depend largely on your taste for Broadway comedies of a type that otherwise went out of style a few decades ago. These were supposedly heartwarming domestic stories in which "ethnic" families like the Italian American Geminianis in "Gemini" and the Jewish Chamberses in "Norman, Is That You?" aired dirty laundry (typically involving a gay son) while reaffirming the notion that love conquers all, among kin no less than country.
Sidestepping the traffic of somber, formally inventive new plays about Black life, "Chicken & Biscuits" eagerly boards that rickety old bus. To start, there are the requisite squabbling siblings: Beverly (Ebony Marshall-Oliver) and her sister, Baneatta (Cleo King), representing opposite ends of the bawdy-to-churchy continuum. Beverly resents Baneatta's attitude of superiority; Baneatta, whose tenured professorship seems to be in Disapproval Studies, scorns Beverly's down-market outfits and outlook.
Theirs is but one of the thin and mild conflicts that the production, directed by Zhailon Levingston, stirs mightily to bring to a boil. On the day of the funeral, Baneatta's husband, Reginald, will be delivering the eulogy, hoping to prove himself a suitable successor to his father-in-law in the pulpit. (With Norm Lewis in the role, could there ever be any doubt?) Reginald is also hoping that family hysteria will not overtake family healing in the process.
Apparently, he has not met his family, or even his own children: the tightly wound, high-achieving, 30-something Simone (Alana Raquel Bowers) and her younger brother, Kenny (Devere Rogers), a struggling actor and the de rigueur gay son. Each comes factory supplied with a pressing problem. Simone has recently been dumped by her fiancé, who took up with a white woman instead. Kenny's problem is also white: Logan Leibowitz, the Jewish boyfriend (and fellow struggling actor) he has brought to the funeral unannounced.
Though Simone repeatedly refers to the couple, with a smirk, as "thespians," and Baneatta simply ignores the interloper, no one disapproves of Kenny's gayness deeply enough to prevent a happy hug of an ending. All of the characters' characteristics are red herrings, and usually stale ones at that. Beverly's outrageousness recalls that of innumerable stock characters from Tyler Perry's plays, Black sitcoms of the 1970s and Chitlin' Circuit farces. Logan (Michael Urie) is a gay stereotype so flittery he cannot follow the service; as he flips madly through the Bible, he asks, "Where's Corinthians? Is this in alphabetical order?"
You will detect in Logan and Beverly — and in Beverly's sarcastic Gen Z daughter, La'Trice (Aigner Mizzelle) — a kind of equal opportunity minstrelsy. In some ways, trotting out laughable stereotypes of a modern Black family and its white appendages seems almost daring on Broadway today. One of the highlights of Levingston's production, which can otherwise feel bloated at two hours, comes when Simone, apologizing for her kneejerk hostility toward Logan, says, "Since the breakup, it's been real hard for me not to see red when I see white people." Levingston lets this moment sit a good long time, waiting for the (mostly white) audience to get the joke.
Such insight and provocation is otherwise rare in "Chicken & Biscuits." So is any real tension. Whether the family will accept Logan, whether the sisters will reconcile, whether the mystery guest at the funeral (NaTasha Yvette Williams) will be explained are barely even questions; they're more like a packing list. In that sense, the play feels dramatically complacent and underdeveloped, suggesting that its trip to Broadway after a pandemic-foreshortened run at the Queens Theater in 2020 might have benefited from a stop along the way.
Yet it's at least a little unfair to look at a family comedy that way. Lyons, an actor himself before turning to playwriting — this is his Broadway debut as an author, and Levingston's as a director — is operating here in a different tradition from most contemporary fare, which is built on ideas and argumentation.
"Chicken & Biscuits" is built on sensation, more like a musical or even an opera. In the long scene of the funeral itself, the eulogies by several family members function as arias, delivered in the old-school park-and-bark style. They are not concerned with forwarding the action so much as bringing aural pleasure, and indeed Lewis's satire of a preacherly stemwinder, with drawn out vowels and pounced-on syncopations, is more than halfway to song.
In any case, Lyons is more interested in the family's moment-by-moment byplay — its laugh track and tear track — than in drawing realistic character portraits or scoring sociological points. The cast, including five actors also making their Broadway debuts, for the most part fills in the characters' outlines confidently. As for sociological points, you could hardly say more in a treatise than Dede Ayite does with the costumes and Nikiya Mathis with the wigs.
So if "Chicken & Biscuits" isn't a profound work, that doesn't mean it's pointless. Its gravy is just another name for schmaltz. Thinking back, as a Jew, on the Jewish families that Broadway audiences learned to love in not-very-sophisticated, high-cholesterol comedies, I have to admit that even as I alternately laughed and cringed at their caricatures, I felt relieved of the more pernicious problem of otherness.
Representation matters. I see many great and necessary new works about the problem of Blackness in a racist society — or rather, the problem of whiteness. They are filled with anguish and unfunny funerals. What I rarely get to see are works about Black American life that are defiantly not problem plays. Their sunniness is just as necessary, however garish the aquamarine and pimped-out the corpse.
Through Jan. 2 at Circle in the Square Theater, Manhattan; 212-239-6200, chickenandbiscuitsbway.com. Running time: 2 hours.
Read full article at Playbill.com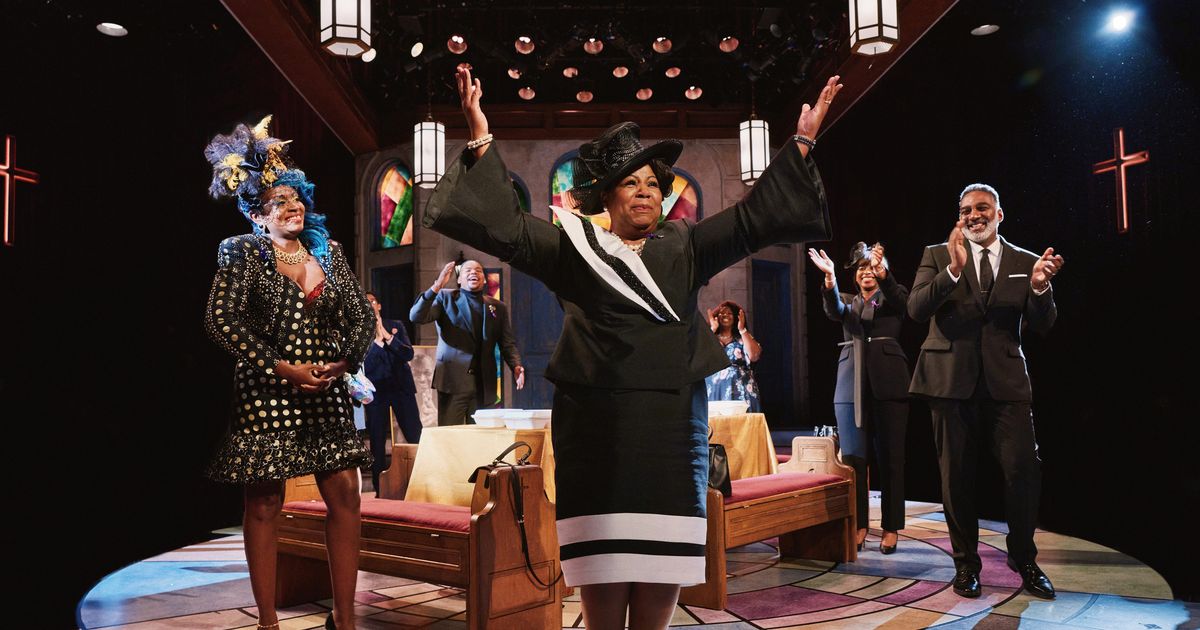 Vulture 11 October, 2021 - 03:30pm
The boisterous family in Douglas Lyons's broad, churchy comedy talks about that tasty combination repeatedly, as if it's the lord's true communion. Gathered to celebrate the homegoing of late grandpaterfamilias Bernard, his bickering daughters and adult grandchildren all agree that his favorite meal will await him in heaven. The much-missed Reverend Bernard couldn't really prepare it well himself, a fact that hints at other flaws. Still, his love for it was contagious, and the bereaved's own troubles all evaporate when they gather around the table to tuck in. Appetite is ultimately the play's theme, worked and reworked into scenes between family members who find new ways to disappoint and then — as the farce eases toward sentiment — satisfy one another.
First daughter Baneatta (Cleo King) wears her splendid black hat like a crown, but she moves as if her feet hurt. A woman of a certain age, she is excruciatingly conscious of her dignity as the wife to Reginald (Norm Lewis), the new pastor succeeding her father at St. Luke's. Even before Bernard's funeral can begin, Baneatta's lofty sense of position makes her a little cruel: she berates her sister Beverly (Ebony Marshall-Oliver) for her outrageous mourning clothes — "the puppies are out," Beverly says proudly — and despite her love for son Kenny (Devere Rogers), she purports to forget the name of his longtime lover, the white and Jewish Logan (Michael Urie). Her daughter, Simone (Alana Raquel Bowers), takes her homophobic cues from her mother, and though Simone has her own reasons for being suspicious of a white partner in the family's midst, she keeps them secret.
Already Lyons has introduced enough complication and confrontation for a full evening's entertainment, but he comes from the more-is-more school. Baneatta is dodging someone's phone calls, and a chaotic funeral service goes heels-over-hat when a surprise guest walks fearfully up to the lectern. Lyons is writing a comedy of types: If this were commedia dell'arte, Beverly's 15-year-old daughter La'Trice (Aigner Mizzelle) would be our Harlequin, dressed in vivid colors, thinking only of her hunger, plotting for her own pleasures yet somehow also nudging her elders' toward resolving their conflicts.
Going to Chicken & Biscuits does feel like being fed by loving but overweening relatives. There's a bit too much of it — the published running time notwithstanding, this show lasts more than two hours with no intermission — but it's a meal full of comfort dishes, difficulties resolved, and love requited. It turns the nearly in-the-round space at Circle in the Square into a church with stained-glass windows behind the audience and the great Norm Lewis in the pulpit. At the show's climax, Reginald delivers a simultaneously stirring and silly eulogy in Redemption Cadence. "We fix our eyes not on what is seen, but on what is unseen!" cries Reginald, hitting the final n's in those words as if he's bouncing them off a wall. Broadway doesn't usually (ever?) stage Black church services with such relish, and the audience reacts in direct proportion to their familiarity with the ceremony: There were those who could recite scripture alongside him, and their responses made the theater sing.
Lyons and director Zhailon Levingston are best when things are at their tartest. Every actor has a different comic strategy: King seems to be moving more slowly than everyone else, which naturally turns all eyes toward her; Urie gasps and wriggles like a snapper on a line; Marshall-Oliver (abetted by brilliant costume designer Dede Ayite and hair designer Nikiya Mathis) is the production's gorgeous show pony, nervy and commanding; Lewis plays straight man to the others until he gets to the pulpit, when he starts to steal scenes, too.
The melodramatic machinations rely on music, just as the old melodramas did. The music here is sometimes actually music, as when basso Lewis shakes the rafters with a hymn, but other times it's the music of the bent phrase, the swing of language. Levingston conducts the play as much as he directs it: The syncopated insult rhythms and singsong sermonizing trigger emotional responses. Lyons, who was an actor before he turned playwright, gives actors Kenny and Logan the most barbed lines and some of his own backstory. When anticipating Baneatta's inevitable snubbing, Logan complains, "Babe, every time she sees me, she pretends I'm not in the room … it's like when Casey Nicholaw cut me from that Mormon callback." Lyons was, in fact, in The Book of Mormon, and you realize that he knows two churches — Christ's and Broadway's.
Chicken & Biscuits will not serve every hunger. In the comic scenes, when the sisters are eyeing each other's outfits or Logan is bobbling his Bible, the play stands on solid ground, but in the long-seeming resolution scenes, as the drama comes to rely on plot developments, the journey toward uplift turns convenient and then mechanical. Yet just because the script's jokey sections are its fiercest doesn't mean Lyons isn't taking some things seriously. Underneath all the mayhem and rollicking, there's acknowledgment of real pain. Kenny, for instance, has been badly treated and has no choice but to forgive. There are serious intergenerational and intrafaith costs here: In Lyons's world, the women's ricocheting judgments cause real damage and too many of the story's men seem ready to abandon their children. Where is La'Trice's father? Where is Simone's fiancé? Lawrence E. Moten III's set, which uses rolling pews to create many locations, hints that all answers are here, in a church that is also the theater. At the very last moment, those pews become benches around a table, and the cast begins to eat. Both the church and the theater have made room for the whole family, and when they do, other kinds of love roll in.
Chicken & Biscuits is at the Circle in the Square Theatre.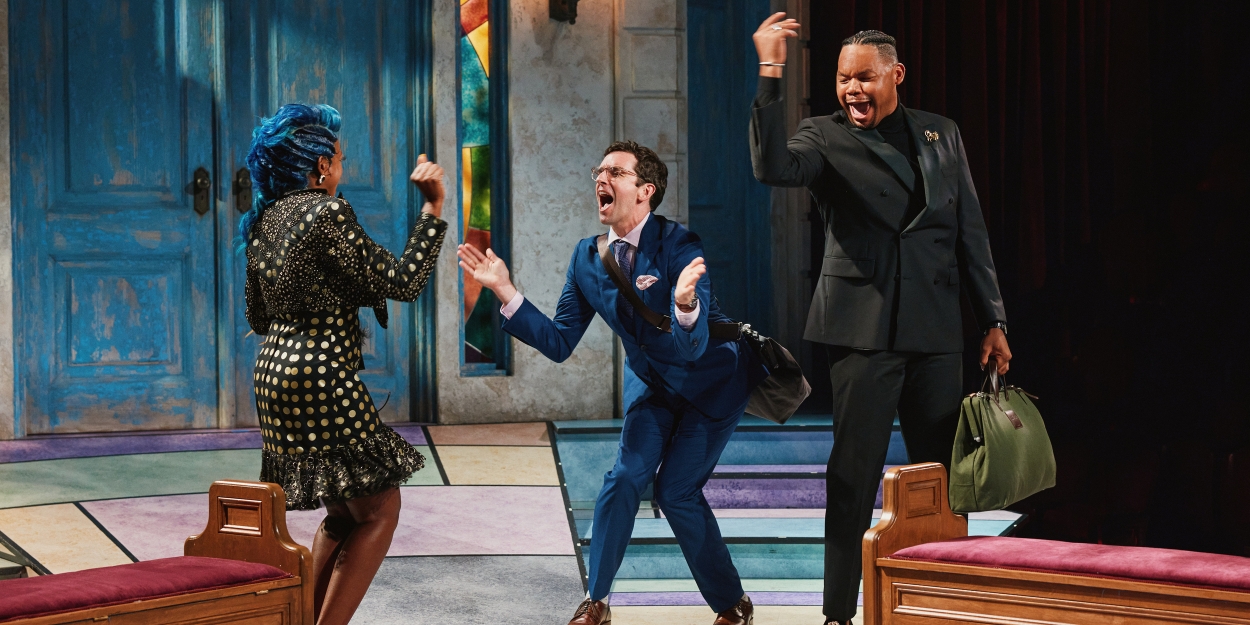 Broadway World 11 October, 2021 - 03:30pm
Frank Scheck, New York Stage Review: The performers, several of them new to Broadway, strive mightily to mine the broad humor for all its worth and generally succeed. The standouts are Mizzelle, a hoot as the precocious teen, and Urie, who gets laughs with every nervous twitch, although he's playing the sort of role from which he should have graduated by now. For more than a few, Chicken & Biscuits will live up to its name by being enjoyable theatrical comfort food. But you can't ignore the fact that it simply isn't very nutritious.
David Finkle, New York Stage Review: We all know-don't we?-the phrase Goin' to Church, which means letting religious fervor flow no matter what the context. Dramatist Lyons has written a play about literally goin' to church. He's gotten the church bells reverberantly chiming. If theater lovers are smart, they'll heed the call and go straight to Chicken & Biscuits church.
News + special offers for Broadway's Return
Broadway News 11 October, 2021 - 03:30pm
AMNY 11 October, 2021 - 03:30pm
Tackle the city, with our help.
Tackle the city, with our help.
"Chicken & Biscuits," a new family comedy by actor Douglas Lyons (who has appeared on Broadway in the ensembles of "The Book of Mormon" and "Beautiful"), makes for a great success story – if not necessarily a great play.
The play managed to make its world premiere at the Queens Theatre in Flushing Meadows Corona Park mere days before the pandemic shut down virtually all live theater in New York City.
Over a year later, it was announced that "Chicken & Biscuits" would transfer to Broadway, making it part of a historic surge of plays by Black writers on Broadway following the pandemic including "Pass Over," "Lackawanna Blues," "Slave Play," "Thoughts of A Colored Man," "Clyde's," "Skeleton Crew," and "Trouble in Mind."
But unlike all those other plays, "Chicken & Biscuits" is a conventional, sitcom-style, feel-good comedy. There is absolutely nothing wrong with having a play like that on Broadway. In fact, it's refreshing to have a lighter option available for those who are not interested in an experimental and challenging piece such as "Pass Over" or "Slave Play."
The cast includes veterans from the Queens production and familiar Broadway actors including Norm Lewis ("Porgy and Bess," "Once On This Island"), Michael Urie ("Torch Song," "Buyer & Cellar"), and NaTasha Yvette Williams ("Waitress," "Porgy and Bess").
Set in and around a church before, during, and after a funeral, a Black family is mourning the death of its patriarch, leaving his son-in-law (Lewis, who gets the chance to sing a little) to take over as the church's pastor and deliver his eulogy. That being said, "Chicken & Biscuits" is primarily concerned with tensions and dysfunctions within the extended family, culminating in a mystery guest appearance and surprise revelation at its climax.
I really wish I had liked the play, which is billed as running 100 minutes without intermission but really runs just over two hours in length.
It is affectionate and well-meaning, preaching love, reconciliation, and acceptance. But unfortunately, it is cliched and tedious, with numerous scenes that drag on endlessly. One gets the feeling that Lyons one day decided that he wanted to write a play up with this. (According to an interview with The Undefeated, Lyons wrote the play while working as an actor because he needed something to do backstage.)
The production (staged by Zhailon Levingston, who is now the youngest Black director in Broadway history) relies heavily on mugging from the actors, especially Urie, who does his standard shtick of exaggerated facial expressions and manic reactions. It works best during the funeral sequence, at which point theatergoers are made to feel as if they are part of the church service. At my performance, quite a few people responded to the funeral speeches in a call and response style.
Just in case you are wondering about the title, the play concludes with a meal of chicken and biscuits. Once theatergoers no longer need to wear face masks, they may get a kick out of eating chicken and biscuits during the play. "Chicken & Biscuits" may very well have a big future ahead in dinner theater.