Lauren Gardner
LGRed
"Everything is on the table." - Dave Roberts on his game 4 starter as the #Dodgers face elimination on Tuesday @MLBNetwork pic.twitter.com/7QpmvS2XIz

ESPN Stats & Info
ESPNStatsInfo
The Red Sox have won 7 straight games with an opportunity to clinch a round/series, the 2nd-longest streak in MLB postseason history. The Athletics had a 9-game win streak in these games from 1973 to 1990. pic.twitter.com/iAEILIeO7z
Kurt Snyder
newarkurt
Where payroll disparity quietly comes into play in MLB, Boston Red Sox can afford to throw $7 million at a washed utility player like Kike Hernandez, and sometimes they get a miraculous career season out of it
Billy Reinhardt
BillyReinhardt
We can debate all day about just how much MLB managers can impact the game with their decision making in this analytics era, but teams definitely embody the personality of their manager. That's the biggest difference between the Red Sox w/ Alex Cora & the Yankees w/ Aaron Boone.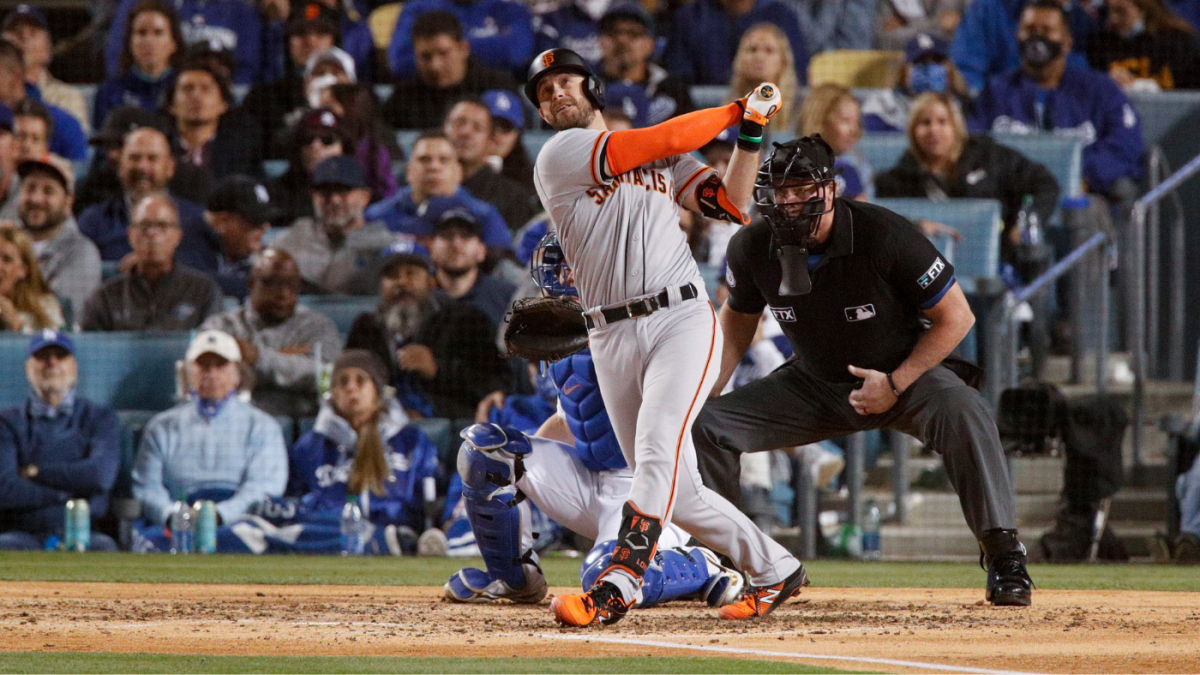 Major League Baseball's postseason continued Monday with a slate of three crucial games. The Boston Red Sox were the first team to punch their ticket to the League Championship Series, as they clinched their ALDS matchup over the Rays with a Game 4 walk-off win at Fenway Park. In the National League, both the San Francisco Giants and Atlanta Braves took 2-1 NLDS leads with wins over the Dodgers and Brewers.
For your reference, here are the day's scores:
And here are takeaways from Monday's action:
Thanks to Evan Longoria's solo home run and clutch bullpen work, the Giants are one win away from their first trip to the NLCS since winning the World Series in 2014. They hung on for a 1-0 win in Game 3 at windy Dodger Stadium on Monday.
Max Scherzer was incredible coming off three subpar starts, holding San Francisco to just the Longoria solo homer and striking out 10 in seven innings. He is the first pitcher in baseball history with a double-digit strikeout game in the postseason for three different franchises (Tigers, Nationals, Dodgers). A tough-luck loss, through and through.
The Giants countered with former Dodger Alex Wood, who battled through 4 2/3 innings before handing things over for the bullpen. Tyler Rogers, Jake McGee, and rookie Camilo Doval combined for 4 1/3 shutout innings to protect the lead and lock down the win. Brandon Crawford made a spectacular leaping catch to escape a jam in the seventh.
I heard they recently decided to add more hops to it. pic.twitter.com/kwZc9RbRZa
After winning Game 1 in rather convincing fashion, the Tampa Bay Rays are the first team eliminated from the divisional round.
The Red Sox closed things down in front of the Fenway faithful Monday night. It was a wild one, again.
The Red Sox had a 5-0 lead through the third inning while starter Eduardo Rodriguez threw zeroes on the board through five innings. It looked pretty elementary, but the Rays' bullpen after the third held steady and the Tampa offense chipped away. A two-run Wander Franco homer made it 5-3 in the sixth. In the eighth, two doubles before a Randy Arozarena single meant the game was tied. Red Sox reliever Garrett Whitlock would come in to get some major outs to move things to the bottom of the ninth, still tied at five.
In the bottom of the ninth, perhaps fittingly, the red-hot Enrique Hernández delivered the game-winning sac fly, giving Boston a 6-5 win and the club's second walk-off victory in a row.
The Red Sox offense battered the Rays -- who had the best ERA in the AL in the regular season -- for 26 runs on 47 hits in the final three games of the series, all Red Sox wins. They now await either the Astros or White Sox in the ALCS.
Here's more on the Red Sox eliminating the Rays.
The Atlanta Braves defeated the Milwaukee Brewers 3-0 on Monday in Game 3 of their best-of-five National League Division Series. The Braves now hold a 2-1 advantage, meaning another win will send them to the NL Championship Series, where they'd await either the San Francisco Giants or the Los Angeles Dodgers.
The Braves received another strong outing from their pitching staff, as had been the case in each of the first two games of the series. Starter Ian Anderson chucked five shutout innings, holding the Brewers to three hits and no walks. He struck out six batters on 84 pitches before being lifted for pinch-hitter Joc Pederson.
That decision paid off for the Braves, as Pederson launched a three-run shot off Brewers reliever Adrian Houser to give Atlanta its lead:
WELCOME TO JOCTOBER!@yungjoc650 | #ForTheA pic.twitter.com/scosmrCNuN
The Braves bullpen, which has a tendency to make things interesting, subsequently shut down Milwaukee's bats. Jesse Chavez, Tyler Matzek, Luke Jackson, and Will Smith instead combined to throw four shutout innings with minimal drama.
One more strong effort from its pitching staff, and Atlanta will be heading to its second consecutive NLCS.
We had three exciting games today and we'll have three more tomorrow! #Postseason pic.twitter.com/4mictpeLuv
An emotional Alex Cora spoke with @jonmorosi after the @RedSox earned a spot in the ALCS. #MLBTonight pic.twitter.com/W1lk0r3xbm
gn 🙂 pic.twitter.com/nukLdEYi0C
Shake it out#ResilientSF | #OrangeOctober | #BeatLA pic.twitter.com/pNm1r5Y1KO
San Francisco swings the momentum. pic.twitter.com/lUDGcVTWqW
Between the regular season and the #postseason, the @SFGiants have recorded 20 shutouts, the most in @MLB.
The @SFGiants won a #postseason game 1-0 for the first time since 2010 (NLDS Game 1). pic.twitter.com/3EJe2hVxUU
The @SFGiants won a #postseason game 1-0 for the first time since 2010 (NLDS Game 1). pic.twitter.com/3EJe2hVxUU
Between the regular season and the #postseason, the @SFGiants have recorded 20 shutouts, the most in @MLB.
Offense & Defense#ResilientSF | #OrangeOctober | #BeatLA pic.twitter.com/PLudces6Ei
Camilo Doval is the second 24-year-old to record a save in the #postseason for the @SFGiants (John Antonelli, 1954, World Series Game 4). pic.twitter.com/PL12JoBeNC
A Giant shutout. pic.twitter.com/2Wsa7vzIJl
Camilo Doval is the second 24-year-old to record a save in the #postseason for the @SFGiants (John Antonelli, 1954, World Series Game 4). pic.twitter.com/PL12JoBeNC
FINAL: Giants 1, #Dodgers 0
holy cow. Lux crushed one to left-center. He even held up his hand like he hit a game-tying blast. Duggar in center broke hard toward the wall but had to stop on a dime on the warning track as the wind completely knocked it down. The Giants win and lead the series, two games to one
Chavez Ravine Shutout#SFGiants | #ResilientSF | #OrangeOctober pic.twitter.com/H2y1QRGpjJ
Lux did, of course, have several multi-hit games in September
Won with one. #Postseason pic.twitter.com/L1SwNO3WSK
Lux was a MAJOR prospect in the minors and hasn't yet hit that level in the majors, but he has tons of talent
strike three. It's up to Gavin Lux
Taylor flies out, Pollock is down 0-2. Lux is on deck
rare to see wind affecting balls in the air so much in Dodger Stadium
Kenley Jansen strikes out the side. Chris Taylor will lead off the bottom of the ninth.
OK, buckle up. Chris Taylor, AJ Pollock and either Matt Beaty or Gavin Lux against the rookie Camilo Doval. 1-0 game, bottom of the ninth. A 2-1 lead in a best-of-five series at stake.
Vibes are IMMACULATE. pic.twitter.com/RsXHUHMNgD
1-2-3 for Doval. He threw 15 pitches. He hasn't thrown 20 since Sept. 5, but that hardly matters right now. He'll be fine to extend himself a bit in such an important situation. The best guess is he isn't going anywhere. It'll be Taylor, Pollock and a pinch hitter (Beaty or Lux, both of whom are left-handed hitters). First things first, though, the Giants are looking for insurance.
Doval casually throwing 101 with a nasty slider. The Giants are up 1-0 and are three outs away from a 2-1 series lead.
I heard they recently decided to add more hops to it. pic.twitter.com/kwZc9RbRZa
MOOD ALL DAY EVERY DAY pic.twitter.com/UBg0V1T19u
© 2004-2021 CBS Interactive. All Rights Reserved.
CBS Sports is a registered trademark of CBS Broadcasting Inc. Commissioner.com is a registered trademark of CBS Interactive Inc.
Images by Getty Images and US Presswire
These cookies are essential for the proper functioning of our Services. Essential cookies cannot be switched off in our systems. You can set your device to block or alert you about these cookies, but some parts of the Service will not work.
These Cookies allow us to collect information about how visitors use our properties. Some examples include counting visits and traffic sources, so we can measure and improve the performance of our services. If you do not allow these Cookies we will not know when users have visited our properties and will not be able to monitor performance.
These Cookies enable the services to provide enhanced functionality and personalization. They may be set by us or by third party providers whose services we have added to our services. If you do not allow these Cookies then some or all of these services may not function properly.
These Cookies may be set by us or through our services by our advertising partners. They may be used by those companies to build a profile of your interests and show you relevant advertising on this and on other properties. If you do not allow these Cookies, you will still see ads, but you will experience less relevant advertising.
These Cookies are set by a range of social media services that we have added to the services to enable you to share our content with your friends and networks. They are capable of tracking your browser across other sites, building up a profile of your interests to show you relevant content and advertisements on the relevant social networks. If you do not allow these Cookies you may not be able to use or see these sharing tools.
Read full article at bleachernation.com
AZ Snake Pit 12 October, 2021 - 12:12pm
Astros and Rays were complaining, but would have lost anyhow.
The Boston Red Sox are one win away from the ALCS and the 100-win Tampa Bay Rays are one loss away from heading home for the offseason.
Today TB is planning for a bullpen game. I thought the previous two were already bullpen games. Their strategy is definitely not working out well at the moment because the only game they won so far was a longer outing from Shane McClanahan in the first matchup.
MLB rule 5.05(a)(8) says when "any bounding fair ball is deflected by the fielder into the stands, or over or under a fence on fair or foul territory, (the) batter and all runners shall be entitled to two bases."
"I can't believe that happened or we don't get the chance to score right there," Kiermaier said. "For one, I crushed that ball. I was hoping to leave the yard. I got a lot of snap and crackle but no pop. First and foremost, for that to happen right there, it just doesn't make sense to me."
Mike Zunino followed the Kiermaier double with a strikeout, ending the inning.
The White Sox were facing an early elimination after the top 3rd, when they were down 5-1, but then the bats started to deliver hits that matter and the Astros got banged. Zack Greinke pitched officially a scoreless inning in relief, but saw two inherited runners cross the plate and one of them because of an interesting fielder's choice and error.
Another losing team was whining yesterday.
"Yeah. I mean, it is what it is. They've obviously had a reputation of doing some sketchy stuff over there. We can say that it's a little bit of a difference. I think you saw the swings and misses tonight compared to the first two games at Minute Maid."
Ian Anderson takes the ball for the Braves in a matchup with Freddy Peralta. This looks to be yet again a tough pitching duel between two teams that have been facing some really good pitching.
Max Scherzer returns as starting pitcher and meets former Dodger Alex Wood. LA prepares to stack a righty hitting lineup against the lefty, including Albert Pujols at 1B and A.J. Bollocks in left.
Lefty Carlos Rodón needs to provide some length for the White Sox and prevent elimination in game 4. The Astros start with right-handed pitcher Jose Urquidi.
First it said Patiño, now the starting pitcher for the Rays is supposed to be Collin McHugh. Whoever it may be, it will be a bull pen game for the AL East division winner. The Rays will face Eduardo Rodriguez in a yellow city connect outfit.
Not yet officially announced, but probably pretty probable: Bartolo Colón will continue to throw baseballs, this winter he might do so for last year's Dominican Winter League winner Águilas Cibaeñas.
I received an old friend alert when I saw that the Dominican LIDOM champions announced the signing of Randall Delgado as starting pitcher for their team. In a short interview for the team's website Delgado explained that he feels fully recovered physically and mentally, after the injury he suffered to his right shoulder in 2019, "since it has been a long battle to be ready to launch again and get to this point."
MLB 12 October, 2021 - 12:12pm
metsmerizedonline.com 12 October, 2021 - 10:00am
After the Red Sox became the first team to clinch a Championship Series berth, three more teams have a chance to do the same on Tuesday. The Astros, up two games to one, are set for a 2:07 p.m. first pitch with the White Sox on FS1, and the Braves, also up two games to one, will play the Brewers at 5:15 p.m. on TBS.
The Giants will also have a shot for spot in the NLCS as they take on the Dodgers at 9:07 p.m. on TBS.
Let's get into this morning's briefing.
Tim Britton of The Athletic evaluates what Marcus Stroman's free agency might look like.
Robert Murray of Fansided talks if Pat Murphy could be the Mets' next manager and takes some notes on the Braves-Brewers NLDS series.
White Sox pitcher Ryan Tepera accused the Astros of stealing signs in their ALDS matchup. In response, Houston manager Dusty Baker said "Before you accuse me, you need to take a look at yourself."
"I had never even heard his name before we played the White Sox," Baker said. "Let them talk"
Former Mets hitting coach Kevin Long is heading to NL East rival Philadelphia to serve as its hitting coach, per Britt Ghiroli of The Athletic. Long last coached in New York in 2017 before taking a job in Washington as hitting coach.
Per Buster Only of ESPN, the Yankees have not reached a decision regarding Aaron Boone's future as manager. His contract expires right after the World Series, and could be a candidate for the Padres should he leave the Bronx.
James Villani fills out his report card for lefty Rich Hill's performance as a Met this season.
Matt Musico writes one encouraging 2021 stat for each New York pitcher.
Matt Musico also questions whether Pat Murphy could be a good fit as the Mets' manager.
Joe D. writes on how New York is facing a "very consequential" offseason.
1969: Al Weis hits a timely ninth inning RBI single to help give the Mets Game 2 of the World Series against the Orioles. Pitcher Jerry Koosman also played a huge part in the victory as he allowed just two hits in 8.2 innings on the mound.
Birthdays: José Valentín (52) and Sid Fernandez (59).
Copyright © 2005 - 2021 Metsmerized Online.