When is the NBA Draft 2021?
NBA Draft 2021 presented by State Farm will be held on Thursday, July 29 at 8 p.m. ET. ESPN platforms will exclusively televise the NBA Draft for the 19th consecutive year and for the first time it will air on both ABC and ESPN. NBA.comNBA Draft 2021 to be held at Barclays Center on July 29
The first thing that would be apparent if the Cavaliers pick Evan Mobley is that their frontcourt will be very, very big. Allen stands 6-foot-11 with a 7-foot-4 wingspan while Mobley is listed at 7-feet with a similar wingspan, too. Cavs fans are already familiar with Allen's impact on the defensive end. The man has the size and timing to swat or contest shots in the paint. The front office was so impressed with Allen that they even benched two-time All-Star Andre Drummond which subsequently led to a buy-out agreement.
Evan Mobley, for his part, is a defensive beast himself. Last season with the Trojans, Mobley led the nation with 2.9 blocks per game. You can say that Mobley is a lot more mobile and active on defense than Allen. Since apart from contesting shots, Mobley has shown off his ability to switch on to smaller guards and forwards. He has enough lateral quickness not to be left in the dust. But then again, what's the use of comparing these two players if you can both have them on your squad? We always hear the adage that defense wins championships. It's quite rare these days to find a player who specializes in this part of the game.
The Cavs will immediately have two defense specialists on their squad if they pick Evan Mobley.
On offense, the Allen-Mobley duo would also cause nightmares. As for one, Allen is well-versed in pick-and-roll situations. Even during his stint with the Brooklyn Nets, he's shown that he's very comfortable in this fundamental play. He gets a chunk of his baskets thru pick-and-roll plays. He's also a good offensive rebounder and when he snags it, it's almost always an automatic two points.
It's understandable to worry that Allen and Mobley's penchant for camping in the paint would create spacing problems. After all, the Cavs also have two speedy guards in Collin Sexton and Darius Garland who thrive on driving to the hoop. While Evan Mobley is a beast on the paint, it's important to note that he has an outside game, too.
Evan Mobley has a reliable stroke from the perimeter and from deep. It obviously needs some polishing but the fact that it's present in his arsenal is already an advantage.
Not just that, but Evan Mobley can also take it to the hoop all the way from the 3-point line. Highlight clips show how he also moves well without the ball, actively looking for cutting lanes to abuse.
The Cavs front office is still in a dilemma regarding Collin Sexton and Darius Garland. For all the promise they showed last season, there's a threat of the feisty backcourt duo coming to an end. Rumors reveal that Sexton will be the one to go. If you're a Cavs fan then you might be scratching your head as to why the team might part ways with their leading scorer (24.3 points per game) last season. His potent offensive output has blinded many to the weaknesses in his game.
As for one, reports reveal that the team wants him to take more 3-pointers so as not to be left behind with the current trend. He hasn't really followed this advice and prefers mid-range shots and lay-ups. In addition, there are also lingering questions on his decision-making, pick-and-roll ability, and passing. In short, the big question is: amid his scoring prowess, is Sexton really making the team better?
At face value, Garland seems the better fit if the Cavs pick Mobley. The guard averaged 6.1 assists last season. He's getting well-versed in pick-and-roll plays with Allen. As noted above, Mobley, too, has good hands and can finish well around the ring. He'll have no problem with running those pick-and-rolls.
Upon Mobley's entry into the league, his coaches will likely tell him to iron out his jump shot from the perimeter and from 3-point country. A reliable jump shot is a must these days. Once Garland has this in his toolbox, then he'll be one heck of a complete player. Give or take two or three seasons, the Cavaliers — with their young core of Garland, Allen, and Mobley — will be serious contenders in the East.
Read full article at Cavaliers Nation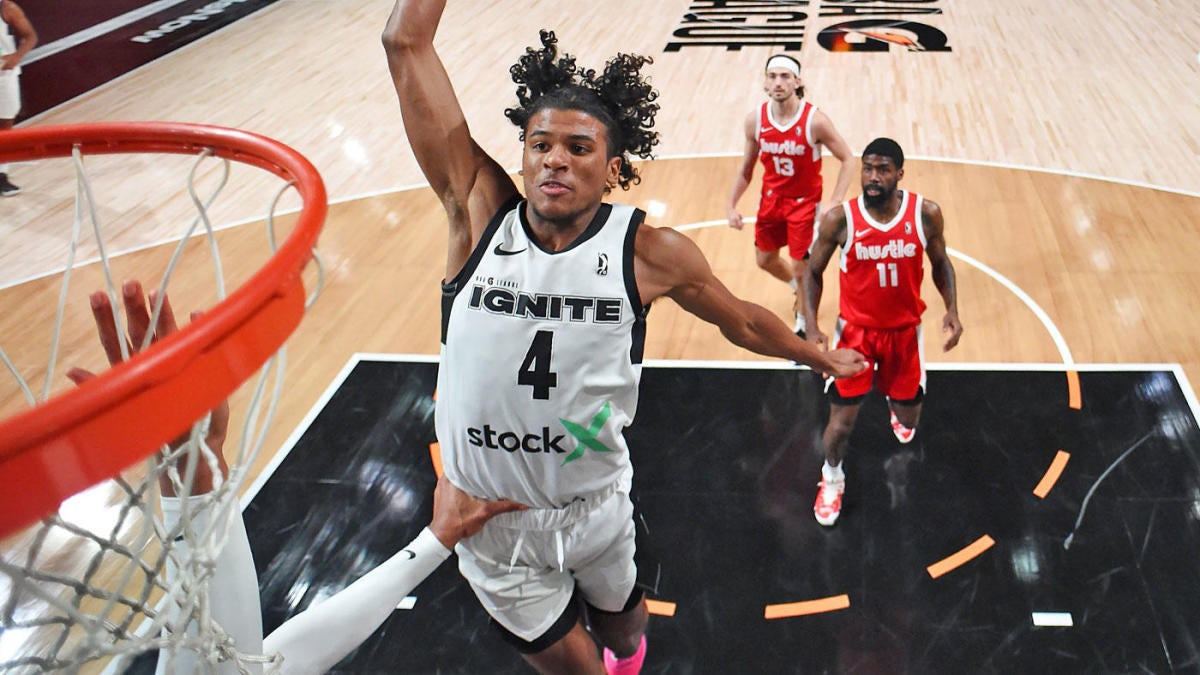 CBS Sports 16 July, 2021 - 09:00pm
The NBA Draft doesn't happen in a vacuum, and strategies can vary significantly on a franchise-by-franchise basis. Sometimes teams can bet on upside knowing the potential bust potential. Others may target a safer player who can help an established core. Then there are other teams who will assess the roster and draft based on current needs.
But what if every team had a shared strategy of targeting players? And what if that mindset was singularly focused on one thing: chasing those with the most star potential.
That's what I aimed to address in mock draft 8.0. The first-round order is already set and there are no mock trades. Only teams staying put in their current positions and shooting their shot on the prospects who present the highest possible long-term upside.
© 2004-2021 CBS Interactive. All Rights Reserved.
CBS Sports is a registered trademark of CBS Broadcasting Inc. Commissioner.com is a registered trademark of CBS Interactive Inc.
Images by Getty Images and US Presswire
King James Gospel 16 July, 2021 - 09:00pm
New York Knicks wing Reggie Bullock watches his three-point shot in-game. (Photo by Elsa/Getty Images)
The 2021 NBA Draft is nearing here in two weeks on July 29, and the Cleveland Cavaliers should be set to snag a difference maker at #3 overall. The likes of Evan Mobley and Jalen Green come to mind there, albeit it appears that Mobley could very well be the pick there.
I'd be on-board with either, and while I'm personally not high on him, Cleveland could maybe go with Jalen Suggs there, or to an extent, one could foresee Jonathan Kuminga maybe in the cards. But I wouldn't anticipate that as much.
In regards to other possibilities with the Cavaliers/the offseason, trades could be in the mix, and to that point, Collin Sexton, much to my chagrin, has been a key player mentioned in trade rumors of late.
Sexton, who is extension-eligible this offseason, is seemingly set to seek a max contract extension, and even while Cleveland could let things play out next offseason via restricted free agency, Sexton is reportedly "very available" via trade.
Teams that have been mentioned as reportedly interested in that scenario are the Miami Heat, Indiana Pacers and New York Knicks, and the Knicks are reportedly the club "most aggressive" in their pursuit of Sexton. The New Orleans and Los Angeles Lakers have been linked, too.
But with the first three, in particular, and the Lakers, I don't personally think any of clubs have attractive pieces in potential returns, albeit you can view more here involving Sexton rumors/my thoughts on a rumored Knicks deal.
So from there, other potential Cavs players that could seemingly be moved by next season and/or early into next season could be Taurean Prince (expiring) and Cedi Osman, who were mentioned in trade rumors near the past deadline. And of course, the Kevin Love trade rumors will be a constant.
Shifting gears from the draft/trades, here, we'll touch on 2021 NBA Free Agency more so. Regarding potential targets, the likes of T.J. McConnell, Patty Mills, Alex Caruso and perhaps if he's unrestricted, Frank Ntilikina could be a solid low-cost backup point guard target.
In terms of wings, rumored targets such as Doug McDermott, Josh Hart, if he were to become unrestricted perhaps, Reggie Bullock and perhaps Alec Burks could be others via the non-taxpayer mid-level exception, which is expected to be $9 million or so.
I would think that most of the mentioned targets could be had, in theory, for some of the MLE, with Cleveland maybe being able to retain the non-guaranteed Dean Wade some of the MLE and/or the non-guaranteed Lamar Stevens.
Among those targets, here though, we'll take a closer look at Bullock in this case, who had a nice year last season with 10.9 points per game as a starter for the New York Knicks. And based on comments from The Athletic's Danny Leroux in a conversation with The Athletic's Kelsey Russo (subscription required), one would imagine Bullock could maybe be had via say, two-year deal for say, $4-5 million per year.
In a role similar to one of McDermott, I would expect Bullock to be an efficient movement catch-and-shoot player in minutes off the bench. That's more so in minutes at the 2 and 3 in that case, though, albeit if Prince were to be potentially moved, perhaps that could be in some lineups at the 4.
Bullock is a career 39.2 percent shooter from three-point range, and while he has jumped around/been moved, in the past four seasons, he's hit 40.0 percent from deep on 5.4 attempts per game.
Bullock would make for a great kickout option, or off-screen/off-movement option for the likes of Darius Garland, Sexton if he sticks around, to go with Isaac Okoro/Dylan Windler, among others.
The 30-year-old wing proved to be a key shooter for New York last season, and while we'd have to see if he'd consider signing with the Cavs, I could maybe see that being the case, with a talented playmaker like Garland.
That's go to with other promising pieces, and feasibly Mobley being a nice piece for a movement shooter/quality off-ball player like Bullock to be able to play with, too, for instance, to go with Kevin Love (if he's around) and Larry Nance Jr./Dean Wade.
So to drive it home, if the 2021 NBA Free Agency target in Bullock were to sign with the Cavaliers, it's clear that he'd likely be a knockdown shooter off the bench that could play still a bunch of minutes.
And while again I'd rather it not happen it seems, Bullock could feasibly be a starting 3 option for the Cavaliers with Okoro moved up to 2. Or perhaps Green/Suggs could fill in there and if needed, Reggie could fill in at 3 in that sense if Okoro is having a particularly tough go of it early on.
Anyhow, with Bullock being generally speaking a pretty competent defender against 2s and 3s, and a sound team defender, the veteran could have a fairly clear role as an effective 3-and-D for Cleveland. That'd be at least in a good chunk of rotational minutes for 22-24 minutes per outing; he could also fit in with a variety of lineups.
Moreover, given the reasons stated/Cleveland having been last in the league in three-point shooting and 28th in attempted threes per game last season, Bullock would be a logical free agency target.
Build your custom FanSided Daily email newsletter with news and analysis on Cleveland Cavaliers and all your favorite sports teams, TV shows, and more.
Your favorite teams, topics, and players all on your favorite mobile devices.
Powered by Minute Media © 2021 All Rights Reserved.
Cavs Nation 16 July, 2021 - 09:00pm
While many believe USC star Evan Mobley is the second best prospect in the draft, it's been reported that the Rockets don't like the fit with him and Christian Wood. It opens up a possibility now that Mobley could be available when the Cavs pick at No. 3.
According to Zach Harper of The Athletic, if that's the case, the Cavs would "probably be locked in" on Mobley with the third pick.
Some believe Evan Mobley is the second best player in this draft, and Houston's not taking him because they don't like the pairing with Christian Wood. But for the Cavs, moving Sexton out of the backcourt could potentially open up a pairing of Suggs and Darius Garland. It might unlock some catch-and-shoot options for Garland, too. Most likely, though, Mobley is the guy and they figure out what to do with Jarrett Allen's restricted free agency.
At the end of his piece on the Cavs and their pick, the question is raised, "Do you expect a trade here?" Harper's response:
I do, but not with this pick, necessarily. The Cavs are probably locked in on Mobley at No. 3.
Whether the Cavs stay put or trade back is one question. Whether they take Mobley if he's available at three is a whole other topic. A lot could hinge on what happens with Collin Sexton in the lead up to the draft and potentially on draft night as well. Space City Scoop 16 July, 2021 - 09:00pm
We've heard that the analytical minds think Mobley is the better pick and the "traditional draft minds" think that Green is the better pick. Neither prospect is flawless, as Green's defense needs to improve, while Mobley's frame is concerning, as he's built more like a 7-foot wing, as opposed to a rim protecting center.
Long-time college coach and current draft expert Fran Fraschilla suggested that Christian Wood could factor into the Rockets' decision of who to draft, on Sirius XM's Draft Preview Show.
Fraschilla's line of thinking about the Rockets' decision at #2 in this month's draft has been pointed out by others, but it shouldn't weigh into the Rockets' decision. For one, the addition of Mobley would allow Wood to play the power forward spot, which is naturally a better fit for Wood than center.
We've also heard that Rockets GM Rafael Stone has had his sights set on Oklahoma State star Cade Cunningham, which is irrelevant unless the Detroit Pistons (who hold the first pick in this month's draft) aren't interested in Cunningham, who is the top rated prospect in this month's draft. 
Regardless of what the Rockets end up doing, they're going to walk away with a franchise-altering talent, which is why the Rockets secured a major victory with last month's lottery results.
Next. 2 John Wall trades that would accelerate the Rockets' rebuild. dark
CBS Sports 16 July, 2021 - 09:00pm
One of the most famous scenes in the original "Matrix" movie comes when Neo is first learning how to harness the powers he possesses. He's dumbfounded when he eventually encounters a young monk who bends metal spoons solely with his mind. Before Neo can even ask how he does it, the monk utters the iconic, sage words:
"Do not try and bend the spoon. That's impossible. Instead only try to realize the truth ... There is no spoon."
It's a memorable lesson about how a simple change of perspective can open doors to a new reality and a deeper understanding of the surrounding world.
A similar altering of perception is necessary when evaluating one of the 2021 NBA Draft's most alluring prospects: Evan Mobley. The 7-foot USC product is expected to be selected with one of the first three picks on July 29, and many of the questions about the 20-year-old revolve around the value and utility of a big man in the modern NBA.
Perimeter players have increasingly dominated the league over the past decade, while decisions like drafting Deandre Ayton over Luka Doncic or James Wiseman over LaMelo Ball already look like potential mistakes. With Cade Cunningham, Jalen Green and Jalen Suggs alongside Mobley at the top of most draft boards, NBA front offices could be wary of taking a big man with such glistening perimeter prospects available.
But when it comes to Mobley, we have to change our point of view. Flip the camera. Maybe Mobley isn't a big man at all. Maybe he's a perimeter player who happens to be blessed with a long, lithe, explosively athletic frame.
In other words: There is no spoon.
"He's a 7-foot wing. That's how I talk about him," one draft scout told CBS Sports. "Evan Mobley's thing is that he's a player who was raised to be a point guard, and he's 7-feet tall. ... You can use him in a lot of ways that the centers of the past five or seven years are pretty rarely put in."
Indeed, when you look through Mobley's video, you see a preponderance of guard skills just waiting to be unbridled and set loose upon the basketball world. Those, in addition to traditional big man staples like rim-running, rim protection and finishing ability, make Mobley a potentially franchise-changing talent on both ends of the floor.
First thing's first -- Mobley's defense will translate immediately to the NBA. He averaged nearly three blocks per game at USC, coming with impeccable timing and instinct, in all variety of manners -- on ball, off ball, from behind, through verticality. He swatted jumpers as well as interior attempts, using his leaping ability and 7-4 wingspan to bat away shots at the absolute apex of their arc.
I mean, look at where his hand is. This is not normal:
With the emphasis on rim protection at an all-time high in the NBA, Mobley's shot-blocking alone might warrant a first-round selection. But what separates him from his peers, and what brings the "7-foot wing" description to life, is his ability to move his feet defensively on the perimeter. NBA teams relentlessly hunt big men in the pick-and-roll when they're unable to switch onto smaller, quicker players. It will take technical work and physical development for Mobley, but he has the tools to become an elite, switchable defender.
Watch how Mobley moves his feet and keeps his hands up to avoid fouling when switched onto Arizona State guard Alonzo Verge Jr., who very clearly wants to cook Mobley one-on-one. Eventually, after a second attempt from Verge, Mobley gets the block and ignites the break:
If you're concerned about higher quality competition at the next level, here's Mobley sticking with potential lottery pick Ziaire Williams in isolation and forcing him into a contested step-back 3-pointer:
Mobley's versatility extends beyond one-on-one defense. His length, quickness and instincts allow him to make up incredible amounts of ground in a split-second. This proves especially useful when he must quickly transition from patrolling the paint to contesting a perimeter shot -- something he'll need to do a lot of at the next level. In the following clip he has one foot almost in the paint at the time of the pass to protect against penetration, but is still able to recover all the way to the corner for a blocked shot:
"The defensive feel is so insane with him," the same scout told CBS Sports. "That level of trying to solve the rules of basketball -- being like, 'Will refs call if I [block] somebody's floater at the very top point?' That's always been how he's processed the game."
Given all these attributes, Mobley has Defensive Player of the Year potential, which is crazy when you consider that his offensive upside is equally tantalizing.
When it comes to traditional big man skills, Mobley is elite. He averaged 1.414 points per possession around the rim last season at USC, which was good for the 90th percentile in Division I college basketball, according to Synergy Sports Technology. He has incredible touch and footwork around the rim, with his length and athleticism making him an ideal roll man and lob-catcher:
While he only shot 30 percent on 40 3-point attempts as a freshman last season, his confidence, mechanics and footwork suggest that he'll eventually gain consistency from NBA distance. If so, he becomes even more deadly in pick-and-pop and dribble hand-off situations:
The ability to pick-and-roll as well as pick-and-pop is a rare skill set for a big man -- but again, this is not a typical big man we're talking about. As such, Mobley brings even more to the offensive party, with the ability to create his own offense from perimeter for either midrange jumpers or forays to the paint:
He even has potential as a pick-and-roll ball-handler, particularly from the side:
Mobley has also shown a distinct ability to facilitate for others. He can initiate offense from the middle of the floor, much like Heat center Bam Adebayo. Mobley was particularly adept at high-low passes at USC, usually to his older brother Isaiah for easy buckets:
Plays like this show that Mobley can thrive next to another big, like Anthony Davis has done for the last couple of seasons with the Los Angeles Lakers. Mobley reads defenses well, and has the touch to throw lobs when the big defender steps up:
With the Houston Rockets owning the No. 2 pick, the idea of Mobley and versatile big man Christian Wood playing together is incredibly intriguing.  
"I think when you look at a Mobley, he's gonna be able to do stuff inside, but also he has the ability to now step out to the 3, run the floor, pick-and-pop, dribble hand-off-pop, create space on the floor," Joe Abunassar, the founder and president of IMPACT Basketball who has prepared prospects for the draft for over 30 years, told CBS Sports. "So I think that if it was a big guy who only scored inside in college, that would be a little bit of a concern. But for a kid like that, I mean, he's ultra-talented."
That talent has a chance to take Mobley even further if he can continue to develop as a playmaker. He averaged 2.4 assists per game at USC, and made some impressive passes in traffic. He averaged 1.264 points per possession in the halfcourt including assists last season, which ranked in the 87th percentile, according to Synergy.
One of Mobley's most advanced attributes is his composure on the court. He rarely rushes or forces the issue when facing multiple defenders, and shows vision that should immediately transfer to the NBA level. Watch here as Mobley uses a wicked crossover to create separation, then finds his brother for a layup when the defender steps up:
He's also shown the ability to find open 3-point shooters either from the mid-post or from under the basket -- a skill that will serve him well in any NBA offense:
And just when you thought there was nothing left in Mobley's bag, he breaks out his transition game. He runs like a gazelle and finishes above the rim, as he does in this Giannis-esque display of speed, skill and power, racing from basket to basket in four dribbles:
But he can also set up teammates with his ball-handling and passing ability on the break. You don't often see 7-footers throwing picture-perfect lobs from two steps inside the halfcourt line:
Given his versatility and upside, it's no surprise that Mobley is reportedly in consideration for the No. 1 overall pick by the Detroit Pistons. It's understandable that front offices might value a perimeter prospect over a big man given recent draft history, but we need to remember that with Mobley, there is no spoon.
"Mobley is closer to a [Nikola] Jokic-level processor, where he's thinking about the angles and thinking about solutions that he specifically is allowed to have that other people just don't -- just from passing skills and the height and the handles," a scout told CBS Sports. "So I think that seeing him as a 'big,' rather than the possibilities of unlocking him offensively, sort of undersells how much weirdness there is there."
© 2004-2021 CBS Interactive. All Rights Reserved.
CBS Sports is a registered trademark of CBS Broadcasting Inc. Commissioner.com is a registered trademark of CBS Interactive Inc.
Images by Getty Images and US Presswire
Trojans Wire 16 July, 2021 - 09:00pm
The hype around Evan Mobley surprisingly began to fade a little bit in recent weeks. Though he is still certain to be a top-four pick, the sense that he will be a top-two or top-three lock has become less entrenched. After being pegged as the second pick in the NBA draft, it seems that both of the Jalens (Suggs and Green) have passed Mobley up.
Evan Mobley's skills are evident, but the reason he might be sliding to No. 4 is likely the potential team fit. On the other hand, it could also be the case that the diminished presence of traditional centers in the modern NBA could also pose a threat to Mobley's draft spot. This does raise the question: Will Mobley play more as a power forward or a center in the pros? The "4 or 5?" question is a fascinating one, and analysts are diving into it.
Seth Davis and Kelly Iko Of The Athletic combined on a prospect profile for the Trojans star, and Davis gave an interesting answer on Mobley's future in the NBA.
"I see Evan more like a traditional power forward at the next level than a true center. He's much more comfortable facing the basket, where he can use his quickness, ballhandling and passing ability. I think he'll be great passing out of double teams. And if you have to respect him in the pick-and-roll, he'll be devastating as a finisher on lobs and tip dunks. He'll be one of the best finishers in the NBA on Day 1."
This makes sense on all accounts. Mobley possesses a ton of skills at the offensive end of the floor as well as on defense. It was evident during the NCAA season and during the NBA combine as well.
With the Detroit Pistons zeroed in on Cade Cunningham, the draft really begins at No. 2 with the Houston Rockets.
If Mobley ends up playing power forward, could we see a Christian Wood-Evan Mobley frontcourt?
It is possible, although nobody has tipped their hand in the slightest with the draft less than two weeks away.
Sign up for the Trojans Wire newsletter to get our top stories in your inbox every morning
Four Olympics. Four gold medals for Team USA. From 1996 through 2008, Lisa Leslie dominated globally while helping the WNBA grow in the U.S. (...)
Lindsay Gottlieb believes Becky Hammon should be hired as an NBA head coach, but she was candid in explaining why this process is taking so (...)
Eric Mobley is helping Andy Enfield recruit a 5-star 2022 power forward. If USC wants to keep pace with UCLA and Oregon, this would be (...)
Start every day with our most popular content waiting in your inbox.
Please re-enter your email address.
You'll now receive the top Trojans Wire stories each day directly in your inbox.
Please enter an email address.
Please check your email for a confirmation.
RealGM.com 16 July, 2021 - 09:00pm
by John Wilmes
Tools and Resources Used by Real General Managers.
The Houston Rockets prefer Jalen Green over Evan Mobley at No. 2, sources tell Kevin O'Connor of The Ringer. Teams are planning for scenarios in which the Rockets select Green at No. 2 even though Mobley is ranked second on the draft boards of most executives, scouts and draft analysts.
Green spent last season in the G League with the Ignite while Mobley was a one-and-done at USC.
The Rockets have a longer time horizon, which could allow them to be patient with the upside of Green.
Tags: Evan Mobley, Jalen Green, Houston Rockets, NBA, NBA Misc Rumor, NBA NBA Draft, NBA Draft General