By Ian Oland
The Montreal Canadiens might have, to borrow from WWE vocabulary, worked themselves into a shoot, brother.
Friday night, reports surfaced that Carey Price waived his no-movement clause so the Habs could make him available in the Expansion Draft and protect backup Jake Allen (2.68 GAA, .907 SV%). The thought process here was that Price's contract is so massive (bad) and that there are so many other good/better value goaltenders available, the Kraken would not think twice about drafting Price.
Except. They totally are. And now a section of Habs Twitter is losing its mind about it.
The Athletic's Pierre LeBrun tweeted Sunday afternoon, hours after the NHL protection lists were released, that the Kraken "are taking a deep dive internally" on whether or not to select the Hart Trophy winner.
It's a hefty contract to be sure, but I'm told the Seattle Kraken are taking a deep dive internally on whether or not to take Carey Price in the expansion draft. My guess is they don't in the end, but I do think there's a better chance of it than I first thought. Intriguing.
— Pierre LeBrun (@PierreVLeBrun) July 18, 2021
FWIW, for those pondering the idea of Seattle selecting Price only to trade him back to Montréal, the Habs throwing picks/assets at Seattle for the Kraken to retain salary, etc: the NHL has informed both clubs that is a total no-go. League considers that a clear circumvention.
— Pierre LeBrun (@PierreVLeBrun) July 18, 2021
The Associated Press's Stephen Whyno added this observation.
Put me in the camp wondering how Ron Francis sells #SeaKraken ownership, organization and potentially new fans on "We could've had a dominant goalie with Pacific Northwest roots who could be the face of the franchise and we took Chris Driedger." And that's no offense to Driedger. https://t.co/AuQJgDQ6yo
— Stephen Whyno (@SWhyno) July 18, 2021
Price's possible exit out of Montreal is excruciating for some Habs fans. Price is a huge fan favorite in Montreal and is fresh off leading the Canadiens to the 2021 Stanley Cup Final after posting a 2.28 GAA and .924 save percentage in the playoffs.
There are other Habs fans who are somewhat more optimistic: that if Price is selected, the Habs would have a lot of cap space to remake the team… which Bergevin would then mess up.
I'm going to go ahead and take the advice of one user who wrote "Habs Twitter is a ****show until the expansion draft, best to leave for a few days!"
Update: Frank Seravalli is reporting the latest twist in Price's availability. The goaltender's health is now a concern and he may miss "significant time" next season with a hip injury.
Breaking: As #SeaKraken contemplate options, sources say Carey Price's health has clouded the selection process. It's too soon to say for certain, but he may miss significant time next season with a hip injury.
Full details on @DFOHockey:https://t.co/1fVIXMVQYy
— Frank Seravalli (@frank_seravalli) July 18, 2021
Russian Machine Never Breaks is not associated with the Washington Capitals; Monumental Sports, the NHL, or its properties. Not even a little bit.
Read full article at Russian Machine Never Breaks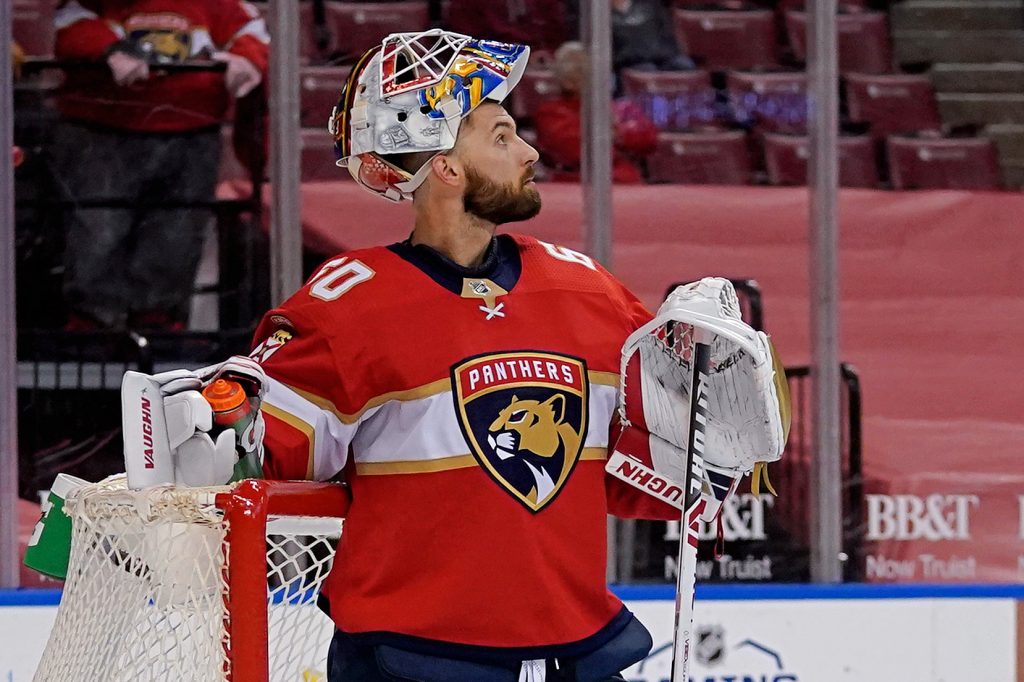 prohockeyrumors.com 18 July, 2021 - 06:00pm
The protection lists won't be finalized for a few hours yet but it appears Seattle knows who they will be taking from the Panthers.  Pierre LeBrun of TSN and The Athletic reports (Twitter link) that the Kraken will select goaltender Chris Driedger from Florida and sign the pending unrestricted free agent to a new contract.
Driedger has definitely been a late bloomer.  After Ottawa non-tendered him back in 2018 following a season that saw him post a 4.04 GAA in the AHL, he went to Florida on a two-way deal, doing well enough to earn another two-way contract in 2019, one that just expired now.  But instead of serving as their third or even fourth-string goaltender as they intended, the 27-year-old worked his way into an early-season promotion in 2019-20 and has stayed with the Panthers ever since.
He finished off that season with a 2.05 GAA and a .938 SV% in 12 games and while he wasn't quite able to duplicate those numbers this past season, he came pretty close, posting a 2.07 GAA with a .927 SV% in 23 games.  By comparison, Sergei Bobrovsky, who they intended to have as their starter, had a 2.91 GAA and a .906 SV% in his 31 appearances.  Bobrovsky carries a $10MM AAV while Driedger made just $850K.
Driedger will certainly be in line for a significant raise on his next deal even though he's still quite inexperienced in the NHL with all of 38 games under his belt.  If Seattle winds up selecting and extending him as expected, he should get an opportunity to push for the number one role depending on which other goaltenders the Kraken pick on Wednesday.
As for Florida, this will be a much different expansion experience for them.  Last time, they lost both Reilly Smith and Jonathan Marchessault to Vegas with the two becoming top-six fixtures for the Golden Knights ever since.  Now, they appear to be set to lose a player they were highly unlikely to retain anyway with top prospect Spencer Knight also in the mix for playing time between the pipes.  Losing someone they weren't going to be able to keep is basically the best-case scenario for them, a nice reversal of fortune from 2017.
Expecting to see a flurry of trades on the next few hours, but who knows?
@Gbear – I think so, too. @Brian, @Zach and company could be working their fingers to the bone today. Remember, guys, hydrate! ;)
@Mac- Short shifts are they key when typing in this kind of heat. :D
@Gbear – And always be alert to that familiar refrain: "Change it up, change it up!" :)
@Mac – Overstaying a typing shift is what leads to misspells. :D
@Gbear – And, possibly, "running into" Zach Hyman before you can hit "submit." Where'd my article go? Parros is going to give me two for this one! Hey, Hyman, get up! You're not really hurt!
@Mac – Losing a writer to concussion protocal now would be disastrous. :D
@Gbear – We're going to have to put you in the quiet room for that "protocal"! That is a little-known French "energy drink", alleged to use rare ingredients from the original primordial soup, aged to about 3.7-4.0 billion years. Even better than Russian Gas! Your get-up-and-go will be get-up-and-gone! :)
Boy, you get one letter wrong and you get the box. Tough league I'm playing in here. :p
Sprint changing over my phone settings to T-Mobile is not helping my already poor thumb typing skills. :D
@Gbear – I would have replied sooner, but I was in the other bin for 10+5+2. I could see you waving, or something, but the glass was fogged, or so I thought. The timekeeper guy said, that's not fog, that was done by the other guy. He was pawing at the glass, trying to get out. I asked him if he was wearing #43, by chance. He says, "Yeah, how did you know?" Lucky guess…
If they pair Dreiger with whichever goalie the Wild don't protect, Seattle will have a pretty solid tandem.
Pro Hockey Rumors is not affiliated with National Hockey League, NHL or NHL.com
Blackhawk Up 18 July, 2021 - 06:00am
Seattle Kraken (Photo by Jim Bennett/Getty Images)
The Seattle Kraken's expansion draft is just days away, and with the Chicago Blackhawks protection list up and ready to be talked about now is the time to react to everything going on.
The Seattle Kraken are not going to get as lucky as the Vegas Golden Knights did. It seems like teams from around the league are trying to bait the Kraken to take a bad contract from them. Teams are playing it smart.
Here are some of the big-name players from around the league exposed in the expansion draft: Carey Price, Gabriel Landeskog, Ryan Johansen, Vladimir Tarasenko, Mark Giordano, Jonathan Drouin, Yanni Gourde, Jason Zucker, Tyler Johnson, Jared McCann, and Kaapo Kahkonen.
Now there are different reasons that these guys were left available. When it comes to Tarasenko, it seems as though he and the Blues are no longer interested in moving forward together. Carey Price is exposed because of his cap hit and the hope is Seattle will not be interested in taking it on.
The Blackhawks have also shown their protection list. Check out everyone that is available and protected in this tweet from Scott Powers of The Athletic:
Blackhawks' protected list and available players pic.twitter.com/WAFiXR2lPt
— Scott Powers (@ByScottPowers) July 18, 2021
So the protected forwards are Henrik Borgstrom, Alex DeBrincat, Brandon Hagel, David Kampf, Patrick Kane, Dylan Strome, and Jonathan Toews. The protected defensemen are Caleb Jones, Connor Murphy, and Riley Stillman. The team also protected Kevin Lankinen as their goalie.
I cannot say I am particularly shocked about any of their choices to protect. Honestly, I am happy to see David Kampf on the list. If Alex Nylander was not exempt I think he would have taken Kampf's spot here. Kampf was great this past season and should be a very good center for years to come in Chicago on the third or fourth line.
Seeing Stillman and Jones protected is also great. The team needs to build around these younger defensemen, and protecting Zadorov would have been a difficult choice for the team considering his contract is going to be large.
I know there are some out there that like Zadorov, and I do not think he is going to be a threat to lose as Seattle probably will stay away from him with a contract extension projecting to be a little bit much especially for a new franchise that wants to use their cap space strategically.
Build your custom FanSided Daily email newsletter with news and analysis on Chicago Blackhawks and all your favorite sports teams, TV shows, and more.
Your favorite teams, topics, and players all on your favorite mobile devices.
Powered by Minute Media © 2021 All Rights Reserved.