Haunted by Guilt in Kiyoshi Kurosawa's 'Retribution' [Horrors Elsewhere]
[Review] 'Fear Street Part 3: 1666' Closes Out the Netflix Trilogy With a Whimper
[Review] 'Escape Room: Tournament of Champions' Struggles to Create a Game Worth Playing
'Tattered Hearts': Katey Sagal Starring in Thriller from Blumhouse, EPIX and Director Brea Grant
'The Stairs': Mysterious Set of Stairs Appears in the Middle of the Woods in Upcoming Horror Movie [Trailer]
"The Last of Us": Actor Who Voiced Tommy in the Games Joins HBO's Series
[Review] "American Horror Stories" Struggles for Fresh Air in Lackluster Series Premiere
"Goosebumps": R.L. Stine Brought Gateway Horror to the Small Screen in the '90s [TV Terrors]
Netflix Hires Oculus Content VP to Assist Transition Into Video Games Market
"Chucky": Teaser Image Suggests Something is Coming Tomorrow
[Review] 'Fear Street Part 3: 1666' Closes Out the Netflix Trilogy With a Whimper
[Review] 'Escape Room: Tournament of Champions' Struggles to Create a Game Worth Playing
[Review] "American Horror Stories" Struggles for Fresh Air in Lackluster Series Premiere
[Review] 'Gunpowder Milkshake' Serves Up Stylish, Empty Calorie Action
[Review] Shark Attack Horror Movie 'Great White' Sinks Under Shallow Tropes
Haunted by Guilt in Kiyoshi Kurosawa's 'Retribution' [Horrors Elsewhere]
"Goosebumps": R.L. Stine Brought Gateway Horror to the Small Screen in the '90s [TV Terrors]
How Clive Barker's Original 'Hellraiser III' Pitch Evolved Into 'The Mummy'
A Charming Apocalyptic Misfire: The Curious Case of Clive Barker's 'The Plague'
'Valentine' Kicked Off 2000s Horror With a Fun Trip Right Back to the 1980s [You Aughta Know]
'Howling Village': 'Ju-on' Director Takashi Shimizu's New Nightmare Releases on Friday the 13th [Trailer]
Spirit Halloween Previews New Products for Halloween 2021 Including 'Killer Klowns' and Ghostface Animatronics! [Video]
"Y: The Last Man" Teaser Trailer Shares Haunting Statistics [Video]
From 1666 to 1994, Lengthy 'Fear Street' Featurette Goes Behind the Scenes of Entire Trilogy [Exclusive]
"What We Do in the Shadows": First Season 3 Teaser Has a VR Experience With Nandor [Video]
[Trailer] Take on The Arctic And Eat Your Friends in Upcoming Survival Title 'Dread Hunger'
'Resident Evil Re:Verse' Delayed Until 2022
Netflix Hires Oculus Content VP to Assist Transition Into Video Games Market
[Watch] New Lore Trailer For 'Chernobylite' Delves Into The Protagonist And Story
Dark Fantasy Metroidvania 'Ender Lilies' Arrives on PlayStation Consoles Next Week
Pictured: Rachel (Holland Roden), Nathan (Thomas Cocquerel), Ben Miller (Logan Miller), Brianna (Indya Moore) and Zoey Davis (Taylor Russell).
Rachel (Holland Roden) in an electrified subway train.
'Escape Room: Tournament of Champions': Watch a 3-Minute Scene from the Sequel [Video]
'Escape Room: Tournament of Champions' Clip: Lasers Trap Players in a Bank-Themed Room [Video]
'Escape Room: Tournament of Champions' Clip Turns a Train Car into an Electrified Prison [Video]
Horrors Elsewhere is a recurring column that spotlights a variety of movies from all around the globe, particularly those not from the United States. Fears may not be universal, but one thing is for sure — a scream is understood, always and everywhere.
Copyright © 2021 Bloody Disgusting, LLC
Read full article at Bloody Disgusting
hollywoodstreams 16 July, 2021 - 08:01am
PIX11 News 16 July, 2021 - 08:01am
Sony Pictures Entertainment 16 July, 2021 - 08:01am
digitalspy.com 16 July, 2021 - 05:56am
Escape Room 3 hasn't been confirmed by Sony, but Escape Room: Tournament of Champions certainly sets up a third movie.
The horror sequel brings back the first movie's two survivors Zoey (Taylor Russell) and Ben (Logan Miller) as they unwittingly find themselves back in the world's deadliest escape room, and this time they're joined by survivors of previous Minos escape rooms.
In the first movie, they were all in the escape room as they were the sole survivors of disasters, but what's the angle this time and why has Minos brought together previous champions?
To explain all and how it all sets up a potential Escape Room 3, we have to go into some major spoilers for Escape Room: Tournament of Champions, so look away now if you haven't seen the movie yet.
They don't escape the clutches of Minos for long though as they're soon trapped on an electrified subway train car with Rachel (Holland Roden), Brianna (Indya Moore), Nathan (Thomas Cocquerel) and Theo (Carlito Olivero).
Poor Theo doesn't survive this first game, but the rest head into a bank room filled with lasers which they all survive, before heading to a beach for a nice rest – not. It's covered in quicksand and the room sees two of the group succumb: Nathan and Ben.
During these rooms, Zoey keeps seeing references to somebody called Sonya, but of course, there's another room which is a city that's being hit with acid rain (naturally). Just as they think they've solved the puzzle, Rachel and Brianna are killed by the acid rain and Zoey finds herself falling into a child's bedroom.
It's revealed that the games have been based on a day out that Sonya had with her mother, who turns out to be none other than Amanda (Deborah Ann Woll) from the first movie. She never actually died from her fall and was forced by Minos to create these new escape rooms as they had abducted Sonya.
Sucks to be Minos though as Zoey and Amanda team up to free Ben, before they all break out of the room and, understandably, head to the police. The news of what Minos has been doing is revealed to the world, although it's not clear if Amanda gets her daughter back as we don't see her again.
Zoey and Ben decide to take a plane home, but Zoey's suspicions about whether it's really over are confirmed as the plane starts filling with gas. Yep, it's another escape room and it's basically the same ending as the first movie, just with Zoey and Ben actually on the plane this time.
The third movie, if it happens, would likely pick up from this cliffhanger before Zoey and Ben are thrown into more deadly escape rooms, or maybe Zoey will agree to work for Minos to save Ben and work against them from within.
"It's really going to be up to the fans. But, look, there's a lot of ways to skin the cat, there's a lot of different ways to continue to play with the audience's expectations. Yeah, we'd be really excited to do that," he said.
Since it hasn't been confirmed yet, there's no official release date for Escape Room 3, but if it does get announced, we might not have too long to wait.
Originally, the sequel was going to come out in April 2020, a little over a year from the first movie's January 2019 release. This date got moved around a lot and at one point was set for January 2022 before being confirmed for July 16, 2021.
We'll update as soon as we hear anything.
Taylor Russell and Logan Miller would be back as Zoey and Ben in a potential third movie and now that she's alive again, we could expect to see Deborah Ann Woll as Amanda too.
Outside of that though, it's unclear who will be back as the rest of the sequel's main cast are dead – or so we think. Given Amanda's return, you can't rule out any former escape room contestants still being alive, so anybody could return, really.
As mentioned above, it hasn't been confirmed by Sony yet, so it (probably) hasn't started filming and any footage is a long way away yet. Sorry about that.
New York Post 15 July, 2021 - 05:08pm
July 15, 2021 | 6:08pm | Updated July 15, 2021 | 6:10pm
The best thing about the "Escape Room" film series is that it gives audience members clear directions in the title about what they should immediately do: Escape. Room.
Get out of that theater and go see "Black Widow" instead. Run for your lives — and sanity!
That's because it's the rare horror franchise that satisfies zero criteria of what we want from a freaky movie. The first film was not particularly scary, campy, creative, suspenseful, shocking, satiric or gory. It was corporate Soylent Green that existed solely to cash in on a millennial trend. That 2019 movie was not a tough act to follow, and still somehow the sequel, "Tournament of Champions," falls even further into the depths of drudgery.
Zoey (Taylor Russell) and Ben (Logan Miller), the only survivors of the deadly Escape Room, are back and hell-bent on revenge. Nobody believes their story about the evil Minos company, which puts unwitting humans in elaborate life-threatening scenarios for the entertainment of the rich. But Zoey won't rest until she takes them down.
The duo travels to New York, where they believe Minos is secretly headquartered, and end up on a subway train at Canal Street. In the first of many highly predictable moves, the car just so happens to be yet another escape room.
"Minos found us," says Zoey. "Did you say Minos?" a different passenger responds. "No. Not again!"
Everybody on the train, we learn, is a traumatized previous escape-room participant.
"So that makes this — what? — the tournament of champions?" Zoey surmises. Don't believe the IMDB page. The dialogue of "Escape Room" had to be written by director Adam Robitel's 12-year-old nephew.
As these champions are experienced with the dangerous challenges, they solve the clues to advance very fast. Too quickly, if you ask me. Instantaneous problem solving is forgivable in "The Da Vinci Code" because Robert Langdon is a world-renowned genius. These guys work in retail.
The environments are less cool this time around and remain totally unrealistic. There's a giant underground bank, a beach complete with lighthouse and a re-creation of a New York street corner. There is a big emphasis on the sensations of burning and drowning. They get singed by lasers, melted by acid rain and electrocuted by touching a subway rail. Meanwhile, I got exhausted by a movie.
The ending borrows a page from the TV show "Lost." Just when you think they've finally made it off the island — or out of the escape room — we're right back to where we started.
Which unfortunately means more "Escape Room" sequels.
Us Weekly 15 July, 2021 - 04:56pm
"There's definitely more story to be told. Do I know if this will be the last chapter or not? I guess we'll find out when the movie comes out," the actor, 29, teased exclusively to Us Weekly. "There's always more to be had. When people see this one, they'll see how the story unfolds and what we find ourselves in."
Miller added that he was excited to bring back Ben for an even more exciting story this time around.
"We definitely felt like we wanted to amp up the situation, make it two times bigger and more fun while also extending the story," the Love, Simon star told Us. "It was nice. It was nice getting back together and having more of a collaborative conversation about what we wanted to do next and how we wanted to change things up while still keeping the thrill of the first one, and making it all the more exciting for this next chapter."
Ben has also come a long way since the first movie when he was "a bit of a cynic." Now, the character has an entirely new vision.
"He had kind of given up on life and through surviving the first one, he's had a second chance at love and he wants to put forth the strongest effort he can to help Joey (Taylor Russell) on this journey to take down the evil corporation," he explained. "This gives him a chance to really own up to their responsibilities and kind of take more of a heroic leading-man position. I was very excited to show the new evolution of what Ben's doing."
Escape Room: Tournament of Champions is out on Friday, July 16.
Part of the A360 Media Entertainment Group.Powered by WordPress VIP
Polygon 15 July, 2021 - 02:05pm
The horror sequel doesn't live up to its premise or its predecessor
Tournament of Champions follows Zoey (Waves' Taylor Russell, the brightest and most charming actor in the movie) and Ben (Love, Simon's Logan Miller), two surviving characters from the original movie. The pair travel to New York to confront Minos, the company behind the escape rooms. But they're soon lured into another set of deviously designed rooms, where they're joined by other survivors from previous games for a "tournament of champions."
In Tournament of Champions, these excellent introductions are gone, in favor of more action sequences at the end of each room. To Robitel's credit, these scenes are genuinely exciting. The action in the original movie was often stiff and awkward, but the second movie is full of unnerving, frenetic scenes that feel like they belong in an action-horror version of Final Destination.
But these scenes come at a serious cost. With most of the time in each room spent on action, the puzzles themselves often feel flat and underdeveloped. It's hard to recapture the fun of the first movie's guessing game when you don't understand the space or have access to the clues Tournament of Champions' characters are exploring. Worse still, the puzzles all have simple solutions, in order to leave more time for those action scenes. And when characters die because they can't solve simple puzzles, the horror and tension the movie's trying to create immediately evaporates.
The lackluster puzzles are a disservice to the movie's whole premise. These characters are supposed to be former winners of Minos' twisted game, but with puzzles as dull as "use a metal detector to find metal on a beach," it's hard to make the players navigating them seem clever. That's not even really a puzzle, it's just performing a leisurely hobby under increased pressure.
This weird lack of backstory even manages to derail the movie's best sequence. The scene is an escape room set in a bank lobby with a massive checkerboard floor and a vault door opposite the entrance. It's a perfect setting for a heist or an escape room, and it's a bit of both. The characters have to navigate the squares on the floor, and a false step will fill the entire room with deadly lasers. To find the path, they have to use clues from safety-deposit boxes, hidden keys, maps, chess allusions, and tricky wordplay riddles. It's the only sequence in the movie that melds action and puzzles, and it's easily the most entertaining part.
In many ways, Tournament of Champions feels like the newly minted Escape Room franchise coming back to earth. The first movie was a tonal miracle, tense and exciting while simultaneously being silly and earnest. Even when the movie is clearly borrowing inspiration from the long-running, ridiculously dense Saw series, it isn't parody, it's admiration. Escape Room is like a loving kid brother who can't help but idolize his older burnout sibling.
Tournament of Champions never finds this same comfortable intersection. It's more like an imitation of other horror movies than a loving twist on their format. The movie's puzzles seem more focused on killing the characters than on inviting them to test their skills in exciting ways. Arbitrary and messy death in a horror film isn't necessarily a bad thing — but it is something a hundred other movies have done better, especially since the methods of death here are just as boring as the puzzles that cause them.
While an Escape Room drinking game could be about guessing the solutions to each new trap, Tournament of Champions only invites the usual horror standby, with players taking a shot every time a character dies. Both those games could be fun, in their own ways. But at least the first Escape Room gives the audience a thrilling movie to remember, more than they remember what they were drinking.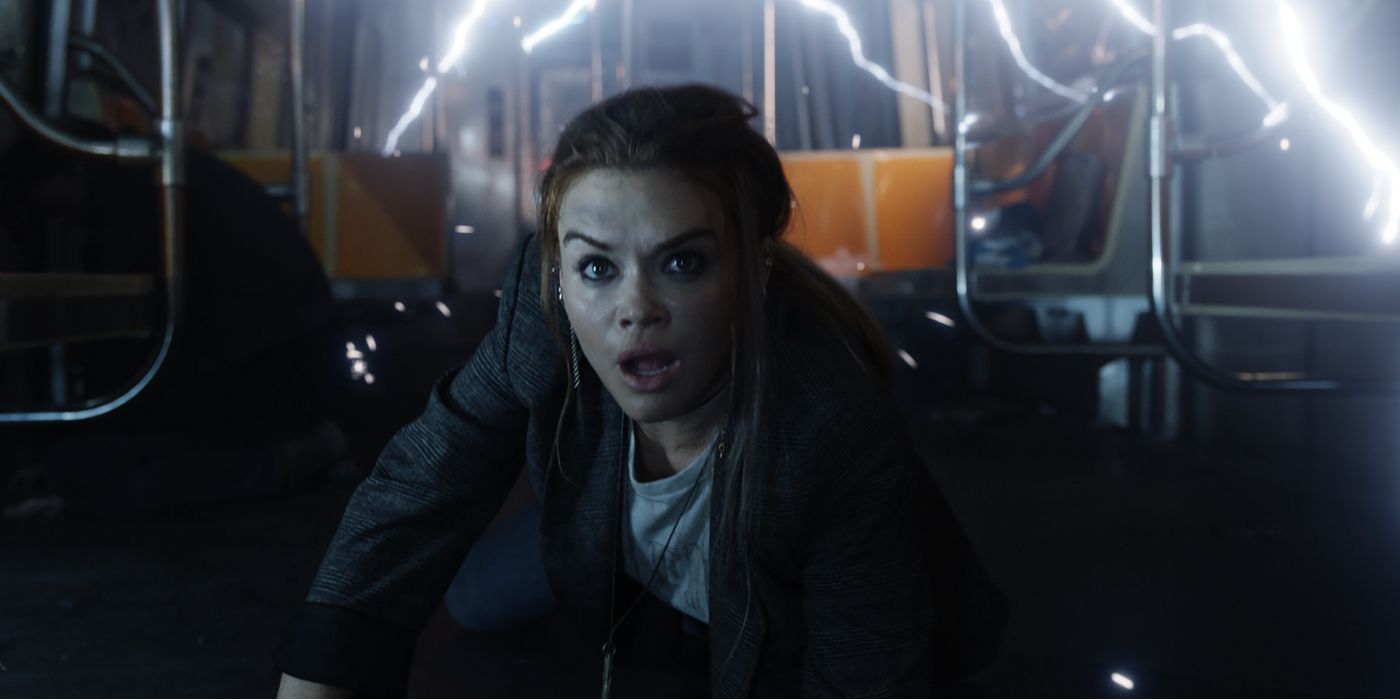 Screen Rant 15 July, 2021 - 12:18pm
Escape Room: Tournament of Champions, out in theaters on July 16, is a sequel to 2019's surprise hit. The survivors of the previous film, Zoey and Ben decide to take the fight to the evil corporation of Minos but find themselves trapped with other "champions" before they reach their destination.
Logan Miller reprises his role as Ben, while Holland Roden joins as fellow survivor Rachel. The actors spoke to Screen Rant about how the scale of the sequel grows and how their characters fare at the start.
Logan Miller: Yeah, you said it best. He was a cigarette-touting, cynical asshole in the first one. And he's really changed his tone, because he's gotten that second chance at life. I think he's trying to fire on all cylinders and do the best that he can.
Zoey has this fight in her; she really wants that revenge, and she really wants to take down this corporation. And the only person that she knows that has experienced it like her is Ben. So, Ben needs to be there for her on all cylinders. We're ready to take it as we can. I want to be the hero for her, I want to be the hero for all of us, and I want to try to survive and make sure that we all come out surviving instead of just one person.
Holland Roden: Yeah, I thought that was an interesting aspect. For her aesthetic, we put a lot of piercings and tattoos on her. She's a fan of the British punk rock era, and I love being able to create a character from the outwards in.
That was different for me, as far as my process as well as just being able to play a punk rock girl, and trying to take control of diagnosing everybody as a former EMT. Both of those aspects, I had never played before. So, I was excited.
Logan Miller: I would say 80% were actually practical effects, which is really what's great about it. The physical element is there. Hell, I think I lost 10 pounds during the filming of Escape Room 2, and I'm not exaggerating. It's a thing where you've got to be ready to be in the elements of it all.
We created such illustrious sets, and now we just get to make them our playground. It really is that sandbox. Everything is there; all of the elements of finding the clues, we have made practical. You've got to really sit there and figure out how we're going to make these things interesting. At the end of the day, they are giant theater pieces, so let's try to shoot it as if like everybody's there. That makes the interactive experience that it is when you see it on screen.
Holland Roden: Yeah, I love that she carried her heart on her sleeve, because she had to overcompensate. I feel it's like someone that talks louder when they have a hearing problem - same analogy. She at least tried to carry the weight of other people, and she felt a sense of responsibility to take the first blow.
It was a different kind of leadership than Ben had, but I feel like Rachel always takes on others people's problems. It's definitely something she would do.
Logan Miller: Yeah, the first one was a bit of an experiment. We were trying to see how expansive we could make something for a small budget. They took it to the 10th degree with that, it really showed, and I think audiences and fans alike really resonated with it.
Now, we get a chance to do it all over again. Why not amp it up? We certainly did, and we did that with the sets. We did that with the characters that we brought along. It's always great when you get a chance to do a sequel, because you can add so many more fun elements. We did that with the actors, we did that with the sets, and we did that with the story. It was just such an honor to be able to expand the universe.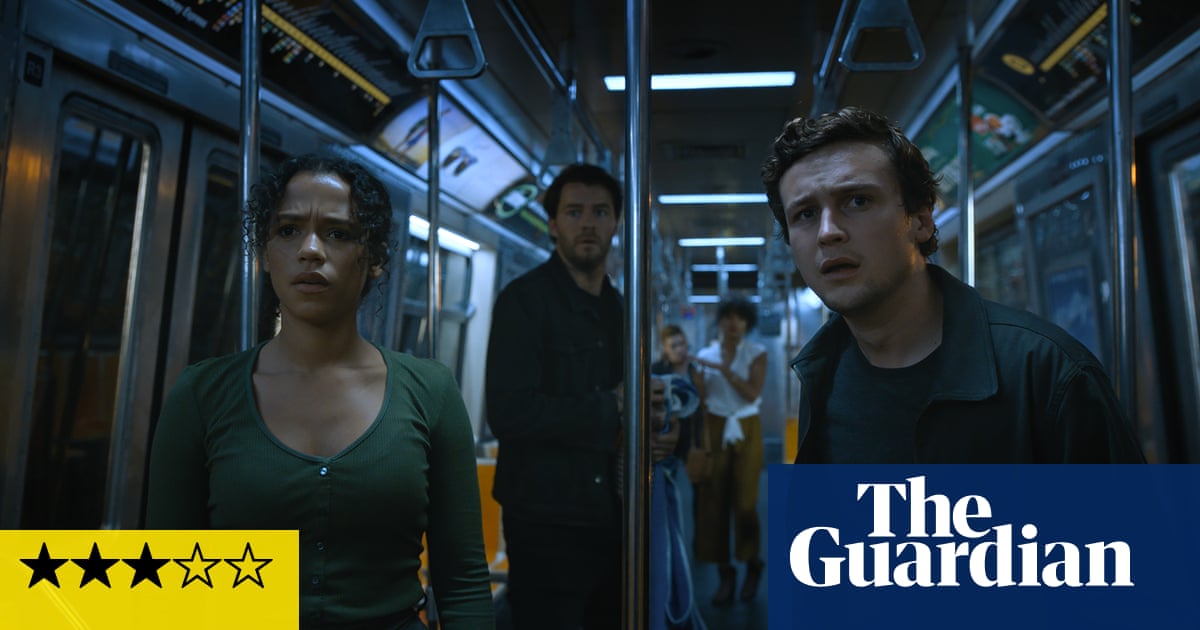 The Guardian 15 July, 2021 - 09:43am
Ever since 2012 saw Paramount chuck toxic found footage shocker The Devil Inside into the wild and make $33m in its opening weekend (from a $1m budget), studios have found audiences more then willing to cough up their Christmas money for equally heinous product. Dross like Texas Chainsaw 3D, Paranormal Activity: The Marked Ones and Insidious: The Last Key made money despite loathsome reviews, partly because they were mostly tossed out without press being able to actually write about them first, screenings non-existent (this strange trend is analysed nicely in an AV Club podcast episode). Such cursed backstory meant that when 2019's token sacrificial lamb Escape Room came out, the most surprising thing wasn't that it made $155m globally from a budget of just $9m but that it was actually kind of sort of good?
Beyond its opportunistic title and Cube meets Saw meets every other film that has since copied Cube and Saw premise, it was a surprisingly inventive and genuinely fun little B-movie, a quick, unpretentious blast of PG-13 death and destruction that raised a below ground bar just slightly above surface. A sequel was inevitable (it ended with an ambitious tease of what was next) and so here it comes, bounding in with the same infectious energy as the first, albeit dragged down by a rather laughably unscary new game show subtitle – Escape Room: Tournament of Champions.
As that suggests, this time we're dealing with the best of the best, a cherrypicked group of Escape Room survivors, those who have outsmarted the evil corporation of Minos that the first film introduced in its mask-slip finale. Zoey (Taylor Russell) and Ben (Logan Miller) made it out of their booby-trapped maze unscathed but have been left haunted by what they saw and what was done to them. Zoey is eager for revenge and so takes Ben on a trip to New York, where some mysterious co-ordinates will allegedly lead them to the big boss headquarters. But Minos has other plans and before they have time to realise, they're back in another snuff game with some understandably exhausted players.
The all-stars setup, as insanely convoluted as it might be, allows the film to leap over hurdles that too often prove troublesome for groups-in-jeopardy horrors. For maximum conflict, the dynamic usually involves at least one disbelieving trouble-maker or someone whose scream-at-the-screen bad decision-making causes eye-rollingly avoidable carnage. But right from the jump, the contestants might be understandably furious at their predicament but they're also motivated, and experienced, problem-solvers. There's a deeply satisfying vein of competence porn running through so many of the setpieces, each character swiftly scream-solving puzzles together and while the clues themselves might not hold up in the clear light of the cinema lobby, it's a blast to watch them unfold.
It's a repetitive formula, sure, but there's still a sense of devilish creativity often missing in studio genre fare, each room a handsome, well-designed new world and while a PG-13 rating often feels like clumsy censorship in wide-releasing horror, here we get just enough nastiness without the film needing to edge into the gnarly overkill of the Saw franchise. The brash world-building from director Adam Robitel and his four writers might be utterly nonsensical but its ambition is admirable and its puppyish energy is buoyed by a set of game performers, in particular Russell (next to be seen in Luca Guadagnino's Bones & All) who brings sensitivity along with tenacity and Pose's Indya Moore who's effectively spunky as one of the game's more determined players.
The film falls down as it stumbles toward the finish line, attempting too many big swings that mostly miss, expanding the Escape Room universe to a size that feels overstretched. But even when it's trying too hard, the very fact that it's trying at all makes it hard to dislike. The rules might not make any sense but you'll have fun playing along regardless.
Escape Room: Tournament of Champions is out in US and UK cinemas on 16 July